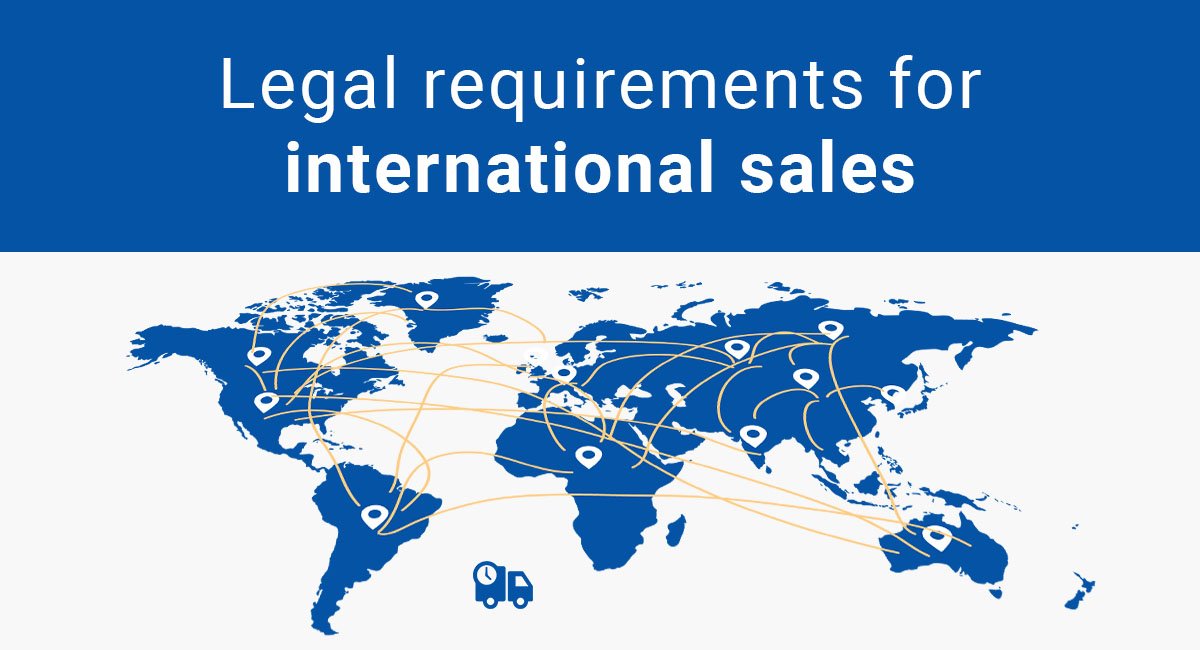 While there's a lot to learn about international selling, the good news is that your company's legal agreements (Privacy Policy, Terms and Conditions (also known as Terms of Use or Terms of Service), Shipping Policy, etc.) won't have to be drastically adapted to all of the countries where you sell or ship your products.
For example, if you're headquartered in the United States you're likely already selling to customers in most, if not all, of the 50 states. Sometimes Alaska and Hawaii are excluded, with shipping only available to the contiguous 48 states.
In the US, shipping to all contiguous states is easy to do because interstate commerce is incredibly streamlined and state lines don't change much when it comes to commerce.
Because of this, your US-based, US-sales-only ecommerce store's legal agreements will be able to be of a one-size-fits-all-states nature.
However, things change a little when you get into selling internationally:
Shipping: International shipping is more costly, takes longer, and may involve required forms, documents and other legalities.
Returns: Returns from international locations will be more expensive to make. Will your Refund Policy change for international buyers versus domestic buyers?
Payments: You'll need to consider costs of tariffs, taxes, customs, and other fees. Will you work with one main currency, or accept other forms?
Arbitration: How will you handle situations where arbitration may arise between your US company and an overseas disgruntled customer?
Because each of these points are addressed in standard legal agreements, your legal agreements will need to be altered a little to reflect international selling practices.
You don't necessarily need to have two separate sets of agreements (one for local sales, one for worldwide or international sales), but you may find yourself having a "domestic" section as well as an "international" section within your legal agreements.
Shipping
For example, let's look at a Shipping section of a Terms and Conditions agreement for a company that ships internationally.
Jack Spade New York

Jack Spade New York, an iconic international fashion brand, sells well beyond New York state. In its list of legal agreements, the Shipping section has a separate link for an International Shipping Policy: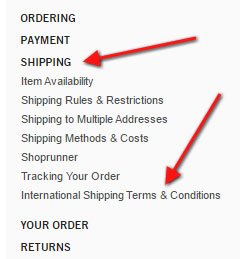 Their International Shipping Policy is part of the full Shipping Policy page, and addresses issues like duties, taxes and carrier's collection fees, local regulations prohibiting shipping to some locations, and the transfer of risk at the border from the company to the consumer.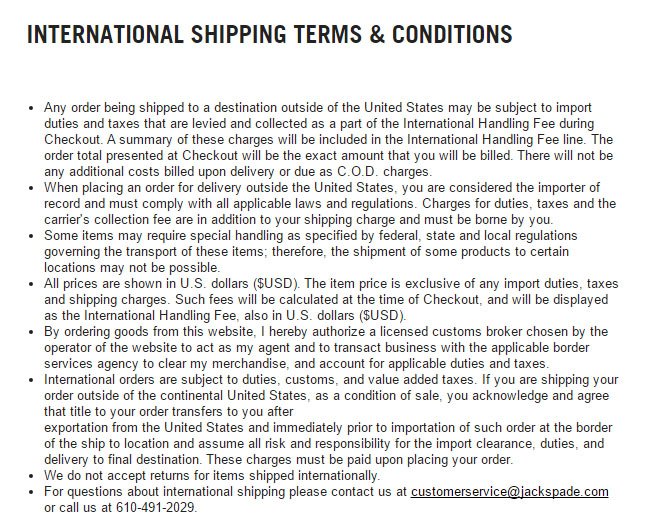 A separate table for shipping rates is also included, listing each country Jack Spade ships to, and at what cost: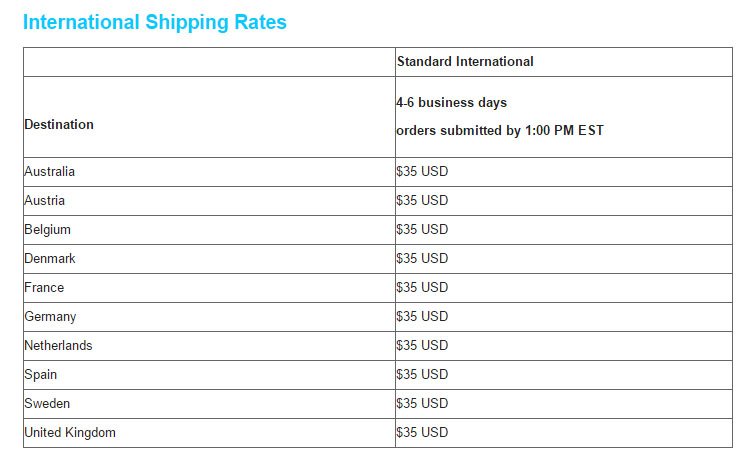 Notice how the timezone information (EST) and form of currency (USD) is included on this page by Jack Spade so international customers can know more information.
Fox Shop

Fox Shop has an International Shipping section of its Terms and Conditions.
Here is where international customers can find information about order turnaround and delivery time, potential duties, taxes and other fees that come along with international shipments, as well as restrictions, limitations and requirements for international addresses.
Shipping costs aren't set at a flat rate per country, but rather are set to "vary by the products ordered and the shipping destination." Users are informed that these shipping costs will be "calculated during the checkout process."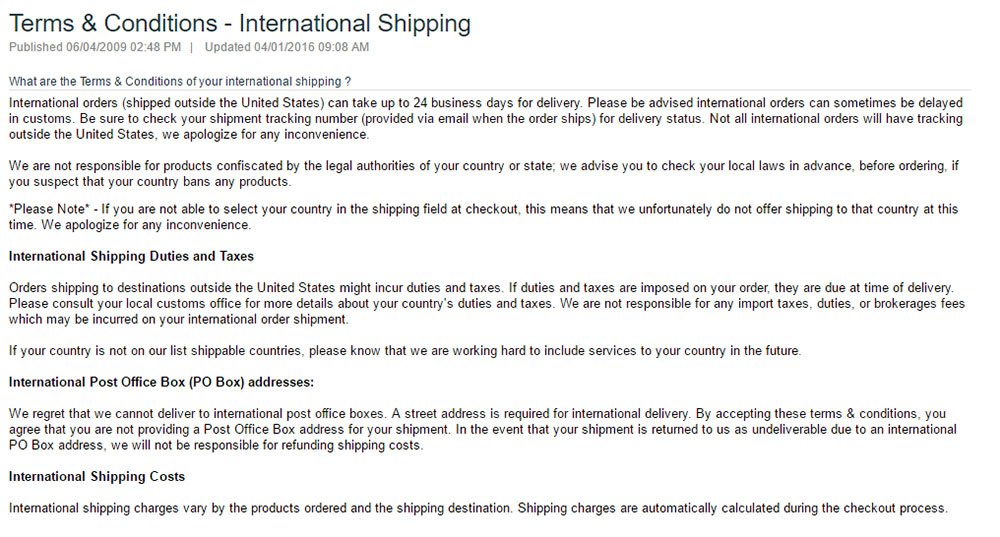 The format of the page isn't as important as conveying all the important information is.
East Dane

East Dane, for example, uses a tabbed chart for its shipping information, with one tab for shipping to the USA, and a separate tab for international shipping.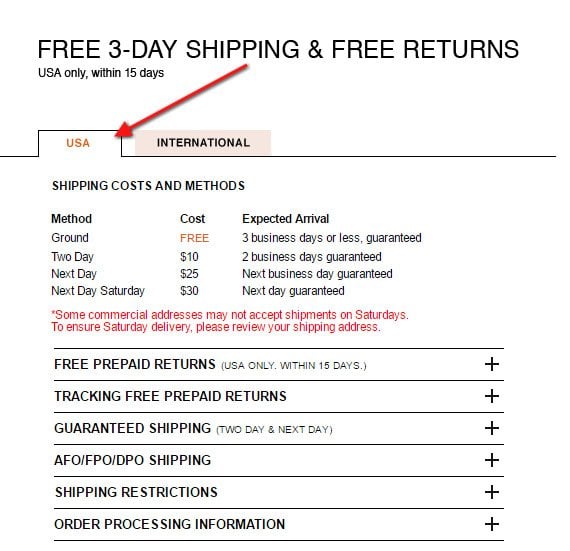 Clicking on the tab toggles the chart: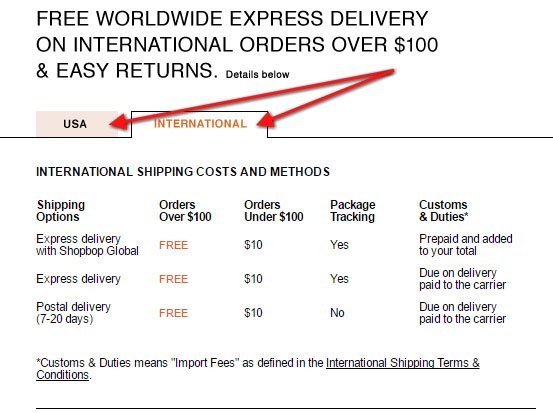 Notice how customs and duties are defined as being "import fees" and the "International Shipping Terms and Conditions" page is linked to the "International" tab here.
This is a very clear and streamlined way of presenting this information to customers, while showing them where to find the more thorough, detailed Terms and Conditions for international shipping.
Topics such as refusing payments, import fee deposits and other issues that may arise with international shipping are covered here: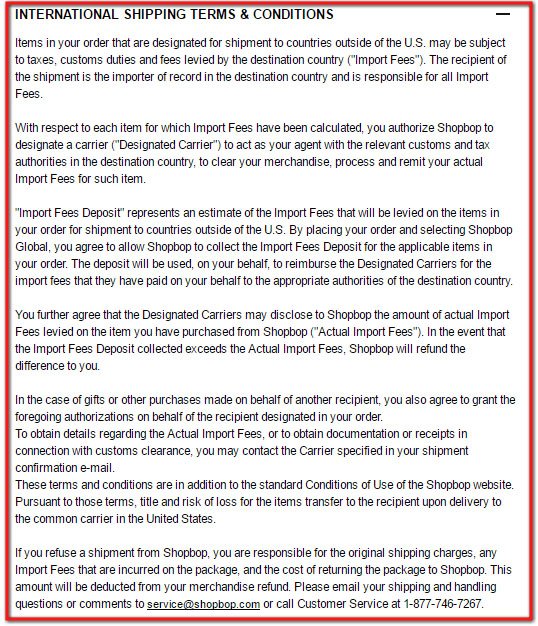 Returns
Returns are usually addressed in the same policy where shipping is addressed, especially for international sales.
East Dane
East Dane includes a Returns section underneath its US shipping tab: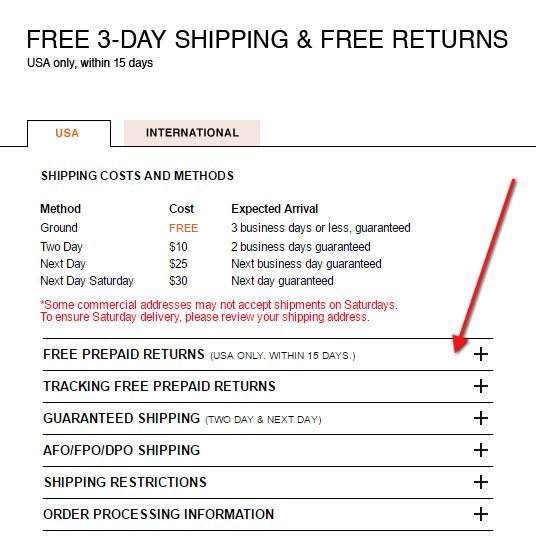 When expanded, it includes all the necessary and important information for how customers in the US can make returns:
For international customers, there's a similar tab underneath the Shipping information titled "Online Returns (International Only)":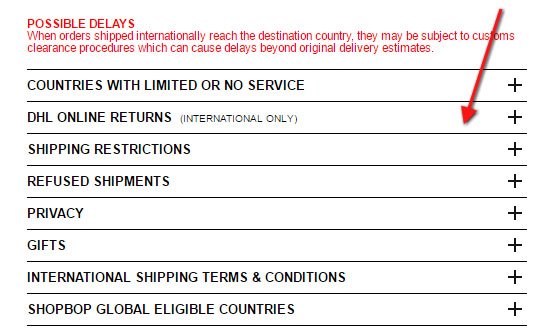 When expanded, international users are informed of how to they can make a return, as well as how much it will cost to return an item from specific countries: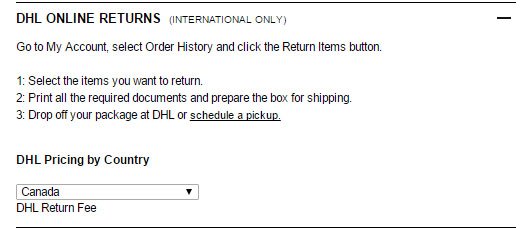 Some companies choose not to accept international returns because of the complexity of them when it comes to tariffs, taxes, associated fees, etc.
If your company ships internationally but wants to make those sales final, you can include this in your Return Policy.
Jack Spade
Jack Spade includes a Return Rules and Restrictions section where customers are informed that they do not accept the return of items shipped internationally beyond the USA and Canada: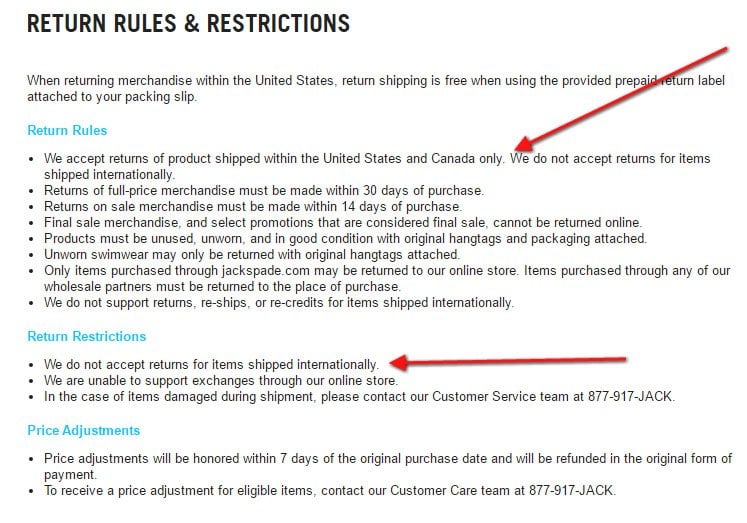 Payments
Luckily, due to the global nature of ecommerce, taking payments from people around the world will usually not be an issue. Payment service companies such as PayPal will convert currency automatically, and even provide safeguards for you and your customers.
However, some forms of payment may understandably not be accepted when making an online purchase, especially an international one.
Jack Spade
For example, here's how Jack Spade lets shoppers know what forms of payment are accepted, as well as which forms are not accepted.
Its Payment Options section says that PayPal, Jack Spade gift cards, and select credit cards are accepted, while things like cash, COD, checks, layaway plans, and even credit cards issued in a number of countries are not accepted: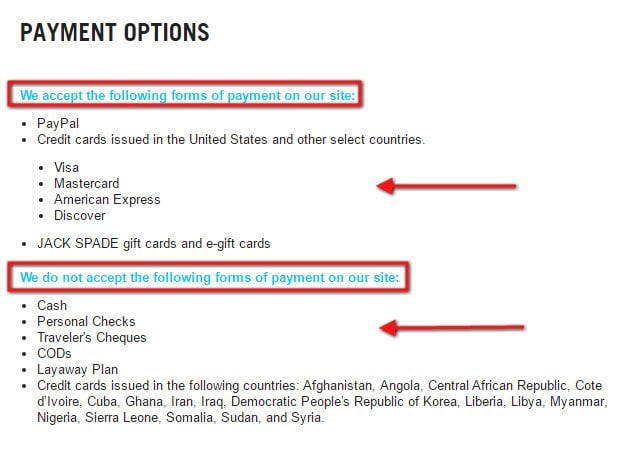 Fox Shop
Fox Shop includes a banner on its homepage that lets shoppers quickly know what forms of payment are accepted:

There's also a very straightforward methods of payment information page that makes it clear that Fox Shop accepts "all major credit cards" and "PayPal." Checks and money orders are not accepted.

Your Payments information doesn't have to be complex or long. Remember, most credit card companies and payment processing companies are now set up to be global in nature and can handle your needs regarding international payments.
Arbitration
As in any ecommerce Terms and Conditions, you're going to want to have an arbitration clause to protect yourself against lawsuits and help keep control over arbitration actions.
Use the Terms and Conditions Generator to create the Terms & Conditions agreement.
Most arbitration clauses will name what law and venue (typically a state in the US, if you're based in the US) will lead the arbitration.
Arbitration clauses for companies that have international customers typically reference an international arbitration court that will be used in the event of international arbitration. Such international courts include the International Court of Arbitration, a branch of the International Chamber of Commerce (ICC).
Here's how Spotify, which has customers all over the world, handles international arbitration differently than domestic arbitration in its Terms and Conditions.
Spotify says:
"If you are not located in, are not based in, do not have offices in, and do not do business in the United States, any arbitration between you and Spotify will be finally settled under the Rules of Arbitration of the International Chamber of Commerce then in force by one or more arbitrators appointed in accordance with the ICC Rules..."
Here is a screenshot of this:

Spotify continues to state that arbitration will be conducted in the English language unless a mandatory law of another state or jurisdiction requires otherwise, and that the law of the state of California be the applied law.
Some international businesses have more complex arbitration clauses that cover a range of location possibilities.
For example, Air Distribution's Conditions of Sale covers three common situations for arbitration:
If the parties are US-based,
If neither of the parties is Chinese and the seller isn't a US entity, and
If one of the parties is Chinese
In the first case, with US-based parties, the US laws of Wisconsin are to apply to arbitration. If either of the parties is Chinese, Chinese laws will govern. In the middle event that there are no Chinese parties and the seller isn't a US entity, the laws and location of New York, New York are to apply, as authorized by the International Centre for Dispute Resolution (ICDR).

International arbitration can get complex, and it's best to defer to an attorney with experience in this area if you're selling items globally that carry a high potential risk of associated litigation.
While it's very common these days to have businesses selling globally, remember that your customers around the world will all want the same basic safeguards and information from you to feel safe and secure in their transactions.
To help keep international business as successful as possible, the Organization for Economic Cooperation and Development, which is made up of the US and about 30 other countries, has developed international guidelines that include the following:
Always include your business information (such as address, email address and telephone number) on your website, emails and other commercial communications so international customers are aware of just who they're dealing with and how to contact you,
Make it clear that international transactions can be costly, and that some rights may be waived, such as the ability to make returns, or warranties and guarantees that don't carry across country lines, and
Take security and privacy seriously, especially when it comes to financial information collected from customers around the world. Include a Privacy Policy that lets your customers know exactly what information and data you're collecting from them.
Communication is key when it comes to doing business internationally.