Writing a Terms & Conditions agreement (also known as a Terms of Use or Terms of Service) can be a daunting task for any website, but auction platforms come with their own particular legal obstacles. Each clause will need to be written with the specific functions of an online auction in mind, such as the different ways buyers and sellers will be affected.
In this article, we'll discuss each of the most common sections that may be included in your Terms & Conditions and how each could be adjusted to serve an online auction platform.
Our Terms and Conditions Generator makes it easy to create a Terms and Conditions agreement for your business. Just follow these steps:
At Step 1, select the Website option or the App option or both.

Answer some questions about your website or app.

Answer some questions about your business.

Enter the email address where you'd like the T&C delivered and click "Generate."

You'll be able to instantly access and download the Terms & Conditions agreement.
Scope and Introduction
Start your Terms & Conditions agreement by stating who it applies to and how it will be accepted.
Bonhams has multiple separate Terms & Conditions agreements in place since it has buyers and sellers around the world. Here's the introduction in its Online Bidding Terms and Conditions agreement that applies to anyone registering to participate in online bidding:

The auction house states that the agreement will apply to all online bidding at auction sales and is applicable to bidders and buyers. A more general Conditions of Web Site Use agreement is also linked here so users are aware that other agreements exist and apply.
Users are told that by registering to bid, they'll be held to be in agreement with the Terms.
During registration, users must click a checkbox that shows they agree to the Terms and Conditions for website usage:

Eligibility
Since participating in an auction implies a legal contract between buyer and seller, it is important that all users be eligible to enter into a legal contract. Emphasize this requirement in your Terms & Conditions like so:

Premier Equipment World's Terms and Conditions for Online Auctions states that its services are only available to individuals who can enter into legally binding contracts. Since most countries don't allow minors to enter into binding contracts, minors are not eligible to participate in the auction service without parental or legal guardianship.
You may have eligibility requirements that go beyond just age that you should disclose to your users, such as these from the Invaluable auction website:

Registration and Sale
The process for registration and sale are a little different for an auction website, so it may be necessary to describe the process as well as any conditions that apply therein.
Here's how Bonhams describes the process for registration and bidding, as well as conditions that may affect either procedure: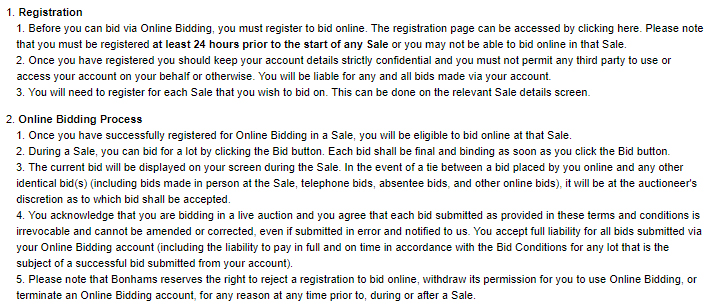 This is also a good place to include any conditions of sale that your auction implements. Here's how Invaluable describes what conditions apply to bidding, buying, and sales.
Since the functionality of an auction sale is very different from that of a regular retail sale, as are the rules and regulations, it's vital to lay out any stipulations that may affect how users bid and buy on your site.
Listing Conditions
Most auction platforms include a range of rules and regulations that apply to sellers and listings. Here's how eBay's User Agreement clearly spells out its listing conditions and links to other policies that apply: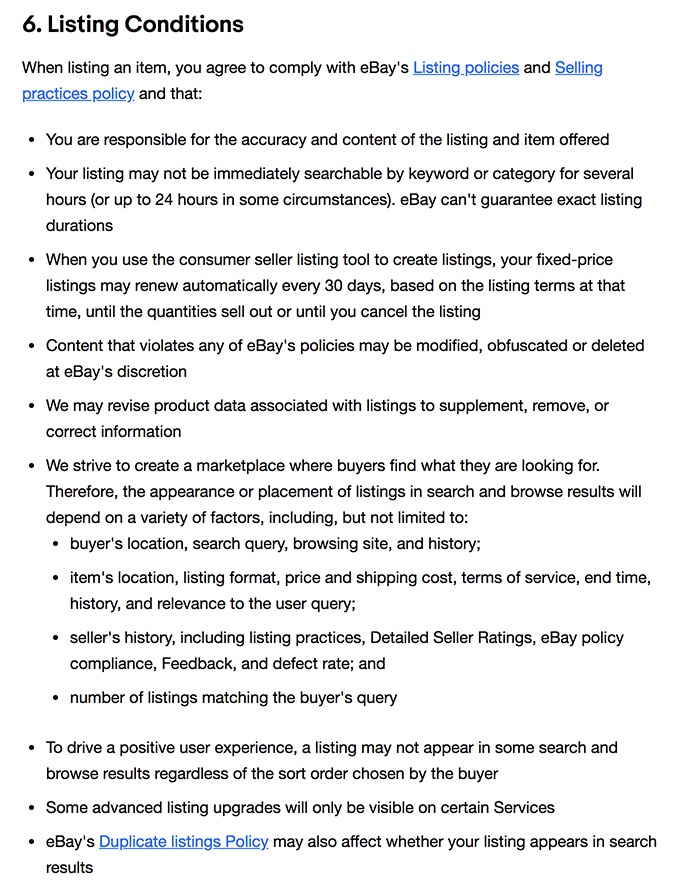 This lets you potentially avoid any potential issues with sellers or listing policies before they ever happen, and if they do happen, you'll have recourse because of your policy. With a list of rules in place, it's much easier to regulate the activities of buyers and sellers.
Fees
Chances are your auction platform charges a small fee from either the seller, the buyer or possibly both. If you have fees, spell them out in your Terms and Conditions so your users know what to expect.
Here's how eBay does this in a general Fees clause that links to other pages with more specific information about seller fees, final value fees and late fees: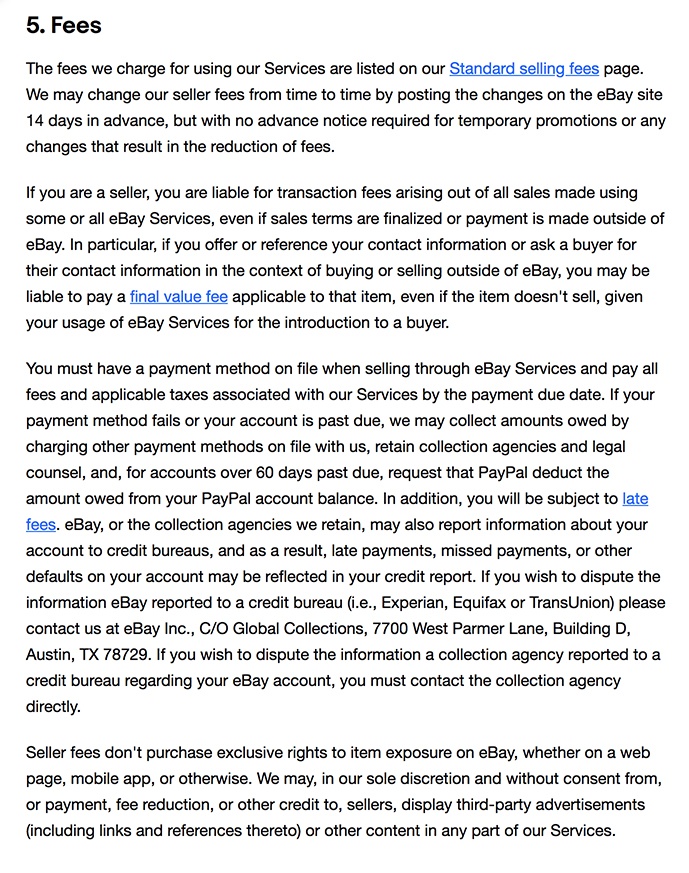 Whether your fee system is as involved as eBay's or not, it's a good idea to define your fee structure from the outset, as well as any late fees or penalties you have in place.
Privacy
Although you will need a separate Privacy Policy, you can include a short clause about privacy in your Terms and Conditions and link your full Policy to it.
This is usually a simple statement like this one from Globe Auction:

This clause briefly discloses that users consent to the use of their personal information during registration and auction participation. They also state that personal information would be divulged to a seller if a bidder buys an item. This short clause is enough to let users know that their personal information is being used and that they should check out the full Privacy Policy for more details.
International Terms
If your website offers the possibility of international sellers, buyers, and shipping, lay out your international policies in your T&C.
Christie's covers a range of policies on international purchases in this short paragraph:

Bonham's goes as far as to include multiple different versions of its entire Terms and Conditions agreement for different countries and regions: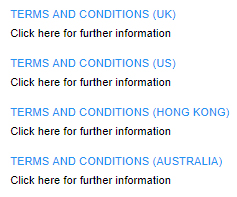 Within these categories there are even further categories of Conditions of Sale agreements to account for more localized and specific laws, such as the differing laws found in different US states. Here you can see agreements that apply specifically to the sale of certain goods in certain states: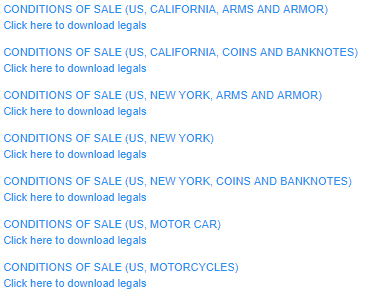 User Conduct
Because online auctions involve so much user interaction and activity, you'll need a clause that addresses user conduct and prohibited behaviors. In fact, this is one of the most important benefits to having a Terms and Conditions agreement in the first place.
Here's an example of a standard User Conduct clause in the Globe Auctions Terms & Conditions of Globe Auction:

Other websites incorporate a more comprehensive user conduct policy with more detailed regulations and a disclaimer in regard to the public content of users.
In this example, Gem Rock Auctions lists its rules for user activity and user-generated content. It then goes on to state that the company itself will not assume liability for any offensive or illegal content posted by its users. A disclaimer like this one may provide added protection if your website allows users to feely post their own products, reviews and comments: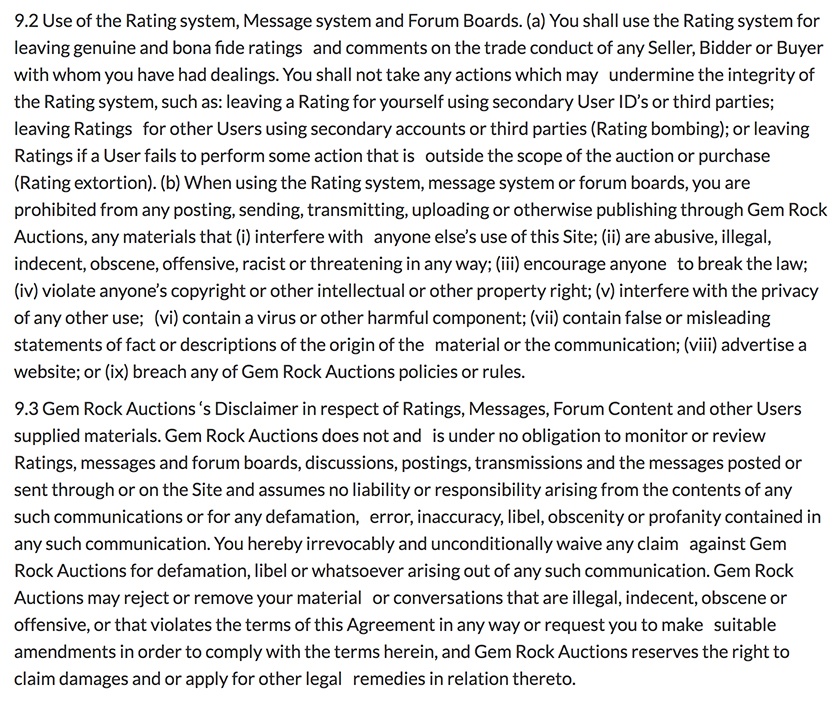 Right to Monitor and Edit Content
Another section that may be necessary in the case of user-generated content is a clause that expresses your right to monitor and edit content, whether it be product postings, reviews, comments, or otherwise. This will help to prevent disputes with users in the event that you need to edit or delete abusive, illegal, or otherwise prohibited user content.
Sotheby's phrases it like this: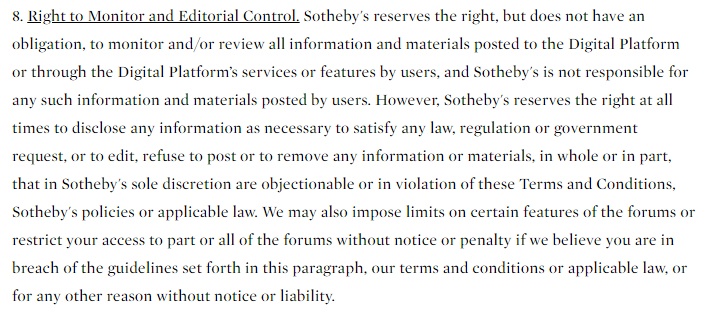 This paragraph states that Sotheby's may, at its sole discretion, monitor, edit, or delete any user-generated content that it wishes, at any time. This clause will likely be all you need to put a stop to user disputes regarding changed or deleted content.
Termination
Any website that allows users to create their own usernames and accounts should incorporate a termination clause into the Terms & Conditions.
This is another way to safeguard your company against user complaints.
Sotheby's provides another good example with its termination clause:

By including this section, you express your right to terminate any user account at any time, and for any reason.
Intellectual Property Rights and Copyright
The intellectual properties and copyrights of any online entity are alarmingly easy to take and use across the internet. Protect your auction IP an intellectual property rights clause
This is a simple statement to reminds users that all the images, software, code, logos, and other properties on your website are copyrighted and intended for use by your business alone.
Here's one from Sotheby's: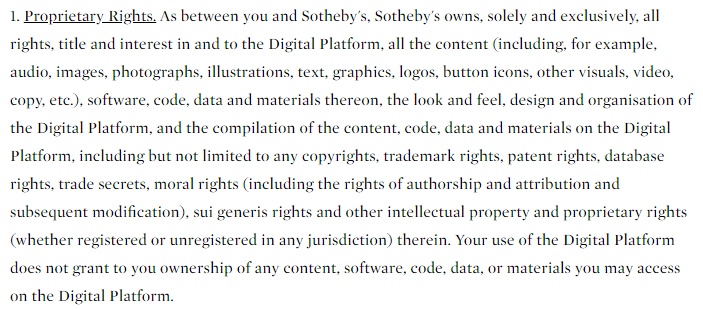 Another topic you could cover in this section is the possibility of copyright infringement due to content uploaded by website users. According to Section 512(c) of Title 17 of the United States Code, you will not be held responsible for copyright infringement if you were not aware of it at the time of upload, and if you have a plan of action in case any user-uploaded copyrighted content is found on your website.
eBay addresses this with the following clause in its Terms & Conditions: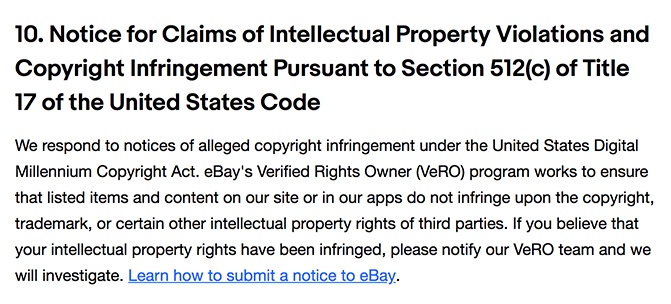 With this paragraph, eBay provides users with a method of contact in case any infringing content is discovered on its site. As long as eBay responds quickly to remove any copyright-infringing user-generated content from its website as soon as notice is received, the business won't be held liable for copyright infringement.
Limitation of Liability
A limitation of liability clause is standard in most Terms & Conditions agreements. In fact, it's one of the most important components in reducing your legal liability for any potential legal damages arising from your website or online business.
A common limitation of liability clause looks like this one from Invaluable: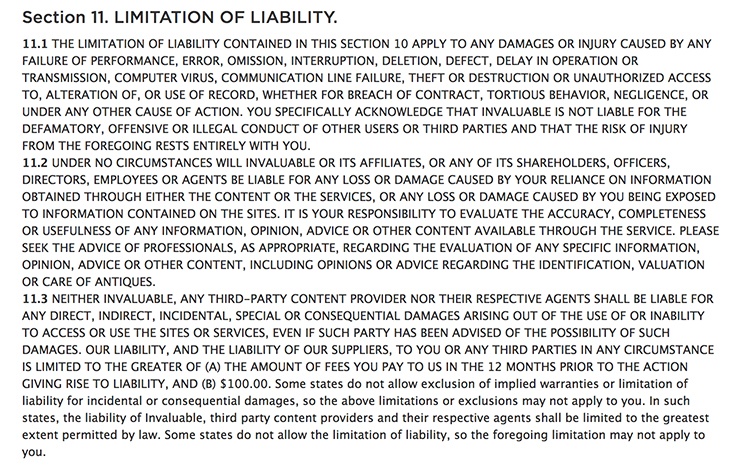 As you can see, this section limits liability in the case of any failure or interruption of service, breach of contract, theft, or other problems resulting from usage of the auction website. These types of clauses are often presented in all capital letters to make them more conspicuous and easy to find.
Although a limitation of liability clause is not a catch-all, foolproof method to remove liability in any legal situation, it can be used to reduce potential damages in most civil cases involving your online business.
Indemnity
Another clause that can limit potential legal damages is the indemnity clause. This clause states that the user will assume legal responsibility for any losses or damages caused by that user's activity on your website.
A clause like this can create some protection for your business if any of your sellers or buyers engage in illegal activity while using your service.
Invaluable provides a good example of a short, direct indemnity clause:

An indemnity clause is especially important in an auction platform. In the event that a buyer or seller does not uphold their end of a contract, your company will not be held responsible.
Legal Disputes
If any legal proceedings do come to pass, a legal disputes clause can ensure that the dispute is handled according to your own pre-specified conditions.
For example, Christie's stipulates which offices will handle any mediation or arbitration proceedings and how the proceedings will be managed:

This clause will help you to manage legal proceedings in the most expedient way for your business.
Governing Law
Most auction websites are either national or international by nature. It's very likely that products that are bought and sold on your platform will cross state lines, if not international borders. Laws can vary from state to state and country to country. A governing law clause will keep all future legal proceedings under the jurisdiction of your own local laws.
In this clause, Sotheby's affirms that their business dealings remain under the jurisdiction of New York law, and no conflicting laws from other locations may be imposed on their company. They go on to state that any legal proceedings regarding their business activity or dispute over their Terms & Conditions must be heard in New York courts: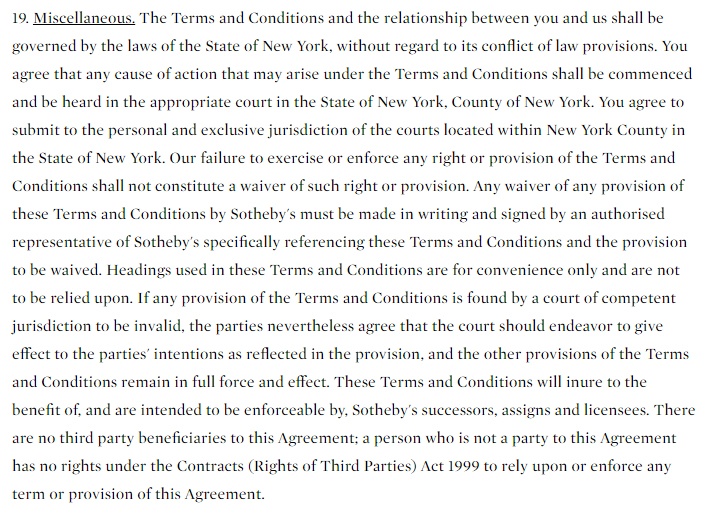 This clause not only keeps your business under the jurisdiction of local laws, but it also helps to ensure that any court proceedings will remain close and convenient to your location.
Changes to Terms & Conditions
It's inevitable that your Terms & Conditions will change. As your business grows and adapts to trends, technology, and new laws, you will need to adjust your Terms & Conditions accordingly.
Let your users know that changes to the Terms & Conditions will occur, and inform them how they will be notified of such changes.
Here's how Bonhams lays out its changes clause. Users are told how they will be notified of future changes to the agreement:

Contact Information
Finally, provide users with a direct method of contact with your company in case of any questions or concerns they might have about your Terms & Conditions:
Auction Ohio provides a variety of methods for users to contact them within the Terms & Conditions.

Overall, many clauses of your Terms & Conditions will be similar to those of other retail businesses but with small adjustments made to accommodate the nature of online bidding and selling between users.