A Shipping Policy is where you let your customers know important details about how you ship your goods, such as what shipping services you use, what shipping fees are, and what timeframe customers should expect for delivery.
This article will break down the benefits of having a Shipping Policy, and show you what information you should include in your policy. We've also put together a Sample Shipping Policy Template that you can use to help write your own.
What is a Shipping Policy
A Shipping Policy is the document where an ecommerce store informs customers about the conditions around the shipping of goods. Your Shipping Policy should inform your customers (or potential customers) about the following:
What shipping options you offer (overnight, standard, air mail, international, domestic only, etc.)
How much each shipping method will cost the customer
How long each shipping method will typically take
How long your handling time will be between when an order is placed and when it gets shipped
If orders must be placed before a specific time to be counted as placed during that business day
Any restrictions to where you can deliver (no P.O. boxes, not to specific states, etc.)
Anything else that would be material to a customer when placing an order
Why Should You Have a Shipping Policy?
While a Shipping Policy isn't required by law, it's definitely recommended by ecommerce best practices for managing customer expectations.
This is because it lets them know two key things that matter to every consumer:
How much they can expect to pay for shipping
How long of a wait they can expect when it comes to receiving their goods
If it takes too long for a customer to figure out how much you charge for shipping and generally how long an item will take to arrive, the customer will probably buy elsewhere and you'll be losing business.
Providing an easily accessible Shipping Policy that has clear information can help you gain and retain customers.
A Shipping Policy isn't to be confused with a Return and Refund Policy. A Return and Refund Policy lets customers know:
If you offer refunds and/or exchanges
If you accept returns from customers

What a customer must do to initiate a return
Which party pays for return shipping

Any other important information related to a return and refund

Any restocking fees or other deductions from full refund
Specific items that cannot be returned
Time limits on returns (Cannot return something after 15 days, etc.)
In summary, a Shipping Policy lets customers know details about how to get goods into their homes, while a Return/Refund Policy lets customers know what their options are after goods are delivered in the event that the customer wants to send the goods back.
What Sections to Include in Your Shipping Policy
If you're looking for the template, you can download it here.
The following are the most important sections that should be included in your Shipping Policy:
Methods of shipping available (standard, express, overnight, etc.) and the prices of each
International shipping information
Shipping restrictions (no shipping to P.O. boxes, no shipping of certain goods, etc.)
Handling time
Other/additional information
Methods and Prices of Shipping Available
The main thing most customers will want to know about your policies and procedures is how much you charge for shipping, and how fast items will arrive.
Most ecommerce businesses offer multiple shipping options, from standard ground delivery to expedited or even overnight shipping. These shipping options also come with different price tags.
Include a section in your Shipping Policy that breaks down this information.
Here's how Revzilla breaks down this information. The simple chart is easy to notice and read, while the explanation paragraphs below it provide additional information about what a customer can expect with each shipping method available. For example, a customer can quickly find out that 'Next Day' delivery costs $59.95:

To make sure that a customer is aware of what this shipping option actually means for them, the explanation of 'Next Day' is provided, along with all the other shipping types. This is great for managing customer expectations and being as accurate as possible:

Some shipping rates charged and methods available can get extensive, as this chart from the Michael's Shipping Policy demonstrates. Shipping rates vary drastically depending on how much money you spend and which shipping method you want: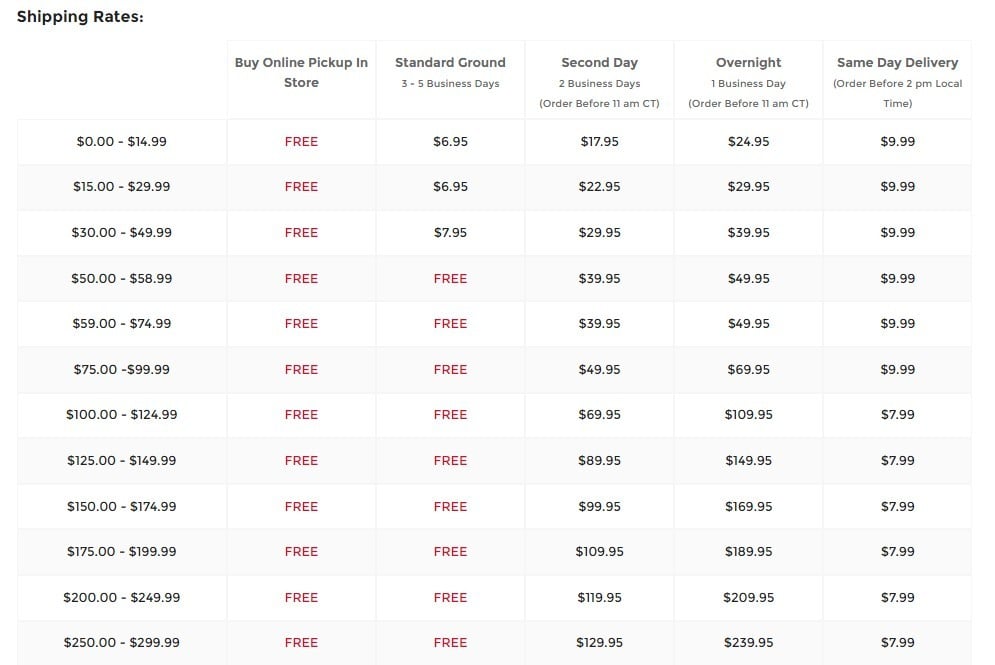 You can see that your rates can be as simple or as complex as you wish. Just make sure you be very clear about all the options and prices so your customers are aware.
International Shipping Information
Some information that's typically included in an international shipping information section will be what's considered international (i.e. anything outside of Canada, anything outside of the EU, etc.), how any tariffs or extra fees will be handled, if the return shipping policy is different than with domestic orders, what currency the order must be placed in and what wil happen if a package gets lost while in transit.
Revzilla includes a short clause noting that international orders will ship from specific locations and will likely take an extra 3 to 5 days to be processed:

A link to the International Order Policy Page is included in this clause for customers to find more detailed information.
Forespar has a robust International Ordering and Shipping Policy that addresses many of these points: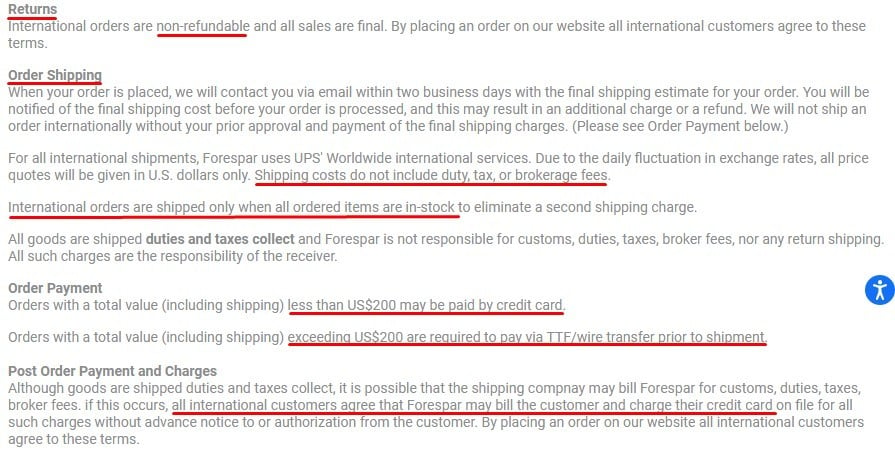 While many businesses choose to create a separate International Shipping Policy page and link this page to the Shipping Policy page, others include this information directly within the main Shipping Policy.
MakerBot adds a section titled "International Shipping" within its Shipping Policy, towards the end of the policy:

If your international shipping process is involved, with different information for a number of different global regions or countries, it may be best to separate this information into its own policy, like Forespar has done. However, if you either don't offer international shipping or the process is quite simple and short, you can easily include the information in a short clause within your Shipping Policy.
Shipping Restrictions
If your shipping has other restrictions other than international shipping limits, let your customers know.
For example, if you cannot deliver to certain states, or to P.O. boxes, make this clear.
Looking at the Michael's Shipping Policy again you'll notice that restrictions are listed for its UPS Next Day Air shipping service. Customers are informed that orders under this shipping method only ship on certain business days, that orders cannot be shipped to P.O. boxes under this method and that not all shipping methods are available for all items:

This information is crucial when it comes to managing customer expectations.
Handling Time
It's important to let your customers know about any handling time that can increase the overall length of time between the ordering and the arrival of their goods.
For example, if someone orders overnight shipping on an item at 8pm and expects to receive the item the following day, this can lead to problems if you stop processing daily orders at 2pm, and always take 3 days to process orders before shipping.
Here's how MakerBot lets customers know in the very first sentence of its Shipping Policy that orders are "processed within 2-3 business days ."

Here's an example of a Shipping Policy section that separates "Order Processing" time from "Transit Time" and lets customers know that order processing "typically takes 1-2 days" but that orders can ship anywhere from within "as few as 4 hrs" to "up to 5 days."

Additional Information
This is where you can include any relevant and important information about your shipping practices or policy that your customers would want to know.
Bed Bath & Beyond's Shipping Policy has an "Additional Information" section where information about security reviews of orders is mentioned, as well as information about gift card purchasing.

Jeffrey Campbell Shoes' Shipping Policy includes a "Please Note" section.
Information can be found here about order processing times, limits on orders and when the weekend cut-off time is for what's considered a "business day:"

Shipping Policy FAQs
Here is a list of frequently asked questions that you may find useful.
Summary of What a Shipping Policy is
Having a Shipping Policy that lets your customers know all the important details about shipping can be a great way to avoid unmet or unrealistic expectations on their part.
The following are all important points to include in a thorough Shipping Policy:
Processing time
Shipping time
Shipping costs
Shipping options available, including international options
Shipping restrictions
Requirements of the customer
Any material additional information
Download Sample Shipping Policy Template
This Sample Shipping Policy Template is free to download and includes these sections:
Introduction
Domestic Shipping Policy

Shipment processing time
Shipping rates & delivery estimates
Shipment to P.O. boxes or APO/FPO addresses
Shipment confirmation & Order tracking
Customs, Duties and Taxes
Damages

International Shipping Policy
Sample Shipping Policy Template (HTML Text Download)
You can download the Sample Shipping Policy Template as HTML code below. Copy it from the box field below (right-click > Select All and then Copy-paste) and then paste it on your app or website pages.
Sample Shipping Policy Template (PDF Download)
Download the Sample Shipping Policy Template as a PDF file
Sample Shipping Policy Template (Word DOCX Download)
Download the Sample Shipping Policy Template as a Word DOCX file
Sample Shipping Policy Template (Google Docs Download)
Download the Sample Shipping Policy Template as a Google Docs document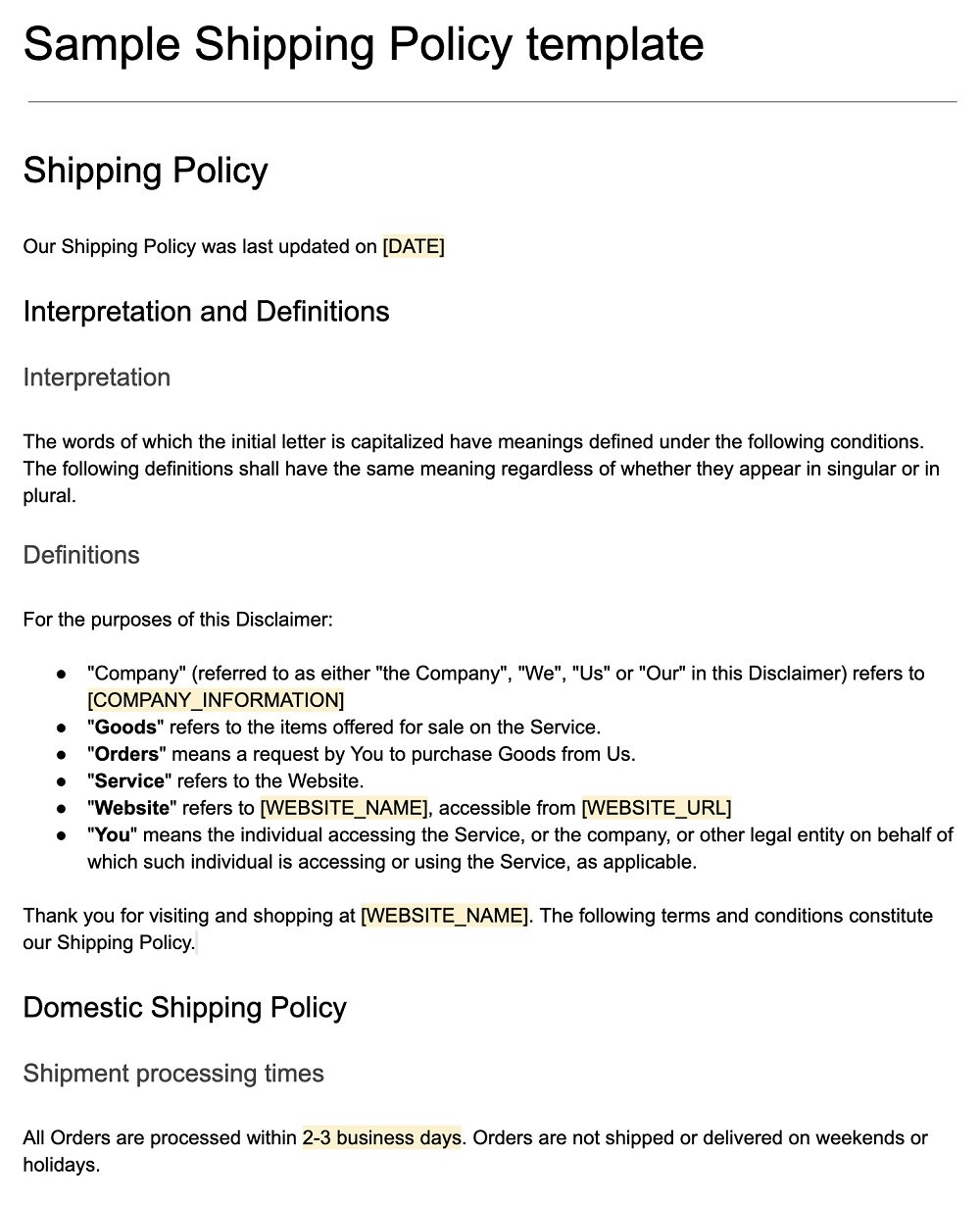 More Templates
More specific Templates are available on our blog.

Comprehensive compliance starts with a Privacy Policy.
Comply with the law with our agreements, policies, and consent banners. Everything is included.