While the U.S. does not have federal laws affecting returns and refunds, it's still a good idea to have a Return & Refund Policy.
US state laws do not require a Return & Refund Policy either but under certain circumstances, you need to post this policy conspicuously in your storefront or through your ecommerce website.
Issuing returns and refunds is at your store discretion. However, informing of your policies and maintaining fair terms is expected from your customers.
Here's an overview of the laws affecting your Return & Refund Policy in the US and good practices for allowing returns, refunds, and exchanges for merchandise.
What is a Return & Refund Policy
The Return & Refund Policy is the policy that informs customers of the cost, timeframe, and requirements for returning merchandise for a refund or exchange.
The policy also indicates whether the refund is provided as store credit or return of the purchase price. If there are conditions to securing a return, refund or exchange, the Return & Refund Policy lists those too.
A Return & Refund Policy may be described in the Terms & Conditions agreement or occupy a page on its own.
Retailers also provide it in hard copy with shipments. Most retailers provide the Return & Refund Policy online in FAQ format and in the Terms & Conditions agreement itself.
Stores may create as generous or restricted of a Return & Refund Policy as necessary.
Amazon has a generous Return & Refund Policy that varies based on merchandise type. You can see this in the outline of the policy: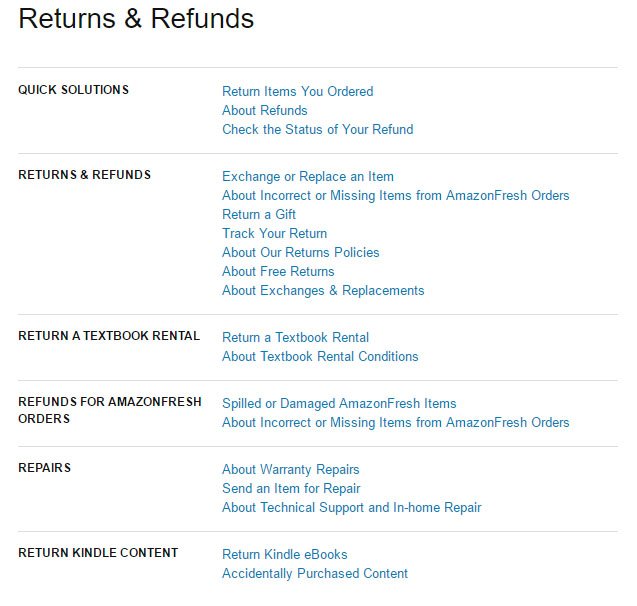 Amazon also incorporates the Return & Refund Policy in its "Conditions of Use" agreement. This is a brief mention that includes a link to the Return & Refund Policy:

Smaller retailers also take this approach.
thredUP, a used clothing exchange and sales site headquartered in California, includes its Return & Refund Policy in its Terms of Use agreement and in a separate Customer Care FAQ on returns.
This is how thredUP presents its policy on returns in the Terms of Use agreement: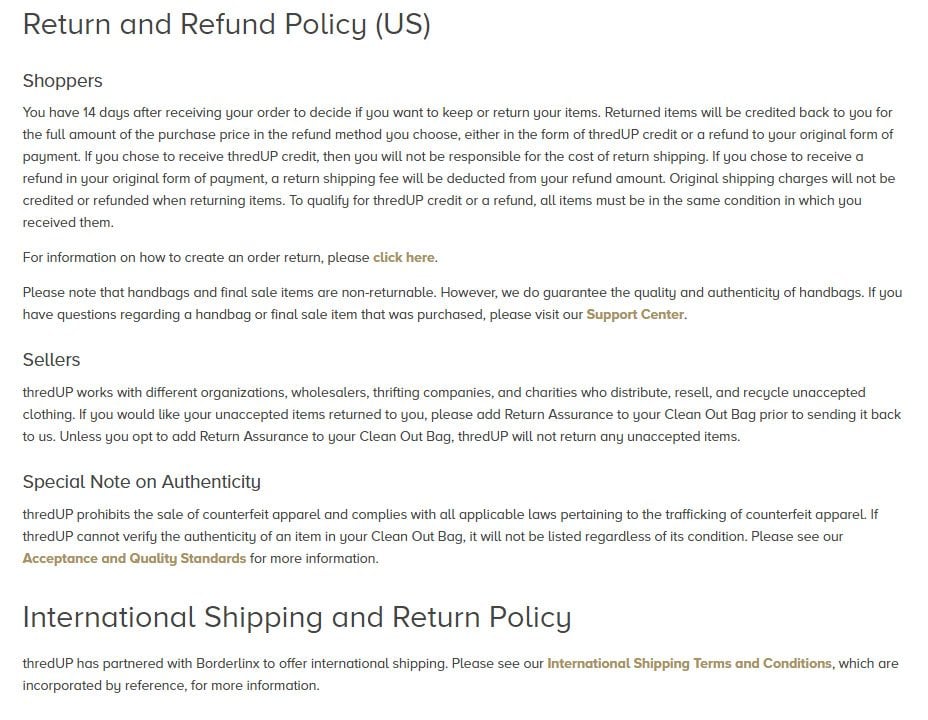 This is the FAQ version of their Return & Refund Policy: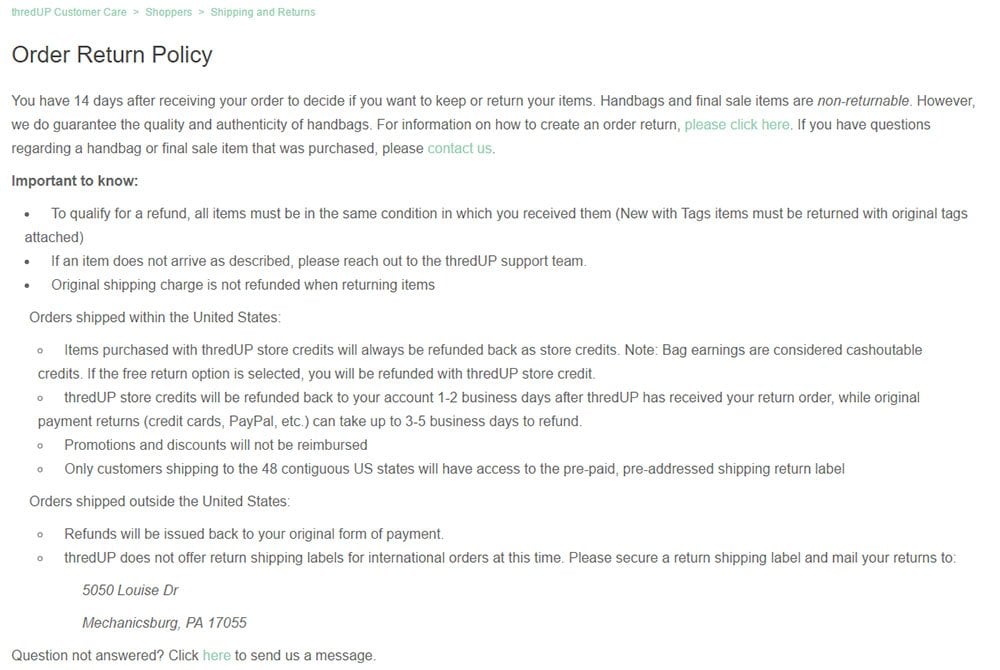 Return & refund laws by state
Even without a US federal law, you still need to be cautious.
Fourteen states passed laws regarding Return & Refund Policies. Some of them are limited to the cancellation of transactions, like hotel or campsite reservations and digital products. Others are primarily focused on assuring consumers see the policy on a website or in a store.
While no state laws truly require a Return & Refund Policy, there are circumstances where you need to make your Return & Refund Policy conspicuous at your storefront and on your website. Each law has guidelines on making this happen.
The following list includes the fourteen states with laws affecting Return & Refund Policies and their requirements.
However, you may still want to adopt these practices on your website because it's impossible to limit your transactions to specific states.
California
California law addresses terms for a Return & Refund Policy that may not be expected by a consumer.
Civil Code Section 1723 of the California state requires a retailer to post their Refund Policy if the policy contains unique requirements.
Common expectations in the U.S. retailers offering:
A full cash or credit refund
An exchange
Or a combination of these solutions when buyers are unsatisfied with their purchase
If the Return & Refund Policy does not include these expectations, it must be conspicuously displayed, even it only applies to one class of merchandise.
For example, if a retailer only authorizes exchanges but not refunds, that would need to be displayed.
Likewise, if returns are not authorized on particular merchandise, like medical items, that must also be displayed.
If the display of the policy is necessary, the Return & Refund Policy must state:
Whether a cash refund, store credit or exchange is given for the full purchase price;
The time period a refund, credit or exchange is authorized;
Merchandise covered by the policy; and
Conditions for a refund, credit or exchange. For example, that is must have the receipt and original packaging.
Exceptions to this policy include perishable items, merchandise marked "as is", goods damaged after purchase, customized goods that meet specifications, merchandise without its original packaging, and exchanges that cannot be made due to public health reasons.
Connecticut
Connecticut law allows retailers to set their own Return & Refund Policy terms. The only requirement is that they display the policy in a conspicuous place.
If the Return & Refund Policy is not displayed or the retailer does not have a Return & Refund Policy, the buyer is entitled to a refund in the amount of the purchase price.
Retailers are not obligated to provide a refund without proof of purchase.
Connecticut law does not apply to perishable items, plants, custom-made goods, used items, and those that cannot be resold due to state regulations.
Merchandise marked "as-is" or "final sale" also fall under these exceptions.
Florida
The law in Florida only concerns retailers who will not issue refunds. If your store policy is a "no refunds" policy, Florida statutes require you to clearly state this conspicuously near store entrances or the cashier's station.
If you do not post a Return Policy informing customers of your "no refunds" policy, customers are entitled to a full refund if they make returns within 7 days of purchase.
Hawaii
Retailers in Hawaii can have one of four different return policies:
Refunds only,
Refunds or merchandise credit only,
Exchanges or merchandise credit only, or
No refunds, merchandise credit or exchanges
The retailer must conspicuously post its policy.
Any return window that's less than 60 days must be noted, as well as any categories of goods that are excluded from the policy, such as final sale or clearance items.
If store credit is offered and a customer can't find a suitable substitute to use the credit on within 30 days, the customer can get a cash refund unless there was a conspicuous notice stating that credit cannot be converted into cash. Any store credit must be valid for at least 2 years.
If a refund policy is not conspicuously posted, the business must offer a refund for any goods returned within 60 days of purchase.
Illinois
Returns & Refunds Policies in the state of Illinois are up to retailers and the law makes no requirements for these policies.
The right to cancel a transaction is only available with door-to-door sales for more than $25, campground memberships, and fitness centers.
Maryland
Maryland law requires retailers to post their Return & Refund Policy on the storefront wall, merchandise or the receipt. Stores can refuse returns if it is specifically stated in the policy.
Without a posted Returns & Refund Policy, retailers in Maryland must accept returns if they are submitted within a reasonable time period.
Defective merchandise must be repaired, replaced, or refunded.
Massachusetts
Massachusetts retailers must disclose their refund, return or exchange policy before finishing a transaction with a buyer. This is normally done with a conspicuous sign.
Without a Return & Refund Policy, retailers in Massachusetts must accept all returns submitted within a reasonable period after purchase.
Minnesota
Minnesota statutes require a retailer to conspicuously display its Return & Refund Policy in boldface type set at a minimum of 14 points.
If the Return & Refund Policy is not posted or fails this standard, the retailer must accept all returns and issue full refunds.
New Jersey
New Jersey retailers must post their Return & Refund Policy conspicuously.
If one is not posted, then the retailer must allow returns, issue refunds or provide store credit for any merchandise submitted within 20 days of purchase.
The policy must contain certain specific information such as whether refunds will be given for items without a proof of purchase, products returned after a particular period of time, and products sold "as is" or on sale. It must make it clear how refunds will be issued (cash, store credit, etc.).
New York
Every New York retailer must conspicuously post its Return & Refund Policy.
If a retailer from New York does not provide a Return & Refund Policy, then the retailer is required to accept returns and issue refunds for all merchandise submitted within 30 days of purchase.
Other than this notice requirement, there is no law requiring retailers to offer refunds or replacement merchandise. However, if a retailer has this policy, it must post it or it is not enforceable.
Ohio
Retailers in Ohio are not required to have a Return & Refund Policy. If the retailer has a Returns & Refunds Policy, it must be conspicuously posted.
Putting the Return & Refund Policy on the receipt is not considered adequate because customers only see it after completing the purchase.
Without a posted Refund Policy, retailers in Ohio must accept returns and issue refunds. Restocking fees can be included with the cost of the return, but that must be posted where customers can see it.
Rhode Island
Return & Refund Policies in Rhode Island must be conspicuously posted as a sign or poster at the cash register or store entrance. This is especially true if all sales are considered final and goods are not returnable.
If there is no Return & Refund Policy posted, customers can return merchandise for a refund within 10 days of purchase.
Virginia
Virginia code requires businesses to conspicuously post its policy or customers can return items within 20 days of purchase.
Other states
These remaining states do not require anything for Return & Refund Policies at the time this article was written:
Alabama
Alaska
Arizona
Arkansas
Colorado
Delaware
Georgia
Idaho
Indiana
Iowa
Kansas
Kentucky
Louisiana
Maine
Michigan
Mississippi
Missouri
Montana
Nebraska
Nevada
New Hampshire
New Mexico
North Carolina
North Dakota
Oklahoma
Oregon
Pennsylvania
South Carolina
South Dakota
Tennessee
Texas
Utah
Vermont
Washington
West Virginia
Wisconsin
Wyoming
What to add in US Return & Refund Policies
Even without legal requirements at the state or federal level regarding Return & Refund Policy provisions in the US, you still want this to be a clear agreement between you and your customers.
Most online Return & Refund Policies contain these provisions.
Cost of return
The cost of return includes return shipping paid by the buyer or restocking fees. Since customers do not like surprises on costs, make these conspicuous in your Return & Refund Policy.
If it's just one fee, like a restocking or processing fee, make it stand out with a star or even bold print.
Woman Within, an online clothing retailer, charges a $7.50 fee with returns. It mentions this fee in its Return & Refund Policy instructions: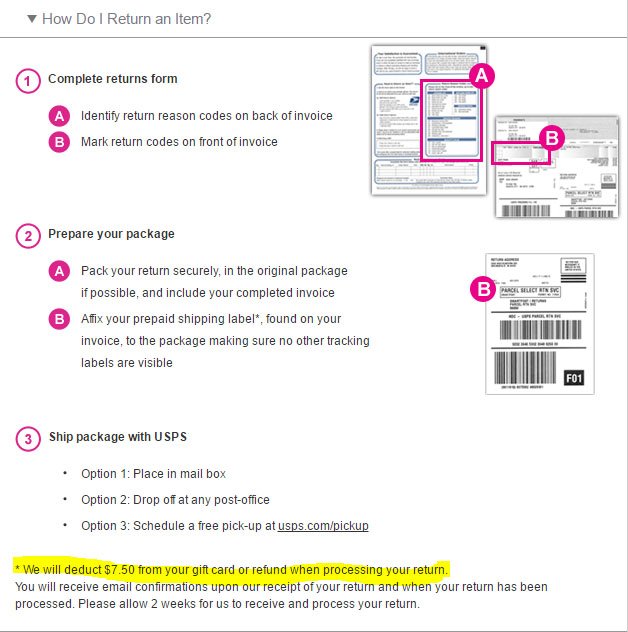 Sometimes, the cost of return may be on a sliding scale.
thredUP does not charge return shipping if the buyer requests store credit rather than a cash refund. This is also within its FAQ: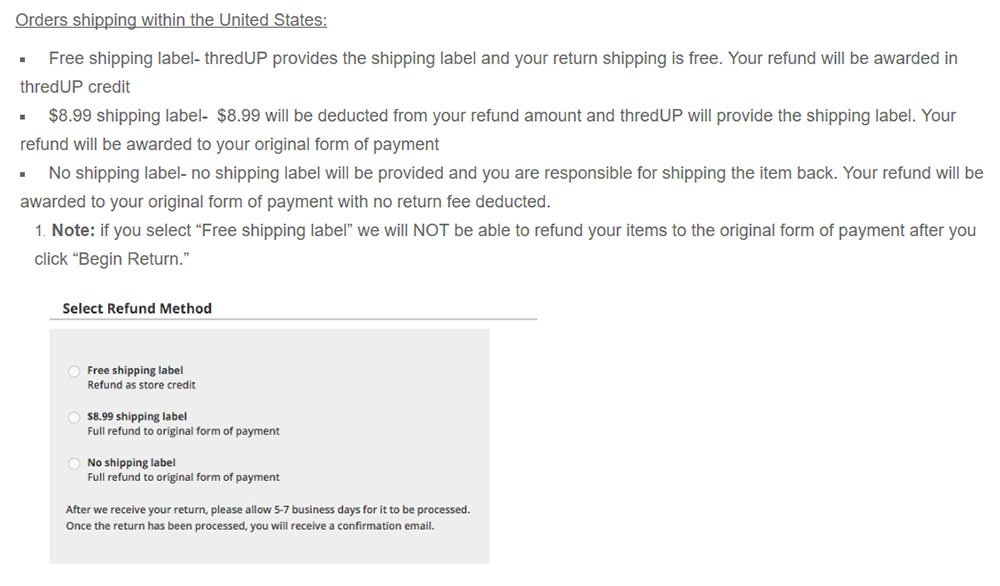 Bold print, shaded boxes, and other embellishment can make these fees or return shipping more obvious.
Also, mention them frequently not only in your Return & Refund Policy but also in instructions and on any return shipping labels you provide.
Timeframe of allowed returns
Limiting returns to a timeframe protects your business interests.
Wardrobe fraud, the practice of buying clothes, wearing them, and then returning them while claiming they were never worn, is one danger.
Also, you may have customers who use software, play video games, and treat your Return Policy as a free exchange. You can avoid these scenarios with timeframes.
Woman Within offers a 30 and 90 day timeframes:
The 30 day timeframe applies to unworn, unwashed and defective clothing items that is submitted for an exchange, not a refund.
Customers can request a cash refund within 90 days of purchase and after 90 days, they can only receive store credit.
In either case, clothing must be unwashed and unworn: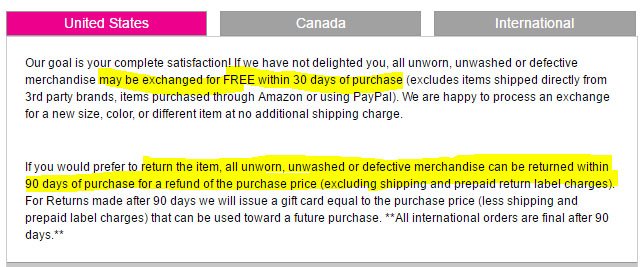 Larger retailers that trade in many products may assign a timeframe for each class of product.
Best Buy offers timelines based on type of merchandise and presents them in an easily read table. It also extends return privileges to customers who invest in an "Elite" or "Elite Plus" membership:

As mentioned, there are no federal laws controlling timeframes.
However, state laws as listed above impose minimums that range from 10 days up to 60 days.
These only apply if no Return Policy is listed, so if you place your timeframes in a conspicuous place on your website, you can set them to any limits you consider reasonable.
Form of refund
The form of refund informs customers whether they receive store credit or a cash refund when they return merchandise. This can vary on circumstances.
The Woman Within example used above based the form of refund on when customers made returns. thredUP offers store credit and cash refunds. Customers choose which they prefer and that only affects shipping fees:

You can also offer a replacement for damaged items.
Art.com sells framed prints and custom canvas art. Customers who are not satisfied with their purchase or receive their item with shipping damage have the option of a refund or replacement:

Your store has the option of offering refunds, store credit or an exchange based on circumstances or you can have a universal policy that only gives store credit or cash refunds.
As long as you make it clear to your customers, your decision is acceptable under U.S. law.
Return conditions and requirements
You may have conditions for accepting returns or issuing a refund. No laws prevent you from doing that.
A common condition for a successful return is the item still having its original packaging or tags. Conditions may depend on type of merchandise.
Walmart is a large retailer selling many different types of products. It offers a generous return policy of 90 days but also mentions that is subject to exceptions.
For all merchandise, the buyer must have its original packaging:

Return exceptions are based on class of merchandise. It lists these in a clear table format: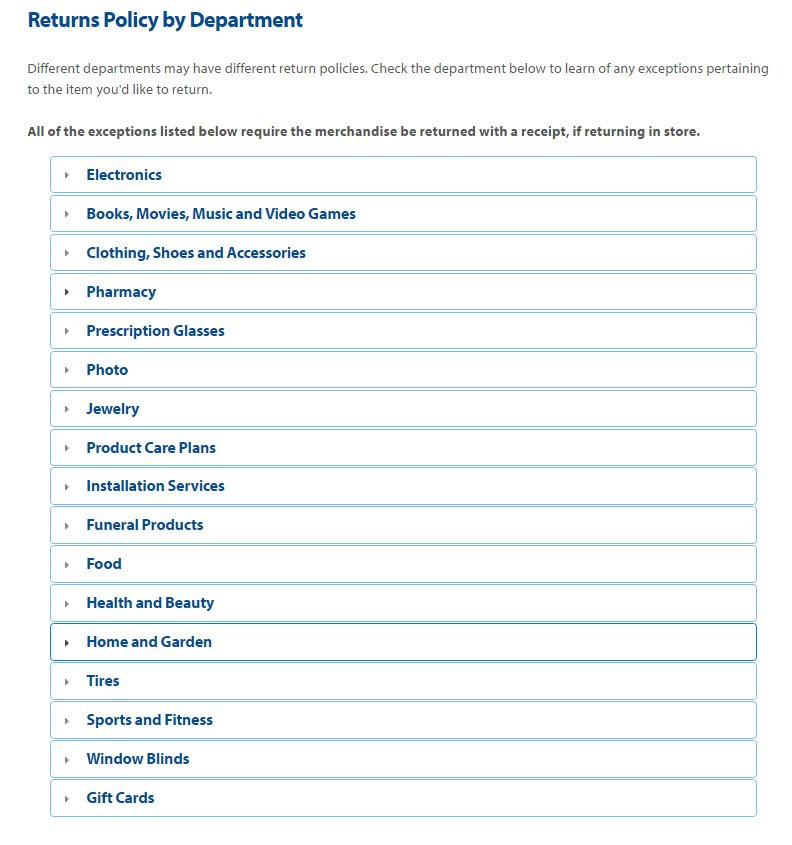 If the buyer clicks on any of these categories, they can see the exceptions and specific return policy. Electronics includes a lengthy section on these exceptions with return timeframes between 14 and 90 days. It also includes what cannot be returned for a refund: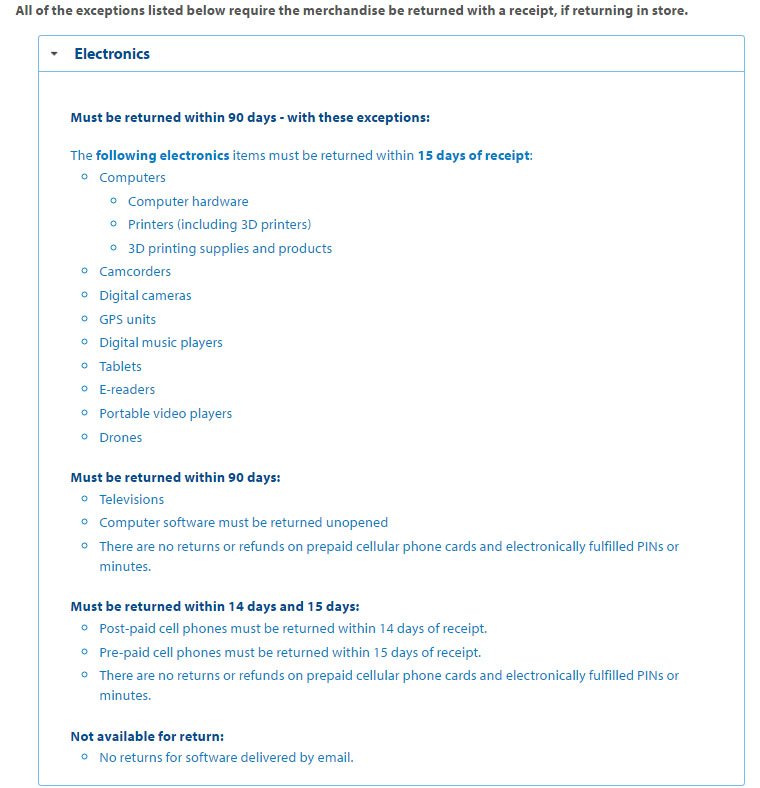 Return conditions are easy to set in your Return & Refund Policy if you only sell one type of merchandise.
If you deal with several types, consider their elements thoroughly so any conditions or timeframes you place on your customers are reasonable.
Case-by-case refunds
Digital products offer challenges. It's possible for users to download a product, claim it does not meet expectations, and then demand a return and refund - while still using the product.
There is no material product to verify a return and issuing refunds without investigation can lead to abuse.
A Return & Refund Policy with the elements above is not as helpful for these products. Rather than maintain a full policy, companies dealing with digital products often issue refunds on a case-by-case basis.
If a refund request is rare and the possibility of technical failure is likely, it's likely the company issues the refund.
However, if a particular customer makes repeated requests and it's not possible for products to fail that frequently, it will suspect fraud and not issue the refund.
This is how Apple handles these requests. Described in its Terms & Conditions agreement, Apple explains that each request is reviewed and if fraud is suspected, the customer does not receive a refund: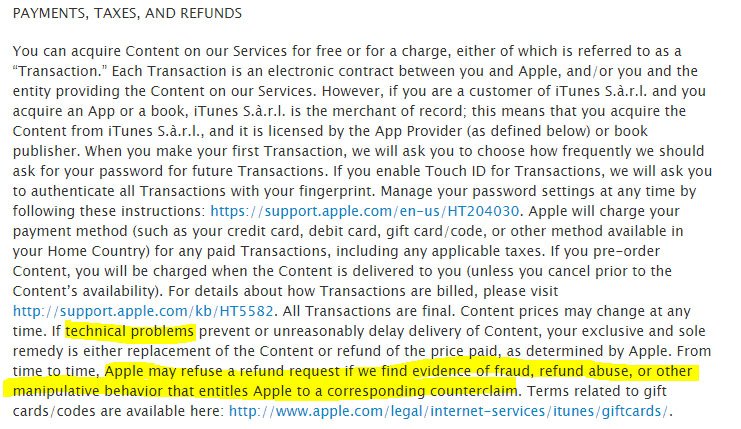 As mentioned, there is no way to know for sure if a digital product failed to operate for a user, but considering each request individually helps.
You may also want to take these matters on a case-by-case basis and state that in a Return & Refund Policy or in your Terms & Conditions agreement.
While a Return & Refund Policy may not be required, Americans expect retailers to accommodate returns and refunds. Offer clear terms that include what you will not authorize.
That keeps you in compliance with state laws but it also enhances goodwill among your customers.