Sample Terms of Service Template
Last updated on 13 January 2022 by Sara Pegarella (Law school graduate, B.A. in English/Writing. In-house writer at TermsFeed)
A Terms of Service agreement can be used for any kind of website or mobile app, from iOS/Android and SaaS apps to ecommerce websites and blogs. That's because it provides huge benefits for a range of businesses and platforms.
In this article, we're going to talk you through everything you need to know about Terms of Service agreements.
We've also put together a Sample Terms of Service Template that you can use to help write your own.
What is a Terms of Service Agreement?
A Terms of Service agreement is the legal document that helps you set out the rules and guidelines that your users or visitors must agree to in order to use your website or app, such as:
Not stealing your content and violating copyright laws
Not spamming other users
Not using your site for illegal activities
These agreements are commonly abbreviated as ToS and are also referred to as a Terms and Conditions agreement, Conditions of Use, or User Agreement.
Regardless of what you call your Terms of Service, the aim of the agreement is the same:
Disclose the rules and restrictions that your users must adhere to
Maintain your right to terminate abusive accounts
Make your copyright, trademark and intellectual property rights known
Limit your liability
Disclaim warranties
Depending on the nature of your business, your ToS may also need clauses that cover:
Payment terms
Subscription information
Licensing rights
Customer support
Here's an example of a fairly standard table of contents for a Terms and Conditions agreement, from NextRoll: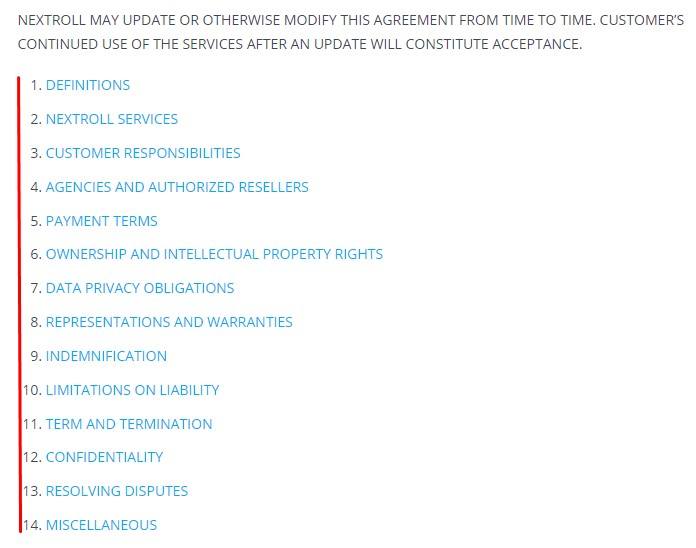 How to Enforce Terms of Service Agreements
Legal agreements are only good if they can be enforced.
To get your users to agree to be bound to your legal agreements, use the clickwrap method to obtain consent. Clickwrap is when you have a user check a box or at minimum click a button that is clearly labeled as showing that the user is agreeing by taking that action.
Here's a simple example of clickwrap in action. A user must click the checkbox next to a statement that says, "I accept and agree to the Terms of Use" before being able to continue interacting with the platform: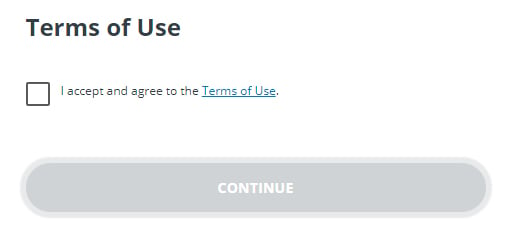 When a user clicks the box and then clicks the Continue button, the Terms of Use become enforceable against that user: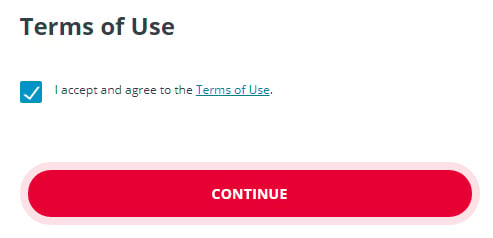 You should always include a link to your ToS wherever you ask users to agree to it, such as:
Account sign-up pages
Download/program installation screens
Checkout pages
User-generated content submission forms
Keep a link to your ToS in your website footer as well so that your users can access your agreement at any time:

Not only will your users appreciate this accessibility, but it will help you prove that your agreement is enforceable if you ever need to do so in court.
Note that a Terms of Service is not required by law as a Privacy Policy is. However, it's a great agreement to have in place with your website or app in order to:
Control the use of your website/app
Protect your intellectual property
Keep your users informed about your requirements for them
Limit your legal liability
FAQs Regarding Terms of Service Agreements
Here is a list of frequently asked questions that you may find useful.
Download Sample Terms of Service Template
Generate Terms of Service in just a few minutes
This free Sample Terms of Service Template is available for download and includes these sections:
Introduction
Interpretation and Definitions
Acknowledgment
User Accounts
Content
Copyright Policy
Intellectual Property
User Feedback
Links to Other Websites
Termination
Limitation of Liability
"AS IS" and "AS AVAILABLE" Disclaimer
Governing Law
Disputes Resolution
Severability and Waiver
Changes to the Terms
Contact Information
Sample Terms of Service Template (HTML Text Download)
You can download the Sample Terms of Service Template as HTML code below. Copy it from the box field below (right-click > Select All and then Copy-paste) and then paste it on your website pages.
Sample Terms of Service Template (PDF Download)
Download the Sample Terms of Service Template as a PDF file
Sample Terms of Service Template (DOCX Download)
Download the Sample Terms of Service Template as a DOCX file
Sample Terms of Service Template (Google Docs Download)
Download the Sample Terms of Service Template as a Google Docs Document