Ecommerce is a huge industry that generates billions of dollars in revenue. One key component to any ecommerce operation is a Terms and Conditions agreement.
The Terms and Conditions agreement is designed to set out the rules for what you expect from your website visitors and what they can expect from you in return when they use your website or purchase goods or services from you online. Having a Terms and Conditions agreement in place can protect both parties involved and provide customers with confidence in their purchase decisions.
While no law requires any ecommerce store to have a Terms and Conditions agreement (unlike the Privacy Policy that is required by law), we'll show you why you should have a T&C anyway.
This article will talk about what a Terms and Conditions agreement is and what it should include for your ecomerce store. We've also put together a Sample Ecommerce Terms and Conditions Template that you can use to help you write your own.
What is a Terms and Conditions Agreement?
A Terms and Conditions agreement (also known as Terms of Use or Terms of Service) is a contract between you, the store owner, and your customers. It defines what each party can expect during their business relationship.
As mentioned above, ecommerce businesses need to craft this document because it defines their relationship with customers as well as their responsibility towards them.
Reasons Why You Should Have a Terms and Conditions Agreement
A proper Terms and Conditions agreement will outline the rules for how users should interact with your website and set standards that will protect you from liability.
Let's explore that statement a bit more in-depth so that you can get a better sense of what kind of standards are typical and what kind of liability a Terms and Conditions agreement will help protect you from.
To Prevent Users From Abusing Your Services
A Terms and Conditions agreement can set the tone for your ecommerce website. You'll have the opportunity to set guidelines for how users should behave and what happens if they don't follow your rules, which might have to do with things like:
Payments
Returns
Abusive behavior and language when dealing with customer service
Attempting to infect your website with malware
Posting defamatory content in the comments section of blog posts
Through the inclusion of specific clauses, your Terms and Conditions agreement will let users know your rules and requirements, and actions you'll take if they're broken.
To Lay a Legal Claim on Your Content
When you create a website, it is vital to know who owns the content on that site. You are more than likely the owner of anything and everything visible on your website (except for user-generated content).
Still, you want to ensure your intellectual property is protected. You should notify users that they cannot use any material from your site without first asking permission.
This way, if someone tries to steal or reproduce copyrighted images, design elements, etc., you'll have grounds for legal action.
To Limit Your Liability
Terms and Conditions agreements typically include a warranty disclaimer that limits the website owner's liability. It may seem like a minor detail, but waivers can help limit the liability of website owners when errors are found, or content isn't up to date.
In other words, your Terms and Conditions can be used to notify users that you can't be held responsible for any flaws or oversights in the content presented on your website or for information provided being inaccurate, incomplete, or suitable for any purpose.
Some relevant examples might be the following:
Products are listed at the wrong price
Your site provides only partial information about shipping times
Your site neglects to mention which countries it ships to
Essential Clauses for an Ecommerce Terms and Conditions Agreement

Every Terms and Conditions agreement is different depending on the type of business for which it is written, but there are some clauses you can expect to find across the board in these agreements if the agreement is going to do its job correctly.
We recommend incorporating the following recommended clauses into your Terms and Conditions so customers have an understanding of what they agree to when they shop at or interact with your ecommerce store.
Conditions of Use/General Conditions
You need a clause that essentially introduces your Terms and Conditions agreement to your website visitor/customer. Many agreements call this clause "Online Store Terms," and others just call it "Introduction."
Regardless of its title, you'll want to outline the services you're providing. You will also want to inform users on what those services are conditioned.
Additionally, you should be clear about whom the agreement applies to, the parties involved, what the agreement is, and when it goes into effect (i.e., when someone arrives on your website and begins to browse).
Amazon, the world's largest eCommerce platform, starts off its Terms and Conditions (which they call "Conditions of Use") with an introduction clause. Take a look at how they welcome users and begin laying out terms in the screenshot below: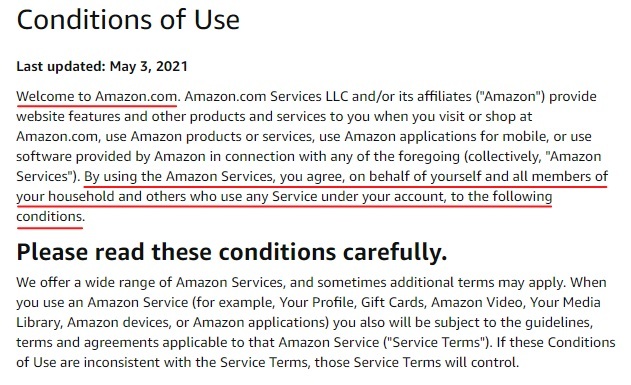 Your Guidelines
As an online seller, you should set out guidelines for how users can use your website, create accounts if applicable, make purchases, communicate with each other through the site's messaging system (if you have one), and more.
This section is essentially all about creating a general overview of your "House Rules" before the user goes on to read specifics in the following clauses.
eBay goes into a slew of terms in a lengthy clause that provides users with an overview of what's to come. It also provides a warning to sellers as seen here:

Laying Out What's Prohibited
This is a clause that covers what actions and uses are forbidden. You need to be clear about what's allowed and what's not so that users understand where your boundaries are.
Having a clause like this gives you a foundation, which you can point back to if you ever need to ban and delete an abusive user's account.
Note how Etsy lays out what it specifically prohibits users from doing: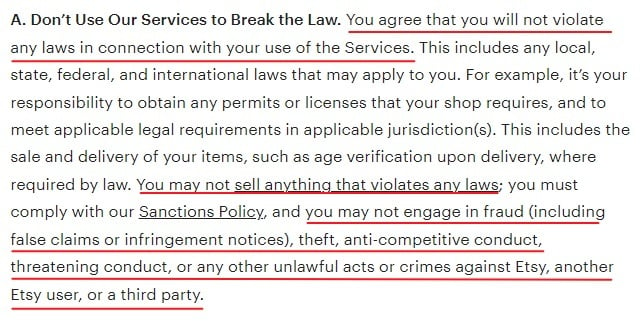 Governing Law
First, it is essential for consumers, business owners, marketers, or anyone else who interacts with your website and services to know which governing authority has jurisdiction if a legal dispute should occur.
Here's an example from Etsy:

Governing law is usually determined by things like the geographic location in which you're doing business or where your company is incorporated.
A good Terms and Conditions agreement will provide all of that information.
Termination and Suspension of Accounts
It's crucial to have a plan in place for how you're going to respond when customers violate your Terms and Conditions. A solid strategy will help ensure that you don't waste time and resources on those trying to damage your ecommerce store.
It's a good idea to make sure that your termination and suspension clause is as broad as possible so that you have room to suspend or delete accounts as you deem necessary.
You can see in the following image that Solo Stove's main reason for suspending or terminating an account has to do with users purchasing stoves and then reselling them:

You can make the reason for account suspension be anything you deem reasonable.
Intellectual Property
As an ecommerce business owner, your intellectual property is of the utmost importance. Your slogans, logos, trademarks, and other commercial branding are all part of what makes you unique in this world.
You should protect them from being used by others without permission or proper licensing agreements. Remember that your intellectual property can extend beyond visual elements like logos and fonts, too.
You should clarify exactly what's yours and how users may or may not use these assets.
The ecommerce store Revelry has a lengthy clause that goes into significant detail as to what constitutes intellectual property and more:

Payments
It's essential for any company that takes in money to set out what it expects in terms of payments and fees, and what actions it can take if users don't make payments, or a payment method fails.
Given how effortless it is today to make purchases without ever speaking with someone (or opening your wallet), people often fail to consider what forms of payment a business may accept or what might happen if they're allowed to "pay later," but then don't.
The payment clause is your opportunity to explicitly layout your policies on pricing-related issues, including transaction processes, delivery terms, shipping, and returns and refunds.
Here's a portion of Larq's Payment clause, which lets users know what payment processors the company uses:

Note that some Terms and Conditions separate the subjects of payments and fees from refunds and returns. Others put all of this information together under the Payments clause.
Limitation of Liabilities
Today's ecommerce marketplace is full of new opportunities, but with those come more risks. Whether it's an item with a wrong description or system error, you don't want to wind up liable for everything that might go wrong on your platform.
You simply can't guarantee the system will always be error-free, and third-party websites linked through advertisements may not always be secure.
With that in mind, your Terms and Conditions agreement needs to have a clause that limits liability for common scenarios.
Just a few common issues covered in typical liability clauses are things like:
Warranty issues
Personal injury
Loss of profits
Computer viruses and malware
Unintentional product misrepresentations
Burrow simply labels its liability clause as "Disclaimer:"

Links to Third Party Websites
Some Terms and Conditions address third-party links in a liabilities clause, while others contain a separate clause just for links. No matter how you choose to address the issue, you should let users know that you're not responsible for the content or behavior of any third-party websites you link to.
Further, you should inform users that they are responsible for reading those third parties' Terms and Conditions agreements.
This is how Body Bliss words its clause on this issue: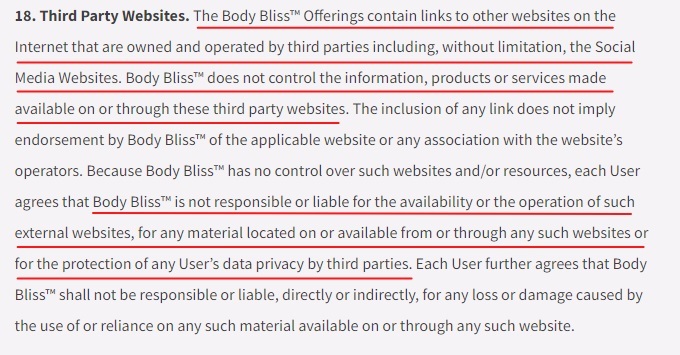 Ecommerce businesses often offer sales and hold promotional events. To protect your business from accusations of unfair behavior or even lawsuits, you should ensure that your Terms and Conditions agreement has a clause that reserves your right to reject things like promotional codes and to end sales early.
Here's a clause on offer codes as written by Hyphen Sleep: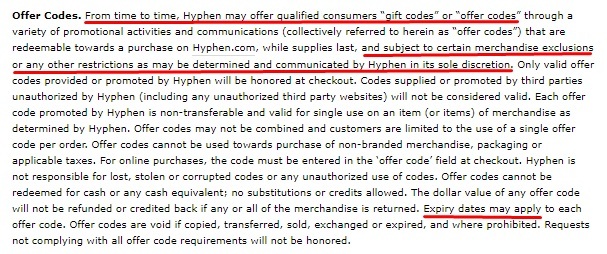 This clause may not be applicable to all Terms and Conditions agreements, but in the world of ecommerce, it's likely to be needed, and very important.
Refunds and Returns
Having a clear clause that describes your ecommerce store's policy regarding refunds and returns is essential. Remember that if details about warranties, exchanges, returns, or refunds are unclear or confusing, you could lose a customer for good.
Taking that into account, you should pay particular attention to this clause and ensure that it is as watertight as possible.
In particular, you'll want to make sure that your customers are aware of the following:
The time frame in which they can return or exchange a product
Whether they will be refunded the total purchase price, including shipping costs, or just the cost of the product itself
Whether or not they will be refunded in the original form of payment (e.g., if they paid by credit card, whether that charge would appear on their statement)
Barron Designs lets users know in no uncertain terms that the company doesn't accept returns or provide refunds unless it provides an exception through a written note:

If you have a separate Return and Refund Policy, you can link it to this clause within your Terms and Conditions agreement and direct readers to click the link for more robust, detailed information on the topic.
Amendments to Your Agreement
Sometimes it is necessary to update or amend your Terms and Conditions agreement. Therefore, you should include a clause that lets users know you reserve the right to make changes as necessary with or without notification.
You should also let users know that it is their responsibility to check your Terms and Conditions to see if you've made any updates.
Here's how Barron Designs does this:

It's a good idea to include information that gives users a reliable way to contact a representative of your store in case they have any questions or concerns.
You should also give them several different ways to get in touch, including a phone number, mailing address, web form, and email address.
Here's an example from Body Bliss:

Now that you know what clauses you'll need to include in your agreement, let's look at where to display your agreement after you have it written and ready to share.
Where Should You Display Your Terms and Conditions Agreement?

You might be thinking, "Of course, I put my Terms and Conditions Agreement on the website. Where else would it go?" But did you know there are a few key places to display the agreement?
The footer of your website is a great place to display a link to your Terms and Conditions agreement. Many stores include links in this section so customers know they should look here for more information.
Here's an example from Tyler's, a sports apparel ecommerce store.

Other typical areas to include links to your Terms and Conditions agreement are on your checkout and payment pages as well as on account creation and login screens.
Here's an example of how H&M displays its Terms and Conditions link close to where a shopper would click to finalize a purchase:

It's better to display your Terms and Conditions agreement in many places rather than just in one place. This makes it more likely your users will notice your agreement, and have ample opportunity to review it.
How to Make Your Terms and Conditions Agreement Enforceable

The best way to make sure your Terms and Conditions agreement is enforceable is to gain the user's active consent to your Terms. You can do that by using a clickwrap checkbox, which is typically placed next to your Terms and Conditions link.
This will typically be an unticked box next to a statement that says something, such as "By checking this box, you agree to our Terms and Conditions agreement."
Here's an example from Pizza Hut: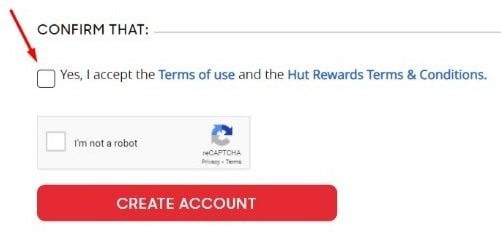 Summary
It's important to remember that a Terms and Conditions agreement is not mandatory for your ecommerce store, but it should be something you invest time in.
These agreements are vital because they have the potential to affect how customers interact with your website and services.
You need to draft your Terms agreement carefully so it includes clauses relevant to your specific store, including those related to content ownership, intellectual property rights, customer service issues, warranties on products sold, and more.
Finally, recall that a well-written Terms and Conditions agreement is crucial because it helps reduce liability, protect your intellectual property, and helps to guard your ecommerce store against legal disputes.
We invite you to reduce risk and protect your business today by creating your customized Terms and Conditions agreement through the use of our template.
Download Sample Ecommerce Terms and Conditions Template
Generate Terms & Conditions in just a few minutes
This free Sample Ecommerce Terms and Conditions Template is available for download and includes these sections:
Introduction
Definitions
Acknowledgment
User Accounts
Content
Copyright Policy
Intellectual Property
User Feedback
Links to Other Websites
Termination
Limitation of Liability
"AS IS" and "AS AVAILABLE" Disclaimer
Governing Law
Disputes Resolution
Severability and Waiver
Changes
Contact Information
Sample Ecommerce Terms and Conditions Template (HTML Text Download)
You can download the Sample Ecommerce Terms and Conditions Template as HTML code below. Copy it from the box field below (right-click > Select All and then Copy-paste) and then paste it on your website pages.
Sample Ecommerce Terms and Conditions Template (PDF Download)
Download the Sample Ecommerce Terms and Conditions Template as a PDF file
Sample Ecommerce Terms and Conditions Template (DOCX Download)
Download the Sample Ecommerce Terms and Conditions Template as a DOCX file
Sample Ecommerce Terms and Conditions Template (Google Docs Download)
Download the Sample Ecommerce Terms and Conditions Template as a Google Docs Document
More T&Cs Templates
More specific T&Cs Templates are available on our blog.