The California Consumer Privacy Act (CCPA) took effect on January 1st, 2020. This new privacy law will affect businesses all over the world. The law makes a lot of demands on businesses. In particular, it requires businesses to fully disclose how they treat consumers' personal information.
On your road towards CCPA compliance, one important job is to update your Privacy Policy to reflect the CCPA's strict new transparency requirements. We're going to walk you through how to create a CCPA Privacy Policy and examine how the CCPA's Privacy Policy requirements differ from those of other privacy laws.
CCPA Overview
The CCPA takes the United States closer to the sort of strict privacy regime that has existed for many years in the EU. It's clearly influenced by the EU's General Data Protection Regulation (GDPR). But even GDPR-compliant businesses will have a lot of work to do to comply with the CCPA.
Who Needs to Create a CCPA Privacy Policy?

The CCPA applies to "businesses." However, the CCPA defines "business" very narrowly.
A business is any for-profit entity doing business in California, that either:
Has annual gross revenues of at least 25 million USD per year,
Annually buys, sells, receives, or shares personal information from at least 50,000 consumers, households, or devices, or
Makes over 50 percent of its gross annual revenue from selling personal information
A business also "determines the purposes and means of the processing of personal information." If you're familiar with the GDPR, you'll know that this is the definition of a "data controller."
Most companies fit this description. If your business collects personal information directly from its users, it probably fulfills this criteria.
Most businesses that aren't data controllers are "service providers."
Service providers process personal information on behalf of other businesses. For example, MailChimp emails a company's customers on that company's behalf. Service providers are known as "data processors" in other privacy laws.
Service providers aren't required to create a Privacy Policy only for the CCPA. However, note that under most other privacy laws you will be required to create one anyway.
Does the CCPA Apply to Businesses Outside of California?

The CCPA isn't (only) aimed at businesses based in California. It's aimed at any business that processes the personal information of consumers in California. So, much like another major California privacy law, the California Online Privacy Protection Act (CalOPPA), the CCPA applies to businesses all over the world.
Your business could be based anywhere from Fresno to France - as long as your services are accessible in California, you could be covered by the CCPA and have to adhere to its requirements.
What's the Penalty for Not Having a CCPA Privacy Policy?
Failing to maintain a CCPA-compliant Privacy Policy could result in a fine of up to $2,500 per violation.
This might not sound too bad until you consider that a "violation" occurs each time a person accesses your non-compliant website or app.
California's existing Privacy Policy law, CalOPPA, is enforced under the same rules as the CCPA. Delta Airlines narrowly escaped potential fine of over $37 million under CalOPPA for failing to add a Privacy Policy to its mobile app. This was due to the large number of customers who had downloaded the Delta Airlines app. It's easy to see how these fines, even if small on their own, can really add up.
FAQ: CCPA Privacy Policy
Here is a list of frequently asked questions that you may find useful.
CCPA Privacy Policy Requirements

We're going to take a detailed look at each of these requirements and some examples of businesses that are already complying.
There are a couple of important things to note before we do this.
You must update your Privacy Policy every 12 months.
You must post a "conspicuous" link to your Privacy Policy on your website's front page.
Most here's how The Guardian does this:

Here's a run-down of the information you need to provide in your Privacy Policy for CCPA-compliance.
CCPA Consumer Rights

The CCPA contains a new set of consumer rights. Your Privacy Policy must inform your consumers of their rights.
Consumers have the right to request access to personal information. They can make this request for free, twice per year.
Right of Access
On receiving an access request, you must provide the necessary information in a portable and easily accessible format, normally within 45 days of the request.
When providing information under the right of access, you must include:
The categories of personal information the business collects about the consumer
The categories of sources of the consumer's personal information
The business or commercial purpose for collecting or selling the consumer's personal information
The categories of any third parties with whom the business shares the consumer's personal information
The specific pieces of personal information collected about the consumer
If the business sells personal information, the consumer also has a right to request access to the following information:
The categories of personal information the business collects about the consumer
The categories of personal information the business has sold about the consumer
The categories of any third parties to whom the business sold the consumer's personal information
A list of which categories of personal information the business sold to each third party
The categories of personal information the business discloses about the consumer for business purposes
Right to Deletion
The consumer has a right to request the deletion of personal information that the business holds on the consumer.
However, this right does not apply where the business needs to retain the personal information in order to do any of the following:
Provide goods or services to the consumer
Detect or resolve issues security or functionality-related issues
Comply with the law
Conduct research in the public interest
Safeguard the right to free speech
Carry out any actions for internal purposes that the consumer might reasonably expect
Right to Non-Discrimination
The consumer has the right not to be discriminated against for having exercised their rights under the CCPA. In particular, the business may not:
Deny the consumer goods or services
Charge the consumer different prices for goods or services, whether through denying benefits or imposing penalties
Provide the consumer with a different level or quality of goods or services to the consumer
Threaten the consumer with any of the above
You need to let consumers know about all of these rights.
Here's how CBD Medic informs consumers about their right of access: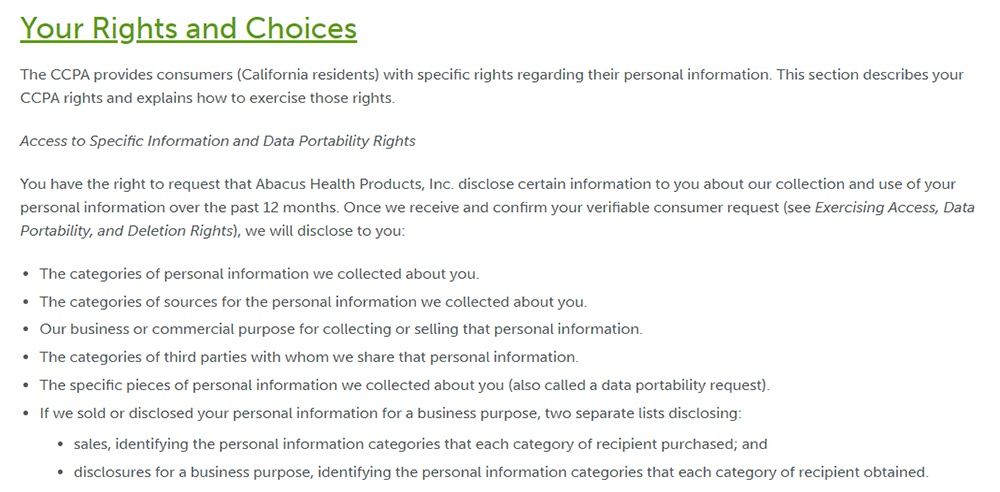 And here's how Runza informs consumers about their right to non-discrimination:

You can have a clause for each right that helps your customers understand what their rights are and how you're going to facilitate them.
Requesting Access and Deletion
It's not enough to simply tell consumers about their rights. You need to set up a system to help consumers exercise their rights. This must often include a toll-free number and web-page.
Your Privacy Policy must tell consumers how to submit a request to exercise their CCPA rights.
Here's how Techbuyer approaches this:

Note how the clause begins with a phone number and email address that customers can use to exercise the rights. Then, further details and important information is included such as what the customer must do, and any limitations for the requests.
The CCPA has Notice requirements that you'll need to become familiar with as well, which we address in detail in our article: CCPA Notices. These notices include 4 consumer-specific notices.
Your "Do Not Sell My Information" Page

The CCPA requires any business that sells consumers' personal information to provide a web page where consumers can opt out of having their personal information sold. This is known as a "Do Not Sell My Personal Information" page. The business must link to this page both on the front page of its website and in its Privacy Policy.
Here's how FloraFlex displays the link to its Do Not Sell My Personal Information page in its Privacy Policy:

While FloraFlex is obviously keen to demonstrate compliance with the CCPA, it's worth noting that only businesses that do sell personal information are required to comply with this part of the CCPA.
Categories of Personal Information You Collect
You must provide a list of the categories of personal information you've collected over the past 12 months.
To comply with this requirement, you need to know what constitutes "personal information" under the CCPA. Here's the definition as it appears in the CCPA:
"information that identifies, relates to, describes, is capable of being associated with, or could reasonably be linked, directly or indirectly, with a particular consumer or household."

The CCPA lists the following categories of personal information:
Identifiers (such as name, email address, social security number, IP address, etc.)
The categories of personal information listed in the California Customer Records Statute (available here)
Protected legal characteristics
Commercial information
Biometric information
Internet activity
Geolocation data
Audio, electronic, visual, thermal, olfactory, or similar information
Employment information
Education information
Inferences about personal preferences and attributes drawn from profiling (e.g. via cookies)
Here's how Vertafore Solutions approaches this: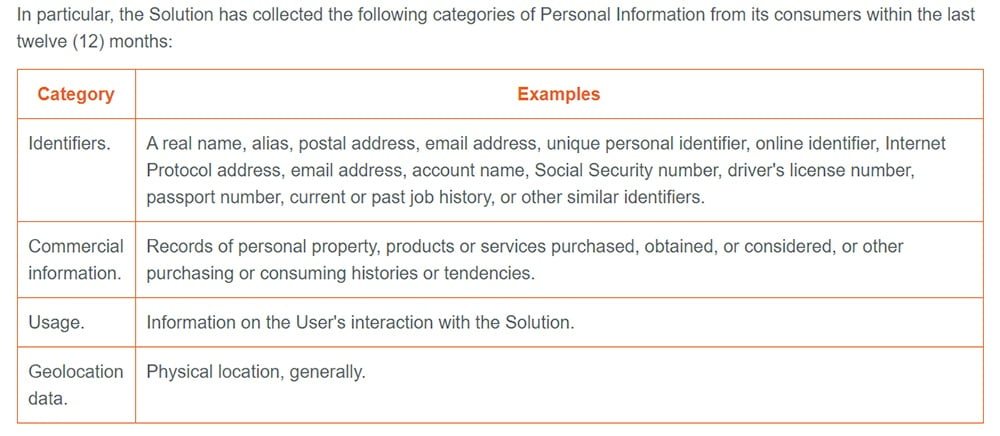 You don't have to use a chart format, but it's something to consider since it helps keep things organized and makes information easier for your users to sort through.
Your Sources of Personal Information
In addition to telling your users what categories of personal information you collect, you need to disclose your sources of personal information.
You may collect personal information from a variety of sources, depending on the context in which your business operates. You only need to list the categories of sources, i.e. the types of companies or other sources.
Here's an example from Brown-Forman:

Some of the sources listed include publicly-available database data, social network information and from marketing partners.
Your Purposes for Collecting Personal Information
The CCPA requires that you tell consumers why you collect personal information - your purposes for collecting it. What are you actually doing with their personal information?
Here's how Abacus does this in its Privacy Policy:

This type of clause is very standard across the board for Privacy Policies, so it's highly likely that yours already has this type of clause included.
Personal Information You've Sold

Your Privacy Policy must list all the categories of personal data your business has sold in the past 12 months. If it hasn't sold any personal information over this period then it must disclose this.
Here's how Malibu Boot Camp approaches this: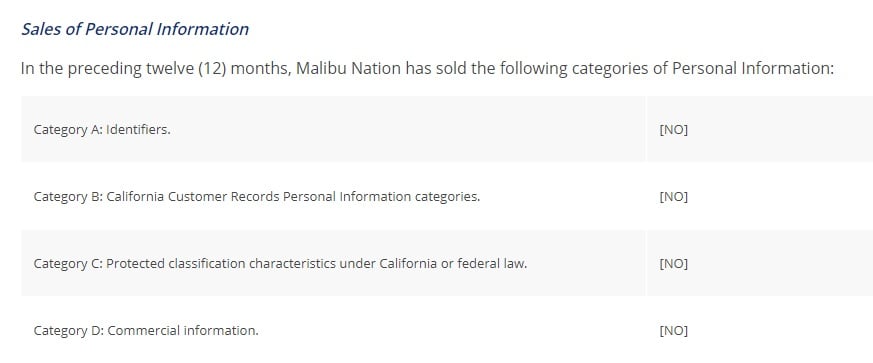 Note that the company has not sold any personal information in the past 12 months, so it lists "No" for each of the CCPA's categories of personal information. You can also make a simple blanket declaration that you have not sold any personal information in the past 12 months.
Personal Information You've Disclosed for Business Purposes
Your Privacy Policy must list all the categories of personal information your business has "disclosed for business purposes" over the past 12 months. If you haven't disclosed any personal information for business purposes over this period then you still must disclose this.
The CCPA gives seven categories of activities that count as "business purposes." If you share consumers' personal information with a third party so that they can perform these sorts of activities for you, you must disclose this in your Privacy Policy.
Auditing

Advertising analytics
Auditing legal and regulatory compliance

Security

Detecting security breaches
Protecting against fraud and malicious activity
Taking action against wrongdoers (e.g. fraudsters and hackers)

Debugging

Identifying and fixing technical errors

Short-term uses

Contextual ad customization that does not involve or contribute to profiling

Performing services

Account maintenance
Customer service
Processing transactions
Marketing

Internal research to develop or demonstrate technology
Testing or improvement of any service or device "owned, manufactured, manufactured for, or controlled by" the business
Note that these examples are not exhaustive.
Here's how marketing company Lumen5 discloses how it shares its users' personal information with service providers:

A CCPA-compliant Privacy Policy needs to go further than this by listing the categories of personal information disclosed for each business purpose.
Comparison to Other Major Privacy Laws

Here's how the CCPA's Privacy Policy requirements match up against two other major privacy laws - the GDPR (EU) and CalOPPA (California).
| | | |
| --- | --- | --- |
| CCPA | GDPR | CalOPPA |
| Information about California consumers' CCPA consumer rights. | Information about your EU users' GDPR data subject rights. | N/A |
| Instructions on how California consumers can request access to and deletion of their personal information. | Instructions on how your EU users can exercise their rights over their personal information. | Instructions on how California consumers can request access to and deletion of their personal information (if you allow this). |
| A link to your "Do Not Sell My Personal Information" page. | Instructions on how your EU users can opt out of direct marketing or withdraw consent to the processing of their personal information. | Instructions on how consumers can opt out of third-party cookies (if you use them). |
| A list of the categories of personal information you've collected over the past 12 months. | A list of the categories of personal information you process. | A list of the categories of personal information you collect. |
| Your sources of each category of personal information you collect. | The ways in which you process personal information (this would include information about where you collect it from). | N/A |
| Your purposes for collecting each category of personal information. | Your purposes for processing each category of personal information. | N/A |
| A list of all the categories of personal information you've sold over the past 12 months. | N/A | N/A |
| A list of all the categories of personal information you've disclosed for business purposes over the past 12 months. | N/A | N/A |
| N/A | Your company's name and contact details. | N/A |
| N/A | Names and contact details of key personnel (Data Protection Officer, EU Representative). | N/A |
| N/A | A list of the categories of organizations with whom you share personal information. | A list of the categories of organizations with whom you share personal information. |
| N/A | Your lawful basis for processing each category of personal information. | N/A |
| N/A | The periods for which you store each category of personal information. | N/A |
| N/A | Information about any international transfers of personal information outside the EU. | N/A |
| N/A | N/A | The date on which the Privacy Policy takes effect. |
| N/A | N/A | Information about how you will inform consumers of any changes to the Privacy Policy. |
| N/A | N/A | Information about how your website responds to Do Not Track signals from visitors' web browsers. |
| N/A | N/A | Information about your use of third-party cookies or other tracking technologies (if you use them). |
For more information about how these laws compare, see:
Summary
Your CCPA Privacy Policy must contain:
Information about the CCPA consumer rights
Instructions on how California consumers can request access to and deletion of their personal information
If you sell personal information, a link to your "Do Not Sell My Personal Information" page
A list of the categories of personal information you've collected over the past 12 months
Your sources for each category of personal information you collect
Your purposes for collecting each category of personal information
A list of all the categories of personal information you've sold over the past 12 months, or a disclosure that you don't sell personal information
A list of all the categories of personal information you've disclosed for business purposes over the past 12 months or, a disclosure that you don't disclose personal information for business purposes
You must update your Privacy Policy every 12 months according to the CCPA. Make sure to reflect this by updating your Privacy Policy's 'effective date' even if you don't make any other changes to the Policy.