Over 39 million people live in California. Do you think there's a possibility that one of them may find his way onto your website or mobile app? If so, your Privacy Policy will need to comply with the California Online Privacy Protection Act (CalOPPA).
CalOPPA and Your Privacy Policy
If you've been managing an online business for any amount of time, you've probably already put together a Privacy Policy. If not, the time to establish a Privacy Policy is now! It is required by law in almost every developed nation.
A Privacy Policy is a statement that informs visitors and customers about the kinds of personal information you collect about them, how you use it, and how you share it with third parties.

CalOPPA is one of the laws that will almost certainly influence how you will write your Privacy Policy. In short, it's a California-enacted set of regulations that requires the following measures regarding consumer privacy:
Post a public Privacy Policy on your mobile app or website and make it conspicuous and easy to find.
Inform users exactly which types of personal information you collect about them.
Inform users about who you share the information with.
Provide users with an easy, accessible way to review and make changes to their personal information.
Let users know when changes to Privacy Policy take place and how they will be informed of those changes.
Post the effective date of the Privacy Policy.
Explain how your business responds to Do Not Track signals from web browsers and provide a link to or a description on how to block tracking technology.
What If Your Business Is Not Located in California?
Although it does apply to California-based businesses as well, CalOPPA pertains to any company that collects personal information from California residents regardless of where that company is located. Because of the global nature of the internet, this law not only applies to most any business in the United States, but it can also be (and has been) enforced in other countries as well.
According to CalOPPA, personal information is defined as any data that may be used to identify a person, such as:
First and last name
Physical address
E-mail address
Telephone number
Social security number
Any other identifier that may be combined with other information to allow for the contacting of an individual, such as an IP address or geolocation data
At the very least, your business will likely collect emails or IP addresses from visitors in order to provide your services. If one of those visitors is a California resident, then CalOPPA applies to you.
Here is a short rundown:
For businesses based in California, compliance with CalOPPA is an absolute must.
For businesses based in other states of the USA, it is highly likely that one or more of your current or future visitors will reside in California.
For businesses based in the EU, unless you are blocking USA users from using your website, there is a possibility that a California resident will wander in one day.
In any of the above scenarios, compliance with CalOPPA is highly recommended. Failure to do so could result in a fine of $2,500 per user, per violation.
CalOPPA Compliance How-To

While the measures required by CalOPPA do not diverge greatly from the common practices of Privacy Policies in general, there are a few items you'll want to double-check and/or change to ensure full compliance:
1. Post a Conspicuous and Public Privacy Policy
Most websites automatically include a link to the Privacy Policy within the footer navigation of each page. This is often referred to as a browsewrap agreement, meaning that visitors may find the Privacy Policy on any page if they choose to look for it. However, the browsewrap method may not be deemed conspicuous enough according to CalOPPA requirements:

As you can see in CalOPPA section 22577 above, the link must contain the word "privacy" and be distinguishable from the surrounding text by way of font, size, or color so that "a reasonable person would notice it."
These stipulations might not be met in the case of a small footer link. One solution could be larger, more obvious links throughout the website, but this may not be conducive to the design and flow of your layout.
Another popular solution is the clickwrap agreement. This refers to the practice of requiring users to agree to the Privacy Policy in order to register, login, or otherwise use your services.
InstaNobel requires users to click to accept their Privacy Policy before signing up: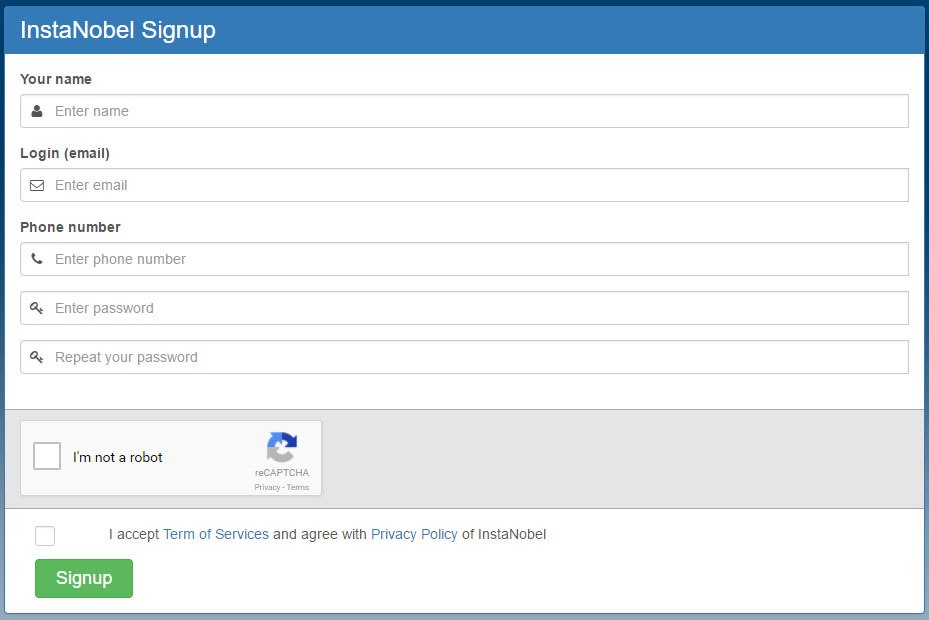 The clickwrap method is an effective way to ensure that your users are given ample opportunity to see and read the Privacy Policy before using your services, while also complying with CalOPPA requirements.
Mobile Apps
The same rules apply to mobile applications. A link to the Privacy Policy within the application settings interface is standard practice, but it is not considered compliant with CalOPPA's definition of conspicuous.
Cabify places a link to its Privacy Policy in the Help interface: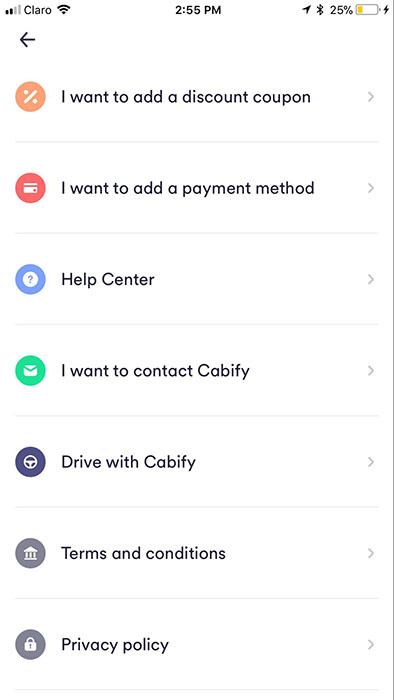 Along with the settings link, a clickwrap agreement is always recomended for mobile apps since there are less opportunities for prominent links throughout the basic interface.
Cabify also includes a link to its Privacy Policy in its registration interface: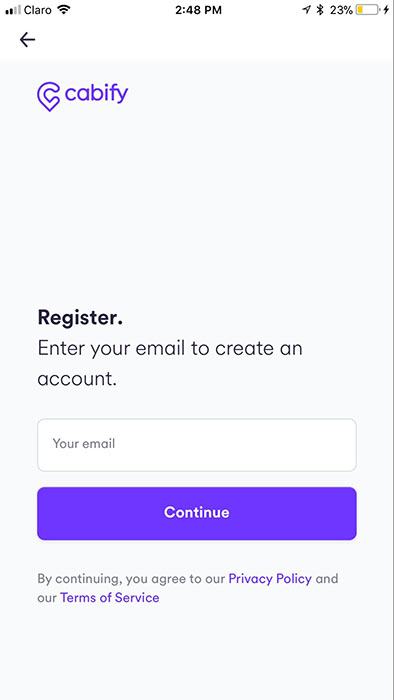 In this way you can confirm that as many users as possible are seeing and reading your Privacy Policy, satisfying CalOPPA requirements and limiting your own liability in case of future privacy disputes.
2. Notify Users About the Information you Collect
CalOPPA requires that any and all information you collect about consumers be listed within your Privacy Policy.
This includes both the information you collect directly from users, data that is collected automatically such as IP address or geolocation, and data you collect from third-party sources.
Microsoft's Privacy Policy includes an exhaustive list of the data collected from users. This is a glimpse of the first few paragraphs: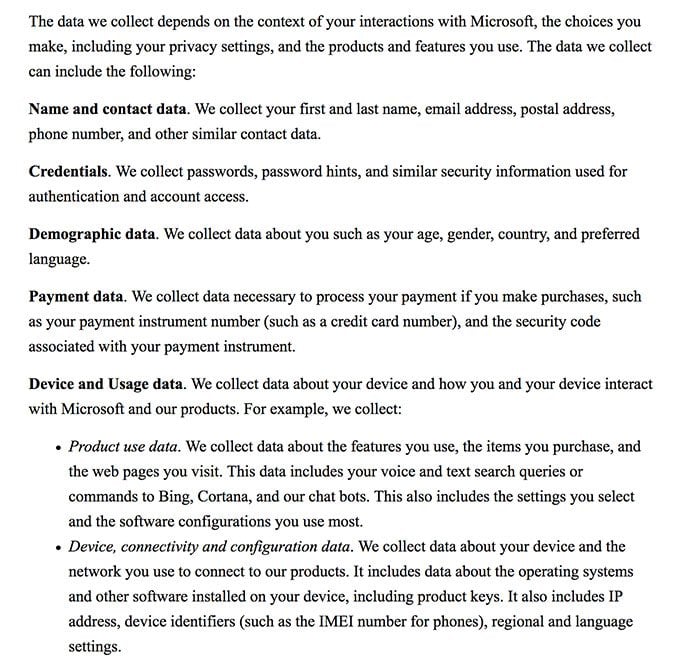 It's also highly recommended by the California Attorney General that you describe how information is collected, be it through direct web forms, cookies, or other methods.
Here, Microsoft goes on to explain the different methods used to collect information: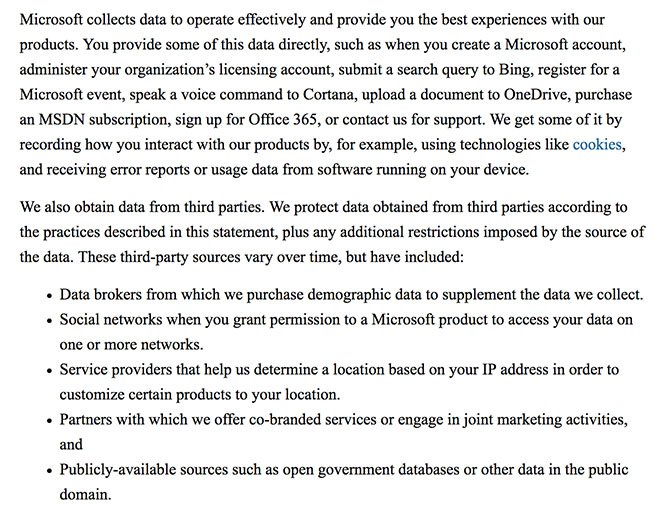 3. Notify Users About Third-Party Data Sharing
Whether it's for analytical purposes, transaction processing, or advertising, you must inform users of any third-parties you share consumer information with.
Amazon explains the ways in which it shares customer information and its reasons for doing so: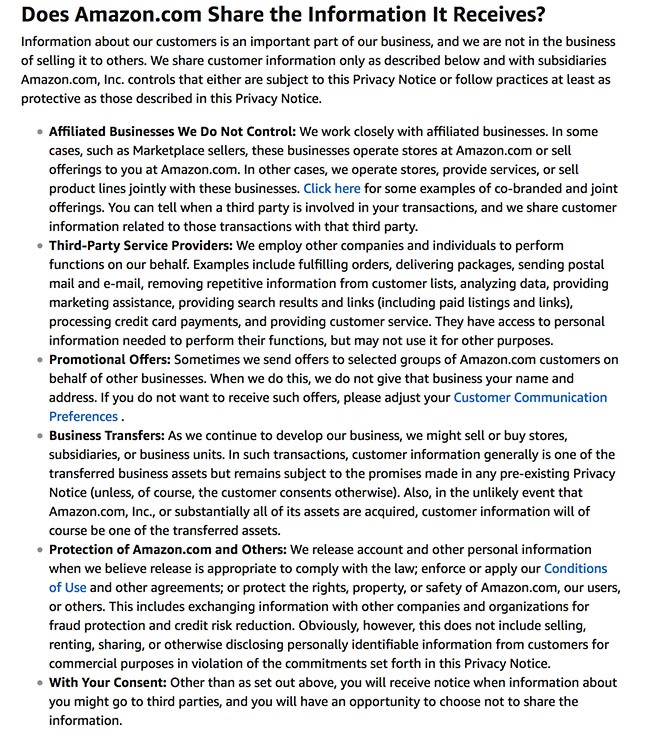 This includes any advertising or analytics services you work with.
In the case of targeted advertising, it is recommended that you include information about opting-out of those programs. Amazon goes so far as to provide a direct link for opting out of targeted advertising:

4. Provide Users with Access to Review or Change Their Personal Information
Describe the choices users have in regard to the collection, use, or sharing of their personal data. Let them know of any processes you have in place for customers to access and review their information, as well as how to make changes or delete information.
Lookout describes various ways for users to access and make changes to their personal information:

If it's not possible for users to access or make changes to their own information via an online portal, then you should let users know who to contact in order to review and make changes to the personal data you have on file.
The Brien Holden Institute provides a copy of consumer personal data upon written request to a Privacy Officer:

5. Let Users Know When You Make Changes to the Privacy Policy
Most privacy laws around the world include this stipulation and CalOPPA is no different. Any changes to your Privacy Policy should be announced publicly at the time when or before the changes take place.
Also be sure to include a section in your Privacy Policy that lets users know about how they may be informed of those changes in the future.
Calm explains its procedure for Privacy Policy revisions and communicating those changes:

6. Post the Effective Date of Your Privacy Policy
This is a bit self-explanatory, but just in case - always post the latest effective date of your Privacy Policy and renew the date every time the policy is updated.
Sony posts its effective date at the very top of the Privacy Policy page:

7. Explain How Your Business Responds to Do Not Track Signals
This may be the CalOPPA statute that has created the most confusion, but it's actually not overly complicated.
Here's a basic rundown of what it means:
All web browsers are equipped with a method to send out a "Do Not Track" (DNT) signal to websites for users that do not wish to have tracking cookies or other tracking devices installed in their browsers. It is not required by law to adhere to the DNT signal, so many websites ignore them.
CalOPPA requires that each business include a section in their Privacy Policy that states clearly how the business responds to DNT signals - whether the signals are accepted or ignored.
If the company provides its own alternate solution to prevent user tracking, such as an interface to turn off tracking cookies, this solution must be described. If the business does not provide this feature, a link to instructions on how to turn on DNT signals in web browsers is recommended.
If the business does ignore DNT signals and installs tracking software regardless, they must include a description of what information they are gathering in this method and why.
Finally, don't forget to title the section clearly with a reference to "Do Not Track Signals" or "California Do Not Track Disclosure."
Apple provides a clear, easy-to-understand disclosure of their response to DNT signals and how to send DNT signals from Apple's Safari browser. Note that they also mention third-party affiliates that may place tracking cookies: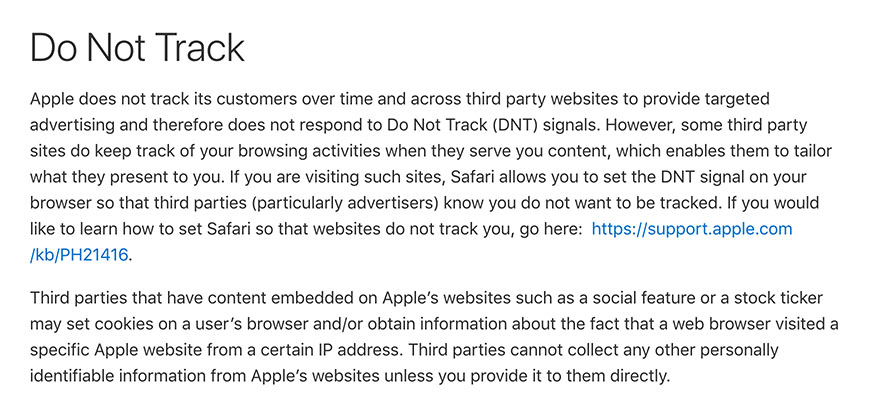 Examples of CalOPPA Compliance
Although most companies are making some attempt at complying with CalOPPA requirements, some are more exemplary than others. Here are a few excellent examples:
LinkedIn starts out with Privacy Policy links on every page, including the account registration page.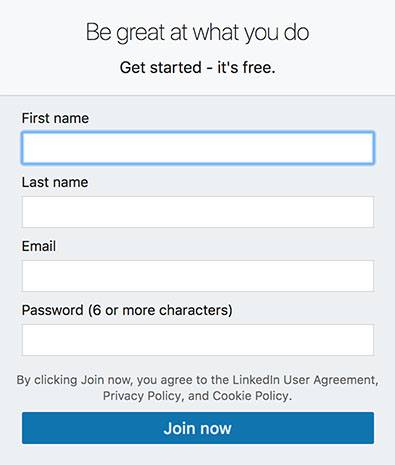 As you can see, the user must agree to the Privacy Policy in order to join LinkedIn.
Once the visitor clicks through, the effective date of the policy is posted right at the top, along with a link to understand the latest policy changes:

Next follows a very detailed list of personal information collected by LinkedIn: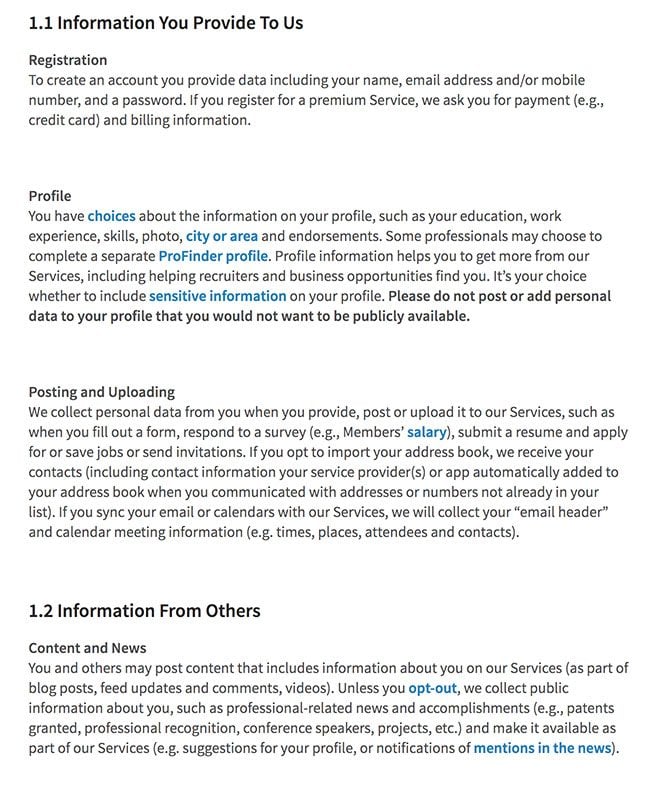 LinkedIn goes on to explain how and why it shares user data with third-parties: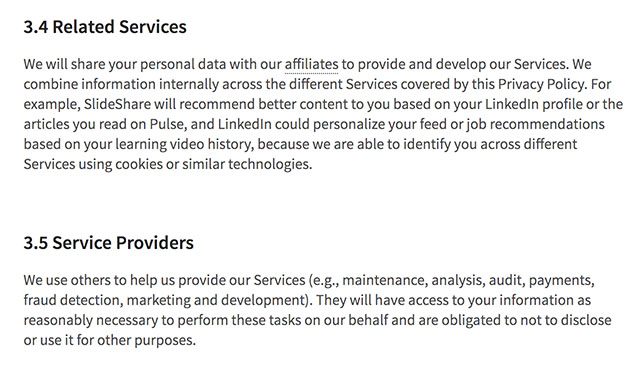 Here, it provides a set of links and different ways for users to access or make changes to their information and how it is used:

LinkedIn provides a wealth of information on its DNT policies. This is a small portion: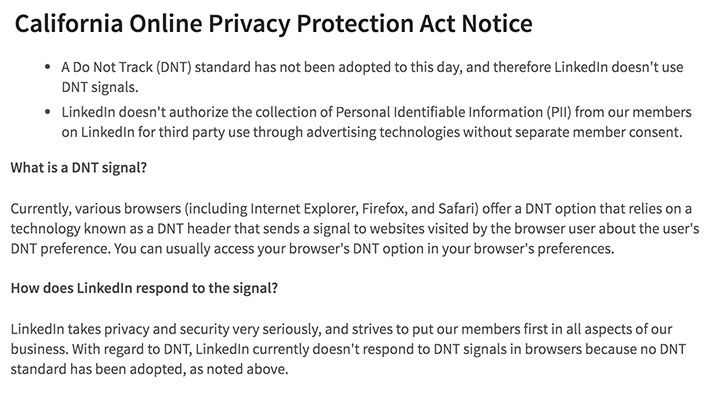 Finally, users are informed about how changes to the Privacy Policy will be communicated:

Overall, LinkedIn complies with CalOPPA very well.
Optimal Strategix Group includes a link to its Privacy Policy agreement within its initial cookies notice:

In this way, OSG ensures that visitors have an opportunity to notice and read the Privacy Policy from the moment they access the website. In order to continue using the site, they must agree to the Privacy Policy. This is a very thorough approach to satisfying CalOPPA's requirement for a conspicuous Privacy Policy.
OSG's Privacy Policy starts off with the usual 'Information We Collect' clause:

The disclosure of third-party sharing is short but sufficient:

OSG addresses most major points of CalOPPA in this simple clause: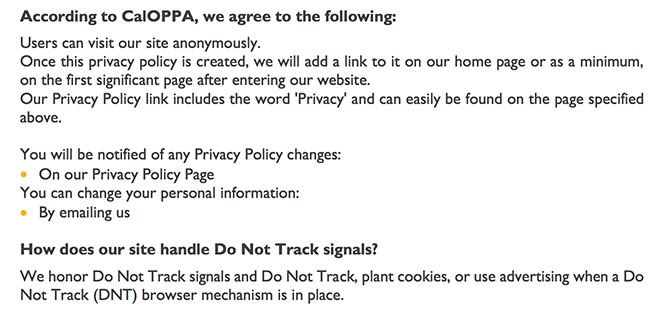 As you can see, they address both Privacy Policy changes and a DNT response within this short clause. The only thing missing is a link or description instructing users how to use the DNT signal within their browsers.
Finally, an effective date is listed as the final note in the Privacy Policy: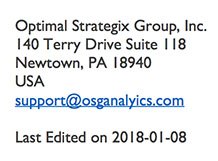 OSG shows that you can get lots of information across in clauses that remain short and to the point.
Tronc is a publishing house that owns prominent newspapers like the Los Angeles Times. They make certain that their own Privacy Policy, as well as those of their publications, are compliant with CalOPPA.
To go along with the Privacy Policy links throughout the footer, the LA Times also includes a Privacy Policy link within its registration form:

From here, the visitor is taken directly to the Tronc Privacy Policy, which opens with an effective date stamp:

The information collected is provided as a detailed list that goes on to include automatically collected information and third-party providers of personal information:

Tronc lays out a comprehensive list of how they share personal data with third-parties and why:

DNT requirements are met with this paragraph, which details their response to DNT signals and various ways for the visitor to block tracking technologies:

Tronc offers consumers two different methods for accessing or changing their personal data:

Finally, a 'Changes to Policy' clause informs users how to find out about Tronc Privacy Policy changes:

Let's take a look at one more example here.
Spotify shows its Privacy Policy link on its registration or login page: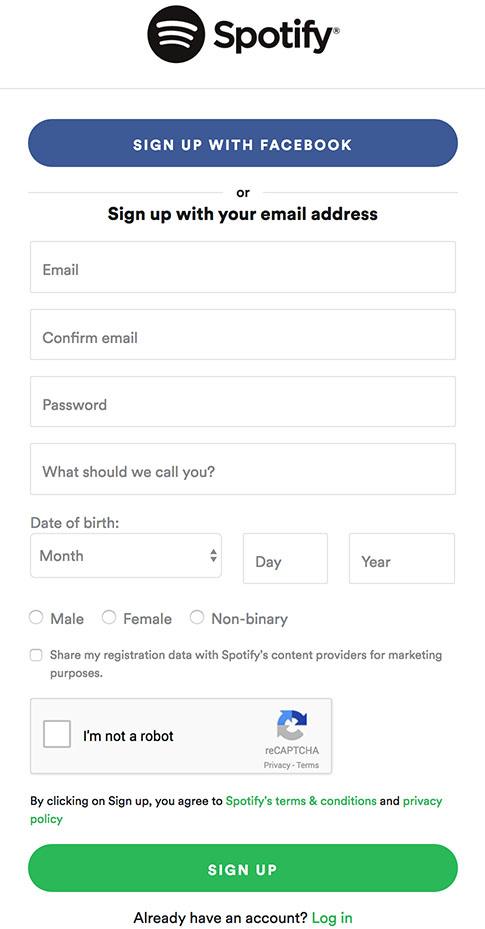 The Spotify Privacy Policy begins with its effective date:

This is followed by a meticulous list of many different kinds of information that Spotify collects, including the methods by which they collect it: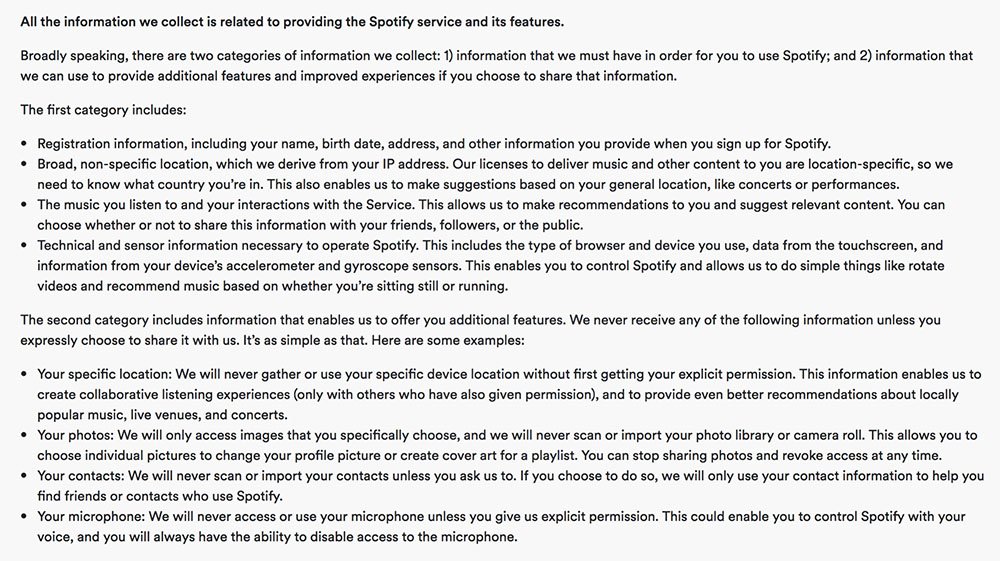 Here is a list of their third-party sharing practices and reasons for data sharing: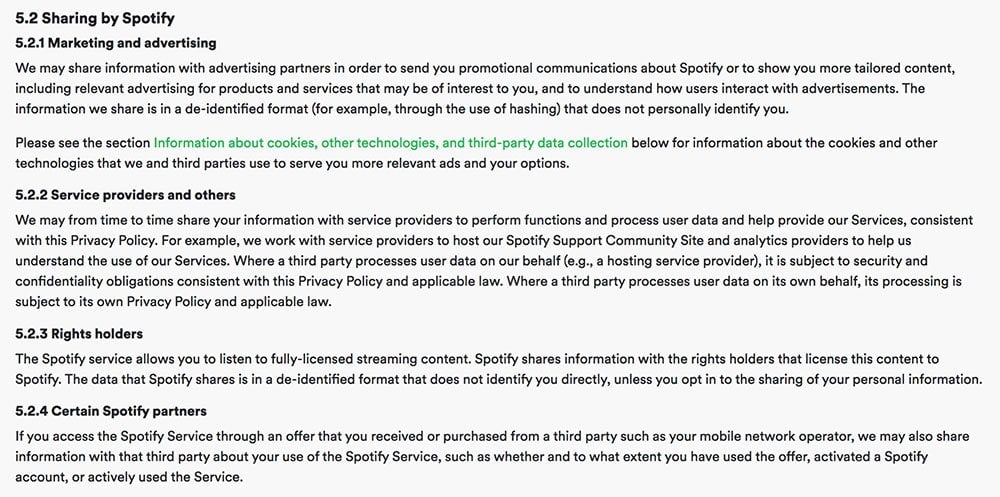 Spotify describes their response to DNT signals and explains various mechanisms available to block tracking and targeted ads:

They also instruct users on how to access or edit their personal information either through the online portal or in writing.
This is followed with a 'Changes to Policy' clause:

As you can see by the examples above, CalOPPA's requirements don't call for a great deal of modifications above or beyond the clauses that already exist in a standard Privacy Policy.
Most of the requirements are best practices for any business.