The state of privacy legislation in the United States is pretty shocking: there's no overarching federal data privacy law at all.
The United States lags far behind Europe and the UK, and even behind many up-and-coming economies in Southeast Asia.
The primary data privacy law in the US that applies generally, rather than to a specific privacy field such as health or children's privacy, is a state law rather than a federal law known as the California Online Privacy Protection Act 2003 (CalOPPA).
This guide will cover what CalOPPA is, what the law covers, who it applies to, and how to comply.
Our Privacy Policy Generator makes it easy to create a Privacy Policy for your business. Just follow these steps:
At Step 1, select the Website option or App option or both.

Answer some questions about your website or app.

Answer some questions about your business.

Enter the email address where you'd like the Privacy Policy delivered and click "Generate."

You'll be able to instantly access and download your new Privacy Policy.
What is CalOPPA
CalOPPA came into law on 1 July 2004 and covers operators of commercial websites that collect personally identifiable information. Its main requirement is that these website operators must conspicuously link to a Privacy Policy on their website.
The Privacy Policy required by CalOPPA law must also have certain clauses, including:
What types of personal information is collected and the third parties this collected personal information may be shared with
How users can request changes to any of the personally identifiable information that was collected
How the operator will notify users of changes/updates to the Privacy Policy
The effective date of the Privacy Policy
How the operator responds to the "Do Not Track" requests of users
Whether other third parties may collect personally identifiable information about users through the operator's service
How to Comply with CalOPPA
First, ask if CalOPPA applies to your business. CalOPPA applies to operators of commercial websites or online services that collect "personally identifiable information through the Internet about individual consumers residing in California."
It applies if your business is a SaaS app, a mobile app, a Facebook app, and so on.
In 2012, the California Attorney General issued an agreement with mobile app providers that stated that CalOPPA also applies to mobile apps.
"Personally Identifiable Information" for the purposes of CalOPPA includes but is not at all limited to:
First and last names
Home or physical street addresses
An email address
A telephone number
A Social Security number
Or any other information that permits a specific individual to be contacted physically or online
Birthdates
Height, weight, hair color
Clauses For Your CalOPPA Privacy Policy
If CalOPPA applies to you, you're going to legally need to have a Privacy Policy. You'll also need to make sure that your Privacy Policy meets CalOPPA's requirements. Make sure your Privacy Policy includes these following clauses.
What Personal Information You Collect and How/Why
Take a look back at the list of "personally identifiable information" above and check whether your website/mobile app collects any of those or any other information that could possibly be used to identify an individual. If you have users signing up for accounts, making purchases on your e-commerce store or if you use third-party services such as (Google Analytics, you collect personally identifiable information.
If so, disclose the types of information you collect in your Privacy Policy agreement and how/why you do so.
For example, you might want to say "If you create a user account, we will collect your contact details. If you purchase an item through our store, we will ask you to provide your physical address and credit card details so that we can process your payment."
Here's an example of a clause that discloses this information in an easy-to-understand way: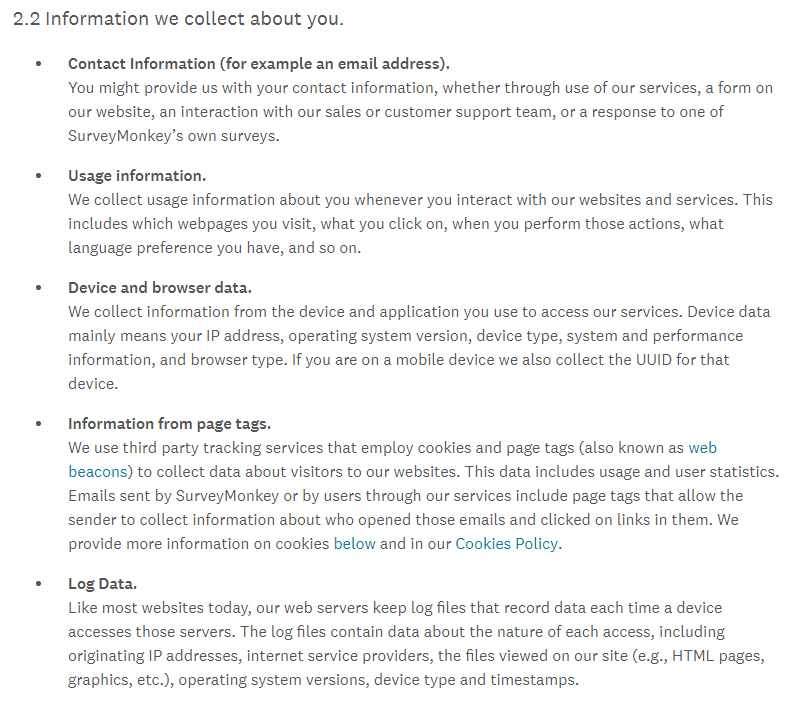 How/If You Share Personal Information
If you collect personal data and share it, disclose this. For example, if you're an ecommerce store, you'll need to disclose that you share information with credit card processing companies or other payment processors in your ecommerce Privacy Policy.
Here's how Shopify addresses this information in its Privacy Policy: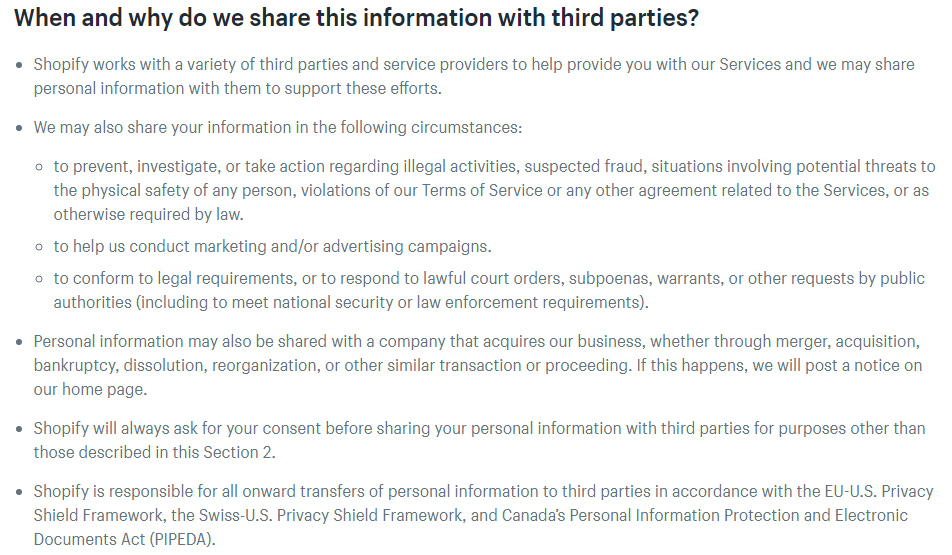 This clause addresses everything from working with third parties and conducting marketing campaigns to complying with laws and being involved in a transfer or sale of the business.
How Users Can Review and Update Their Information
This can be a simple instruction such as "You can login to your user profile and correct, amend, or delete information about yourself."
Or, if you don't have that type of user account/interface, be sure to include your contact details where users can reach out and request to have their information changed.
For example: "Contact us at [X] phone number or [X] email address to find out what information we have collected about you, and to request any changes."
Here's a clause that includes a link to account settings where users can access and adjust their personal information, as well as an email address where users can reach out to request that the company make the adjustments on behalf of the user:

How You Respond to "Do Not track" Requests
In this clause you need to outline whether or not you honor Do Not Track requests. You aren't required to honor them, but you are required to disclose whether or not you do. This clause can be a simple, basic statement acknowledging what you plan to do, such as this one:

Privacy Policy's Effective Date
Make sure you include a date when the Privacy Policy was last updated and became effective. This is typically included at the very top of the Privacy Policy so users know whether or not it's current.

Also include a clause that lets users know you may update your Policy from time to time and how you'll alert them of any material changes.

The example above invites readers to review the Privacy Policy from time to time to learn about updates or changes, but also states that it will provide notice of amendments to the Policy "as appropriate." It doesn't specifically state how it will provide such notice, but common ways are through notice emails and pop-ups on the website/app.
Your Privacy Policy will need other clauses as well, but these are the main ones that CalOPPA specifically calls you to have.
Displaying Your CalOPPA Privacy Policy
After you have a CalOPPA-compliant Privacy Policy, you need to make sure that it's posted clearly and conspicuously on your website/app. The hyperlink to your Privacy Policy agreement must contain the word "Privacy" and be conspicuous by:
[...] being written in capital letters equal to or greater in size than the surrounding text or by being displayed in a type, font or color that contrasts with the surrounding text of the same size or must be otherwise distinguishable from surrounding text on the homepage.
Include a link in your website footer where users can access your Privacy Policy at any time:

In mobile apps, you can add a link within a menu, such as an About, Settings or Legal menu: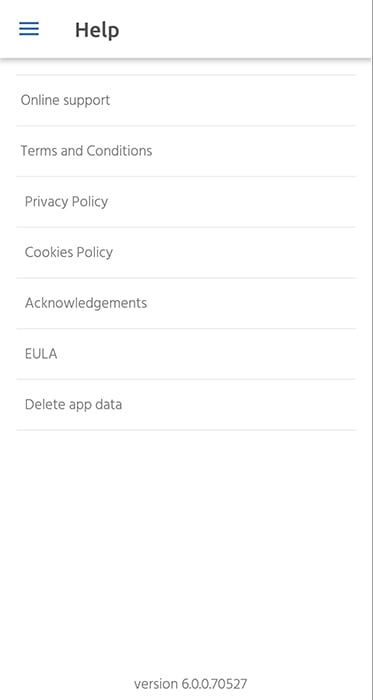 As long as your Policy can be accessed at any time, isn't hidden or in an unintuitive location, and actually includes the word "Privacy," you can add it to your website or mobile app in the way that best works with the layout and design.
Getting Agreement to Your Privacy Policy
When it comes to getting agreement to your Privacy Policy, clickwrap and browsewrap are two commonly used methods. However, browsewrap methods have not stood up well in court, while clickwrap methods have been held to be legally enforceable by numerous courts in the US and beyond.
Clickwrap is a much stronger method of getting consent to your legal agreements (regardless if it's a Privacy Policy or not) where the links are posted alongside a checkbox or a button that explicitly states "I Agree" which informs users that they're entering into an agreement:

In the example above, this leaves no doubt about whether the link has been clear and conspicuous enough for the user. It's clearly distinguished from other text.
In the case of mobile apps, a clickwrap method can be implemented by way of an "I agree" button or checkbox whenever users first open the app or whenever they sign-up for an account through the app.
Here's a great example from Samsung of how to implement a good clickwrap method in mobile apps: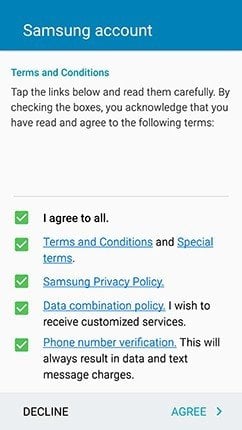 If you collect personal information from residents of the state of California, you'll need to:
Have a Privacy Policy
Include CalOPPA-specific requirements like a DNT clause and effective date
Make your Privacy Policy easily accessible/not hidden
Include the word "Privacy" in your Privacy Policy link
Use clickwrap methods to get users to agree to your Policy
All US Privacy Laws
Want to read more about privacy laws in the USA? Start here:

Comprehensive compliance starts with a Privacy Policy.
Comply with the law with our agreements, policies, and consent banners. Everything is included.