If you sell products or services to people online, your ecommerce store must include a Privacy Policy that discloses relevant information to your shoppers and website visitors.
This article will explain why your ecommerce store needs a Privacy Policy and show you how to create a clear and transparent one. We've also put together a Sample Ecommerce Privacy Policy Template that you can use to help you write your own.
Our Privacy Policy Generator makes it easy to create a Privacy Policy for your business. Just follow these steps:
At Step 1, select the Website option or App option or both.

Answer some questions about your website or app.

Answer some questions about your business.

Enter the email address where you'd like the Privacy Policy delivered and click "Generate."

You'll be able to instantly access and download your new Privacy Policy.
What is a Privacy Policy?
A Privacy Policy is a legal agreement that summarizes key details about how a business or website collects, manages, and protects the personal information of its customers.
Personal information is essentially any information that identifies an individual. Common examples include names, sex, date of birth, physical addresses, social security numbers, and so on.
As an ecommerce business, it's virtually impossible for you to operate without collecting certain personal information from your customers, such as:
Usernames
Email addresses
Bank or credit card details
Shipping addresses
Purchase histories
Phone numbers
IP addresses or other tracking data
Collecting any of the information above necessitates a Privacy Policy, not only to promote transparency with customers but comply with numerous privacy laws in today's business world, as you will most likely fall under the scope of one.
Keep in mind that you may be subject to privacy laws even without a business presence in such countries.
For example, if your ecommerce store is based in California but serves customers residing in the European Union, China, and Canada, you must comply with privacy regulations in all four regions.
Basically, a well-written ecommerce Privacy Policy explicitly informs customers about the type of information you collect from them once they interact with your app/website and explains how you use that information.
It also lets customers know how you plan to store their information, who has access to it, third-party disclosures (if any), and what measures you have in place to guarantee the protection of their information.
Why does your Ecommerce Store Need a Privacy Policy?

Every ecommerce store that collects personal information from customers needs a Privacy Policy to comply with global privacy laws. Even if you don't collect personal information, having a Privacy Policy will play a huge role in helping improve the transparency and credibility of your business.
That said, let's take a look at the main reasons you need to implement and maintain a Privacy Policy for your ecommerce website.
It's a Legal Obligation
A Privacy Policy is required by law to be published on your app/website. Providing one, therefore, protects your business from unnecessary risks and potential lawsuits.
The Privacy Policy document is required by law, but a Terms and Conditions agreement is not required by law for ecommerce stores. However, it would be very useful to have this legal agreement as well.
Over the years, the concept of data protection and digital privacy has become increasingly important to governments and countries worldwide. In a bid to address this growing phenomenon, several privacy bills have been passed and enforced to protect personal information in respective regions of the world.
Some of the more prominent ones include:
These laws demand a publicly available, easy-to-read Privacy Policy to keep customers informed on matters relating to their personal information. Moreover, in order to ensure compliance, violations of any kind are met with substantial fines and penalties, sometimes amounting to millions of dollars.
To sum up, providing a Privacy Policy is a necessary first step to comply with all privacy laws applicable to your ecommerce business.
It's Required by Third-Party Services
Most third-party services require you to maintain a valid Privacy Policy in order to comply with their Terms and Conditions.
Employing third-party services has become a nearly unavoidable practice among ecommerce businesses everywhere. They enable you to serve customers efficiently while avoiding the steep costs of developing in-house solutions (e.g., using ad platforms or payment processors).
Examples of such companies include:
Social Platforms (e.g., Facebook, Twitter, Youtube, etc.)
Google Analytics
Compliance is all the more necessary as these services are known to collect certain information from your customers as well as provide them with cookies. As a result, you need to post a valid Privacy Policy to protect them from liability.
You should also let customers know which third-party services you use and how they may collect and use personal information. Failure to comply will restrict you from employing these services.
Here's how Crashlytics illustrates this in section 2.6 of its Terms of Service:

It Promotes Transparency
You need a Privacy Policy to help promote awareness and transparency for your ecommerce store. Naturally, this will inspire a relationship of trust and loyalty with customers, leading to higher credibility, engagement, and advocacy for your business.
Without a Privacy Policy on display, prospective customers may become suspicious about doing business with you and move on to the competition, who may be more inclined to provide one.
Transparency can be achieved by letting customers know what type of personal (or sensitive) information you collect from them as well as how you will store, use, protect, and disclose that information. All these will typically be included in your Privacy Policy, hence the need to have one.
Here's how Best Buy advocates transparency in its Privacy Policy:

Now that you know why a Privacy Policy is a requirement for your ecommerce store, let's take a look at what clauses and information to include in the Privacy Policy.
What Clauses Should You Include in Your Ecommerce Privacy Policy?

Every standard Privacy Policy features some boilerplate clauses depending on a company's business model and applicable laws. However, as an ecommerce business, the components of your Privacy Policy will depend on additional factors, such as the products/services you offer, how you advertise, who your customers are, and which third-party services your business employs.
With that said, let's take a look at some general clauses that should go into a clear and transparent ecommerce Privacy Policy.
What type of personal information you collect
Your ecommerce Privacy Policy should start by letting customers and website visitors know exactly what type of personal information you collect from them. It's a best practice to be as detailed as possible when describing this clause in your Privacy Policy agreement.
You may wish to organize this information into categories for better clarification, such as:
Information you provide us
Information collected automatically through our website
Information gathered through cookies, pixels, and similar technologies
Information obtained from external sources
Each category should list all types of information you collect (however extensive), as customers have the right to know. Also, keep in mind that most privacy regulations require that you only collect information strictly needed to run your business.
Here's how ecommerce giant Amazon presents this clause in its Privacy Notice: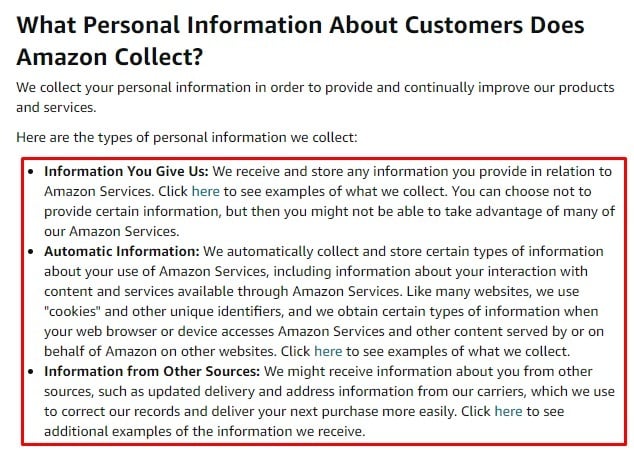 Further down in the notice, Amazon provides examples of the specific types of information customers may supply: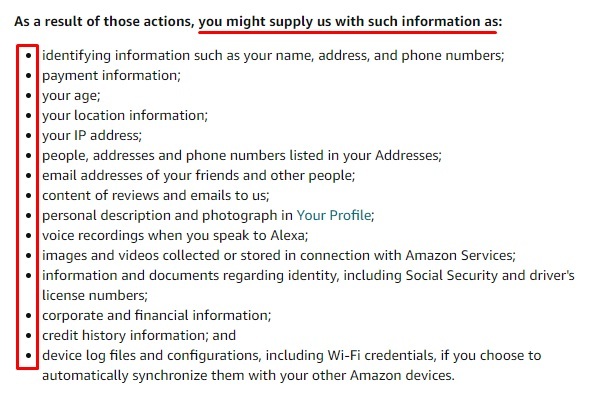 How you use personal information
Once you've identified the type of information you collect, the logical next step is to let customers know how you use that information. As an ecommerce retailer, you will probably use personal information to ship products to customers, provide personalized ads, process payments, retarget customers, and perform similar functions.
All these must be clearly and accurately described in your Privacy Policy.
If the GDPR applies to you, this is also where you would identify the lawful basis for processing customer information.
Here's a well-structured list provided by Costco that details its purposes for collecting and processing personal information: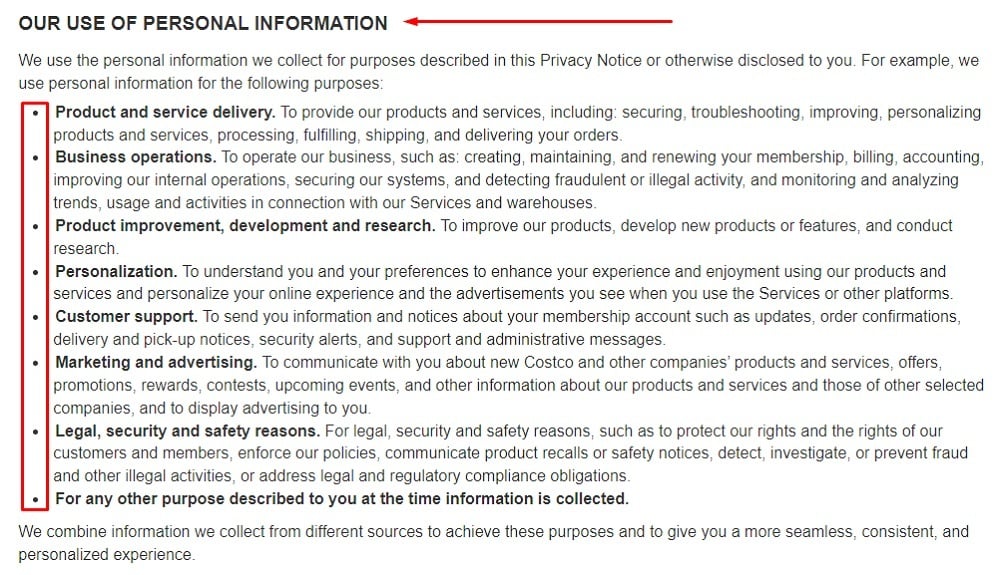 How and why you share personal information
You need to be upfront about any third parties you share personal information with. As always, be specific and transparent when providing such details in your Privacy Policy.
Running an ecommerce business will most likely involve sharing personal information with several third-party service providers. For example, you may share home addresses with your shipping partner, credit card details with your payment processor (e.g., PayPal), and demographic information with a marketing agency.
You may also include a business transfer section under this clause that details how customer information will be handled if your business merges with another or is fully acquired.
Amazon, once again, is doing this well. Here's how it describes this clause in its Privacy Notice agreement: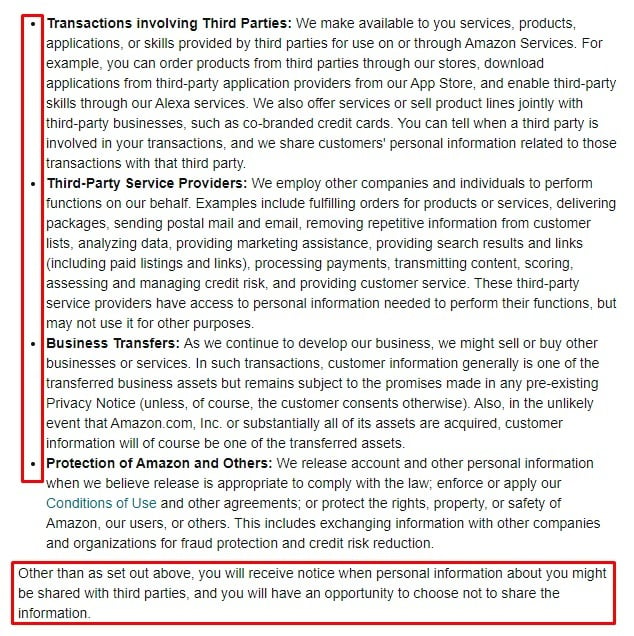 Cookies and similar technologies
An essential clause every ecommerce store should address is the use of cookies and similar technologies (e.g., web beacons). If you or your third parties use cookies and similar technologies, you need to let customers know in your Privacy Policy. Alternatively, you may create a Cookies Policy on a separate page on your website.
Cookies are small text files created by browsers and stored on users' devices when visiting a website. They are often used to store personal information, observe browsing habits, and provide a personalized experience for customers. For example, some cookies remember what products were added to customers' shopping carts on their previous visit.
Here's how eBay presents this clause in its Privacy Notice: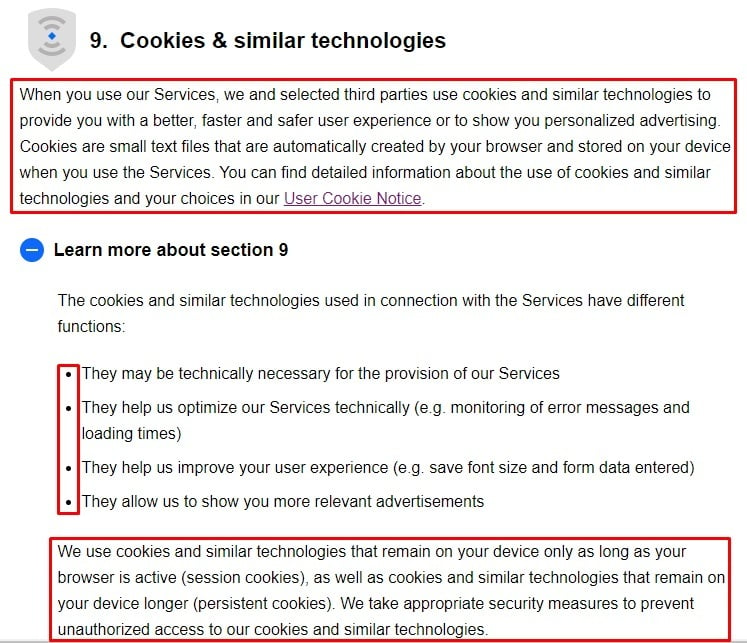 How you protect personal information
Your Privacy Policy should explain how you store and protect the personal information of customers.
As an ecommerce retailer, this is one of the most critical areas you need to address since you handle delicate information, such as credit card details. To avoid the stringent penalties accompanying negligence, you must implement reasonable security measures to protect personal information from falling into the wrong hands.
You can accomplish this by:
Restricting access only to authorized personnel, and
Employing organizational and technical measures to protect personal information (e.g., firewalls, encryption software, two-factor authentication, etc.)
Here's how Walmart addresses this requirement in its Privacy Policy:
Opt-Out Policy and Privacy Rights
Your ecommerce Privacy Policy should include a clause that informs customers about their privacy rights and opt-out options where their personal information is concerned. These rights may vary depending on the country or region in which a customer resides.
Addressing this clause is not only a good business practice to adopt but is mandatory under most privacy laws such as the GDPR and CCPA.
Customers need to be aware of their rights to access, update, and delete their personal data as well as opt-out of sharing certain information with you or your third parties.
Here's one such example from Gap's Privacy Policy: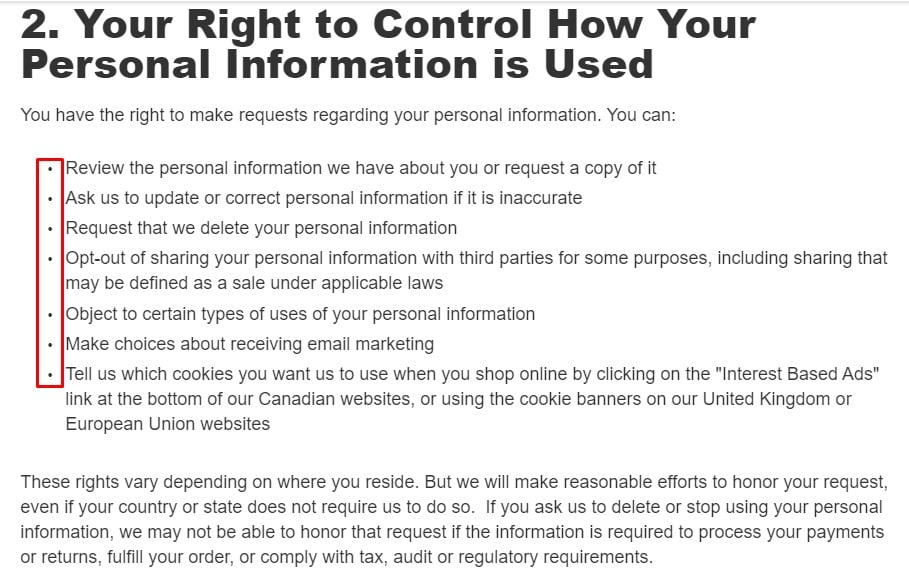 Here's a region-specific example from Staples that outlines additional rights for users residing in the EU or UK: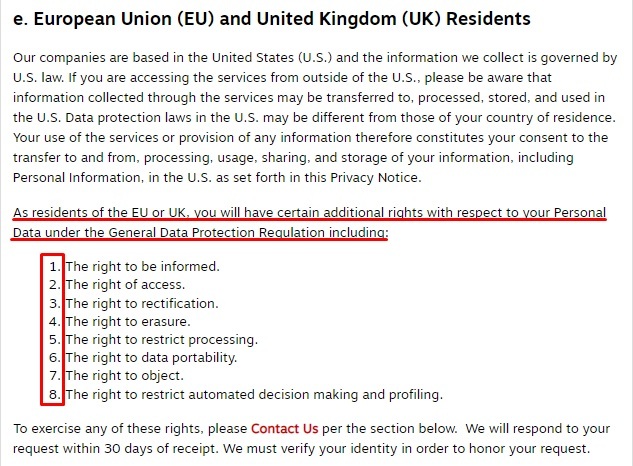 How you handle children's personal information
If you collect the personal information of customers under the age of 13, you must explicitly state so in your Privacy Policy.
The foremost authority here is the Children's Online Privacy Protection Act (COPPA). If you fall under its scope, you must comply with all its requirements, the most important of which is seeking parental consent.
You should also include this clause even if you don't collect information from minors, as this can help limit your liability if you accidentally obtain their information.
Here's a good example from American Eagle:

Contact Information
Every good Privacy Policy should provide customers and website visitors the opportunity to express their concerns, complaints, and inquiries by providing a contact information clause in its agreement. Generally, this clause contains an email address, physical address, and/or telephone number.
Here's how Rakuten displays this in its Privacy Policy:

Now that you see what the specific content of your ecommerce Privacy Policy should contain, let's look at where you should display your agreement after it's drafted.
Where Should You Display Your Privacy Policy Agreement?

You should display your Privacy Policy in a place where it's always accessible and easy to find, such as in your website's footer. It should also be displayed in places where you actively collect personal information, such as an account sign-up form.
Keep in mind that using a clickwrap method to confirm that customers have reviewed and consented to your Privacy Policy is good practice, as this will ensure that you have their explicit approval and can retain evidence of such.
Account Registration or Sign-up Page
A logical place to link your Privacy Policy agreement is the account registration or sign-up page on your app/website. Customers should be able to review and consent to your Privacy Policy before they create an account on your website.
Here's an example from QVC's account creation page: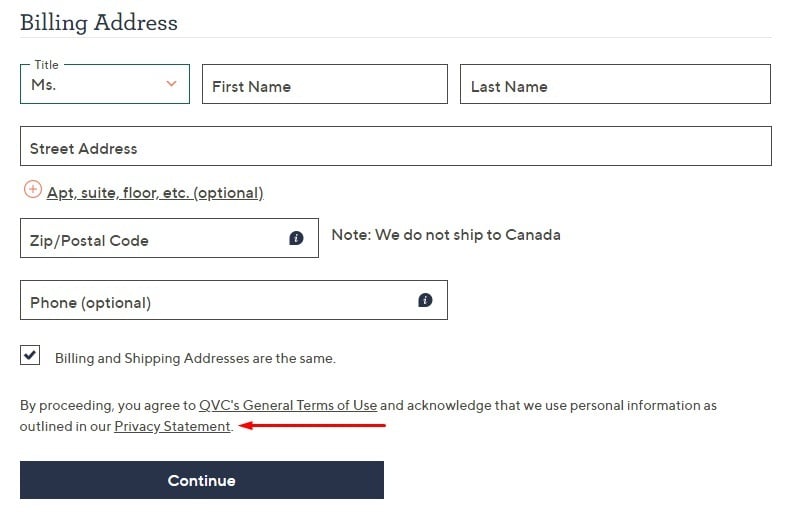 Website Footers
The footer is one of the most popular places for websites to display their legal agreements, including their Privacy Policy.
Here's how Alibaba links its Privacy Policy along with other legal agreements on its website footer:

Checkout Forms
For an ecommerce website, a reliable way to ensure your customers don't miss your Privacy Policy is by adding it to your final checkout page. This way, customers are always reminded of your policies and practices before confirming their orders.
Here's an example from Amazon:

Email Newsletter Sign-up Forms
Your Privacy Policy can be displayed when offering email newsletters to your customers by placing a link to it on the sign-up form.
Here's how Bloomberg Technology does this: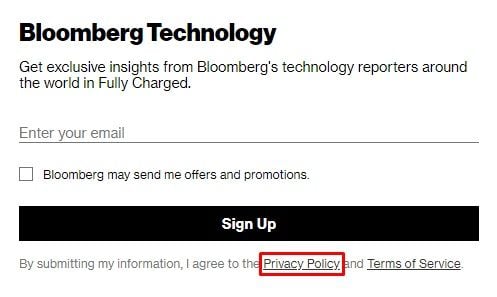 Summary of Ecommerce Privacy Policy
With the advent of privacy laws enacted in various regions of the world, businesses are now required to maintain a valid Privacy Policy, and your ecommerce store is no exception.
A reliable Privacy Policy lets customers know what they can expect from your business with regards to their personal information. It also promotes transparency and protects your business from potential legal issues.
When drafting your agreement, it's important to make sure your Privacy Policy is not overly complex but written in simple, plain language. You must also place it in prominent locations on your website.
Here's a refresher of the key sections your ecommerce Privacy Policy should include:
The types of personal information you collect
How you use personal information
How and why you share personal information
How you protect and secure personal information
Your use of cookies and similar technologies
How you observe individual privacy rights and opt-out policy
How your treat the personal information of minors
Your contact details to address privacy concerns
Download Sample Ecommerce Privacy Policy Template
Generate Ecommerce Privacy Policy in just a few minutes
Sample Ecommerce Privacy Policy Template (HTML Text Download)
You can download the Sample Privacy Policy Template as HTML code below. Copy it from the box field below (right-click > Select All and then Copy-paste) and then paste it on your website pages.
Sample Ecommerce Privacy Policy Template (PDF Download)
Download the Sample Ecommerce Privacy Policy Template as a PDF file
Sample Ecommerce Privacy Policy Template (Word DOCX Download)
Download the Sample Ecommerce Privacy Policy Template as a Word DOCX file
Sample Ecommerce Privacy Policy Template (Google Docs)
Download the Sample Ecommerce Privacy Policy Template as a Google Docs document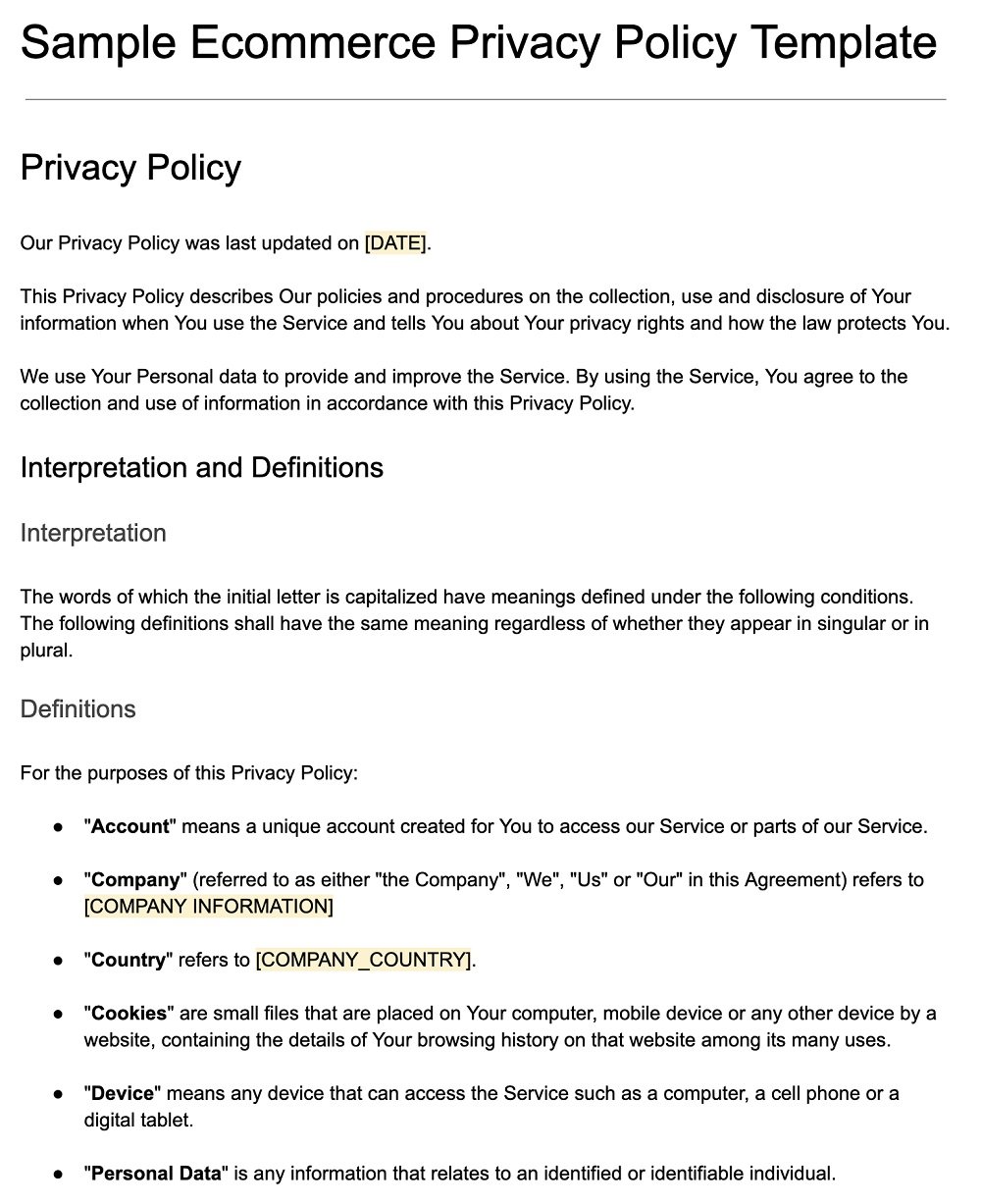 More Privacy Policy Templates
More specific Privacy Templates are available on our blog.