Written by
Post-graduate law degree, CIPP/E from the International Association of Privacy Professionals (IAPP). Privacy and Data Protection Research Writer at TermsFeed.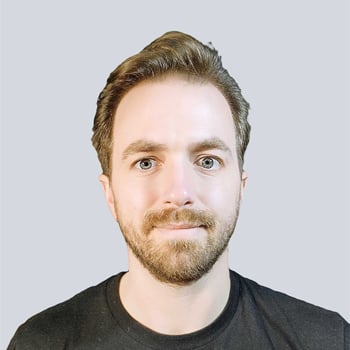 Edited by
Widener University School of Law graduate, Managing Legal Editor at TermsFeed.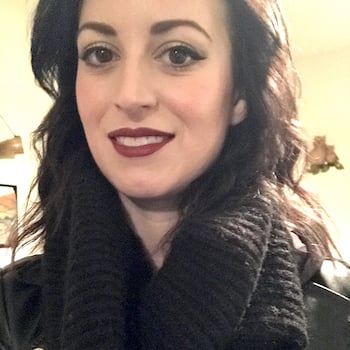 An End User License Agreement (EULA) gives an end-user ("user") the right to use your software product. Businesses of any size can benefit from having an EULA, from a lone developer to a big tech corporation with millions of users.
This article will explain what an EULA is, why your small business might need an EULA, what your EULA should include, and how to ensure your users accept your EULA.
Our EULA Generator makes it easy to create an EULA. Just follow these steps:
At Step 1, select the Desktop app option and click "Next step":

Answer some questions about your app.

Answer some questions about your business.

Enter the email address where you'd like to receive the EULA document and click "Generate."

You'll be able to instantly access and download your new EULA.
What is an EULA?
An EULA is an agreement between the owner of a software product (the "licensor") and the "licensee" or user of that software product. It's sometimes called a License Agreement or Software License Agreement.
Desktop software, mobile apps, and firmware normally come with an EULA. A person cannot use the software unless they agree to the EULA.
An EULA can cover paid or free software. You can only grant a license to users who have paid you for one, or you can grant users a free license. Either way, an EULA enables you to make your software available on your own terms and protect your copyright.
If a person uses your software without a license, they could be infringing your copyright. And if they violate the terms of the EULA, you could end up taking them to court.
EULA vs. Terms and Conditions Agreement
There are key differences between an EULA and a Terms and Conditions agreement.
A Terms and Conditions (see the definition of Terms & Conditions here) agreement is typically used for subscription products, software-as-a-service (SaaS), and free services or platforms provided on an ongoing basis.
An EULA (see the definition of an EULA here) is typically used for products offered on a one-time purchase or download basis.
Both types of agreements serve similar purposes:
They allow a user to legally use a product or service
They set out the rules and responsibilities for both parties
They are legally binding and can be enforced in court (under certain conditions)
In some contexts, a company might have both an EULA and a Terms and Conditions agreement covering the same product. Or sometimes, an EULA might include a clause that sets out ongoing Terms and Conditions.
Consider the example of a video game. Here, an EULA would enable a customer to download and play the game via a license. A Terms and Conditions agreement would set the rules for engaging with other players or creating custom content while playing the game.
EULA vs. Privacy Policy
An EULA and a Privacy Policy are very different types of documents.
A Privacy Policy is legally required under privacy and data protection laws, such as the EU General Data Protection Regulation (GDPR), the California Online Privacy Protection Act (CalOPPA), and many more.
A Privacy Policy describes how you collect, use, share, or otherwise process personal data. Different laws have different requirements around what information a Privacy Policy must include.
Is an EULA Legally Binding?

An EULA is intended to be a legally-binding contract that can be enforced in court.
This means that if someone uses your product without agreeing to the EULA, or uses your product in a way that violates the terms of your EULA, they could be breaking the law.
Will the courts enforce your EULA? Like so many legal questions, the answer is: It depends.
There is a lot of complicated case law around EULAs and similar agreements, and the rules can vary between countries. But generally speaking, an EULA will only be legally binding if:
It is clear
It is fair
The licensee has agreed to it
There's a lot of room for interpretation regarding each of these elements. We'll look at how to achieve them later in the article.
Does My Small Business Need an EULA?

Unlike a Privacy Policy, no law requires you to create an EULA. However, you should have an agreement in place that allows you to restrict who uses your software product and governs how they use it. This is because it helps you control your licenses and the use of them.
A business of any size, with any number of customers, can create an EULA.
What to Include in an EULA

We'll now look at some of the most common sections and clauses found in an EULA.
Of course, each EULA is specific to a software product, so many will have sections that aren't included here. But most EULAs are structured around these types of sections.
Introduction
At the beginning of your EULA, you'll want to establish the basics, such as:
The purpose of the EULA
The product covered by the EULA
Who is the licensor (you), and who is the licensee (your user)
Most EULAs start by encouraging the user to read the agreement carefully and in full.
Here's how Paradox Interactive does this:
Definitions
If you're including any specifically-defined terms, consider including a "Definitions" section at the start of your EULA.
Here's a look at OpenText's extensive "Definitions" section: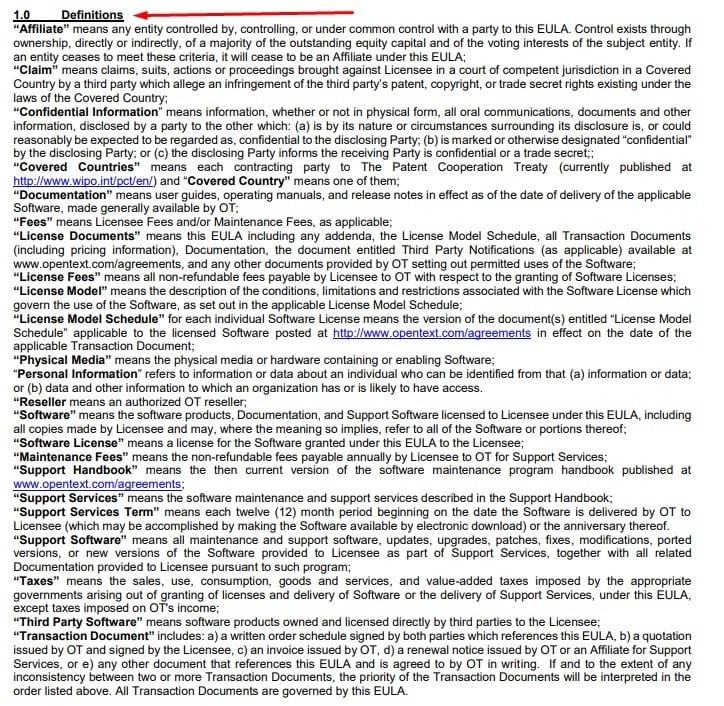 Grant of License
You should include a clause in your EULA that grants a license to the user. This "grant of license" section is sometimes called a "scope of license" because it also defines the limits of the rights that the license provides.
Here's an example from Ubisoft:

This part of your EULA sets some basic limitations on the license. For example, you can prohibit users from copying or re-selling your product.
Here's how HandyGames does this:

Other Rights and Limitations
Aside from the basic license conditions set out in the first part of your EULA, you might want to include a further section detailing more specific rights and limitations.
Here's an example from Winpure's EULA:

Winpure prohibits specific acts that some technically-adept users might try to perform on its software, such as renting it or reverse engineering it.
Termination of License
Your EULA can include a clause specifying when or under what conditions the user's license will be terminated, either by you or the licensee.
Here's an example from the providers of the game Heat Reborn: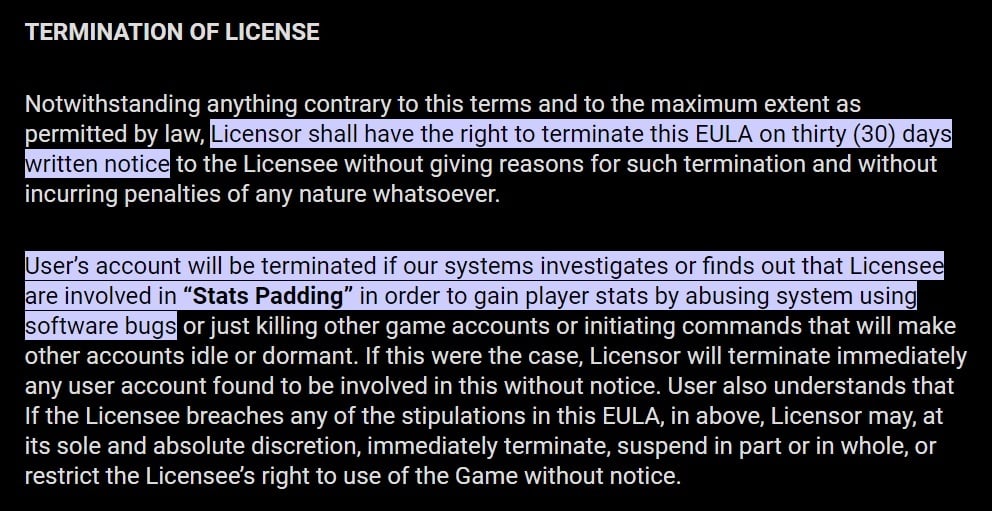 This clause includes a general right of the licensor to terminate the agreement at 30 days' notice and also specifies that the licensor may terminate the license if the user engages in certain abusive activities.
Note that, depending on where your company or your user is based, consumer protection laws might regulate the conditions under which you can terminate the license of a user that has purchased your product.
Warranty
Your EULA should set out the warranty your offer licensees, meaning the extent to which you guarantee that your product will work in the way they expect.
National laws are particularly relevant here, as most countries provide minimum standards for consumer products. These legal rules will generally override your EULA, but can sometimes be "disclaimed."
Here's an example from Red Hat to put this in context: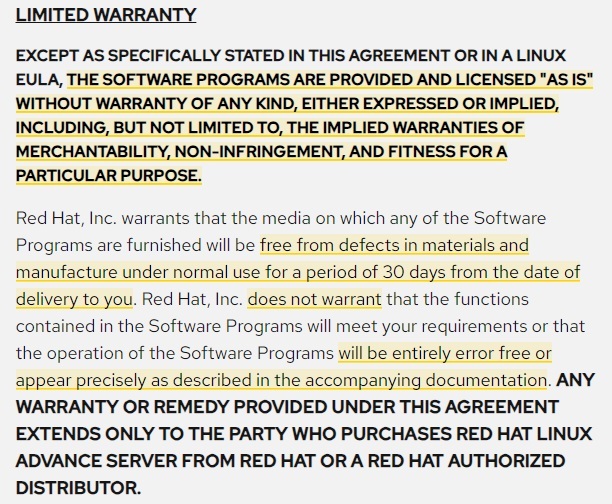 Up top, Red Hat states that its product is provided "as is," and the company also disclaims certain warranties that are "implied" into consumer contracts in the United States.
A Note on Implied Warranties
The rules vary between countries and even between U.S. states, but certain warranties are automatically assumed to form part of an EULA (or other contract) unless the licensor specifically excludes or disclaims them (states that the warranties do not apply).
This is why Red Hat mentions the following "implied warranties" in the section of its EULA provided above:
Merchantability: The product is generally fit for the purposes for which it is sold
Non-infringement: The product does not violate copyright law
Fitness for a particular purpose: The product is fit for a specific purpose for which it is intended to be used
By stating that its product does not come with these warranties, Red Hat is not necessarily saying that its product is unfit for purpose or that it violates copyright law. Rather, Red Hat is saying that these specific types of warranties do not apply to its products.
Instead, Red Hat provides its own warranty: Its product will be "free from defects" for 30 days of delivery.
Again, note that these disclaimers do not "work" in every country or even every U.S. state. Also, the 30-day warranty might be shorter than the minimum warranty that is implied (and mandatory) under some laws.
Limitation of Liability
A limitation of liability clause can help you avoid being sued, or at least limit the amount of damages you have to pay if you are sued, under certain circumstances.
Like the warranty disclaimer explored above, a limitation of liability might be overridden by national law in some countries or certain situations.
Let's take a look at how Apple does this:

A Note on Limitations of Liability
There are three things to note in particular regarding the limitation of liability above:
Apple states that it is not liable for various types of injury and damages that could (hypothetically) result from the use of its product.
Apple acknowledges that some national laws do not permit limitations of liability for certain harms, such as personal injury, or certain types of damages, such as incidental or consequential damages. As such, some users can ignore this part of Apple's EULA.
Apple states that even if it is found liable for certain losses, the company won't pay more than $50 in damages, except, again, where national laws prohibit this sort of limitation.
Why does Apple limit its liability to $50 rather than just excluding its liability altogether?
The total exclusion of liability might be considered unfair and unenforceable by a judge. A valid limitation of liability arguably has a better chance of standing up in court.
You should try to be particularly clear and precise when writing this part of your EULA.
Even where limitations or exclusions of liability are legally allowed, a court may refuse to enforce them if they are unfair or unclear. This happened in 2021 in the UK after a gambling platform refused to pay a winner based on its "exclusion of liability" clause.
Links to Other Agreements
Your EULA can reference or incorporate other agreements and documents, such as your Terms and Conditions, Privacy Policy, or Service Level Agreement.
Here's how EasyHOA does this:

You might need to specify whether your EULA overrides other agreements with the user, or vice-versa.
Here's how Unreal Engine does this:

Governing Law
A governing law clause states that the EULA should be interpreted under a given country or state's legal system or that any disputes or lawsuits should go through the licensor's domestic courts.
Here's an example of this type of clause:

This clause requires users in the Americas and Asia Pacific region to go through the Illinois courts and that users in Europe, the Middle East, and Africa must go through the Dutch courts.
But like several other clauses, these "governing law" clauses might not take effect in some countries, where certain legal rights apply regardless of where the provider of a product is based.
How to Display Your EULA

To ensure your EULA is legally binding, your users must be able to easily find it and have actively agreed to it.
You might display your EULA after a user:
When your user opens your software program's "setup" or "install" file
When your user runs your mobile app for the first time
Shortly before you user purchases your software from your website
You should always have users check a box or take a similarly overt action to show they are agreeing to the terms of your EULA.
For example, here's what you'll see when you open the setup file for the Windows software TechSmith Capture: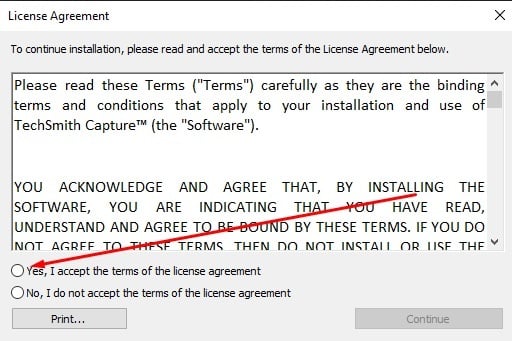 Note that the user must select "Yes, I accept..." before continuing with the installation. This helps ensure that anyone who has (legitimately) installed the software has accepted the EULA.
You should let users access your EULA while using your software. Here's how Firefox does this: within the "About" page of its Android app, which is accessible from the "Settings" menu: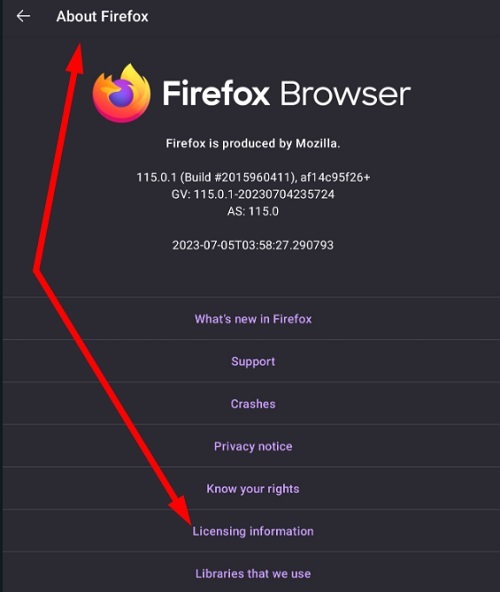 Summary of EULA for Small Businesses
Whatever the size of your company, an EULA can help you protect your company's rights and manage your users' activity.
An EULA is normally appropriate for software purchased or downloaded on a one-time basis. To provide ongoing services or subscription software, consider a Terms and Conditions agreement.
This type of agreement grants a user a license to use your software in specific ways. The agreement is legally binding if it meets the relevant legal requirements.
Some of the most common clauses found in a EULA include:
An introduction, sometimes including definitions
A "grant of license" clause
A section setting out other rights and limitations under the EULA
A "termination of license" clause
Warranty information, including disclaimers of implied warranties
A "limitation of liability" clause
Links to other agreements relevant to the use of your product
Ensure that anyone using your product agrees to your EULA, and make the agreement accessible within the software itself.