When running an ecommerce store, there are many things to think about, from the products you're selling, to your Shipping Policy and Return and Refund Policy, to how you'll handle customer service. But one thing that's often overlooked is legal disclaimers.
In this article, we'll look at the different types of disclaimers you may need for your ecommerce store, what each should contain, and how to create your own disclaimers. We'll also discuss where to display them on your website.
Let's get started.
Our Disclaimer Generator can generate a legal disclaimer for your business, website or mobile app. Just follow these steps:
At Step 1, select where your Disclaimer will be used.

At Step 2, add in information about your website/app and business.

Answer some questions about your business practices.

Enter an email address where you'd like to receive your Disclaimer and click "Generate."

Done! You'll be able to instantly access and download your new Disclaimer.
What are Disclaimers for Ecommerce Stores?
Disclaimers for ecommerce stores are an important part of your business's legal strategy. They can help protect you from a range of potential liabilities and can also be used to disclaim responsibility for certain damages, such as indirect or consequential damages.
For instance, if you sell legal products and are giving financial advice on your blog, you may want to incorporate a disclaimer that states that you are not a financial advisor and that the reader should consult a professional before making any decisions.
Another example might be disclaiming responsibility for user-generated content on your website, such as comments and reviews. By including a disclaimer, you are telling your readers that you are not responsible for the content and that they should use their judgment to determine whether it is accurate or reliable.
Regardless of the types of disclaimers you use, they must be prominently displayed and must be clear and concise to be effective. Additionally, they should be tailored to the specific risks associated with your business's products or services.
Are You Legally Required to Post Disclaimers on Your Ecommerce Store?

While some disclaimers are required by law, such as affiliate disclaimers, others are not.
As previously mentioned, disclaimers can help protect your business from liability claims. They can also help protect you from claims of false advertising. However, it's a best practice to include some types of disclaimers even if the law does not demand them.
Is Your Ecommerce Store Legally Protected by Disclaimers?
In some instances, a disclaimer can protect you legally from liability claims. Having a disclaimer on your website warns customers of the risks involved in using your products, services, or content.
This helps to set their expectations and may discourage them from taking legal action if they are injured by or dissatisfied with what you have to offer.
Of course, disclaimers cannot completely protect you from all liability, but they can help to limit your exposure.
What Can't You Use Disclaimers For?
Many ecommerce businesses like to include disclaimers in their advertising and on their websites. However, it's crucial to note that you can't use them to protect your business if you engage in dishonest behavior.
For instance, if you make false claims in your advertising or intentionally put out misleading information, a disclaimer won't save you from legal repercussions.
Should You Post Disclaimers on Your Ecommerce Store?

As noted above, you are legally required to post disclaimers in some cases. Even if no law demands you post other types of disclaimers, there are good reasons to do so.
Here's why you definitely should post disclaimers on your ecommerce store's website.
Build Trust With Your Customers
Most consumers appreciate it when a business is transparent in its dealings with them. This means being upfront and honest about what products or services are being offered, and any potential risks involved.
By including disclaimers, you can show visitors to your website that you're being transparent in your dealings with them. This can help foster a more positive relationship with everyone you do business with.
Disclaim Third-Party Liability
When running an ecommerce business, you want to be sure that your customers understand that you won't be held liable for the actions of third parties (such as your vendors).
By way of example, including a disclaimer that warns customers that you don't guarantee the quality, effectiveness, or other attributes of the products you're selling can help ensure that you won't be held responsible if a manufacturer messes something up.
Protect Your Reputation
Say you allow guest posts on your ecommerce store's blog or you run a forum where users can openly discuss the products you sell.
In that case, you would want to use a disclaimer that clarifies the views expressed by the author of the guest post are theirs and not your organization's. This way, if someone reads your blog and disagrees with something the guest author wrote, they cannot take legal action against your company.
In the same way, say you offer advice on DIY home projects on your blog. You could include a "use at your own risk" disclaimer that states that you are not responsible for any damages readers may cause to their homes due to purchasing tools or materials you sell or following your advice.
Is There a Difference Between Disclaimers and Privacy Policies or Terms and Conditions Agreements?
If your ecommerce store already has a Terms and Conditions agreement and a Privacy Policy, you may wonder if you also need disclaimers. The answer is yes. While there are some similarities between these documents, key differences make disclaimers an essential addition to your site.
A Privacy Policy is a legally required document that discloses your privacy practices, such as what personal information you collect, and how you collect, use and share it.
A Terms and Conditions agreement is not legally required, but highly recommended. It's a document that outlines the rules, requirements and restrictions for using your website, service or app.
A Disclaimer gives a short notice to users to be aware of something, while often disclaiming your legal liability.
Many Terms and Conditions agreements contain disclaimers. However, disclaimers can also be posted separately on different areas of your website.
Different Types of Ecommerce Store Disclaimers

You may desire to use more than one type of disclaimer when it comes to your ecommerce stores. Here are some of the disclaimers most commonly used in online shops, that your own shop may benefit from.
Affiliate Disclaimers
An affiliate disclaimer is a brief statement that clarifies to your readers that you are compensated whenever someone clicks on links to recommended products.
Including an affiliate disclaimer is a simple way to comply with Federal Trade Commission (FTC) guidelines and ensure that your visitors have all the information they need to make informed decisions about the products they purchase through your site.
Plus, being transparent about your affiliate relationships builds trust with your audience, leading to higher conversion rates and more sales.
Here's an example from Dog Food Advisor, an Amazon affiliate ecommerce store: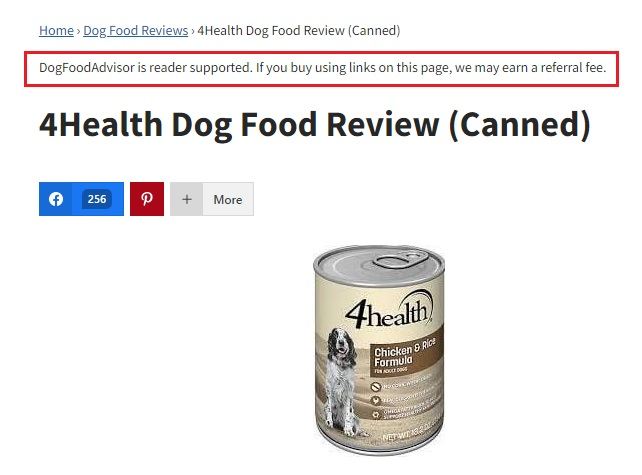 This type of disclaimer should be placed as close to the item for sale as possible so users know that by clicking your purchase link, you will make an affiliate income.
Accuracy Disclaimers - Errors and Omissions
Most websites include accuracy disclaimers to warn visitors that there may be some inaccuracies or typos on the site. This is because it's impossible to guarantee that every piece of information on a website is 100% accurate.
Mistakes can still slip through even with a team of editors and proofreaders. And as new information is added to a website, there's always a chance that some of it could be inaccurate.
In most cases, you'll find this kind of disclaimer within an ecommerce store's Terms and Conditions agreement, such as this from DogFoodAdvisor:

As-Is or As Available Disclaimer
When you see a disclaimer that says "As Is" or "As Available," it means that the website or app is provided just as it is without any warranties of any kind.
This disclaimer is often included in the Terms and Conditions agreement, and you'll frequently see language that puts the responsibility for any damages on the website user.
For instance, this disclaimer may state that the user accepts all risks associated with using the website. That could include but not be limited to the risks of damage to their computer, software, data, or other personal property, as well as the risks of viruses, worms, Trojan horses, spyware, adware, and other harmful or disruptive code.
Here's an example from Partake Foods:

Confidentiality Disclaimers
This type of disclaimer is widespread in industries where confidentiality is important, such as education, law, and healthcare. However, ecommerce stores also use them when selling health-related products.
A confidentiality disclaimer will inform customers that their information will not be shared or sold to third parties.
For instance, say you have an online store selling supplements to resolve problems such as erectile dysfunction or other sensitive issues. Customers want to know they can purchase from you in confidence, and a confidentiality disclaimer provides that reassurance.
Here's an example of how you can note that something is confidential, from Formax:

Delays in Shipping
This is a disclaimer that essentially states that you can't guarantee that orders will always arrive on time, and from time to time, there may be delays in shipping.
A typical shipping disclaimer would state something like, "Shipping times are estimated and not guaranteed. Weather, mishandling, or holidays can affect shipping times."
Here's how Hiut Denim Co. notes this:

Here's how Work Van Equipment lets users know that shipping delays may occur and that all delivery times given are subject to change:

Financial Disclaimers
If you've ever visited an ecommerce store selling products related to financial websites, you may have noticed a disclaimer on the page. That's especially true if the website also has a blog that discusses economic issues.
A financial disclaimer is basically just a statement that says the financial information on the site is only for informative purposes and shouldn't be construed as financial advice.
It's a way for the site owners to protect themselves from liability in case someone uses the information on the site and then suffers financial losses.
Longitude Capital writes its financial disclaimer like so:

Disclaimer of Warranties
Disclaimer of Warranties disclaimers are important for any website, but especially for ecommerce sites. You can usually find this type of disclaimer within the Terms and Conditions agreement.
It states that the website does not guarantee or warrant to the user that the products or services on the site will meet their needs or expectations.
Here's an example from Opal Kelly: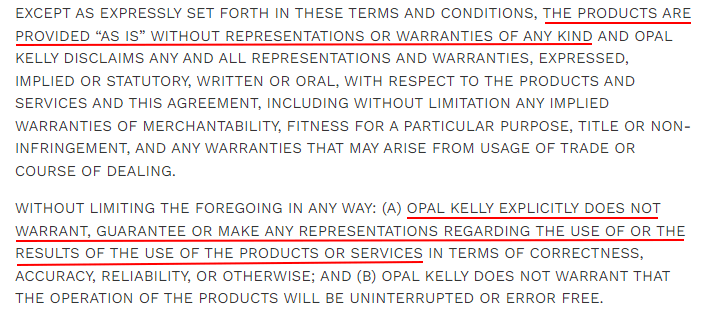 These types of disclaimers are almost always similar in content, with all caps font and legalese, similar to the next disclaimer we'll look at.
Limitation of Liability
Typically found in a website's Terms and Conditions agreement, this type of disclaimer is essential because it warns users about the limits or scope of a website's liability to them.
As noted above these types of disclaimers are similar to warranty disclaimers in that they both typically use all caps font and legalese.
Here's an example from Laird Superfood: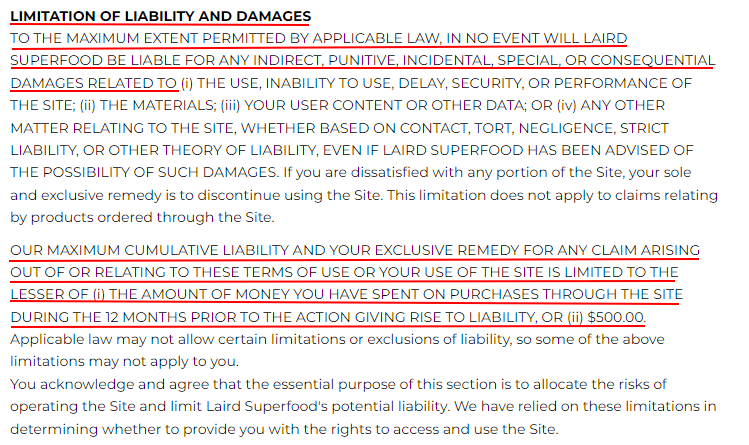 Medical, Fitness and Healthcare
If you sell any health-related products, including diet pills, health supplements, or fitness equipment, you should include a medical disclaimer.
Having one can discourage others from making false health claims about the products you sell and can help guard against liability in the event there is an adverse reaction to your products.
Here's how iHerb does this:

Now that you've seen some ecommerce store disclaimers in action, let's look at some tips for creating your own so it's the most effective it can be.
What Makes a Great Ecommerce Store Disclaimer?

First of all, don't copy someone else's disclaimer. Their business is not yours, and there may be small details that apply to them and not to you.
Great disclaimers for ecommerce stores start off by including the common core of a disclaimer statement.
Once the foundation is covered, you can customize the disclaimer to protect your business's specific needs.
Write in Clear and Simple Language
It's important to ensure that your disclaimers are written in clear, simple language that anybody can understand. After all, you certainly don't want your users to click away because they couldn't make sense of them.
The best way to ensure the average person easily reads your disclaimers is to avoid legal jargon and write with words people use every day.
Where Should You Post Your Ecommerce Disclaimers?

There are a few different places where you can post your website disclaimer. A common practice is to post it where it is most conspicuous.
Here are some typical places ecommerce stores place disclaimers.
At Checkout
By posting a disclaimer at the point of sale, you can ensure that customers are aware of the risks associated with your products.
In addition to product liability disclaimers, you may also want to post disclaimers relating to other risks, such as return disclaimers.
Within Other Legal Policies
As previously noted, many Terms and Conditions agreements contain disclaimers. For instance, you may see a product disclaimer within your Return and Refund Policy and a third-party disclaimer in a Terms and Conditions agreement.
Within Blog Posts/Promotional Content
By adding a disclaimer to your blog articles, you can reach people who may be attempting to learn more about your business or your product People will be here for information, so a disclaimer would be a fitting addition.
Navigational Menu
You can include a link to your disclaimers from your navigational menu so that your website visitors can easily find them.
Here's how the Licensed Mental Health Counselor website does this:

This can also work well for ecommerce mobile apps.
Pop-ups and Banners
Popups can be irritating, but they are also challenging to ignore. As a result, your visitors will have a hard time claiming that they didn't see a disclaimer if you put it in a pop-up notice.
Banner disclaimers are less intrusive, but they can be easy to miss if they are not placed in a prominent location. However, both banner and popup disclaimers are effective ways to make sure that your visitors are aware of your legal disclaimers.
Sign-Up Forms
If you require potential customers to sign up for any special deals or memberships as part of your ecommerce business, you can include links to your disclaimers on the sign-up page.
This ensures that your customers have the opportunity to view them before they sign-up or proceed any further with using your site.
Website Footer
One of the most prominent places to put disclaimers for ecommerce stores is within your website's footer. That way, customers can access your disclaimers from every page on your website.
This can be done either by linking your disclaimer page to the website footer, or, if the disclaimer is small enough, by embedding its actual text into the footer.
Here's how Au Naturale Nutrition includes a summary of its disclaimer in its website footer, while also linking to the full disclaimer in the footer:

You'll typically see these sorts of links placed alongside links to other legal documents such as
the Terms and Conditions agreement, Privacy Policy, as seen above.
Summary
Disclaimers are a vital part of any website, but they are especially essential for ecommerce sites. A disclaimer is a statement that helps protect the site from liability if something goes wrong, while also keeping users informed of important things.
Most ecommerce stores have a variety of disclaimers they employ. This largely depends on the kind of products they sell. However, some disclaimers are more common than others and are a best practice to include, such as ones that address the following topics:
Affiliate links
Errors and omissions
As Is/As Available content and products
Confidentiality
Delays in shipping
Financial advice
Warranties
Limits on liability
Medical, fitness and/or health content and products
Once you have your disclaimer created, make sure to display it in an area where the most customers or potential customers will see it and be informed, such as in a pop-up banner or in your website footer.