Written by
Widener University School of Law graduate, Managing Legal Editor at TermsFeed.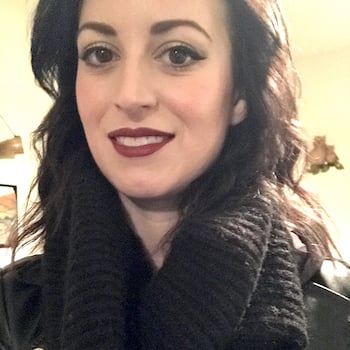 Disclaimers are statements of information that help limit your legal liabilty for things such as errors and omissions, giving instructional guidance and sharing your personal opinions.
They can also be used to keep your users informed about different things such as affiliate link usage, medical risks, atypical results and other things they would surely like to know.
This article will give you an overview of some of the most common and imortant disclaimer types with practical examples, while giving you a better idea of what options you have for your own website or mobile app when it comes to posting disclaimers.
Our Disclaimer Generator can generate a legal disclaimer for your business, website or mobile app. Just follow these steps:
At Step 1, select where your Disclaimer will be used.

At Step 2, add in information about your website/app and business.

Answer some questions about your business practices.

Enter an email address where you'd like to receive your Disclaimer and click "Generate."

Done! You'll be able to instantly access and download your new Disclaimer.
Disclaimer Examples
Generate a Disclaimer in just a few minutes
"Views Expressed" Disclaimer
A "views expressed" disclaimer informs readers that the views, thoughts, and opinions expressed in the text belong solely to the author, and not necessarily to the author's employer, organization, committee or other group or individual.
Another common use of a "views expressed" disclaimer is by people who are endorsing or critiquing a product that a company they work for produces or is involved with.
This type of disclaimer is typically seen on blogs or other online media publications, posts or articles that are more opinionated than factual in nature. They're seen most often in personal opinion writing by experts or professionals working in the same field of study as their post.
For example, a climate change scientist writing an editorial or opinion piece that involves the topic of climate change may include a disclaimer saying that the opinions are his own and not that of his employer.
Otherwise, what one employee says may be construed as being what the entire company believes, thinks or condones, and this may be very inaccurate and even damaging to reputations.
In this situation, a disclaimer will let readers know that the writer is speaking solely for herself, not for the company or as a formal representative of the company.
It's not uncommon for companies, universities and organizations to have some sort of social media policy in place to dictate how and when these disclaimers must be used.
Here's how the National Institutes of Health (NIH) handles how employees of the NIH or US government must use disclaimers.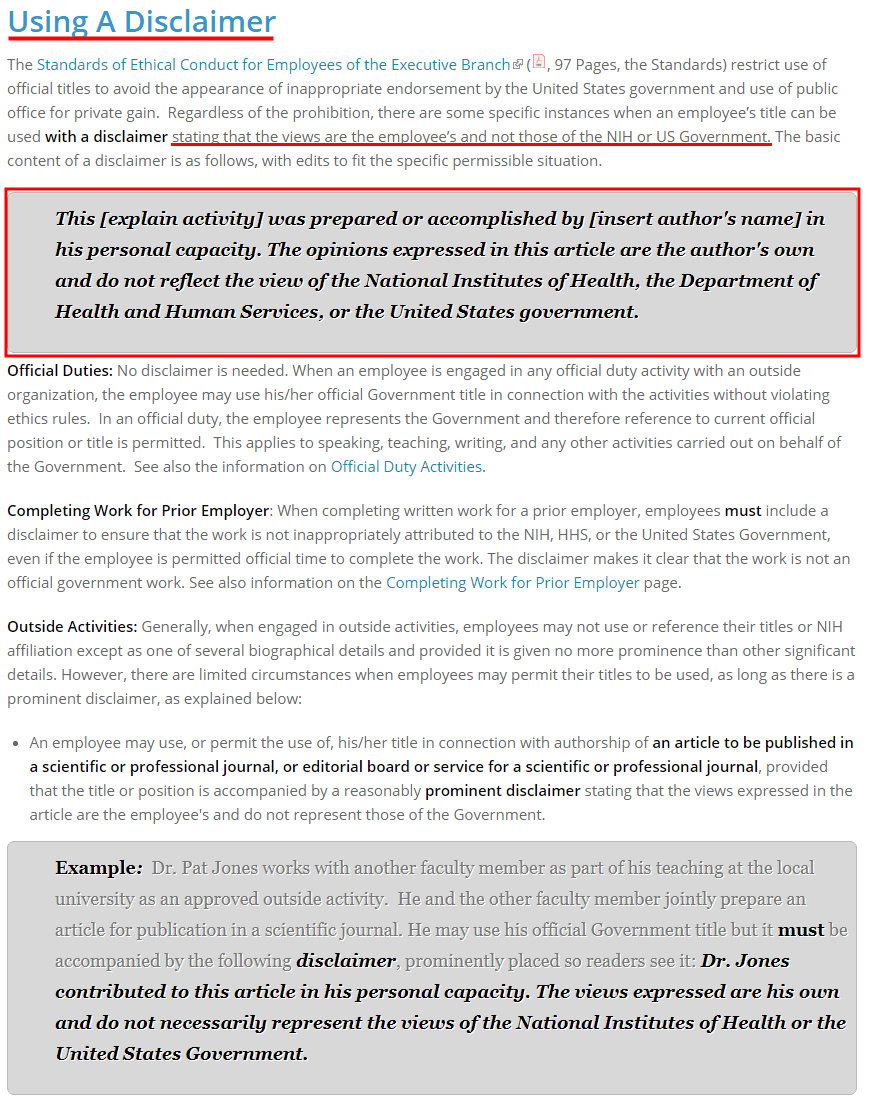 At NIH, official duty activities carried out on behalf of the government don't need a disclaimer.
However, when engaging in outside activities, such as a personal blog or as a member of an organization, an employee "may not use or reference their titles or NIH affiliation" except if it's as part of a multi-detailed biographical summary, or if a disclaimer is included.
Writing a "views expressed" disclaimer is very easy. All you have to do is basically state that the opinions and views you're expressing at that time are yours and not your employers or anyone else's.
Here are a few examples of "views expressed" disclaimers.
Examples From Blog Posts and Articles
If you have a personal website or a blog, a "views expressed" disclaimer helps make it clear to your readers that what they're reading is a product solely of your own.
Rigaku has one "Disclaimer" page where it combines a number of disclaimer types and text into one. Here you can see the views expressed section highlighted. It notes that "the views and opinions expressed are those of the authors and do not necessarily reflect the offical policy or position of Rigaku."

Examples from Podcasts
Even podcasts can have "views expressed" disclaimers.
This is seen below in the disclaimer for The World of Anesthesiology podcast series, where listeners are told that "the views, information, or opinions expressed during [the] series are solely those of the individuals involved and do not necessarily represent those of Vanderbilt University Medical Center and its employees."

Examples from Slideshows and Presentations
If you're giving a presentation, you may want to (or even be required to) include a "views expressed" disclaimer.
This type of disclaimer will inform viewers that you created the presentation, not your employer.
In the example below, even though the creator of the slideshow works for the Federal Reserve Bank of Dallas, and that bank is also hosting the event where the presentation is given, the presenter still adds a disclaimer stating that the views in his presentation are his own and not necessarily those of the Federal Reserve: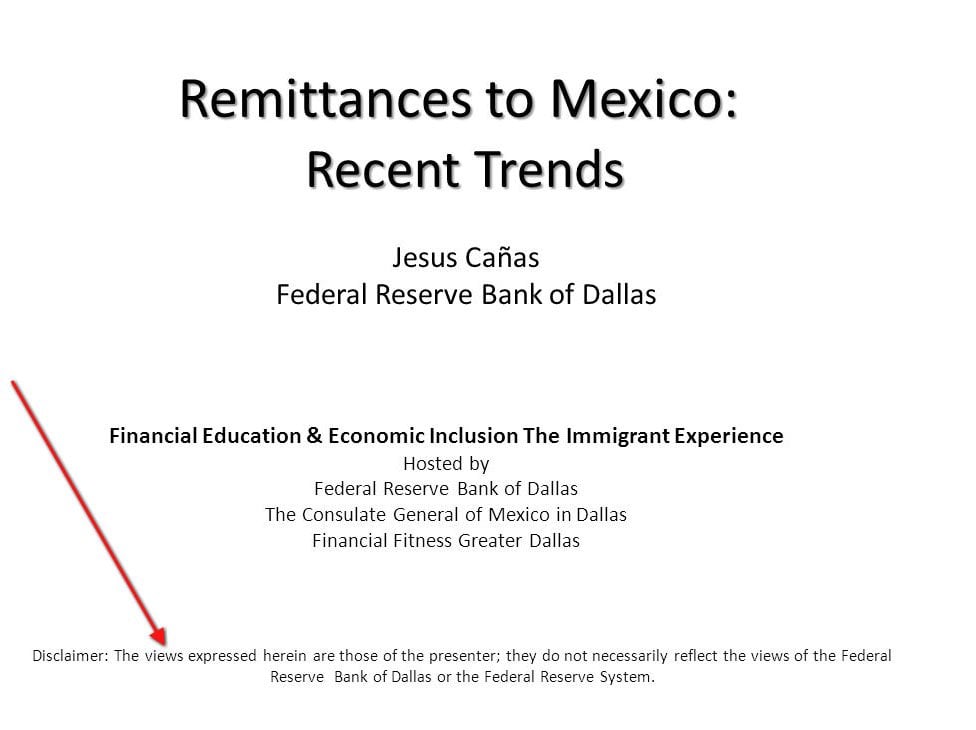 "No Responsibility" Disclaimer
A "no responsibility" disclaimer works to keep your business from being held responsible for or held liable for things like damages that arise from using your website or app.
A "no responsibility" disclaimer is not disclaiming any warranties, either implied or specific/required by law.
CNN Money has a disclaimer of liability for LIBOR rates:
"responsibility or liability for the frequency of provision and accuracy of the BBA LIBOR rate or any use made of the BBA LIBOR rate by the subscriber, whether or not arising from the negligence of any of BBAE or the Suppliers."

Here it is: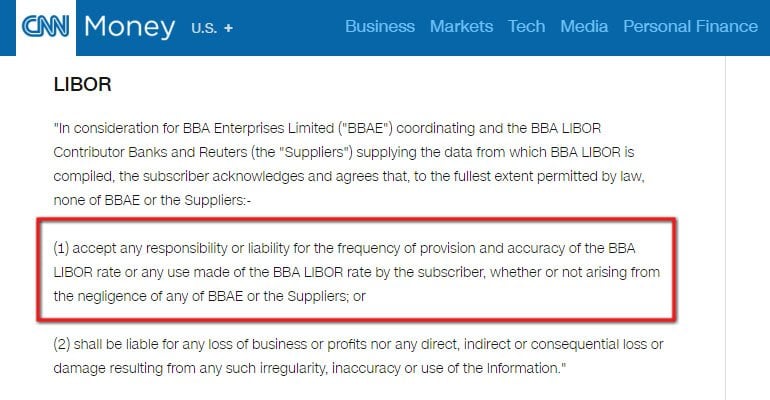 Limitation of liability clauses are common in end user license agreements so that users are aware that they will not be able to hold the company liable for any damages arising out of the use of the application.

"Past Performance" Disclaimer
A "past performance" disclaimer informs people that past performance doesn't guarantee future results.
The "past performance" disclaimer is seen commonly in investment and other financial markets where there are unpredictable and ever-changing results and outcomes.
Nordea posts a "past performance" disclaimer:
"the performance represented is historical" and that "past performance is not a reliable indicator of future results and investors may not recover the full amount invested."
Here it is, highlighted:

You can even include a "past performance" disclaimer slide in a slideshow about investing or investment strategy, as seen here from Anand Rathi.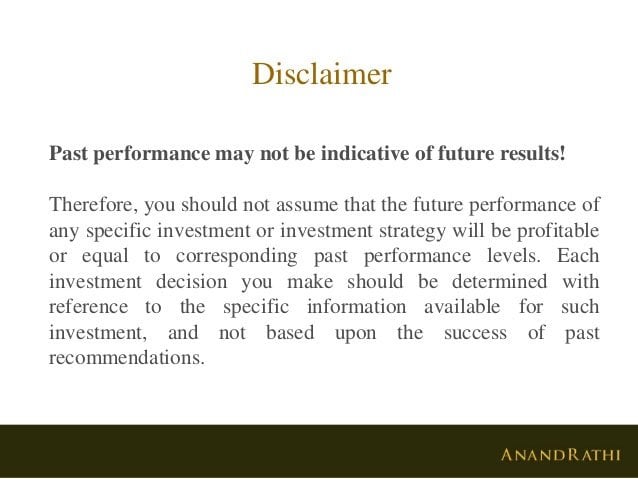 "Use at Your Own Risk" Disclaimer
A "use at your own risk" disclaimer will make it so that you cannot be held legally responsible for sharing your method when it doesn't work for someone. Otherwise, someone may attempt to sue you and claim that following your advice landed him in the hospital.
This type of disclaimer is handy for websites or app that share things like recipes, instructions, advice, medical information, articles and more.
Whenever you're sharing information with people that they may actively use or follow, you should include the "use at your own risk" disclaimer so that your business can't be held liable.
Here's an example why it's useful to include this type of disclaimer.
Imagine you write an article telling people about a method you've used to successfully treat a skin condition, and someone who reads your article decides to follow your method and has a terrible allergic reaction and ends up in the hospital.
Wikipedia has a disclaimer that states:
"none of the authors, contributors, administrators, vandals, or anyone else connected with Wikipedia, in any way whatsoever, can be responsible for your use of the information contained in or linked from these web pages."

Here it is, highlighted:

Additionally, Wikipedia users are informed that they should "take all steps necessary to ascertain that information you receive from Wikipedia is correct and has been verified" by doing things like checking references and revision history, double-checking information with independent sources and remembering that "anyone can post" on Wikipedia:

"Errors and Omissions" Disclaimer
An "errors and omissions" disclaimer works to let users know that if there are any errors in the material, or omission of information that turns out to be material, the site-owner/author isn't to be held liable for damages that arise out of them.
At Forensic Accounting, a disclaimer states:
"[The author] assumes no responsibility or liability for any errors or omissions in the content of this site. The information contained in this site is provided on an "as is" basis with no guarantees of completeness, accuracy, usefulness or timeliness..."

Here it is, highlighted: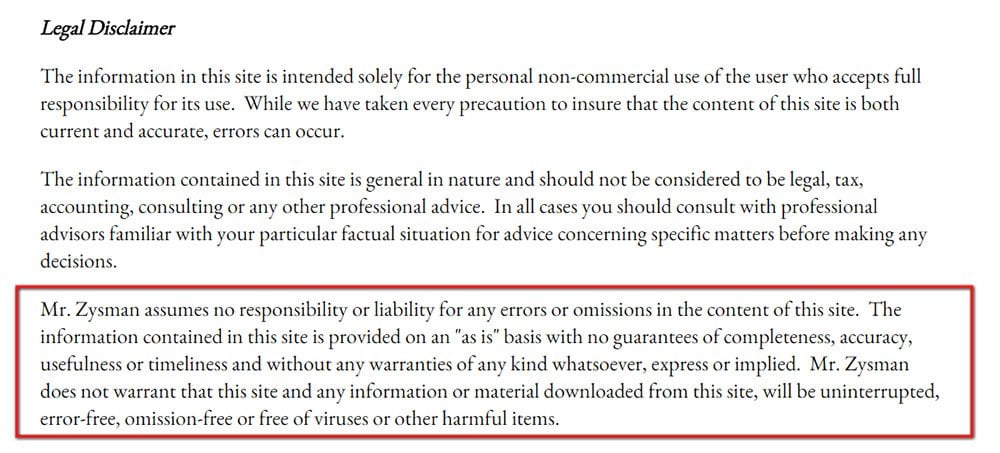 PwC includes a paragraph that states:
"PwC is not responsible for any errors or omissions, or for the results obtained from the use of this information. All information in this site is provided "as is", with no guarantee of completeness, accuracy, timeliness or of the results obtained from the use of this information..."

Here it is, highlighted:

If your website contains information about topics that a user may rely on for practical information, such as legal advice, medical diagnosing, financial subjects and others, consider including an "errors and omissions" disclaimer just in case you accidentally leave something out or get something wrong that may affect your users.
"Fair Use" Disclaimer
A fair use disclaimer is where you state that you're using certain copyrighted material under the Fair Use Act. This helps protect you from being accused of copyright infringement.
While using copyrighted work can lead to copyright infringement issues, the "Fair Use" doctrine is an exception to this.
Under the "Fair Use" Act, a copyrighted work can be used, cited or incorporated within another author's work legally without needing a license if it's being used explicitly for things like news reporting, researching purposes, teaching, commentary, criticism, and other such uses.
Things like movie reviews that quote the movie, or using sections of a published book for a teaching lesson in a classroom are examples of common scenarios that are protected under this act.
There is four-factor balancing test considered when deciding if a particular use of a copyrighted work is a "fair use":
What's the purpose and character of the use? Is it commercial, or educational? Is the material transformed, or reproduced?
What's the specific nature of the copyrighted work being used? Is it a work of fiction, or factual research? How much personal creativity and unique expression went into the work?
How much of the original work is used?
Will the use drastically affect the market or potential market for the copyrighted, original work?
Clean Air Revival has a Fair Use Notice that lets users know that "this site may contain copyrighted material the use of which has not always been specifically authorized by the copyright owner."
Clean Air Revival states that it's using this material as part of its "effort to advance the understanding of environmental, political, human rights, economic, democratic, scientific, and social justice issues, etc." and that it believes that this constitutes a "fair use" of the material in accordance with Title 17 U.S.C. Section 107.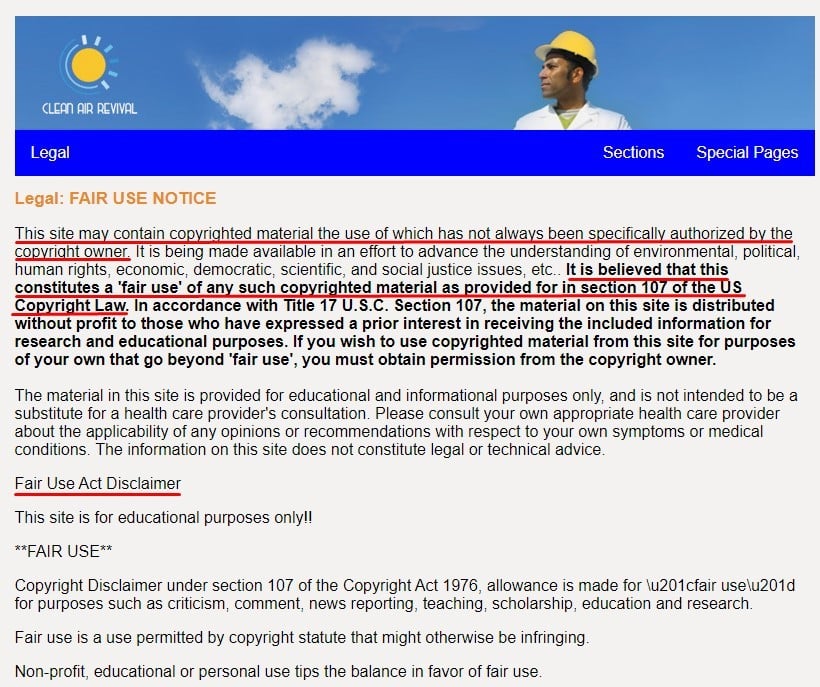 Mass Equality has a "Fair Use Policy and Legal Disclaimer" that includes the same standard notice:
"this site contains copyrighted material the use of which has not always been specifically authorized by the copyright owner."

The disclaimer from Mass Equality then continues on to lets users know that:
"making such material available to advance understanding of same-sex marriage and efforts to codify anti-gay discrimination in Massachusetts."

Here's a screenshot:

With a "fair use" disclaimer, all you have to do is inform the public know that you're using parts of copyrighted work, and using them under the "Fair Use" act for appropriate purposes.
"Investment" Disclaimer
The "investment" disclaimer informs users that you're not an investment advisor, broker or dealer and that you don't have any insider information.
If you have an investment website or app that provides general news, publicly-available information, analyses, or other materials that would help someone while making investment decisions, you're going to want to have an "investment" disclaimer in place.
The Sequoia disclaimer page has a section at the bottom of its first paragraph where investment advice is mentioned.
Sequoia states:
"website and the information contained herein is not intended to be a source of advice or credit analysis with respect to the material presented, and the information and/or documents contained in this website do not constitute investment advice."

Here it is: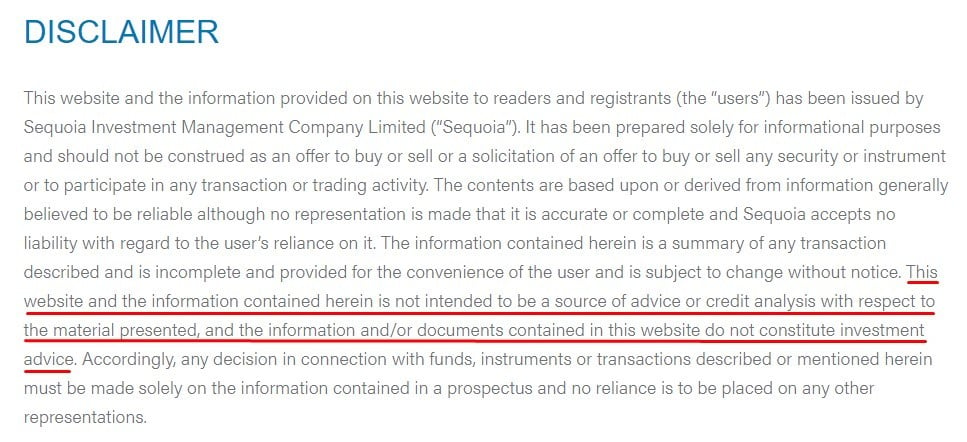 The Investment Blog includes a paragraph in its disclaimer that addresses investment advice and disclaims it as being based on "personal opinion and experience" and that it "should not be considered professional financial investment advice."
The author of the Investment Blog goes on to add that "the ideas and strategies should never be used without first assessing your own personal and financial situation, or without consulting a financial professional."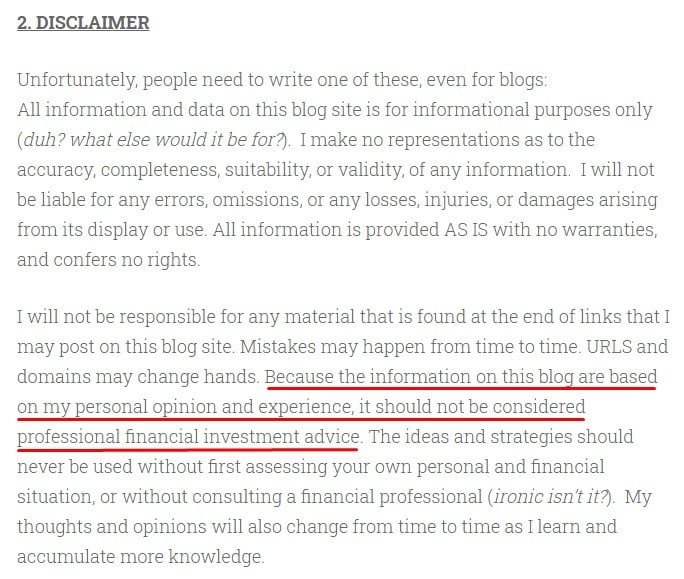 Stockopedia has a very robust "investment" disclaimer section with a lot of sections relating directly to the issue of investment advice:
First, users are presented with a "Do Your Own Research" section where they're encouraged to "do their own research." Users are told that the content on Stockopedia is "intended to be used and must be used for informational purposes only" and that they should "take independent financial advice from a professional" and "independently research and verify" information.
The next section titled "No Investment Advice" lets users know that the website is "a financial data and news portal, discussion forum and content aggregator" as well as an "educational forum for analysing, learning and discussing general and generic information." It is "not a broker/dealer" nor an investment advisor" and the site-operators or authors have "no access to non-public information about publicly traded companies."
Then, users are told that "this is not a place for the giving or receiving of financial advice, advice concerning investment decisions or tax or legal advice."
Here's a screenshot of this disclaimer from Stockpedia: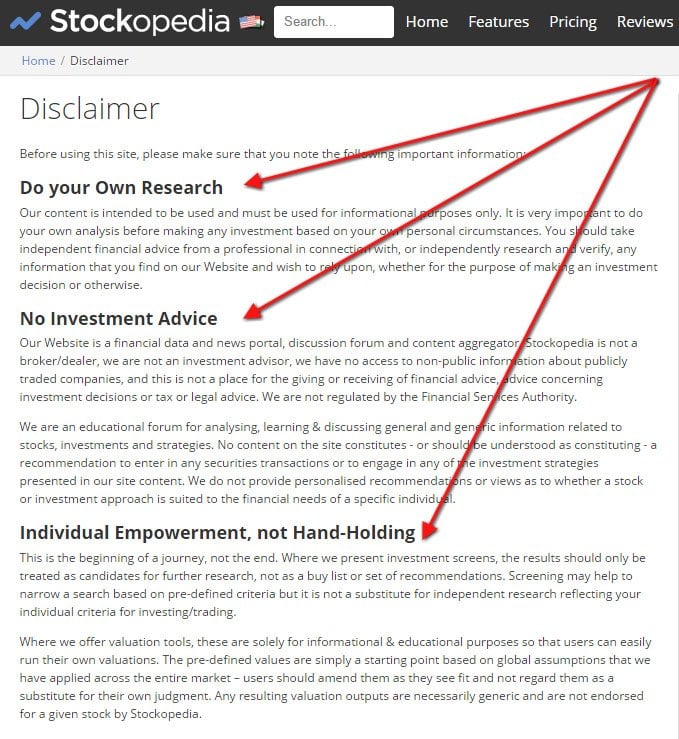 "Copyright Notice" Disclaimer
A copyright notice lets the world know that your website material is yours, and commonly contains the copyrighted year, the author's name, the copyright symbol and the reservation of rights the author wishes to copyright.
Here's how Credit Karma includes a copyright notice in its website footer:

Books include a copyright notice on one of the first few pages. This example shows a different copyright in place for the introduction of the book, as well.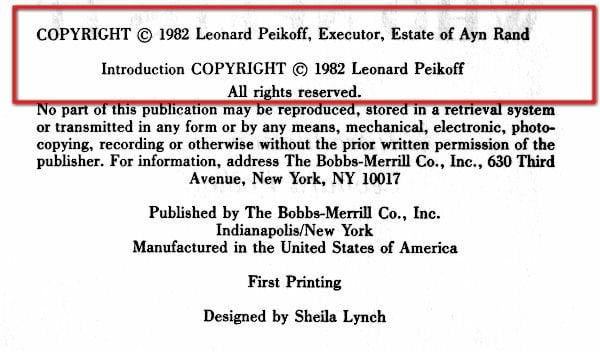 Etsy has a very simple and short copyright notice, but it works just fine. Copyright notices are very common and universally understood, so this basic notice will still suffice:

"Email" Disclaimer
"Email" disclaimers are added to at the end of an email, usually in the signature section, so that the disclaimer automatically becomes a part of every email sent. They can include any type of disclaimer content that you wish to send with every email.
While it hasn't been determined whether having an "email" disclaimer actually helps you avoid liability in a court of law, having the "email" disclaimer in place does come with some general benefits.
These benefits include:
Informing the recipients of your email of confidentiality, potential computer viruses and more
This disclaimer may also deter the recipients from trying to file a lawsuit against you for something covered by your disclaimer
The most commonly used "email" disclaimer is a "breach of confidentiality" disclaimer.
This "breach of confidentiality" disclaimer used in email informs the recipient of the email that the communication is of a confidential nature, and that the information within the email is meant solely for the person to whom the email is addressed.
Below is an example of a common "breach of confidentiality" disclaimer used in emails:

"Medical" Disclaimer
Medical disclaimers are a great way to let people know that your content is not a substitute for a doctor.
The Fitbit mobile app includes this medical disclaimer with its heart rate variability information screen so users are aware that the information on the screen is not medical advice: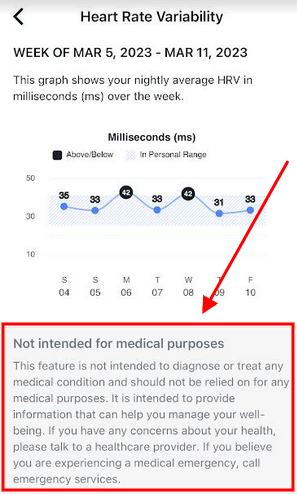 Summary
To summarize, disclaimers are a very important aspect of limiting your liability and keeping your users informed. The nature of your website or business will dictate what types of disclaimers you may need. For example, you won't need a disclaimer addressing using information at your own risk if you don't share any information.
Include disclaimers in a way that makes them easy for your users to notice and understand. You can include them in your website footer if they're short enough. Or, if you have a number of disclaimers, consider creating a specific Disclaimer page where you can note them all.
Disclaimers FAQ
Here is a list of frequently asked questions that you may find useful.