If you currently manage or plan to launch a social commerce business, you'll need to maintain a number of legal agreements. These agreements are essential to comply with the requirements of privacy laws and best business practices.
In this article, we'll examine what legal agreements your social commerce business needs, why you need them, how to prepare them, and where to display your agreements for maximum impact.
Let's get started.
What is Social Commerce?
Social commerce is a branch of ecommerce that involves selling products and services directly through social media networks. In other words, customers can browse, buy, and pay for products without leaving their favorite social apps.
Social commerce has witnessed significant growth over the past few years thanks to:
The popularity of social platforms like Facebook, Instagram, Pinterest, TikTok, etc.
The convenience of shopping online, and
The increasing demand for social proof
In practice, most social commerce businesses are ecommerce websites with social media components integrated into their marketing and selling activities.
Running a social commerce business can be an exciting and lucrative venture. However, it also comes with some significant legal responsibilities you must understand and address before moving forward.
What Legal Agreements Does Your Social Commerce Business Need?
A social commerce business generally needs to maintain the following legal agreements:
While some of these agreements are explicitly required by privacy law, others are highly recommended to protect your business interests and ensure a smooth flow of operations.
In addition to the above agreements, you may need to maintain other legal policies depending on the specific nature of your business.
To put this context, software developers would benefit from having an End User License Agreement (EULA) to set rules on how customers may use product licenses.
Let's look at each social commerce legal agreement in more detail.
Privacy Policy for Your Social Commerce Business

A Privacy Policy is a comprehensive legal document that summarizes how you collect, use, share, and protect your customers' personal information. It also explains what rights customers have over their information.
Privacy Policies are legally required under numerous privacy laws worldwide. Just a few of the most prominent ones include:
But that's not all. As a social commerce business, third-party social media platforms also require you to maintain a Privacy Policy.
For instance, Facebook's Seller Agreement only allows sellers on its platform to handle users' data if they comply with its terms, including providing a Privacy Policy and Terms of Sale to users:

Now that we've seen why a Privacy Policy is a must-have for your social commerce business, let's go over some key clauses to include in your Privacy Policy.
What Types of Personal Information You Collect, and Why
In this section, you need to provide a comprehensive account of the specific types of information you collect from your customers and why you need them.
As a social commerce business, you'll typically collect customers' names, email addresses, shipping addresses, and payment information to process purchase orders and delivery.
All these must be clearly described in your Privacy Policy, including any unique collection and use of personal information.
Here's how Cluse concisely explains this clause in its Privacy Policy, using bullet lists to enhance readability: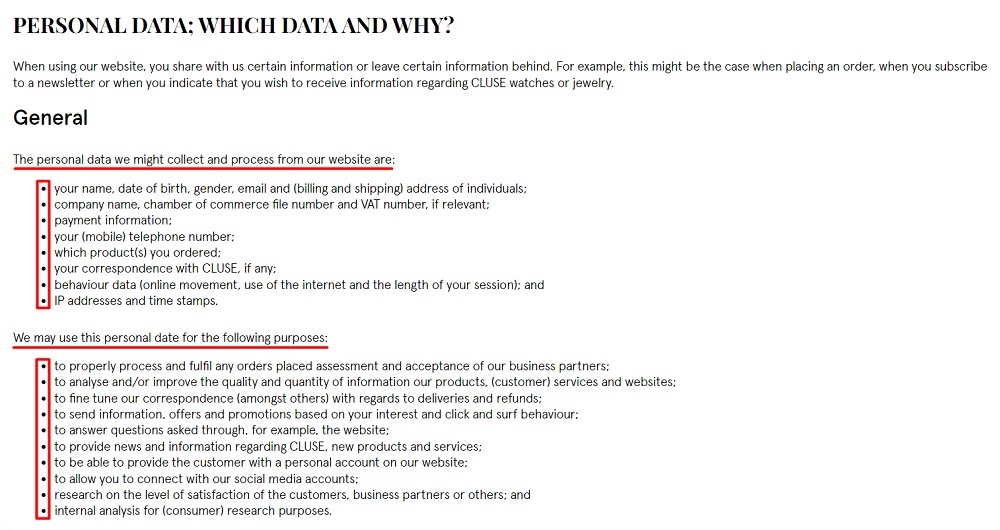 Who You Share Personal Data With
It's nearly impossible to do business online without hiring external partners to handle key aspects of your operation. For instance, you'll likely need to engage a shipping company, analytics platform, payment processor, etc.
Your social commerce Privacy Policy must mention all third parties you may share customers' personal data with and why.
Here's an example of how this clause could be structured from J.Crew:
Consumers' Privacy Rights
Thanks to global privacy laws, consumers worldwide have several rights over their personal information, particularly access, correction, deletion, and opt-out rights.
Note that these rights typically vary depending on the country or region in which a customer resides. Moreover, consumer rights aren't absolute, and some may be subject to certain conditions before consumers can exercise them.
Your social commerce Privacy Policy must mention all applicable privacy rights and include a simple way for customers to exercise them like Burberry does here: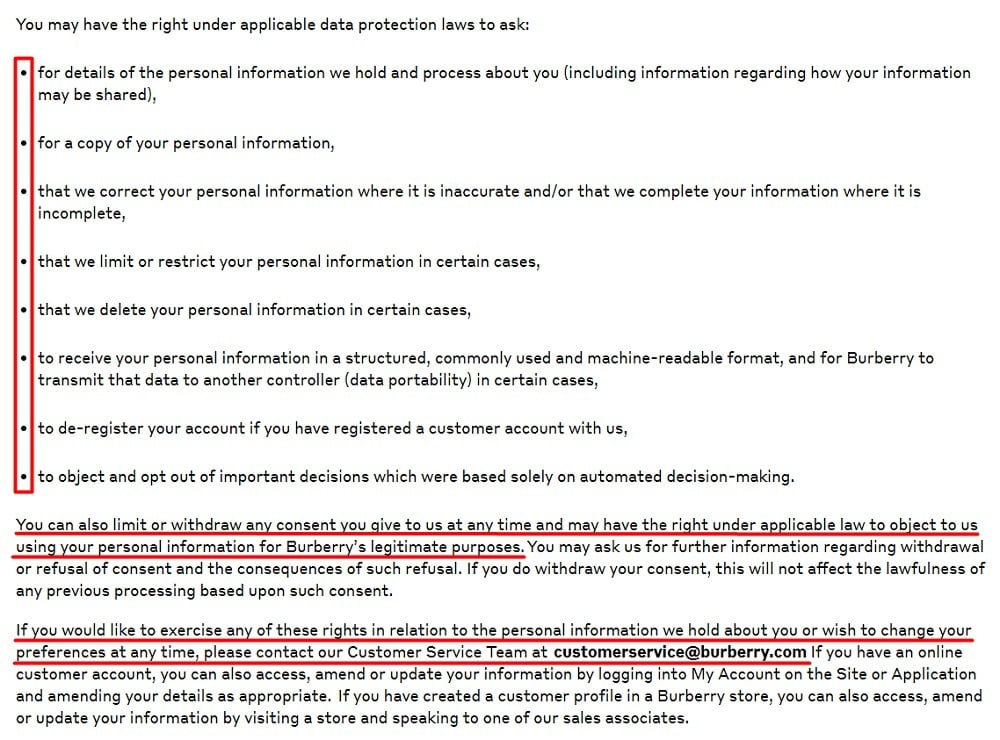 Cookies and Similar Trackers
Cookies are small pieces of data that websites save on a user's device. They typically help remember things like the user's preferences and shopping cart items to make their browsing experience smoother.
Cookies and similar trackers are practically indispensable to help facilitate social commerce operations. For instance, if you maintain a website, you'll likely use social media cookies to integrate social media networks into your business processes.
Under privacy laws, you must clarify your cookie practices, including the types of cookies you and third parties use and how customers can opt out.
You can do this in one of two ways:
Within a clause in your Privacy Policy
Within a separate webpage in a Cookies Policy
Sephora opts for the first approach, concisely explaining how it uses cookies and similar online tracking technologies in its Privacy Policy. Sephora also notes that its integrated third parties services may place cookies on users' devices:

Contact Information
Every valid Privacy Policy must include a simple way for customers to get in touch with the business. Accordingly, your social commerce Privacy Policy must include a contact information clause to allow customers to send questions, requests, and complaints.
It's a best practice to provide more than one means of communication, like Impact does here:

Next we'll look at a Terms and Conditions agreement for your social commerce business, including the benefits of having one and how to draft one.
Terms and Conditions Agreement for Your Social Commerce Business

A Terms and Conditions agreement (T&C) is a document that lays out the rules and guidelines regulating a business's operations. It's also known as a Terms of Service or Terms of Use agreement.
A T&C ensures that your customers know what to expect when doing business with you and what's expected of them.
While not mandatory by law, having a T&C is a smart move for a number of reasons. One reason is that it helps protect your business from abuse and reduces disagreements with customers. T&Cs make things transparent and fair for everyone. But more than that, they can also foster trust and enhance your credibility.
Now, let's review some key clauses you should include in your social commerce T&C agreement.
Introduction and Acceptance of Terms
Your social commerce T&C should start with an introduction explaining the purpose of the agreement. It should also clearly state that by using the platform, customers agree to abide by the terms outlined.
Here's how Dollar Shave Club presents this clause in its Terms of Service, noting that it may revise the terms at any time:
User Conduct and Guidelines
In this clause, you'll address the appropriate or acceptable behavior of customers when using your service. For instance, you'd typically highlight respect for others and prohibit spamming, phishing, and other fraudulent activities.
Here's an excerpt of Impact's Terms of Use addressing user conduct on its platform:

Prohibited Uses
This clause sets what your customers shouldn't do when engaging your business. It's essential to provide clear, specific details when establishing your boundaries. This way, you can reference them if you need to terminate a customer's account for violating them.
Here's a great example of how this clause can be presented from ASOS: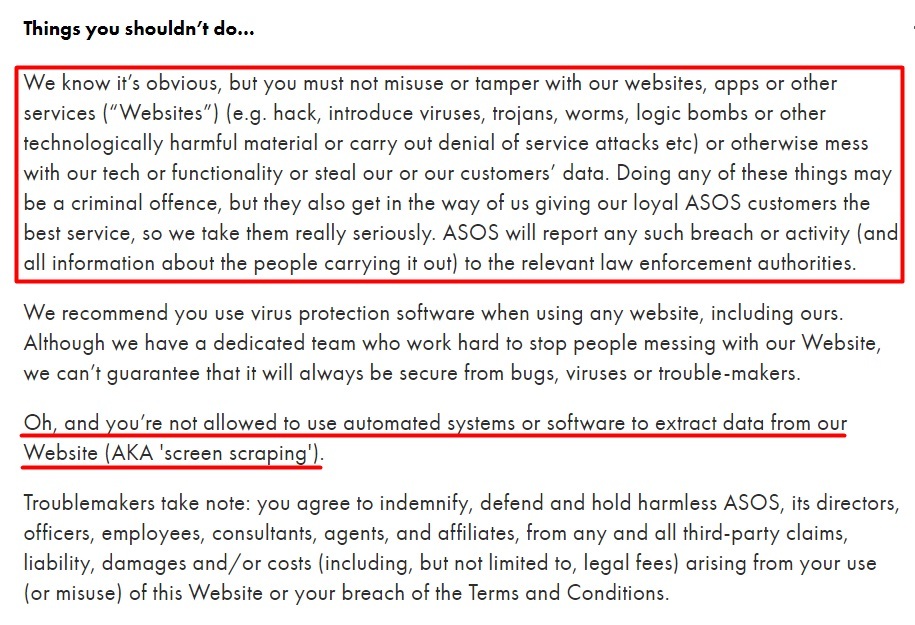 Governing or Applicable Law
A governing or applicable law clause specifies which jurisdiction's legal system will apply if disputes arise when doing business with customers.
Here's how Epic Games lets its customers know that North Carolina laws apply in cases of disputes:

Intellectual Property
For social commerce businesses, an intellectual property clause is a must-have. It helps you assert ownership of your business's content, trademarks, logos, and other commercial branding.
It also clarifies the ownership of content uploaded by customers to your social media platform (if applicable).
Ultimately, this clause protects your intellectual property and that of your customers from being used without permission or adequate licensing agreements.
Here's how ASOS concisely presents this clause in its Terms and Conditions: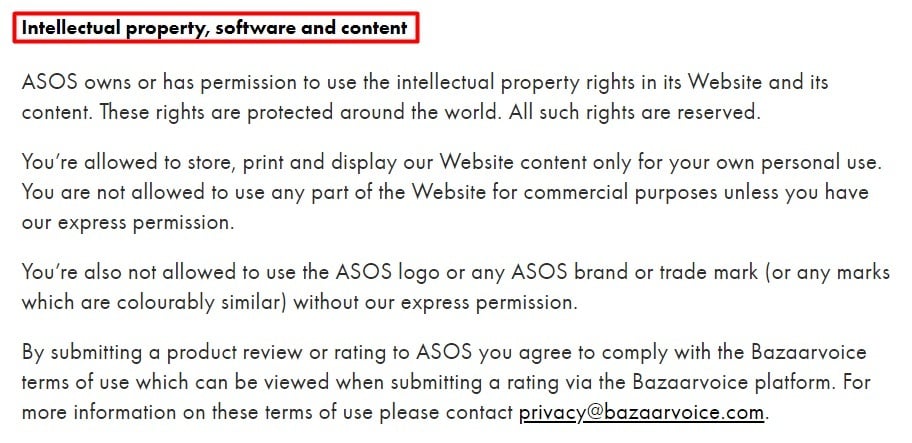 Shipping and Delivery Details
As a social commerce business, product shipping and delivery are vital components of your operations.
For this reason, your T&C needs to explain your shipping and delivery process, including your estimated delivery times, shipping methods, applicable shipping fees, and key additional information.
Alternatively, you can provide this information separately in a Shipping Policy.
In any case, your shipping and delivery information should be clear and well structured like Cluse does here: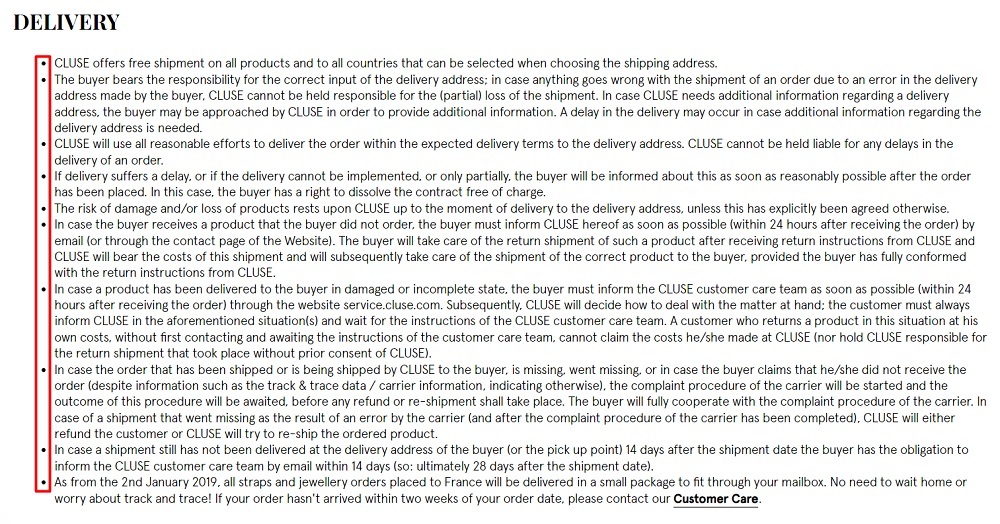 Payment Terms
Establishing payment terms is especially important for social commerce businesses. Your T&C needs to explain in detail how you handle payment transactions, what methods you support, the due date, late payment fees, and other key information.
Burberry does a good job here, providing comprehensive information about its payments processes: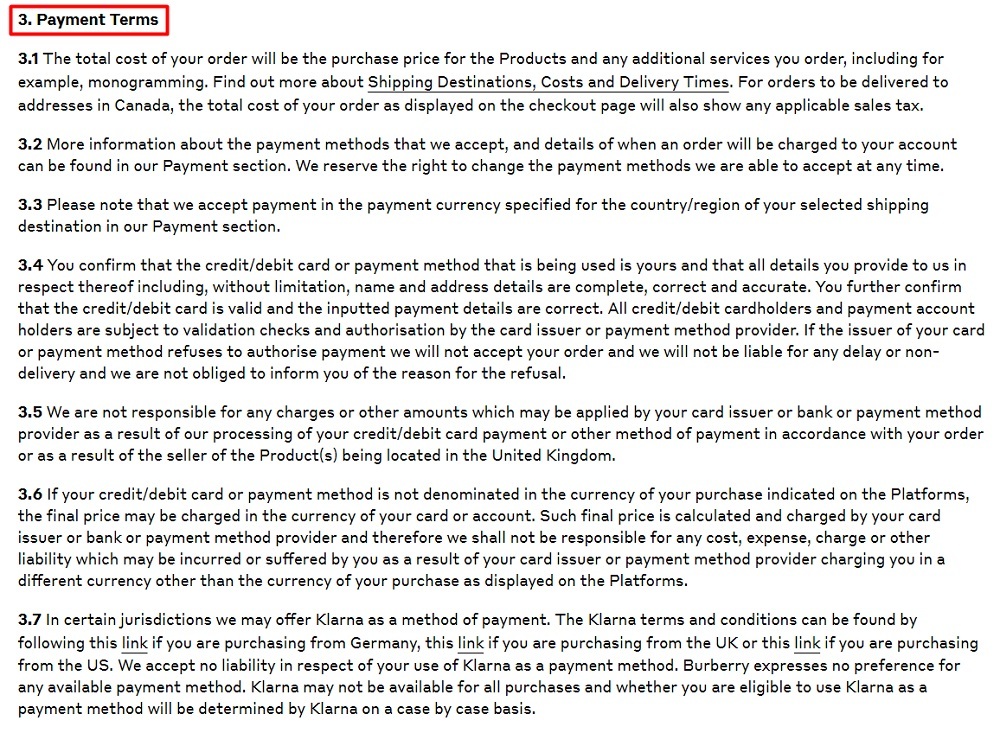 Termination
Under this clause, you'll explain the conditions under which you may terminate a customer's account with your business or deny them access to your service.
Here's how ModCloth presents this clause:

Next up is a Return and Refund Policy. If you sell things online, this policy will be a priceless part of your commerce business legal agreements. Let's get into it.
Return and Refund Policy for Your Social Commerce Business

As the name implies, a Return and Refund Policy explains how your social commerce business will handle product returns and process refunds. Note that if you don't offer returns and refunds, you must still alert customers in a No Return, No Refund Policy.
Return and Refund Policies aren't generally required by law. However, they're vital to set clear expectations and prevent misunderstandings between you and your customers.
When drafting your policy, it's important to be straightforward and keep the language simple. Being unnecessarily vague or complex will only confuse and upset your customers.
Now, what information must you address in this policy? Let's find out.
What to Include in Your Return and Refund Policy
A valid social commerce Return and Refund Policy should at least include the following:
A description of the products or services that are eligible for return or refund
A deadline for returning products or services
The step-by-step process for initiating product returns
The conditions under which you will issue refunds
Your refund options (e.g., monetary refunds, store credit, exchanges, etc.)
Any fees you may charge (e.g., deductions from refunds, restocking fees, etc.)
Note that you may need to add or exclude some of these details depending on the specific nature of your social commerce operations.
That said, the details above are a good starting point to protect yourself legally and treat your customers fairly regarding returns and refunds.
Let's see some examples of Return and Refund Policies in practice.
Epic Games provides clear details using separate headers to address its return and refund practices: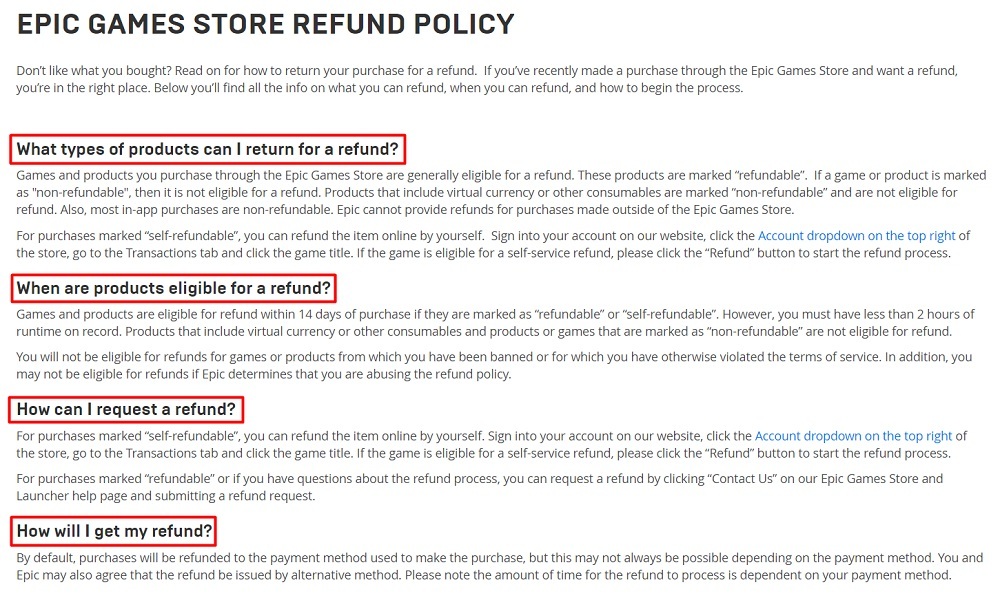 Similarly, Havaianas sets out its policies on returns using headers and clear, simple language: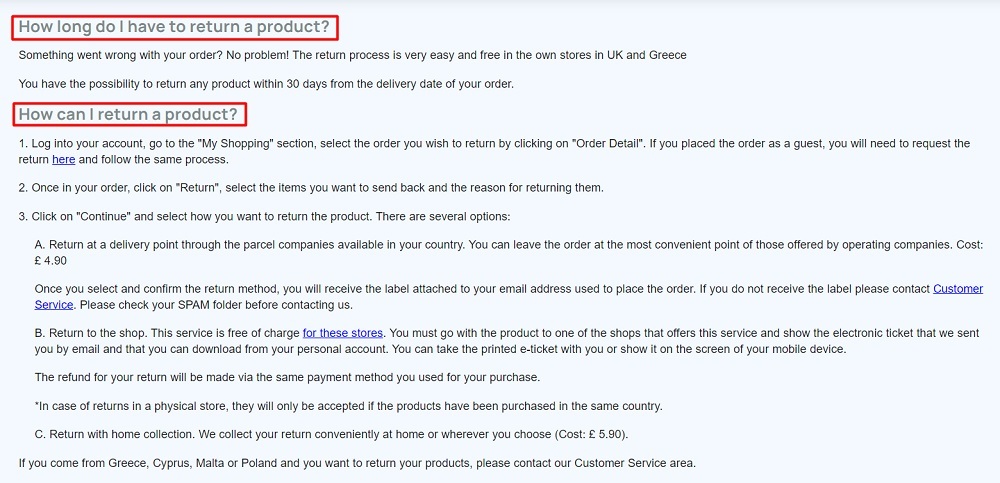 Further below, Havaianas addresses other unique details about its return process and then clarifies how it will handle refunds:

Next up we'll look at disclaimers and how they can benefit your social commerce business in a variety of ways.
Disclaimer for Your Social Commerce Business

A disclaimer is a statement primarily designed to limit legal liability. As a social commerce business, disclaimers help protect you from liability for damages caused by your products or services.
Generally speaking, disclaimers aren't required by law (except in specific cases). However, they're highly recommended to help manage expectations and mitigate legal risks.
Let's briefly examine some disclaimer types you should consider maintaining for your social commerce activities.
Affiliate Disclaimer
If your business promotes or sells products/services from third-party vendors, you'll need to maintain an affiliate disclaimer. This disclaimer informs customers you may receive a commission for sales generated through affiliate links.
Importantly, affiliate disclaimers are required by the U.S. Federal Trade Commission (FTC) and most third-party services.
For instance, here's how Just a Girl and Her Blog presents its affiliate disclaimer in its Privacy Policy, noting that it also participates in Amazon's affiliate advertising program:
Warranty and Limitation of Liability Disclaimer
A warranty disclaimer states that your business doesn't provide any warranties or guarantees regarding the quality, performance, or suitability of your products or services.
A limitation of liability disclaimer prevents excessive claims by limiting the damages for which your business can be held liable. In other words, this disclaimer sets a cap on the amount of compensation customers can seek if they suffer damage, loss, or injury while using your product or service.
Here's an example of this type of disclaimer: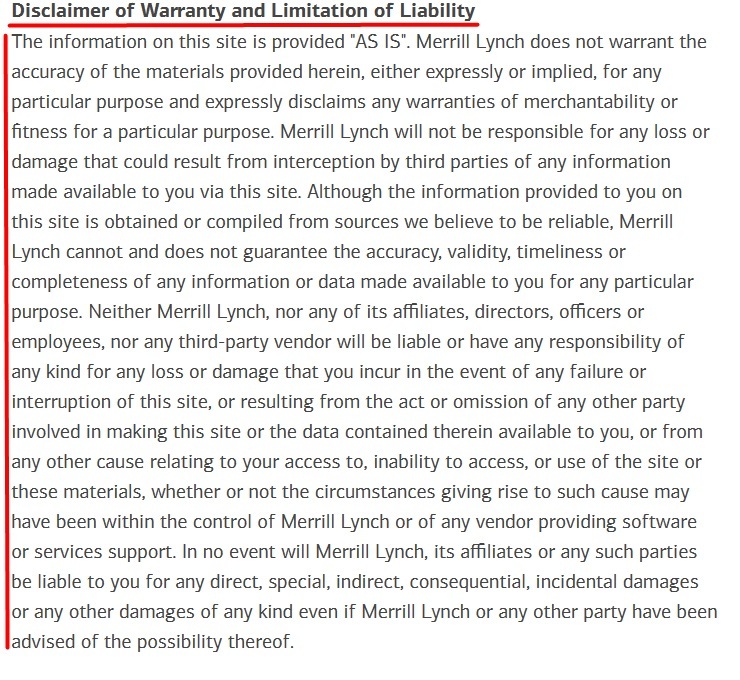 User-Generated Content Disclaimer
Social commerce businesses typically rely on user-generated content to promote products. Influencers, brand advocates, and customers share posts, reviews, and product recommendations, which can influence the purchasing decisions of their followers.
If your social commerce business allows users to contribute content or reviews, it's advisable to maintain a user-generated content disclaimer.
This disclaimer states that you're not responsible for the accuracy, lawfulness, or authenticity of user-generated content. You're also not responsible for the content that users create.
Here's an example from ModCloth: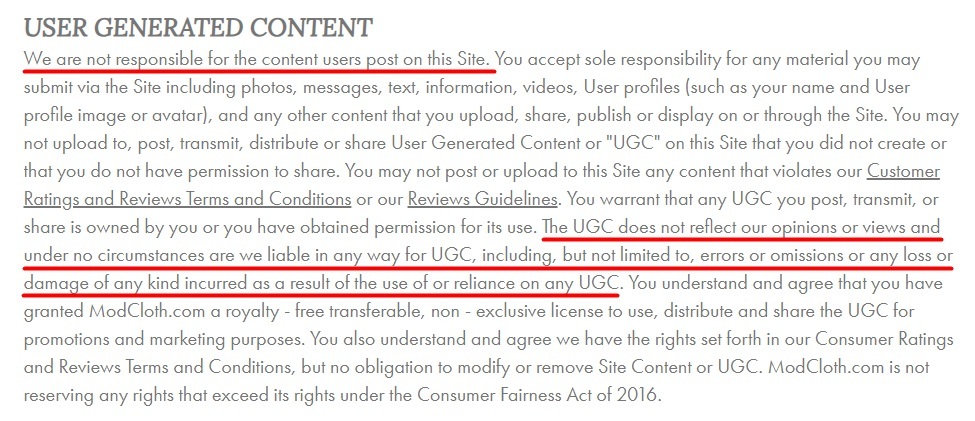 "Results Not Typical" Disclaimer
A "results not typical" disclaimer helps manage customer expectations and limit liability by clarifying that the outcomes achieved by some customers might not be the same for everyone.
For example, if you are selling a weight loss product, you would use a "results not typical" disclaimer to warn customers that they may not lose as much weight as the people in the product's advertising.
Note: In light of the FTC's revised guidelines, you can only use a "results not typical" disclaimer if you include information to disclose actual typical results like Isagenix does here:
Medical Disclaimer
A medical disclaimer is essential if you offer products or services related to health and wellness. This disclaimer clarifies that any information you provide is not a substitute for professional medical advice. It also encourages customers to consult medical professionals before using your products or services.
Here's an example of a medical disclaimer from Your Health: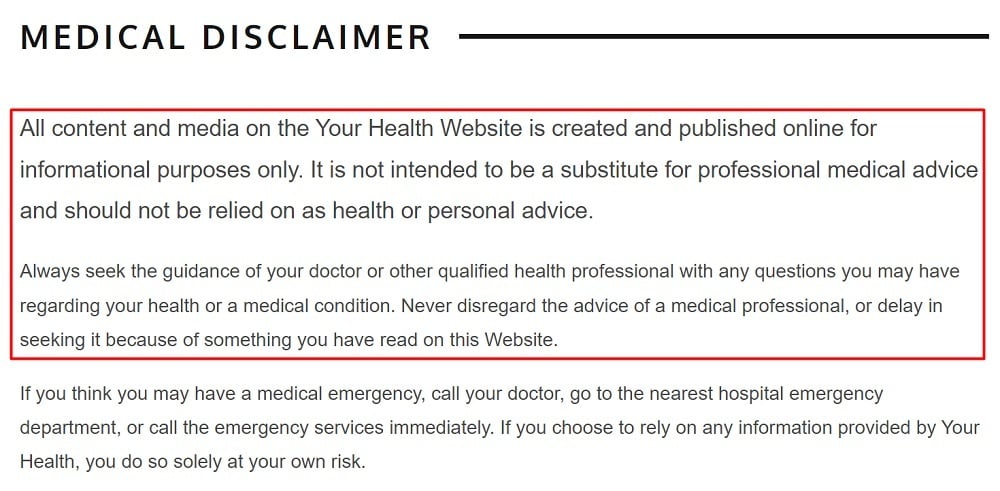 "As Is" Disclaimer
An "As Is" disclaimer tells your customers that they're purchasing a product or service in its current condition and that you're not making any guarantees about it.
"As Is" disclaimers may relieve you of some liability if your products have unanticipated defects or don't work as expected. They're typically used by businesses that sell used or second-hand products.
Here's an example of an "As Is" disclaimer from Couture By Tess Bridal:

After drafting your social commerce legal agreements, it's time to place them in prominent spots to ensure maximum visibility and easy access for your customers.
We'll look at this next.
Where to Display Your Social Commerce Legal Agreements

Typical places to display legal agreements are as follows:
Website footers
Sign-up forms
Checkout pages
Within email messages
Product description pages
Within other legal agreements
Newsletter forms
FAQ pages
Let's look at some examples.
Here's an example of a website footer that includes links to a Terms of Service, Privacy Policy, and Store Refund Policy:

Here's how Cluse links its Terms and Conditions and Privacy Policy in its sign-up form to ensure consumers don't miss them when registering on its platform: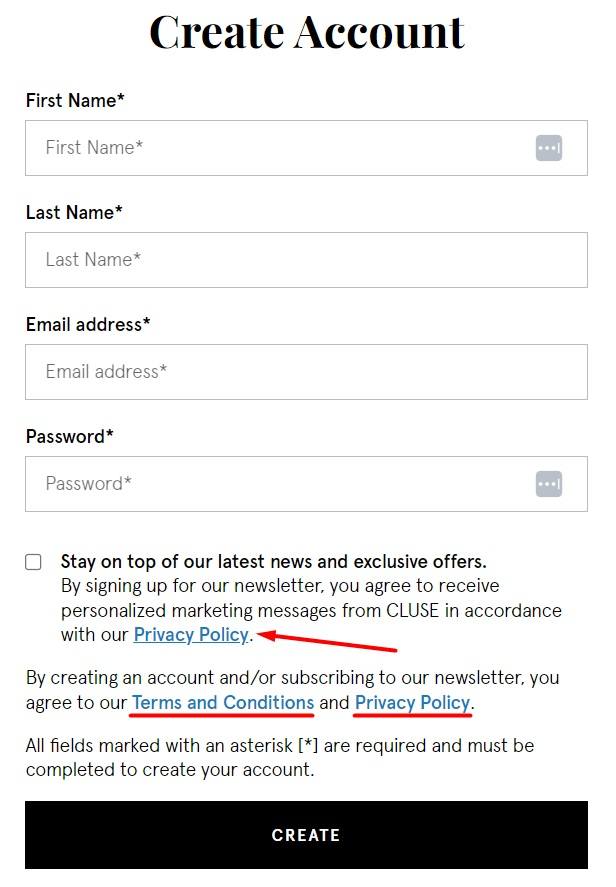 Here's how you can include a conspicuous link to a legal agreement such as a Privacy Policy in an email newsletter sign-up form: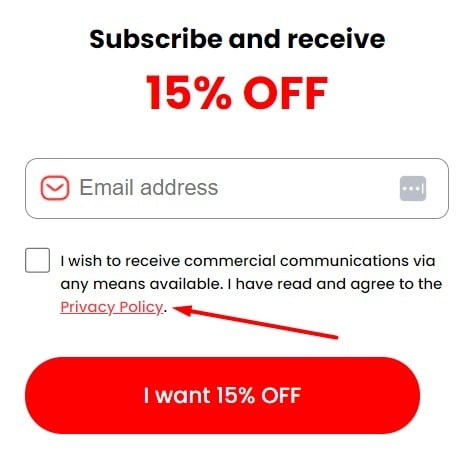 Summary
Social commerce is a rapidly expanding trend in the ecommerce space brimming with opportunities. Before capitalizing on the exciting potential of social commerce, it's crucial to dot your i's and cross your t's when it comes to legal considerations.
Accordingly, you'll need to maintain a number of legal agreements, including the following:
A Privacy Policy (including a Cookies Policy) to comply with privacy laws and outline your data processing practices
A Terms and Conditions agreement to set clear rules and guidelines for customers
A Disclaimer(s) to manage expectations and limit liability
A Return and Refund Policy to provide clarity on product returns and refunds
Remember, it's not enough to draft clear and transparent legal agreements; you also need to place your agreements in conspicuous locations so they draw customers' attention.
Setting up your legal agreements appropriately not only protects your social commerce business from legal exposure but delivers a safe and hassle-free shopping experience to your customers.

Comprehensive compliance starts with a Privacy Policy.
Comply with the law with our agreements, policies, and consent banners. Everything is included.