A No Return, No Refund Policy is a policy where customers are informed that they are not allowed to return or get refunds for products they have purchased.
This article will cover country-specific requirements and laws that stores must follow when implementing such a policy, and help you write your own that you can display on your ecommerce website.
Use our Return & Refund Policy Generator to generate a Return and Refund Policy for your store. Just follow these steps:
At Step 1, select where your Return & Refund Policy will be used.

At Step 2, add information about your website/app and business.

Answer some questions about your business practices.

Enter an email address where you'd like to receive your Return and Refund Policy and click "Generate."

Done! You'll be able to instantly access and download your new Return and Refund Policy.
What is a No Return, No Refund Policy?
A No Return, No Refund Policy is a type of a Return Policy where customers are informed that they are not allowed to return or get refunds for products they have purchased.
Many businesses choose to institute a No Return, No Refund Policy to save themselves time and money. After all, if customers cannot return items, then the company does not need to process those returns or give the money back.
Benefits of No Return No Refund Policies
There are a number of benefits of having this type of policy in place for your online store including getting to keep more of your earnings, reducing fraud, and having more control over when you accept returns and issue refunds.
As long as it's legal, it can make sense under certain circumstances.
At the same time, there are also a few downsides. Below, we'll go over both.
Keeping More of Your Money
You've worked hard to gain your customers' trust, loyalty, and cash. Giving them a refund should be an option, not a requirement, right? With a No Return, No Refund Policy, you don't have to give any of that hard-earned money back. That's a win for your bottom line.
Fraud Reduction
A strict No Return, No Refund Policy can help reduce fraud and chargebacks, which is another win for your bottom line.
Most people are honest and don't take advantage of lenient refund policies, but it is crucial to be prepared for the possibility that they might. The cost of chargebacks can add up quickly. The time spent on processing refunds plus the expense of paying a credit card company $2.40 each instance could make or break your business in today's digital age.
You Can Be Selective
When a business implements a No Return, No Refund Policy, it can be selective and allow returns and refunds for some products but not for others.
For example, many companies don't provide refunds for digital products or subscription-based services. That's a bit harder to justify with physical products, and so some companies may choose to implement a no return policy only for products purchased on clearance (for example).
Disadvantages of No Return, No Refund Policies
Some customers may not be able to use the product or service as intended and will therefore want to return it. If they can't do that and can't get their money back either, it could lead to negative word-of-mouth. Additionally, your overall conversion rates might suffer, resulting in lower sales.
While there are obvious benefits that your business can realize by having a No Return, No Refund Policy, there can also be disadvantages.
What Does the Law Say About No Return No Refund Policies?
Consumer laws governing these policies differs depending on what geographic area you're operating in. Different countries and U.S. states have different laws and requirements that you'll need to be aware of.
Note that if your business is located in Australia, you should know straight away that it's against the law to have a policy that doesn't allow returns or refunds. It's simply not allowed by Australian Consumer Law. However, many other countries do allow this type of policy.
Let's look at a few different areas and their relevant laws/requirements.
The United States
In the U.S., it is up to individual states and companies to set their own return and refund policies. Businesses should be mindful of the refund policies they set.
For example, in some cases, not conspicuously displaying a "no refunds" sign can mean customers have a right to a refund even when the business has otherwise said they do not provide them.
A best practice here is to check your U.S. state's return and refund laws.
United Kingdom
Companies in the United Kingdom are compelled by law to issue refunds and accept returns from customers, regardless of the item's sale status or the reason for the return if the request for a refund occurs during the first 14 days following a purchase. The customer has another 14 days to make a return after notifying the business.
Australia
No Return, No Refund Policies are prohibited in Australia. This law is in place to make sure that consumers are protected in the event that they are not satisfied with a purchase. If a business owner violates this law, they can face fines and other penalties.
Canada
Businesses in Canada are allowed to have No Return, No Refund Policies, according to the Canadian government.
Types of Products Commonly Covered by a No Return, No Refund Policy
It's very common to see No Return, No Refund Policies in place regarding certain types of products, such as consumable goods and digital downloads. Even if you typically offer refunds, these are some products that you may wish to implement a No Return, No Refund Policy with.
Digital Products
If you sell digital products, such as ebooks, templates or movie downloads, you should remember that these are products that your customers will only purchase once in many cases.
It's logical to have a no refund policy for digital products because there's no way for a customer to return the product to you, and secondly, they might have shared these products with friends and family following the purchase.
All those other people then have copies of your product, too. Imagine all these people with copies, and a month later, the person who made the original purchase asks for a refund. Totally not cool (or economically sustainable).
As previously mentioned, the UK allows consumers to request a refund within 14 days of purchase. During that time, consumers can cancel purchases and ask for refunds for any reason. The UK and EU call this a "cooling off period."
An exception to the above is when a digital product, such as an app, has begun working or the consumer has begun using the digital content.
Outside the EU and the UK, most digital product purchases are final. In other countries, most companies do not allow refunds unless there's a technical issue or another "valid" reason for the refund request.
Perishable Goods
Most companies that sell food or other perishable products don't allow returns or refunds once a purchase has been made.
Obviously, online stores cannot accept returns on food products that have been shipped to a customer, and they certainly cannot resell them. Companies would violate all kinds of health and safety regulations by doing so.
Moreover, requiring such businesses to accept returns and provide refunds would literally ruin them. Therefore, No Return, No Refund Policies are more common amongst companies that sell these types of products.
Subscriptions
Because subscribers will usually have already benefited from the service to which they subscribed, businesses typically won't provide a refund for the months the customers have already used the service. Typically, this includes the current month and billing period. Companies that bill for services on an annual basis often choose a no refund model as well.
As a business owner, you know that not all products and services will be a perfect fit for every customer. That's why many businesses offer a trial period or refund policy so customers can decide if the product is right for them during a certain period of time.
However, businesses are increasingly moving to a subscription-based model with no refund policy. This is particularly common when customers are billed monthly.
Customers can usually cancel memberships before the yearly billing cycle renews itself, but they can't recoup the cost of any months during which they used the service.
Suppose you have a subscription-based service and you want to use a no refund model. In that case, it's a best practice to ensure that before purchase, your customers are aware of that policy and that it is their responsibility to cancel an unwanted subscription.
Now let's look at what exactly you should put in your No Return, No Refund Policy and how you can draft your own.
How to Write a No Return, No Refund Policy
As mentioned earlier, certain locations have laws requiring businesses to offer a refund or exchange on certain types of items. Once you're sure that you can legally institute a No Return, No Refunds Policy, there are some guidelines to follow.
The first step is to make sure that you are compliant with the law. Write your policy in a way that's straightforward and in clear, plain language.
Be Straightforward
You should ensure that your policy is written in a manner that's as upfront and straightforward as possible. You want potential customers to understand your policy easily.
With that in mind, your policy should lay out your expectations and answer critical questions like:
To what services or products does the No Return, No Refund Policy refer?
When does the No Return, No Refund Policy go into effect (i.e., are purchases only non-refundable after a certain period)?
Are there exceptions within the policy (e.g., faulty products, technical errors)?
Consider Refund Alternatives
If you're not comfortable with a No Return, No Refund Policy, you could consider other options such as:
Allowing customers to exchange products for something else
Offering store credit instead of a refund
Giving customers a certain time after purchase to request a refund (remember this is actually required in the UK and EU)
Each business will have different needs and preferences, so it's essential to think about what will work best for you.
Use Plain Language
When you're writing a No Return, No Refund Policy, it's essential to use clear and concise language so that everyone understands what's expected of them. This includes your customers.
If you use complicated legal jargon or terms that people might not know, they may not understand the policy. Misunderstandings could occur, and that confusion might end up harming your business relationship.
Remember that you want your customers to understand your policy easily.
Retain Your Right to Discretion
One option here is to let customers know that you retain the right to consider returns and refunds on a case-by-case basis. This can allow for you to make some exceptions. However, be aware that this can also create expectations in customers that they may be the exception when they won't be, thus upsetting them.
Note How Strict Your Policy is
While the last section looked at having discretion to sometimes offer refunds, perhaps you want to make it a strick no refund policy, and that's that. If this is the case, note this with emphasis in your policy.
Note Conditions That Trigger Return Refusals
If you do accept some returns, make sure to note the conditions that will trigger your no refund stance. For example, if an item is returned without original packaging or without an authorization number.
Display Your No Return, No Refund Policy in a Prominent Location
To ensure your No Return, No Refund Policy is easy to access, you should place links to it in your website's footer, on your checkout page, FAQ page, and you may wish to include it within your Terms and Conditions agreement as well.
Here's how Solo Stove makes its Return Portal and Returns Policy accessible from its website footer: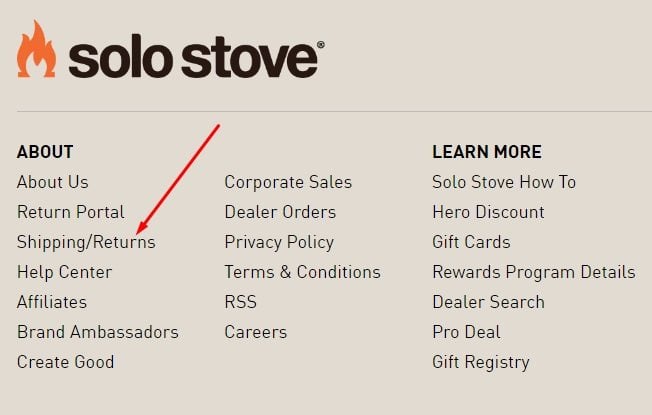 And here's another example, from Amazon: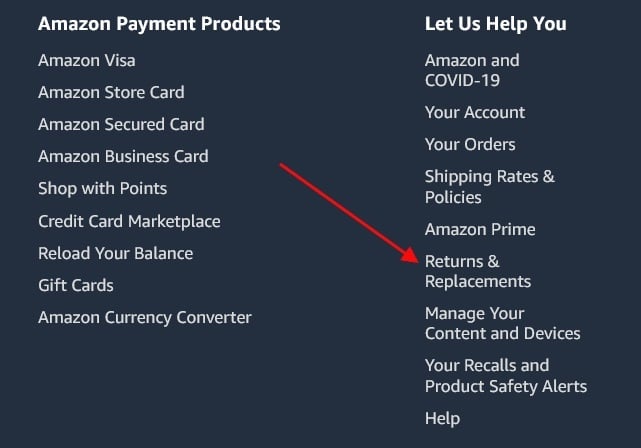 Examples and Samples of a No Return, No Refund Policy
Body Bliss has a strict no return, no refund policy as you can see below:

If you have a subscription service, here's an example of how you can let users know that you do not offer refunds, from Netflix, one of the top subscription-based streaming platforms:

Here's an example of a clause that notes that all service fees already paid are not refundable:

Autograph Foliages sets a time limit of 10 days from receipt for a return to be valid, and notes it will refuse unauthorized returns: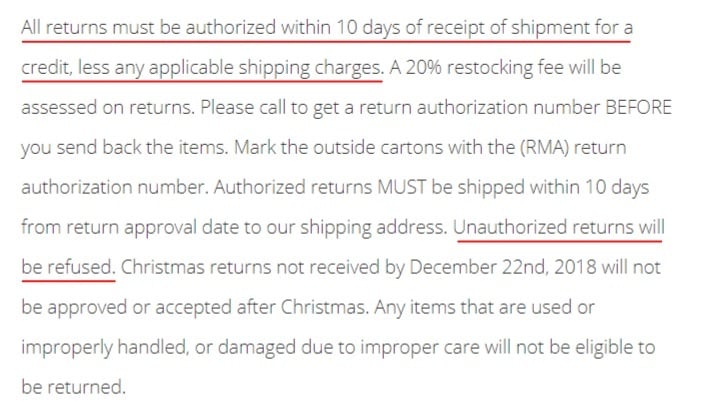 Solo Stove allows returns and refunds as well as a pre-paid return label for orders placed in the lower 48 states of the U.S., but outside of this area or when purchased from third-party vendors, orders are not eligible for return. It also doesn't accept returns from third party distributors: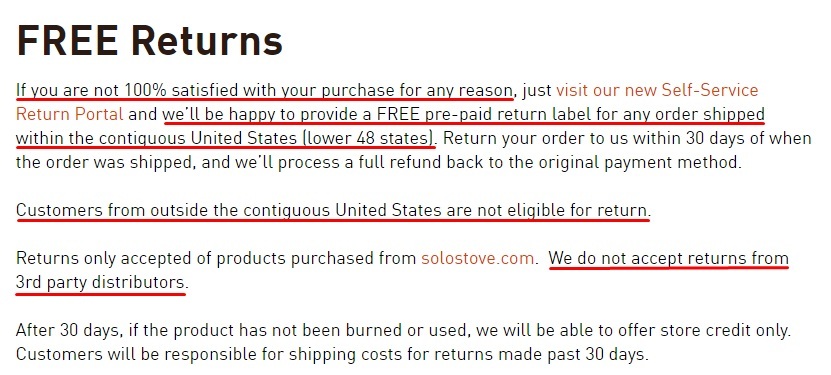 You should reserve the right to refuse returns and make it known that each return request is considered on a case by case basis in a clause like the following, from Revelry's old policy: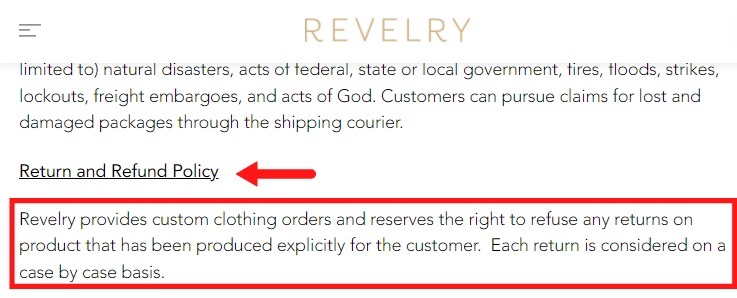 While this may work for some boutique-type companies, it may be a lot to keep up with, to review each return request on such a case by case basis. But if it would work for you, it's a good way to maintain a high level of control over your returns accepted and refunds issued.
Summary
When it comes to refunds, businesses need to find a balance between what makes sense for them and what is fair for their customers. A No Return, No Refund Policy can be successful when it's well thought out and appropriately communicated to employees and shoppers alike.
Keep in mind that the legality of a No Return, No Refund Policy depends a great deal on where you're doing business. Additionally, even when such a policy is legal, there may still be regulations that apply.
Write your policy in a way that's clear and easy to understand. Include information on what products you don't allow returns on, and any other conditions here. Retain your right to take returns on a case by case basis if you wish.
After you have your policy drafted, display it for shoppers to easily find, such as in your website's footer.

Comprehensive compliance starts with a Privacy Policy.
Comply with the law with our agreements, policies, and consent banners. Everything is included.