A Terms and Conditions agreement, also known as a T&C, Terms of Use or Terms of Service, is the legal backbone of the relationship between your mobile app and your users. It sets forth clauses that embody the rules, requirements, restrictions and limitations that a user must agree to in order to use your mobile app.
It's an incredibly important legal agreement for you to have, regardless of which app distribution platform you're using.
We'll explain the benefits of having a Terms and Conditions agreement for your mobile app and show you some examples of the most important clauses to include in your agreement.
Why Mobile Apps Need Terms & Conditions
Your mobile app needs a Terms and Conditions if you want to stop abusive users, terminate access or accounts at your sole discretion, and enforce rules and guidelines that you set. It's the set of rules that users must follow to access, use and continue to use your app.
Think of your Terms and Conditions agreement as the legal agreement where you maintain your rights to exclude users from your app in the event that they abuse your app, and where you maintain your legal rights against potential abusers of your app, and so on.
A Terms and Conditions is not required by law. Most mobile apps would want and need this kind of agreement, but especially so for apps that:
Are part of a SaaS app
Allow user-generated content
Are part of an ecommerce store
Here's why.
Business Benefits
Your business will benefit in a number of ways when you have a Terms and Conditions agreement for your app and require users to agree to its terms before they use your app. Some of these benefits include the following:
You will be protected against abuses by users, such as copyright infringement, spamming of other users, and general misuse of your app
You can require arbitration over litigation, and even select the governing law to be used in the event of a legal issue
You maintain the right to terminate user's accounts at any time you may need or want to
Your liability to users will be limited
All of these benefits and more are obtained by including specific clauses and requiring your users to agree to be bound by them so that you can later enforce them if need be.
User Benefits
Your users will benefit by having an explanation of their rights, rules they must follow, and what they can expect when using your app.
A Terms & Conditions agreement can help users understand what is expected of them by explaining things like how payments must be made, what a user must refrain from doing, and how to reach customer support with any concerns or for assistance.
Terms and Conditions For Simple Apps
Some mobile apps are extremely simple. These simple apps just present information or content to a user. Users may be able to search the app, as in the case of a dictionary app or news content app, but the interaction will be limited. There is no user-generated content or purchasing functionality.
These kind of apps tend to have more basic Terms and Conditions than more complex types of apps. Common clauses for these simple apps include:
Retention of Rights of Ownership/Ban on Infringement
Retention of the Right to Change the App at Any Time
Restriction on App Abuses
Disclaimer of Warranties and Liabilities
Retention of Right to Terminate/Ban Users
Terms and Conditions are great for limiting and restricting unwanted and undesirable behavior or activity on your mobile app no matter how simple or complex your app is.
Is a Terms and Conditions Agreement Required by Laws or App Stores?
Unlike a Privacy Policy, a Terms and Conditions is not mandatory under any laws or required by any app stores. However, because of the benefits discussed above, you can see why you'd want one anyway.
Also, while app stores don't explicitly require you to have a Terms and Conditions agreement with your app, there are some direct ways that having one can help you meet other app store requirements.

For example, the Google Play Developer Distribution Agreement requires that you grant your users a "nonexclusive, worldwide, and perpetual license to perform, display, and use the Product on the Device."
You could cover this in the End-User License Agreement (EULA) or cover it in your Terms and Conditions agreement along with other clauses that are useful for your Android app.

Apps in the Apple App Store can benefit from Apple's standard EULA that binds users when they download your app. Like the Google Play Store, you can choose to add your own agreement instead of Apple's default one.
Generally, the Terms and Conditions agreement is broader than the EULA agreement and it's particularly relevant for web-based mobile apps.
For native apps, you may use a Terms and Conditions and the EULA because you'll be licensing your users a copy of your software to download and use on their device.
As a reminder, your Terms and Conditions should generally cover the following. These will be the same whether your app is web-based or native.
Definition of key words
User rights and responsibilities
Proper or expected usage of the app
Intellectual property protection
Accountability for actions, behavior, and conduct
Payment details for purchases made through your store
Disclaimers and warranties
Procedure for account termination
Exclusion or Limitation of Liability
Notification of modification of terms
The primary difference with regard to your mobile versus web-based Terms and Conditions will not actually be in the content. Instead, it will be in how it is displayed.
The way that you display your Terms and Conditions agreement for a native mobile app when compared to a web-based app, is quite different. Both apps have the same goal, but the apps will use completely different methods of accomplishing that goal.
And what is the goal? The goal is to have your user legally bound by your Terms and Conditions agreement. The best way of ensuring that your Terms and Conditions is legally binding is to use the clickwrap method.
Clauses for Terms & Conditions for Apps
Here are a few useful clauses to have in your mobile app's Terms and Conditions agreement.
Intellectual Property Clause
You can include a clause that protects your intellectual property from customers who may try to take your content and use it as their own or for their own purposes. In this kind of clause, you can set out at the beginning that your content is protected under IP laws, and what a customer cannot do with your protected content.

Apple has a lot of IP to protect, so its IP clause is very broad. It covers content, graphics, audio, video, scripts, software, logos, trademarks and more that's owned by Apple and its licensors: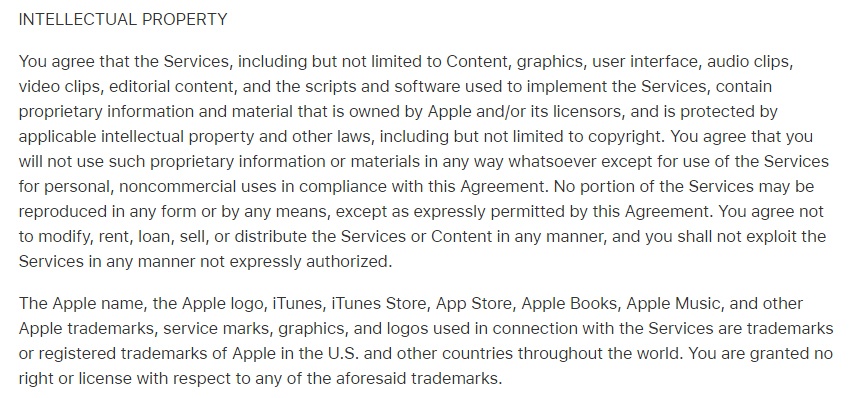 Apps that allow user generated content, such as photo apps like Flickr, can benefit from a Terms and Conditions agreement by retaining the right to terminate a user's account if that user abuses the app by:
Spamming other users
Generating obscene content
And other activities that tend to be violative
Let's have a look at some example of clauses used in the Terms and Conditions of mobile apps that host user-generated content.
Ownership and Use of Content Clauses
Users will want to know what's going to happen with the ownership and rights to their content if they upload it to your app. Will they lose any rights? Will your app maintain any joint rights?
Typically, apps with user-generated content tend to allow customers to retain ownership to their content, but take a very broad license to use the material if they so wish.
Here's how Adobe breaks down the ownership and license sections within its Terms of Use agreement:

Users are informed that their content is still theirs and that Adobe does "not claim any ownership rights to user content."
The next section continues in a way that helps users understand that even though Adobe doesn't claim ownership of user content, it does "require certain licenses from you to your content in order to operate and enable the Services and Software."
Adobe retains "a non-exclusive, worldwide, royalty-free, sublicensable, and transferable license to use, reproduce, publicly display, distribute, modify, publicly perform, and translate the Content as needed in response to user driven actions."
Users have the right to know things like this before deciding to upload or add any content to your app. You should include information like this in your Terms and Conditions both for your benefit and for user clarity.

Dropbox includes in its Terms of Service a "Your Stuff & Your Permissions" clause that deals with the transfer of rights and permissions that are needed to hosting and share users' content.
This clause from Dropbox informs users that just by uploading something to Dropbox, no rights are given to Dropbox for those uploads and that permissions will be requested by Dropbox before certain actions are taken.

Copyright Violations (Digital Millennium Copyright Act ("DMCA") Section)
Protect yourself from any copyright violations your users may create by including a DMCA section in your Terms and Conditions.
The DMCA helps insulate businesses and apps from having legal liability for any copyright infringement that takes place due to the actions of its users. While the DMCA is a US law, most countries around the world have laws regarding copyright infringement.
In order to comply with DMCA requirements, you will need to do the following:
Include a clause that states you will take down/remove any material that turns out to be copyrighted if the violation is brought to your attention,
Let people know exactly how they can report a copyright violation to you, and
Have a plan and policy in place that you can execute for taking down violating material when it is brought to your attention.
Dropbox goes as far as to include a separate policy for the DMCA notice, which is not necessary but is helpful for users and makes it incredibly easy to submit a notice of infringement.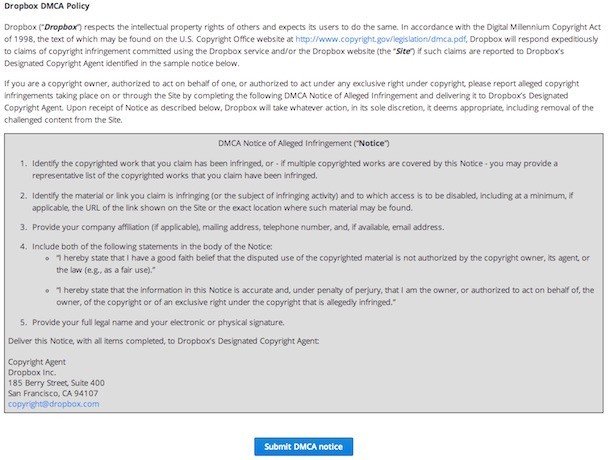 500px takes this more streamlined approach in its "Copyright Complaints" clause in its Terms of Service agreement.
Users are informed that 500px takes copyright violations seriously and will investigate them, remove infringing content, and that notices of a possible infringement can be submitted in writing and must include a detailed description of the infringement.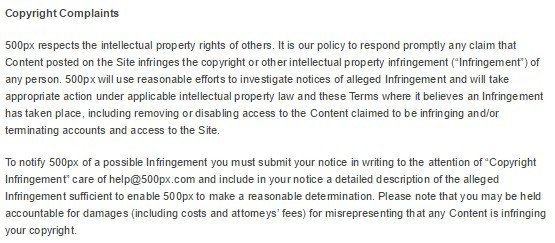 Retain Right to Filter Content Clause
As the operator of an app that allows user generated content, you are going to want to have the ultimate say on what is allowed through your app. A simple clause that maintains your right to review, delete or refuse to display content that violates laws or your own terms is a quick and easy way to do this.

Here is how Survey Monkey accomplishes this in a short and sweet "Content Review" clause.

Consider photo sharing apps. The Terms and Conditions agreement of most photo sharing apps are focused on three primary issues: unlawful content, copyright infringement, and photo storage and security.
Prohibited Activities Clause
One of the key benefits of having a Terms and Conditions agreement is that you can set forth what activities and actions you prohibit.

In its Terms and Conditions Instagram contains a robust clause regarding what users are not allowed to do when using the service: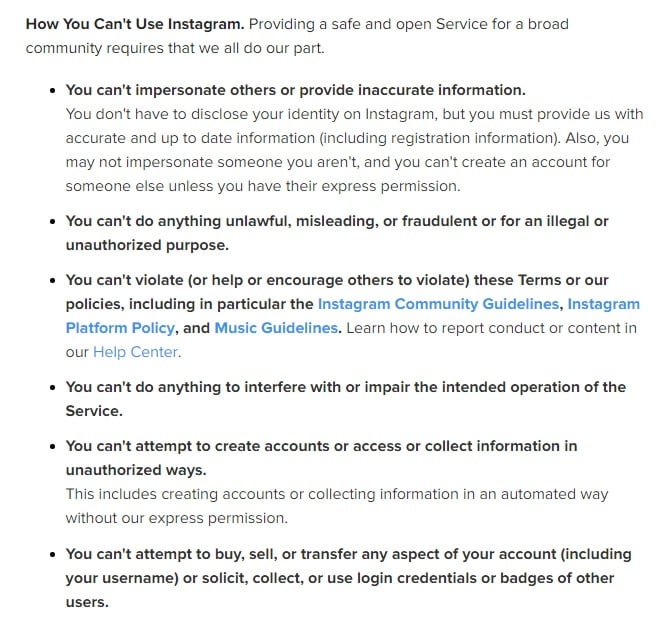 While a lot of this type of information will be standard across most apps (such as a ban on reverse engineering, violating Terms and Policies, committing illegal activities), some parts will be unique to your app depending on the nature of the app.
For example, if you allow your users to share their personal content such as photos, you can put a ban on posting violent or sexual content. If your app doesn't allow users to do this, but does have an ecommerce component, you may instead have a ban on using fraudulent payment methods.
Who Can Use Your Service Clause
You may have restrictions to who can use your app, such as not allowing anyone under the age of 13 to use it. Here, Instagram has a requirement that its app cannot be used by anyone who is a convicted sex offender: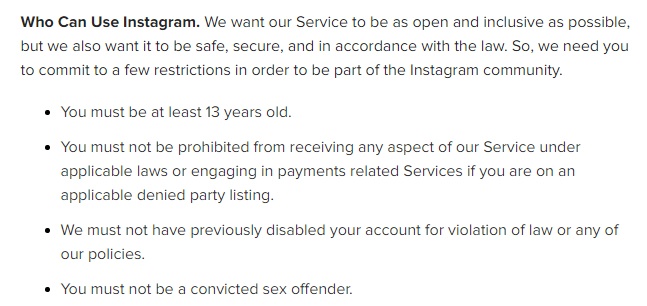 If you have any limitations for who you want using your app, be sure to include a clause like this.
Warranty/Limitation of Liability Clause
You've surely seen these standard clauses before. Basically, this clause will make it clear that you provide your app "as is" and with no warranty attached. You'll also dispell your liability for things like errors, omissions, incidental damages, offensive content, malware and other things that you either cannot control or cannot constantly guarantee.
Here's how Instagram included all of this information in one single clause, but spaced out into three different parts. This helps make a typically-dense clause like this more readable and less daunting to readers: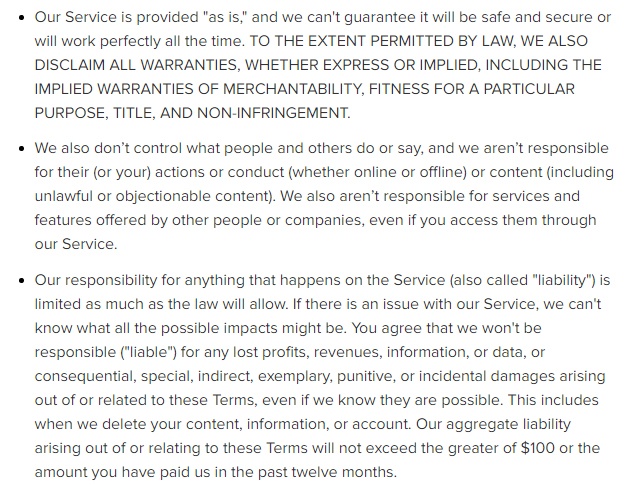 Getting Agreement to Your App's Terms and Conditions
Clickwrap is a method where your user needs to actually click "I agree" or "I accept" in some way.
This is in contrast to the outdated browsewrap method, which is where your user is assumed to have agreed to the Terms and Conditions by virtue of them browsing through your app.
Most courts have held that clickwrap is legally binding, while browsewrap is not, as users don't receive sufficient notice of the terms under a browsewrap method.
Here's an example of a clickwrap method in use by PayPal. You can see that users have to check a box next to a statement that states the user, amongst other things, agrees and consents to the User Agreement (aka Terms and Conditions). The user must then also click a button that's labeled with "Agree" which makes it doubly-clear that users are agreeing to terms here. This is a classic, successful clickwrap method in action: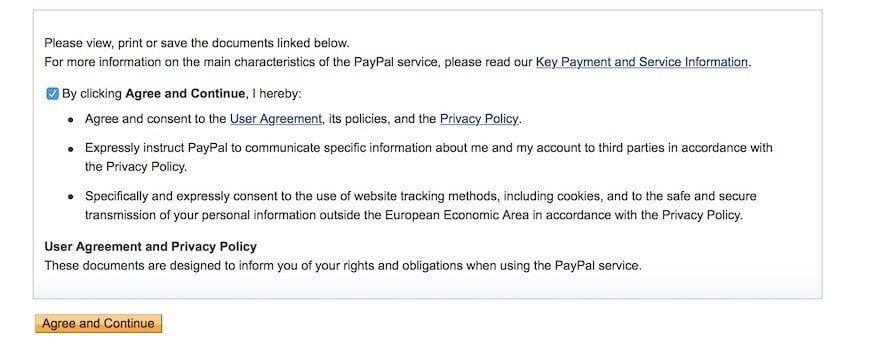 Setting up a clickwrap method is simple. When your user first downloads and opens the app, you can include a pop-up or opening screen that requires your user to agree to your legal agreements such as your Terms and Conditions before they continue to use the app. Or, when your user opens the app, they are prompted to set up a user account and agree to the Terms and Conditions as part of that process.
Here's an example from Coinbase: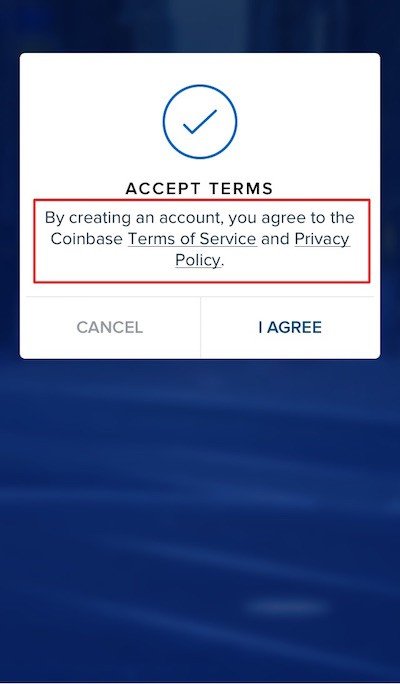 While you aren't required to have a Terms and Conditions agreement available with your mobile app, it's easy to see why both you and your app users would benefit from one.
You'll maintain better control over the use of your app, and your users will know what they can and cannot do. Just make sure you get your users to agree to your Terms and Conditions when they first open your app, and make sure to use a solid clickwrap method to get agreement.