Written by
Widener University School of Law graduate, Managing Legal Editor at TermsFeed.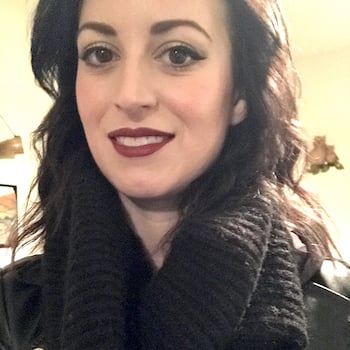 Zoho is an online application suite that provides free services to individuals and the same services to companies for a small subscription fee.
Zoho's services mirror office productivity software comparable to Google Docs or Microsoft Office.
Recently Zoho notified their users through email that they updated their Privacy Policy and their Terms of Service agreements.
What customers say about TermsFeed:
This really is the most incredible service that most website owners should consider using.

Easy to generate custom policies in minutes & having the peace of mind & protection these policies can offer is priceless. Will definitely recommend it to others. Thank you.

- Bluesky's review for TermsFeed. Read all our testimonials here.
With TermsFeed, you can generate:
This campaign ran by the team behind Zoho follows the current best practices on how to inform users about changes to your Privacy Policy or Terms of Service.
This is the email that Zoho sent to its users: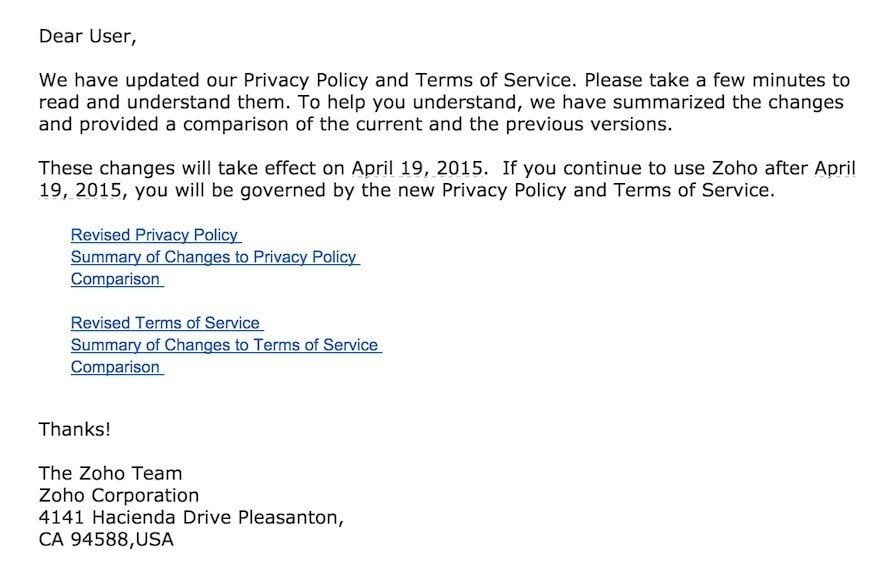 Zoho has a great strategy here to actively inform users changes were done to its legal agreements and then it outlines that acceptance to the new agreements would be inferred by continued use of the Zoho services past a specific date.
Active consent isn't sought in this email as it doesn't require a user to check a checkbox or take some sort of action to show consent to the changes, i.e. a classic "I agree" checkbox.
But the combination of a prior obtained consent (when the user created the account) and this very clear email makes it very likely that consent can be inferred by users who continue to use Zoho after receiving this email.
This kind of language in a legal agreement is generally frowned upon by courts as it doesn't require active acceptance of the terms:
If you continue to use Zoho after April 19th, 2015, you will be governed by the new Privacy Policy and Terms of Service.
However, Zoho has gone above and beyond to just assume acceptance of the new terms:
The email notification was sent to every user
The email included a summary of the changes
The email also included comparison links so that users can review past and current versions of the legal agreements
This kind of email to actively inform users that the agreements were changed give users a chance to be informed and to opt-out or close their accounts if they don't agree with the new terms.
While the less-recommended method, the browse-wrap method, of getting acceptance to a Terms of Service for a website is no longer widely accepted or valid, this extra step of emailing and summarizing is a step in the direction of the favored click-wrap method.

Digital Ocean also recently ran a successful notice campaign to alert its users that their Terms of Service agreement had been changed.
However, Digital Ocean didn't send out an email to each of its users about the changes but instead opted to display the notice on the account dashboard.
Here's how the notice looked like within a user's personal dashboard:

The user can click on the notice for more information:

Users were then able to either click on the checkmark to "acknowledge" the message or click on the message to read Digital Ocean's updated Terms of Service agreement.

Bing Ads also recently made a smart move by alerting all users that its Services Agreement had been changed through email. The notice sent by Bing included snippets to summarize exactly what had changed and why: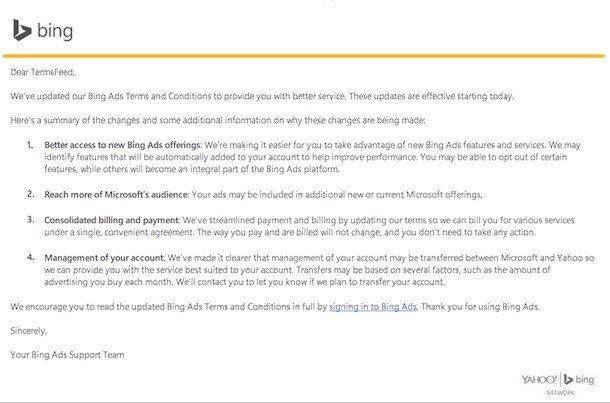 These examples from Zoho, Digital Ocean, and Bing Ads show how important it is for website owners to properly inform users about any changes that are done the legal agreements that govern their relationship, i.e. the relationship between the website owner and the users.
It doesn't matter what kind of legal agreement you'll be changing - a Privacy Policy or a Terms of Service - your users should know about the changes.
Ideally, you should implement a campaign to inform users about upcoming changes before the changes to the legal agreements are in effective.
You can also learn from how Wikipedia, reddit and WaPo updated their Privacy Policies.