Privacy Policy templates are an effective, helpful tool that you can use to create a Privacy Policy for your website. They can provide you with detailed guidance while allowing full customization of a Privacy Policy, no matter what your business practices are or what industry you're in.
This article will explain why you need a Privacy Policy, and will present four reasons why using a Privacy Policy template is a smart choice.
Our Privacy Policy Generator makes it easy to create a Privacy Policy for your business. Just follow these steps:
At Step 1, select the Website option or App option or both.

Answer some questions about your website or app.

Answer some questions about your business.

Enter the email address where you'd like the Privacy Policy delivered and click "Generate."

You'll be able to instantly access and download your new Privacy Policy.
What is a Privacy Policy and Why Do You Need One?
A Privacy Policy is a legal statement that informs visitors to your website what types of information your business collects, and how it uses and stores that information. You need one because they are legally required under a number of global privacy laws.
Your Privacy Policy should be easy to find on your website, and should encompass all privacy laws that affect any of your users.
Privacy regulations have been passed at both state and national levels to protect consumers' personal information, and businesses are legally obligated to maintain up to date Privacy Policies on their websites.
There are numerous laws including state, national, and international laws that businesses need to adhere to in order to protect consumers' personal information. Many countries consider privacy a human right, making it imperative that your business takes the necessary steps to ensure that your consumers' privacy is adequately protected.
Privacy laws apply to companies whose consumers live in the state or country where the regulation originated. Because of this, your Privacy Policy needs to take into account privacy laws from other states and countries in order to protect the personal information of all consumers who do business with you, regardless of where they reside.
Here are some of the relevant privacy laws that likely apply to your business, and also require a Privacy Policy:
Many third parties you may use services from, such as Mailchimp and Google Analytics also require businesses to have a Privacy Policy in order to use the service.
Similarly, mobile app stores such as Apple's App Store and Google Play require apps distributed via the stores to have a Privacy Policy.
What is a Privacy Policy Template?

A Privacy Policy template is a document that helps guide you along with creating a Privacy Policy. It will include pre-created clauses and sections that you can fill in with your own specific privacy practices and business details.
Types of Privacy Policy Templates
When it comes to Privacy Policy templates, you can opt for a basic template to cover general needs, or you can get more specific and choose Privacy Policy templates designed to work with distinct privacy laws or industries.
We have a number of specific Privacy Policy Templates available on our blog, including the following:
Now let's get into some of the main reasons why using these templates can be an excellent choice for achieving fast compliance with laws while elevating the professionalism of your business, blog or mobile app.
4 Reasons Why You Should Use a Privacy Policy Template

Privacy Policy templates are easy to use, easy to customize, and can save you both money and time.
Let's look deeper at each of these reasons to use a Privacy Policy template.
1. Privacy Policy templates are easy to use
When it comes to writing a Privacy Policy for your website, there's no need to reinvent the wheel. Choosing to use a Privacy Policy template enables you to take the guesswork out of figuring out whether you're covering all your legal bases.
You can download a sample Privacy Policy template in PDF, DOCX, and Google Doc formats, as well as HTML code, making it easy to use with your preferred system. They're easy to open and edit from a computer or mobile device with just a few clicks.
No talking to lawyers or starting from scratch when you use a template.
2. Privacy Policy templates can be customized
Privacy Policy templates are made to be edited to fit the needs of your business.
They will have fields where it's noted that you need to enter your own customized information, from the name of your business to the location it operates from. The template will prompt you along where your personalized information will go.
Here's an example of a section of a template with the customizable areas highlighted:

3. Privacy Policy templates can save you money
Choosing a Privacy Policy template that fits your specific needs is a great way to save money. Instead of hiring an expensive lawyer to do the legalwork for you, you can use inclusive, low-cost Privacy Policy templates to keep your business legitimate.
Sample Privacy Policy templates are often offered for free, while more comprehensive templates are available for a nominal fee that varies depending on your individual needs.
4. Privacy Policy templates can save you time
One of the best reasons to use a Privacy Policy template is that it saves you time and energy so that you can focus on what you do best - Running your business.
When you use a Privacy Policy template, you don't have to spend countless hours researching how to write the perfect Privacy Policy. A good Privacy Policy template is designed to help you quickly create a Privacy Policy that covers the types of information you collect and how you process that data.
What Happens if You Don't Have a Privacy Policy?
If your business is found to be in violation of privacy laws, you can be subject to fines or even taken to court.
Neglecting to put a Privacy Policy on your website can also decrease consumers' level of trust in your business and affect customer loyalty.
In order to avoid hefty fines and uphold your business reputation, it's essential that you maintain a comprehensive Privacy Policy.
Where You Should Display Your Privacy Policy

A link to your Privacy Policy should be displayed conspicuously on your website so that users can easily find it. Many businesses put a link to their Privacy Policy in a static place such as the footer of their website, enabling users to effortlessly navigate to their Privacy Policy at any time and from any page on the website.
Fox News puts a link to its Privacy Policy in the footer of its website, alongside its Terms of Use and other important links:

Some other common areas to display a Privacy Policy link include:
On contact forms
At account registration or sign-in forms
At checkout, for ecommerce stores
For more information, check out our article Where Should I Place My Privacy Policy?
What Your Privacy Policy Should Include
At a minimum, your Privacy Policy should let users know:
What types of information you collect
How you collect information
How you use the information you collect
Who you share collected information with
How you keep collected information safe
How users can opt-out of having their data collected
How cookies are used
How users can contact you with questions regarding any of this
Here's the table of contents from Spotify's Privacy Policy so you can see the typical sections found in a Privacy Policy: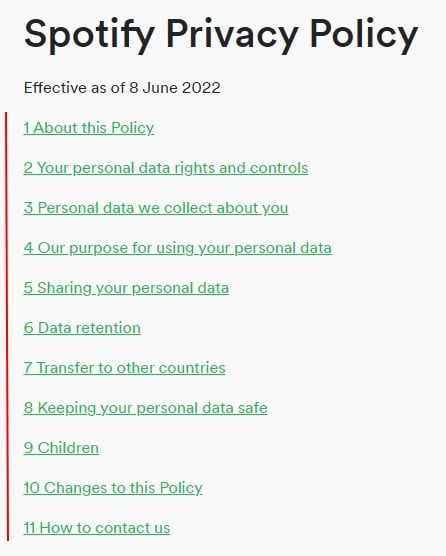 While it can seem overwhelming to create a Privacy Policy that includes all of the information necessary to be compliant with applicable privacy laws, a Privacy Policy template can help you to quickly and easily achieve compliance.
Summary
Privacy laws exist in order to protect consumers' personal information and to hold businesses accountable for the use and storage of the data they collect. If your business is found to be in violation of a privacy law, you may face penalties in the form of hefty fines.
A Privacy Policy is a legal statement that lets your consumers know how you collect, process, share, and store their personal information. To comply with privacy regulations, you must learn what rights your consumers have and make sure that your Privacy Policy informs consumers how you are protecting those rights.
A Privacy Policy template is a quick and painless method that you can use to design a comprehensive Privacy Policy that can help to protect your business from legal repercussions.
Depending on the needs of your business, there are many different Privacy Policy templates you can choose from. These templates include a general Privacy Policy template that lets consumers know what information you are collecting and why, as well as what you do with it, and templates for more specific privacy laws, such as GDPR, CPRA, and CalOPPA Privacy Policy templates.
Privacy Policy templates are an easy way to create a Privacy Policy for your website that keeps your business compliant with applicable privacy laws and helps to build consumers' trust. Privacy Policy templates are simple to customize, and can help you to save time and money that would otherwise be spent researching how to write your own Privacy Policy or hiring a lawyer.

Comprehensive compliance starts with a Privacy Policy.
Comply with the law with our agreements, policies, and consent banners. Everything is included.