A Privacy Policy is a legal document that describes how you handle the personal information that you collect from the people who use your products or services. Making sure your landing page has a Privacy Policy is a great way to ensure that anyone who visits your landing page has a chance to read about how you treat their personal information before they share it with you.
This article will teach you what a landing page is, why you should have a Privacy Policy on your landing page, whether Privacy Policies are legally required on your landing page, the benefits of having a Privacy Policy on your landing page, and how to create a Privacy Policy for your landing page.
Our Privacy Policy Generator makes it easy to create a Privacy Policy for your business. Just follow these steps:
At Step 1, select the Website option or App option or both.

Answer some questions about your website or app.

Answer some questions about your business.

Enter the email address where you'd like the Privacy Policy delivered and click "Generate."

You'll be able to instantly access and download your new Privacy Policy.
What is a Landing Page?
A landing page is a web page that typically contains information about your product or service and a call-to-action (CTA). Users can click on a link placed in an email, ad, social media post, or website that will take them to your landing page. A landing page essentially functions as its own website, and isn't usually a part of your main website.
Landing pages often offer users a sale or a freebie (also known as a lead magnet) such as a PDF, discount code, or ebook, in exchange for their contact information. These pages are a necessary component in your sales funnel, which is a strategy that takes users on a step-by-step journey from the stage of initially learning about your business all the way to becoming a paying (and hopefully repeat) customer.
Your sales funnel contains five stages: awareness, interest, desire, action, and loyalty.
The awareness stage is when users first come across your brand, such as via social media, your website, affiliate marketing, or advertisements. The interest stage is when you help to turn users into potential customers by helping to develop their interest in your brand, through things like social media or blog posts. The desire stage is when you let users know about your products or services, and offer your lead magnet in exchange for their contact info.
Your landing page differs from your homepage in that it is designed for users in the desire stage of your sales funnel, when they are already aware of and have shown interest in your brand, while your homepage is consistently available to all users.
Your landing page's goal should be to turn users into paying customers. There are a couple of different ways you can do that, either through a lead generation landing page, or a click-through landing page.
Lead Generation Landing Page
A lead generation landing page contains a contact or sign-up form that is used to collect information from your users.
Manifestation Babe's lead generation landing page contains a limited time promotion, as well as forms for entering billing and payment information: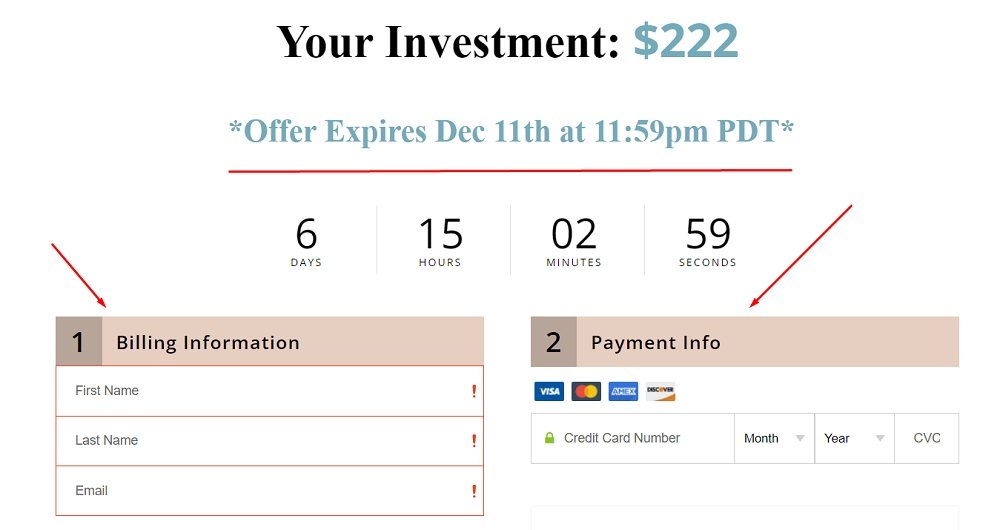 Click-Through Landing Page
A click-through landing page provides users with a CTA button that entices users to take actions such as scheduling an appointment or ordering a product.
Truly Free's click-through landing page contains a Shop Deals! button that takes users to its current sales: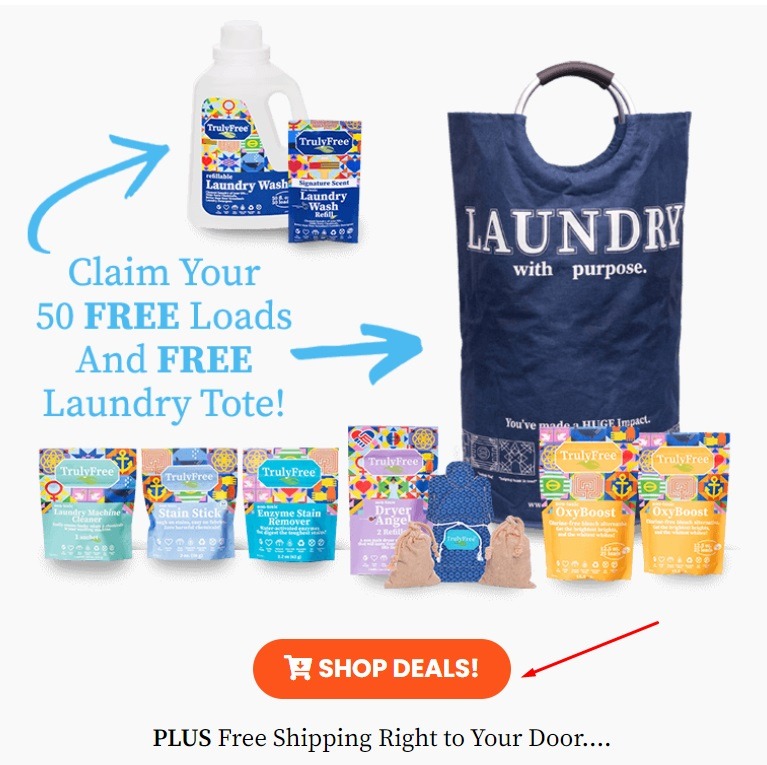 Whatever type of landing page you use, it's a good idea to include a link to your Privacy Policy. Let's look at why.
Why You Should Have a Privacy Policy on Your Landing Page

Many privacy laws require you to have a Privacy Policy anytime you collect users' personal information. Landing pages are usually operated separately from your primary website, so users won't necessarily have a chance to agree to your terms before sharing their information on the landing page, unless you include a link to your Privacy Policy.
Personal information can include but is not limited to users' names, birthdays, addresses, drivers license numbers, social security numbers, debit or credit card numbers, as well as financial, health, and employment information.
Sensitive personal information is a specific category of data that certain privacy laws require businesses to take special care with. Sensitive personal information can include biometric information such as vocal or facial features that are used to identify an individual, race, sexual orientation, and religion, among other data.
If you have a lead generation landing page that contains a form where users input their personal information, then you should definitely include a link to your Privacy Policy.
If you have a click-through landing page where users click on a CTA button that takes them to a different page to make a purchase or schedule an appointment, it's still a good idea to include a link to your Privacy Policy as it gives users the opportunity to learn about what you do with their information before they respond to your CTA.
Having a Privacy Policy on your landing page can help to provide a layer of legal protection for your business, and can help to build trust with your audience by showing them that you care about their privacy.
Are Privacy Policies Legally Required on Your Landing Page?

Depending on where your business is based and where your users live, you may be legally required by state or global privacy legislation to maintain a Privacy Policy on your landing page.
One of the primary requirements of some of the most prominent privacy laws is that you must let users know anytime you collect their personal information. This includes collecting it directly such as when users share their information with you via contact or sign-up forms, as well as indirectly, such as through tracking user behavior by using cookies or third-party analytics services.
Since landing pages tend to function independently from your main website (which is where most businesses house their legal agreements links), having a link to your Privacy Policy on your landing page can help you to comply with some of the major state and global privacy legislation.
United States Privacy Laws
A number of U.S. states have passed comprehensive privacy laws. There are also numerous privacy-related federal bills that are still in the proposal stage, some of which could preempt state laws if passed.
CCPA
One of the strongest state privacy laws is the California Consumer Privacy Act (CCPA), which was passed in 2018 and is designed to give consumers more control over how their personal information is used.
The CCPA grants California consumers certain rights, including:
The right to know what kind of personal information businesses collect from them
The right to delete the personal information that businesses collect from them
The right to opt out of the sale of their personal information to third parties
The right to not be discriminated against for exercising their rights
Section 1798.110 of the CCPA outlines California consumers' rights to know what kind of information businesses are gathering from them and to access their personal information.

Any organization that does business with consumers that live in California needs to abide by the CCPA's rules, as failure to comply with the CCPA can result in fines of up to $7,500 for each intentional violation.
Global Privacy Laws
If your business collects personal information from consumers who live in countries with privacy legislation, then you need to make sure that you are aware of and in compliance with those countries' privacy laws.
GDPR
The European Union's main privacy law is the General Data Protection Regulation (GDPR), which applies to any business that processes the personal data of or sells products or services to citizens of the EU.
The GDPR gives consumers in the EU many rights concerning their personal data, including:
The right to know how their data is used
The right to access, edit, or delete their personal information
The right to object to having their data processed
Chapter 3 of the GDPR details the rights of EU consumers concerning their personal data.
The GDPR also requires that businesses get consent from consumers before processing their data. Failure to comply with the GDPR can result in financial penalties of up to 4% of your business's annual revenue.
Benefits of Having a Privacy Policy on Your Landing Page

Having a Privacy Policy on your landing page is beneficial as it can help you to comply with state and global privacy laws (and avoid hefty fines) as well as build trust with your audience and help convert people into customers and users of your site or service.
The Self Publishing Formula's click-through landing page contains links to its Privacy Policy, FAQs, and contact information in its footer, giving its users the chance to review its privacy practices, learn more about its program, and reach out to the company with any questions they might have. You can see how this helps the site look professional and trustworthy:

Bryan Cohen's book marketing landing page contains links to his Disclaimer, Privacy Policy, Terms and Conditions agreement, and contact info, giving users the opportunity to read his legal agreements before making a purchase:

Now that you're surely convinced to have a landing page with a Privacy Policy linked to it, let's look at how you can create the perfect Privacy Policy to display on your landing page.
How to Create a Privacy Policy for Your Landing Page

To create an effective Privacy Policy for your landing page, you will need to make sure that it is clearly written and contains specific clauses detailing how you handle users' personal information. Here's a closer look at some of these key clauses, with examples to help you draft your own.
What Personal Information You Collect
Your Privacy Policy needs to inform users what kinds of personal information you collect. Be as specific as possible here, which equals being transparent and truthful.
The Little Tikes Privacy Policy includes a What Personal Information Do We Collect? clause that lets users know that it collects information that users provide voluntarily, information that it collects automatically, and information from third parties. It also informs users of the specific types of information it collects in each of these categories: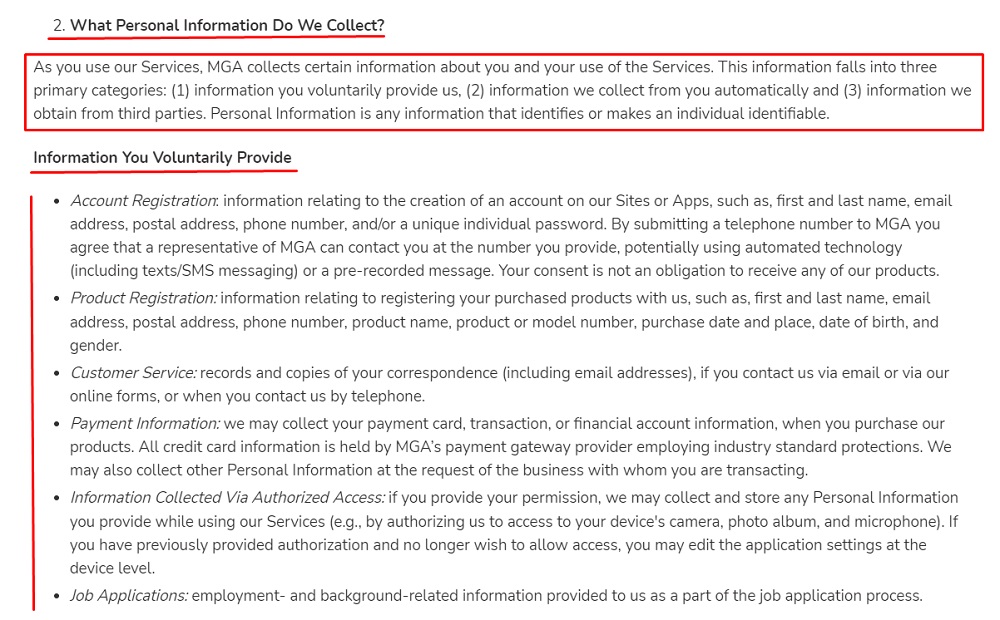 How You Collect Personal Information
Let users know whether you collect personal information directly, such as through a contact or sign-up form, or indirectly, such as through cookies or third-party analytics services.
The S.C. Johnson Privacy Notice lets users know the different ways that it collects information, including when users directly provide their information to the company, as well as through IP addresses, cookies and beacons, and from third parties:

What You Do With the Information You Collect
It's important to inform users why you are collecting their personal information. You should never collect information just for the sake of having it, and should have a clear purpose for every piece of data that you process.
Chewy's Privacy Policy describes how it uses consumers' personal information in its How We Use Your Information clause: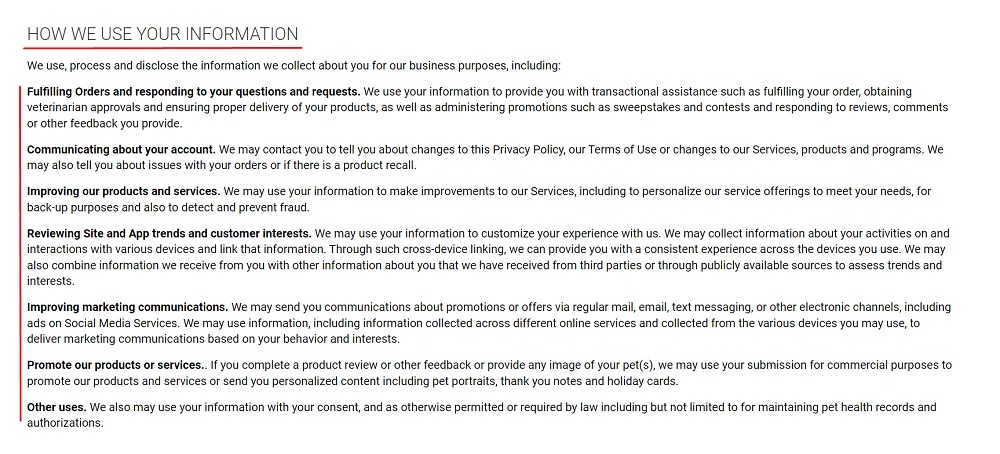 Who You Share the Information You Collect With
Your Privacy Policy should let users know if you share their personal information with any third parties.
Apple's Privacy Policy includes an Apple's Sharing of Personal Data clause that explains what third parties it shares the personal information it collects with: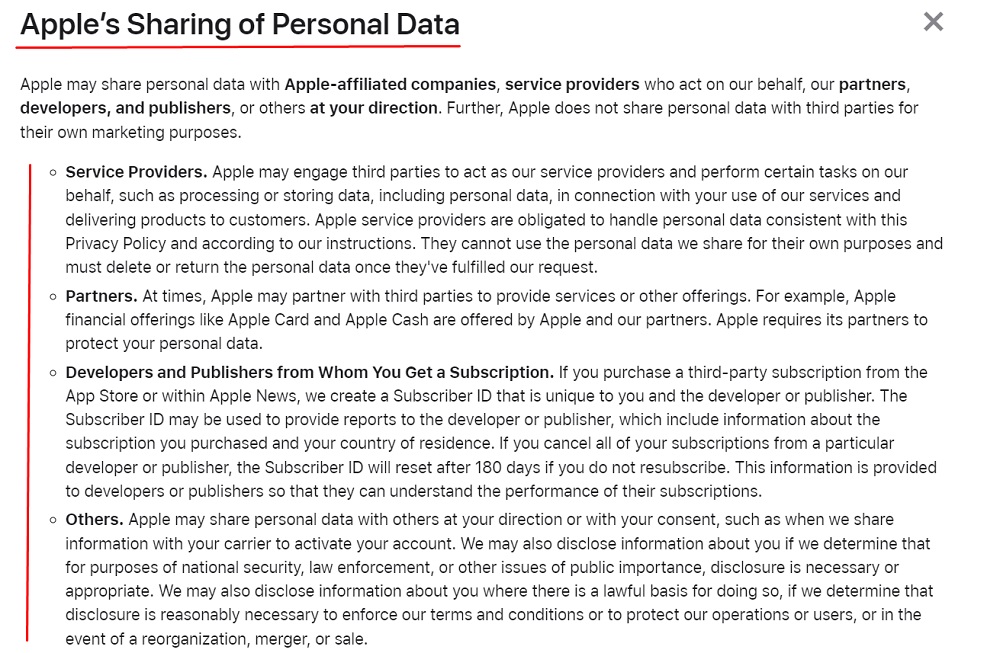 How You Secure the Information You Collect
People want to know that their personal information is safe with you, and using your Privacy Policy to let them know what measures you take to keep their data secure is a great way to build trust with your users.
The How Do We Secure Your Personal Information? section of Walmart's Privacy Policy lets consumers know that it uses both physical and technical measures to help protect their information: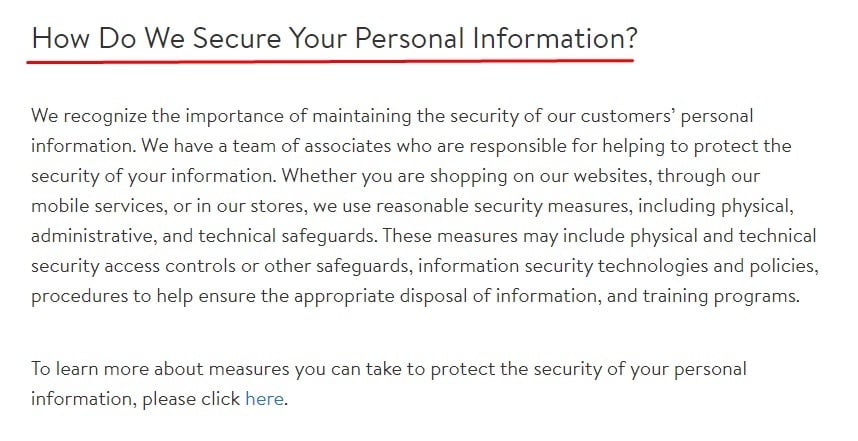 What Rights Users Have Pertaining to Their Personal Information
Certain privacy laws require that you inform users what their rights are concerning their personal information, so it's a good idea to include such a clause in your Privacy Policy.
Costco's Privacy Policy includes a Your California Privacy Rights clause that describes what rights California consumers have concerning the personal information it collects:

Contact Information
Users need to know how to get in touch with you in case they have any questions or concerns. This is where a clause outlining your contact information is beneficial.
The Hormel Foods Privacy Policy includes both its mailing and email addresses, giving consumers multiple methods for contacting the company: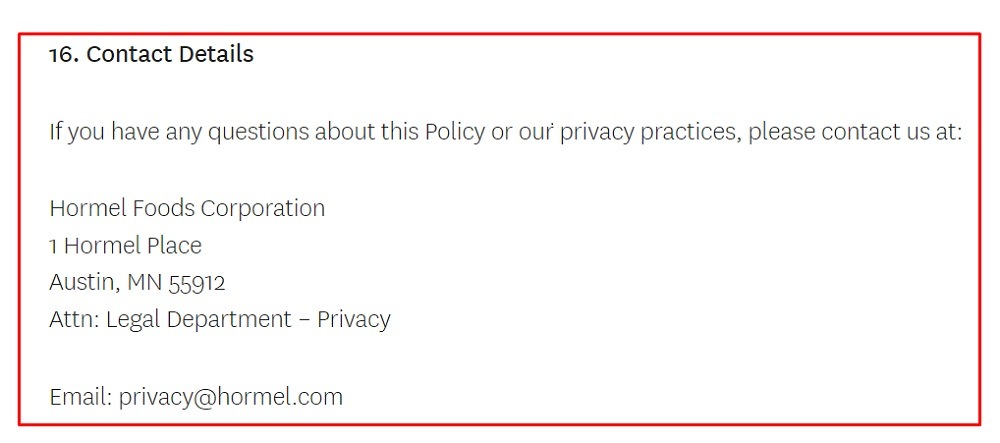 Summary
A landing page is a place where users end up after clicking a link in an email, on an ad, or on another website. This type of web page includes a call to action in the form of a button that takes users to a different site, as with a click-through landing page, or as a contact form, as with a lead generation landing page.
The goal of a landing page is to convert users to customers, and it usually offers a lead magnet in return for users' information.
Having a Privacy Policy on your landing page is a good idea, as it helps to provide legal protection for your business, as well as build trust with your users.
Many state and global privacy laws require businesses to have a Privacy Policy on their website anytime they collect personal information. Since landing pages are often standalone websites that are not a part of your main website, you should make sure that you include a link to your Privacy Policy so that users have the chance to agree to your terms before sharing their information.
To create a Privacy Policy for your business, you should ensure that it is well written and easy to understand, and that it contains a few essential clauses, including:
What personal information you collect
How you collect personal information
What you do with the information you collect
What third parties you share information with
How you keep information secure
What rights consumers have
How users can contact you

Comprehensive compliance starts with a Privacy Policy.
Comply with the law with our agreements, policies, and consent banners. Everything is included.