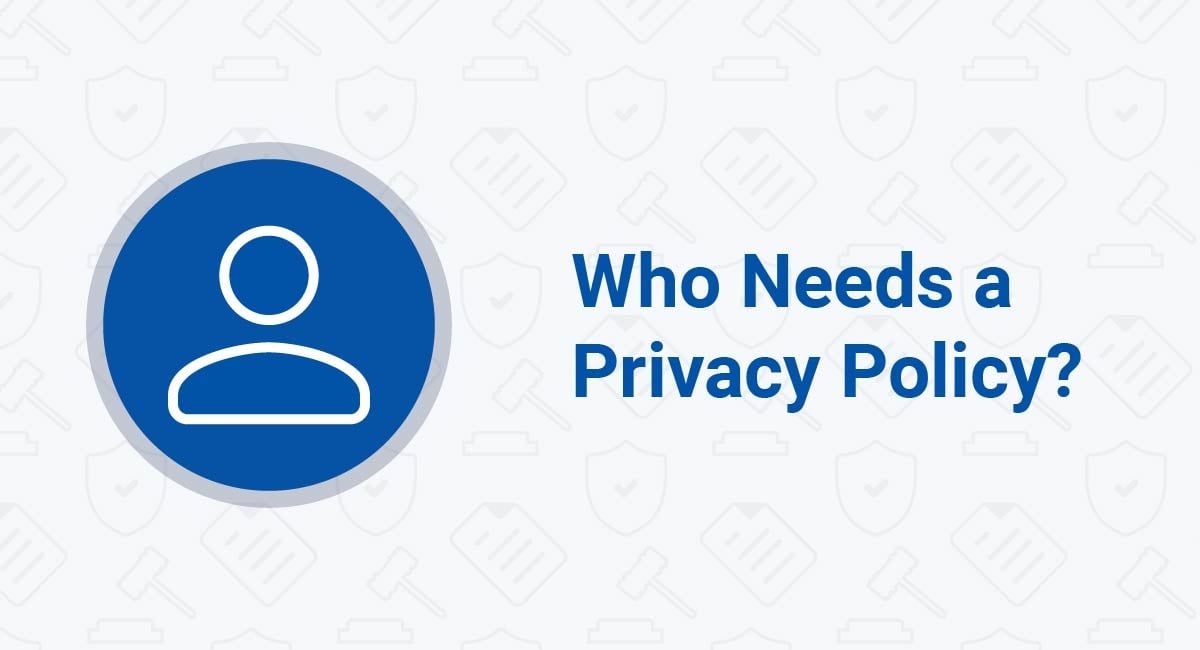 The question as to who needs a Privacy Policy isn't hard to answer. The answer is that any website that collects personal information from its users needs a Privacy Policy. Personal information can be something as obvious as a name and email address. But it can also be less obvious information, such as the user's IP address.
In fact, it's now required by law in most countries, with some having stricter laws than others.
Most everyone knows that Europe has much stricter standards when it comes to privacy laws. Indeed, Europe's General Data Protection Regulations (GDPR) became law back in 2016 all over the European Economic Area (EEA), and has affected businesses around the world.
Today, Brazil has copied Europe in many respects, passing the Lei Geral de Proteção de Dados (LGPD) in 2018. The LGPD became enforceable on August 15, 2020. Likewise, Thailand's new Personal Data Protection Act (PDPA) has copied the GDPR and went into effect on May 27, 2020.
As for the USA, the state of California has the strictest data privacy laws in North America. It is set to become even more strict with a new law called the California Privacy Rights Act (CPRA). This law is designed to update and expand California's Consumer Privacy Act (CCPA).
In light of the above, it's vital to remember that if your website asks for information of any kind from users, you should ensure that a Privacy Policy is in place.
Does My Website Need a Privacy Policy?

Above, we touched on who needs a Privacy Policy but let's talk about some specifics. First, consider the fact that every website interacts with someone's data in one way or another. In other words, whatever you use your website for, you should make sure that your site has a Privacy Policy.
Remember that even if you're not actively collecting data on users, many of the new laws on data privacy have a "right to know" clause. That means the user has the right to know whether you're collecting data or not. If you're not, that's fine, but the user must have a way to learn that information. A Privacy Policy with a small, clear statement that you don't collect information at all would work in such a situation.
Moreover, under most privacy data laws, particularly for those doing business in the EEA or in the State of California (your business doesn't have to be located in those locations, you simply have to be doing business there), anyone using your site must be informed about their rights when it comes to their personal information.
You have to let users know how their data is collected, how it is used, how their information is stored, and how it is protected. Failure to do so can lead to incredibly steep fines and other penalties. All of that information is normally contained in a website's Privacy Policy.
Finally, your website needs a Privacy Policy even if no specific law requires you to have it because many companies require you to have a Privacy Policy if you wish to use their services, such as Google Analytics or AdSense for example.
Does My Blog Need a Privacy Policy?

Asking whether your blog needs a Privacy Policy sounds like a trick question, especially after reading the information above. However, it's not. Many bloggers use their blogs to air out their thoughts. They're used like private diaries with bloggers sometimes detailing intensely personal, private things. They neither ask for nor require any kind of information from those who read their musings.
With that said, bloggers still need a Privacy Policy on their blogs, and here's why. Even if you're not actively grabbing the personal information of those who read your blog, in most cases, you're still recording their data passively.
Consider the fact that the user's browser is collecting information that the user went to your blog. Your blog itself, depending on the platform, may record the fact that a user dropped by. The IP address might be recorded. Cookies might be placed onto the user's computer.
Additionally, suppose you use social sharing tools to share your content on social platforms like Twitter, Facebook, Instagram, or Snapchat. In that case, the blog platform gets a hold of the user's private data through its integration with those platforms.
If you allow comments on your blog, then you're actively asking for user input and data. A user comment form such as the example below is just another way your blog gets a user to give up personal data.
Note that the form has a place where the user can click to read the blog's Privacy Policy: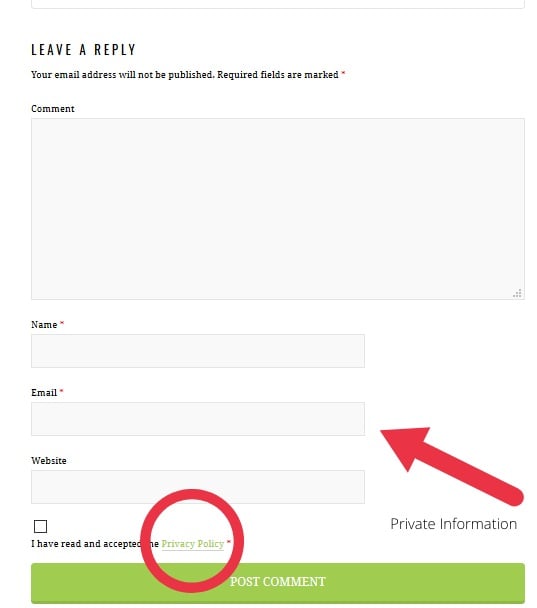 It doesn't matter if your blog is personal with no ties to business. If you're interacting in any way with users (blog readers), whether that's social sharing, a chat application, getting your users to comment, or just allowing them to read your thoughts, you need a Privacy Policy for your blog.
Does My Facebook Page Need a Privacy Policy?

If you operate a Facebook Page within the European Economic Area (EEA), you'll need a Privacy Policy. This is a requirement of Facebook's Page Insights Controller Addendum, which defines the relationship between Facebook and the Page operators.
You'll need to include some specific information in your Privacy Policy, and link the policy to your Facebook Page, which Facebook makes quite easy to do.
When you log in to your business page, navigate to your About section and scroll down. You'll see an option to "Edit privacy policy."

Do All Businesses Need a Privacy Policy?
If you've been paying attention up to this point, then you know the answer. If you've got a website, a blog, or a business page on a social media platform and you interact with users in any way, shape, or form, you need a Privacy Policy.