Any website, app or platform of any kind that collects or uses any type of personal information from its users needs a Privacy Policy.
Personal information can be something as obvious as a name and email address. But it can also be less obvious information, such as the user's IP address. This means that almost every business, website, etc. will absolutely need a Privacy Policy.
Privacy Policies are required by law in most countries, with some having stricter laws than others. Chances are you will fall under the scope of at least one of these privacy laws.
For example, Europe's General Data Protection Regulation (GDPR) became law back in 2016 all over the European Economic Area (EEA), and has affected businesses around the world.
This article will look more at who exactly needs to have a Privacy Policy and in what circumstances.
Our Privacy Policy Generator makes it easy to create a Privacy Policy for your business. Just follow these steps:
At Step 1, select the Website option or App option or both.

Answer some questions about your website or app.

Answer some questions about your business.

Enter the email address where you'd like the Privacy Policy delivered and click "Generate."

You'll be able to instantly access and download your new Privacy Policy.
Does My Website Need a Privacy Policy?

If your website collects or processes any personal information, then it will legally need a Privacy Policy.
Even if you're not actively collecting data on users, many privacy laws have a "right to know" clause. That means the user has the right to know whether you're collecting data or not. If you're not, that's fine, but the user must have a way to learn that information. A Privacy Policy with a small, clear statement that you don't collect personal information at all would work in such a situation.
Moreover, under most privacy data laws, particularly for those doing business in the EEA or in the State of California, anyone using your site must be informed about their rights when it comes to their personal information. Your business doesn't have to be located in those locations, you simply have to be doing business there.
You have to let users know how their data is collected, how it is used, how their information is stored, and how it is protected. Failure to do so can lead to incredibly steep fines and other penalties. All of that information is normally contained in a website's Privacy Policy.
Finally, your website needs a Privacy Policy even if no specific law requires you to have it because many companies require you to have a Privacy Policy if you wish to use their services, such as Google Analytics.
Where to Add a Privacy Policy on My Website
Your Privacy Policy needs to be easily accessible and highly visible to be compliant with privacy laws. Some of the most common areas of placement are in website footers, on account sign-up forms, in email newsletter sign-up forms, and anywhere else where personal information is collected.
Here's an example of a Privacy Policy linked to a website footer, which makes it visible from every page on the website:

When users sign up for an account, you will be collecting protected personal information such as an email address to associate the account with. This is a great place to link to your Privacy Policy and request users agree to it, as seen here: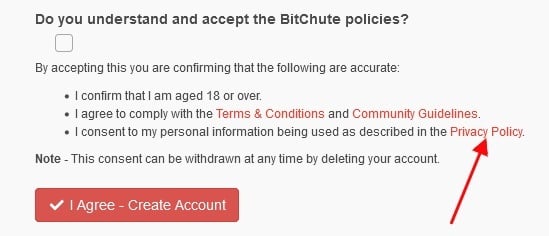 And here's how you can link to your Privacy Policy when you collect email addresses to add to your marketing lists:
For more information on this, check out our article excerpt on website placement of a Privacy Policy: Where to Place Privacy Policy Links on Your Website
Does My Blog Need a Privacy Policy?

Yes, your blog almost certainly needs a Privacy Policy. Even if you're not actively grabbing the personal information of those who read your blog, in most cases, you're still recording their data passively.
Consider the fact that the user's browser is collecting information that the user went to your blog. Your blog itself, depending on the platform, may record the fact that a user dropped by. The IP address might be recorded. Cookies might be placed onto the user's computer.
Additionally, suppose you use social sharing tools to share your content on social platforms like Facebook, Instagram, or Snapchat. In that case, the blog platform gets a hold of the user's private data through its integration with those platforms.
If you allow comments on your blog, then you're actively asking for user input and data. A user comment form such as the example below is just another way your blog gets a user to give up personal data.
It doesn't matter if your blog is personal with no ties to business. If you're interacting in any way with users (blog readers), whether that's social sharing, a chat application, getting your users to comment, or just allowing them to read your thoughts, you need a Privacy Policy for your blog.
Where to Add a Privacy Policy on My Blog
Adding a Privacy Policy to your blog is the same as it is on your website. You should place a link in your website footer, as well as anywhere else where you collect personal information.
Blogs often have features where people can leave comments on blog posts. If you allow this, including a link to your Privacy Policy near the comment feature or form is a common best practice.
Here's an example of how this can look:

Here's another example of integrating a Privacy Policy link into a form on your blog: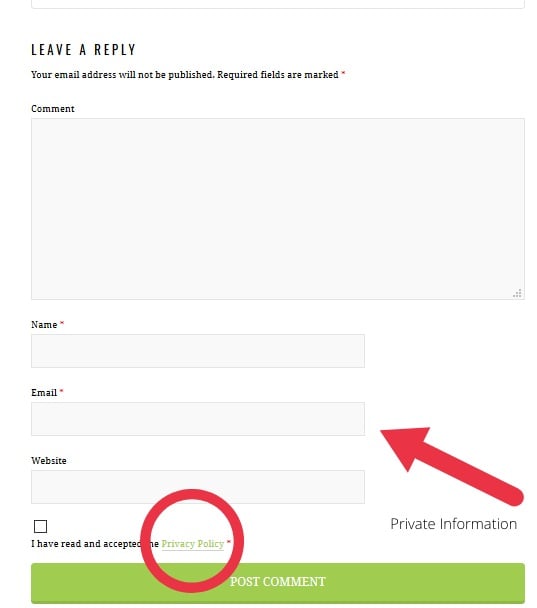 Remember: Even if you don't have any features on your blog that seem to collect personal information, such as an email sign-up list or commenting capabilities, you'll still need a Privacy Policy if you run any sort of analytics program, or if the third-party blogging platform you use requires one.
Does My Facebook Page Need a Privacy Policy?

If you operate a Facebook Page within the European Economic Area (EEA), you'll need a Privacy Policy. This is a requirement of Facebook's Page Insights Controller Addendum, which defines the relationship between Facebook and the Page operators.
You'll need to include some specific information in your Privacy Policy, and link the policy to your Facebook Page, which Facebook makes quite easy to do.
How to Add a Privacy Policy on My Facebook Page
Adding a Privacy Policy to your Facebook page is simple.
Just log in to your business page, navigate to your About section and scroll down. You'll see an option to "Edit privacy policy."

Here, you can add your Privacy Policy URL and it will now be displayed on your Facebook Page.
Does My Mobile App Need a Privacy Policy?
Your mobile app will need a Privacy Policy if it collects or uses any personal information. Most app stores also require that all apps listed on the stores provide a compliant Privacy Policy before the app can be distributed.
Learn more about Google's requirements for a Privacy Policy in our article: Privacy Policy for Android Apps
Learn more about Apple's requirements for a Privacy Policy in our article: Privacy Policy for iOS Apps
Where to Add a Privacy Policy for My Mobile App
There are a few places where you should add a Privacy Policy to your mobile app. First, as noted in the previous section, your app store listing should have your Privacy Policy link included.
Here's an example of how an app store listing can display a Privacy Policy along with other information about the app. This allows people to view the policy before downloading the app and sharing any personal information: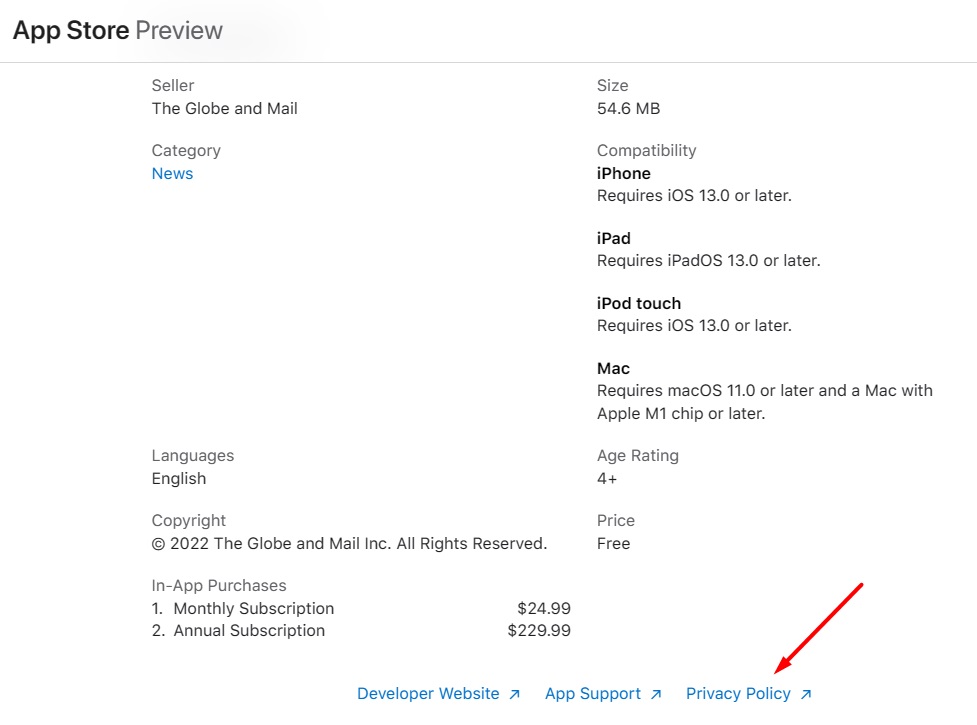 Another place to display your Privacy Policy within your mobile app is in an in-app menu. If your app has a menu such as a "Settings," "Legal," "About" or similar type of menu, users will know to check there for important information. This is also helpful as it allows users access to your Privacy Policy at any time while using your app.
Here's an example of an in-app menu that links to a Privacy Policy: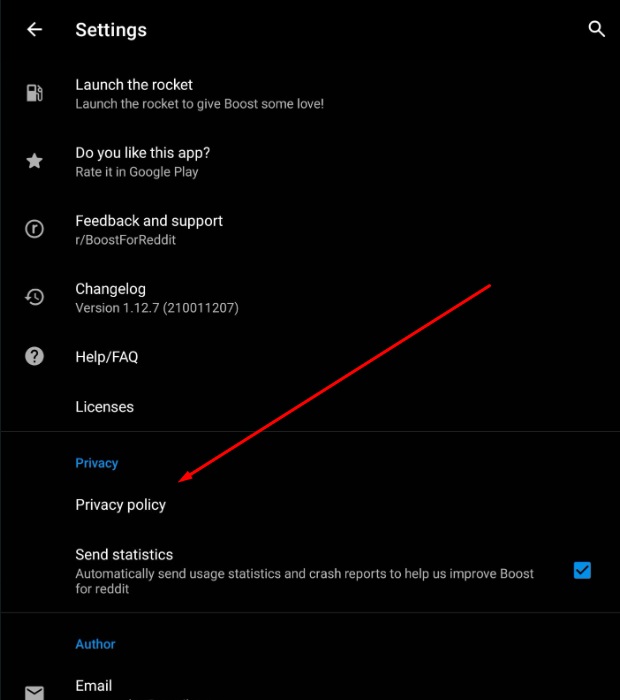 For more information on this, check out our article excerpt on mobile app placement of a Privacy Policy: Where to Place Privacy Policy Links Within Mobile Apps
Do All Businesses Need a Privacy Policy?
Yes, all businesses need a Privacy Policy.
This is because laws require one if you collect or process any personal information. And, even if you don't deal with personal information, you should declare this fact in a short Privacy Policy.
Not having a Privacy Policy at all will look like you're legally non-compliant and may lead to issues with consumer trust, and authorities asking questions.
Regardless of what industry your business is in, you should always, at minimum, include a Privacy Policy link in your website's footer. The general public knows to look in website footers for important information and useful links, so this is a universal best practice for all businesses.
Here's an example of how a Privacy Policy link can be added to a website footer, regardless of what type of business you operate:

Summary
If you run a website, blog, mobile app or other type of public platform, you will need a Privacy Policy.
This is a requirement of laws, as well as third-party platforms that host websites, blogs and mobile apps.
While Privacy Policies are legally required when any personal information is collected or used, you will need one even if you don't collect or use such information. This is because consumers and privacy authorities will expect to see a Privacy Policy, and not having one will raise red flags.
To ensure legal compliance and customer transparency, make sure you display a Privacy Policy on your platform.