If you're a business or personal development coach, you'll need to have a Privacy Policy if you collect any personal information from clients or prospective clients. This is because global privacy laws require this.
This article will cover when and why business and personal development coaches need a Privacy Policy, and help you write and display your own.
Our Privacy Policy Generator makes it easy to create a Privacy Policy for your business. Just follow these steps:
At Step 1, select the Website option or App option or both.

Answer some questions about your website or app.

Answer some questions about your business.

Enter the email address where you'd like the Privacy Policy delivered and click "Generate."

You'll be able to instantly access and download your new Privacy Policy.
What is a Privacy Policy?
A Privacy Policy is a publicly available legal document outlining how a company collects, uses, shares, and safeguards personal information.
It will disclose user rights relating to how their personal information is collected, used or stored, and will offer information to help users get in contact with a company if they have questions.
Here's an example of a typical Privacy Policy Table of Contents as an example of the content one covers: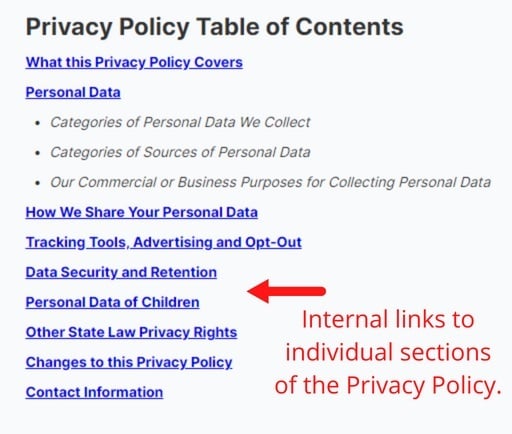 It's common to see Privacy Policies linked in a website's footer along with other important legal agreement links and other resources that the site wants to display front and center, as seen here:

Next let's look at the reasons why you'll need to have a Privacy Policy.
Why Should Business and Personal Development Coaches Have a Privacy Policy?

Numerous laws and third-party services require Privacy Policies when personal information is collected or used. Business and personal development coaches collect and process legally protected personal information such as client names, email addresses and payment information. This triggers the requirement for a Privacy Policy.
Here are a few laws from different countries that mandate Privacy Policies:
A website or company that collects or processes user data in a particular nation or region must be completely aware of local data protection and privacy legislation.
If you're a business or personal development coach, you must protect yourself by ensuring your website complies with these regulations. If you fail to create and display a well-written Privacy Policy, you may be subject to harsh sanctions or even criminal prosecution.
Even if you don't believe you collect any personal information - even an email address - you should still have a Privacy Policy that simply states this. Otherwise, legal authorities may audit you, and potential clients may wonder if you're attempting to hide something.
How to Write a Business and Personal Development Coach Privacy Policy

Personal development and business coaches should have universally accepted provisions in their Privacy Policies. You should include clauses on the following, for instance:
What kind of information you collect
How you collect and use that information
How you store and protect that information
Whether you share information with third parties (and if you do share)
Whether there are third parties with whom you share information
Whether you use cookies or not and how you use them
Your contact information
Let's examine each of these clauses in more detail.
What Information Do You Collect?
Include a clause that helps users learn more about the specific categories of information you collect and how you collect it in your Privacy Policy.
Inform them about both the data you collect that they voluntarily give to you. Typically, this is when they sign up for services or purchase a product. Also disclose if information is collected automatically, such as through cookies.
Tony Robbins, one of the most recognizable personal development coaches and business strategists, writes his detailed clause on this subject like this: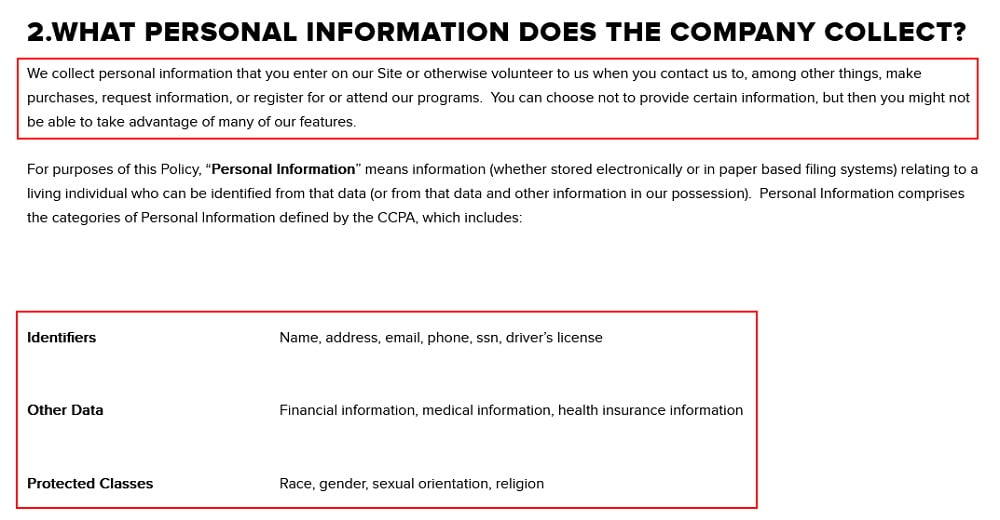 How Do You Use the Information You Collect?
Your Privacy Policy should disclose and explain how the data you collect is used. Being honest and open in this part will help you comply with privacy rules.
Let's consider an example. Two independent contractors might collect the same kinds of information. Both of their websites feature forms that request names and email addresses from visitors. However, while one may divulge the name and email address to third parties, the other may only use that information to provide a digital product to the potential customer.
These two independent contractors obviously don't use the data they get in the same manner. Always choose complete disclosure regardless of how you use the information you collect.
Here's how Marshall Goldsmith, recognized as one of the top ten business coaches in the world, writes this clause:

How Do You Store and Protect Data?
How you safeguard the data you collect should be covered in your Privacy Policy.
Recall that millions of internet users have been affected by data breaches over the past few years, and numerous businesses have faced severe financial and legal repercussions. Take, for example, the $4.95 million class action settlement, which addressed claims that a consulting firm neglected to implement reasonable data security measures when creating web-based portals for state employment agencies in Illinois, Colorado, and Ohio, and that received final approval from the U.S. District Court for the Southern District of New York on February 16, 2022.
You don't want that to be you.
Therefore, you must protect any personal data you collect from a person. And you should disclose that you safeguard it. While you don't have to be specific, it's common just to state that you do have security measures in place.
The key takeaway is that if you hold personal information, you must ensure that it is not lost, stolen, or misused. Remember that your ability to attract or repel potential customers depends on how they perceive your attempts to keep their personal information safe.
Jay Abraham, widely known as an incredible business and marketing coach, explains his policy on data security like this:

Do You Share Information With Third Parties?
If you disclose any of the data you collect with third parties, you must make that clear in your Privacy Policy. People who share their personal information with you should be aware that any information they share may or will be accessible to others in addition to you.
In this clause you simply need to list any third parties you share data with, and your justifications for doing so. Alternatively, you can state that you do not share data with third parties at all if that is the case.
Here's leadership coach John Maxwell's clause, as an example.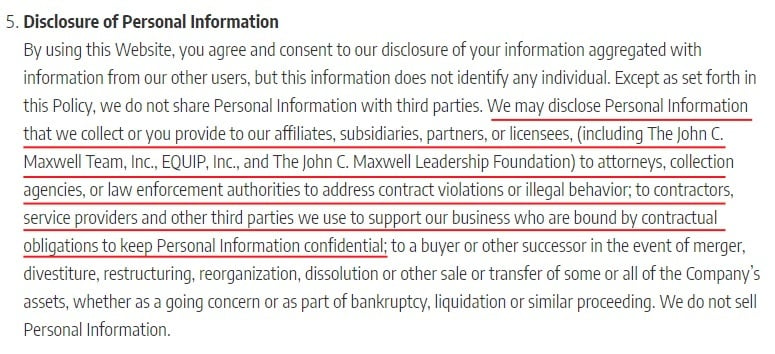 How Do You Use Cookies?
Your Privacy Policy should include information about your use of cookies, how you utilize cookies, and what for.
If you use cookies, it's probably because your website needs them to track a user's browser history, save user data, or customize user experiences. Some businesses, particularly those that engage in extensive advertising, may utilize cookies for other purposes and/or permit third parties to access them.
You must disclose to consumers any tools you use to track their activity and gather data about them.
Here's how the Abraham Group discloses its use of cookies, including third party cookies:

Notification of Changes to Your Policy
Let users know that your Privacy Policy may change from time to time, and inform them on how you'll notify them when any important or material changes are made. For instance, you may advise consumers to review the Privacy Policy posted online for updates while also sending out an email alert to individuals on your email list when a material change is made.
Here's how Tony Robbins discloses this part of his Privacy Policy:

Your Contact Information
Don't forget to include a clause in your Privacy Policy that outlines how users can get in touch with you if they have any questions.
Here's how Tony Robbins includes this clause at the end of the Privacy Policy. It provides multiple ways to contact his company:

After you draft your Privacy Policy, it's time to display it on your business or personal development coaching website for all your clients and potential clients to view at will.
Where to Display a Business and Personal Development Coach Privacy Policy

You should place your Privacy Policy in a visible area of your site that is always accessible. The following are some specific places on your website where you can provide a link to your Privacy Policy:
Website footers
Checkout screens
Contact forms
Cookie consent notices
Create account forms or login screens
Email newsletter signup forms
Simply put, you should include a link to your Privacy Policy in your website's footer and wherever you collect personal information.
Let's look at a few examples from the list above.
Website Footer
Since the website's footer is present on every page and users are accustomed to looking there for important links, putting a link to your Privacy Policy here is a common best practice.
Here's how Jay Abraham does this:
When you update your Privacy Policy, you can note this in the footer as well if you want, for increased transparency and professionalism:

Contact Form
Although using a form to submit contact information is an entirely voluntary action on the part of your customers, it is still a good idea to give them a chance to read your Privacy Policy right away.
Your company technically starts processing a person's data once they submit their personal information. Therefore, the best strategy is to inform them upfront about how that data will be used.
Here's an example from Kirsty Waite: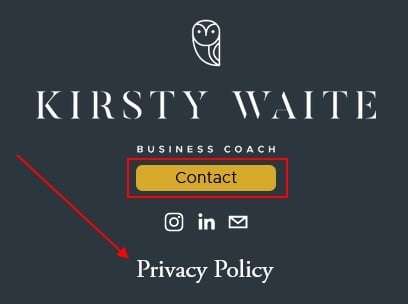 Next we will look at ways to implement clickwrap to get agreement to your Privacy Policy terms. This is an important part of showing compliance, and helping to limit your legal liability when it comes to getting consent to collect and process personal information.
How to Get Agreement to Your Business and Personal Development Coach Privacy Policy

In addition to presenting website visitors with the option to read your Privacy Policy, you'll want them to give an explicit indication that they've read it and agree to your data collection practices.
The best way to achieve this is by including a clickwrap agreement, which calls for the user to actively click an "I Agree" checkbox or button to express their affirmation, approval, or assent. Typically, you'll place these agreements in some of the same places as links to your Privacy Policy, such as:
Language in a clickwrap agreement usually states something along the lines of, "By clicking, you accept the Privacy Policy (or any legal agreement mentioned) on this website."
Here's an example from Numino's coaching:

And here's an example of a checkbox being used to get agreement to a Privacy Policy along with other agreements:

Summary
Posting a Privacy Policy on your website is critical if you work as a personal development or business coach. Indeed, if you collect personal data at all, you're obligated by law or by third-party services to post a Privacy Policy on your website.
It's important to be aware of the privacy regulations that apply to the area where you operate your coaching business, or where your clients are located.
The goal of your Privacy Policy is to tell prospective and current clients about the information you collect about them, how your business utilizes it, and their rights concerning the personal data acquired.
Ensure that your Privacy Policy is accurate and up to date. Notify users when the Privacy Policy has been updated with material changes.
Don't forget to include clauses on the following points of information in your policy:
What information you collect and how you collect it
How you use that information
How you keep that information safe
Whether you share the information with third parties
How you use cookies
Your contact information
After you have your Privacy Policy drafted, display it prominently on your website such as in your site's footer. Also consider displaying it in areas where personal information is collected, such as in contact forms, on checkout pages and when a user creates an account with you.
Get the user to agree to your Privacy Policy by implementing a form of clickwrap, such as a clearly-labeled "Agree" button or checkbox.

Comprehensive compliance starts with a Privacy Policy.
Comply with the law with our agreements, policies, and consent banners. Everything is included.