Written by
Widener University School of Law graduate, Managing Legal Editor at TermsFeed.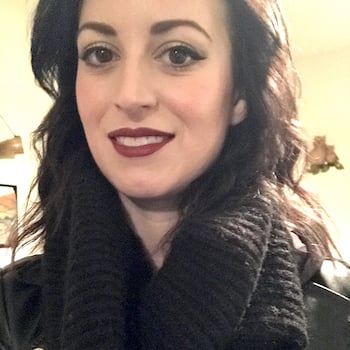 Affiliate marketing is one of the most effective and accessible ways to grow your business. With the voice of several influencers and brands driving your products or services, you can quickly turn a profit from and expand a young business venture.
Affiliate marketing leverages influencers to increase your business coverage. The influencers are given compensation for every lead or sale they generate.
In fact, 40 percent of marketing professionals said that their most desired digital skill is affiliate marketing. Meanwhile, nearly 80 percent of CMOs say that affiliate marketing is where their digital marketing skill is weakest.
If you decide to engage in affiliate marketing, you're going to need and want certain legal agreements and disclosures in place on your website to be both legal and successful.
These important agreements and disclosures include:
Affiliate disclosures/disclaimers
A Privacy Policy
A Terms and Conditions agreement (optional, but highly beneficial)
Our Disclaimer Generator can generate a legal disclaimer for your business, website or mobile app. Just follow these steps:
At Step 1, select where your Disclaimer will be used.

At Step 2, add in information about your website/app and business.

Answer some questions about your business practices.

Enter an email address where you'd like to receive your Disclaimer and click "Generate."

Done! You'll be able to instantly access and download your new Disclaimer.
Why You Need Legal Agreements
In the United States, the Federal Trade Commission requires websites that use affiliate links to disclose this to their users.
The guidelines released by the FTC instructs websites that make endorsements or recommendations to disclose the material connection they share with the seller of the product or service.

Furthermore, the guidelines say that websites must state relationships between marketer and endorser.
The reason is simple. If you pay an endorser to say positive things about a product, he will say positive things. The user wants to know if the motivation for your statement or endorsement is gain or a relationship.
These guidelines are there to provide clarity and transparency to your website users so that they can make educated choices.
Check out our Legal Checklist for Businesses Using Social Media Influencers to help you use endorsements in a legally-compliant way.
Affiliate Disclaimer/Disclosure

A disclaimer or a disclosure is a statement that provides your users with information that will affect their dealings with your website. They help users make educated and informed choices and decisions.
Your website needs a disclaimer saying you use affiliate links and have affiliate associations with products you recommend.
As already stated above, in 2009 and later in 2013 the FTC released a set of guidelines on endorsements and recommendations.
These guidelines explain how to handle reviews, online campaigns, celebrity or influencer endorsements.
According to the FTC guidelines, certain requirements govern a disclosure.
Disclosures must be:
Clear and Conspicuous on all platforms and devices, and
Located as close to the affiliate link as possible
The FTC only has jurisdiction in the US, but sometimes even websites outside of he US have to conform to these guidelines.
This happens when a website not based in the US is endorsing or profiting from a US-based business. If your practices are misleading US citizens, then the FTC may have jurisdiction over you.
Amazon Associates Requirements

Amazon Associates is an online affiliate marketing program. Bloggers and website owners make money by placing links on their websites to products for sale on Amazon.
The blogger or website owner promotes or advertises a product on his blog or website and adds a link to the promoted product. Users can then click on the link to buy the product. This process generates a referral fee for the blogger or website owner whose hyperlink the user clicked on.
According to Amazon's Affiliate Operating Agreement, you do not have to have a Privacy Policy. You are also not required to have a Terms & Conditions agreement.
However, according to section 9 of the operating agreement is that you must identify yourself as an associate.
Amazon gives you the exact quote that you need to include on your site:
"We are a participant in the Amazon Services LLC Associates Program, an affiliate advertising program designed to provide a means for us to earn fees by linking to Amazon.com and affiliated sites."

Here's how it looks:

Section 4 of Amazon's Associates Program Participation Requirements is called Responsibility for Your Site. Under this section, Amazon states that you will be solely responsible for:
"...disclosing on your Site accurately and adequately, either through a privacy policy or otherwise, how you collect, use, store, and disclose data collected from visitors, including, where applicable, that third parties (including us and other advertisers) may serve content and advertisements, collect information directly from visitors, and place or recognize cookies on visitors' browsers."


When you agree to Amazon's Terms, you agree to adhere to specific legal business requirements that center around disclosure of your data collection practices and of your relationship with Amazon Associates.
How to Write a Disclosure
Here are a few things you need to know when you are writing and placing a Disclosure on your website.
Content of the Disclosure
Your Disclosure must inform users that you receive compensation, in cash or otherwise, for your reviews, endorsements, and recommendations.
Your disclosure can be short, or it can be lengthy. The goal is to be clear and precise so your users can understand what you are saying.
ipage.com explains the difference between a clear disclosure and an unclear one.

The example of an unclear disclosure omits vital information. It doesn't disclose that they make a commission when purchases are made from links on the website. It also doesn't say that the commission may affect the placement or ranking of the endorsed product.
Placement of Disclosure
Where you place your disclosure is as important as the words in the disclosure. As stated above, the disclosure must be clear and conspicuous.
This means:
It must be close to your affiliate link so that the user will associate the disclosure with the link.
It must be on every page where you review or endorse a product for which you receive compensation.
The user should not be required to scroll around looking for the disclosure. Seeing the link should mean you see the disclosure, too.
The disclosure must be readable from the page where you post your recommendation or endorsement.
You cannot put the disclosure on your 'about' page. Placing a hyperlink to the disclosure below your recommendation is also not enough.
Justagirlandherblog.com puts a note below her posts informing her readers her post has affiliate links.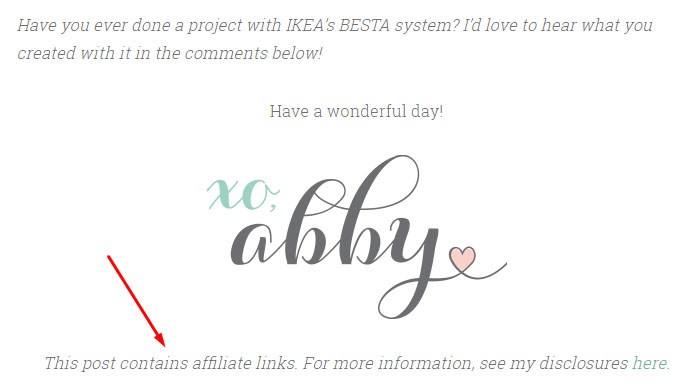 This basic notice is not explanatory enough, so she added a link to it so readers could get more information:

Examples of Disclosures
There is no one way to display your disclosure on your website. You can get creative with it. Your disclosure itself can help you get more clicks on your affiliate links. Here are some examples.
Wirecutter.com
Wirecutter.com is one of Amazon's top affiliate websites. New York Times acquired the website in 2016 for a reported $30 million. Wirecutter does intensive research and testing on products and publishes helpful guides for users. Their aim is to help users buy the best the market has to offer.
They conform to the FTC guidelines and place their disclosure at the top of their pages. They also found a creative way to inform their users of their affiliate relationship with Amazon.
"Wirecutter supports our readers with thousands of hours of reporting and testing to help you find the stuff you need in order to live a better life. You support us through our independently chosen links, which earn us a commission"
And then there is a link to read more.

Nomnompaleo.com
NomNomPaleo.com is an award-winning food website with a collection of recipes and lots of information about cooking and kitchen products.
The website is very creative with the placement of its disclosure. This cute, eye-catching disclaimer is placed at the bottom of their website's homepage.

The above disclaimer is very short and gets straight to the point, using fun graphics to do so.
Smartpassiveincome.com
The website has a page dedicated to its affiliate disclaimer page.

Clicking it takes you to a long, thorough disclaimer page.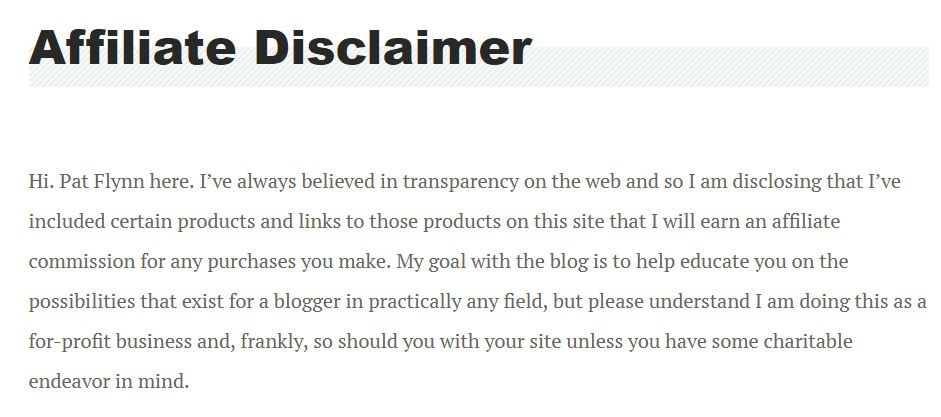 When Do You Need a Disclosure
If readers of your website will see your reviews in a different manner if they were aware of the incentive for the reviews, you should include a disclosure.
Here are some scenarios, apart from the examples already used above, where you have to include a disclosure.
You will find these scenarios on the 'What People Are Asking' Page of the FTC.
If your company donates to charity when someone reviews your product.

When you review a product you got for free on YouTube.

Disclose, even when you return the product after initial use.

It's best to be open with your readers. It would make little difference if you returned the product.

Disclose when restaurants give you free meals to review them.

Disclose when you review a family member's restaurant after receiving a free meal from them.

You should add a disclosure here for two reasons. You have to inform your readers the owner of the restaurant is your family member. You also need to tell them you received a free meal from the restaurant.

Disclose when you have already mentioned that you got a product for free on another page.

It doesn't matter if you have already mentioned in an earlier post that you got a product for free. Not everybody read the previous post, so you have to say you received it for free every time you endorse it.

Disclose when a trade association hires you to be their ambassador.

If you have a financial relationship with a trade union, you must inform your readers about it. Every time you encourage people to attend their event or make buy from them, you need to tell your readers about your connection to the event/company.

Disclose, even when you don't speak.

The FTC regulations cover even videos where you don't speak. Posting a picture of the product for which you have received payment is still considered an advertisement.

The regulations also cover tagging a picture on Instagram to promote a product or a brand.
There are several other scenarios, and you can find them on the FTC website.
Privacy Policy for Affiliate Marketing

Privacy Policies inform the users of your website how you collect, use, manage and disclose their personal information.
Some of this information is obviously personal information, like email addresses, contact details and so on. However, other pieces of information are not as clear. Information such as whether a website will leave Cookies on their computer or not are also included in a Privacy Policy.
The Privacy Policy not only allows the user to know what their information is used for, but it also protects you.
As an affiliate marketing website, the functions of your site, the information you collect and the products you sell are unique. It is thus not advisable to copy another website's Privacy Policy.
Why a Privacy Policy is Required
If your website collects personal information from users, you'll legally need a Privacy Policy. Personal information includes but isn't limited to the following:
Shipping address
Email address
IP address
Birthdays
Names
Affiliate marketing websites are legally required to have a Privacy Policy. This is because your networks may leave Cookies on visitors' computers to track their activities, and this counts as collecting personal information under privacy laws.
Privacy Requirements from Google Ads (AdSense)
Ad networks - such as Google Ads (AdSense) - require websites on their networks to have a Privacy Policy.
Section 8 of Google AdSense requires that a Privacy Policy be made available to your users. The Policy must provide information about your practices.

Your Privacy Policy will inform users of the following:
That third-party vendors such as Google, use cookies to track the user's visits to your website and serve ads suited to them.
That Google's use of advertising Cookies helps it and its partners show ads to your users based on their visit to your site and other sites on the internet.
That users can opt out of personalized adverts. Provide a link through which they can do so.
Section 8 also requires that you "use commercially reasonable efforts to ensure that an end user gives consent" to your placement and use of cookies on the user's computer where it is legally required.
DoubleClick Cookie
A DoubleClick Cookie is placed on a user's device when they click on an ad on a Google partner's website.
Every website and mobile application that uses AdSense is obligated to inform their users and visitors of Google's DoubleClick Cookie usage.

Cookies Policy for EU Websites
For every website operating in the EU, there are specific requirements that must be met.
You must have a Cookies Policy that includes the following information:
1. Users must be informed that cookies are in use before cookies can be placed on their devices.
Let your users know:
Your websites use Cookies
The various types of Cookies your website uses
Types of Cookies third parties are using on your website
What purpose the placement of Cookies on your site serves
2. Get consent.
It is not enough to inform your website users of the presence of Cookies.
You must get their consent to place cookies on their devices.
Consent must be active. This means the user has to click a link or check a box or hit a continue button to actively show that they are giving consent. The idea is to make sure your users make a conscious choice when accepting Cookies from your website to their browsers.
Terms and Conditions for Affiliate Marketing
A Terms and Conditions (T&C) agreement is an important document. It's where you inform your visitors about their legal rights, responsibilities and limitations.
It's also called a Terms of Use or Terms of Service agreement.
While it's not legally required, it's highly recommended -- especially for websites that participate in affiliate marketing.
Contents of the T&C
Like your Privacy Policy, your T&C is unique to your website and its functions. However, there are some fundamental clauses that every T&C should contain.
A general overview or introduction to your T&C

Here's an example from Ticketfly's T&C page. It explains right away that this is a legally binding agreement.

A limitation of liability statement

This protects you from lawsuits from visitors to your website.

If you write reviews and recommend a product that ends up not working out well for someone, you want to protect yourself from that person suing you over the bad experience.

Here's an example from Website.com's T&C.

How affiliate and referral payouts are done

This clause should reflect your practices, whether they're complex like the example above, or more streamlined like this example:

Termination and the process

Your T&C should explain what happens if either party decides to end the affiliate relationship. Below is how Ticketfly explains this.

Association of the Parties

This describes in clear terms the limitations on the relationship between the marketing website and affiliate website. It also explains the limitation of the authority of the affiliate.
There are several other statements that you may want to add to your T&C, but the above are the basics you should use.
If you participate in affiliate marketing, don't forget to:
Add well-placed disclaimers/disclosures about your role as an affiliate marketer to your website
Provide a Privacy Policy (and Cookies Policy if required) that discloses what personal information your website collects
Opt for a Terms and Conditions agreement to protect your rights