Written by
Post-graduate law degree, CIPP/E from the International Association of Privacy Professionals (IAPP). Privacy and Data Protection Research Writer at TermsFeed.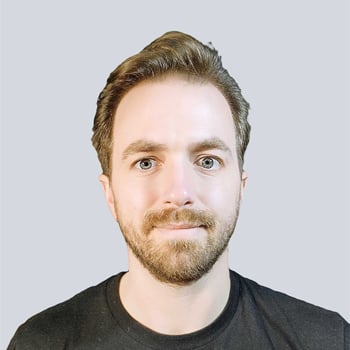 Social media has drastically changed advertising. Along with the more conventional forms of marketing, such as print, TV, radio, and pay-per-click ads, businesses are buying the influence of social media personalities.
Social media influencers could be a great way to promote your business online. However, before you begin advertising in this way, you must understand the rules.
While this form of advertising is not exactly new, it has been receiving a lot of attention from regulators in recent years. A number of countries have introduced new rules and tougher laws that control the relationship between businesses, online influencers, and their followers.
TermsFeed is the world's leading generator of legal agreements for websites and apps. With TermsFeed, you can generate: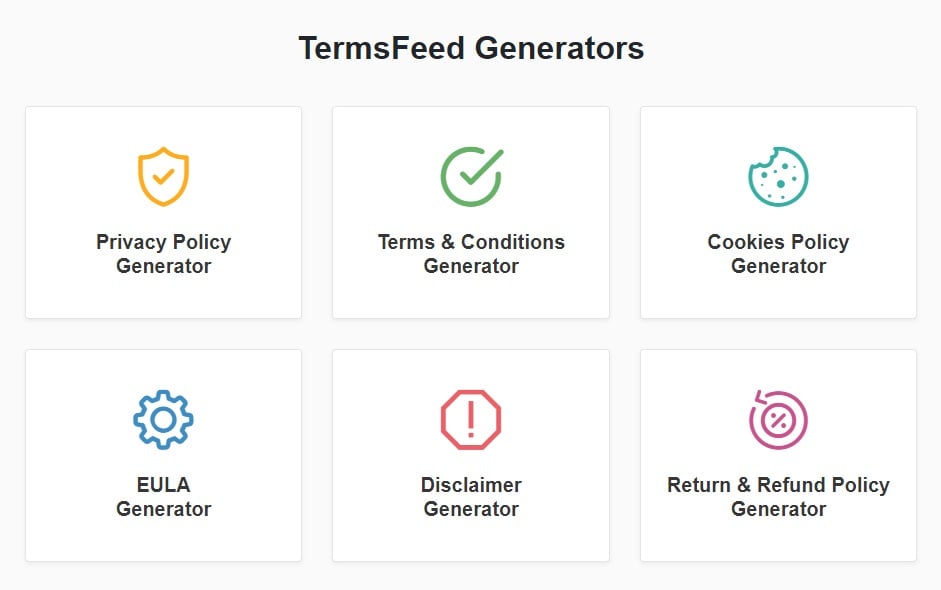 Advertising Legal Regulations and Social Media Influencers
When operating online, you often have to meet the requirements of several different jurisdictions. In addition to obeying the law in the country in which your company is based, you must understand the advertising rules that protect your customers where they live.
For example, if a company based in the U.S. wants to market its mobile app to consumers in Canada and the UK, the company must obey three sets of rules.
Let's take a brief look at how advertising law is developing in some important markets worldwide.
United States
The FTC Act (available here) is the most important law for businesses wishing to advertise to U.S. consumers. It empowers the Federal Trade Commission (FTC) to set and enforce rules around all forms of marketing, including the use of social media influencers.
Other regulators work alongside the FTC to enforce industry-specific laws. For example, the Food and Drug Administration (FDA) enforces rules around advertising of foods, cosmetics, and pharmaceutical products.
The FTC has stepped up its enforcement efforts in this area recently and has brought scores of cases against social media influencers and endorsers over the past two years.
In February 2020, the FTC began strengthening and formalizing its powers, stating that "misinformation is plaguing the digital economy" and warning that it will take "take bold steps to safeguard our digital economy from lies, distortions, and disinformation."
Canada
Canada's main advertising law is the Competition Act (available here), which is enforced by the Competition Bureau. In late 2019, the Competition Bureau launched a campaign targeting nearly 100 businesses using social influencers to ensure compliance with the Competition Act.
The Competition Bureau can impose significant penalties on those that violate the Competition Act, namely:
For a first offense:

Individuals: Up to $750,000 (approximately 566,000 USD)
Corporations: Up to $10 million (approximately 7.5 million USD)

For subsequent offenses:

Individuals: Up to $10 million
Corporations: Up to $15 million (approximately 11.3 million USD)
United Kingdom
In the UK, three public bodies regulate most marketing activities:
The Advertising Standards Authority (ASA), which enforces advertising rules
The Committee of Advertising Practice (CAP), which produces codes of practice for marketing
The Competition and Markets Authority (CMA), which regulates trading practices
In recent years, these organizations have made significant efforts to raise awareness of the rules around using social media influencers. For example, in early 2019, the CMA secured undertakings from 16 high-profile celebrities to improve their social media marketing practices.
Legal Checklist for Advertisers

Considering the enforcement actions of regulators in all major markets, the lesson is clear: Advertising regulations apply to all types of advertisements, including endorsements made by influencers.
Our checklist combines the advice given by market regulators worldwide. It will help you stay on the right side of the law when using social media influencers to promote your business.
Although advertising rules vary between jurisdictions, certain practices are mandatory across practically all of them. Other actions are simply good practice and common sense, and they will help ensure that your business is operating in an honest and transparent way.
At every step, remember that your business is at least jointly responsible for the messages it solicits from social media influencers.
Understand When You're Advertising
You aren't responsible for what everyone says about your company. Hopefully, there are plenty of people who will recommend your company purely because they are happy customers.
But there's a difference between a person who freely chooses to endorse your brand and a person whose endorsement your company solicits (whether you ask for it explicitly or through implication, e.g. by sending them a free product).
The key distinction here is the "material connection." The concept of a material connection is common to many jurisdictions, but the FTC Act provides a helpful definition:

According to this definition, is a link between your business and an influencer might qualify as a "material connection" if:
It could affect the credibility of their endorsement. For example, by making it more likely that they will say good things about your company.
The audience would not reasonably expect it. For example, because it is not clear that the influencer has a connection to your company or that they have received something in exchange for their endorsement.
Many things can create a material connection, for example:
Payment
Free goods and services
Discounts
Eligibility for prizes
Charitable donations
Employment or offers of employment
If you give or lend your product or service to a person, their endorsement of your company will qualify as a material connection. At this point, you will be engaging in advertising and, therefore, covered by advertising regulations.
If you have a material connection to an influencer, you must ensure that they disclose this.
Remember that this advertising model can take many forms, across many platforms, including:
Twitter
Instagram
Facebook
Snapchat
LinkedIn
YouTube
Vimeo
TikTok
Personal or corporate blogs
Review websites or channels
Affiliate marketing websites
Ensure Disclosures are Clear and Prominent

One reason influencer endorsements can be so powerful is that they are not always easily identifiable as ads.
In fact, research into influencer advertising by polling company Ipsos Mori suggests that less than one-third of UK consumers felt confident in identifying influencer endorsements as ads.
All advertisers must clearly label any potentially ambiguous ads. To avoid accusations of deceptive or misleading advertising, you must ensure that influencers clearly disclose their material connection to your company.
There aren't many clear rules about what form a disclosure must take. However, regulators in most jurisdictions suggest several key principles.
Disclosures must be clear and unambiguous. For example:
Hashtags such as "#ambassador," "#thanks[company name]," or "#gift" are not sufficiently clear. Wording such as "Thanks to [company name]" is also likely to be unacceptable.
Hashtags such as #advertisement, #sponsored, or even simply #ad are likely to be acceptable in most contexts. Wording such as "Thanks to [company name] for the sponsorship/free product" may also be acceptable.
Disclosures must be prominent. For example:
A disclosure should appear within the post itself. Providing a link to another page containing the disclosure would not normally be acceptable, even if the link reads "Disclaimer."
A disclosure should usually appear toward the beginning of a social media post. It is better to begin a post with "Ad:" than to place a disclosure in the middle or at the end of the post.
Consider the context in which the influencer is making a disclosure. If an endorsement takes place via video, the disclosure should be made within the video itself rather than (solely) in the description.
Here's an example from Twitter user @blushingnoir, who discloses a material connection to cosmetics company Biore: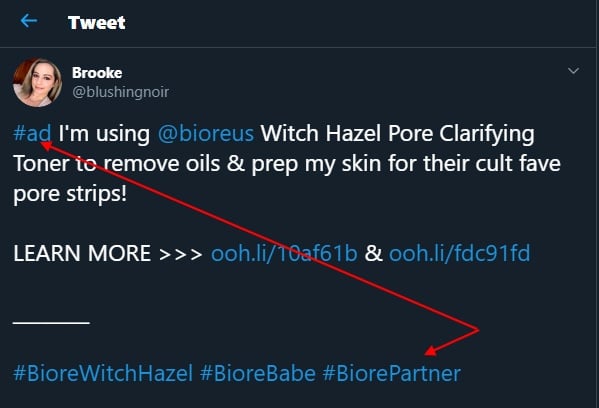 Note that there are several disclosures here: #ad, #BiorePartner, and #BioreBabe. The latter two would probably be too ambiguous in isolation.
Ensure Endorsements are Honest
Remember that making knowingly false claims in advertisements is forbidden in most countries.
It seems obvious that your company cannot make false claims about the performance or effectiveness of its own products. However, many companies don't realize that the exact same obligations extend influencers.
False claims made by influencers can take several forms. For example:
Outright falsehoods. Claims such as "this product cures eczema" are open to challenge by regulators such as the FDA (in the US).
Unrepresentative testimonials. An influencer's account of their subjective experience, even if it is true, may not be a fair representation of the effectiveness of your product or service (e.g. "this product cured my eczema," "I lost 20 pounds on this diet").
Unsubstantiated claims. An endorser cannot vouch for the effectiveness of your product or services if they have no actual experience using it.
You should take steps to ensure that influencers are not making false or misleading claims.
Many companies distribute their products for free in order to solicit reviews. You should ensure that the reviewer can provide an honest, good-faith assessment of your product. And remember that the reviewer must still make a disclosure, even if their review is critical of your product.
Create a Social Media Policy

We've looked at the things that influencers must and must not do when endorsing your product. Your business may be jointly liable for the claims that influencers make on its behalf.
But how can you influence your influencers?
Creating a Social Media Policy is a great way to demonstrate to regulators that you have taken reasonable steps to ensure that influencers are promoting your business in a legally-compliant way.
Your Social Media Policy should provide all the information that influencers need to make a lawful disclosure to consumers in your target market. You should ensure that influencers have read and understood your Social Media Policy before endorsing your product.
Below is an overview of some key elements you should include in your Social Media Policy.
For a more detailed look, see our article Why You Need a Social Media Policy.
Make Influencers Aware of Their Legal Obligations
Influencers must understand the legal requirements that apply to their work promoting your brand.
Many advertising regulators, including the FTC (in the US), the Competition Bureau (in Canada), and the ASA (in the UK) provide market-specific guidance for businesses and influencers engaging in social media marketing.
You should provide influencers with links to the relevant regulatory guidance to help ensure they are aware of their legal responsibilities.
Here's how Nordstrom does this in its Guidelines for Endorsers Policy: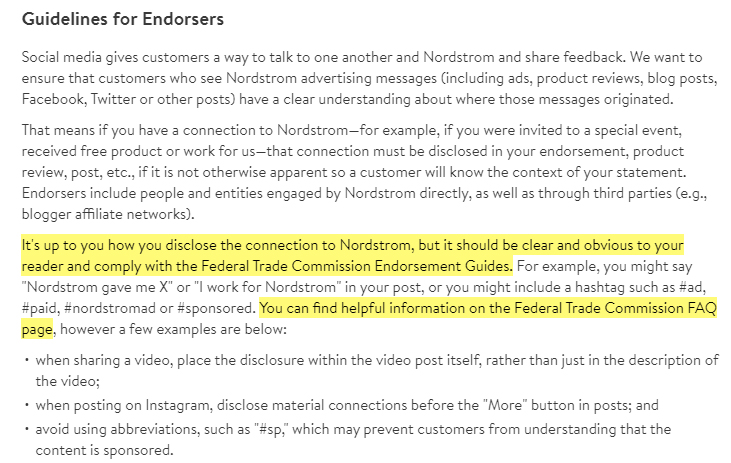 Provide Clear Disclosure Guidelines
You should clearly explain what you expect from influencers. Base your guidelines on the advice of advertising regulators, and be specific.
It's particularly important to make influencers aware of the requirements around disclosures. It's best to be very clear about what text is acceptable, and where to place disclosures.
Here's an example from video game company Nexon:

Nexon provides helpful instructions about how influencers should disclose their material connections to the company across various channels.
Encourage Honesty
As explored above, it's crucial that influencers do not make any false, misleading, or unsubstantiated claims about your company. Your Social Media Policy should make this clear.
Here's the relevant part of Fitbit's Social Media Policy: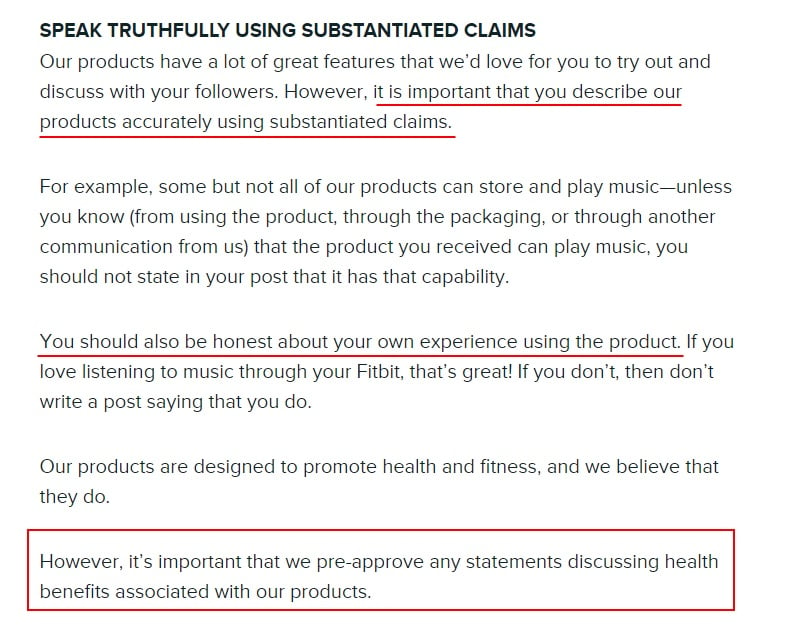 Note the text in the red box: influencers must seek approval for any health claims they make regarding Fitbit's products. Given the strict rules around advertising consumer health products, this is a sensible policy.
Summary of Legal Checklist for Businesses Using Social Media Influencers
Running an ad campaign using social media influencers could represent a great opportunity to promote your business. But you must ensure that you obey the rules.
To prepare for your influencer ad campaign:
Understand when you're advertising:

Learn the rules around "material connections."
If anyone endorsing your company has a material connection to it, they must disclose this.

Ensure disclosures are clear:

Influencers should use clear and unambiguous language to disclose their material connection to your company.
Disclosures must be prominent and generally appear at the beginning of an endorsement.

Ensure endorsements are honest:

Understand the regulatory requirements that apply when promoting your products or services.
Make sure influencers only make true, representative statements based on their own experiences.

Create a Social Media Policy:

Make influencers aware of their legal obligations.
Provide clear disclosure guidelines.
Encourage honesty.