As an entrepreneur, executive, or marketer you know that getting your brand's name out there is essential. You also understand that it's important to build trust with potential customers. One way to do both things is by using testimonials on your website.
Testimonials can be highly effective in helping potential customers decide whether or not to do business with you. They're a form of social proof. If all these other people are doing business with you, as exemplified by your testimonials, shouldn't potential customers work with you too?
The thing is, while testimonials and endorsements can be powerful marketing tools, it's vital to handle them correctly. Disclaimers are a necessary part of using testimonials, and they help protect your company from potential legal issues.
In this article, we'll talk about the legal considerations that you need to take into account and how to stay compliant with current regulations by ensuring your website has a testimonial disclaimer.
Our Disclaimer Generator can generate a legal disclaimer for your business, website or mobile app. Just follow these steps:
At Step 1, select where your Disclaimer will be used.

At Step 2, add in information about your website/app and business.

Answer some questions about your business practices.

Enter an email address where you'd like to receive your Disclaimer and click "Generate."

Done! You'll be able to instantly access and download your new Disclaimer.
What is a Testimonial Disclaimer?
A testimonial disclaimer is a statement that allows you to use testimonials on your website without violating FTC guidelines. Testimonial disclaimers generally state that results vary, and the testimonial is not typical of other clients' experiences.
It should also make clear that the testimonials on your website are not a promise, guarantee, or representation of user sentiments in general.
Here's an example: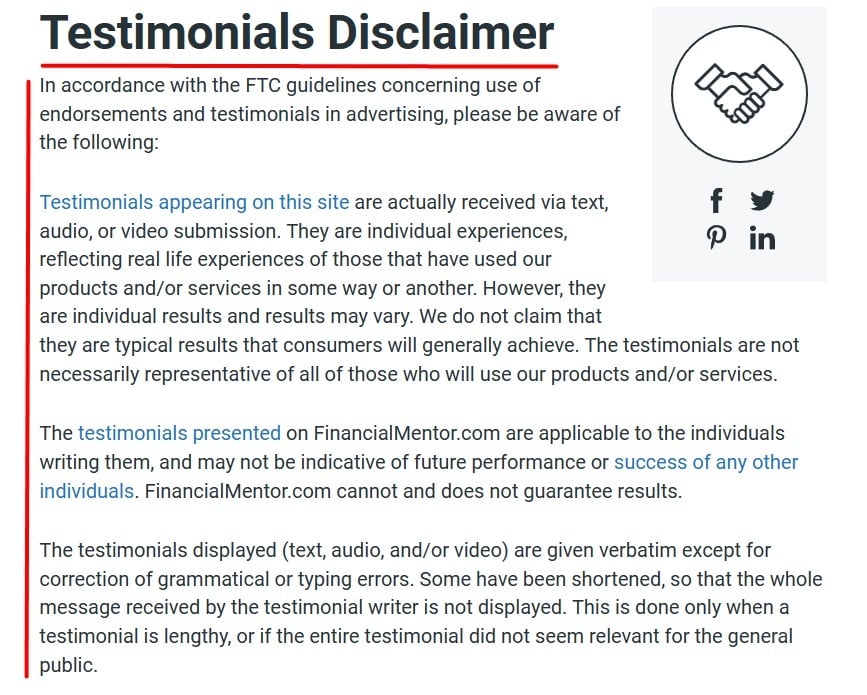 While testimonial disclaimers may seem like an unnecessary precaution, they are essential for protecting your business from potential legal issues. By including a disclaimer on your website and within your terms and conditions, you can ensure that users understand that the experiences they read about may not be what they should personally expect.
Finally, a testimonial disclaimer should include a statement about any testimonials or endorsements you may have paid for. Transparency is a must here.
Do You Really Need a Testimonial Disclaimer?
We already touched on this, but let's delve a bit deeper into the subject. As previously noted, testimonial disclaimers are vital in protecting your website or app from legal trouble.
Testimonial disclaimers are a legal requirement in many countries. We'll get into some specifics from several of them in a moment, but here's a quick example of some laws that require testimonial disclaimers (some of which are discussed in further detail below):
Typical situations in which you're required to have a testimonial disclaimer include the following:
Your services or products are reviewed or endorsed on your website or app
You pay individuals for reviews or testimonials
You pay individuals to suggest or endorse your service, product, or business on social media platforms
In return for a review, you provide someone with a complimentary service or product
If there is a connection between you and the individual giving the endorsement that a regular customer would be interested in knowing about
With that said, even if your country doesn't have specific laws that require you to use a testimonial disclaimer, it's still a good idea to use one.
A quick caveat here:
You should always be extra careful and disclose any free products or services you provide in exchange for a review. That said, if you gave out many products to people without expecting anything in return, then one person writing a review after receiving the product does not necessitate disclosure.
Specific Laws on Testimonial Disclaimers

Many countries have specific laws covering the use of testimonials, reviews, and endorsements. As promised, we're going to talk about some specifics so you can be sure your business complies regardless of your business's physical location.
California Online Privacy Protection Act
You may or may not know about California's Online Privacy Protection Act (CalOPPA). The law, which went into effect on July 1, 2004, requires businesses to have a Privacy Policy and get customers' consent before collecting or sharing personal information.
The legislation regulates how personally identifiable information (PII) can be collected and published on websites and applications. PII includes names, email addresses, mailing addresses, etc.
For our purposes here, keep in mind that many people include that kind of information when writing testimonials for businesses. Therefore, if you gather or publish any of that kind of information when collecting testimonials, you must disclose that fact in your Privacy Policy.
It's a good idea to mention it when crafting your testimonial disclaimer as well.
Fair Trade Commission Act
The Fair Trade Commission Act is a federal law put into place to protect consumers from unfair and deceptive trade practices. The FTC Act forbids businesses from engaging in any false or misleading advertising and any other unfair or deceptive business practices.
The FTC is clear in its regulations for testimonial disclaimers, but the definition of what must be disclosed and how this information should be conveyed can be murky. As a business owner, it's crucial to stay up-to-date on these guidelines to avoid potential penalties.
Thankfully, we've done the hard bit, so you don't have to. Keep in mind the following, and you'll be fine.
Here are some easy steps to stay compliant with the Fair Trade Commission Act:
The disclosure should be placed as near as possible to the claim being made on your website
It's best not to demand that the user scroll in order to find the disclosure
It's permitted to link to a disclosure. However, the link needs to be close to the claim, obvious, and take consumers straight to the disclosure.
The disclosure should be straightforward and noticeable no matter what device your customer or client is viewing it on
If the testimonial is made on video, the disclosure has to appear on the screen and stay long enough that users can read it
Place the disclosure so that it shows up before the customer or client clicks over to the shopping cart
The disclosure should be obvious, which means it can't be in a lighter color or smaller font than the rest of the page
The disclosure should be in easily understood language for most readers
Repeat the disclosure throughout your site so users can easily find it
You shouldn't hide the disclosure in your Terms and Conditions agreement. Instead, you should place it separately in a Disclaimer section on your website.
Incorporating an audio disclosure will help make sure that every user can access it
If your employee creates an endorsement, you need to disclose that the person is, in fact, an employee. The same holds for anyone with a vested interest in your company, including shareholders.
If someone gives a review of your product in exchange for a free copy, you need to disclose the fact within the testimonial or review
If compensation of any kind is provided in exchange for social media shares or reviews, this must be disclosed
Reviews and social media shares given in exchange for discounts need to be clearly marked as ads (#ad is the common way to handle this)
Remember that it's your responsibility to ensure that all communications regarding your product or service, whether it be on your site or on someone else's blog, comply with FTC guidelines
Here's an example: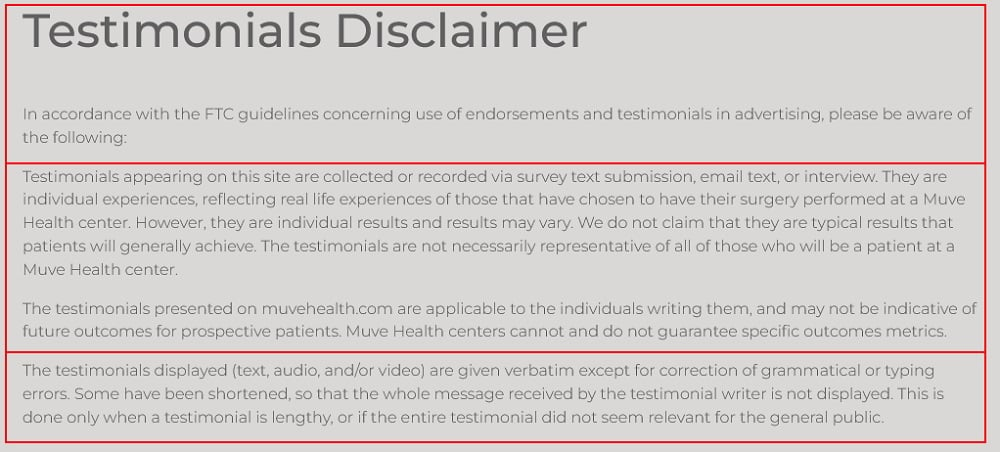 Best practices include following up with bloggers and making sure they are disclosing any free products or services given in exchange for a review. Failing to do so might result in substantial penalties from the FTC.
If all of that sounds like a nuisance, remember that adding an appropriate disclaimer to your website or application is one of the easiest and most effective ways to protect yourself from FTC scrutiny.
United States Copyright Act
The United States Copyright Act law governs how copyrighted material can be used and protects the owners of that material. In order to comply with the act, you need to understand what constitutes copyright infringement, and take steps to avoid it.
Here's what you should know.
When a customer or client submits a testimonial to your website concerning your business, that testimonial could be considered a "literary creation." Because of that, you need to obtain permission to publish it.
First, you need to be transparent by providing a testimonial disclaimer, but then you also need to gain consent to publish by using a method like clickwrap, where the person leaving the testimonial must actively tick a box that says they consent to their testimonial being published.
Consumer Protection From Unfair Trading Regulations Act (UK)
The UK's Consumer Protection from Unfair Trading Regulations Act is equivalent in many regards to the FTC Act in the United States. It provides protection for consumers in the United Kingdom against unfair trading practices.
The act includes deceptive and misleading actions by traders, such as false claims about products or services, withholding information, and aggressive sales tactics.
This law is relevant because some businesses deceptively use testimonials without disclaimers in place. Thus, these companies' users are led to believe that the information and results shown in the testimonials they see are typical of those using a product or service, even when that may be the farthest thing from the truth.
Additionally, without a disclaimer, the customer has no way of knowing if the company bought the review or provided some other kind of reward or compensation in exchange for the testimonial on its website.
To be safe and ensure compliance, businesses should be as transparent as possible by employing a well-written testimonial disclaimer.
Guidelines for Writing Your Testimonial Disclaimer

Below, we'll get into some guidelines you should follow when crafting your testimonial disclaimer. Just take into account that you need to place your disclaimer in a conspicuous location that is easy to find.
Additionally, you should write it in clear, straightforward language without a lot of technical, hard-to-understand legal terms.
Testimonials From Paid Actors
If you use paid actors to present testimonials in any way, you must have a disclaimer. The use of a disclaimer is essential in such cases to ensure that the testimonial video does not come across as fake or misleading.
Keep in mind that the FTC has been clear in its stance against fake testimonials, and companies should be aware of the hazards involved in using them. You should adequately train staff on what is allowed and what is not regarding customer testimonials. Any marketing materials that include reviews or endorsements must be truthful and accurate.
Paid actors can still provide great testimonials, but it's crucial to ensure your customers know that they are not actual customers, even if they're presenting an accurate testimonial. By using a disclaimer, you can avoid any confusion and ensure that your testimonial videos provide the most accurate representation of your product possible.
Images and Videos as Testimonials
The FTC's updated Endorsement Guides states that a "material connection" must be disclosed between the endorser and the promoted product.
This means that if you post a video or photo of yourself using a product, such as on a social media platform such as Instagram, you must disclose your relationship to the company to avoid misleading consumers.
It is important to remember that this disclosure applies to celebrities or people with large followings as well as to everyday consumers who may promote products through their social media channels.
Testimonial Disclaimer Examples

The following testimonial disclaimer comes from a course produced by one of the top affiliate marketers in America, Pat Flynn. Notice how he ensures potential customers know that testimonials are not a guarantee that they will obtain the same results he does:
Another testimonial disclaimer from Weight Watchers covers both Weight Watchers itself and those submitting testimonials. The company places its testimonial disclaimer immediately below its "before and after" images of weight loss customers, and another within its subscription agreement.
Note the disclaimer highlighted in red below: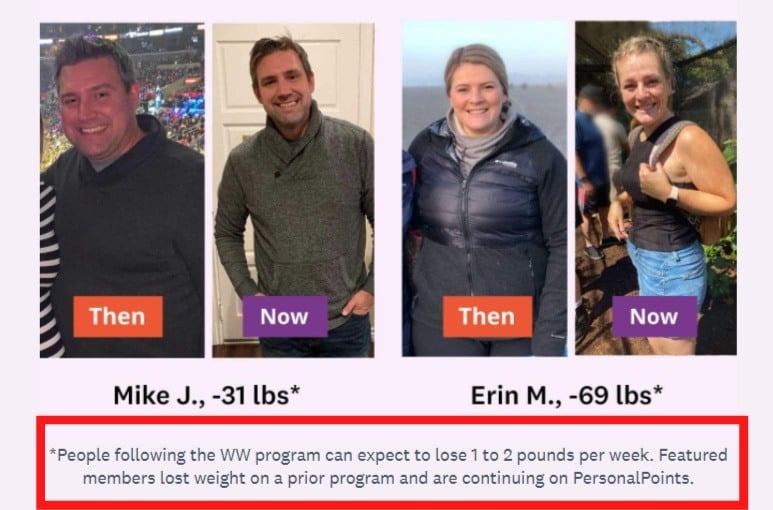 Notice how Weight Watchers' disclaimer in its subscription agreement outlines the company's expectations when customers wish to provide a testimonial:

The following example comes from Peloton. Its language is even more strict than Weight Watchers':

And here's one more example: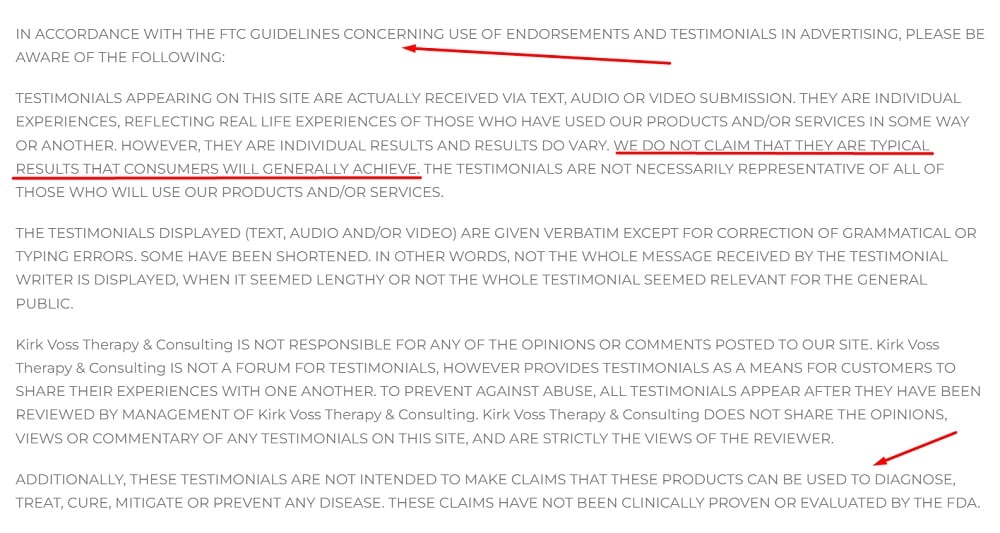 Conclusion
Testimonials and recommendations from clients are powerful marketing tools but should be used with caution. By ensuring that your testimonials are accurate and honest and utilizing a clear and transparent testimonials disclaimer, you can use customer feedback to boost your business's credibility and attract more customers.
Just make sure you follow all relevant laws and regulations, and strive for full transparency with your customers.
Download Testimonial Disclaimer Sample
Our Sample Testimonial Disclaimer Sample will be available soon.
More Disclaimer Templates
More specific Disclaimer Templates are available on our blog.