German-speaking countries such as Germany, Austria, and Switzerland legally require an Impressum to be included in any digital or print publications. For online business owners, an Impressum is a legal statement that divulges contact and copyright information to users.
In this article we will explore what an impressum is, what exactly the law is, who it applies to, and how to comply with it by having an impressum.
What is an Impressum?
An "Impressum" is a summary of the contact information and information related to copyrights of a business. It's a legally mandated statement for websites, books, newspapers, and other publications that explains ownership and authorship.
The etymology of the word impressum comes from the Latin impressus, translating roughly to the English word impress. The concept of an Impressum can be compared to contact information shared on an "About Us" page on a business website in an English-speaking country, and is often referred to as an imprint.
The law requiring an Impressum was created to ensure that consumers have easy access to a company's data. This transparency is designed to reduce scams and protect data.
Germany is best known for requiring an Impressum, although Switzerland and Austria have similar laws.
In the Telemedia Act of 2007, new rules addressed contact information for telemedia services, spam limitations, liability for illegal content, and data protection. "Telemedia" is a broad legal term that covers electronic information and communication services.
Generally, an Impressum contains the following information:
Name of the website owner, which is usually a business or organization
Physical address of the website owner
Contact information including a telephone number, fax number, and email address
Name of the individual owner or manager of the website
Any registration and license numbers, including VAT
Who Needs to Display an Impressum?

According to the German Telemedia Act, any business with a ".de" domain name (one of the most popular registered country code domain names in the world) needs to make sure that it has an Impressum on its website.
In the U.S., privacy laws generally require businesses to include a Privacy Policy and information about any data they collect.
A big difference between U.S. privacy and data protection laws and the German Telemedia Act is that the U.S. laws apply to businesses that sell products or services, while the German laws apply to everyone, regardless of whether they sell products or services through their websites or not.
Many companies who do not have a .de domain name still choose to include an Impressum within their websites, particularly if they do business with German-speaking countries.
In a digital world where what's local often becomes what's global, it's not a bad idea to include an Impressum on your .com site, or even as a part of your social media accounts.
If you wish to incorporate an Impressum as a part of your website, you will want to make sure that you include all of the required information, which we'll look at next.
What Information Should Be Included in an Impressum?

An Impressum should include, at a bare minimum, your business contact and copyright information. If your business has a large amount of intellectual property holdings, you can link to a list of those holdings instead of posting them all in the Impressum.
Information about dispute resolution, the Privacy Policy, and who is responsible for the content of the website, as well as a list of board members, is commonly included as well.
If you do have a .de domain, your Impressum should absolutely include the following information about your business:
The company name and legal designation (if applicable)
Address of the main headquarters
Phone number
Email address with contact form link
Website homepage with link
Registry court (if applicable)
Register number (if applicable)
First and last name of an authorized representative of the company
VAT identification number (if applicable)
If your business provides journalistic content, then you will want to include the editors' names and addresses. If your business requires licensure, then you need to include the addresses, phone numbers, and websites of the licensing authorities.
If you are a doctor, lawyer, or other professional whose business depends on membership within an association, your Impressum should include the association's phone number, address, and website. If you sell products or services, you will need to include a link to the EU online dispute settlement platform.
Südwestdeutsche Medienholding GmbH, a German media company, shares its contact info in its Impressum, in addition to the company's copyright and image rights information and a link to the EU's online dispute resolution platform: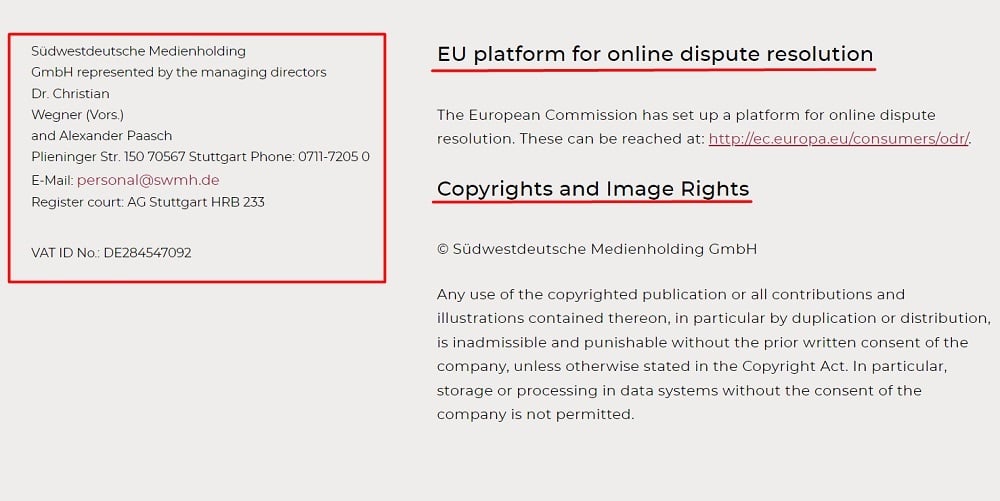 BMW includes its address, link to a contact form, phone number, names of its board members, register court information and identification number, VAT identification number, and email in the Impressum section of its website: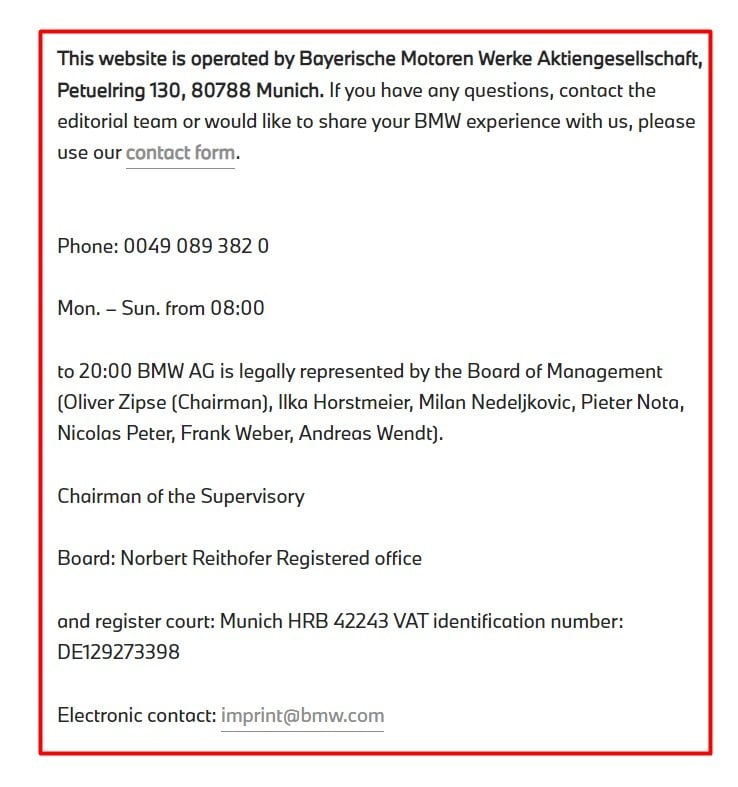 Hermes provides its contact info, the names of its Managing Directors, its Register Court and Registration number, its VAT ID number, a legal disclaimer, and a link to the EU online dispute resolution platform.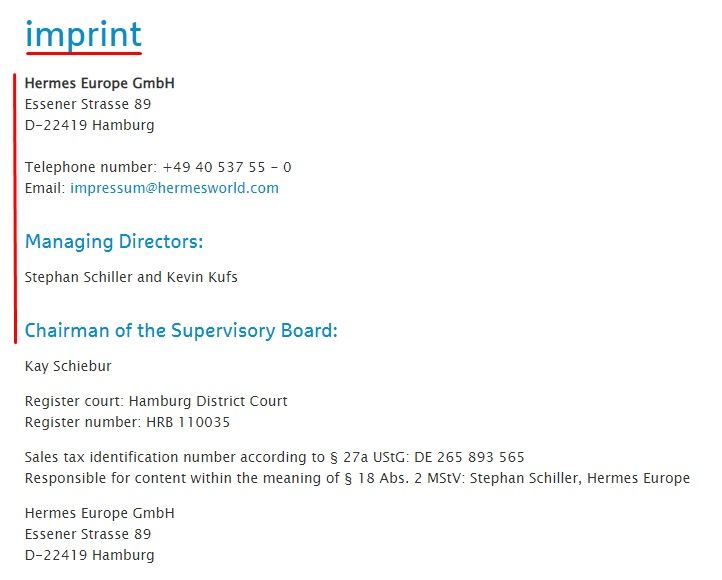 Now that you have a better idea of what needs to go into an Impressum, let's go a bit deeper into the requirements that apply to them.
How to Comply with Impressum Requirements

To stay in compliance, follow these simple tips:
Create a link to your Impressum that's accessible from anywhere on your website (such as the website footer).
Title the link "Impressum," "Imprint,' or "Legal Disclosure" to circumvent confusion. You want to make sure that the title of your link clearly tells visitors what they can expect to find if they click on it. Using vague titles that make it difficult to find the information can be viewed as intentionally obfuscating.
Keep your website updated and check periodically to confirm that the Impressum information is readily accessible and accurate.
Don't use pop-up windows or drop-down boxes to present your Impressum. It should be in a permanent place, accessible at any time, as noted above.
Double check that the Impressum can be accessed from multiple devices, including laptops, desktops, and smartphones.
Covering all your bases with an Impressum ensures that you won't be subject to written warnings or fines, and shows your users that you care about providing transparency as well as maintaining clear channels of communication.
Differences Between Impressum and Privacy Policies

An Impressum is a list of information about your business.
A Privacy Policy is a very important document that explains how and why your business collects, uses, and shares personal information.
Only Germany, Austria, and Switzerland require an Impressum by law.
However, you need a Privacy Policy pretty much wherever your company is based, according to global privacy laws.
Our Privacy Policy Generator makes it easy to create a Privacy Policy for your business. Just follow these steps:
At Step 1, select the Website option or App option or both.

Answer some questions about your website or app.

Answer some questions about your business.

Enter the email address where you'd like the Privacy Policy delivered and click "Generate."

You'll be able to instantly access and download your new Privacy Policy.
For example, if your business serves customers in California, the California Online Privacy Protection Act (CalOPPA) requires you to create a Privacy Policy. If you have customers in the UK or the EU, you must comply with the General Data Protection Regulation (GDPR).
A Privacy Policy requires some of the same sorts of information as an Impressum, such as your company's name and contact details. However, it's a much more extensive document than an Impressum.
Examples of Impressums

Let's take a look at some additional Impressums.
YouTube's German website has an "imprint" that includes all of the required information in a simple, easy-to-read format: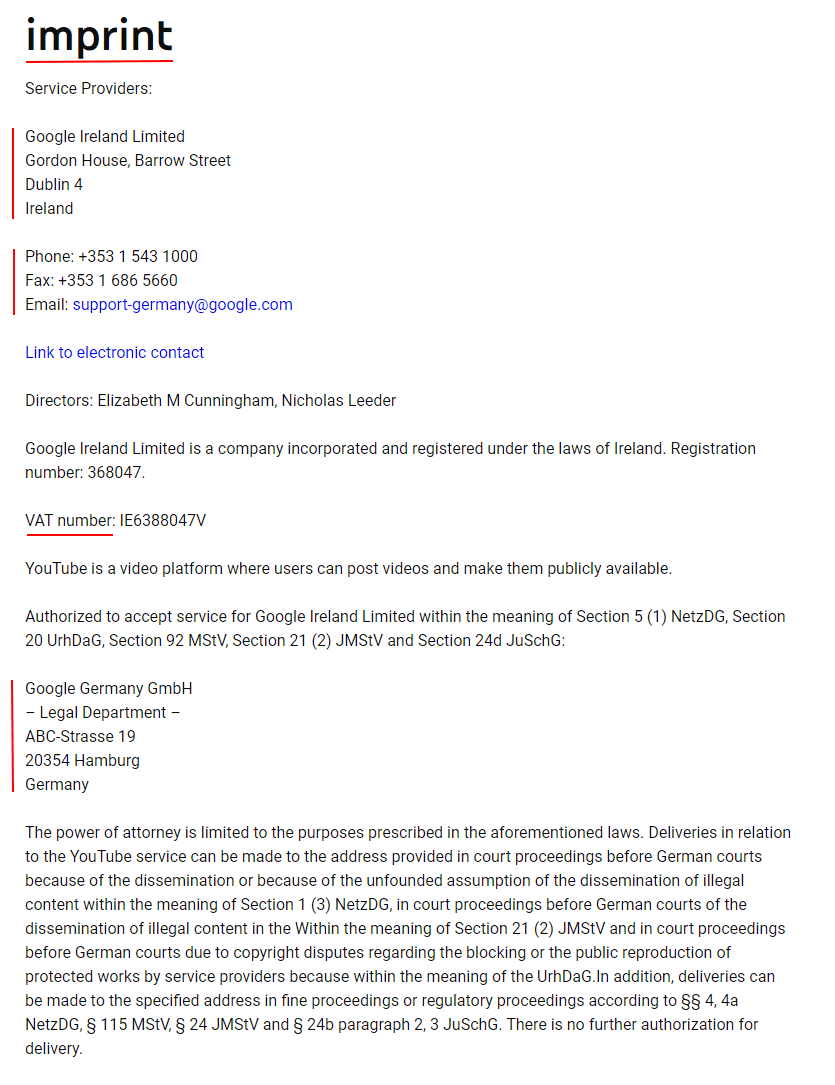 Audi displays its impressum in a similarly simple way: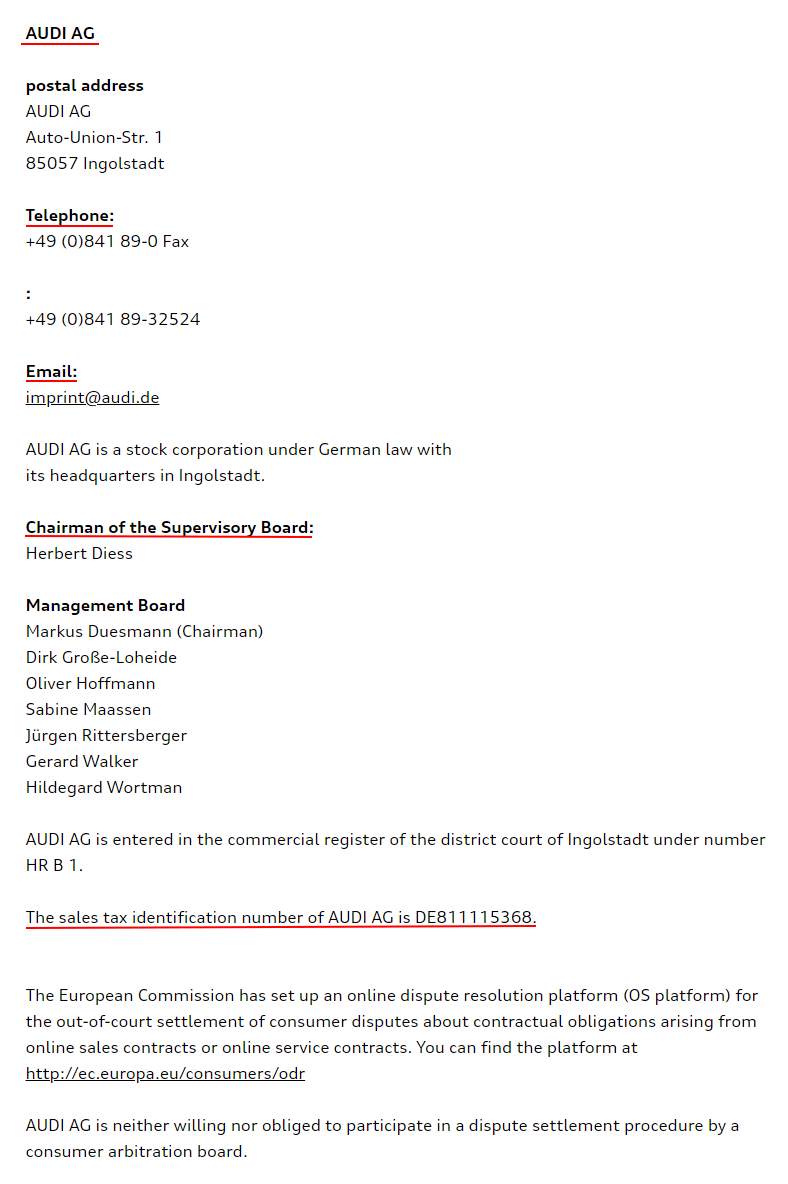 Amazon's German site presents this information in a paragraph form, which makes it slightly less easy to read. But the required information is all here, so this is a fine way to create yours if you prefer the style.
Here's an excerpt: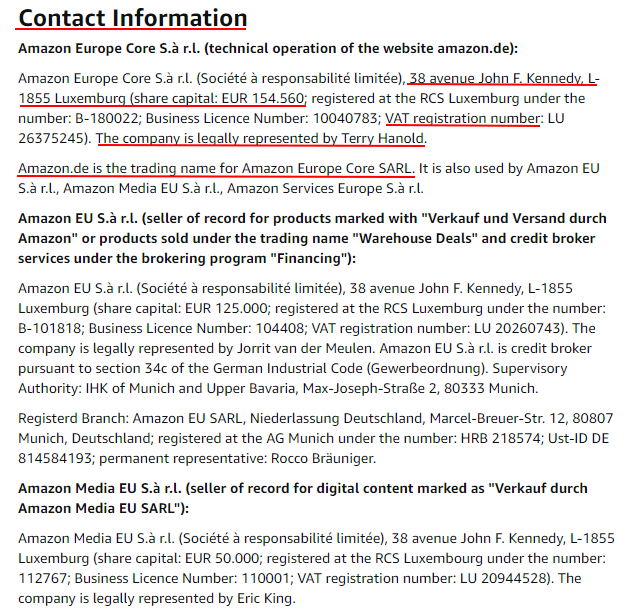 As you can see, most Impressums look generally the same, and the important part is that you include all of the information that you're required to include. Formatting and style is usually done in a way that's easy to read, but you can also do more of a paragraph format if that's your preference.
FAQ: Impressum
Here is a list of frequently asked questions that you may find useful.
Penalties for Non-Compliance
If your company is found to be in violation of Impressum regulations, you may be subject to written warnings and fines. In order to avoid penalties, it's wise to make sure that your Impressum is easily discoverable on both your website and social media accounts.
Impressum for Facebook

Does Facebook Require Me to Add an Impressum?
Facebook's Pages, Groups and Events Policies require Page Admins to obey all applicable laws:

So, if you operate in Germany, Austria, or Switzerland, where an Impressum is a legal requirement, Facebook does require you to have an Impressum.
If you don't operate in these countries, Facebook does not require you to have an Impressum.
What to Include in Your Facebook Page Impressum

A German law known as the Telemedia Act (English version available here) sets out the requirements for what must be included in an Impressum.
Name of the business owner
Registered address of the business
Contact details, including an email address
Registration details, including the name of the register and the registration number
If the business is part of a regulated profession, details of the relevant chamber, designation, and professional rules
VAT ID number or business ID number, if applicable
Impressum Examples for Facebook

Let's take a look at some examples.
To find Audi's Facebook Page Impressum, you have to click the About link on the navigation menu:
Here's where you can find the impressum with all the standard company information: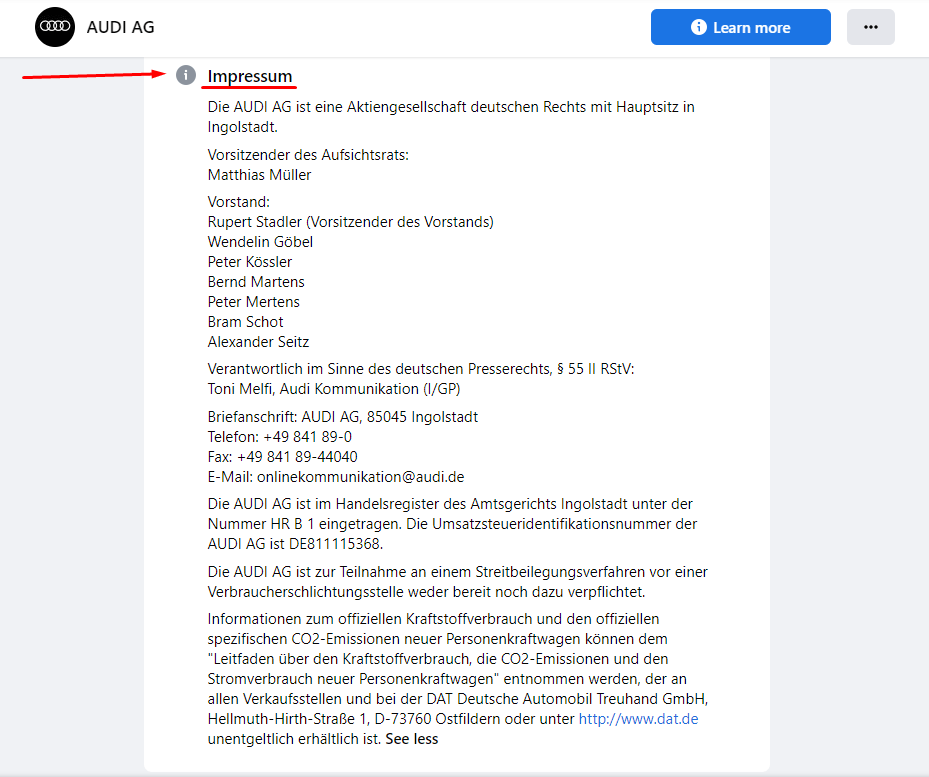 And here's an example from Deutsche Telekom. You can see the impressum is linked to the main website instead of having the actual text added to the page: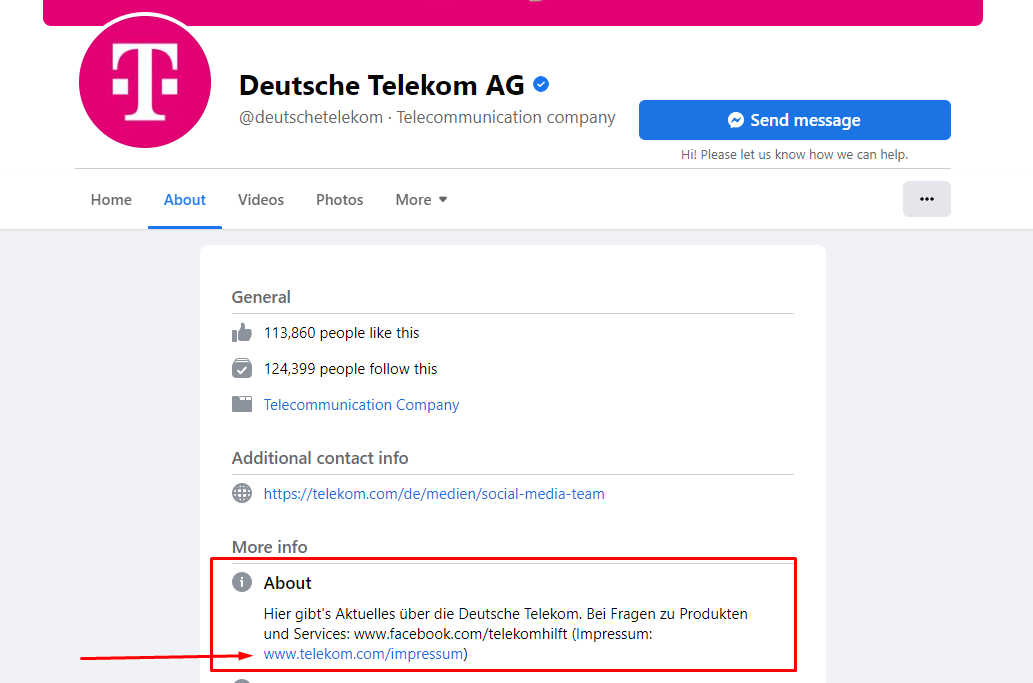 Bosch's Facebook page contains a link to its Impressum within the Impressum section. Using a link instead of adding the actual text to this section is a suitable choice: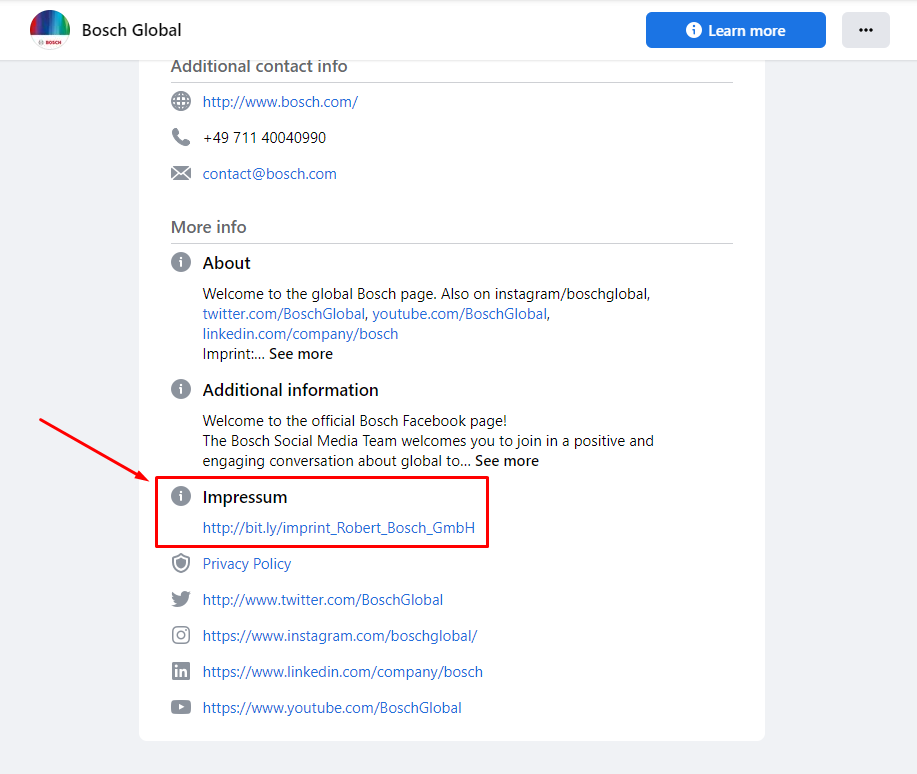 The Impressum itself is hosted on Bosch's website. Here's an excerpt from Bosch's Impressum: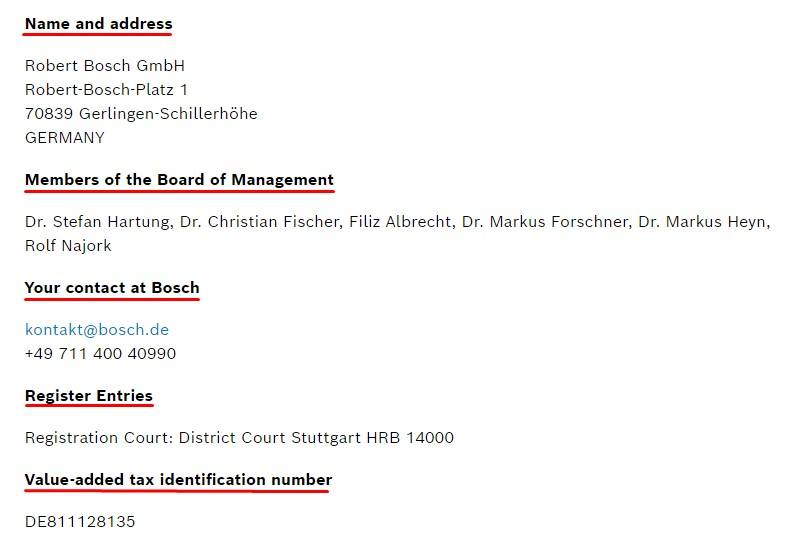 If your impressum has a lot of information, linking your Facebook page to a separate Impressum is a good idea for readability.
How to Create an Impressum for Facebook

Creating an Impressum for your Facebook Page is a straightforward process:
Log in to your Facebook account and go to Pages.
In the Manage Pages and Profiles menu, choose Edit Page Info:

Scroll down to the "More" section and enter your Impressum information in the "Impressum" field:

Changes are saved automatically. You can view your Impressum from the About section of your Page.
When creating an Impressum for your Facebook page, you can include the following information about your business:
Name
Address
Phone number
Fax number if applicable
Email address
Names of the owners and/or managers of the company
Any associated identification or registration numbers
Links to your main website
Copyright information
Link to your Privacy Policy
Link to conflict resolution platform if applicable
The "About" section of Deutsche Bank's Facebook page contains a link to its main website, a phone number, an email address, links to its various services, a link to its Privacy Policy, and a link to its Impressum: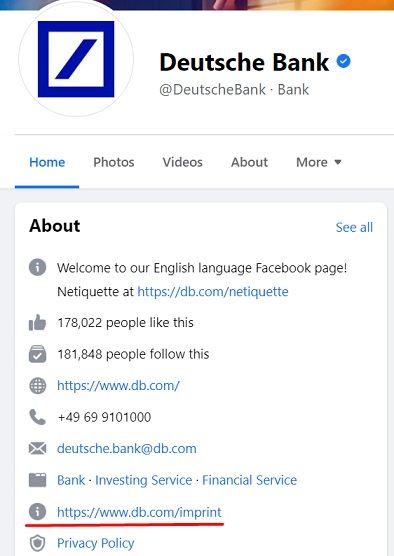 Clicking on the link takes you directly to the Impressum section of Deutsche Bank's main website.
As of the writing of this article, maintaining an Impressum as a part of your social media accounts is not legally required if you don't live in a German-speaking country, but it's a good idea to add one in order to stay ahead of ever changing global digital privacy laws.
Summary
An Impressum is a legal notice that is required by German-speaking countries including Germany, Austria, and Switzerland.
The German Telemedia Act is the law that requires the use of an Impressum for digital and print publications. Any website that ends in .de is expected to include an Impressum.
Many .com websites and social media accounts are now incorporating Impressums as an important part of their legal disclosures.
In order to stay compliant with Impressum law, your business can take the following steps:
Make sure to include contact and copyright info on your website
Keep a permanent link to your Impressum in your header, footer, or sidebar
Frequently update your website to ensure that links are functional
Create an Impressum for your business Facebook account
If you have a .de site, be sure to include links to the EU's conflict resolution site, as well as pertinent identifying numbers
Adding an Impressum to your website protects your business from potential written warnings and fines, and provides users with a convenient communication structure.

Comprehensive compliance starts with a Privacy Policy.
Comply with the law with our agreements, policies, and consent banners. Everything is included.