SaaS (software as a service) is a method companies use to provide consumers with easy access to digital products via the internet. Any business that uses SaaS apps needs to have appropriate legal policies in place to keep consumers informed of their rights and responsibilities when using its products or services.
Businesses that use SaaS apps should consider having a Refund Policy that is written to cover SaaS-specific material.
This article will take you through what a Refund Policy is, whether you are legally required to have a Refund Policy, and how to effectively write and display a SaaS app Refund Policy.
Use our Return & Refund Policy Generator to generate a Return and Refund Policy for your store. Just follow these steps:
At Step 1, select where your Return & Refund Policy will be used.

At Step 2, add information about your website/app and business.

Answer some questions about your business practices.

Enter an email address where you'd like to receive your Return and Refund Policy and click "Generate."

Done! You'll be able to instantly access and download your new Return and Refund Policy.
What is a Refund Policy?
A Refund Policy is a document that describes your refund process. It can be used to explain what items are refundable, how much of a refund customers can get, what kind of format the refund comes in, and when customers can expect to receive a refund, and can list any items that are nonrefundable.
A Refund Policy can also be used to inform customers about how to request a refund, as well as help to manage their expectations before they make a purchase through your SaaS app.
Are You Required to Have a Refund Policy?
While many stores that sell physical products are legally required to have a Refund Policy, that's not necessarily true for businesses that use SaaS apps. Most laws that require businesses to have Refund Policies don't apply to digital products.
SaaS apps and other digital products are not generally required to have a Refund Policy because SaaS app users aren't technically buying a product, but are rather receiving a license to use the software.
However, consumer protection laws are constantly evolving and may soon include digital content, so it's a good idea to be aware of state and global laws requiring businesses to maintain a Refund Policy.
Laws that Require a Refund Policy

There are several state and international laws that require certain businesses to make a Refund Policy accessible to their consumers.
U.S. State Laws
There are currently no U.S. federal laws requiring businesses to have Refund Policies, but there are several state laws that call for businesses to post their Refund Policy in their physical stores or on their websites.
For example, according to Section 1723 of California's Civil Code, businesses that don't offer a full refund, exchange, or credits for an item that is returned within 7 days of the purchase date must post their Refund Policy in their brick-and-mortar store or on their website: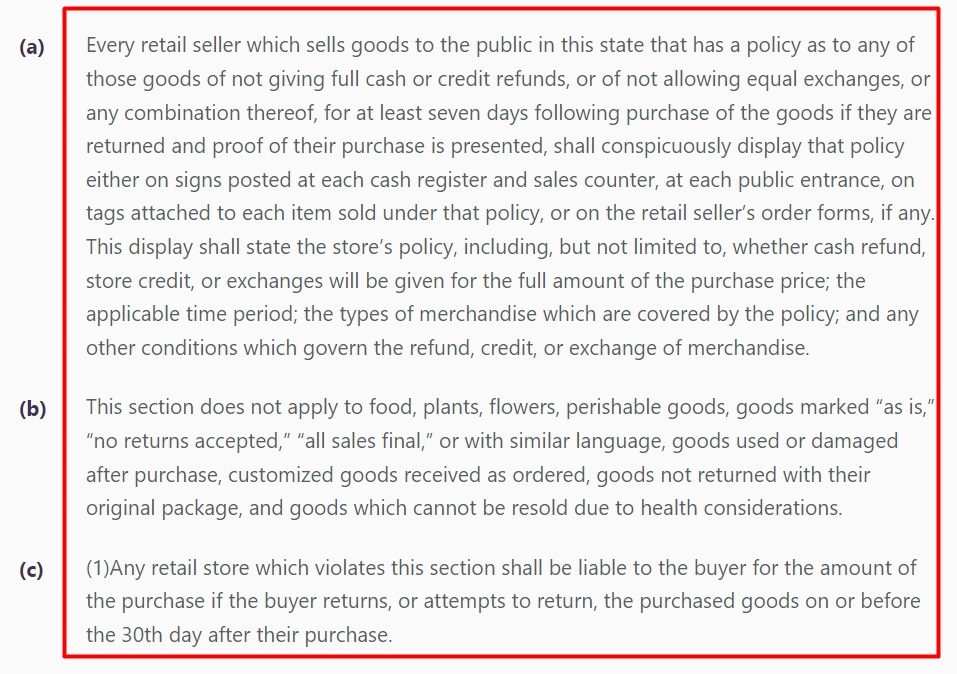 You should check the refund laws for the state where your business is located to make sure that you are in compliance with its requirements.
Global Laws
There are several global laws that companies need to be aware of when selling internationally. It's a good idea to research the regulations that might apply to you if you do business with other countries.
Australia
Australian Consumer Law requires businesses that sell goods or services to allow customers to request a refund, repair, or replacement for any defective items or for any items that don't match their description. It also requires businesses to pay for damages caused by defective items.
The Australian Competition and Consumer Commission (ACCC) helps businesses to comply with the ACL by supplying a poster they can use to inform customers of the circumstances in which they can request a refund:
The EU
The European Union's Consumer Rights Directive requires businesses to give customers a full refund within 14 days of the purchase date.
The Consumer Rights Directive does not require businesses to provide refunds for digital products, but it does require businesses to replace faulty products, and it allows consumers to cancel purchases of digital content if they haven't yet downloaded the content.
The European Commission's Key Facts on the New EU Consumer Rights Directive document explains consumers' right to cancel any digital content purchase before they download or stream the content:

Reasons Why You Should Have a SaaS App Refund Policy
While businesses that rely on a SaaS model may not be legally required to have a Refund Policy, there are several reasons why it's still a good idea to have a Saas-specific Refund Policy in place. Having a Refund Policy can help provide your business with the following benefits.
Helps You Comply With Potential Legal Obligations
Laws are continuously evolving, and having a Refund Policy in place can help you stay ahead of any new laws that are passed or any changes made to existing laws that may require businesses that provide digital products to have a Refund Policy.
Keeps Customers Informed
When you clearly communicate your policies to your customers you help to manage their expectations, which goes a long way toward generating customer loyalty.
Builds Trust With Users
When you let users know the circumstances in which you provide refunds, you help to build trust in your business and in your digital products. Customers like to know that the companies they buy from stand behind their products.
Having a Refund Policy explains the situations in which you offer refunds and your reasons for not providing refunds, which helps to build trust with your client base.
Helps You Respond to Customer Dissatisfaction
Refund requests can help you to troubleshoot particular areas of your product or service that are leading to customer dissatisfaction. When customers request a refund, you can ask them why they are making the request. You can then use that data to make changes to your products, services, or business model to enhance customer satisfaction.
How to Write a SaaS App Refund Policy

While some businesses include a Refund Policy as clauses within a Terms and Conditions agreement or as part of an End User License Agreement (EULA), creating a standalone Refund Policy aids in accessibility by making it easier for users to find.
Your SaaS app Refund Policy should include clauses that explain any refundable items, how to request a refund, when consumers can expect to receive a refund, what happens when an account is terminated, how you issue refunds, and information about free trial periods.
Refundable and Non-refundable Items
This clause describes which products are eligible for a refund, and can include a list of any situations when items are nonrefundable.
Adobe is a company that provides digital design software to its users. Adobe's Subscription and Cancellation Terms page lets users know that they can cancel their Creative Cloud, Document Cloud, and Acrobat subscriptions within 14 days of their purchase and receive a full refund. Otherwise, Adobe does not provide refunds:

How to Request a Refund
This clause should take users through the step-by-step process of how to request a refund, and should include relevant contact information, or a link to a page providing more information about who to contact with questions or concerns.
Agorapulse is a company that offers social media management tools to its users. It includes a link in its Refund Policy that takes customers who are eligible for a refund to a page describing its refund request process: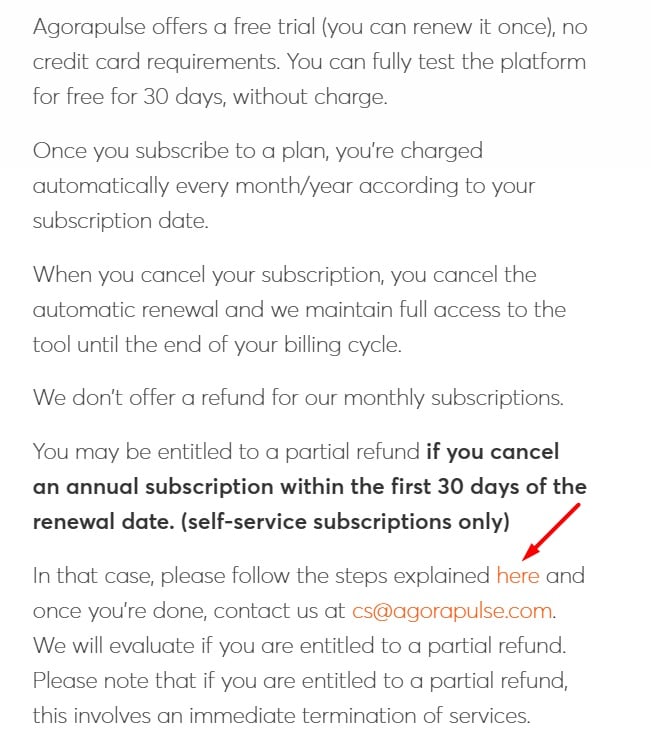 When users click on the link, they are taken to Agorapulse's How do I cancel my subscription? page, which details the step-by-step process that users must take to cancel their account before emailing the company with their refund request: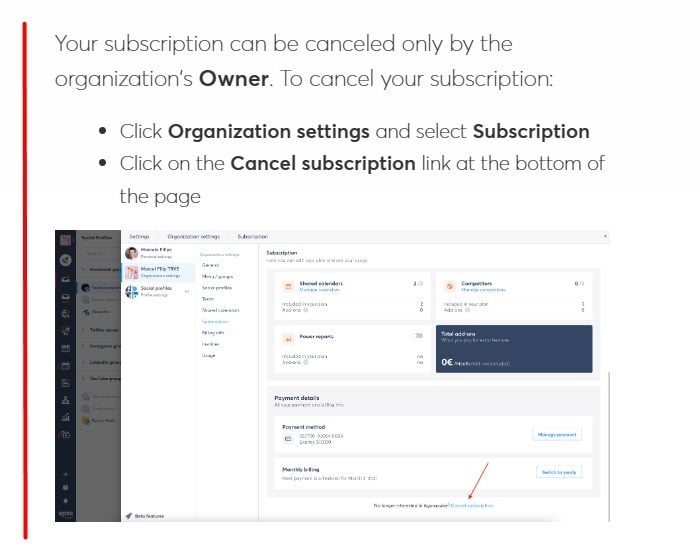 Agorapulse includes a form as a part of the subscription cancellation process that asks customers for the reason for canceling, which is a great way to collect data to improve your customer experience: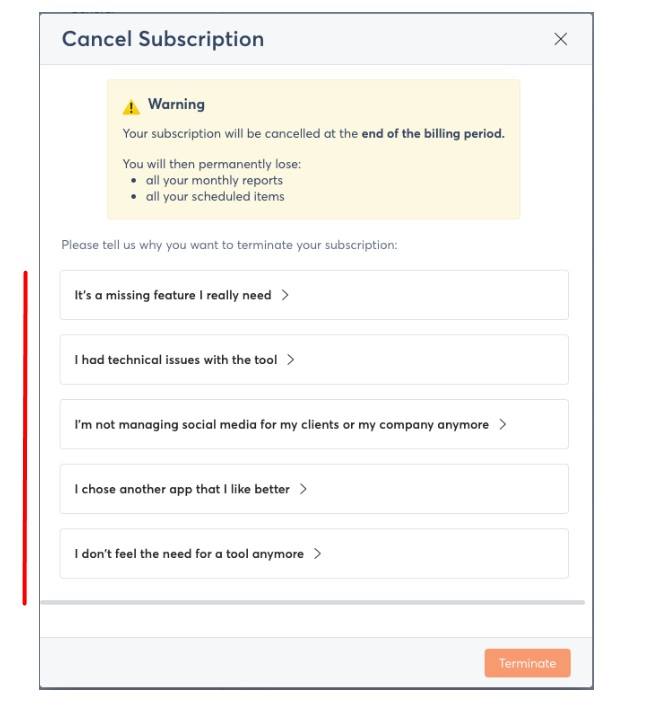 Intuit is a financial software company that uses its Refund Policy to provide users with the option to uninstall the software products and receive a refund within 60 days of the initial purchase date. Intuit's Refund Policy includes a refund request link, and a phone number where it can be contacted if customers are unable to use the link for their particular purchase:

What Happens When an Account is Terminated
You can use your Refund Policy to describe what happens if a user's account is terminated (whether by your company or by the user), or the subscription period ends.
HubSpot is a Customer Relationship Management (CRM) platform that provides users with marketing, sales, and customer service software. HubSpot informs customers that if they cancel their account, it will refund prepaid fees that have not been used for its Subscription Service. However, if HubSpot terminates a user's account, the user is then responsible for paying any unpaid fees until the end of the Subscription Term:

Refund Timeline
After requesting a refund, most customers are eager to know when they can expect to see their money back in their bank account. This clause describes the amount of time customers can expect to pass between making a refund request and receiving their money back.
It can also inform customers as to the reasons behind any possible delays in receiving their refunds (i.e., payment processor delays or time spent investigating the reason for the request).
Grammarly is an online writing assistant that helps users develop clearly written content. Its Support page informs users that they can expect to receive a prorated refund for their personal plan within 10 business days after upgrading to its Business subscription plan: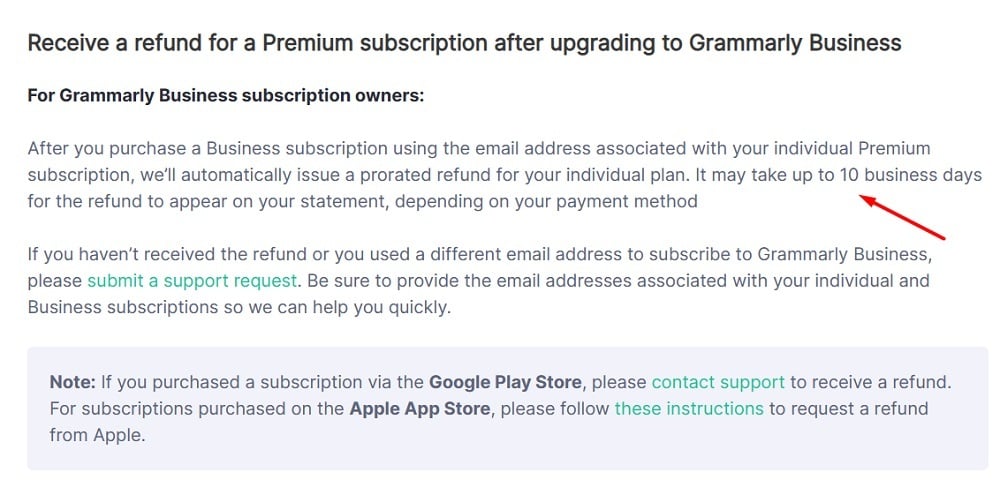 How the Refund is Issued
This clause lets customers know what format their refund is issued in. For instance, their refund might go directly back to their payment method, or it could come as a check they receive in the mail or as a credit to be used for future purchases from your business.
Most businesses that use SaaS apps either provide refunds directly back to the customer's payment source, or as a credit.
SalesHandy, a company that provides automatic email software, uses its Refund Policy's subscription upgrades clause to inform users that if they wish to downgrade their subscription, their extra payment will be turned into a credit that can be used for future payments:

Trial Periods
Offering a free trial period is a great way to ensure that users understand and are happy with their subscription before purchasing a license from you, helping to alleviate future refund requests.
You can use a trial periods clause in your Refund Policy to let users know what happens when their trial period ends and who they can contact with any questions before making a purchase.
SaaSSolar uses its Returns and Cancellations Policy to remind users that they should use their free trial period to decide whether to purchase a software license from the company: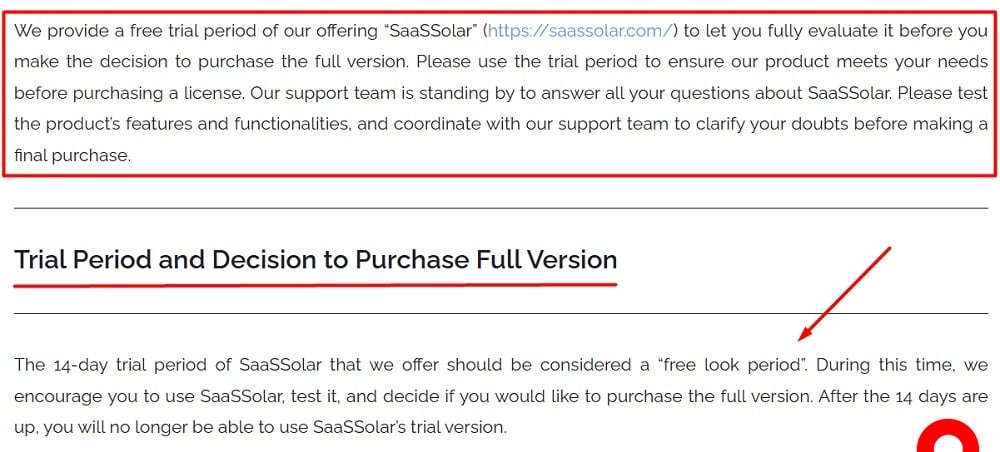 Now that you have an idea of what content to include in your SaaS Refund Policy, we'll address where and how to best display the policy.
How to Display Your SaaS App Refund Policy

Once your Refund Policy is written and hosted, it's important to put it somewhere users can easily find it. Common places to put a Refund Policy include within your Terms and Conditions agreement or website footer, and on your checkout page.
Within Your Terms and Conditions Agreement
While many businesses choose to maintain standalone Refund Policies, you can always add your Refund Policy information to your Terms and Conditions agreement or EULA.. Even if you do have a standalone policy, you can link it to your Terms and Conditions in a short summary clause.
Atlassian provides software tools for companies that have teams working on large projects. It includes its Refund Policy as a part of its Cloud Terms of Service: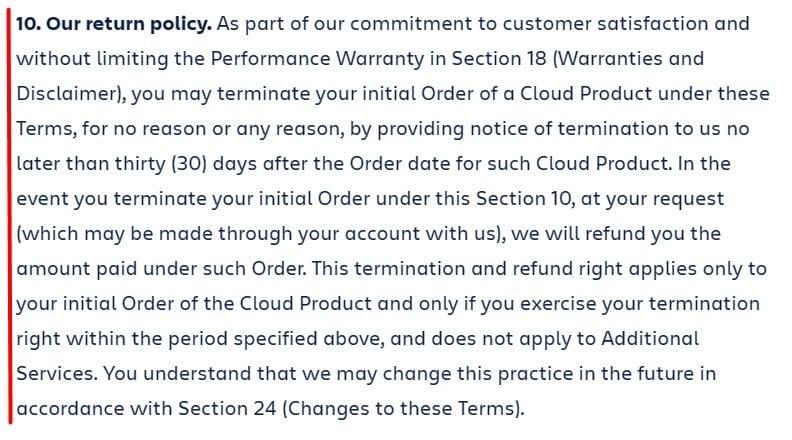 Linked Within Your Website Footer
Another common place to put your Refund Policy is within your website footer, as it is a stable location that users can easily navigate to no matter what page of your website they are on.
While Apple is well-known for its physical products, it also provides several SaaS platforms, including macOS and iOS, that allow users to purchase subscriptions from it and third parties that use its platforms. Apple keeps a link to its Sales and Refunds policy along with links to its other legal documents within its website footer:

On Your Checkout Page
Including your Refund Policy or a link to your Refund Policy on your checkout page helps to ensure that users have a chance to read about how you deal with refunds before making a purchase.
When users go to make a purchase from Adobe, they must first tick a box on the checkout page stating that they understand that they can receive a refund if they cancel their purchase within a certain amount of time, and that they have read its Terms of Use and Subscription and Cancellation Terms documents, both of which are linked in the statement: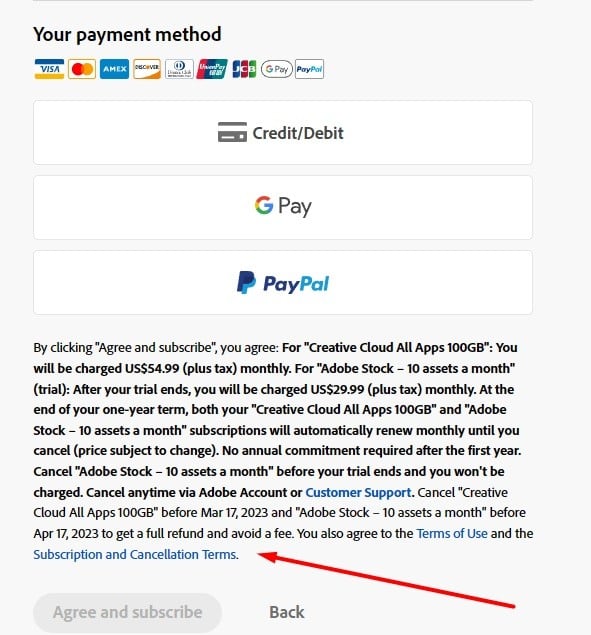 Summary
A Refund Policy is a document that details how users can request a refund, what items are eligible for a refund, what format a refund comes in, how long the refund process takes, and any other pertinent refund information.
There are several state and global consumer protection laws that require businesses that meet their criteria to maintain a Refund Policy in their stores or on their websites.
Most businesses that strictly sell digital products are not required to comply with state or international refund laws requiring a Refund Policy. However, it's still a good idea to have a Refund Policy, as it can help you stay a step ahead of any changes to existing laws or future laws that may require you to have one.
Having a Refund Policy can also help to build trust with and keep your customers informed, and enhance customer satisfaction.
To write a SaaS app Refund Policy, you should make sure that it contains a few essential clauses, including:
Refundable and nonrefundable items
How to initiate a refund request
Refund timeline
What format the refund will be issued
Trial periods
You should display your Refund Policy somewhere easily accessible, such as within your Terms and Conditions agreement or website footer, or on your checkout page.

Comprehensive compliance starts with a Privacy Policy.
Comply with the law with our agreements, policies, and consent banners. Everything is included.