If you've ever tried to return a product or get a refund, you know how important it is that companies clearly lay out the requirements to get your money back. This information should be disclosed within a conditions of return and/or customer requirements clause.
A clause like this is important for any business that sells goods or services.
The conditions of return and customer requirements clauses that companies use vary pretty widely. That's because of the variety of products and services that companies can sell. After all, getting your money back at a retailer by returning a physical item is different than canceling a subscription. Your own policy should reflect this by having customized terms to fit your needs.
The clause itself can be displayed in a number of different places. Some companies have a separate webpage for returns, while others include the clause as a part of a much larger policy such as a Return and Refund Policy or a Terms and Conditions agreement. You'll want to take a look at what others selling similar products are doing, to see if there's a reason why they're choosing to format the policy a certain way.
This article will show you what components should go in this type of clause, and where you should place it to best get it to the public.
Use our Return & Refund Policy Generator to generate a Return and Refund Policy for your store. Just follow these steps:
At Step 1, select where your Return & Refund Policy will be used.

At Step 2, add information about your website/app and business.

Answer some questions about your business practices.

Enter an email address where you'd like to receive your Return and Refund Policy and click "Generate."

Done! You'll be able to instantly access and download your new Return and Refund Policy.
What are Conditions of Return and Customer Requirements Clauses?
Conditions of return and customer requirements clauses tell users when they can and cannot get a refund for the product or service they bought from you. They let users know what your policies are on returns and refunds.
If you sell physical products, they can give requirements about the physical condition of products being returned. They can specify whether customers can use the products before returning them, if there are specific conditions or issues for which customers cannot return the product, or if there is a time limit for returns.
The clause serves a similar purpose if you sell a service instead of a physical product. This can be more confusing for some customers, so it's important to include clear instructions in your policy.
Some companies don't offer refunds for subscription services, but this type of clause is still important for them. It can tell your customers that there aren't refunds available and save your customer service employees from significant time explaining that.
Why Have Conditions of Return and Customer Requirements Clauses?

Any company that sells a product or service should have a conditions of return and customer requirements clause. It will give clarity to customers, save your customer service team time, and give you legal protection if you ever face a formal complaint about how your policy was applied.
Laying out the conditions around returns and refunds gives clarity to customers and will likely decrease the number of complaints you get. Customers often complain when they want to know what the rules around refunds are, rather than being faced with an apparently arbitrary process. A clear policy means that most customers will be able to figure out what they need to do in order to get their money back.
For every customer that reads your conditions of return and customer requirements clause, that's one less person calling your customer service line. Just a short piece of text can end up saving your team huge amounts of time (and by extension, money) by diverting customers' attention away.
An often-overlooked benefit of clear return policies is the legal protection they provide. Returns can happen when a customer is unhappy, which opens the potential for threats of legal action. If a customer's return or refund is denied, it's very helpful to have a clear, readily available return policy to fall back on. If the issue does come to a court case, the conditions of return and customer requirements clause will be an essential piece of evidence.
What are the Components of Conditions of Return and Customer Requirements Clauses?

There are quite a few different topics that need to be covered by a conditions of return and customer requirements clause. These will vary between industries and products, so you should pay close attention to the topics that seem most relevant to your business.
Some of the most common topics covered are:
Whether the product or service is refundable
Condition of physical products
Timing of return
Return fees
Regional exceptions
What is Refundable?
If you have some products or services that aren't refundable, you should make that very clear in your policy. State it outright, but you don't need to just leave it there. For example, if you offer a subscription service that you cannot refund, let customers know what will happen if they cancel the subscription.
For example, LinkedIn offers a variety of products, some of which are non-refundable. The Consumer Refund Policy has a separate section for those products which are non-refundable and puts that in very clear terms. It then lets users know what to expect if they cancel their subscriptions: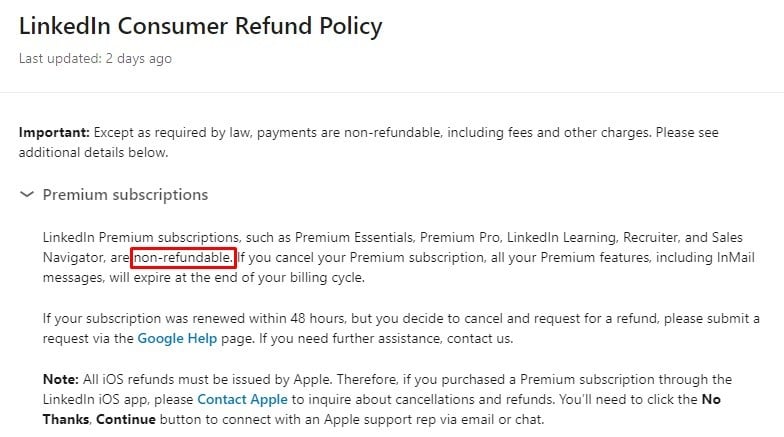 Whether a product is refundable might also depend on its format. Harper Collins clearly states that customers cannot return digital products. But you should be careful with policies like these because exceptional cases of products malfunctioning still might be situations where a customer could expect a refund. That's why it's important for you to let customers know what to do in these rare circumstances, as Harper Collins does here:

Condition of Product
For vendors selling physical products, the condition of the product can be an important factor for returns and refunds. Returns and refunds can be conditional depending on the overall quality of the product returned and whether it was used at all.
If you sell physical products and accept returns, you should have conditions of return that specify what condition products should be in before they are returned.
This doesn't need to be complicated. For example, Amazon only accepts returns on Amazon-branded devices that are in the same condition they were in when they were purchased.
This gives both the company and the customer very clear expectations for returns:

Returns can be more difficult to write policies for with software. If a customer has already used the software for its purpose or even made a copy of it, a company may be reluctant to give a refund.
Instead, many companies have a policy like Apple's. If the software has been installed or used at all, it cannot be returned. But if it hasn't, Apple will provide a refund: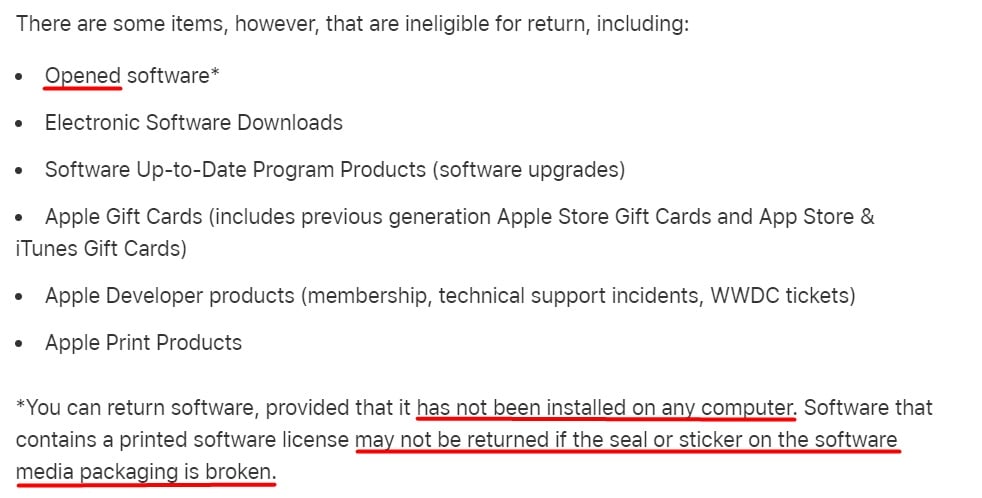 Timing of Return
It's very common to put a time limit on returns. The exact limit may vary depending on the type of product, but it's reasonable to say that after a certain amount of time, an item isn't able to be returned.
For some companies, the time limit is just about the only limit on returns.
For example, you can see all of the restrictions in the Ray-Ban's Return Policy below. There are two: a 45-day time limit, and a restriction on returns for custom products. Thirty, 45 and 60-day time limits are common for most companies:

This can be complicated by the type of product being returned.
Steam sells video games, products that can be used in a fairly short amount of time. In addition to a flat number of days as a time limit, Steam also says that games can only be returned if they have been played for less than two hours. This usage-based returns policy makes sense for products where usage is easy to track and physical condition is not a factor:

Return Fees
Some companies charge customers a fee to return products, especially expensive products or ones that are difficult to handle. This can surprise some customers, so if you plan to charge return fees, you should make sure they're outlined clearly in your conditions of return and customer requirements clause.
Fees can vary between products, but they're typically not a large percentage of the cost of the product. Instead, they're meant to be nominal fees to discourage frivolous returns. This could depend on the product and the industry. The fee can be a flat amount or a percentage of the price of the product.
Fees can also depend on the way that returns are handled. For example, shipping a return package could be a cost that a consumer or a company isn't willing to bear, so you should make sure to detail how shipped returns are handled in your policy. For example, it should be clear who is paying for the shipping, if customers can be reimbursed for shipping fees, and how to get the reimbursement.
For an example of how to handle each of these pieces, you can look at Tesla's Returns Policy. In this example, the restocking fee is a set percentage of the product's price, and it's conditional on whether the product has been opened or not. Shipping fees are deducted from the return credit. While this is one way to structure fees, you should pay attention to what other companies in your industries are doing:

When charging return fees, you should make sure your policies are in compliance with relevant laws. Different states have laws that regulate restocking and return fees, so companies that sell to those states should provide appropriate exceptions. You may also want to provide exceptions for customers that leave the products in very good condition, or members of your loyalty program.
Best Buy is a good example that provides for a number of different exceptions for its Return Policy. It has different ways of calculating the return fee for different products, but allows unopened products to be returned without a fee. It also lets customers that are part of its paid membership program return items without fees. Importantly, it gives exceptions for customers in states that have relevant laws, which it names: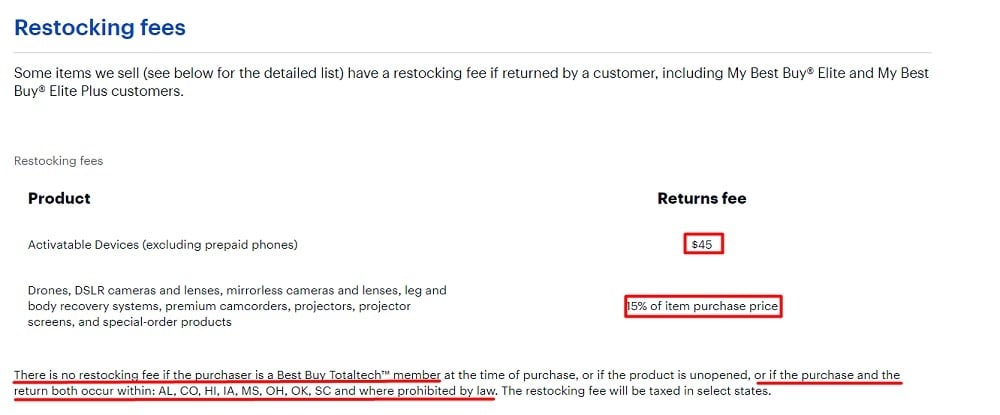 Regional Exceptions
If you sell to an international audience, you'll likely run into a variety of laws on returns and refunds. Accounting for every regional law is difficult, but you should pay attention to the laws that affect regions you sell to the most. For example, the European Union (EU) has specific laws on returns and refunds that you may want to account for in your own policy.
For some LinkedIn products, the site offers a region-specific returns policy. In this case, it has specific policies for Denmark and the Netherlands, as well as the EU on the whole: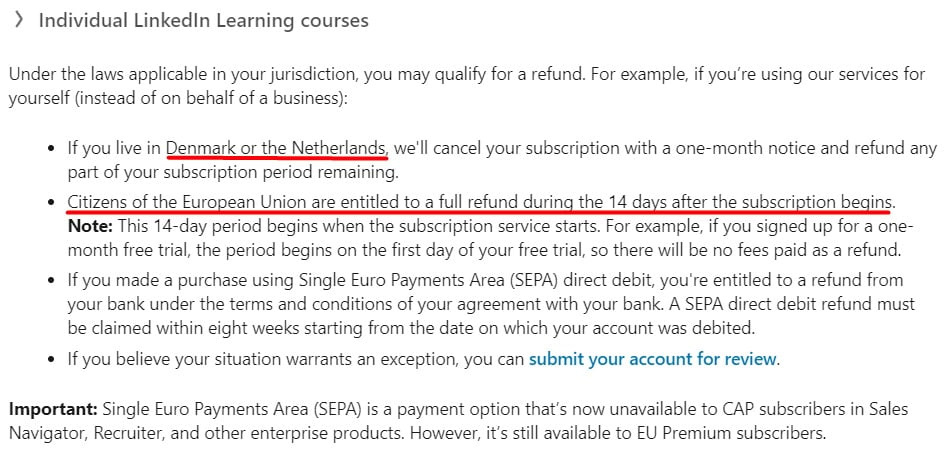 Depending on your audience demographics, you may or may not want to make the same specifications, but it's at least worth looking into.
Now that you have guidance on creating this type of clause, let's look at where you should display it to the public.
Where Should I Display My Conditions of Return/Customer Requirements Clause?

Different companies have their conditions of return and customer requirements clauses in different locations. The most important part is that customers are able to locate the clause quickly and easily when they need to. Outside of that, the location of the policy is a matter of preference.
Some companies place the clause within a larger policy. For example, Netflix includes it in the Terms of Use: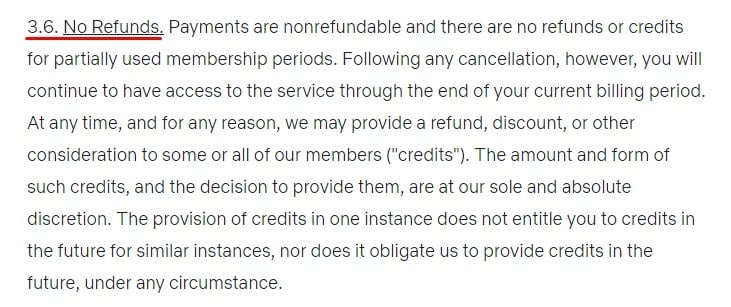 On the other hand, Audio-Technica has a separate policy solely for returns: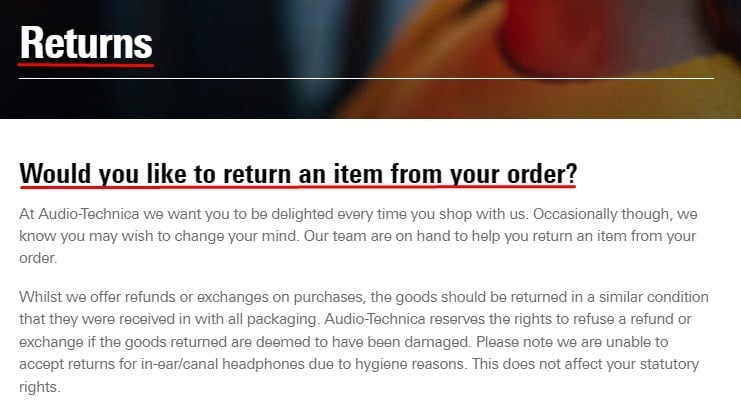 The LA Galaxy has a section of its Ticket Disclaimer devoted to the topic of refunds: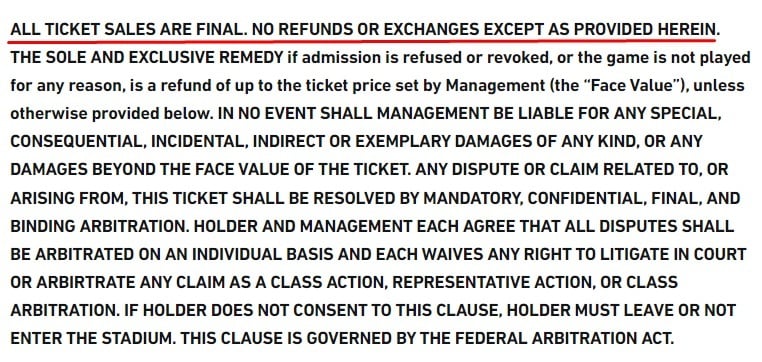 The appropriate place for you might depend on your industry, your product, or just your personal preference.
Summary
Conditions of return and customer requirements clauses are an important set of policies for any business. They give clarity to customers that want to return items, save customer service teams time answering repetitive questions, and make a company more able to defend itself in a legal dispute.
There are five important pieces that you should consider when writing your own conditions of return and/or customer requirements clause:
What products are refundable
What condition of products you will refund
Any time limits on returns
If you charge return fees, and how much
Any regional exceptions to your policies
Make sure to display this clause within a policy that's publicly available for your users to find at any time they wish.

Comprehensive compliance starts with a Privacy Policy.
Comply with the law with our agreements, policies, and consent banners. Everything is included.