Written by
Widener University School of Law graduate, Managing Legal Editor at TermsFeed.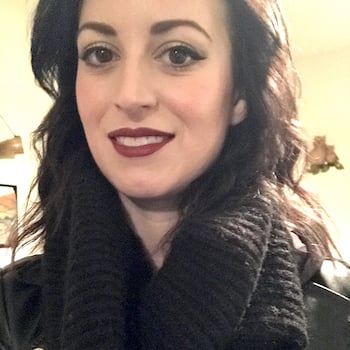 YouTube has made it possible for anyone and everyone to become famous on the internet. From funny cat videos to professional training tools and business marketing, YouTube has it all.
Businesses and individuals can create YouTube Channels where their videos can be published and made available all in one convenient spot for people to view, follow, and subscribe to. These are the YouTube creators.
For example, MovieClips Trailers is a popular YouTube account that provides access to official movie trailers before they're available elsewhere.
The MovieClips Trailers account on YouTube has a Channels tab on its main page where people can find all of the channels that MovieClips Trailers offers: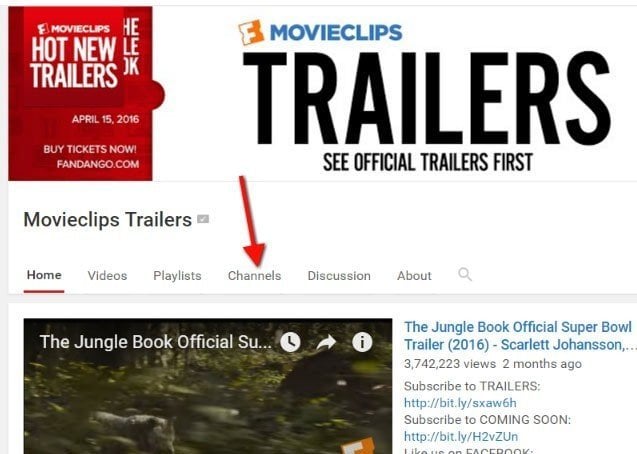 Here's how it looks after you click on the "Channels" link: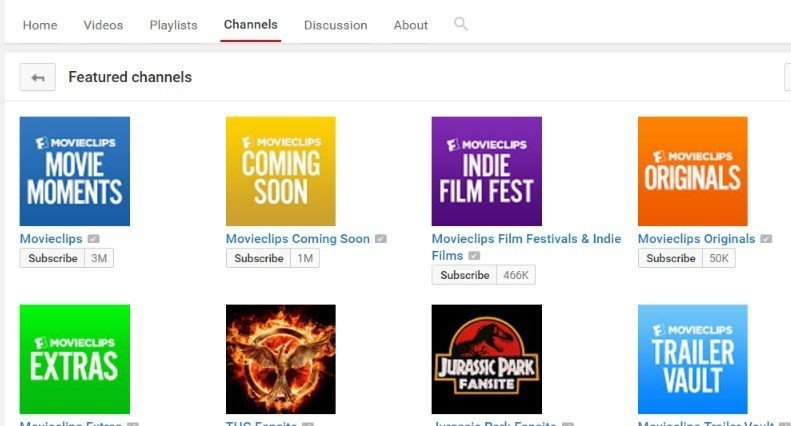 YouTube users can then subscribe to these channels and get more fine-tuned videos based on their preferences.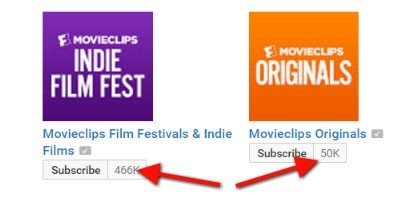 YouTube doesn't seem to allow creators to collect personal data, such as email address, from viewers who subscribe to their YouTube channels.
However, businesses that operate YouTube channels very often use the channel as a marketing tool to guide users to their main websites, and from there, personal data may be collected from these viewers.
TermsFeed is the world's leading generator of legal agreements for websites and apps. With TermsFeed, you can generate: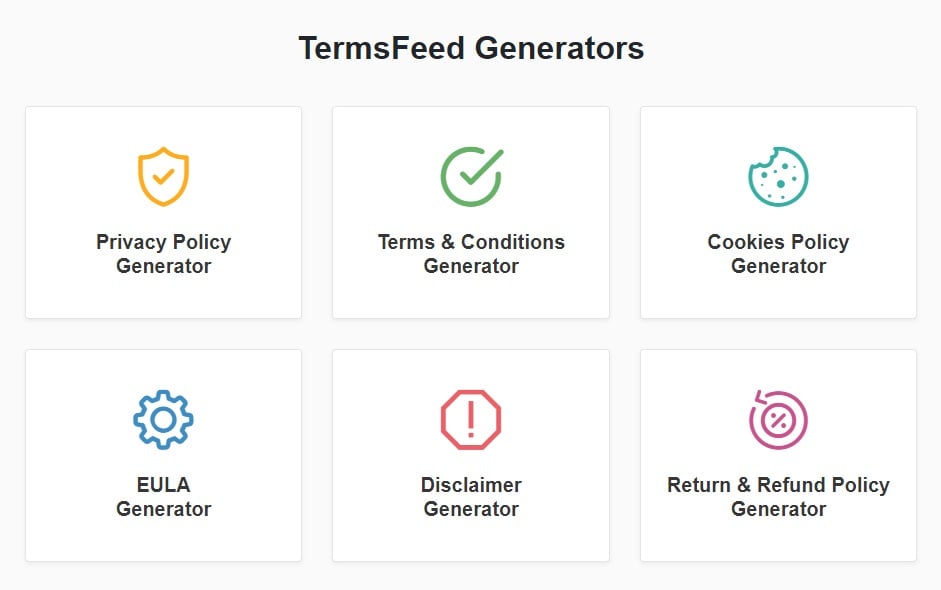 Common legal agreements needed
There are a number of common legal agreements that an online business may need.
For example, if a website collects personal information from users (such as an email or mailing address, birthdate, credit card information, etc.), you'll need a Privacy Policy in place that lets users know how and why you collect their personal information, what information you collect, and how you will be using this information.
If your business allows users to create personal accounts through which they can interact with your website, such as by posting comments or creating content, you'd want a Terms and Conditions (known as Terms of Use or Terms of Service) where you can protect your business from abuse by spelling out how users are allowed to use their accounts, tell users what sort of actions you forbid, and reserve the right to cancel accounts in the event of violations or abuses of your terms and rules.
Return and Refund Policies as well as "Payment Terms" are for e-commerce businesses where users transact to purchase anything from tangible goods to online service contracts (in the case of SaaS apps, for example).
Insert a legal agreement on YouTube
You might not be required to include any links to your legal agreements on your business' YouTube page or channel page since you wouldn't have access to any personal information from video viewers.
However, you can choose to provide links to your legal agreements in your YouTube channel's "About" tab.
You could also provide the link to your website in the "About" tab of your YouTube page and your website would link to the list of legal agreements.
This "About" tab, from your channel's page, is where users can find out more information about who you are. Here's an example:

Within this tab there's a "Description" section, a "Details" section with basic information, and a "Links" section.
This "Links" section is where you can link to your website, and where you can provide links to your legal agreements if you wish.
The MovieClips YouTube page is powered by Fandango, and a link to the Fandango MovieClips website is included in the "Links" section in the MovieClips About tab: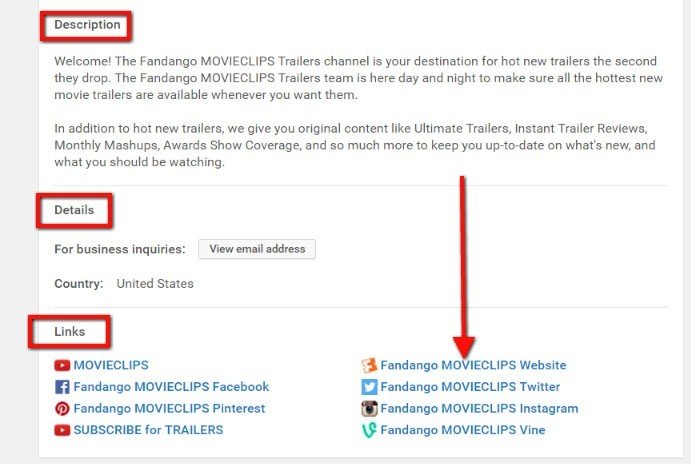 While no legal agreement links are included on the "About" tab for MovieClips, legal agreement links are available on the MovieClips website that's linked in the image above.
The Privacy Policy of Fandango and its Terms and Policies links are available in the footer of its website:

BuzzFeedBlue is another popular YouTube channel that users can subscribe to. There are no legal agreement links in the About tab for this page, but there's a link to the Buzzfeed main website: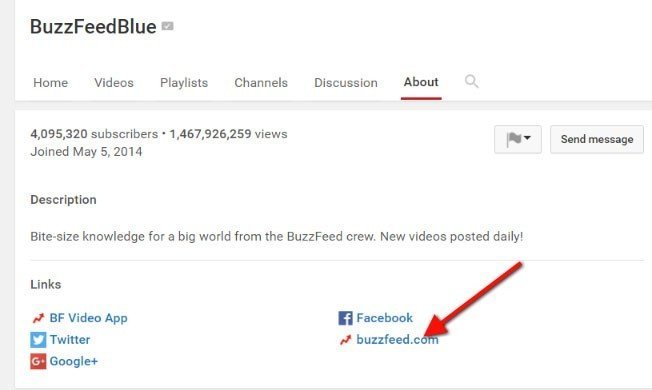 When a user clicks on the Buzzfeed.com link, she/he will be taken to the BuzzFeed website where there are legal agreements located within the "More" menu tab:

This is where BuzzFeed places the links to its Privacy Policy agreement page and its User Agreement page: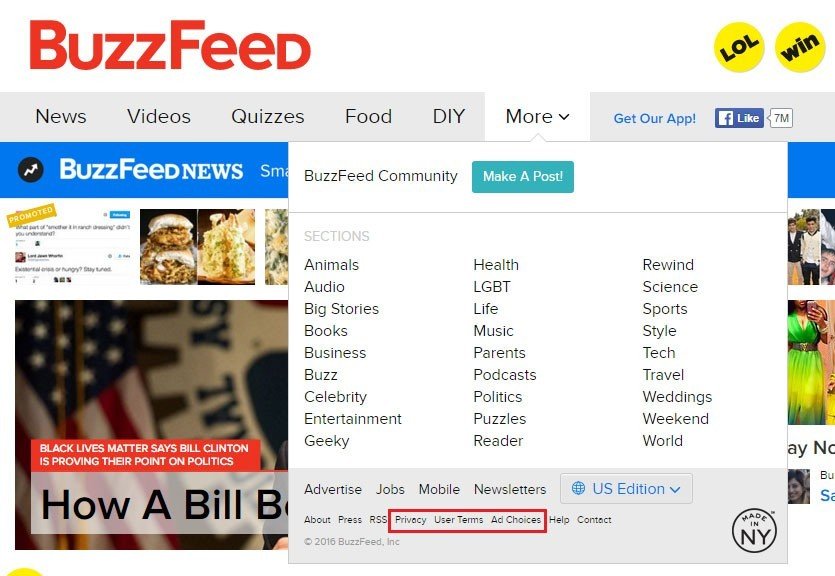 While YouTube doesn't seem to require creators to include links to their legal agreements on their channel's "About" tab, including the links, such as your Privacy Policy or Terms and Conditions, is something to consider.
Providing these links is a nice way to give more information about your personal data collection or overall terms and rules to people who are viewing your YouTube page and considering visiting your website to subscribe for more.