As a very freelancer, you're most certainly collecting personal information from potential clients, including something as simple as an email address for sending in your invoices.
If you collect personal information, you'll need to have and post a Privacy Policy where you outline what kinds of personal information you collect and why you're collecting it.
In the following article, we'll discuss the ins and outs of a freelancer's Privacy Policy, the laws that require one, what should go inside one, and how you can easily create and display one for your website.
Our Privacy Policy Generator makes it easy to create a Privacy Policy for your business. Just follow these steps:
At Step 1, select the Website option or App option or both.

Answer some questions about your website or app.

Answer some questions about your business.

Enter the email address where you'd like the Privacy Policy delivered and click "Generate."

You'll be able to instantly access and download your new Privacy Policy.
What is a Privacy Policy?
A Privacy Policy is a legal document that outlines what you will do with the personal information collected from your customers.
Here's an example of a pretty standard-looking table of contents of a Privacy Policy so you can see what types of clauses one will include: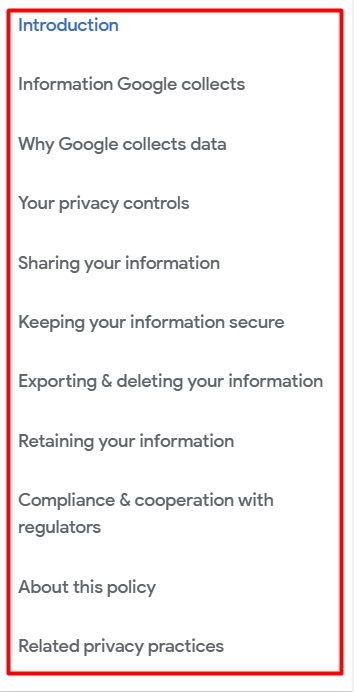 In order to protect yourself and maintain trust between you and your clients/customers, you need to have a documented Privacy Policy for both offline (in-person) businesses and online ones like websites or apps which collect data about their users.
A properly written Privacy Policy will clearly explain whether you keep the information you collect confidential or if you share it with third parties.
Here are some examples of personal information that many freelancers collect about an individual (for instance, when someone completes an online form to download a free report):
Name
Address
Email address
Telephone number
Suppose you collect information through a survey or require in-depth demographic information before allowing someone access to more valuable content. In that case, you may ask for even more information such as:
Age
Sex
Marital status
Race
Nationality
Religious beliefs
Here's a quick example of a Privacy Policy clause from freelance consultant Arman Assadi:

A Privacy Policy is Required by Law
Privacy Policies are required by law in just about every major country worldwide. Indeed, as nations began recognizing the importance of protecting their citizens' privacy and data, laws requiring a Privacy Policy have proliferated.
Today, websites and businesses that collect or process customer data are required to publish and adhere to a Privacy Policy agreement. This includes freelance businesses.
Just a few of the laws around the world that demand Privacy Policies are the following:
A website or business that collects or processes user data in a specific country or region must be fully informed about the privacy protection laws and data regulations in that area.
If you're a freelancer, protecting yourself by ensuring that your website is compliant with these laws is a must. If you neglect to put together a professionally written Privacy Policy and get caught, you could face severe penalties or even criminal prosecution.
Larger companies like Facebook can pay immense, $5 Billion fines, sometimes without batting an eye. A court probably won't levee a fee like that against you, but depending on how many violations you've wracked up, penalties could easily put you out of business for good.
How to Write a Freelancer's Privacy Policy

A freelancer's Privacy Policy should include clauses that are standard across the board. For example, you'll want to include clauses on the following:
What kind of information you collect
How you collect and use that information
How you store and protect that information
Whether you share information with third parties (and if you do share)
List of third parties with whom you share information
Whether you use cookies or not and how you use them
Your contact information
As a freelancer, there may be a few more clauses you'd like to include. For instance, you may wish to address what happens with information you may collect when a client contracts with you. You might also have a clause on data collection through email correspondence and data gleaned through mailing lists.
The Clauses to Include in Your Freelancer's Privacy Policy

Let's dive a bit deeper into each of these clauses.
What Information Do You Collect?
This section of your Privacy Policy will inform users about the precise types of information that you collect and how you collect it.
Users should understand that the data you collect from them is something they provide voluntarily and actively when they register for services or to obtain a product. However, it can also include information, which is automatically collected, such as cookies. Your Privacy Policy should be as transparent as possible about both types of information.
The bottom line is that users are entitled to see what sort of data you collect from them up front and from the very beginning of their interactions with you.
Here's a portion of one of the most comprehensive examples of this type of clause ever seen on a freelancer's website, courtesy of copywriter Ben Settle: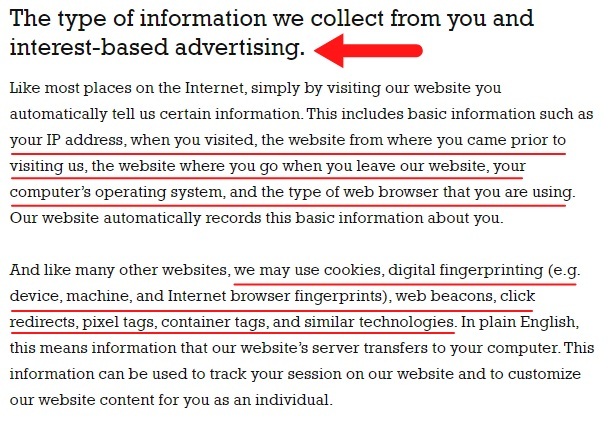 How Do You Use the Information You Collect?
Remember that a good Privacy Policy is designed to inform users about how you use the information you gather from them. This is another section where being as open and forthcoming as possible will help keep you compliant with privacy laws.
Consider the fact that two freelancers might collect the same kinds of data. Say they both have forms on their websites, which collect names and email addresses. One may only use that information to provide a digital product to the potential client, while the other may also share that name and email address with third parties.
Clearly, these two freelancers don't use the information they collect in precisely the same ways. However you use the data you collect, always opt for full disclosure.
Here's how Lorrie Morgan of Red Hot Copy writes this clause in her Privacy Policy: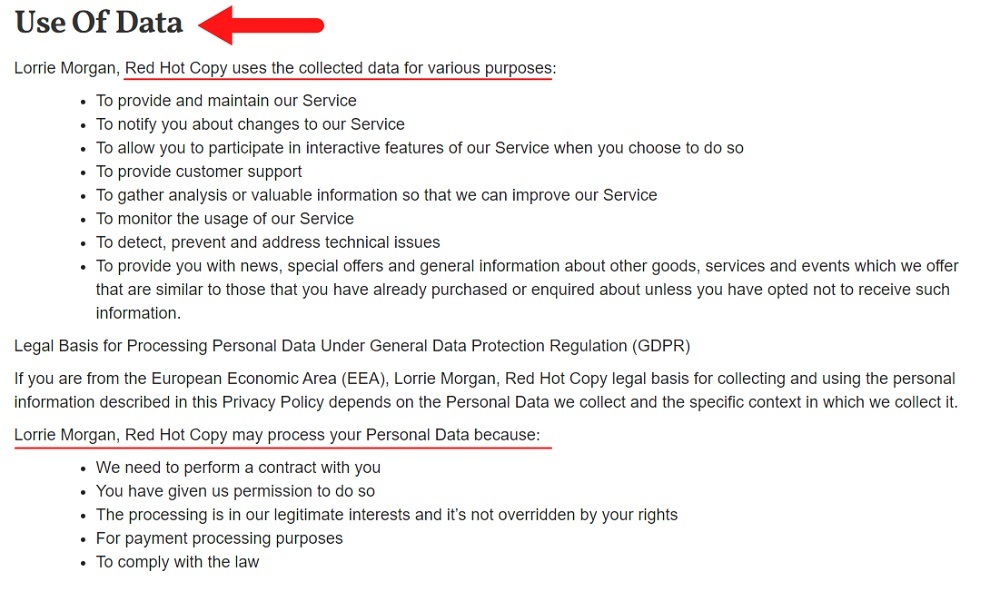 How Do You Store and Protect Data?
Your Privacy Policy should include a clause about how you store and protect information collected from visitors to your site. You can describe the various ways that you store information and the security measures you take.
This is a big issue for freelancers since most don't have good Privacy Policies (which is a huge mistake), let alone methods in place to secure the data they collect. With that said, any personal information you collect from an individual should be kept safe.
If your freelance business is just you, you must have a way to ensure that only you have access to the data you collect. If you have others working with you, then you must use appropriate security measures to ensure that only authorized persons can access it.
The subject of data security is one that you cannot ignore. Recall that over the past few years, data breaches have affected millions of internet users. Many companies were subject to severe financial and legal consequences.
For instance, the consumer credit reporting agency, Equifax, was fined over $575 Million for a breach that occurred in 2017.
The point here is that if you store personal information, it is your responsibility to ensure that it does not get lost or misused. Further, keep in mind that you can gain or lose potential clients based on how they feel about your efforts to keep their data safe and secure.
Here's an example from Enchanting Marketing that's written in personal terms: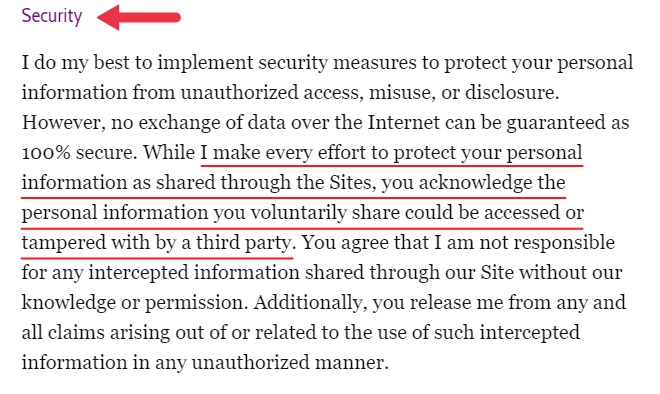 Do You Share Information With Third Parties?
If you share any information that you collect with third parties, you need to disclose that fact in your Privacy Policy. Your potential clients need to be aware that it isn't just you who has access to any information they provide.
This section can be as easy as listing the third parties with whom you share data along with your reasons for doing so.
Here's how Ben Settle writes this clause:

How Do You Use Cookies?
Many privacy laws now demand that your Privacy Policy includes information on how you use cookies (if you use them).
If you use cookies, it's likely because your website uses them to store user data, personalize user experiences and track user web history. Some companies, especially those that do a lot of advertising, might make other uses for cookies, and may allow third parties to access those cookies.
If you're a freelancer that uses any kind of advertising (such as through Facebook or Google's ad platforms) you must inform users about any tools used to collect information about them and track their behavior. That includes cookies.
Here's a cookie clause from Arman Assadi's Privacy Policy:

Notification of Changes to Your Policy
Users must be informed if you make any changes to your Privacy Policy or information practices. This is usually a pretty short section, which you'll use to outline any changes or updates to the Privacy Policy that you make.
You should also detail how you'll notify your website's users of those changes. For example, you can let users know they can check the posted Privacy Policy for any changes, but you'll also send out a notification email to those who are on your email list.
Here's Enchanting Marketing's version:

Your Contact Information
In case your users have questions, it's a good idea to include a clause at the end of your Privacy Policy that provides a way for people to contact you.
You can provide this information in any format that you choose, including email addresses, postal addresses, or links to online forms.
Ben Settle names his contact section "Questions and Concerns" but he places all contact information there and so satisfies the need to provide those details to his clients: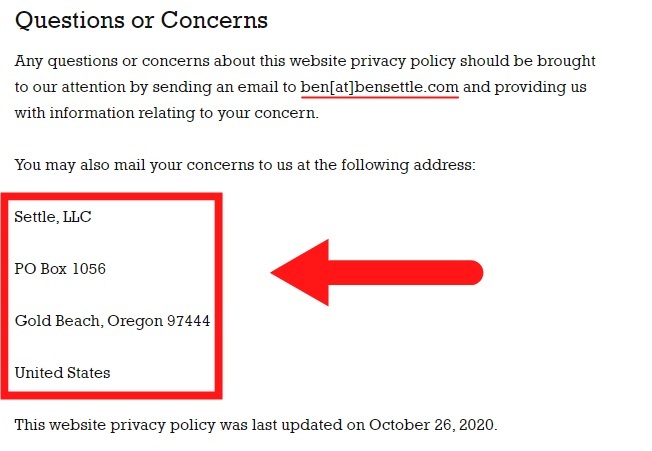 While those clauses address all the main points that every Privacy Policy should include, let's take a look at some freelancer-specific clauses you should consider adding to your Privacy Policy.
Additional Freelancer Privacy Policy Clauses

As suggested previously, there are a few Privacy Policy clauses that some freelancers tailor for their freelance businesses. Here are some examples.
Becoming a Client
This clause essentially outlines what happens with any information that a potential client hands over either online or offline in the process of engaging your services.
Here's how copywriter Laurence Blume writes his Privacy Policy clause on this subject: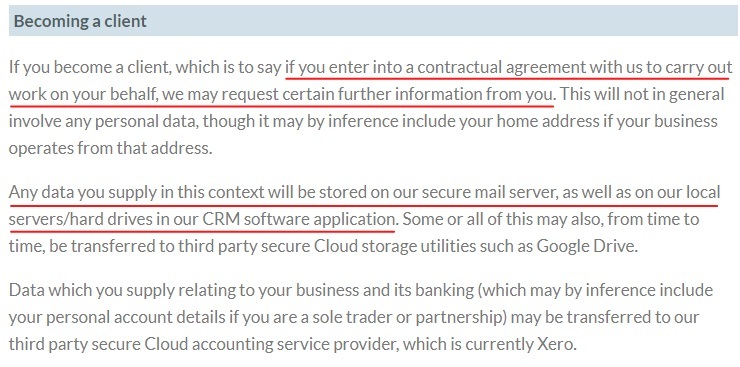 Email Correspondence
Precisely as it sounds, this section details how you handle information delivered to you by clients through email. Here's an example, again from Laurence Blume:

Email Lists
Similar to the email correspondence section, this is one that essentially acts as a notification that you typically add those who fill out forms on your website to an email list (one more from Laurence Bloom):

Where to Display Your Freelancer Privacy Policy
After creating your Privacy Policy, you have to display it somewhere where current and potential clients can easily find it and access it at any time.
The most common, compliant way to display a Privacy Policy is by linking it to your website's footer, like so:

The footer of your site is static across every web page, which means people will be able to see it whether they're looking at your portfolio page, your rates page, or just reading more about you and your freelance services offered.
If you take payments online via a checkout portal, you can display your Privacy Policy there since you'll be collecting financial information to process the payment. Here's how this can look: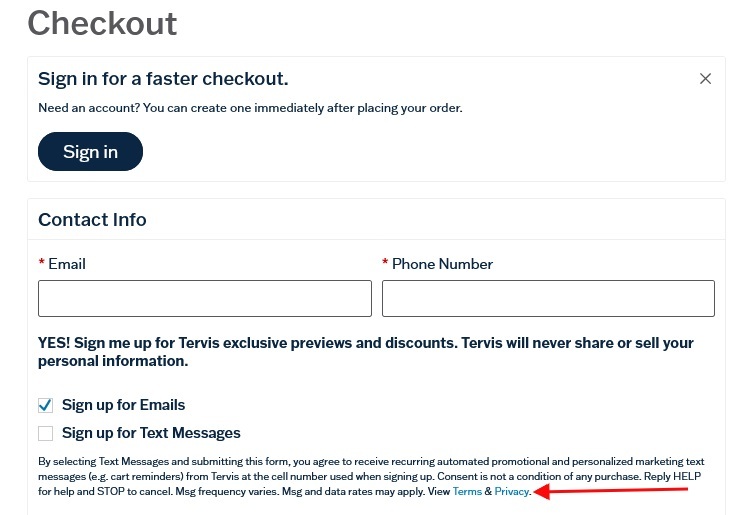 Some freelancers have newsletter lists that people can sign up for. If you offer this feature, you can present users with your Privacy Policy when then sign up for your newsletter.
Here's an example:
For more information and inspiration on where to place your Privacy Policy, check out our article: Where Should I Place My Privacy Policy?
To learn more about obtaining consent for your Privacy Policy, check out our article: "I Agree" Checkboxes
Summary
If you are a freelancer, it is essential to have an up-to-date Privacy Policy on your website.
If you collect data of any kind, there's a good chance that you're required by law or by third-party services to post that agreement to your website.
It's, therefore, a very good idea to be familiar with which privacy laws impact the geographic region in which you run your freelance business.
Remember that part of your Privacy Policy's purpose is to help educate potential clients about the data you collect from them online, how your company uses that information, and their rights regarding the personal data collected.
Make sure your Privacy Policy is current and accurate. Send out Privacy Policy update notices when necessary.
Finally, remember to include sections on:
What information you collect
How you use that information
How you keep that information safe
Whether you share data with third parties
How you use cookies
Notification of changes
Contact information
Finally, it's easy to think that you can merely swipe the text from another freelancer's Privacy Policy (if they have one). However, that would be a mistake.
First, you don't know whether they've written their policy in a professional manner that meets legal requirements. Secondly, their data practices may be completely different from your own.
You could edit the contents of another freelancer's Privacy Policy to make it more appropriate to your own practices but unless you're a legal expert, there's a high probability that you'll make mistakes.
Ask yourself whether you'd rather focus on providing the services at which you're an expert or on trying to cobble together a Privacy Policy for freelancers that's good for your business.
If your answer is the former, we recommend using a professionally written template or our Privacy Policy Generator.

Comprehensive compliance starts with a Privacy Policy.
Comply with the law with our agreements, policies, and consent banners. Everything is included.