If you develop mobile apps, a Terms and Conditions agreement (T&C) is going to be very important to you and your mobile app.
While not legally required (the Privacy Policy is), this agreement comes with a number of priceless business benefits that you won't want to miss out on.
What's a Mobile App Terms and Conditions
When you make your mobile app available to the public, you're letting users interact with your app in a number of ways.
Some of these ways include:
Presenting users with your business branding and your own unique content,
Letting users sign up for accounts and interact with others on your app,
And possibly generate their own content on or with your app.
When you have this relationship between your app and those who use it, you're going to want to have some sort of control over the use of your app.
That's where your mobile app Terms & Conditions agreement comes in.
Your mobile app Terms & Conditions is a legal agreement that users will agree to when using your app. In this agreement, you'll be able to keep control over some aspects of the use of your app.
You can include:
Rules users must adhere to,
Restrictions on the use of your app,
And other important guidelines.
You can also maintain your rights including the right to exclude abusive users from your app, ownership rights in your content and legal rights against liability.
Not only does a Terms & Conditions agreement come with benefits to you, but it can also benefit your mobile app users. The agreement lets them know what you expect from them, what rights they have, and practical information like how to send payments, cancel an account, etc.
Do app stores require one?
App stores, such as Apple App Store and Google Play Store do not require you to include a Terms & Conditions agreement with your mobile app.
However, as noted, including one will be very beneficial to you and your mobile app.
What to Include in your Mobile App Terms and Conditions
Your mobile app Terms & Conditions will vary depending on the type of app you distribute, the services you offer, the amount of user interaction you allow and other unique features of your app.
However, there are 14 common clauses that can be found in Terms and Conditions for most apps:
Definitions
License to Use
Prohibited Conduct
Right to Terminate Accounts
How a User can Cancel/Terminate an Account
Ownership of Your Content
User Generated Content
DMCA section
Payment Details
Right to Update or Modify Terms
Disclaimer of Warranty
Disclaimer of Liability
Governing Law
Privacy Policy
Here's a description and examples of each of these clauses.
14 Common Clauses for your Mobile App Terms and Conditions
1. Definitions
If your mobile app Terms & Conditions uses words or terms in ways that are specific to your business, different than the accepted norm or has terms that can easily be too broadly interpreted, consider including a "Definitions" clause.
This clause is where you can define what specific words mean in the context of your Terms & Conditions.
For example, easyJet's T&C defines simple words like "Days" to let users know that all seven days of the week count, except for the day upon which notice is dispatched. Without this clarification, a user may wonder if "days" means only weekdays.

If you choose to include a "Definitions" clause, here are some tips:
Define only things that could result in material issues if misinterpreted
You can link to other areas of your T&C where definitions might be needed

You can use definitions to shorten your agreement.

For example, you can define "agreements" to mean "all of the legal agreements of the company including a Privacy Policy, T&C, Cookies Policy, Return and Refund Policy" and so on. Then, through the rest of your T&C, you can simply say "agreements" instead of spelling out each individual one.
2. License to Use
If you develop or distribute SaaS apps, this is an important clause for you to include in your app Terms & Conditions.
A "License to Use" clause is where you grant a limited license to your users.
The language used in this clause tends to be similar throughout T&C's and usually states that a user is granted a "non-exclusive, non-transferable, non-sharable, revocable, limited license to use the app/service solely for personal, non-commercial use in accordance with the terms of the T&C ."
Here's an example of a short and to the point License to Use clause from IGG.

Many developers choose to include restrictions and limitations on what a user can do with the license in this section.
Here's an example from WASH that lets users know that the license does not transfer any rights to users. It also makes users agree to a number of restrictions including not selling, reselling, copying, reproducing, modifying or distributing the app.

3. Prohibited Conduct
Your "Prohibited Conduct" clause is where you let users know what they aren't allowed to do while using your app. This clause typically will contain a number of general prohibitions, including prohibitions on:
Using the app unlawfully
Harassing, threatening, abusing or intimidating other users
Impersonating someone else and using someone else's account
Spamming other users
Reverse engineering the app
Developing third party apps that interact with the app
Here's an example of a fairly standard Prohibited Conduct clause in a mobile app Terms & Conditions agreement:

If your app has special restrictions, such as apps that require users to be above a specific age or deal with content that's not legal everywhere, you can address those points in this clause.
For example, STN Sports - a casino and gambling app - requires users to be in the state of Nevada while using the app, and all users must be 21 years of age or older. This is listed out in its Prohibited Conduct clause along with the other more generally-applicable prohibitions.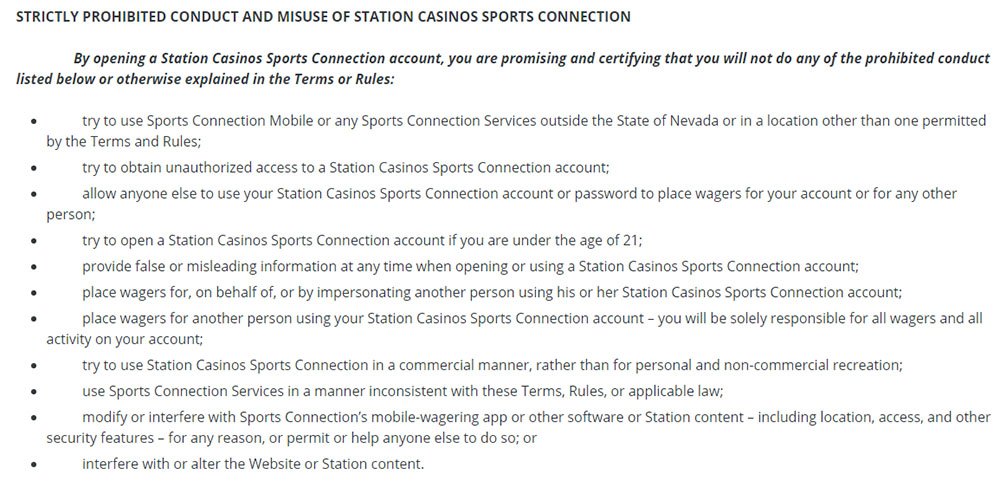 4. Right to Terminate Accounts
Including this clause in your Terms & Conditions makes it possible for you to legally terminate user accounts.
You may want to terminate an account that's being abusive, violating your rules or is behind on payments. You can also retain the right to terminate accounts at your full discretion.
Here's an example of a very short but to the point termination clause.

You can also use this clause to discuss how a user can terminate an account, what happens when an account gets terminated by either party, any refunds if applicable, and other important points related to account termination.
Here's an example of a more robust and informative termination clause from Spotify.

Regardless of which direction you go in with this clause (short and simple, or more robust), the main thing it needs to accomplish is to at minimum reserve your right to terminate user accounts.
5. How a User can Cancel/Terminate an Account
If you choose to go with a more simple "Termination" clause, you can include a separate clause that lets users know how to go about canceling or terminating accounts with you.
Here's an example from Borrow My Doggy that includes simple but thorough information about cancelling accounts.

Some key points to include in your "Cancellation" clause are:
Method required for canceling - via email, written mail, online form, through a user account menu, etc.
When does the cancellation take place - immediately, in 24 hours, etc.
What happens after cancellation - is all user data deleted immediately, are refunds given, etc.
6. Ownership of Your Content
You'll want to include a clause that makes it clear that your content is yours, and you reserve all rights to it. This can be intellectual property, graphics, written content, software code and other components of your app.
In this clause, state that your content is yours and that it cannot be used unlawfully or without permission.

7. User Generated Content
If your app allows users to generate content, you'll want to address that content in your mobile app Terms & Conditions.
The two main points you'll want to cover are:
What rights each party (you and the user) has to the user generated content
Reserving your right to remove content at your discretion
Typically, when an app allows user-generated content, the developer will not claim ownership of the material but will maintain the right to use the content.
Here's an example of a fairly standard clause that covers user generated content:

As you can see, the content remains owned by the user who posts it, while the company gets "a worldwide, royalty-free, sub-licensable, non-exclusive license to copy, distribute, transmit, reproduce, publicly display, edit, translate or publish" the content on the platform.
Note that some use of the user-generated content does call for permission from the user, such as using it for promotional purposes or on social media.
8. DMCA section
If your U.S.-based mobile app allows users to share and post user-generated content, this is an important clause for you to include.
The Digital Millennium Copyright Act applies only to U.S. businesses and works to minimize copyright infringement. According to the DMCA, you must respond to takedown notices of alleged copyright infringement and remove any content that users post on your website or app that they don't own the rights to.
Include a DMCA Notice clause in your Terms & Conditions. In this clause, let users know:
That you will remove allegedly infringing content
How users can submit a notice to you of such content
Here's how Dropbox includes its DMCA policy along with very clear steps and a link to submit a DMCA notice.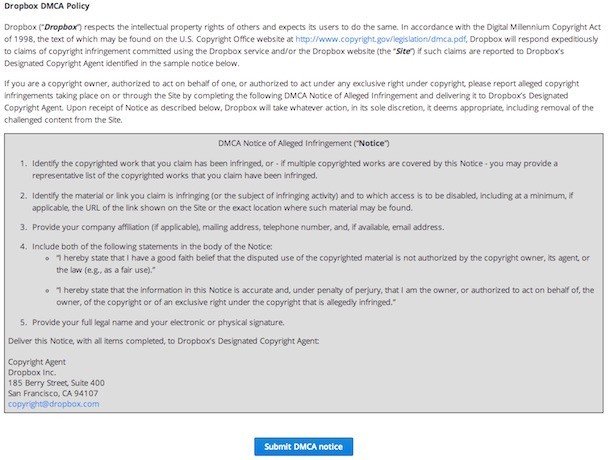 9. Payment Details
If your mobile app offers subscriptions, has an e-commerce component or has in-app purchases, you should include a clause that discusses the details of payments.
You can discuss things like acceptable methods of payments, how automatically-renewing subscriptions will be charged, if you use third parties to process payments and anything else you feel would be important and useful for your users to know about.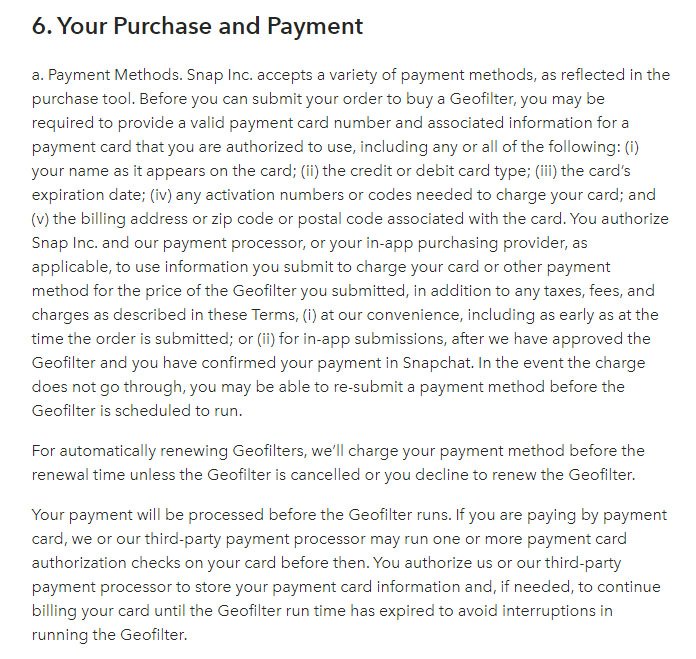 It's common to see information in these clauses about what happens with payments when a user cancels an account or a subscription.
This "Payments and Cancellations" clause from Spotify lets users know that subscriptions will automatically renew unless canceled before the end of the current subscription period and that the cancellation will take place after the last day of service. Refunds are also discussed.

10. Right to Update or Modify Terms
You're going to want to maintain the right to update or modify your Terms as needed. Include in this clause that by continuing to use your app after your Terms & Conditions have been changed, a user will be deemed to accept your terms.
This makes it so that you don't have to obtain active agreement to your Terms from a user more than once. Otherwise, every time you update your Terms a user could claim that he never agreed to that new document - only the original, pre-change Terms agreement.
Here's an example from Bar Venture that includes the following important points:
Terms may be modified at any time
After modification, a user will be agreeing to new Terms if he continues using the app
A user should check the Terms periodically for these changes
Material modifications will come with some sort of notification (email, pop-up notification, etc.)

Here's another example from WASH that says the same thing in a shorter, more to the point way.

Even if you don't foresee changing your Terms, include this clause anyway. It's better to have it and never use it than need to use it and not have it in your initial agreement.
11. Disclaimer of Warranty
This clause will be fairly boilerplate and standard across the board.
You'll want to let users know that:
Your app is provided "as is"
You don't provide any kind of warranty
Users are using your app at their own risk
You don't guarantee that your app is free from mistakes, malware, errors or other issues that could potentially damage a user

12. Disclaimer of Liability
This is another clause in your mobile app Terms & Conditions that will be fairly standard and boilerplate.
Here is where you let users know that you will not be held liable for any damages that arise from the use of your app.
Common points mentioned in this clause include no liability for:
Loss of data
Conduct of third parties
Inability to access the app
Copyright infringement of others
Any other damages that may occur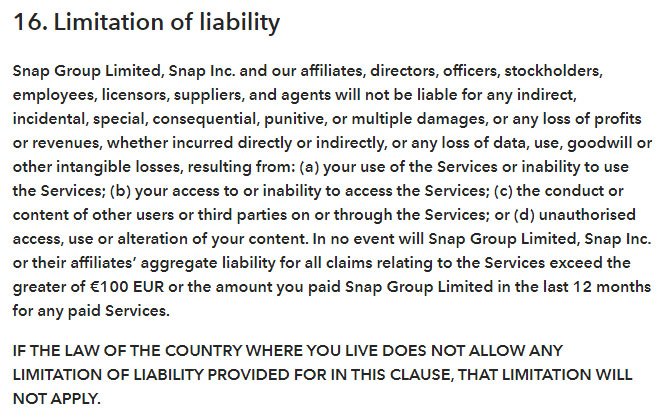 13. Governing Law
If your app is distributed around the world, this clause is especially important.
The Governing Law clause is where you tell your users what laws your mobile app Terms & Conditions will fall under if a dispute arises.
Typically, businesses set their governing law to the jurisdiction they're headquartered in or do most of their business in.
Imagine a situation where you're a U.S. business and a user of your app who's located in China sues you for damages. Without a governing law clause, Chinese law may apply to the lawsuit. You can see why this would be more than undesirable to developers and distributors of apps.
By including a governing law clause, you can set your desired law and your users will have to agree to this.

14. Privacy Policy
Include a clause that references your Privacy Policy and links to it.
This helps users know that you do have a Privacy Policy, helps them access it, and gets them to agree to your Privacy Policy by default when they agree to your T&C.
While your app may not need all of these clauses, it will likely need most of them.
Remember, your Terms & Conditions is where you put forth the rules and guidelines that users must follow when using your app, so you have a lot of flexibility with what you include. Some T&C's are exceptionally long, while others just have a few main important clauses.
Use this sample outline as a starting point to creating your own mobile app Terms & Conditions and you'll have a strong, solid base for your agreement that you can customize depending on the needs of your app.