Written by
Post-graduate law degree, CIPP/E from the International Association of Privacy Professionals (IAPP). Privacy and Data Protection Research Writer at TermsFeed.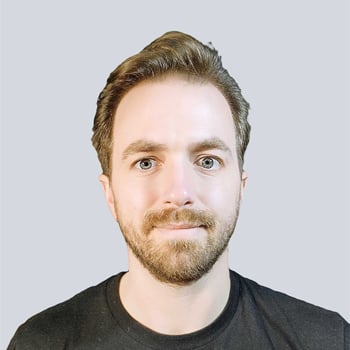 Companies are increasingly turning to User-Generated Content (UGC) in order to boost their social media presence.
Getting your customers to create content for your company can increase your reach and brand engagement.
But this sort of campaign is fraught with legal pitfalls. Without due consideration of copyright and privacy issues, reposting or publishing your customers' content can result in legal trouble.
This article will discuss some of the most common legal issues when it comes to UGC and social media, and what you can do to help avoid legal liability for any UGC your platform allows.
Our Disclaimer Generator can generate a legal disclaimer for your business, website or mobile app. Just follow these steps:
At Step 1, select where your Disclaimer will be used.

At Step 2, add in information about your website/app and business.

Answer some questions about your business practices.

Enter an email address where you'd like to receive your Disclaimer and click "Generate."

Done! You'll be able to instantly access and download your new Disclaimer.
Social Media User-Generated Content Campaigns
UGC comes in many forms, such as comments under a blog post and posts on a message board.
In this article, we'll be focusing on UGC created as part of a social media campaign. Typically, such campaigns involve a contest or a product giveaway. They're a great way to get customers involved in your brand.
Some ways to increase your brand's reach by using a social media UGC campaign include:
Inviting users to use your brand's hashtags
Encouraging users to share their submissions with their own followers
Publishing their submissions via your platform or channels
Let's look at some examples.
Here's a Tweet from Domino's Pizza UK inviting customers to submit poems as part of a contest: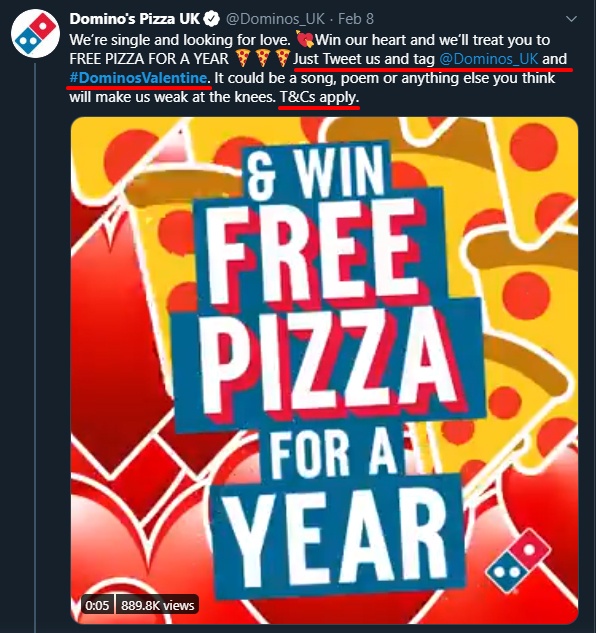 Any of the songs, poems or other content created by the public and submitted as part of this contest are considered UGC.
Here's another example from Customized Girl: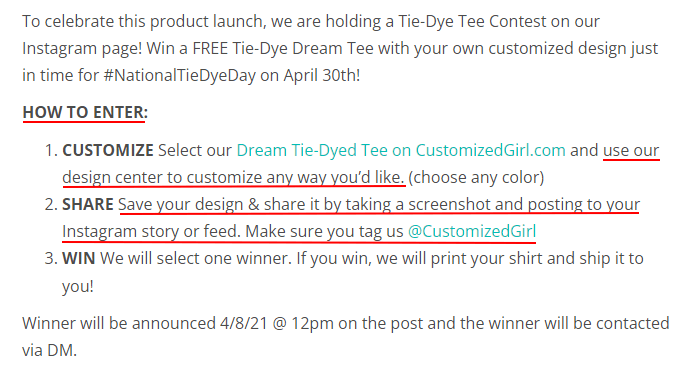 Customized Girl invites users to use its design center to customize a shirt any way they'd like. These shirt designs qualify as UGC.
And here's how SnackThat calls on people to submit their UGC in the form of a proposed bio for the company to use on its page as its own content: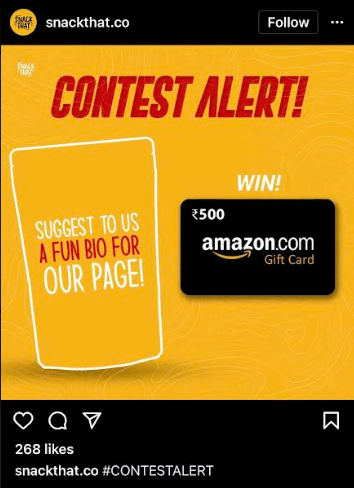 Given the open nature of social media and the willingness of customers to create UGC, you may be surprised to hear that such campaigns bring up a number of legal challenges.
Here are some of the legal issues that can come up during these types of campaigns.
User-Generated Content: Legal Issues

1. Copyright Violation
Users retain the copyright to their content by default, even if it is related to or inspired by your brand.
If you want to repost or publish UGC, you must take steps to ensure you're not violating users' copyright.
But it's not always clear how best to do this.
For example, take a look at this old attempt by Disney to avoid committing copyright violation in one of its past UGC campaigns:

This tweet was widely mocked by lawyers and Star Wars fans alike for its defensive and legalistic tone.
But there's a reason Disney was so pushy with claiming ownership over its users' content. The company wanted the freedom to publish the UGC on its social media feeds, website, and elsewhere as it saw fit and wanted to, without any users claiming the company misused their UCG.
Users who submitted UGC in reply to Disney's tweet might not have expected Disney to republish their content. Providing a disclaimer like this is one way of making them aware of Disney's intentions.
However, there are much better ways of avoiding copyright infringement than this, as we'll see below.
2. Offensive or Inappropriate Content
The nature of the internet means that some users may submit offensive or inappropriate content as part of your UGC campaign.
On social media, the user on the platform is normally legally accountable for this sort of content. But reposting offensive content can leave your company in violation of a social media platform's Terms of Service, or even in violation of the law.
However, you can guard against the creation of offensive, inappropriate, or abusive content when creating your UGC campaign. And you can also take care when selecting content for republication.
3. Privacy Issues
When your company collects, uses, stores, or shares personal information, even via social media, it may be accountable under privacy law.
Laws such as the California Consumer Privacy Act (CCPA), Canada's Personal Information and Electronic Documents Act (PIPEDA), and EU General Data Protection Regulation (GDPR) place strict rules on how companies treat consumers' personal information.
Without proper consideration of the privacy issues, it is possible to violate privacy law by reproducing UGC that contains personal information, or publishing the personal information of the user or third parties.
4. Defamation
Defamation law is a complicated area, and varies considerably between countries.
It is possible, under certain circumstances, for a business to be held liable for defamatory content created by its users.
For example, in a case heard by the European Court of Human Rights, Delfi AS v Estonia, users made defamatory remarks in the comments section of a news website.
The website operator was found to have committed defamation even though it removed the comments.
This is less of an issue on social media, where, for the most part, either the user or the social media platform itself will be accountable for such activity.
But it's still important to be careful about what you publish and repost.
User-Generated Content: Solutions to Legal Issues

Despite the legal issues outlined above, a careful and considered approach to your UGC campaign should allow you to steer clear of litigation.
Create Clear and Comprehensive Terms and Conditions
Our Terms and Conditions Generator makes it easy to create a Terms and Conditions agreement for your business. Just follow these steps:
At Step 1, select the Website option or the App option or both.

Answer some questions about your website or app.

Answer some questions about your business.

Enter the email address where you'd like the T&C delivered and click "Generate."

You'll be able to instantly access and download the Terms & Conditions agreement.
You should create Terms and Conditions specific to the UGC campaign you're running. This is especially important if you're running a contest, or if you intend to publish the UGC you receive outside of social media.
(A Terms and Conditions document is also known as a Terms of Service or Terms of Use.)
Here's how SnackThat includes a clause in its Terms of Service that addresses how it will handle any submissions from users, including creative ideas, suggestions or contest entries from a user: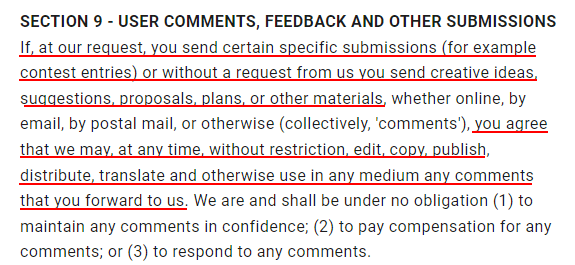 It makes it clear that when a user submits this content, the company can use it as it sees fit.
Here's an excerpt from Disney's Terms of Use:

Above, Disney attempts to minimize the likelihood that entrants will submit offensive or inappropriate UGC by telling people they may not submit defamatory, harassing, threatening, bigoted, hateful, violent, vulgar or obscene content.
If you've spent much time on the internet, you'll know that this is, sadly, necessary.
Present Your Terms and Conditions
To avoid copyright issues, you need to make users aware of your Terms and Conditions at the earliest possible opportunity.
Here's how Domino's Pizza UK does this on Twitter with one of its older contests: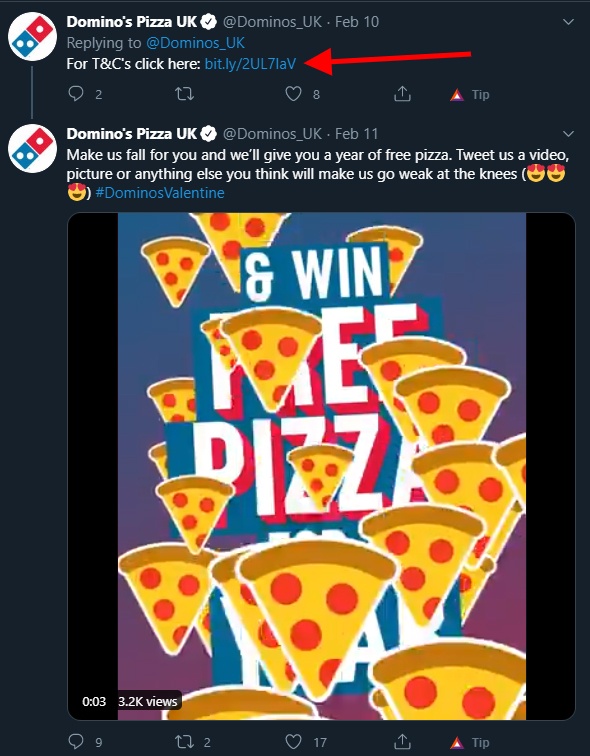 Note that Domino's Pizza links to its Terms and Conditions as a reply to its main competition tweet. Ideally, this link would appear in the main body of the first tweet.
Make sure to note that you have Terms and that the Terms apply.
Seek Active Agreement Before Publishing
Although you should always present your Terms and Conditions to your users when publicizing your UGC campaign, it probably won't be possible to get users to actively agree to your terms before they create their UGC.
For your Terms and Conditions to be legally binding, your users need to actively agree to it.
If you do encounter legal issues as a result of your UGC campaign, simply having made users aware of your terms is unlikely to be sufficient. Therefore, once users have submitted their UGC, you should still contact them to get their permission before you publish it.
Send a direct message to any user whose UGC you plan to repost or publish:
Explain where you plan to publish or re-post their content
Explain whether you intend to publish their name, social media handle, or any other personal information
Ask them to read and accept your Terms and Conditions and Privacy Policy
Cover User-Generated Content in Your Privacy Policy

Your company's Privacy Policy should explain all the ways in which you collect, use, store, or share personal information. This includes personal information collected via social media.
There are two main reasons why you need a Privacy Policy:
✓ Privacy Policies are legally required. A Privacy Policy is required by global privacy laws if you collect or use personal information.
✓ Consumers expect to see them: Place your Privacy Policy link in your website footer, and anywhere else where you request personal information.
Generate an up-to-date 2023 Privacy Policy for your business website and mobile app with our Privacy Policy Generator.
One of our many testimonials:
"I needed an updated Privacy Policy for my website with GDPR coming up. I didn't want to try and write one myself, so TermsFeed was really helpful. I figured it was worth the cost for me, even though I'm a small fry and don't have a big business. Thanks for making it easy."

Stephanie P. generated a Privacy Policy
Maintaining a clear and legally-compliant Privacy Policy is essential for any reputable business.
Users may submit personal information when creating UGC. This might include their name, their handle/alias, or personal details.
Of course, this information is volunteered, but your Privacy Policy should explain what types of personal information you collect via UGC.
This is particularly important if you have users in the EU or the UK, where the GDPR requires businesses to maintain very detailed Privacy Policies.
Here's how WaterWipes does this:

Consider Using a License Agreement
One way around copyright issues is to ask your users to accept a licensing agreement. This serves to grant you certain rights to use and publish their content.
Licensing agreements are typically used by software developers to grant users the right to use their software (known as an End-User License Agreement or EULA). In this case, you will be asking your users for a license to publish their content.
Here's an example, from Treatwell's UGC Policy:

Note that Treatwell asks users to grant the company permission to publish their UGC, and also to warrant that they have obtained any necessary permissions from third parties.
Summary
UGC campaigns on social media are a great way to create a buzz around your brand.
The main legal issues that can result from these campaigns include:
Copyright infringement
Privacy issues
Offensive or inappropriate content
Defamation
To avoid these issues, make sure that you:
Create a clear Terms and Conditions agreement
Make your users aware of your Terms and Conditions at the earliest opportunity
Ask your users for permission to repost or publish their content
Cover UGC in your Privacy Policy
Consider creating a license agreement