Freelancers all over the world are familiar with the "feast or famine" experience. Whether you're a writer, designer, photographer, or some other solo artist, you know that you either have enough clients and work to sustain your lifestyle for months at a time, or you're desperately scrounging for that next gig.
Unfortunately, many freelancers neglect aspects of their websites (if they have them), which could help their overall businesses.
For example, many do not include a Terms and Conditions agreement on their websites at all. If they do, it's often something they've copied and pasted from a regular business website. On rare occasions, they may have ripped off a competitor's Terms and Conditions agreement.
Of course, without a proper Terms and Conditions agreement, many misunderstandings between freelancers and their clients can arise. On the other hand, including a professionally written Terms and Conditions agreement can help resolve this issue by laying out what is expected from the client when using the freelancer's website and what's expected of both parties before any project begins.
If you're a freelancer, it's essential that you have a Terms and Conditions agreement on your website so that potential clients know exactly what they will be getting into when working with you.
In this article, we'll discuss what Terms and Conditions agreements for freelancers are, why they're necessary, and how to go about creating one.
Our Terms and Conditions Generator makes it easy to create a Terms and Conditions agreement for your business. Just follow these steps:
At Step 1, select the Website option or the App option or both.

Answer some questions about your website or app.

Answer some questions about your business.

Enter the email address where you'd like the T&C delivered and click "Generate."

You'll be able to instantly access and download the Terms & Conditions agreement.
What is a Terms and Conditions Agreement?
Before jumping into the fundamentals of how to create a Terms and Conditions agreement for your freelancing website, you should understand what one is.
A Terms and Conditions agreementi is essentially a contract between you and your clients. You make services available to them, and in return for using these services, they promise that they will follow the rules set out in your Terms and Conditions agreement. A Terms and Conditions agreement is also known as a Terms of Use agreement.
Think of this agreement as a "one-stop-shop" for all critical information that clients need before getting in touch with you to engage your services or before they choose to purchase a package of whatever freelance offerings you make on your website.
A proper Terms and Conditions agreement allows you to:
Set rules for user behavior
Manage client expectations
Limit your professional liability
Withdraw or cancel services
Disable user accounts
Provide legally required disclosures
... and much more.
For example, freelancers may also wish to include clauses that cover topics like:
Payment schedules
Prices and rates
Ownership and copyright
Kill fees and cancellation terms
How to Write Your Freelancer's Terms and Conditions Agreement

Your Terms and Conditions agreement's first paragraph should contain the acceptance and terms clause.
Essentially, you need to let the user know that by using your website or engaging your services indicates an acceptance of the Terms and Conditions agreement's terms. The clause should also ask the potential client to leave and discontinue using your website if they don't agree to the conditions you layout.
After that, you should include the following sections in your agreement.
The Agreement's Effective Date
You should include the date your Terms and Conditions agreement became effective.
If you ever change your agreement, simply switch out the date to reflect the most recent update. You can also keep the original date and explain some changes that took effect on the new date.
Governing Law
Make sure you are clear about which country or state laws govern the agreement between you and your clients. This is usually the country or state in which you registered your business.
Here's an example from New York based Majority Media, run by freelancer Sean Atkinson: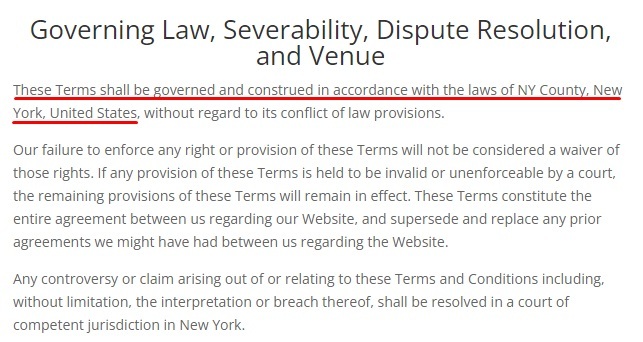 Detail Your Privacy Practices
Unless you do not collect any personal information from potential clients, you'll need a separate Privacy Policy to disclose your privacy practices. With the proliferation of privacy laws worldwide, being exceptionally careful here is prudent.
With that said, you may ask why you need to have a privacy clause in your Terms and Conditions agreement if you already have a Privacy Policy. The answer is that out of an abundance of caution, and to ensure that you're as transparent about your privacy practices as humanly possible, you should have a clause dedicated to outlining the highlights of these practices.
Your Terms and Conditions agreement should then link directly to your full Privacy Policy.
Here's how copywriter Ben Settle frames his privacy section in his Terms and Conditions agreement. Note that he simply uses this section to point people back to his full Privacy Policy.

Limitation of Liability
This clause is crucial regardless of how big your business is, as it can limit the damages for which your freelance business is liable.
Essentially, you want to inform future clients that you will not be held responsible for any damages resulting from the use of your service or website.
Additionally, while you cannot legally create a contract that exempts you from all liability, it's nevertheless important to limit the things for which clients can hold you accountable.
You should therefore limit liability for:
Damage to the user's device (e.g., spyware, viruses)
Inaccuracies or errors in your content
Third-party damage
This is how freelancer Arman Assadi limits liability on his website:

You should also set the maximum amount for which a person may sue you, as you cannot contract out of all your liability as seen below from Ben Settle:

Intellectual Property Rights
Including a clause on intellectual property rights, copyright and ownership of any work you do for a client is vital.
Access to your intellectual property may be available to any user who visits your website. This includes your trademarks, copyrighted materials, and other elements that make your website or service unique.
You'll want to put some extra thought into this section of your Terms and Conditions agreement. For instance, if you're a designer, you might want to keep ownership of any sketches you make that don't end up as part of the client's project, or you might want to specify that you have the right to reuse content after a specific time.
Most freelancers will agree that a clause, which protects your copyright until the project is complete and paid for, is a good idea. Your client will receive the rights, and you will be obligated to keep your work confidential.
A proper intellectual property rights clause should benefit both of you.
Here's how freelance copywriter Lorrie Morgan writes this clause in her Terms and Conditions agreement:

Advertising and Endorsements
Most freelancers don't actually have the kind of web traffic that would tempt advertisers to pay for ad space on the freelancers website. However, some do. Others are affiliates of larger companies and they put up ads or place links to products of these companies on their websites.
Even if you're just participating in an advertising program like Google AdSense, you'll want to disclose that fact. If you choose to put a clause like this in your Terms and Conditions agreement, you need to disclose your connections to advertisers and waive any liability related to these ads.
If you collect user information to target ads, that's something that you should disclose in your Privacy Policy. However, you can still disclose your relationships with advertisers and waive any liability in your Terms and Conditions agreement.
Here's how Ben Settle does it:

Payment Terms
Most companies, regardless of size or industry, include a clause that specifies the conditions for payment.
In general, this clause allows you to terminate service for nonpayment and informs customers that payment information is required. These provisions also indicate whether you offer monthly, quarterly, or annual payment plans and the frequency at which they are due.
As a freelancer, you should also include specifics on your payment schedule and methods.
For instance, there are a few different standard ways in which freelancers bill their clients. Some break their fees down into three payments paid at the beginning, middle, and end of a project.
They can be done in percentages like this:
Other freelancers demand 50 percent upfront and the remainder upon completion of the project.
You'll want to use this section to specify your criteria for payment.
Here's how Henneke Duistermaat at Enchanting Marketing very simply words her payment clause:

Timeline and Deadlines
In general, freelancer contracts have a deadline and a date when projects begin.
Having a clause in your Terms and Conditions agreement that dictates the timeline you follow can benefit you and your client. It can help you plan projects according to your time frame, and it can also be a motivational tool.
Detailing how you handle deadlines is also beneficial to the client.
Here's how UK copywriter Laurence Blume writes this clause:

Kill Fee and Cancellations
This clause is a bit like the payment clause, but it establishes what the client must do and how much they must pay if they cancel a project they've already contracted with you to complete.
For instance, if the project is canceled or the client goes bankrupt, you can charge a kill fee. The client must compensate you financially to cover the time that you already spent on the project.
You can also specify that any deposit the client pays is non-refundable.
Here's how Laurence Blume does this:

Termination of Agreement
This clause allows you to ban clients from your website, terminate accounts, and place restrictions on users. This may be necessary if your client is using your website in an inappropriate manner, such as posting abusive messages in any forum you might have on your website.
This clause should inform your users that you can terminate their accounts without reason or notice and that you are not liable for any resulting losses.
Here's how Lorrie Morgan writes hers:

Notification of Changes to the Agreement
From time to time, you may need to make changes to your freelancer's Terms and Conditions agreement. It's a generally accepted practice to include a clause that tells users that you have the right to make changes and that you'll provide notification when you do.
Here's how Enchanting Marketing does this in a simple, straightforward clause:

Your Contact Information
This clause tells customers how to contact your company. Include a phone number, email address, and a postal address if possible. The more methods, the better.
Consider inviting potential clients to contact you for clarifications about the terms in your agreement. Remember that it's beneficial to encourage understanding between all parties.
Ben Settle gives several ways to contact him in this clause.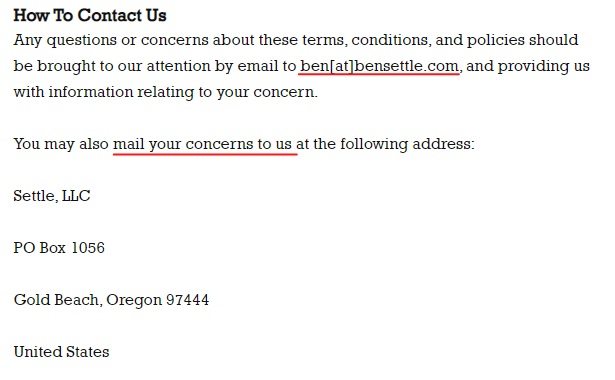 Now that you know what information to cover in your freelancer's Terms and Conditions agreement, let's take a look at where you should display your agreement to make it most effective.
Where to Display Your Freelancer's Terms and Conditions Agreement

It is crucial to display your Terms and Conditions agreement if you want to get explicit acceptance of the agreement before allowing the client to proceed with the engagement of your services.
With that said, some common places to put your Terms and Conditions agreement are:
Your website's footer
Sign-up forms
On a checkout or payment page
As links within other agreements (e.g., a link in your Privacy Policy pointing back to your Terms and Conditions agreement)
Here are some examples.
Website Footer
Just about all businesses display their Terms and Conditions agreements in the footer of their website. The reason is fairly obvious since users often check the footer for important links.
Anyone who visits your website can view the Terms and Conditions agreement at any time if you display your agreement in the footer.
Here's how Enchanting Marketing does it:

Sign-up Forms
If you include any sign-up forms, such as for your email newsletter or allowing potential clients to download free reports, white papers, case studies, etc., you should consider providing a link to your Terms and Conditions agreement within the form.
Note that while the Terms and Conditions agreement link is in the footer of the following form, some websites may put the link directly below the form, like Ben Settle does here: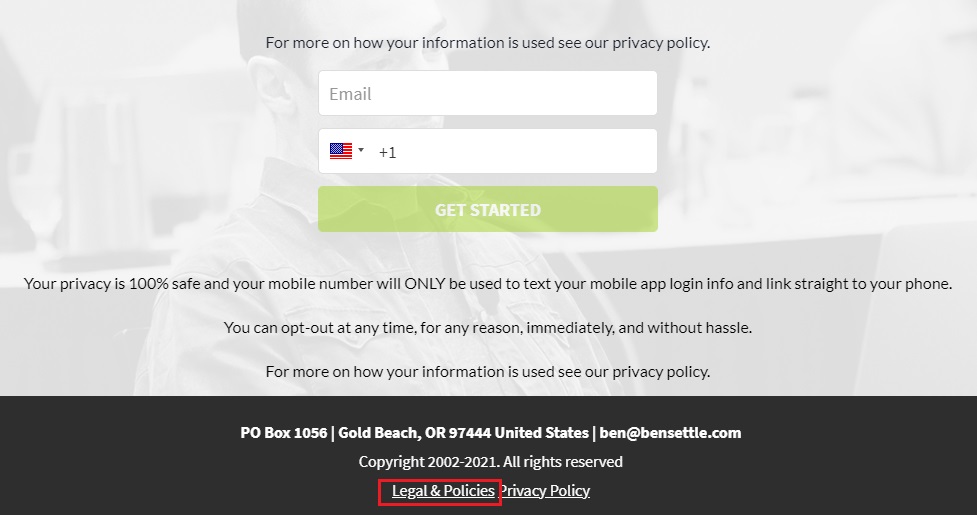 Payment Page
Most freelancers don't have a payment page on their sites, and instead invoice their clients.
However, if you do include a page where clients can order your services, it is a smart idea to make sure you provide a link to your Terms and Conditions agreement on any checkout or payment page.
You want to ensure that clients have the opportunity to once again review your terms before engaging your services.
Links in Other Agreements
Finally, there's sometimes overlap in topics covered in agreements like your Privacy Policy and your Terms and Conditions agreement. If there's more information in one, then you should link to it from the other.
Get Clients to Accept Your Freelancer's Terms and Conditions Agreement

Having a Terms and Conditions agreement is excellent, but it's meaningless and unenforceable unless the client accepts the agreement.
Many websites and apps require users to agree to the terms when they sign up or log in. Today that is most often accomplished through the use of a clickwrap agreement.
A clickwrap arrangement uses the following:
A checkbox. To create an account, place an order, or navigate to a new section on the website, the business will ask the user to tick the "I agree" checkbox to show acceptance.
A notice. A business may also point customers and clients to its legal agreements in a more detailed manner, e.g. "Click the button below to agree to..."
This is how the gaming website Steam ensures that website visitors have the opportunity to view the agreement and agree to it before continuing to browse the games on the website: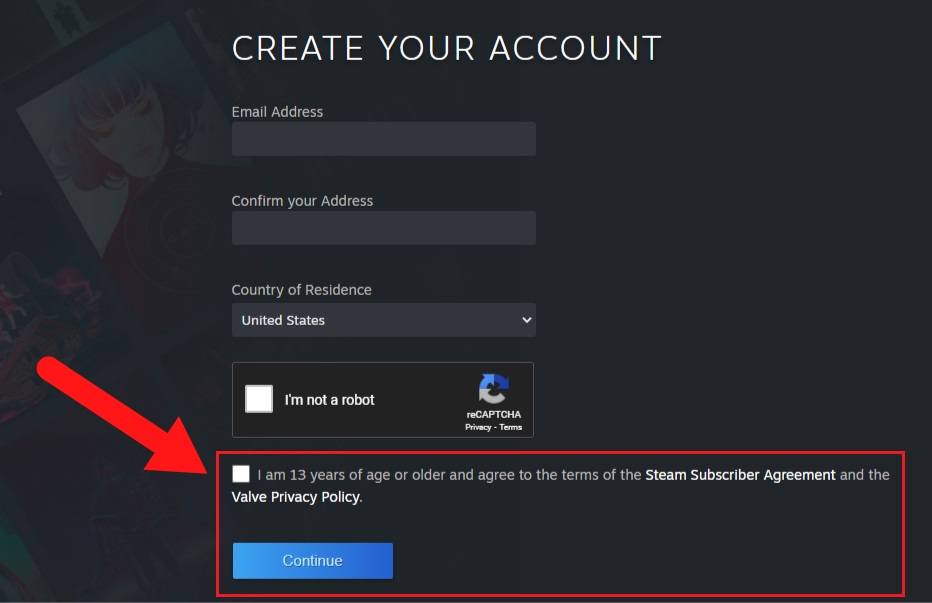 Summary
If you're a freelancer and don't have a Terms and Conditions agreement on your website, it may be time to get one. Remember that these agreements should outline what services you are offering and what rules clients need to follow when working with you.
The agreement should also include clauses on the following:
Effective date
Governing law
Privacy practices
Limiting liability
Intellectual property rights
Advertising and endorsements
One of the major clauses to include is one that details your payment terms. You'll want to clarify timelines for invoicing, or milestones of work completed before payment is expected.
You should also include provisions for termination of the agreement in case either party decides they no longer want to continue their business relationship.
Keep in mind that you should write your Terms and Conditions agreement in plain language that's easy for all parties to understand.
Ensure that your freelancer's Terms and Conditions agreement is easy to find by placing links to it in your website footer, Privacy Policy, checkout or payment pages, and sign-up forms.
Finally, to make sure that your Terms and Conditions agreement is legally binding, use clickwrap to obtain agreement from users. Recall that clickwrap requires users to make an explicit, affirmative action in order to consent to your terms.