Written by
Widener University School of Law graduate, Managing Legal Editor at TermsFeed.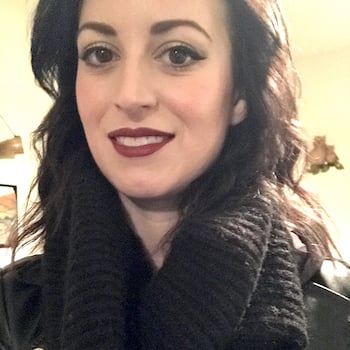 Google has a few requirements for websites that wish to sign up for AdSense, including the requirement to have a Disclaimer or a Privacy Policy is in place.
Our Disclaimer Generator can generate a legal disclaimer for your business, website or mobile app. Just follow these steps:
At Step 1, select where your Disclaimer will be used.

At Step 2, add in information about your website/app and business.

Answer some questions about your business practices.

Enter an email address where you'd like to receive your Disclaimer and click "Generate."

Done! You'll be able to instantly access and download your new Disclaimer.
Disclaimer vs Privacy Policy for Google AdSense
A Privacy Policy is a legal policy that lets your users know about your privacy practices including:
What user data you collect,
How you collect this data,
Why you collect it and how you will use it,
How you keep this data secure, and
Any third party data collection that your website allows
Here's an example of a fairly typical privacy policy table of contents from INSEAD. You can see the range of topics that are covered in a number of pages of the document.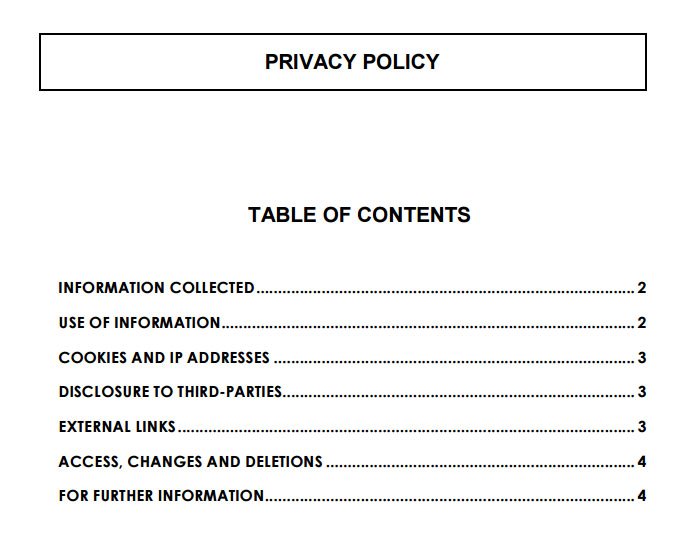 A Disclaimer, on the other hand, tends to be a shorter piece of text that covers one specific topic. It stands alone as its own notice and isn't part of a larger legal agreement or document.
Here's an example of a cookies disclaimer that pops up to let users know that cookies are in use on a website.

Even though information about cookies can still be found in the site's privacy policy, this separate disclaimer helps users more easily know about the site's cookies usage.
Privacy Policies are overall better than disclaimers because they disclose far more information and details to users than disclaimers.
For example, the cookies disclaimer simply lets users know that cookies are used, while the cookies section of a Privacy Policy will typically include information about what types of cookies are used, for what specific purposes, how this will affect users, and steps a user can take for opting out of the use of cookies.
Disclaimer Required by Google AdSense
Signing up for Google AdSense can help boost revenue of your website by letting you earn money when people click on ads you display on your website.

Google requires website owners to let their users know that:
Third parties may be placing and reading cookies on a user's browser, and
Web beacons will be used to collect information from users because of AdSense being used on a website.
Google provides guidance on what's required for a website to be eligible to participate in AdSense. One of the requirements is that the website must comply with the AdSense Program Policies.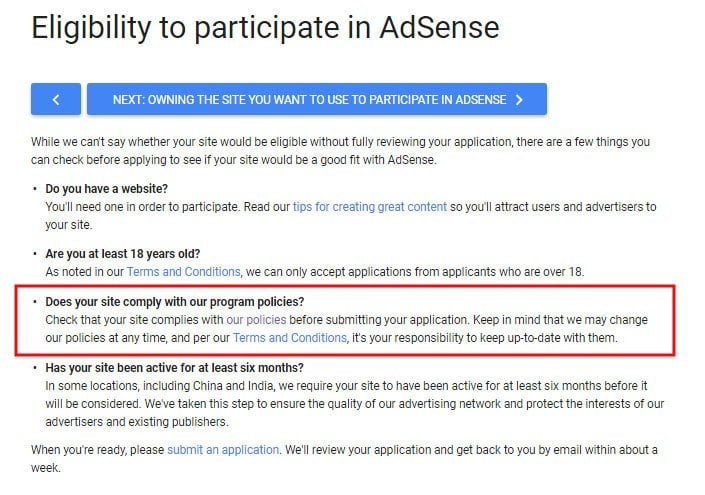 The AdSense Program Policies has a section titled Google advertising cookies that states:
"AdSense publishers must have and abide by a privacy policy that discloses that third parties may be placing and reading cookies on your users' browsers, or using web beacons to collect information as a result of ad serving on your website."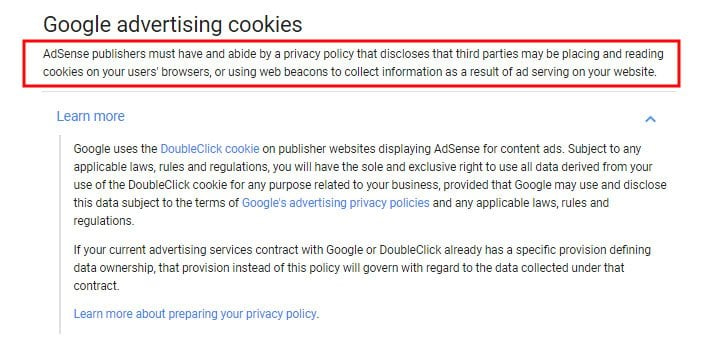 In a world where privacy is more important than ever, users are becoming more and more aware of programs like AdSense that use cookies and track user behavior.
This means that more and more users are actively searching for information and disclaimers about data-collecting tools in place on your website.
While it's legally compliant - and compliant with Google's Adsense requirements - to place information about cookie usage solely in your privacy policy, it may not be enough for your users.
You may need to add a standalone disclaimer that lets users know about your use of AdSense and how it affects a user's privacy.
Disclaimer Required by EU Cookies Directive
Because Google AdSense uses cookies, if you sign up for AdSense and plan to use cookies with users in the EU, you're going to have to comply with the EU Cookies Directive.
To comply with this directive, you need to:
Tell users your website uses cookies,
Obtain user consent to place these cookies, and
Give your users some control over the use of cookies even after consent is given.
You can meet these requirements by placing a pop-up notice on your website that lets users know cookies are used, and that settings can be changed.
Here's an example of the cookies notice from the Cookie Law website itself.

Examples of Google AdSense Disclaimers
While a disclaimer for your use of AdSense isn't legally required, it's something that users are seeking out and interested in seeing.
Here are a few examples from websites that have an AdSense disclaimer in place.
My-IQ.net has an Advertising Cookie Privacy and Google AdSense disclaimer that lets users know that Google uses cookies to serve ads on the site, and that Google will adapt the ads based on visitors and members browsing other sites.
Users are told how they can disable cookies if they want to: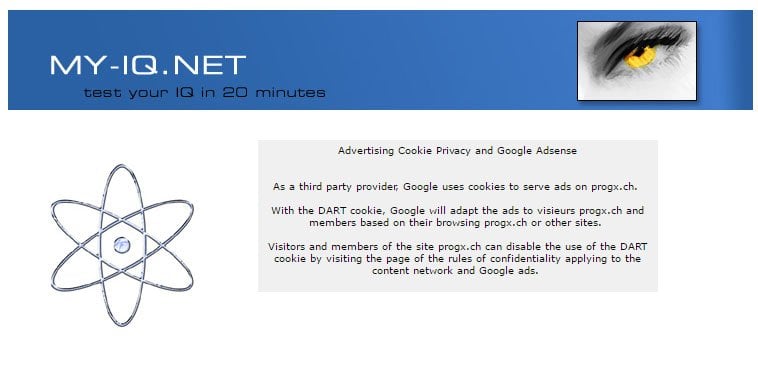 SmokeShopOfficial has a Google AdSense Disclaimer that lets users know that some advertisers such as Google and the Google AdSense program may use technologies such as cookies and web beacons to advertise on the website.
Users are further informed that these cookies and web beacons may collect information such as ISP information, browser information, and whether Flash is installed, and that this information is used for geotargeting purposes.

Mangroves has a disclaimers page with a number of different disclaimers on it, including one for Google AdSense.
In this disclaimer, users are informed that the website uses Google AdSense to store cookies on their computers, and that Google uses information such as IP addresses to compile reports on website activity for ads for website operators.

Volz Servos also has a disclaimers page with a range of different disclaimers on it including a Privacy Statement for Using Google AdSense.
Users are informed that the site uses Google AdSense, which is a service for advertisements. Cookies are stored on a user's computer and this allows for analysis of the user's use of the website.
Google then delivers advertising based on information generated by the cookies. Users are informed that they may refuse the use of cookies by changing their browser settings.

Faith Area includes a multi-paragraph full-page disclaimer that informs users of Google AdSense and how it operates. Detailed instructions for how a user can choose not to accept the use of cookies by AdSense is included as well.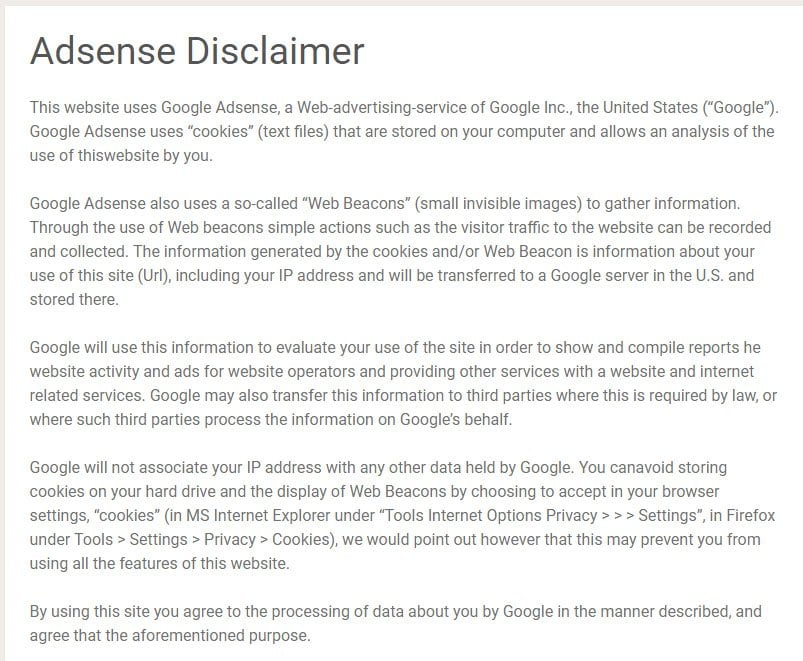 Stokley Nursery uses a similar full-page disclaimer with all of the same relevant information included.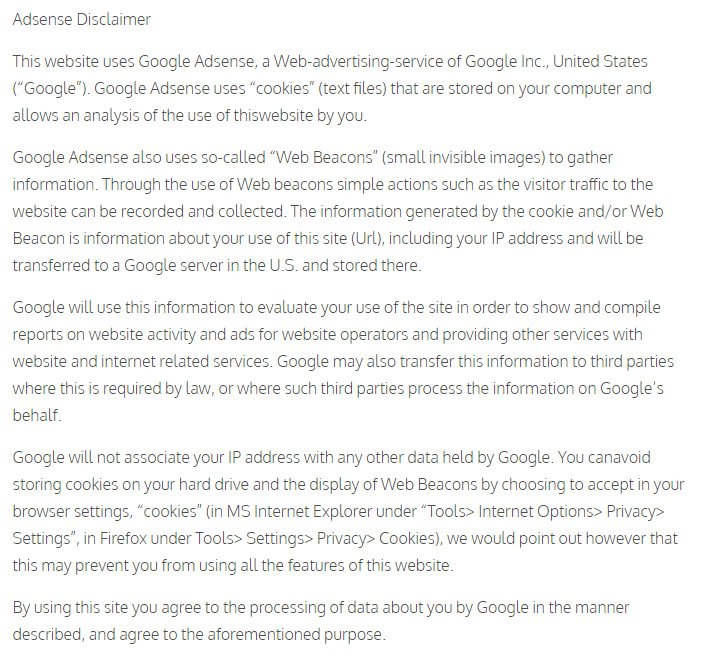 If you use Google AdSense, you're required to include a Privacy Policy that "discloses that third parties may be placing and reading cookies on your users' browsers, or using web beacons to collect information as a result of ad serving on your website."
You should also consider including a short, separate Google AdSense Disclaimer that lets users know this information. This will help users feel comfortable using your website and provide them with easy access to the information they're seeking.