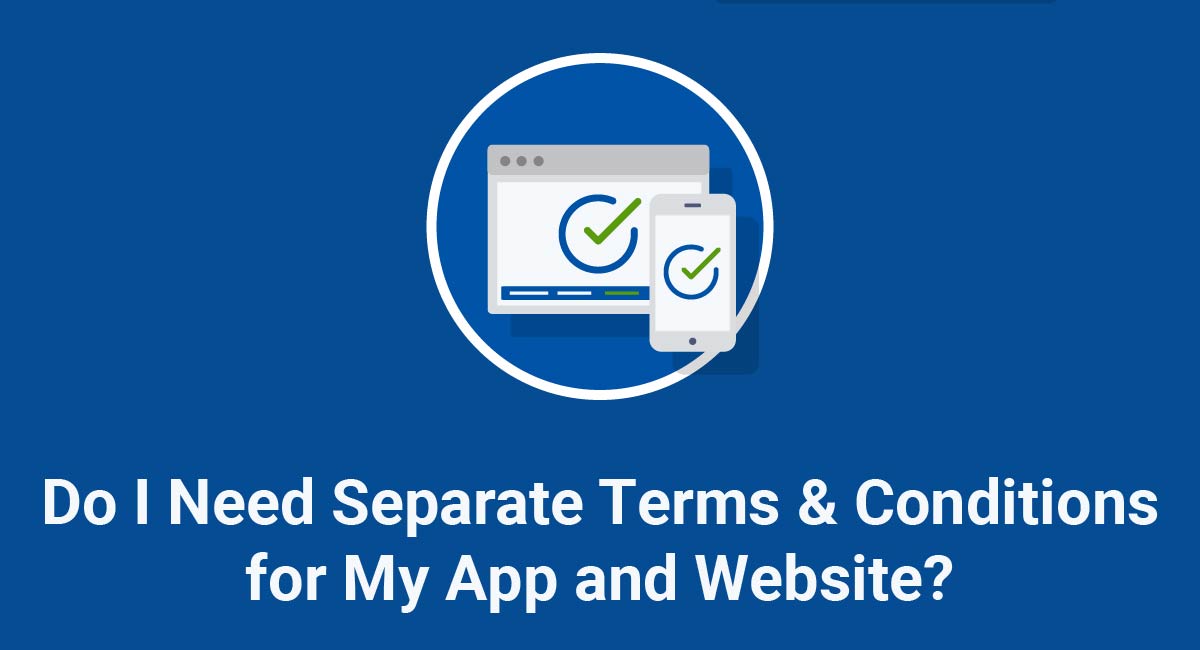 If you want your business to thrive, you need a robust set of Terms and Conditions to help manage your customers' expectations, set clear rules around the use of your services, and protect your business if you ever end up in court.
But if you operate both a mobile app and a website, do you need separate Terms and Conditions for each of these platforms, or can you wrap everything up in one overarching agreement?
The answer depends on the type of products or services you're providing and how your app and your website help you deliver those products or services.
Creating Terms and Conditions is not a legal requirement, but it's something that most businesses choose to do. To decide whether you need separate Terms and Conditions for both your app and your website, you need to consider what purpose the agreement would serve in each case.
Why Do I Need Terms and Conditions for My App?
Having a Terms and Conditions agreement for your mobile app brings many benefits:
You can include a "limitation of liability clause," which can limit the amount of damages you have to pay out in court.
You can include an "indemnity clause," which requires users to cover any damages they might cause you if they misuse your app.
If you charge for your app, you can use your Terms and Conditions to establish your billing arrangements.
Some app developers also include a section within their mobile app Terms and Conditions which grants users a license to use the app. For more information about End User License Agreements (EULAs), see our article Examples of EULAs for Mobile Apps.
Why Do I Need Terms and Conditions for My Website?
We're going to distinguish between two types of website Terms and Conditions:
Terms and Conditions covering the use of your website
Terms and Conditions covering the use of your services (which is delivered via your website)
Terms and Conditions covering the use of a website are sometimes called "Terms of Use" or "Terms of Service." This type of agreement serves several functions, including:
Exerting your intellectual property rights regarding the content on your website
Limiting your liability for any harm caused by third-party misuse of your website
Explaining to visitors that your website might not always be available
Here's an example from Apple's Website Terms of Use:

The above clause states that Apple owns the copyright to its website's content.
Now, see how the following clause prohibits visitors from conducting certain activities on Apple's website:

Terms and Conditions agreements that cover the use of your services, which you deliver via your website, are typically much more broad. Such an agreement will contain additional clauses, for example, clauses regarding account management and billing.
Take a look at this example from Asana, which delivers its services using a browser-based Software as a Service (SaaS) application.
This clause states that users must create an account to access Asana's services. This isn't true in the case of all websites, but it may be true if you offer your services via a website:

The following clause states that users of Asana's free services will maintain ownership of content they submit to Asana:

Note this sort of clause isn't relevant to many websites.
Separate Terms and Conditions vs One Agreement

We've explained that Terms and Conditions serve different purposes depending on the context in which they are being used.
So do you need a separate Terms and Conditions for your app and your website? There's no right answer. It really depends on the context and nature of your business.
If your mobile app and your website both serve the same purpose, e.g. to enable your customers to use your services across two different platforms, you could consider covering both platforms with one set of Terms and Conditions

If your mobile app is your company's main "product" or the only platform through which it delivers its services, and you just use your website for marketing purposes, you could consider creating:

Terms and Conditions for your app
Terms of Use for your website
For example, take a look at the introduction to HR software company Moonworkers' Terms and Conditions, which covers both its website and its mobile app:

This approach works well if you offer the same service via multiple platforms.
Now let's take a look at utility company Wasps Energy, which provides two separate agreements. Here's the introduction to Wasps Energy's Mobile App Terms and Conditions: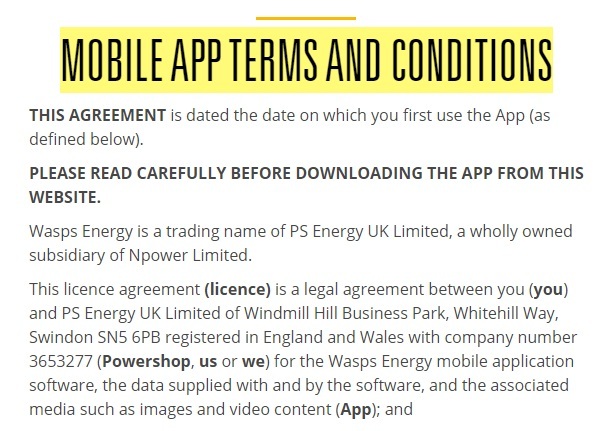 And here's the introduction to Wasps Energy's Website Terms of Use: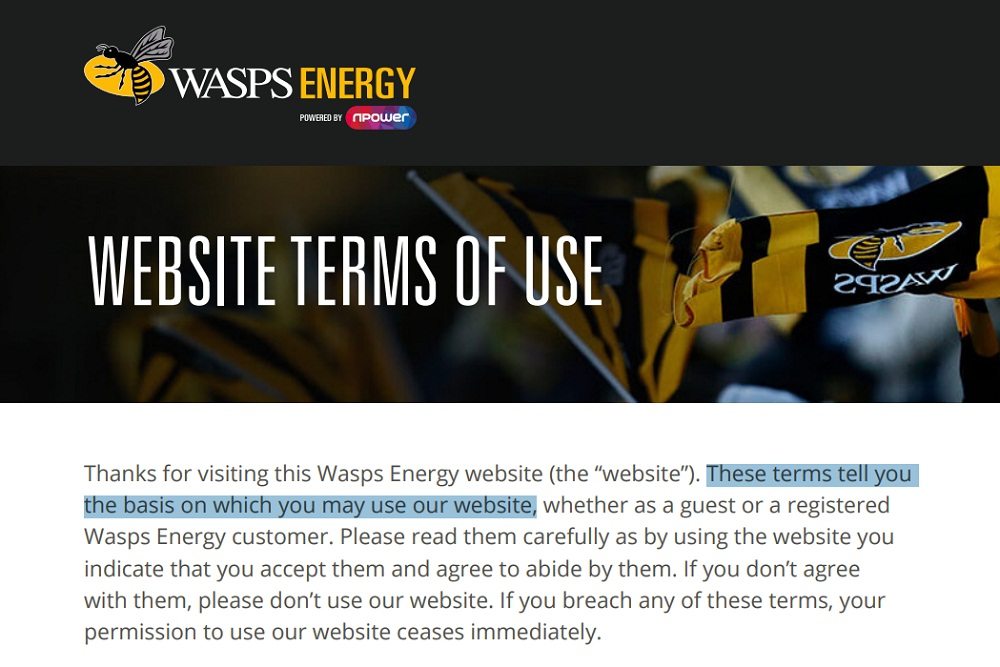 Separating out your two sets of Terms and Conditions like this makes sense if both agreements serve different purposes.
Do I Need Separate Privacy Policies for My Website and Mobile App?

As well as having a Terms and Conditions agreement for both your website and your mobile app, you must have a Privacy Policy. Having a Privacy Policy is both a legal requirement and, in the case of your mobile app, a requirement under your contracts with Apple or Google.
If you have both a website and a mobile app, you're likely collecting quite different types of data via each platform.
For example, your website might use cookies to measure your ad campaigns' effectiveness, target ads, and track how visitors use the site. Your website might also feature an inquiry form, a mailing list sign-up form, or social media plugins.
On the other hand, your mobile app might collect device IDs, such as Apple's ID for Advertisers (IDFA), or Google's ad ID. You might also collect analytics information via one or more third-party SDKs, or offer a single sign-on option.
Despite this, you don't necessarily need to have a separate Privacy Policy for your app and your website. It's possible to cover both platforms in one single document.
For more information, see our article Do I Need Separate Privacy Policies For My Website and Mobile App?