Written by
Widener University School of Law graduate, Managing Legal Editor at TermsFeed.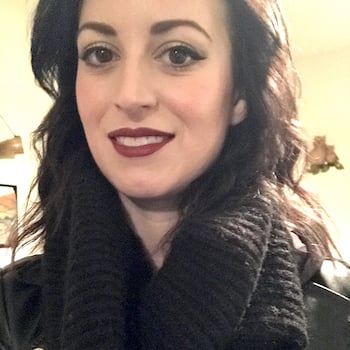 Many mobile apps are free to download and use from the Apple App Store or Google Play Store.
However, it's very common to see some of these free apps come with an option to make purchases within the app - called in-app purchases.
In this article, you'll learn how to write your Terms & Conditions to cover in-app purchases.
Our Terms and Conditions Generator makes it easy to create a Terms and Conditions agreement for your app. Just follow these steps:
At Step 1, select the App option.

Answer some questions about your app.

Answer some questions about your business.

Enter the email address where you'd like the T&C delivered and click "Generate."

You'll be able to instantly access and download the Terms and Conditions agreement for your app.
What Are In-App Purchases
In-app purchases can be found across all categories of apps. For example, mobile games may give you the option to purchase gemstones, extra gold or other items to speed up your progress in the game.
Workout apps may offer a limited amount of free workouts to get you motivated, with a more customizable and robust advanced workout experience if you purchase the workouts or pay a subscription fee.
For example, the 30 Day Workout App gives you an option to upgrade to a Pro Version of the app from within the free version of the app: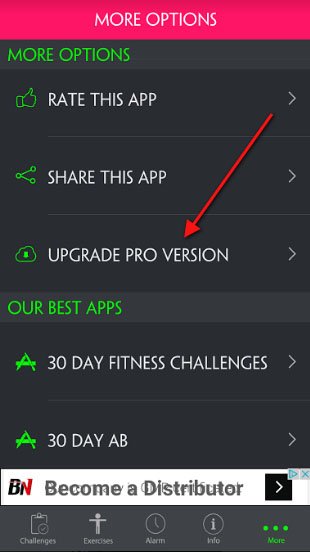 Games like Paradise Bay offer the option to pay real money for things like coins and gems that you can use to accelerate your game play:
Terms & Conditions for In-App Purchases
A Terms & Conditions agreement is an important part of any mobile app and can help keep your business legally protected. This agreement is sometimes called Terms of Use or Terms of Service.
The Terms & Conditions agreement has a number of benefits, including but not limited to the following:
You can limit user activity and prevent abuses of your app, such as spamming other users, reverse engineering your app software, and other undesirable behavior,
Reserve the ability and right to terminate accounts if the terms and rules in your agreement aren't followed,
Make your ownership clear when it comes to your content, and
Limit your liability in the event that something goes wrong with your app that causes damages to a user.
Another point your Terms and Conditions agreement can cover is general purchase and payment terms.
Payment terms in a Terms and Conditions can outline the following points:
When payment/s must be made (at the time of purchase, every year, invoiced each month, etc.),
What forms of payment are acceptable (US Dollars only, debit or credit card only, PayPal options, etc.),
If you offer refunds or pro-rate service costs, or if all purchases are final.
However, things get a little different if your payment terms will include in-app purchases.
This is because in-app purchases are technically made through a third-party company (Apple and Google) rather than directly with your app.
Apple and Google are behind the billing, processing and charging for the in-app purchases.
Google Play Store

Google breaks it down nicely in its Payments section of its Developer Policy.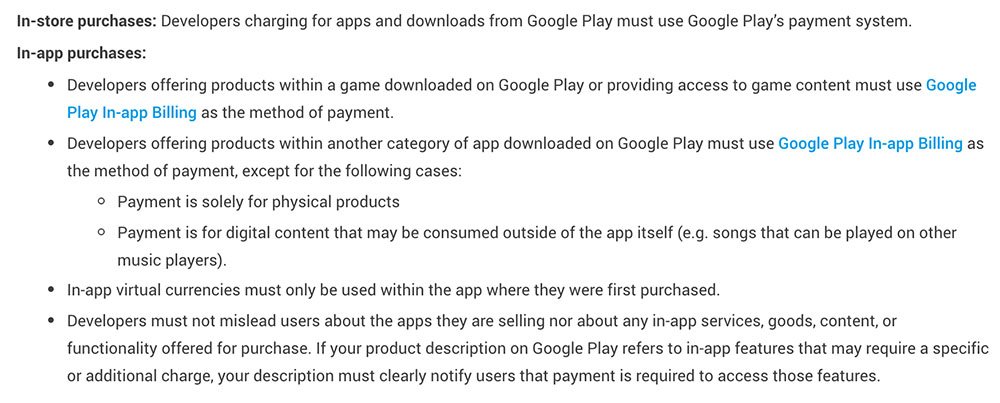 In-app billing from Google Play Store can used for virtual game products, app functionality such as unlocking an ad-free version or version with advanced features, subscription services for things like streaming music, videos, books or other media, and cloud software products.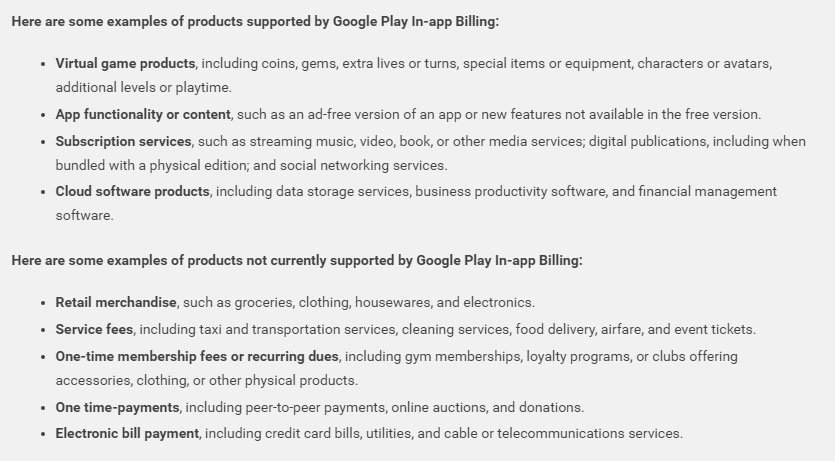 Apple App Store

Apple includes guidelines for developers who develop iOS apps that include in-app purchases.
These guidelines say that developers must use Apple's in-app purchase function for things like unlocking app features or functionalities such as "subscriptions, in-game currencies, game levels, access to premium content, or unlocking a full version."

If you allow in-app purchases of the types specified by Google Play or the Apple iTunes App Store (in-game currencies, ad-free versions, subscriptions, etc.), you should mention this in your Terms and Conditions.
Let your users know that your in-app purchases will be done through Google or Apple, and that there are policies in place for both Play Store and App Store for these kind of in-app purchases.
Examples of in-app purchases clauses
Here are a few examples of how popular apps that allow in-app purchases include this information in their Terms and Conditions through in-app purchases clauses.
The WeatherBug app offers a purchase option that allows a user to disable all advertising by paying an annual fee.
This is set out in the WeatherBug's Terms of Use agreement in a section titled "Mobile "In-App" Purchases."
Users are informed that "payments will be processed through the Google Play or iTunes app store from which you originally downloaded the application."
Users are also informed that they can access "the applicable "in-app" purchase rules and policies directly from the app stores."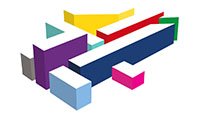 Channel 4 games includes a thorough section on in-app purchases in its Terms and Conditions agreement.
Six sub-sections cover topics from managing the ability to complete in-app purchases, how to get a refund, and age limits to making purchases.
Section 2.3:
"More information about how you may be able to switch off and/or manage In-App Purchases using your device may be set out in the App Store Provider's terms and conditions/EULA."
Section 2.4:
"If you make any In-App Purchases in the Game, then the App Store Provider's terms and conditions/EULA applicable to In-App Purchases will also apply."
Section 2.5:
"In the unlikely event that we are unable to replace or repair the relevant In-App Purchase or are unable to do so within a reasonable period of time and without significant inconvenience to you, we will authorise the App Store Provider to refund you an amount up to the cost of the relevant In-App Purchase. Alternatively, if you wish to request a refund, you may do so by contacting the App Store Provider directly."
Section 2.6:
"You acknowledge and agree that all billing and transaction processes are handled by the App Store Provider from whose platform you downloaded the Game and are governed by the App Store Provider's terms and conditions/EULA. If you have any payment related issues with In-App Purchases, then you need to contact the App Store Provider directly."
Here is what the "In-app Purchases" clause looks like: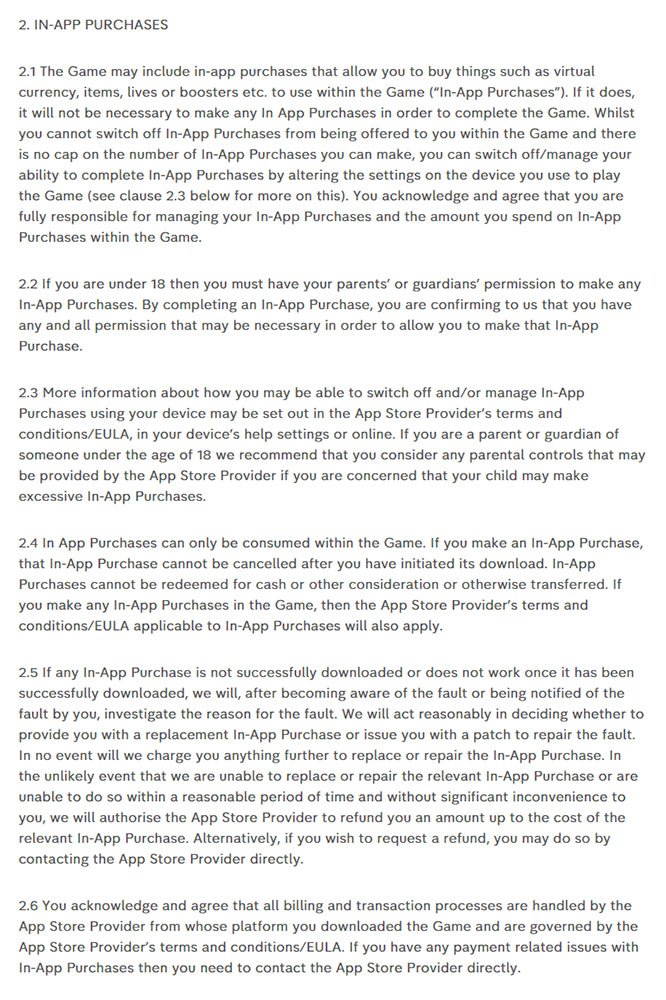 This thorough Terms and Conditions from the Channel 4 app makes it very clear to users that the "App Store Providers" - Google Play or App Store - are responsible for a significant portion of the in-app purchase transactions, including payments and refunds.

Calm offers purchases and subscriptions both directly and through an App Provider.
Users are informed in the Terms of Service agreement of Calm that they can cancel subscription renewals by emailing Calm, or by going through the App Provider if that's where they've made a purchase: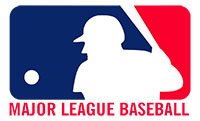 MLB.com lets its app users know that "In-app purchases are purchased from and billed by Apple iTunes, not MLB.com" and that "these purchases are subject to the terms and conditions of Apple iTunes."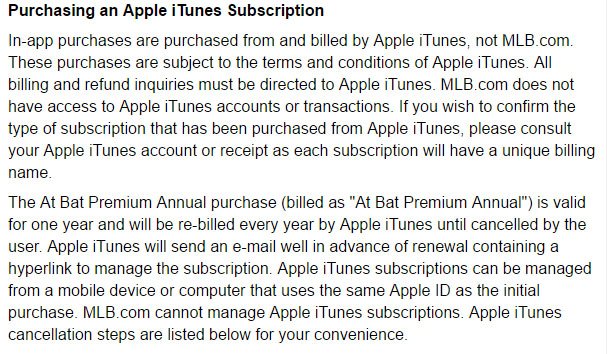 If your app has in-app purchases that go through an app store, such as Apple App Store or Google Play Store, disclose this to your users in your Terms and Conditions agreement.
Let users know that they should check the app store's own Terms and Conditions agreement if there are any issues with their in-app purchase, and that the app store handles the billing - not you.