The End-User Licensing Agreement, commonly named EULA, is a crucially important part of any mobile app.
It's the contract that works between the user of the mobile app and the provider of the app (software developer) to distribute a license to the user of the app.
Some of the most important clauses you can include in this kind of legal agreement are limits on the licensing and disclaiming liabilities and warranties.
Licensing agreements - the End-User Licensing Agreements or EULA agreements - are needed when users download or install a mobile app because the app is protected by copyright laws, and only a license can be passed on to the user. As would be expected, the license granted to the user can include limitations such as prohibiting a user of the app from trying to reverse-engineer the app or reselling the app.
If your mobile app has this kind of agreement already in place, display it to users before they install your app to ensure that users are aware of their rights and restrictions before accessing any part of the app or the entire app itself.
In the image below, note how the "License Agreement" and other legal agreements are made available to users on Apple App Store for the Vimeo iOS app: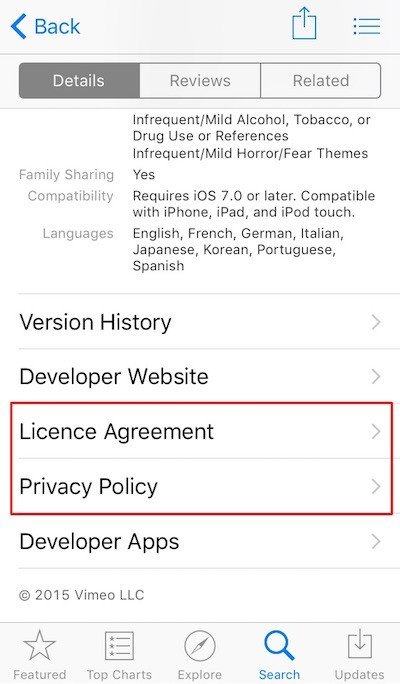 When the user taps on "Licence Agreement", she will be taken to a version of Vimeo's Licence Agreement that's already embedded on the App Store: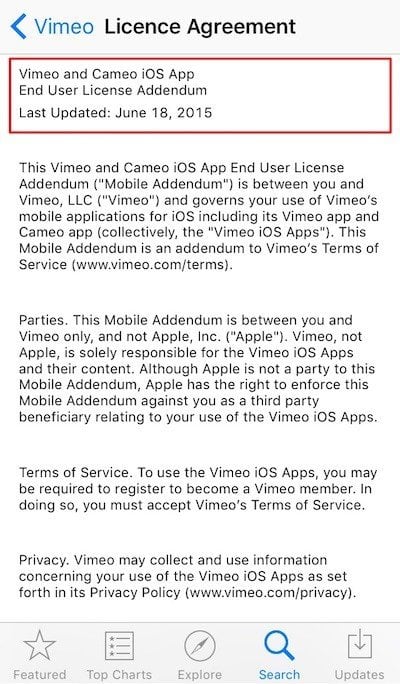 But EULA agreements are not only found in mobile apps, but desktop apps as well. The origin of EULA agreements was in desktop software programs that would be licensed to users, and this is still the case today.
Clauses to add
While a number of clauses can, and should, be included in every legal agreement of this type, a few stand out as being the most impactful and crucial to an adequate and effective legal licensing agreement.
A few of the most important clauses are the restrictions on use, the termination of licensing, and the disclaimer of liability.
Clause 1: Restrictions on Use
When you allow a user to download, access, and use your mobile app, this cannot be done without some sort of restrictions and limitations. This is for your own app's security and for users to adhere to copyright laws.
A "Restrictions on Use" clause section of your EULA agreement is where you make it clear what sort of use of your mobile app is forbidden (or not), such as limiting the amount of installations per license, forbidding using the app for generating a profit or attempting to decrypt the app.
Here's a thorough example of an in-depth "Restrictions on Use" section from the EULA agreement of Vimeo: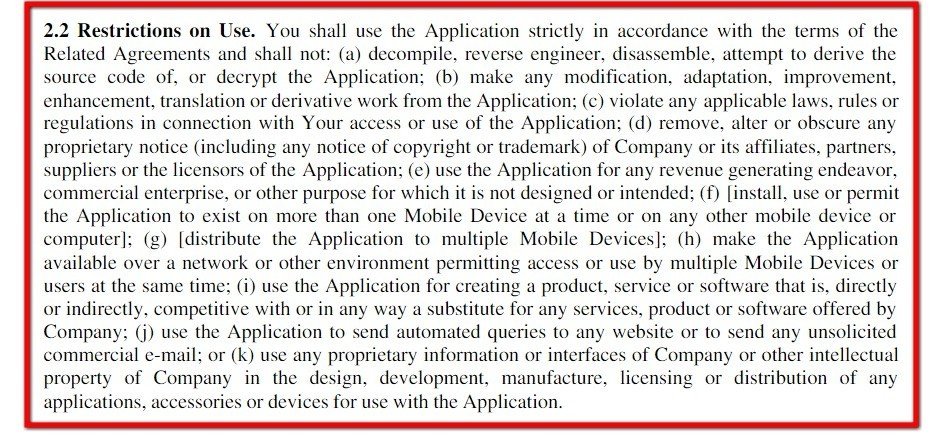 Another way to address restrictions on use of your license is to dictate the scope of your mobile app license.
Note how the licensing agreement of Viber includes a "Scope of License" section that makes it clear that the license is "limited, non-exclusive, non-transferable, non-sublicensable" and that a user "may not rent, lease, lend, sell, redistribute, or sublicense the licensed application," nor may a user "copy, decompile, reverse engineer, disassemble" the app.
Make sure your agreement includes this kind of section that limits how the granted license can be used:

Clause 2: Termination of License
When you grant a license to someone to use your mobile app, you will want to maintain the ability to revoke that license of use if a user violates your terms.
Common violations that would make you wish to revoke a license are when a user is abusing your app, attempting to decrypt your app, violating copyright limitations, and taking other restricted actions.
Since the EULA agreement grants a license to use the app, it should also include a clause to take away that right to use under certain circumstances.
The current trend with this kind of legal agreements and their termination clauses is to keep them general and keep power in the hand of the developer/provider of the app. The language of your agreement dealing with termination can be spread out over multiple sections, or addressed in different sections.
See how the EULA of Opera sections are shown below demonstrate 2 different sections and ways that Opera deals with maintaining the right to terminate their services or the license.
The first image shows how Opera maintains the right to "modify or discontinue, temporarily or permanently, the Services (or any part thereof) with or without notice":

The second image shows Opera makes it clear to a user that "these terms will immediately terminate upon your breach of these Terms...":

Clause 3: Disclaimer of Liability
It's important for developers to make it clear in the legal agreements that they, the developers or the company that owns the app, will not be held liable for any damages that arise from the use of the licensed app.
This can be done with simple disclaimers, commonly called "Limitation of Liability", such as the one below:

Where to add the EULA agreement
While it's a common practice to place the EULA agreement at the beginning of the installation or download process of the mobile apps, this legal agreement should also be readily available to a user after downloading and installing the app, similarly to how Terms and Conditions or Privacy Policy agreements should always be made available from within a mobile app.
Including the legal agreement at the beginning of installation makes sure that users are aware of this agreement and must agree to it before proceeding to install or download the app.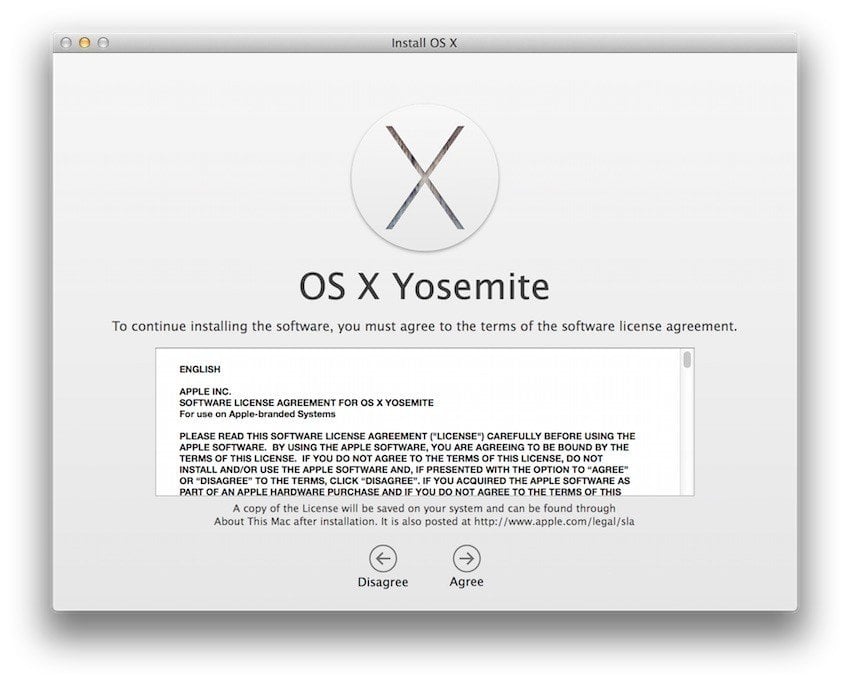 Requiring some sort of active agreement, such as clicking an "I Agree" link or checkbox is a smart way to go because it's a more legally binding method of obtaining consent to binding the user to your legal terms.
Include a "Settings" or "About" menu in your app and link or embed the licensing agreement (and other legal agreements!) within these screens.
The embed method of design is very popular and an effective way of providing the information over what legal agreements users bound to after users downloaded and installed the mobile app.
Look how the PayPal's iOS mobile app has a "Legal Agreements" tab within its "Settings" screen where all legal agreements, including PayPal's own EULA, are placed and easily accessed: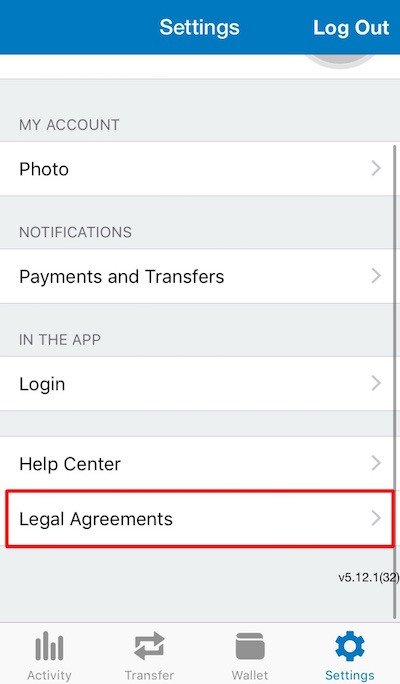 Once a user clicks on the "Legal Agreements" item, user can tap "License Agreement" from the menu to view this agreement at any time from directly within the app: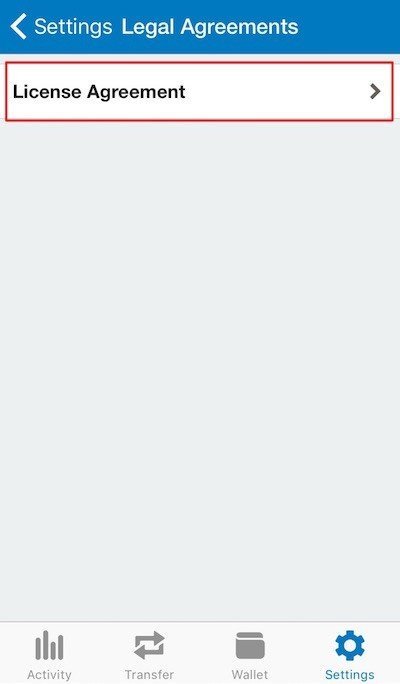 Licence Agreement links to the Mobile Application License Agreement of PayPal:
Below is another example of how to link the EULA or any other legal agreements within the mobile app, using the app from Vimeo as an example.
By clicking on a "Settings" icon on the app, users are taken to a menu that has Terms of Service agreement of Vimeo and the Privacy Policy agreement of Vimeo linked from: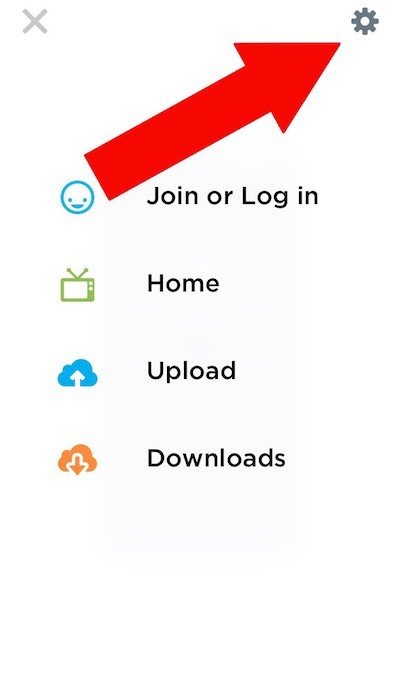 And here's the "Settings" screen of Vimeo's iOS app: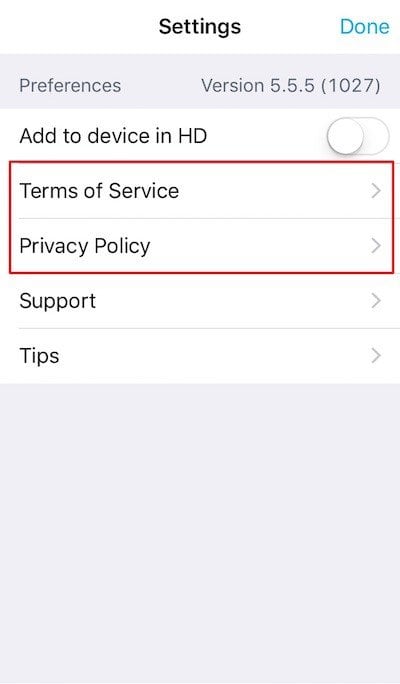 A user can then click on a link for one of the legal agreements and be taken to the agreement embedded directly within the app itself.
Here's the Privacy Policy of Vimeo.com: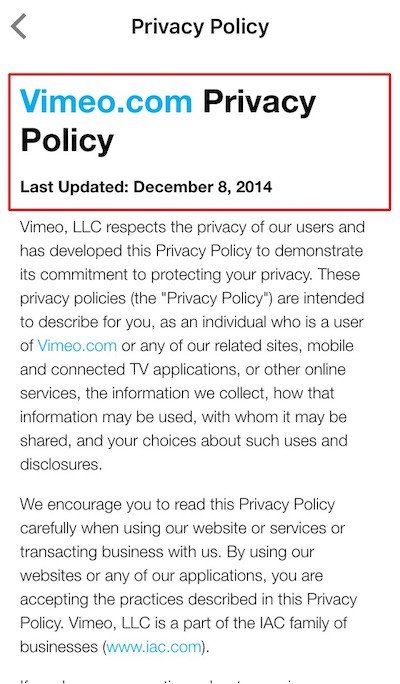 And the Terms of Service agreement of Vimeo.com: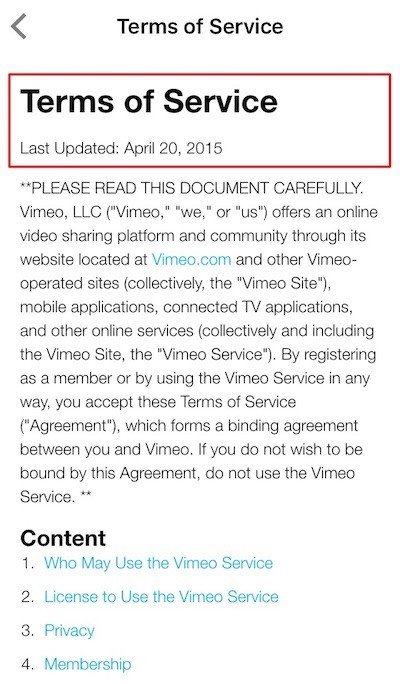 EULA vs. Terms and Conditions
EULA agreements and Terms and Conditions agreements are very different, and there are instances where you will want to use just one or the other, or both.
Instances when you'll only want an EULA agreement are not very common these days. However, if you are providing a license to an app that doesn't access the web and just functions locally on the user's mobile device, such as a one-time purchase of a desktop app software program, this kind of licensing agreement will suffice and you will not need a Terms and Conditions agreement.
On the opposite end of the spectrum, if you are offering users access to a web-based service or mobile access point like Dropbox does, you'll not need a licensing agreement, but a Terms and Conditions agreement. This is because you are not granting a license to users, but simply allowing them to use your service through the app.
In the middle lies mobile apps that have both licensing and service components, such as a desktop or mobile app that's purchased only once (the user is then licensed to use the app), but another section of the app or an upgrade comes with a web subscription plan or has a web-based component to the original software.
These cases usually require both a licensing agreement for the original app, as well as a Terms and Conditions agreement for dictating how a user will be expected to use the portion of the app that uses the web service component.