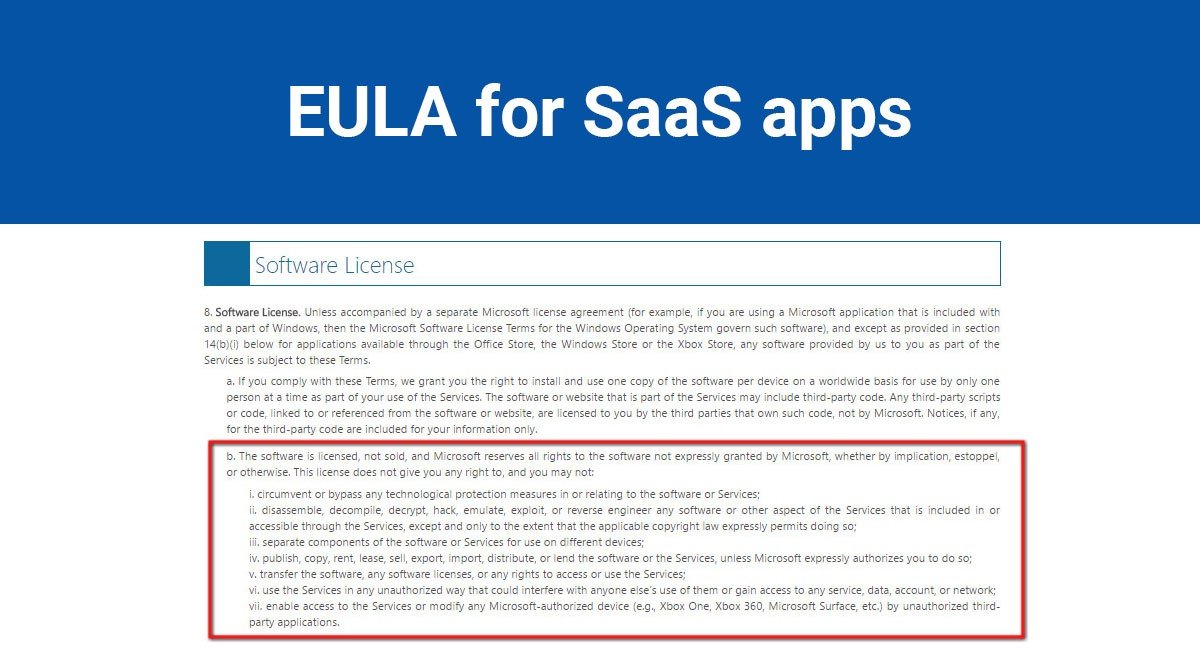 You will always need a Terms and Conditions for your SaaS app, but you might not always need an End User License Agreement, or EULA.
The EULA agreement is a legal agreement that grants users a license to install and use software on their computers. In other words, EULA agreements are included with software programs that users can purchase and then install locally, such as on a laptop, work computer, or mobile device.
When a user purchases and installs a software program, the user is placing the actual software on his computer and is then getting to use this intellectual property of the company, with limitations, because of this granting of a license.
This is why you include restrictions and limitations in the End-User Legal Agreement. Any restrictions and limitations on the use of the license are included in the agreement, such as:
No transferring or selling the license
No renting, leasing or sublicensing the license
No reverse engineering, modifying or using the code to create a derivative work
A Terms and Conditions, or Terms of Service, is a different legal agreement that contains terms that users must agree to before using a website, app, service and more.
Common clauses found in a Terms and Conditions agreement include the following:
Actions and activities that users are restricted from doing while using your website/app
Governing Law clause
Termination clause
Disclaimer of warranties
Payment and subscription information, and
Other terms that a user would need or want to know when using your app/service
The EULA agreement basically says, "You can use our software so long as you adhere to this agreement. Here is your license to do so."
The Terms and Conditions agreement basically says, "You can use our service so long as you adhere to this agreement. Here are the terms of a subscription to access that service."
While it may seem like your SaaS app would need both of these agreements, it actually won't need an EULA in most cases.
Here's why:
SaaS apps don't give end users a license to use a copy of the software.
Businesses in the SaaS industry don't have to give a license because a customer of a SaaS app is never actually physically given a copy of the software. Instead, users are given access to a service that is used to remotely access the software, usually via the internet.
Because there aren't any or any significant locally-installed components of any software involved in a SaaS application, a software license is not relevant.
But aren't apps considered software?
When I said you wouldn't need an EULA "in most cases," here's what I was talking about.
If your SaaS app comes with a mobile app that users can download, you will need some sort of a license agreement for the mobile app. The EULA may be a good option for you in addition to a Terms and Conditions agreement for that mobile app.
If you're going to use the EULA agreement, then include a section in your Terms and Conditions that references the EULA, and then have the EULA cover only the mobile app.
The EULA agreement will grant users a license to use the mobile app and dictate the terms of using the mobile app only.
If you don't have a mobile app with your SaaS app, you only need to worry about giving a user a subscription to your service to access your software/system - not a software license.
That means you'll only need a Terms and Conditions agreement, not an EULA.
Examples of SaaS Agreements
While an EULA isn't necessary for a SaaS app without a mobile or desktop app, most SaaS apps do have at least a mobile app. That mobile app needs some sort of license granting agreement, like the End-User License Agreement.

Here's how Spotify handles addressing both its subscription service and its mobile app.
The Spotify Terms and Conditions of Use page combines giving users a right to use a service with a license to use related software, all in one clause in one agreement. This clause lets users know the rights they are granted.
First, users are granted a "limited, non-exclusive, revocable license to make use of the Spotify Service, and a limited, non-exclusive, revocable license to make personal, non-commercial, entertainment use of the Content."

The next paragraph in this clause addresses software and software licenses. Here is where Spotify gives users a license to use its software applications on "personal computers, mobile handsets, tablets and/or other relevant devices."

In this same clause, users are linked to the User Guidelines of Spotify clause found in the same agreement and informed that they must abide by them to use the service and software.

The User Guidelines page outlines what users aren't permitted to do with the service and software, including:
Reverse engineering the software
"Crawling" the Spotify Service to automatically collect information
Manipulating the Services
Selling a user account or playlist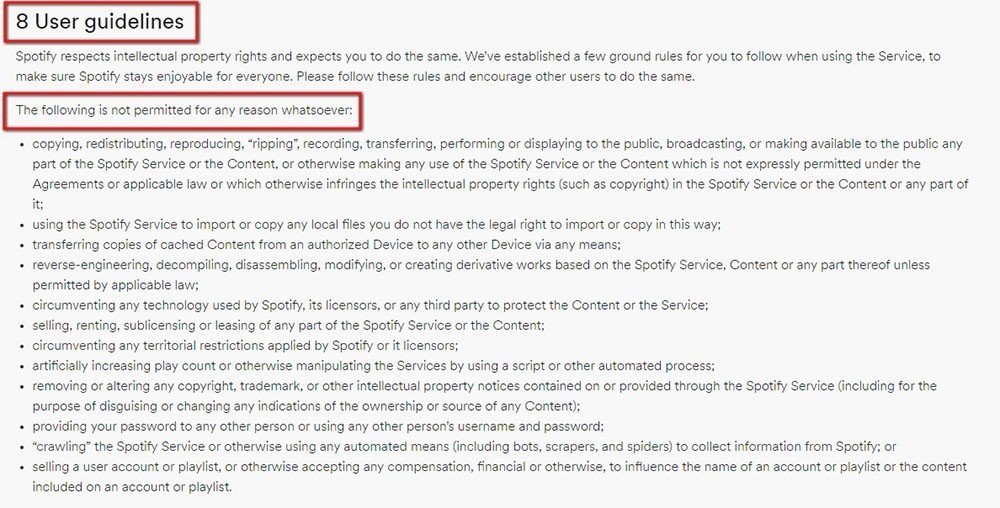 The Spotify mobile app does have its own separate Mobile Terms and Conditions of Use agreement, but this document basically says that the general Terms and Conditions of Use also apply to the mobile app.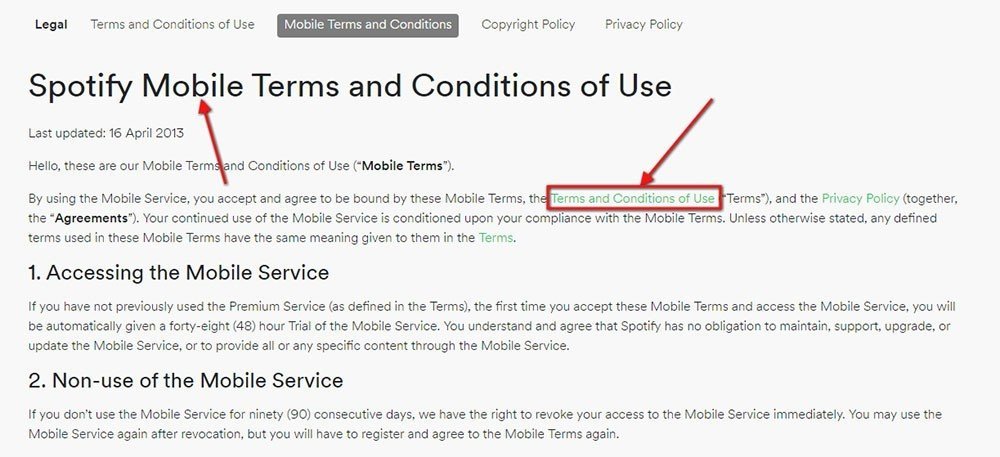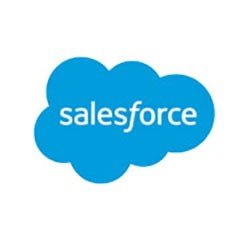 Salesforce, like Spotify, has a mobile app along with its website.
Remember that SaaS app legal agreements aren't supposed to grant a user a license to the SaaS. They're supposed to grant the right to use a service via a subscription.
Salesforce includes a Master Subscription Agreement ("MSA") as ones of its legal agreements. This agreement specifically deals with the use of Salesforce services by outlining the terms of that service and subscription.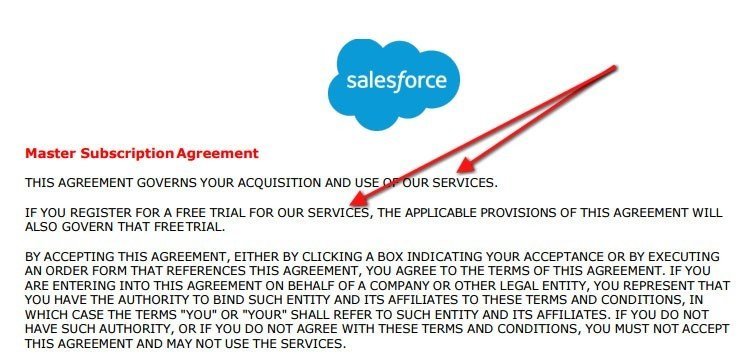 This MSA's Table of Contents includes important terms relating to the service, including:
Fees and payments for the service,
Limitations on Salesforce's liability,
Prohibited uses of the service,
Termination of accounts, and more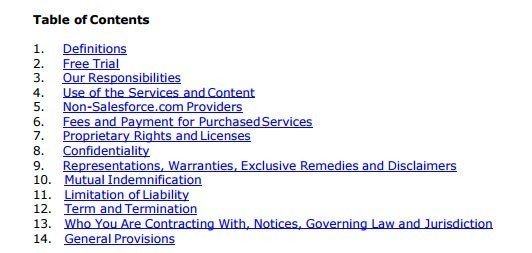 Users are told exactly what rights they're getting in the "Proprietary Rights and Licenses" section. "No rights are granted" other than ones that are "expressly set forth" in the agreement. The next section lets users know that they have the right to access and use applicable Content, subject to terms.

SalesforceIQ has a mobile app, which means it has an EULA agreement.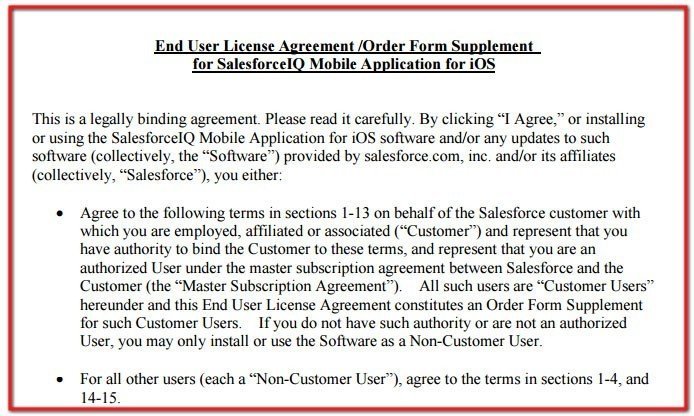 The EULA agreement of SalesforceIQ addresses licenses to the mobile app by letting users know that the software "is licensed, not sold, to the Customer by Salesforce." The clause continues by letting users know that the license is made only under the terms of the Master Subscription Agreement and other documents.
Users are then immediately told what uses of that license are restricted or not permitted so they know exactly what they may use their license for.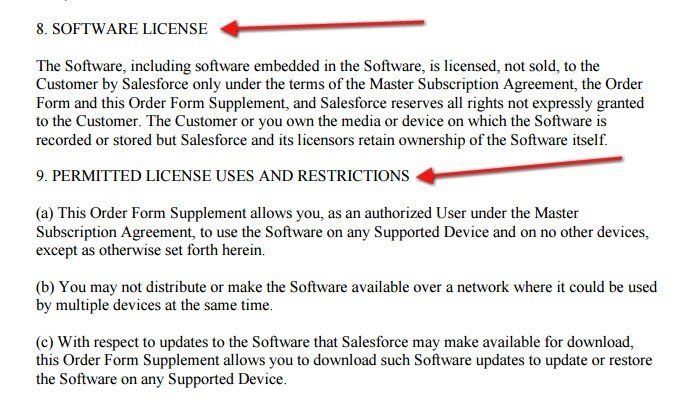 Microsoft uses a similar language in the Software License clause in its Services Agreement page. Microsoft lets users know that "the software is licensed, not sold, and Microsoft reserves all rights to the software not expressly granted by Microsoft."
Users are then told that the license does not give them any right to do specific activities listed out in that clause such as hack or reverse engineer the software, transfer, lease or sell the software and other such abuses.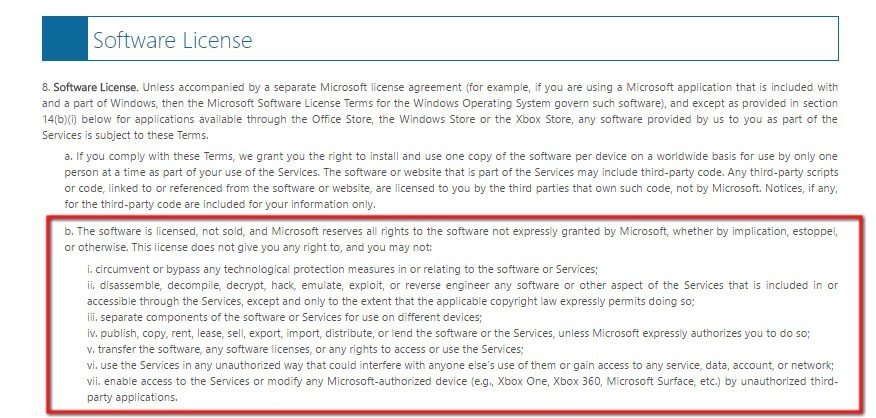 Here's an EULA agreement from the CuteFTP software app that has the same language about the software being licensed, not sold, and that there are restrictions on use.
To recap: