Written by
Widener University School of Law graduate, Managing Legal Editor at TermsFeed.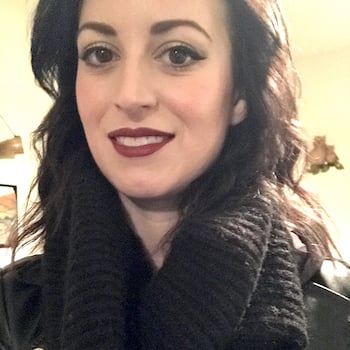 If you use Wix for your website or if you create apps for Wix, you need to have a Privacy Policy.
Adding a Privacy Policy to your Wix website can help you stay compliant with global privacy laws while helping inform your users about how you use their personal information.
These short, simple steps will help you add your Privacy Policy to your Wix website and link it to your website's footer, store product page and checkout page.
If you don't yet have a Privacy Policy, check out our Privacy Policy Generator to create your own custom policy in just a few minutes.
Our Privacy Policy Generator makes it easy to create a Privacy Policy for your business. Just follow these steps:
At Step 1, select the Website option or App option or both.

Answer some questions about your website or app.

Answer some questions about your business.

Enter the email address where you'd like the Privacy Policy delivered and click "Generate."

You'll be able to instantly access and download your new Privacy Policy.
When is a Privacy Policy Required for Wix Websites
The Wix App Market Terms of Use agreement includes a clause on Data Protection that says:
"Wix recommends, and in some circumstances requires, that all Third Party Developers for the Apps in its APP Market post a privacy policy or other statement describing the applicable App's privacy practices regarding how personally identifiable information is collected, shared, and used by or through an App and its respective App provider, whether Wix or a Third Party Developer."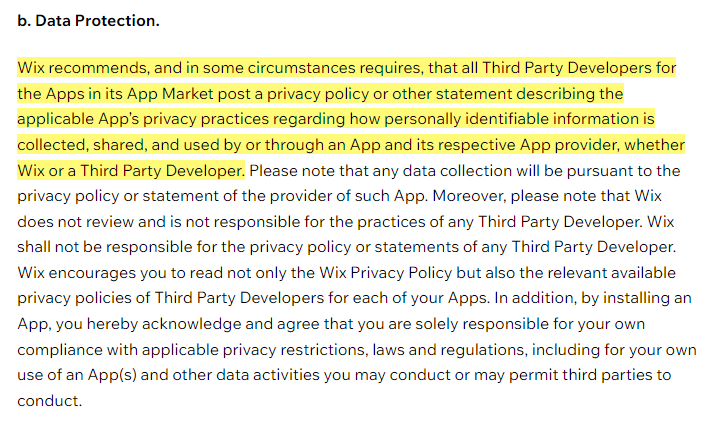 Wix includes a recommendation in its own Privacy Policy that all "users publish and maintain clear and comprehensive privacy policies on their user websites, in accordance with the applicable laws and regulations..."

The Wix App Market Guidelines says that apps developed through Wix and submitted to the Wix App store must have a Privacy Policy:

Even if a Privacy Policy was not required by Wix, a Privacy Policy is required by law. If your Wix-created website or app collects and uses any personal information from users, you'll need a Privacy Policy according to global privacy laws.
The laws and regulations Wix is referring to in its agreements include a number of international laws, directives and acts aimed at protecting privacy of end users of websites and mobile apps.
These laws can apply to websites and mobile apps that collect personal information from users, even if the website is hosted by Wix or not.
Personal information includes anything information that can be used to identify a user such as a birth date, email address, first or last name, home address, IP address, and other pieces of data.
Here are a few of the most common applicable laws and regulations that require a Privacy Policy.
U.S. Laws
In the United States, the California Online Privacy Protection Act (CalOPPA) requires that if any personal information is collected and used from a user located in the state of California, that business must include a Privacy Policy.
The California Consumer Privacy Act (CCPA) requires the same.
Whether or not you have to comply with CalOPPA and the CCPA isn't determined by what state or country your business is ran from. It's determined solely by where your users may be located.
Because the chances are likely that a person in California may visit your site and submit personal information, if you collect user information at all, you will need to include a Privacy Policy to ensure you're compliant with CalOPPA and the CCPA.
EU Privacy Directives
In the EU and the UK, some laws that require you to have a Privacy Policy if you collect personal data from users include:
Both require the fair and lawful processing of personal information. This has been interpreted as a call for transparency in how personal information is processed.
Transparency can be achieved by including a thoroughly informative Privacy Policy whenever personal information is collected.
Australia
Australia's Privacy Act has thirteen Privacy Principles that regulate how personal information is handled.
The first principle covers "the open and transparent management of personal information including having a Privacy Policy."
Canada
In Canada, the Personal Information Protection and Electronic Documents Act (PIPEDA) is a federal law that dictates how businesses in the private sector must handle personal information of users.
One of the requirements of PIPEDA is that businesses must let users know what personal information is going to be collected, why it's going to be collected.
A Privacy Policy is the easiest way to do this.
How to Add a Privacy Policy to your Wix Website
Since you know you'll need a Privacy Policy for your Wix website, here's how you can add your Privacy Policy page to your website rather easily through the Wix Editor. You can download these instructions as PDF file.
Log in to Wix.

In the Wix Dashboard, click on Edit Site:

When the home page opens, click on Menus & Pages on the left side of the Editor:

In the Site Pages Menu, click on + Add Page at the bottom of the panel:

Enter the name for the new page as "Privacy Policy" and click Done:

While on the new created Privacy Policy page, click on the 3 dots to open the page menu and go to Settings:

Under the Page Info section, toggle the hide from menu button to be active. Close the editor windows:

While you're on the newly created page, click on + Add on the left side of the editor:

When the Add to Site editor opens, scroll down and choose Embed Code, then click on Embed HTML on the right side:

Now you need to add text to your Privacy Policy page.

If you do not have a Privacy Policy, you can use our Privacy Policy Generator and create it within minutes.

Once you have the Privacy Policy created by TermsFeed, let's get the policy text. Under the Copy your Privacy Policy section, click on Copy this to clipboard:

Go back to the Wix Editor and double-click on the HTML box so that the HTML Settings window opens. Then just paste the code and click the Update button:

You're done!
Link to Privacy Policy from Wix website footer
This section will show you how to link the Privacy Policy page you created in the previous step to your Wix website's footer. You can download these instructions as PDF file.
Log in to Wix.

In the Wix Dashboard, click on Edit Site:

Scroll down to the footer of the home page and then go to + in order to Add more elements to your footer:

When the Add to Site editor opens, click Text, then Themed Text and choose, for example, Paragraph:

Drag the text element to the bottom of the page (as close to the footer as it goes) and click Move To Footer:

After you place the text box in the footer, double-click the Text box in order to edit the text. Type in "Privacy Policy," select it and click on the link icon of the text editor:

When the link opens, choose Web Address:

In order to get the Privacy Policy URL link, go to the TermsFeed Privacy Policy Generator to create the Privacy Policy and get the hosted Privacy Policy URL.

Once you have the Privacy Policy created by TermsFeed, click "Copy" from the "Link to your Privacy Policy" section to copy the URL:

Go back to the Wix editor and paste the link into the Web Address field:

Click Done.
Add Privacy Policy on Wix Store Product Page
This section will show you how to add a link to your Privacy Policy to a product page.
Log in to your Wix account.
In the Wix Dashboard, under Store Products, choose Products:

When the Product page opens, click on a product:

When that product's page opens, scroll down to the Additional Info Section and click on + Add an Info Section to add your Privacy Policy:

When the Edit Info Section window opens, type the name of your policy (in this case, Privacy Policy).

If you do not have a Privacy Policy, you can use our Privacy Policy Generator and create it within minutes.

Once you have the Privacy Policy created by TermsFeed, let's get the policy text. You can copy the HTML variant of the policy or download the Plain Text file format.

Add the text of your Privacy Policy:

You can also add a link to your Privacy Policy in the field if you prefer:

In order to get the Privacy Policy URL link, go to the TermsFeed Privacy Policy Generator to create the Privacy Policy and get the hosted Privacy Policy URL.

Click OK to close the editor window.
To save changes, click the Save button in the top right corner:

You're done!
Add Privacy Policy on Wix Store Checkout Page
This section will show you how to add a link to your Privacy Policy to your Wix store's checkout page.
Log in to your Wix account.
In the Wix Dashboard, scroll down to Settings:

When the Settings page opens, scroll down to the eCommerce & Finance section and click on Store policies:

Under Checkout policies, select and edit the policies your business needs. For this step, we'll select Privacy Policy:

Then just add the text of the Privacy Policy in the correct box:

If you do not have a Privacy Policy, you can use our Privacy Policy Generator and create it within minutes.

Once you have the Privacy Policy created by TermsFeed, let's get the policy text. You can copy the HTML variant of the policy or download the Plain Text file format.

The Privacy Policy you've added in the Dashboard > Ecommerce settings > Checkout policies will be displayed on the checkout at Step 4. Review and place order:

You're done!
Not only will adding a Privacy Policy to your Wix website make it look more professional and informative, but it will keep your site legally compliant with important global privacy laws. It doesn't take long to create a Privacy Policy and add it to your Wix site using the steps above, and it's well worth taking the steps to do so today.
Example of Wix Website Privacy Policy
Clasp'pin Goods, a website created with Wix, links its Privacy Policy to its footer along with its other legal agreements and policies:

This Privacy Policy includes the required and relevant information:
What personal information is collected
How to withdraw consent
Thorough information about the Wix hosting
There's an entire section dedicated to informing users of how Wix provides the ecommerce platform that Clasp'pin Goods operates through.
In this section, the Wix Terms of Use and Privacy Policy are both linked:

Wix also comes up regularly in the sections dealing with Third-Party Services, and Security.
Users are informed that Wix may share information with third parties for things like security, billing and data optimization. Security measures implemented by Wix are also discussed, including SSL/TLS encrypted connections and a PCI DSS certification.
Even though the user is viewing the Privacy Policy for Clasp'pin Goods, it's the security features of Wix that matter since Wix is the platform where Clasp'pin Goods' ecommerce takes place and where user financial information will be collected and stored.
The Evolve Healing Institute is another website using the Wix platform. Its Privacy Policy has a clause that addresses what personal information is collected, when it is collected and for what purposes.
This clause also notes at the end that Wix is used as the provider platform, so some personal data may be stored on the Wix secured servers: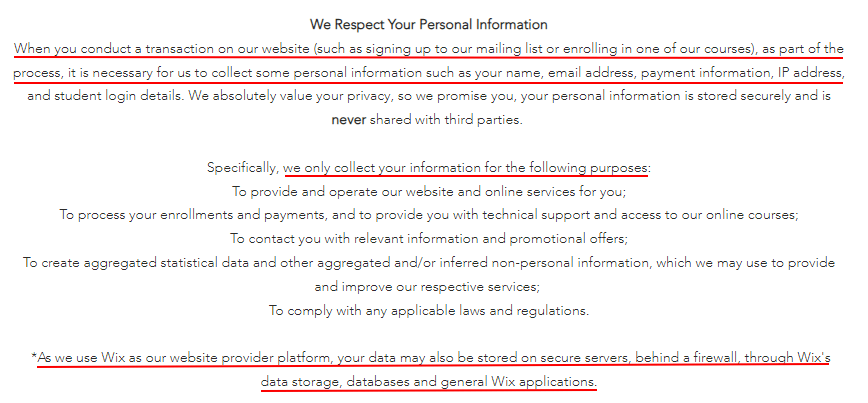 Users are informed how they can unsubscribe from email communications and delete any personal information the company holds about them in a separate clause:

This all satisfies the requirements of letting users know what personal information is collected, how they can withdraw their consent (remove their data), and that Wix is the hosting platform and may also hold personal information on individuals.
Let's look at one more example to demonstrate how there are many different ways to convey this required information within a Privacy Policy.
Here's how Seasons In Colour lets users know the information it collects in a very long, thorough and detailed clause. The clause also mentions that there will be an unsubscribe link provided for opting out of emails, and it's noted multiple times that Wix has access to the personl information collected: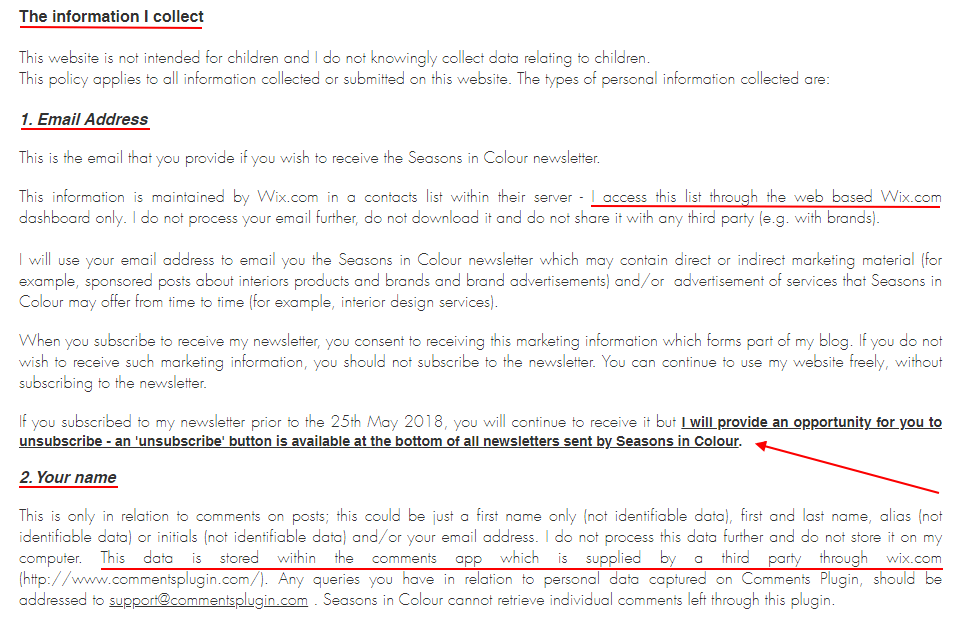 As you can see, there are many different ways to disclose the required information in an adequate way. Just make sure it's all available to your users and potential users in your Privacy Policy.
Summary
Wix recommends that you always include a Privacy Policy with your Wix website. However, if your website collects any personal information from users, Wix and global privacy laws both require that you have a Privacy Policy.
Always include the following information in your Privacy Policy to comply with this:
What personal information is collected
How to withdraw consent
Thorough information about the Wix hosting
While the formatting and style is up to you, it's best to be as clear as possible by using short, concise sentences and basic language. This will help keep your users informed while helping ensure you comply with Wix requirements and those of global privacy laws.