Squarespace is a really useful platform for creating a website and an ecommerce store.
While you'll get access to a lot of tools, functions, and features with Squarespace, there are some technical details that you'll be responsible for on your own.
One of these technicalities that's incredibly important is your Privacy Policy, which Squarespace requires you to have.
This article will look at where this requirement comes from, and how you can comply with it.
Our Privacy Policy Generator makes it easy to create a Privacy Policy for your business. Just follow these steps:
At Step 1, select the Website option or App option or both.

Answer some questions about your website or app.

Answer some questions about your business.

Enter the email address where you'd like the Privacy Policy delivered and click "Generate."

You'll be able to instantly access and download your new Privacy Policy.
Squarespace Requires a Privacy Policy if Legally Required
While Squarespace has its own Privacy Policy agreement, this agreement doesn't apply to the website or store you create on its platform.
According to Squarespace's Terms of Service agreement, You'll need your own Privacy Policy.
Section 3 of Squarespace's Terms covers "Your Responsibilities." These are the responsibilities you agree to take on when you use Squarespace to build your website.
Included in this section is section (3.5) titled "Your Sites And Your End Users Are Your Responsibility." This section states that "you're solely responsible for compliance with any laws or regulations related to Your Sites and/or your End Users."

In section 7, privacy is addressed. Again, Squarespace makes it clear that if you use its platform, you must comply with relevant laws, including security and privacy laws, and any notice and consent requirements. Section 7.3.1. explicitly states that if applicable laws require it, you must have a Privacy Policy: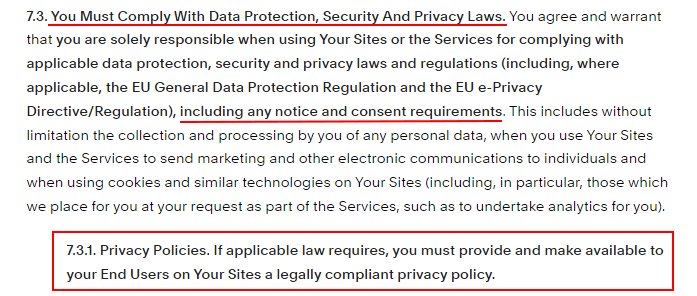 In essence, this means that if you use Squarespace, you're required to have a Privacy Policy because privacy laws require you to have a Privacy Policy, and Squarespace requires you to follow privacy laws.
When Does My Squarespace Site Need a Privacy Policy?

If your Squarespace site collects any personal information, you will be required to comply with privacy laws. As shown above, Squarespace explicitly requires its users to comply with laws, including privacy laws.
The definition of personal information that's protected by privacy laws includes information that can be used on its own or pieced together to identify an individual. This can be something as obvious as an email address, a mailing address, and an identification number. Or it can be pieces of information such as an IP address, analytics information collected by cookies, and age and gender.
Most privacy laws require a Privacy Policy when personal information is collected.
Here are just a few of these laws that may affect your website:
Note that privacy laws typically apply to you if you do business with individuals located in the respective countries, and not based on whether or not your business is located there. For example, if your U.S.-based business collects personal information from people located in the EU, the GDPR will apply to you.
You can learn more about relevant privacy laws in our article Privacy Laws By Country
What Does My Squarespace Privacy Policy Need to Disclose?

Your Privacy Policy needs to disclose what personal information you collect, how you collect and use it, and other key points of privacy-related information. You should include a reference to Squarespace and the role it plays in data collection and storage.
Here's how Onyx Coffee Lab notes that Squarespace stores credit card data when a purchase is completed:

Here's another example of a more detailed Privacy Policy clause that mentions the role Squarespace plays in data storage, security and handling of transaction data, including financial information: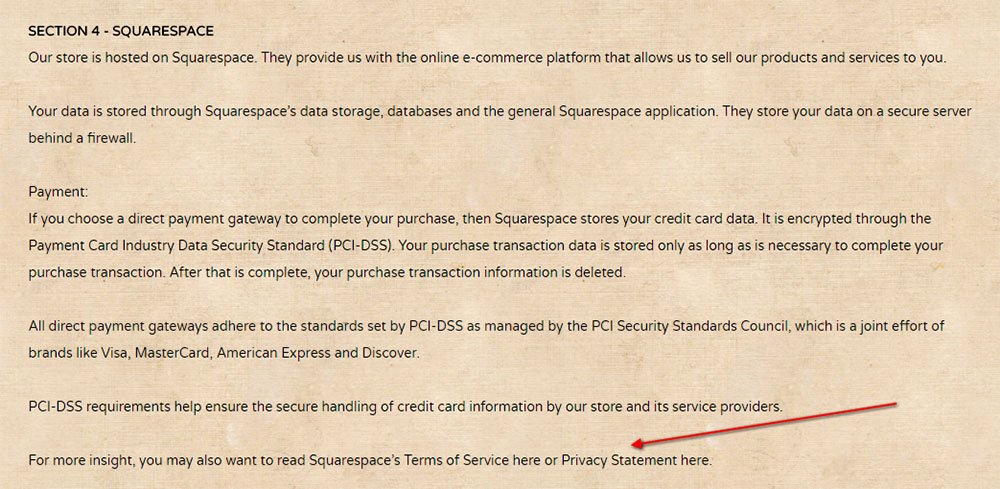 Pixel Fondue notes that its site is hosted by Squarespace and then links to Squarespace's own Privacy Policy:
Another clause goes into detail about information automatically collected and collected via cookies and other technologies, and how such information may be used: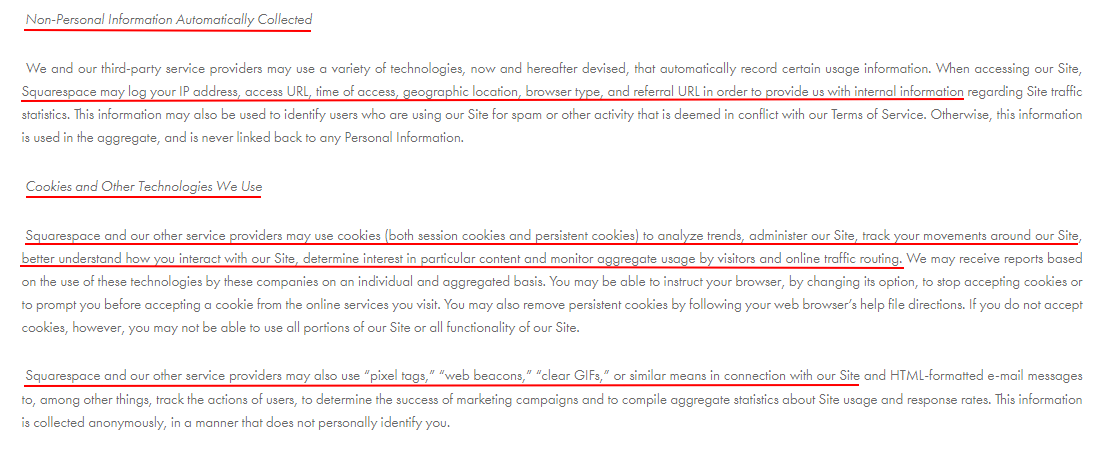 Even if your site won't be collecting any personal information, you should still display a Privacy Policy that discloses this.
Once you have your Privacy Policy created, add it to your Squarespace site to be compliant with its platform terms as well as with privacy laws.
How to Add Privacy Policy Page on Your Squarespace Website
Once you've created your Privacy Policy for your Squarespace website, you'll have to add it to your site. Squarespace makes this a very easy process, just like creating the rest of your web pages.
Just follow these easy steps to add your Privacy Policy. You can download these instructions as PDF file.
Log in to your Squarespace account.

Once logged in, click on Website:

When the Website Builder page, opens click on Pages:

In the Navigation Menu, click on + to add a new page:

Under Pages, click on Blank Page:

Type "Privacy Policy" to name your page:

Double-click on the empty page so that the page editor opens. Then click the Add Section button under Add Page Content:

In the new window, click on Add Blank +:

Click on the + in the middle of the screen:

When the text menu opens, select Code to add content:

Now add the text for your Privacy Policy page.

If you do not have a Privacy Policy, you can use our Privacy Policy Generator and create it within minutes.

Once you have the Privacy Policy created by TermsFeed, let's get the policy text. Under the Copy your Privacy Policy section, click on Copy this to clipboard:

Go back to the Squarespace content editor and paste the code:

When done, go to Done and click on Save to save the changes:

You're done.
How to Add a Privacy Policy Link in the Footer of Your Squarespace Website
You can download these instructions as PDF file.
Log in to your Squarespace account

Once logged in, click on Website:

When the Website Builder opens, scroll down to the Footer section:

Double-click in the footer so the Edit Footer option shows:

Click on + to add a text block:

Select Text:

When the text block component is added, type "Privacy Policy":

Select the text and click on the Link icon:

In order to get the Privacy Policy URL link, go to the TermsFeed Privacy Policy Generator to create the Privacy Policy and get the hosted Privacy Policy URL.

Once you have the Privacy Policy created by TermsFeed, click Copy from the Link to your Privacy Policy section to copy the URL:

Go back to the Squarespace site footer editor and paste the link:

Go to Done in the upper left corner and click Save:

You're done.
How to Add a Privacy Policy on Your Squarespace Store Policies Checkout Page
Log in to your Squarespace account

Once logged in, click on Website:

In the Main Menu, click on Commerce:

Scroll down to the Setup section and click on Checkout:

Scroll down to and click on Checkout Page: Store Policies:

The policies you create here will be displayed at Step 4. Review & Purchase:

In order to display your policies on the checkout pages, you need to add the text of your Store Policies:

In order to get the text of your policies go to TermsFeed and generate your legal policies for your ecommerce business today.

Once you have the policies created by TermsFeed, let's get the policy text. You can copy the HTML variant of the policy or download the Plain Text file format.

Paste the contents of the policies in the fields below:

Now the policies will be displayed on Step 4. Review & Purchase of the checkout page:

That's it. You're done.
Summary
While Squarespace requires you to include a Privacy Policy if you use its services, you can create a Privacy Policy that reflects your use of Squarespace, and its use of your users' data.
That way you'll satisfy requirements of Squarespace, and keep your users happy and well-informed.

Comprehensive compliance starts with a Privacy Policy.
Comply with the law with our agreements, policies, and consent banners. Everything is included.