Squarespace is a really useful platform for creating a website and an e-commerce store.
While you'll get a lot of useful tools, functions, and features with Squarespace, there are some technical details that you'll be responsible for on your own.
One of these technicalities that's incredibly important is your Privacy Policy, which Squarespace requires you to have.
Squarespace has its own Privacy Policy agreement, but this agreement doesn't apply to the website or store you create or your personal users.
You'll need your own Privacy Policy according to Squarespace's Terms of Service agreement.
Section 3 of Squarespace's Terms covers "Your Responsibilities." These are the responsibilities you agree to take on when you use Squarespace to build your website.
Included in this section is a section (3.5) titled "Your Sites And Your End Users Are Your Responsibility." This section states that "you're solely responsible for compliance with any laws or regulations related to Your Sites and your End Users, including without limitation the posting of your own privacy policy."

How to add Privacy Policy for Squarespace
Generate your Privacy Policy for a Squarespace website using our Privacy Policy Generator.
Once you've created your Privacy Policy for your Squarespace website, you'll have to add it to your site. Squarespace makes this a very easy process, just like creating the rest of your web pages.
Just follow these easy steps to add your Privacy Policy.
First, find the Home Menu and click Pages.
The Pages panel will open. Click the + icon.

In the Create New Page menu, click Page.

Enter "Privacy Policy" in the page title field.
In the Starter Layout menu, select All, and then click Blank.

Click Start Editing to open the editor and add your Privacy Policy to your new blank page.

Copy your Privacy Policy text from its source and paste it into this blank page. Click Save when done.
How to link to Privacy Policy in Squarespace
Now that you've created your Privacy Policy page, you're going to want to link it to your Squarespace website footer section.
Linking a Privacy Policy to a footer is one of the best practices ways that most websites and businesses choose to make their Privacy Policy available to the public.
Here's an example of how Amazon links its Privacy Policy from its website footer:

Follow these steps to link to your policy from your Squarespace:
Open the Footer Editor on your Squarespace account by hovering over the title of your Privacy Policy page and clicking "Edit".

Note: If the Edit annotation doesn't appear when hovering over the title, close the site preview by clicking the arrow icon in the upper left corner of your site or by hitting the Escape key.

Make sure you aren't in the Style Editor section, or the footer editor won't work.

Hover over the footer of the page and click Edit:

Click on an insert point where you'd like to add your footer link:

Select a Text Block from the Block Menu. This will let you add the text "Privacy Policy" to the footer link.

Click Save when you're done.
Examples of Privacy Policies for Squarespace
Here are a few websites powered by Squarespace that have their own Privacy Policies and links in their footers.
Wide Open Road Coffee, an e-commerce store hosted by Squarespace, has its Privacy Policy linked underneath its social media buttons, and with its other legal agreements above its contact information. This is a standard location, as users are used to looking at the footer of a website to find all of this information.

The Wide Open Road Coffee store includes a clause in its Privacy Policy that lets its users know that their "data is stored through Squarespace's data storage, databases and general Squarespace application. They store your data on a secure server behind a firewall."
Even though Squarespace handles the data security, websites that use Squarespace - like Wide Open Road Coffee - have to have their own Privacy Policies in place that let users know this so that users know exactly who has access to their data, and why.

Onyx Coffee Lab, another store hosted by Squarespace, links its Privacy Policy at the very bottom of its footer, along with other legal agreements:

In this Privacy Policy, users are informed that the Onyx store is hosted on Squarespace and that all user data is stored through Squarespace.
A payment clause lets users know that if they "choose a direct payment gateway to complete your purchase, then Squarespace stores your credit card data" and that this data is encrypted, and only stored as long as is necessary to complete the transaction.
Squarespace's own Terms of Service and Privacy Policy are linked here to provide users with more information.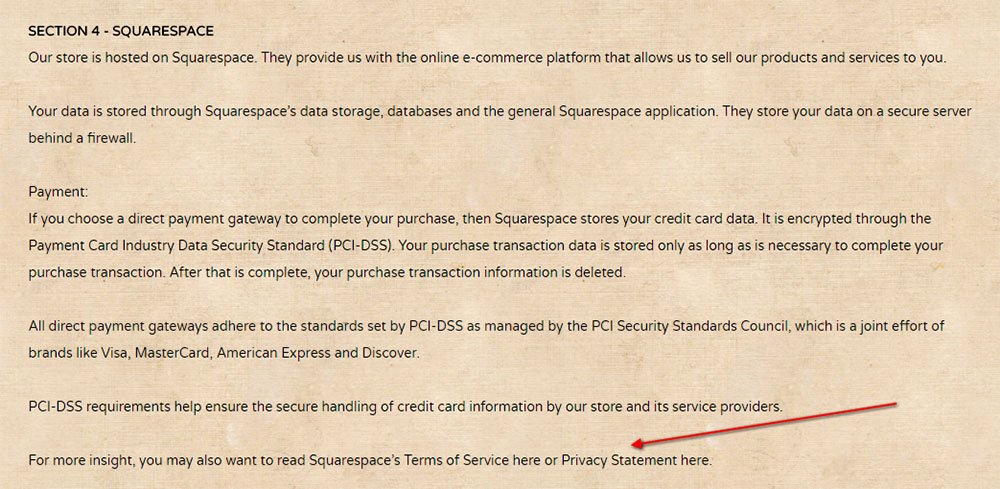 Pixel Fondue, has a very minimal website footer with its Privacy Policy linked at the bottom.

At the top of the Privacy Policy, in the very first clause, users are told that the site is hosted through Squarespace and that personal information is subject to their privacy policy, which is linked to. Users are informed that by using the Pixel Fondue website, they're "agreeing to be bound by Squarespace's privacy policy."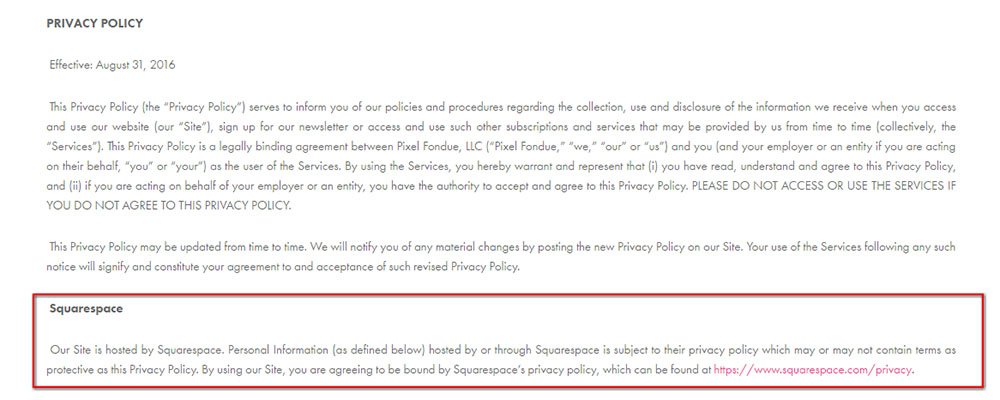 Squarespace is then mentioned numerous times throughout the Privacy Policy so users are aware that Squarespace is very involved in the operation of Pixel Fondue's privacy procedures.
For example, users are told that "Squarespace uses analytics tools to help us measure traffic and usage trends for our site" and that "these tools collect information."

The "Cookies" section of Pixel Fondue's Privacy Policy states that "Squarespace and our other service providers may use cookies" and other tracking means such as pixel tags, web beacons, and clear GIFs.

You can see how even though this is a Pixel Fondue Privacy Policy that's easy for users to find, users are definitely informed of Squarespace's role in the Pixel Fondue website functioning.
Under the Ficus, another Squarespace website, includes a link to its Privacy Policy in its website footer:

When it mentions Squarespace in the policy, it very thoroughly explains how Squarespace is involved on Under the Ficus.
It goes as far as to let users know that "Squarespace uses the services of Peer1 Hosting for their website" and that "personal information hosted by or through Squarespace is subject to Peer1's Hosting Privacy Policy."
Squarespace's Terms of Service and Privacy Policy are also linked.
This really lets users know exactly what's going on with their data, and which companies Privacy Policies may be relevant.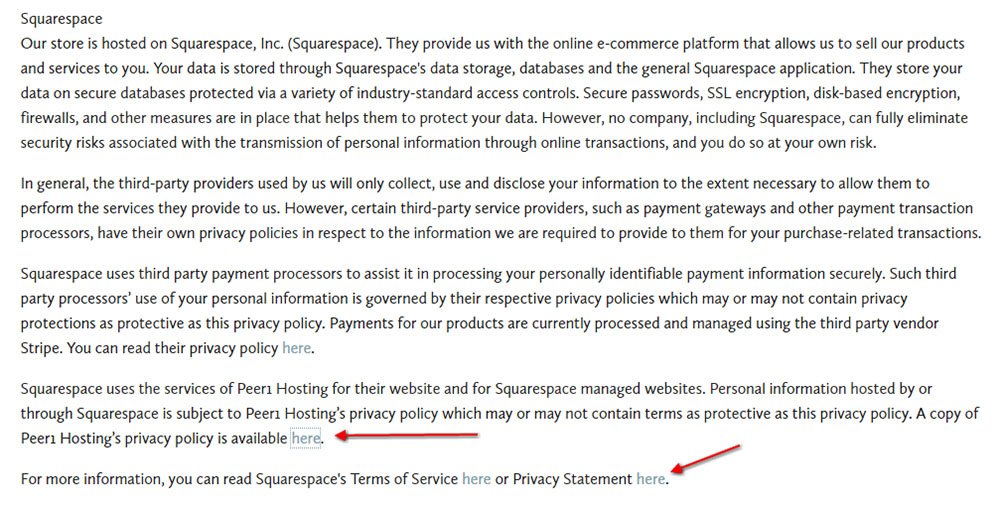 Even if you don't collect any user data at all, let users know this in your Privacy Policy.
Here's how Squeakworks, another Squarespace website, does this in a short and to-the-point way:

While Squarespace requires you to include a Privacy Policy if you use its services, you can create a Privacy Policy that reflects your use of Squarespace, and its use of your users' data.
That way you'll satisfy requirements of Squarespace, and keep your users happy and well-informed.