As a health coach, your mission is to help people change their habits and level up their health. To be effective at what you do, it is crucial that your clients feel that they can trust you, and building that trust often begins when users first encounter your website.
Including a Privacy Policy on your website is not only a legal requirement, it is also a way to show users that you value their privacy and are committed to keeping their information protected.
This article will show you what a Privacy Policy is, why it is necessary, and how to create your own Privacy Policy for your health coaching business.
Our Privacy Policy Generator makes it easy to create a Privacy Policy for your business. Just follow these steps:
At Step 1, select the Website option or App option or both.

Answer some questions about your website or app.

Answer some questions about your business.

Enter the email address where you'd like the Privacy Policy delivered and click "Generate."

You'll be able to instantly access and download your new Privacy Policy.
What is a Privacy Policy?
A Privacy Policy is a statement that you include on your website that tells users how you collect their personal information and what you do with it.
As a health coach, you might collect users' personal information directly when they sign up to join your email list, to take a course from you or to become a client. You may also use less direct means of data collection, such as through Google Analytics or cookies.
Your Privacy Policy should describe the methods you use to collect personal information, the types of information you collect, why you collect the information and who you share it with, and how you keep users' data secure.
Why is a Privacy Policy Necessary?

A Privacy Policy is legally required whenever you collect users' personal information on your website. Failure to comply with privacy laws can result in hefty fines.
Personal information is defined as any kind of data that can be used to identify an individual, either by itself or when combined with other pieces of data, such as birthdays, addresses, and financial information.
As a health coach, there are a few common types of personal information that you may collect from users, including contact information, ID numbers, online identifiers, and sensitive data.
The contact information you collect might include names, addresses, email addresses, and phone numbers, all data you need to have in order to keep in touch with your clients.
If your health coaching business is covered by insurance, you may also need to collect ID numbers. ID numbers can include social security numbers, driver's license numbers, and insurance policy numbers.
Online identifiers are something you might collect as a part of your marketing strategy to target the kinds of people who would be interested in your coaching services. Online identifiers can include cookie IDs, IP addresses, location data, user names, browsing history, and user-generated content, among others.
Sensitive data that you collect might consist of medical records, race, and sexual orientation, and should be treated with special care.
Not all data collected is considered personal information in every circumstance, and rules over what constitutes personal information may change depending on what country you are operating in, or the country your users live in.
Global Privacy Laws
Privacy laws from other countries may apply to you if your users are accessing your website from those countries. Global privacy laws that may apply to your website include:
| | |
| --- | --- |
| USA | |
| Canada | The Personal Information Protection and Electronic Documents Act (PIPEDA) |
| European Union | The General Data Protection Regulation (GDPR) |
| Australia | |
| UK | The Data Protection Act of 1998 (DPA) |
Clauses a Health Coach's Privacy Policy Should Contain

There are several clauses that your Privacy Policy should include to let users know how you manage their data.
These clauses include how and why you collect users' personal information, what you do with it and who you share it with, and how users can access and change their data at will, among others.
Let's look at some examples of each type of clause.
What Personal Information You Collect, and How
You should let users know what kind of information you are collecting. You might collect data such as contact information overtly through subscription forms, or you may collect personal information such as IP addresses through website tracking.
You should also let users know exactly how you will be using the information you collect.
Many health coaches use website tracking or analytics software to get an idea of who is accessing their site and when. This kind of information is extremely helpful for advertising purposes. You should let users know if you are using tracking tools as a part of your marketing plan.
You might also offer courses, newsletters, or membership services via your website. Any sign up or subscription forms used to collect data should be mentioned in this clause.
Here's how Feel the Lean notes what types of information it collects when users purchase or require goods or services from the company:

You should not only let users know how you collect their information and what kind you collect, but what you actually do with their information.
What You Do With Personal Information
There's no good reason to be collecting information without a plan for what you're going to do with it. As a health coach, there are a few different things you might do with the information you collect, including using it for marketing purposes or to enhance your users' experiences.
Here's how Feel the Lean notes how financial information it collects is used solely for completing a transaction approval or funds transfer:

Letting users know that you are using their information for essential purposes is important. You should also tell them whether you share their information with third parties, as seen here:

Cookies Clause
Let your users know if you use cookies, and if so, for what.
Michelle Tam offers an informative and humorous take on how she collects information using cookies and what she uses the information for on her Paleo-themed website: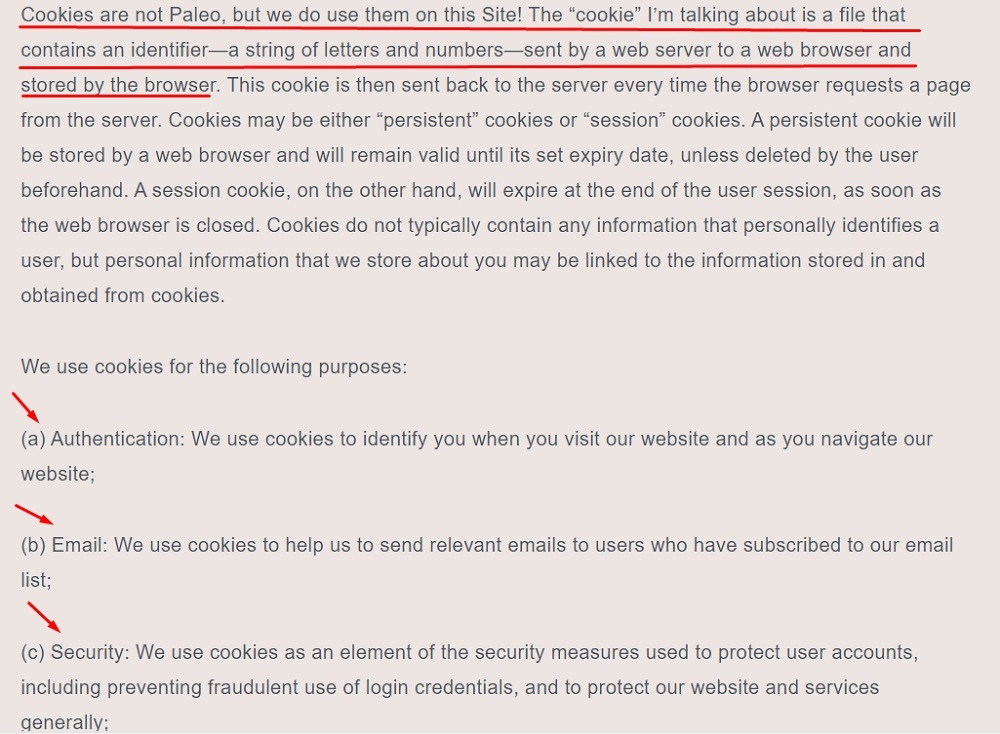 If you have a Cookies Policy, you should still have this clause in your Privacy Policy and can link your Cookies Policy to the clause.
Third Parties You Share Personal Information With
Health coaches often share the information they collect with payment service providers, affiliates, and apps used for things such as automated email responses or appointment booking.
Emily Skye's Privacy Policy lets users know that she shares the information her website collects with her company and its affiliates, service providers, professional services, select partners, and when legally required: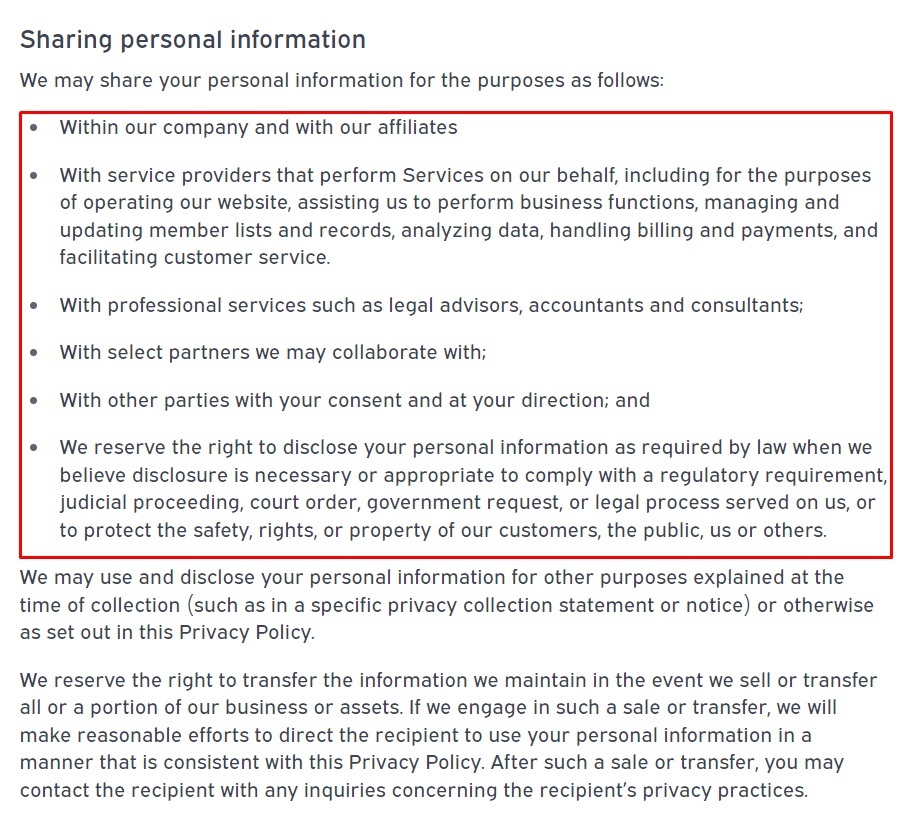 Let users know how and why you collect their information as well as any third parties you share it with. Now it's time to let them know how long you plan on keeping their information.
How Long You Keep Personal Information
If you don't have a legitimate reason to store users' personal information, then you should take steps to safely dispose of it. Let your users know how long you plan on keeping their information, and for what reasons.
Anna Victoria tells users that her website keeps any comments made on her website indefinitely so that her team can avoid holding follow-up comments in a moderation queue:
Regardless of how long you keep personal information, you should definitely be taking proper security measures to make sure that the data you collect stays confidential. Another clause to include in your Privacy Policy should be about how you keep users' data safe.
How You Keep Personal Information Safe
Your users (and potential clients!) need to be able to trust that you will keep their information safe. Including a clause in your Privacy Policy about the steps you take to ensure that their data is safe with you is a great way to build that trust.
Kayla Itsines' Privacy Policy informs users that her website uses SSL technology to encrypt their data and keep it secure, and covers international transfers of personal data.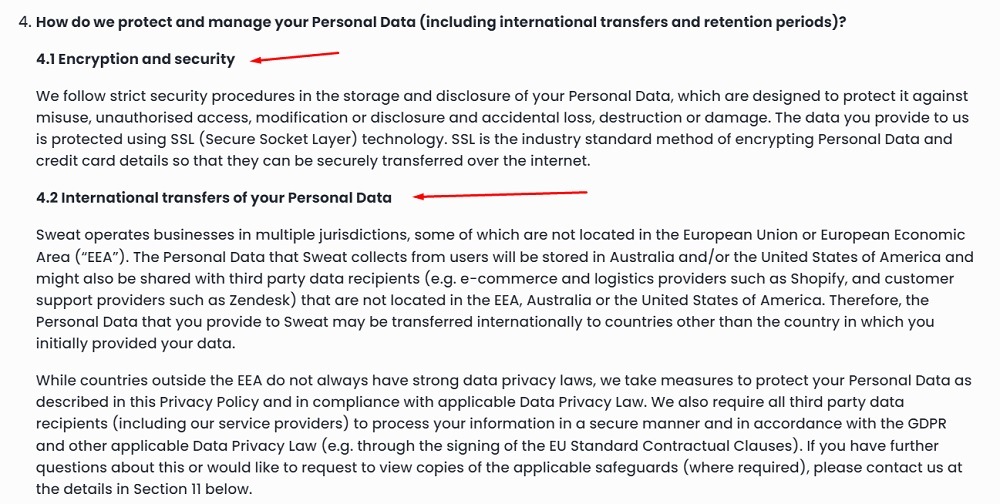 Next, we'll take a look at informing users about how they can access, edit, or delete their personal information.
How Users Can Manage Their Personal Information
You should include a clause in your Privacy Policy letting users know that they still retain the right to change their information after you have stored it.
Simply One Question's Privacy Policy informs users that they can contact her team if they want to change their information:

Finally, you'll also want to include a way for your users to get a hold of you if they have any questions about the rest of your Privacy Policy.
Your Contact Information
Visitors to your website need to know how to reach you in order to hire you as their coach and for any questions they might have about your Privacy Policy.
Luke Coutinho adds his contact info to the end of his Privacy Policy, and lets users know where they can send questions about modifying their personal information:

Once you have your Privacy Policy written, you will want to make sure that you display it somewhere that is visible and always easily accessible.
Where to Display Your Health Coaching Privacy Policy

You should display your Privacy Policy where visitors to your website can easily find it. You don't have to stick with just one display area. You can put links to your Privacy Policy in multiple places, such as within your website and email footers, and on your registration forms and checkout pages.
Website Footer
Putting a link to your Privacy Policy in your website footer ensures that it is easily accessible for all users.
Simply One Question displays a link to its Privacy Policy in a static spot at the bottom of the website, so that no matter what page users navigate to they can access that information:

Displaying your Privacy Policy in your website footer is a great idea for transparency and easy access.
Client Appointment Booking Interface and Registration Forms
Adding a link to your Privacy Policy to your client appointment booking interface is a fantastic way to make sure that new clients understand how you use their personal information.
Emily Fletcher adds a link to her Privacy Policy on her Meditation Masterclass booking page: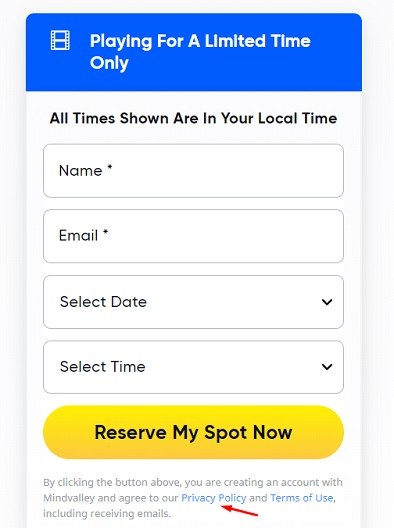 Email Footer
You can also put a link to your Privacy Policy at the bottom of each of your emails.
Adding a link to your Privacy Policy as a part of your email signature gives everyone on your email list the opportunity to learn about how you keep their information safe.
Checkout Page
Your clients want to know that you keep all of their personal information safe, especially their financial information. Adding a link to your Privacy Policy on your checkout page gives them the reassurance that you take their privacy seriously.
Abel James links his Privacy Policy to his checkout page: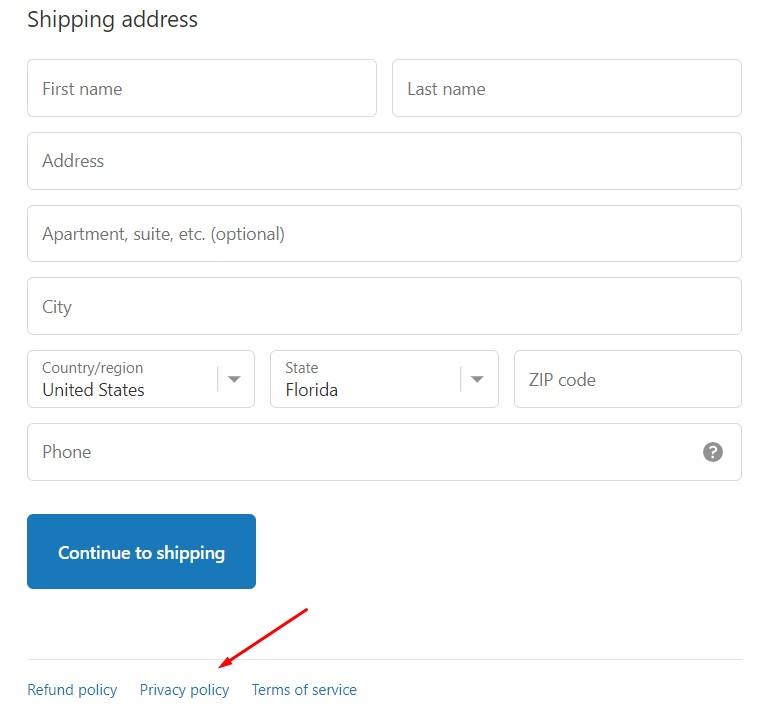 Many health coaches offer subscription or membership services, and linking to your Privacy Policy within the sign-up form is a great way to ensure that your new clients are able to access it.
Melissa Wood adds a link to her Privacy Policy as a part of her MWH Method subscription form: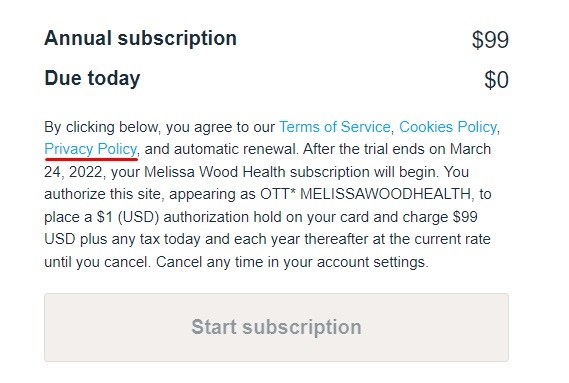 Membership Login
In today's digital world, many health coaches provide their services via online courses. If you offer a membership service to your clients, you can place a link to your Privacy Policy directly on your membership login page.
Summary
More and more health coaches are adding Privacy Policies to their websites to comply with local and international privacy regulations and to show that they value their users' privacy.
A good Privacy Policy should contain clauses telling your users how and why you collect their information and what you do with it, as well as how they can get in contact with you for any questions or to make changes to their information.
Make sure to display your Privacy Policy where people can easily find it, such as in your website and email footers, and on your appointment booking and sign-up forms.

Comprehensive compliance starts with a Privacy Policy.
Comply with the law with our agreements, policies, and consent banners. Everything is included.