Written by
Legal writer at TermsFeed.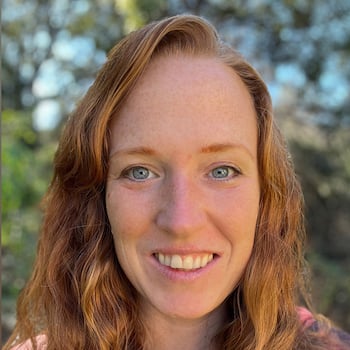 The Federal Trade Commission (FTC) is a government organization that works to regulate the marketplace and ensure that consumers are safe from fraudulent or deceptive business practices.
The FTC requires companies that use certain business practices to maintain specific disclosures on their websites, blogs, social media posts, videos, and apps. These disclosures include advertising, affiliate, reviews, and influencer disclosures.
This article will take you through the FTC requirements for each of these disclosures, as well as show you how to display your disclosures so that they comply with FTC requirements.
Our Disclaimer Generator can generate a legal disclaimer for your business, website or mobile app. Just follow these steps:
At Step 1, select where your Disclaimer will be used.

At Step 2, add in information about your website/app and business.

Answer some questions about your business practices.

Enter an email address where you'd like to receive your Disclaimer and click "Generate."

Done! You'll be able to instantly access and download your new Disclaimer.
FTC Requirements on Disclosures
The FTC requires that your business maintain certain disclosures if you do any of the following:
Advertise your products or services
Engage in affiliate marketing
Post reviews or testimonials
Promote a brand's products or services via your social media influencer account
Let's take a closer look at these disclosures and find out under what circumstances each one should be used.
Advertising Disclosures

An advertising disclosure is a statement that informs consumers about how you use advertisements to make money.
The FTC requires that all advertisements be honest, fair, and evidence-based, and the FTC's Advertising and Marketing on the Internet: Rules of the Road document guides businesses through its advertising expectations.
You've probably seen advertising disclosures before on political ads, such as this one by Obama for America: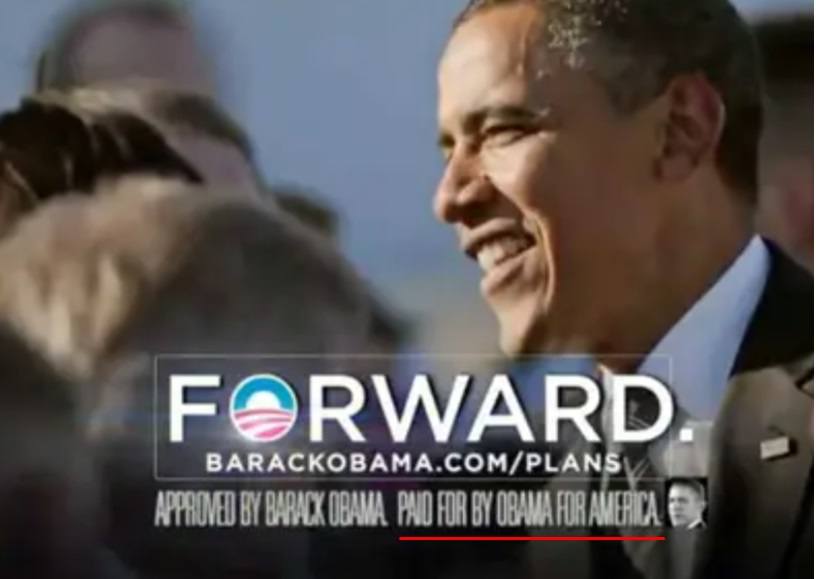 While current legislation does not currently require digital political ads to include an advertising disclosure, the Federal Election Commission (FEC) is headed in that direction.
Sleep Foundation maintains an Advertising Disclosure on its website that informs users about its relationship with other companies and how it gets commissions: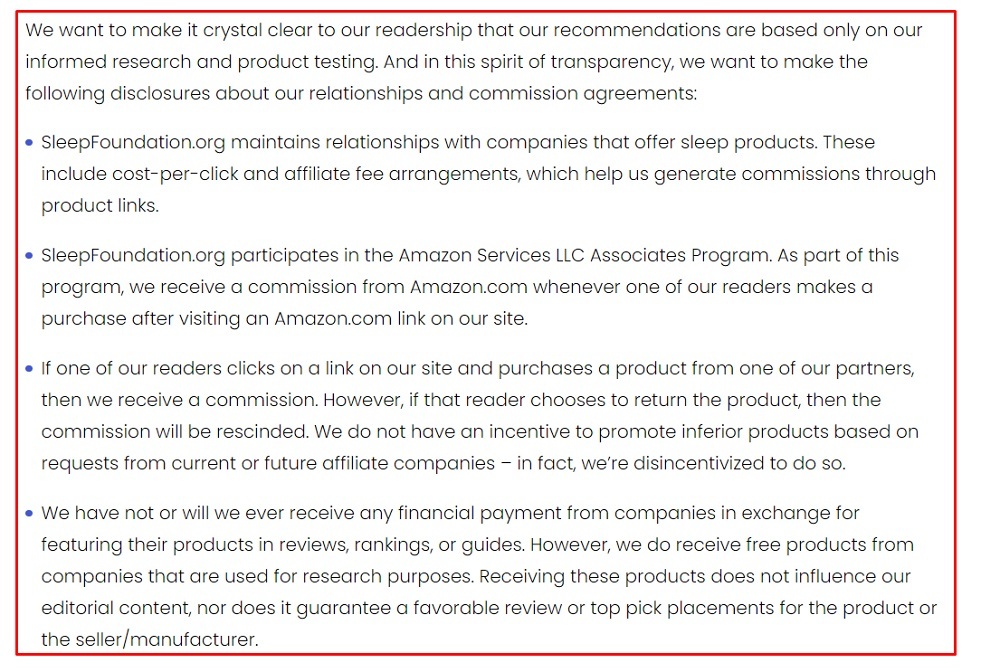 If you advertise your products or services, you'll need to become aware of FTC requirements surrounding ads and make sure you comply.
Affiliate Disclosures

Many individuals and companies use affiliate marketing as a part of their overall business strategy. Affiliate marketing is when you receive compensation for promoting another company's product or service. For example, Amazon Associates is a popular affiliate program.
The FTC requires any business that engages in affiliate marketing to use an affiliate disclosure. An affiliate disclosure lets users know that you receive some type of payment for advertising a brand's product or service. Affiliate payments may come in the form of financial compensation, or they might come in the form of discounts or free products.
Your affiliate disclosure doesn't need to be lengthy. It just needs to inform users that you are being compensated in exchange for recommending another company's product or service to your audience.
Your affiliate disclosure needs to be written so that it is easy to understand and should be displayed prominently. You should add it to the web pages where the affiliate links are posted, and can add an Affiliate clause to your Terms and Conditions agreement.
The What About Affiliate and Network Marketing? section of the FTC's Endorsement Guides: What People Are Asking webpage goes into detail about how affiliate marketers should use affiliate disclaimers: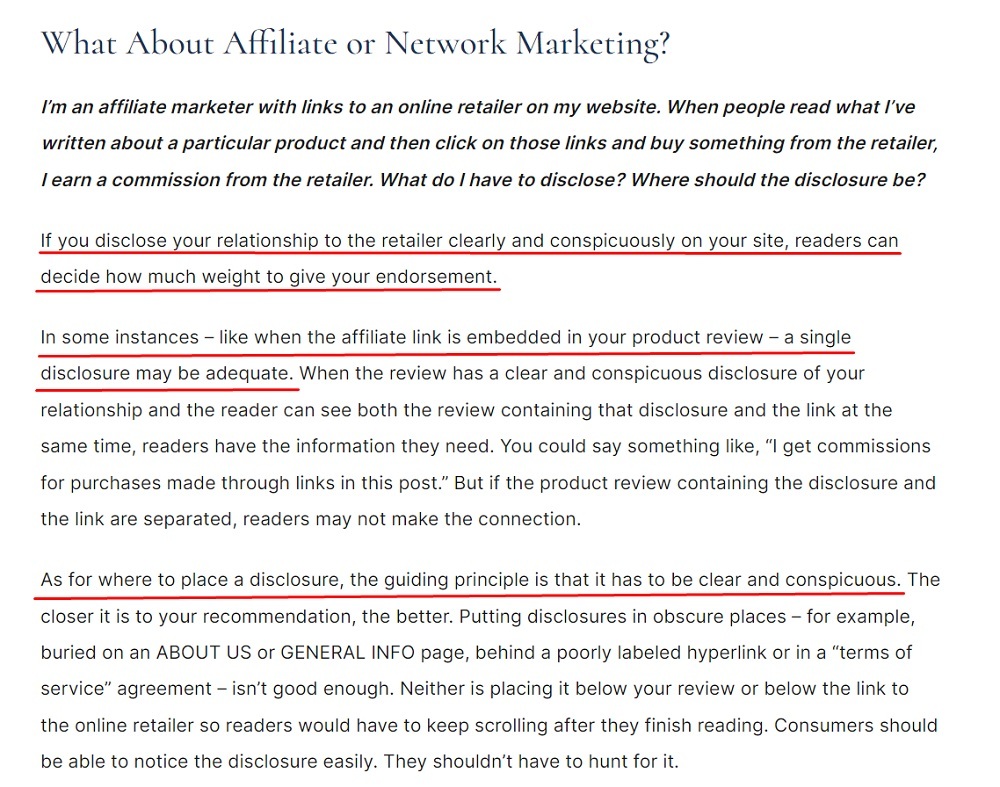 Visitors to Fifa Trend can find its Affiliate Disclaimer via a link in its website header. The Affiliate Disclaimer informs users that Fifa Trend receives commission for certain products that it links to on its site: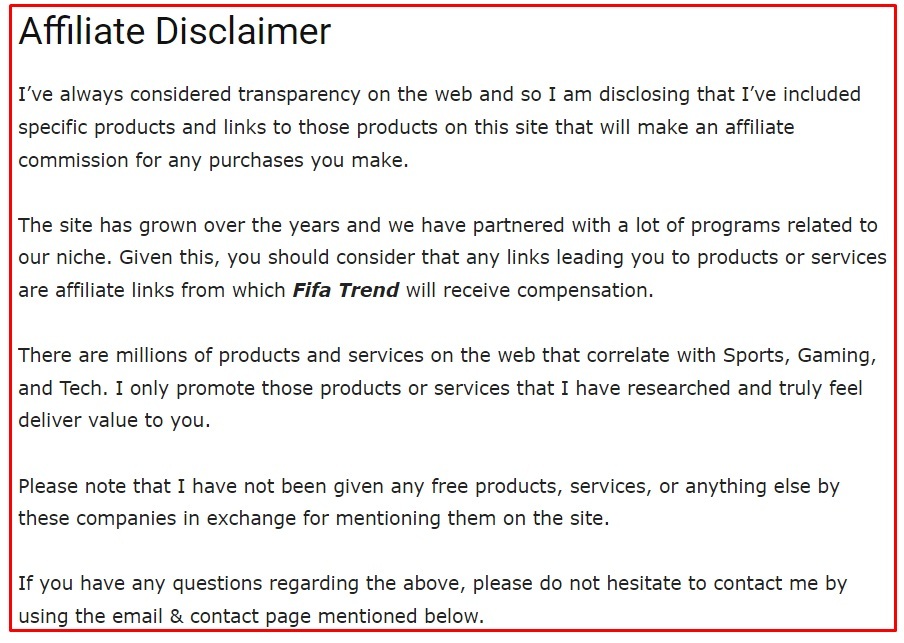 Most companies will also inform you of their affiliate requirements, which will include all proper legal disclosures.
Reviews Disclosures

A reviews disclosure lets users know what your process is for collecting, moderating, and publishing reviews.
The FTC's guidelines for collecting reviews are to ask for, encourage, and only offer incentives for honest reviews: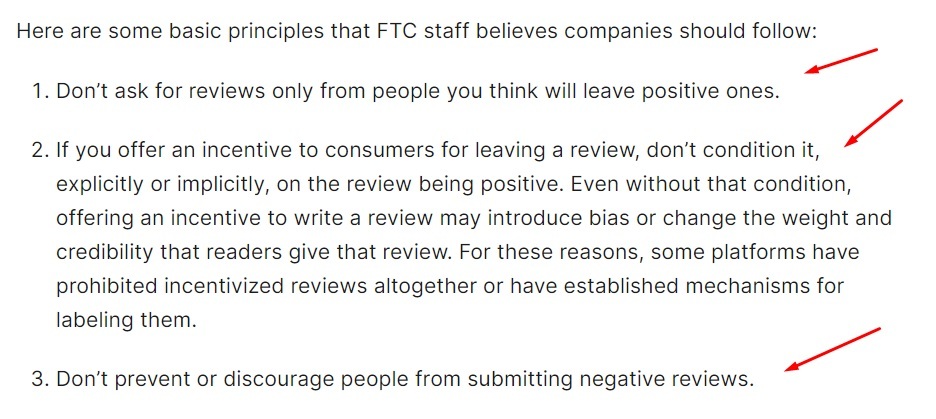 In order to comply with the FTC's guidelines for moderating reviews, you should make sure that you have a process in place that can distinguish real reviews from fakes, maintain the original language of each review, and treat both positive and negative reviews in the same manner: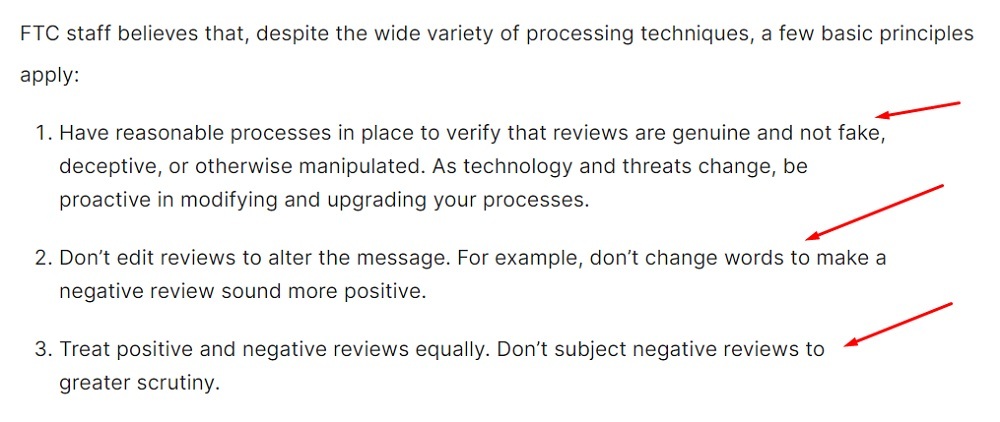 A reviews disclosure should be used anytime your business uses reviews or testimonials as a form of advertisement for your product or service.
McEwen Law Firm's Testimonials Disclosure page lets users know that while its reviews are real, they do not mean that all users will get the same results. The Testimonials Disclosure informs users where the testimonials come from and lets them know that the law firm does not pay for reviews: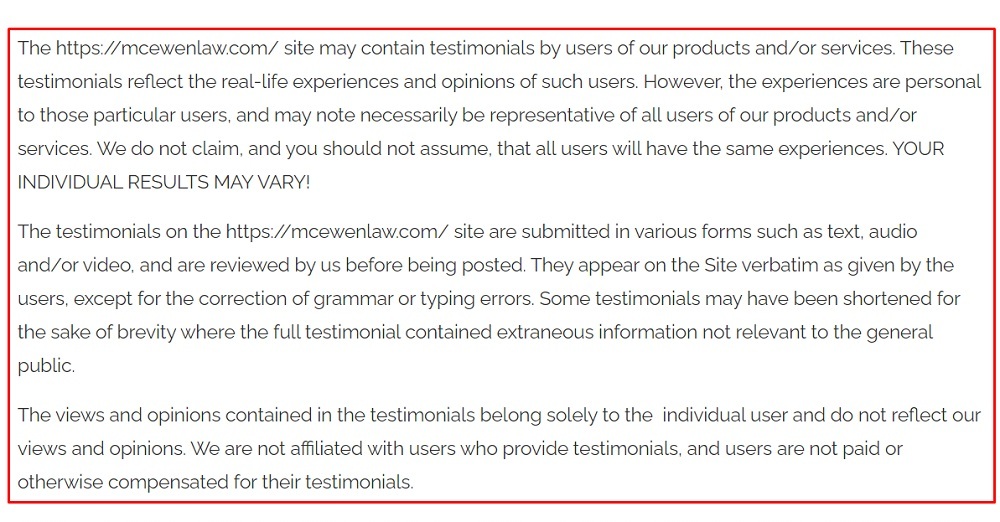 Always strive for transparency and honesty with any reviews you ask your users for.
Influencer Disclosures

Social media influencers have a responsibility to their audience to explain what kind of relationships they have with the brands that they endorse. These relationships could be financial, or they could be nepotic in nature, as when an influencer receives employment or privileges from a family member or friend.
If you are an influencer, you should use plain language to inform your audience whenever you disclose a brand relationship or endorse a product, and include a disclosure statement in the text of your blogs, social media posts, or website. You can add the text of your disclosure to any image or video that you make about a certain product or service. If you are live streaming, make sure to verbally inform viewers about your brand relationships or endorsements throughout the event.
You can also include your influencer disclosure in your Terms and Conditions agreement.
The FTC describes why it requires influencers to divulge personal relationships with the brands they endorse on the The FTC's Endorsement Guides: What People Are Asking page of its Business Guidance website:

The Paid Partnership feature on Instagram allows accounts such as @thehomeenvy to place a "Paid Partnership" banner below the account name, showing the audience that the account is promoting another brand's products or services: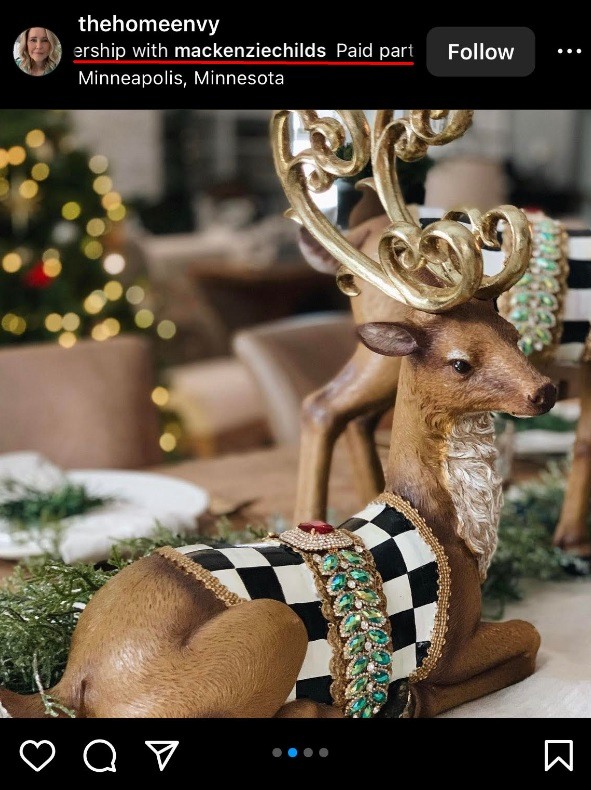 @thehomeenvy uses the #sponsored hashtag to help show her audience that this post is endorsing another account's products: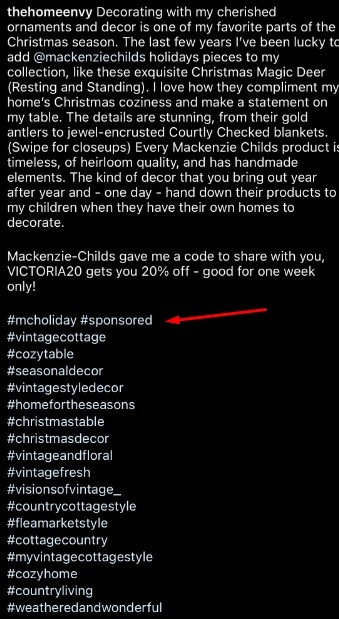 If you engage in advertising, affiliate marketing, displaying reviews or are an influencer, make sure you become aware of these FTC requirements so you can engage with your users online in a compliant way.
How to Display FTC Disclosures

Any disclosure required by the FTC needs to be prominently displayed in a place where users can easily view it. Let's take a look at where you can put your FTC disclosures on your website, blog, social media posts, videos, or within your app.
Websites and Blogs
The FTC requires that affiliate disclosures appear before the product or service you are promoting so that people will see it before they can see and click on any affiliate links.
Van's Aircraft Builders' website contains an affiliate disclosure statement at the top of its homepage, as well as a link to its Disclosure page:

It also includes a disclosure about its Amazon affiliate relationship in the footer of its website, next to the link for shopping on Amazon: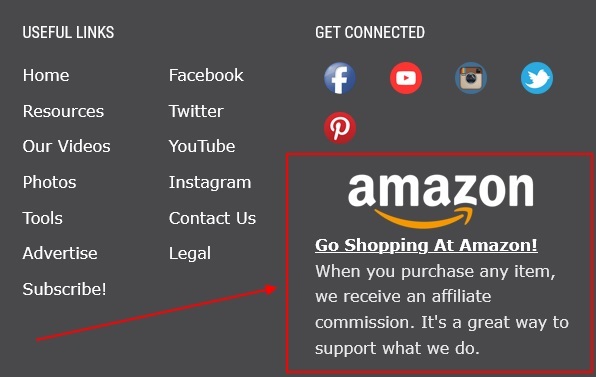 Affiliate disclosures are often put at the top of a blog, above the post that endorses another company's product or service.
A Beautiful Mess makes it clear near the title of a post that the post is sponsored, and that it contains affiliate links: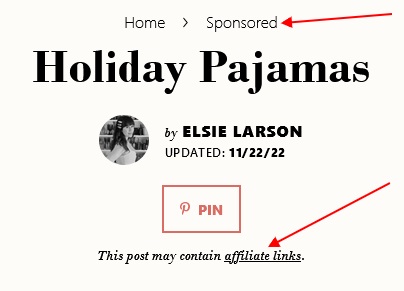 In addition, the first section of the blog post itself notes that the post is sponsored by Walmart:

You can also create a separate page just for your affiliate disclosure, but this should be in addition to the disclosure that is listed before or above the endorsed products.
Rocket Mortgage maintains a page specifically for its Rocket Companies Affiliate Disclosure, which explains the nature of its relationships with some of the businesses it features, and lets users know that it does receive compensation from its participation in affiliate programs: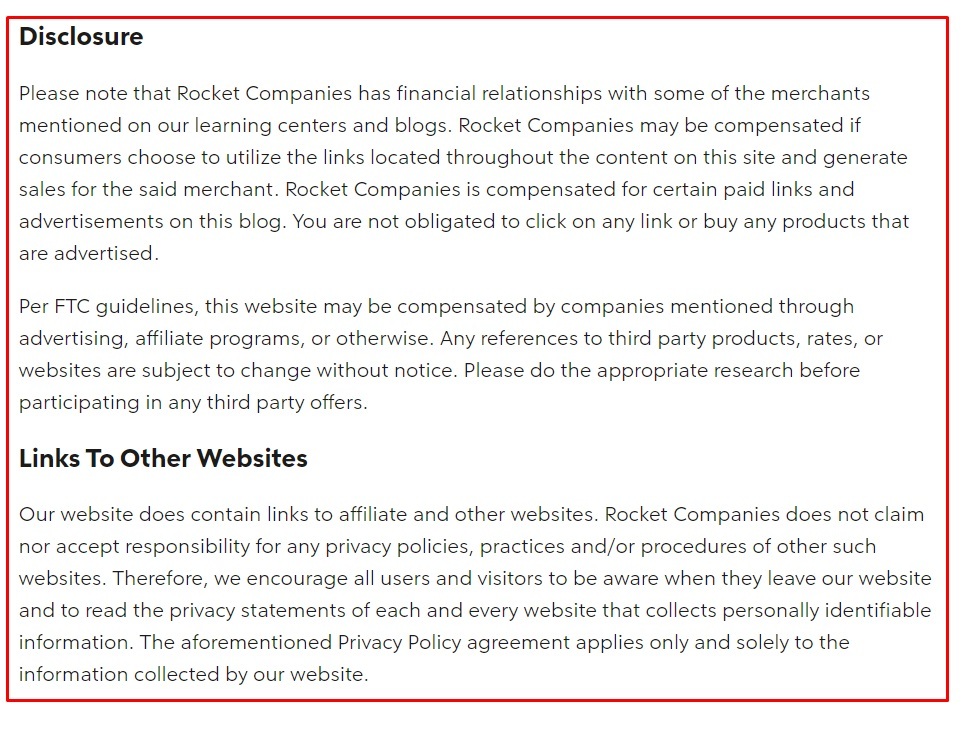 Another place you can put your disclosures on your website is within your Terms and Conditions or other legal agreements.
Condé Nast includes a Products Made Available By Us clause in its User Agreement, letting users know that it may receive compensation from purchases made via links on its website.

Stack the Chips' Terms and Advertising Disclosure informs users that it receives compensation for posting advertising content on its blog:

In sum, the best way to display FTC disclosures on your website or blog are:
In the site header and/or footer, and
On the web pages that contain the affiliate links, reviews, advertisements, etc.
Social Media Posts
Social media influencers often use hashtags to help inform users that their posts contain an advertisement, or let users know within the post that they are taking part in an affiliate marketing program.
If you do use hashtags, you need to make sure that they are written in a way that the average person would understand what they mean. For instance, not everyone knows what affiliate marketing is, so using the hashtag #affiliate would not meet the FTC's requirements. However, most people understand what an ad is, so using the hashtag #ad could work.
@theellieway's Instagram post lets her audience know that she has been gifted the product that she is promoting, and she includes the hashtag #sponsoredpost to make sure that people know that the post is serving as an ad: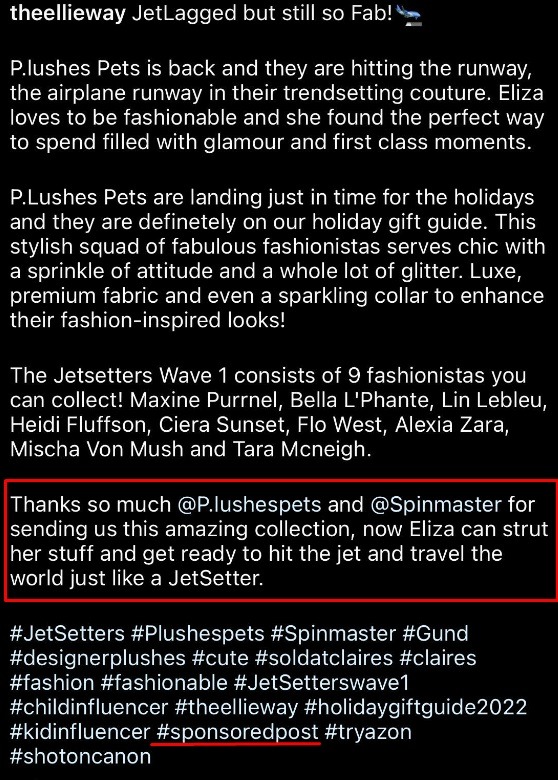 Videos
If you use a video platform such as YouTube, TikTok, or Instagram Reels for affiliate marketing or advertising, you will need to include appropriate disclaimers. You can either verbally announce that you are taking part in an affiliate program or advertising a product or service during the video, or add text to the beginning of the video informing users about your affiliateship or sales pitch.
You can also add your disclosure or a link to it on your video platform channel, such as Lundbeck has done here with its YouTube channel's About page: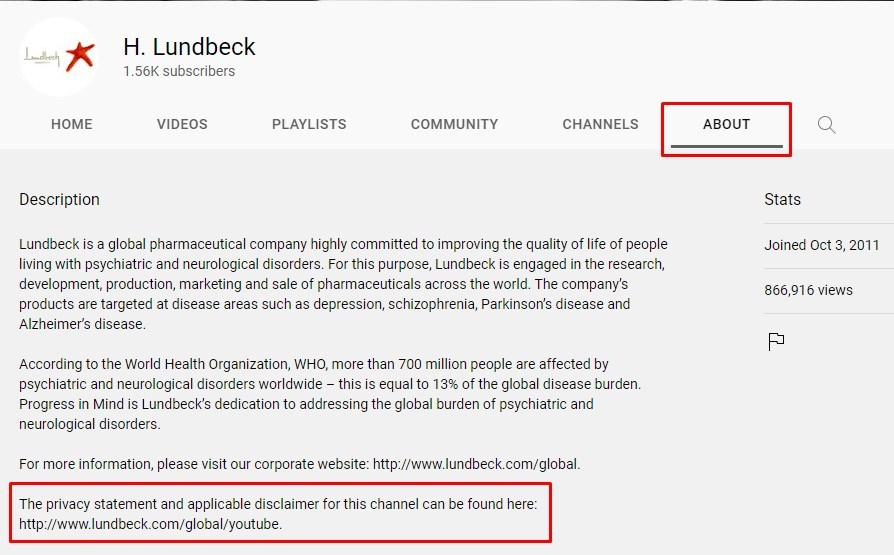 You can add your FTC disclosure to your video description or caption, but you should announce the disclosure within the actual video as well.
@bossbabykiki's Instagram reel video informs her audience that the video is a paid partnership, and uses the hashtag #ad to clarify that the content it contains is serving as an advertisement: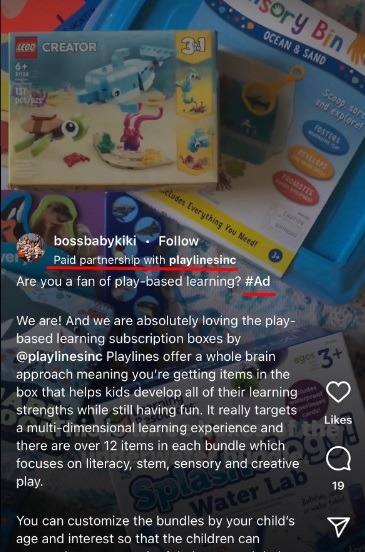 Whichever method you choose, you need to make sure that you speak clearly so that viewers can easily understand you, or keep the text on the screen long enough that viewers have time to read it.
Mobile Apps
If your company has developed an app, you want to make sure that you maintain clearly written and easily accessible disclosures within the application.
A couple of common places to put in-app disclosures are either within your Terms and Conditions agreement or in a pop-up box that appears when users go to create an account to access your app's content.
Users of the Reddit app can access information about its advertising policies by tapping on the User Agreement in the Settings menu: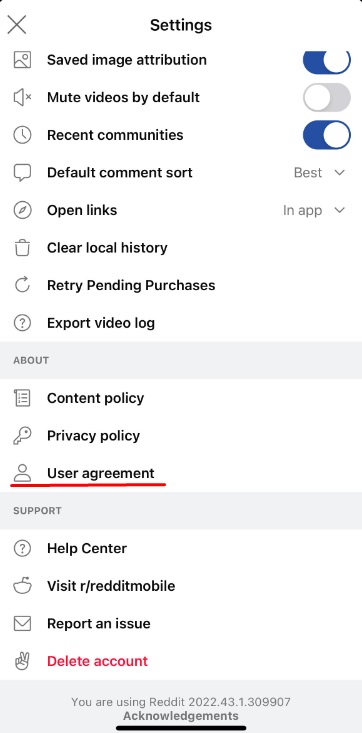 From there, users can scroll to Reddit's Third-Party Content, Advertisements, and Promotions clause, which contains information about its advertisement and affiliate links: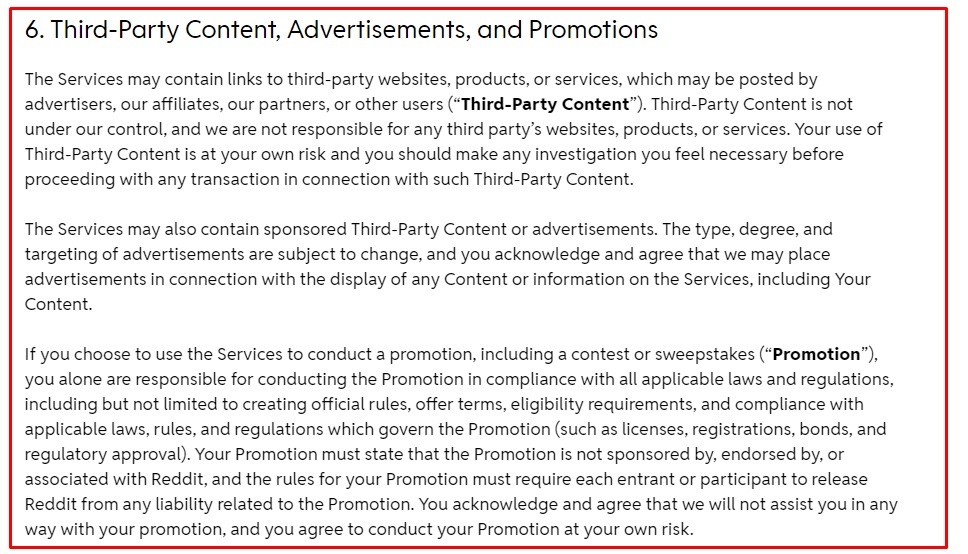 What Happens if You Don't Comply With FTC Disclosures Requirements?
The FTC has the authority to charge civil penalties if your business knowingly commits an offense that violates the FTCA and the FTC has sent you a "Notice of Penalty Offenses." Each violation can result in a fine of up to $46,517.
Summary
The FTC is an organization that protects consumers from deceitful or fraudulent business practices. It requires that any businesses or influencers that advertise a product or service, promote a product or service via affiliate marketing, or share testimonials from their customers use appropriate disclosures to divulge information about their business relationships or any compensation they may receive.
Advertising disclosures are used to let users know that you are advertising a product or service.
Affiliate disclosures are used whenever you endorse a product or service for another brand.
Reviews disclosures let users know what your process is for collecting and sharing testimonials.
Influencer disclosures are used to inform users about any special relationships you have with the brands that you promote, or any compensation you may receive.
The FTCA gives the FTC the power to enforce rules around advertising practices, while the FTC's guidelines help businesses to follow its basic principles.
You can display your FTC disclosures in several different places, including on your website, blog, social media account, and videos, and within your apps.
If you don't comply with the FTC's disclosure guidelines, you can face hefty fines of up to $46,517 per intentional violation.