If you participate in the Amazon Associates affiliate program, you must follow Amazon's Operating Agreement or risk being terminated. You're also required by law to include some particular disclosures so you maintain a transparent relationship with users and avoid fines.
Here's what you need to know about what Amazon requires, what the law requires, policies you need on your website if you join Amazon Associates, as well as explanations as to why each is needed and tips for drafting them.
Our Disclaimer Generator can generate a legal disclaimer for your business, website or mobile app. Just follow these steps:
At Step 1, select where your Disclaimer will be used.

At Step 2, add in information about your website/app and business.

Answer some questions about your business practices.

Enter an email address where you'd like to receive your Disclaimer and click "Generate."

Done! You'll be able to instantly access and download your new Disclaimer.
Requirements for Amazon Associates
You have two sets of requirements to follow if you join Amazon Associates
The first is provided by Amazon Associates, and the second includes legal requirements enforced by the Federal Trade Commision (FTC).
Here's a summary of each.
Requirements by Amazon
The Amazon Associates Program Participation Requirements reads like most sites' Terms and Conditions. It explains the program, its duties to you as an associate, and the requirements for your participation.
You also must follow Amazon's Associates Program Operating Agreement.
If you fail to follow the requirements discussed in these agreements, Amazon Associates may remove you from the program and you will no longer be entitled to earnings.
Requirements by the Law
In the U.S., the FTC has affiliate disclosure requirements for affiliate marketers.
These can be found in the FTC's Dot Com Disclosures guidelines, and on its "What People Are Asking" website.
If you require an affiliate disclosure, the FTC requires that they are clear and conspicuous. You should place them near your reviews and affiliate links. Use bold text to make them stand out and even consider giving them their own page with a clear link.
A good example is provided by Wellness Mama:

You can also include your Amazon Associate disclosure with the general FTC one. Wellness Mama places its Amazon disclosure right under its general affiliate disclosure:

Adopting the same format will keep you in good standing with the FTC and Amazon. However, there are other adequate approaches to these disclaimers, and you can't forget about other essential agreements as well.
For more detailed information on this, read our article Disclosures for Affiliate Links.
Amazon Associate Program Rules and Requirements

Amazon has rules that Associates must follow to remain in good standing and get paid. Amazon's rules are in place for a number of reasons.
For instance, one purpose for these requirements is to make sure affiliates can't game the system. Amazon wants those they're doing business with to be above board. The company wants to ensure that any promotion of Amazon products by third parties is done ethically.
Accordingly, the very first requirement you need to meet is understanding that Amazon's customers are not your customers.
Don't Present that Amazon Customers are Your Customers
In essence, Amazon requires that if you are an affiliate, you can't pretend that you're selling Amazon products as if you were Amazon:

If you plan to be an affiliate, you have to agree not to contact their customers directly or handle any customer service issues as if you were an Amazon representative.
In fact, if a customer that purchases a product through your affiliate link contacts you regarding any kind of interaction that is related to that purchase, you are obligated to point them to where they can contact Amazon directly.
Disclose that You're an Amazon Associate
As an Associate, you must disclose in both communications and on your website the fact that you might be entitled to earn commissions from recommendations you make, and from the links you post.
Indeed, an official disclaimer and affiliate disclosure are mandatory requirements under legal obligations set out by Amazon and the Federal Trade Commission. An example of an affiliate disclosure is provided by Amazon in its Associates Program Operating Agreement:

The passage reads as follows:
You must clearly and prominently state the following, or any substantially similar statement previously allowed under this Agreement, on your Site or any other location where Amazon may authorize your display or other use of Program Content: "As an Amazon Associate I earn from qualifying purchases." Except for this disclosure, and other than as required by applicable law, you will not make any public communication with respect to this Agreement or your participation in the Associates Program without our advance written permission. You will not misrepresent or embellish our relationship with you (including by expressing or implying that we support, sponsor, or endorse you), or express or imply any affiliation between us and you or any other person or entity except as expressly permitted by this Agreement.

As you can see from the example above, a disclosure informs your visitors about the fact that you acquire compensation from Amazon as an affiliate. However, it doesn't have to be a word-for-word copy of the statement in Amazon's operating agreement. Notice that the text says your disclosure can be "any substantially similar statement."
Don't Shorten Links to Mask Affililiate Association
You aren't allowed to use link shorteners to essentially disguise links as affiliate links.
This is addressed in Section 6 v and w of the Participation Requirements:

Be Aware of Promotional Limitations
Under Section 4, some limitations on promotions are set out. For example, you cannot include your affiliate link in an ebook that you attach to an email, or send your link in a private message on social media.
Here's Section 4 in full:

Make sure to be aware of what these limitations are so you don't inappropriately share your affiliate link.
Have a Well-Written Privacy Policy

In addition to the fact that websites that collect personal information are required by law to have a Privacy Policy, the Amazon Associate program demands that you have one as well. Amazon demands that its affiliates provide a guarantee that they are following privacy rules concerning how you collect, use, store, and disclose data.
In its Associates Program Participation Requirements, Amazon states:

(e) disclosing on your Site accurately and adequately and otherwise satisfying applicable legal requirements, either through a privacy policy or otherwise, the use of cookies, pixels, and other technologies by you and third parties and how you collect, use, store, and disclose data collected from visitors in accordance with applicable laws, including, where applicable, that third parties (including us and other advertisers) may serve content and advertisements, collect information directly from visitors, and place or recognize cookies on visitors' browsers, and providing information on the visitor's choices with respect to opting-out from online advertising where required by applicable law, and...

In addition to actually having a Privacy Policy, you're required to place the document in an obvious, prominent location on your site. A traditionally acceptable area for a link to your Privacy Policy is in your website's footer section along with links to other documents like your Terms of Service.
Don't Use Your Own Links
You aren't allowed to use your own links to make purchases. If you do so, Amazon will not pay you any commission on the purchase made by you.
This is how it's addressed in section 6 u:

Use Amazon Brand Logos Correctly
If you use product images or the Amazon logo, check out Amazon's Trademark Guidelines for rules and restrictions on how and what you can use.
Here's the entire guide: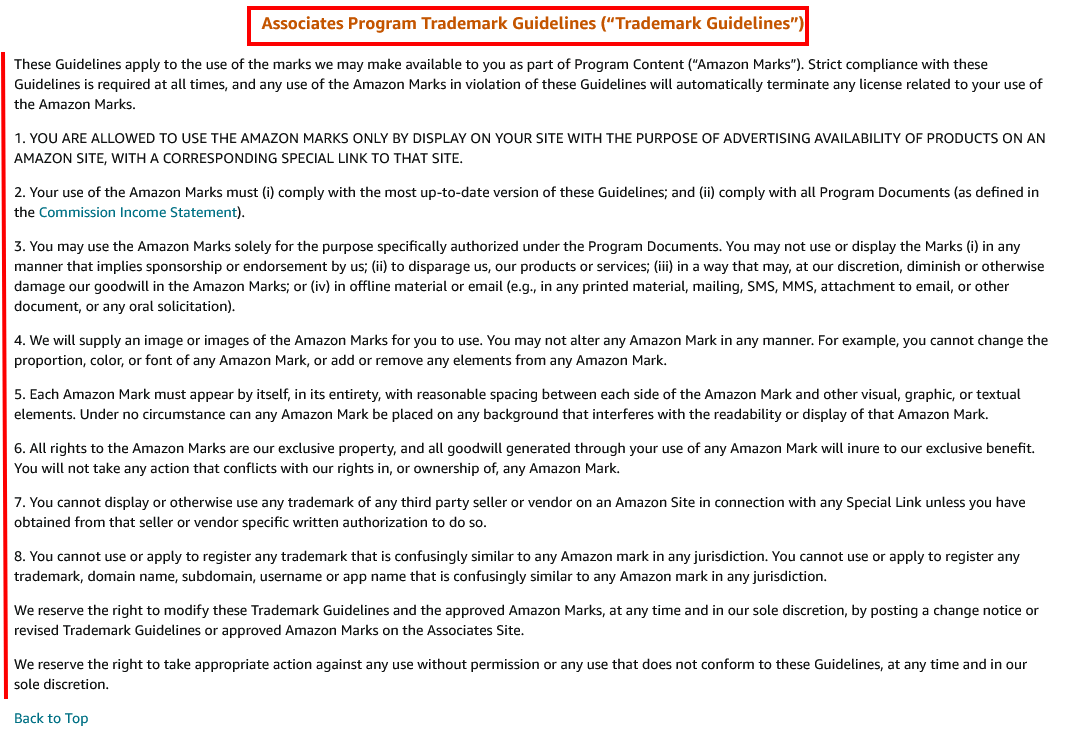 You aren't allowed to alter the Amazon logo in any way such as by changing its colors to match your site's theme better, amongst other restrictions.
Use Product Images Correctly
If you plan to advertise specific products that are listed on Amazon, you must use an API to get and display the image. This means you cannot download the image and host it directly from your own site. It must remain connected to Amazon.
Display Product Prices Correctly
If you plan to display product prices on your site next to your affiliate link, you must do it a specific way. Because prices and product availability change so often, you must display the price via Amazon's API to ensure that the displayed price is accurate and up to date at all times.

Keep Your Website PG-13
In order for your website to be considered "suitable" for Amazon's purposes, you have to make sure that there is nothing sexually explicit or obscene, violent or that promotes violence, or any other distasteful materials as enumerated in Amazon's Enrollment and Eligibility section of its Associates Program Participation Requirements Policy: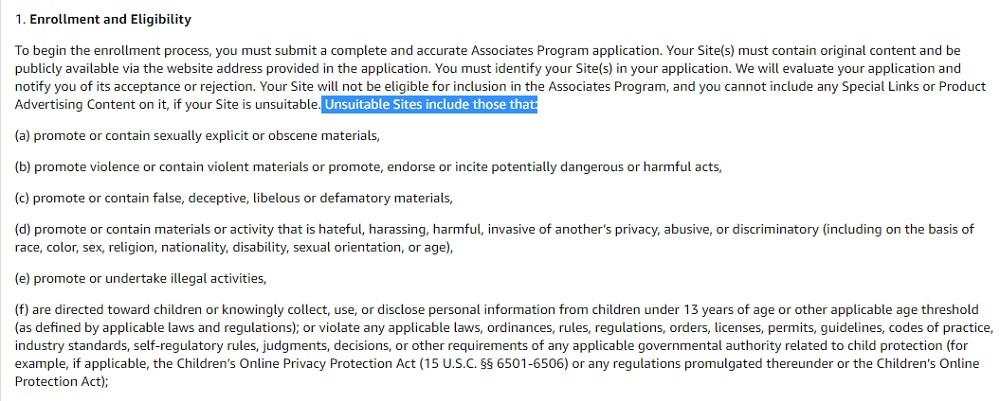 You cannot enroll in the program if your site does any of the following:
a) promote or contain sexually explicit or obscene materials,
(b) promote violence or contain violent materials or promote, endorse or incite potentially dangerous or harmful acts,
(c) promote or contain false, deceptive, libelous or defamatory materials,
(d) promote or contain materials or activity that is hateful, harassing, harmful, invasive of another's privacy, abusive, or discriminatory (including on the basis of race, color, sex, religion, nationality, disability, sexual orientation, or age),
(e) promote or undertake illegal activities,
(f) are directed toward children or knowingly collect, use, or disclose personal information from children under 13 years of age or other applicable age threshold (as defined by applicable laws and regulations); or violate any applicable laws, ordinances, rules, regulations, orders, licenses, permits, guidelines, codes of practice, industry standards, self-regulatory rules, judgments, decisions, or other requirements of any applicable governmental authority related to child protection (for example, if applicable, the Children's Online Privacy Protection Act (15 U.S.C. §§ 6501-6506) or any regulations promulgated thereunder or the Children's Online Protection Act)

Make Your First Sale Within 6 Months
If you don't make your first sale within 6 months of enrolling, you will be rejected from the program and encouraged to apply again when you have a platform with more traffic and reach.
Legal Policies You Need for your Site as an Amazon Affiliate
Amazon directly requires an associates disclosure and a Privacy Policy of some sort. While a Terms and Conditons agreement isn't explicitly required by Amazon or the law, having one can be incredibly beneficial to your website or blog.
Maintaining the following three policies will help you maintain compliance with Amazon's operating agreement and the law.
Disclaimers for Amazon Associates
As discussed, affiliate disclaimers and disclosures are required by the law and Amazon.
Ultimate IT Guys offers a good example of an Amazon Associates disclosure. It adopts nearly identical language to that described in the operating agreement:

Blog operators often take the same approach.
Karissa's Vegan Kitchen has a general disclosure regarding affiliate links and an Amazon Affiliate Disclaimer: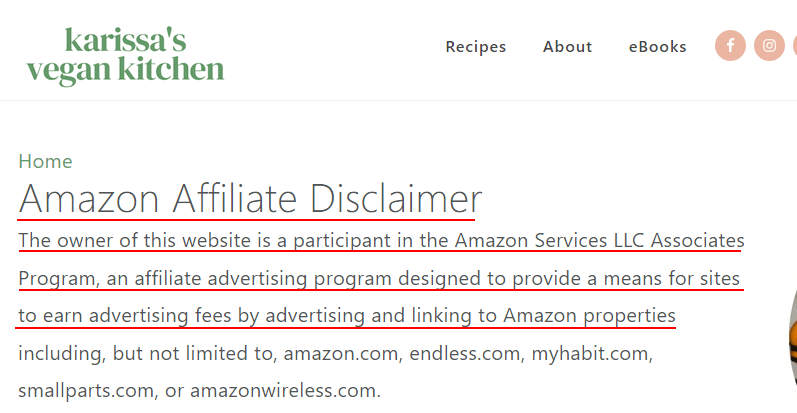 Hello Peaceful Mind displays its as the following: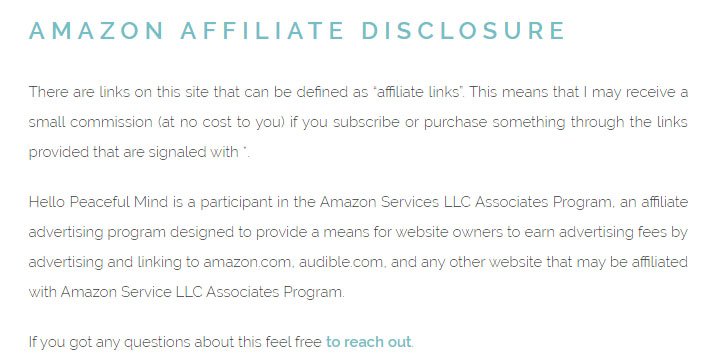 This disclosure is the most important one when it comes to preserving your relationship with Amazon and ensuring legal compliance. Treat it with the same seriousness as you would other online agreements by making it conspicuous and readily available to your users.
Privacy Policy for Amazon Associates
The operating agreement contains a provision where you promise to follow all applicable laws, including those that relate to data protection:

This broad provision is frequently interpreted to include privacy protection laws throughout the world.
A Privacy Policy is required in most jurisdictions. Even in the U.S. where there is no federal law on this matter, many states adopted their own laws requiring website operators to provide a Privacy Policy if they collect personal information from users.
Your Privacy Policy is where you can disclose information about advertising partners, as Hello Peaceful Mind does here:
Hello Peaceful Mind's Privacy Policy has an Advertising section where it includes its involvement with Amazon, and how cookies are used in this process: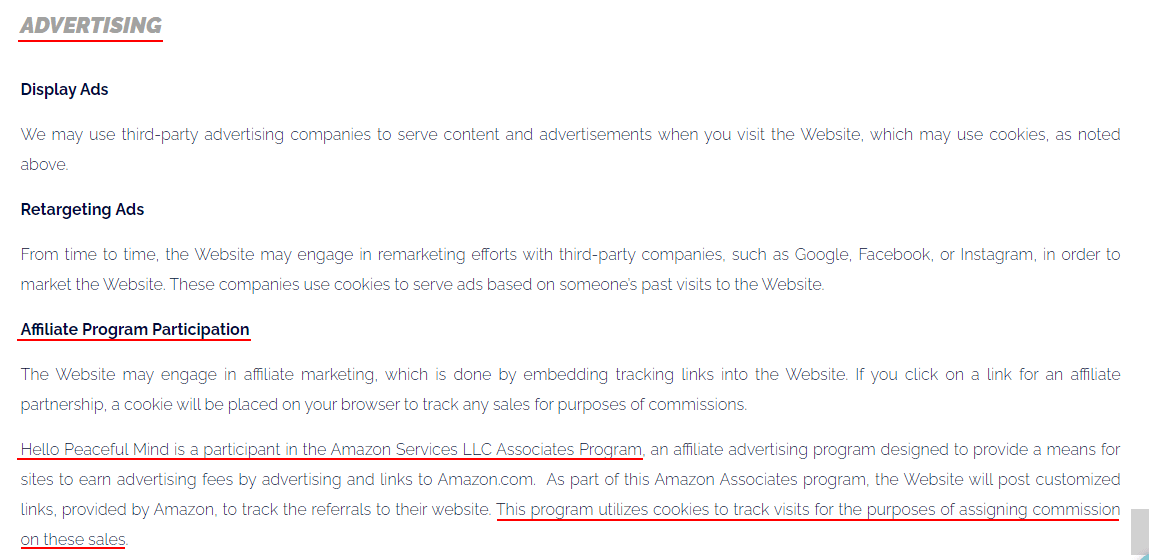 Karissa's Vegan Kitchen advises that it does not have control over affiliate websites and the privacy risk shifts to the user when they follow these links:

Affiliate relationships are often profitable for smaller websites and blog owners, but you do not want to bear the damages of any data irregularities when a user visits an affiliate link. Protect the privacy of your users and ensure your own legal compliance by using your Privacy Policy as a way to limit liability.
Terms and Conditions for Amazon Associates
A Terms and Conditions agreement may also be called a Terms of Use or Terms of Service. This agreement includes rules for users when they access your site. Terms also include a description of services and any duties you may owe to users.
Not all sites have this agreement. It's not required by law like Privacy Policies.
Amazon Associates does not require its participates to maintain a T&C. However, if you maintain one for other purposes, you should also address affiliates in it.
Start by extending the T&C to affiliates. Ultimate IT Guys starts by defining affiliates to include advertisers:

The business includes a clause in its Terms agreement that addresses the protection of intellectual property, including trademarks and copyrighted material. This protection extends to Amazon trademarks and copyrights as well as its own: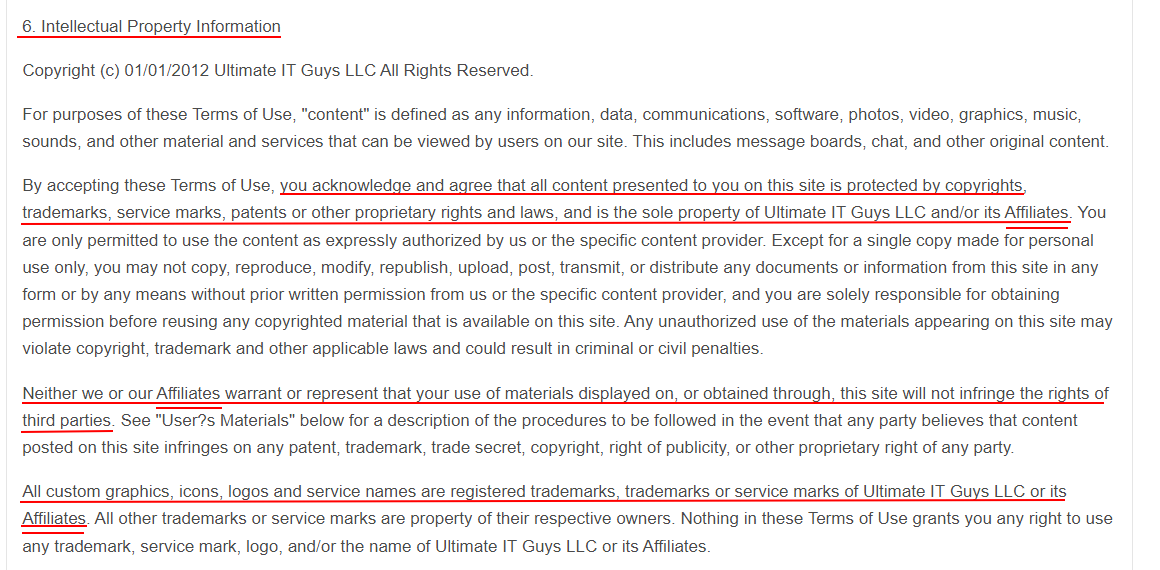 This offers protection for the business as well as for Amazon.
If your users infringe on Amazon's intellectual property, a clause like this gives you grounds to terminate that user's account. It also establishes that you were not a party to the infringement and made efforts to prevent it. That makes it less likely that Amazon will pursue you for damages should this incident occur.
A T&C also includes warranty disclaimers. You can extend this protection to your affiliates as well.
Here's how Ultimate IT Guys does this:

You will want to do the same with your Limitation of Liability, again as Ultimate IT Guys has done here:

Offering this protection may seem like excessive responsibility, but it works well to your benefit. If a user pursued Amazon for damages, Amazon could hold you liable if you did not offer the appropriate limitations and waives. You are not only taking responsibility for Amazon's interests, but you are extending liability protection to your own website as well.
In Conclusion
As noted at the beginning, if you want to monetize your website or blog, then becoming an Amazon Associate could be a great way to start. Above, we went over some of the key things you need to remember when it comes to Amazon Affiliate requirements.
For example, remember that not only do you have to keep in line with Amazon's demands, but part of those demands are that you ensure you're legally covered in terms of privacy issues. Therefore, make sure you've got a proper Privacy Policy in place.
Keep in mind that Amazon requires a lot more than what we've covered here.
It's a good idea then, for you to become intimately familiar with Amazon's Associates Operating Agreement and their Associates Program Policies. Both of these documents have been linked to in this article.
Amazon has an extensive Help section for its affiliates. Don't hesitate to use it.
The Amazon Affiliate program is an excellent way to make websites and blogs more profitable. However, it is a contractual relationship where Amazon extends an opportunity, and you must meet requirements to continue receiving a benefit.
If you maintain the correct disclaimers, a Privacy Policy, and T&C, you are more likely to enjoy a continued affiliate arrangement with Amazon and avoid legal violations that can disrupt the operation of your website.

Comprehensive compliance starts with a Privacy Policy.
Comply with the law with our agreements, policies, and consent banners. Everything is included.