Many people with online real estate want the ability to monetize that digital property. There are various ways of achieving this, but becoming a partner in one or more affiliate programs is one of the easiest. Indeed, provided you choose wisely, becoming an affiliate could bring you a solid return on your investment.
Many bloggers have gone on to acquire serious cash. One example is Pat Flynn, who used affiliate marketing to build a $2.1 million a year income, according to Foundr.com. Another is Brian Lam, who founded The WireCutter.com (an evergreen consumer guide focusing on Amazon products) and became one of the most prosperous Amazon affiliates ever when the New York Times snatched up his site for a cool $30 million in October, 2016.
Both of the gentlemen mentioned above monetized their sites with the Amazon Associates program (Amazon's affiliate program).
Monetizing your online presence through Amazon's affiliate program makes sense considering that Amazon is the most popular online shopping site within the English-speaking world. Indeed, most people (and probably you) have bought something through their website at one point or another.
With that said, there are pitfalls that anyone who wishes to become an Amazon Associate should avoid. Many of these issues arise when someone is ignorant of Amazon's affiliate requirements. Violating the company's regulations and rules is a recipe for getting yourself kicked out of the affiliate program.
Moreover, as Amazon is unceremoniously dumping you, you'll likely lose any commissions you've made, but which haven't yet been paid. Then, to make things worse, you may not be able to get back into the program at all once you've broken the Terms of Service.
With that in mind, it makes a lot of sense to ensure that you are always in compliance with Amazon's affiliate requirements, doesn't it? That's why we wrote this guide, which breaks things down for you nicely and neatly.
We'll show you what Amazon's Affiliate requirements are and how you can meet them.
Overview of the Amazon Associates Program
Amazon Associates is an affiliate marketing program. Bloggers and website owners can join for free. They advertise by creating special links on their websites and blogs, which point back to products from Amazon.com. When the website or blog visitors click on those special links and then make a purchase from Amazon, the website owner or blogger earns a commission.
For instance, in the screenshot below, Amazon lists out categories of products and the percentage the company pays out to affiliates when purchases are made: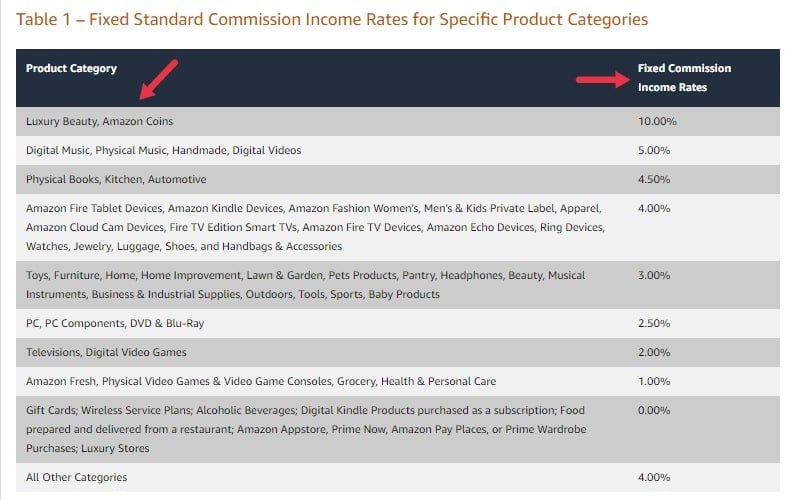 Amazon Associate Program Rules and Requirements

If you're looking to make a supplementary income or even if you want to make affiliate marketing your full-time career, becoming an Amazon Associate can be a great first step to reaching those goals.
Before jumping right in, however, you should understand that Amazon has rules that Associates must follow to remain in good standing (and to get paid). Amazon's rules are in place for a number of reasons.
For instance, one purpose for these requirements is to make sure affiliates can't game the system. Amazon wants those they're doing business with to be above board. The company wants to ensure that any promotion of Amazon products by third parties is done ethically.
Accordingly, the very first requirement you need to meet is understanding that Amazon's customers are not your customers.
Amazon Customers
In essence, Amazon demands that if you are an affiliate, you can't pretend that you're selling Amazon products as if you were Amazon. All the rules Amazon puts out regarding such things as terms of sale, policies, rules, pricing, and operating procedures concerning customer orders, product sales, customer service, etc. apply to their customers and can be changed at any time.
If you plan to be an affiliate, you have to agree not to contact their customers directly or handle any customer service issues as if you were an Amazon representative.
In fact, if a customer that purchases a product through your affiliate link contacts you regarding any kind of interaction that is related to that purchase, you are obligated to point them to where they can contact Amazon directly.
Be Up Front with the Fact You're an Amazon Associate
A rather large issue is the fact that you must disclose in both communications and on your website the fact that you might be entitled to earn commissions from recommendations you make, and from the links you post.
Indeed, an official disclaimer and affiliate disclosure are mandatory requirements under legal obligations set out by Amazon and the Federal Trade Commission (FTC). An example of an affiliate disclosure is provided by Amazon in its Associates Program Operating Agreement:

The passage reads as follows:
You must clearly and prominently state the following, or any substantially similar statement previously allowed under this Agreement, on your Site or any other location where Amazon may authorize your display or other use of Program Content: "As an Amazon Associate I earn from qualifying purchases." Except for this disclosure, and other than as required by applicable law, you will not make any public communication with respect to this Agreement or your participation in the Associates Program without our advance written permission. You will not misrepresent or embellish our relationship with you (including by expressing or implying that we support, sponsor, or endorse you), or express or imply any affiliation between us and you or any other person or entity except as expressly permitted by this Agreement.

As you can see from the example above, a disclosure informs your visitors about the fact that you acquire compensation from Amazon as an affiliate. However, it doesn't have to be a word-for-word copy of the statement in Amazon's operating agreement. Notice that the text says your disclosure can be "any substantially similar statement."
The screenshot below is how Wirecutter discloses the fact that it is an affiliate website:

As you can see, Wirecutter places this disclosure right at the top of the site where it is prominently displayed under the main site menu. It's a good idea to be bold when it comes to the placement of this disclosure. Many people today value transparency and it just isn't a good look to attempt to hide your affiliate status.
Have a Well-Written Privacy Policy

In addition to the fact that website owners are required by law to have a Privacy Policy, the Amazon Associate program demands that you have one as well. For example, Amazon demands that its affiliates provide a guarantee that they are following privacy rules concerning how you collect, use, store, and disclose data.
Amazon states:
(e) disclosing on your Site accurately and adequately and otherwise satisfying applicable legal requirements, either through a privacy policy or otherwise, the use of cookies, pixels, and other technologies by you and third parties and how you collect, use, store, and disclose data collected from visitors in accordance with applicable laws, including, where applicable, that third parties (including us and other advertisers) may serve content and advertisements, collect information directly from visitors, and place or recognize cookies on visitors' browsers, and providing information on the visitor's choices with respect to opting-out from online advertising where required by applicable law, and...

In addition to actually having a Privacy Policy, you're required to place the document in an obvious, prominent location on your site. A traditionally acceptable area for a link to your Privacy Policy is in your website's footer section along with links to other documents like your Terms of Service.
Keep Your Website PG-13
In order for your website to be considered "suitable" for Amazon's purposes, you have to make sure that there is nothing sexually explicit or obscene, violent or that promotes violence, or any other distasteful materials as enumerated in Amazon's Enrollment and Eligibility section of their Affiliate Program Policies: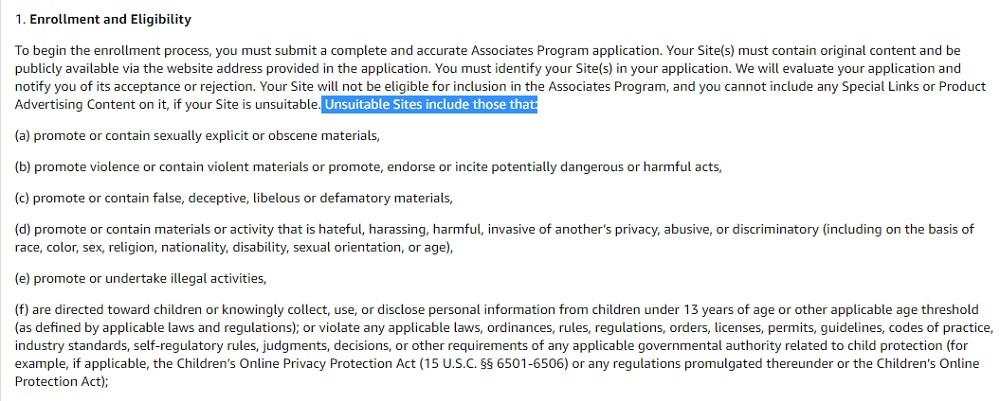 You cannot enroll in the program if your site does any of the following:
a) promote or contain sexually explicit or obscene materials,
(b) promote violence or contain violent materials or promote, endorse or incite potentially dangerous or harmful acts,
(c) promote or contain false, deceptive, libelous or defamatory materials,
(d) promote or contain materials or activity that is hateful, harassing, harmful, invasive of another's privacy, abusive, or discriminatory (including on the basis of race, color, sex, religion, nationality, disability, sexual orientation, or age),
(e) promote or undertake illegal activities,
(f) are directed toward children or knowingly collect, use, or disclose personal information from children under 13 years of age or other applicable age threshold (as defined by applicable laws and regulations); or violate any applicable laws, ordinances, rules, regulations, orders, licenses, permits, guidelines, codes of practice, industry standards, self-regulatory rules, judgments, decisions, or other requirements of any applicable governmental authority related to child protection (for example, if applicable, the Children's Online Privacy Protection Act (15 U.S.C. §§ 6501-6506) or any regulations promulgated thereunder or the Children's Online Protection Act)

You Only Have Six Months to Make Your First Three Sales
To some people, six months to make three sales sounds like a long time. In fact, it's a pretty generous time frame. However, if you haven't been sending Amazon any legitimate traffic through the affiliate links you've placed on your website in that time frame, then you'll be removed from the Amazon Associate program.
In fact, before you make your first sale, your application to join the program is only pending.
A Few Final Tips
As noted at the beginning, if you want to monetize your website or blog, then becoming an Amazon Associate could be a great way to start. Above, we went over some of the key things you need to remember when it comes to Amazon Affiliate requirements.
For example, remember that not only do you have to keep in line with Amazon's demands, but part of those demands are that you ensure you're legally covered in terms of privacy issues. Therefore, make sure you've got a proper Privacy Policy in place.
Keep in mind that Amazon requires a lot more than what we've covered here.
It's a good idea then, for you to become intimately familiar with Amazon's Associates Operating Agreement and their Associates Program Policies. Both of these documents have been linked to in this article.
Amazon has an extensive Help section for its affiliates. Don't hesitate to use it.