On April 26, 2021, Apple introduced App Tracking Transparency, a new feature in iOS 14.5 that will require app developers to be more transparent about what personal data they are collecting and sharing with third parties. Primarily, it's designed for serving ads later on.
The app tracking transparency requirement only applies to apps that share data with other companies for advertising purposes. For example, Google remarketing would fall under this category of apps because it collects information from users' browsing histories and app usage patterns to serve relevant ads back to them across the Web or when using another app on their device (e.g., Safari).
Apple announced the app tracking transparency feature almost a year ago but delayed its launch to provide developers with more time to prepare. In the intervening period, iOS support has gone live, and apps have begun adopting it.
What this means for iPhone users is that more privacy prompts will start appearing even when using their regular apps. Each will ask permission to "track your activity across other companies' apps and websites."
Additionally, all apps that ask for tracking permission will show up within the iOS Privacy settings as part of a Tracking Menu. Through that menu, users can turn tracking on and off whenever they want. This applies to individual apps or all of them.
At the end of the day, App Tracking Transparency is part of Apple's insistence on privacy protection for its product users.
Our Privacy Policy Generator makes it easy to create a Privacy Policy for your business. Just follow these steps:
At Step 1, select the Website option or App option or both.

Answer some questions about your website or app.

Answer some questions about your business.

Enter the email address where you'd like the Privacy Policy delivered and click "Generate."

You'll be able to instantly access and download your new Privacy Policy.
Not Everyone is Happy About App Tracking Transparency
With the iOS 14.5 comes a ton of new features that Apple customers will appreciate. For instance, there are new emojis, support for Xbox Series X and PS5 controllers, and for Apple Watch users, better Face ID unlocking.
However, there are more robust and controversial features in the newest iPhone update, like App Tracking Transparency, and not everyone is happy about it. In fact, the latest addition may become a contentious issue for Apple, especially with competitors like Facebook.
For example, Facebook hates Apple's new feature because it threatens the social media platform's annual revenue to the tune of $86 billion. The app's new transparency feature is set to cut deep into Facebook ads since advertisers will now be unable to target as narrowly.
Facebook CEO Mark Zuckerberg has been waging a negative campaign against Apple for months by testing pop-ups in the Facebook app, asking users to accept tracking. Zuckerberg has also been running full-page ads in national papers, encouraging readers to do the same. Facebook also accuses Apple of catering to its own business rather than genuinely being concerned with user privacy.
However, Apple's CEO, Tim Cook, hit back at Zuckerberg's accusations, saying that "users should have the choice over the data that is being collected about them and how it's used."
How Did Ad Tracking Work in iOS Before?

Apple's app tracking transparency features have been in the works for a while. In 2015, Apple released app-specific privacy policies alongside its iOS updates to make it easier for its customers to understand how their data was being used by developers and advertisers.
However, before the implementation of Apple's app tracking transparency feature in 2021, iOS apps did not ask for user permission when they collected data on what users do inside their app. Instead, these apps only requested permission to access a device's camera and microphone - which are limited by default in iOS settings anyway.
App developers took advantage by using tools that allowed them to install an app without granting permission upfront and permitted them to track user information from within an app.
For instance, the primary tool available to developers up to this point has been a system controlled by Apple. The tool is called Identifier for Advertisers (IDFA) and has been around for almost ten years. However, developers have also used other third-party tools to piece together user information.
Advertisers could then use that data to profile users and more accurately target them for advertising. They could also sell opportunities for advertising to third parties, which want to focus on specific segments of the market.
What does App Tracking Transparency Change?

As suggested above, Apple has been working on app transparency for years. The company revealed that app developers had access to the Apple ID and email address of individual users in 2014, but reassured customers that they would not be targeted with ads based on their personal information.
Today, there are no earth-shattering changes introduced through App Tracking Transparency when it comes to ad tracking in iOS. Product users have been able to opt out of IDFA-based tracking in the past, but the new feature essentially makes the option impossible to ignore.
With the App Tracking Transparency feature, developers are forced to provide users with a choice. Once a device updates to iOS 14.5, all companies that want to track user data across websites and different apps must request permission before doing so.
Apple created a standard prompt, which looks like this. Note how the prompt pops up on the screen when Facebook's app asks for permission to use the app and website activity in the screenshot below: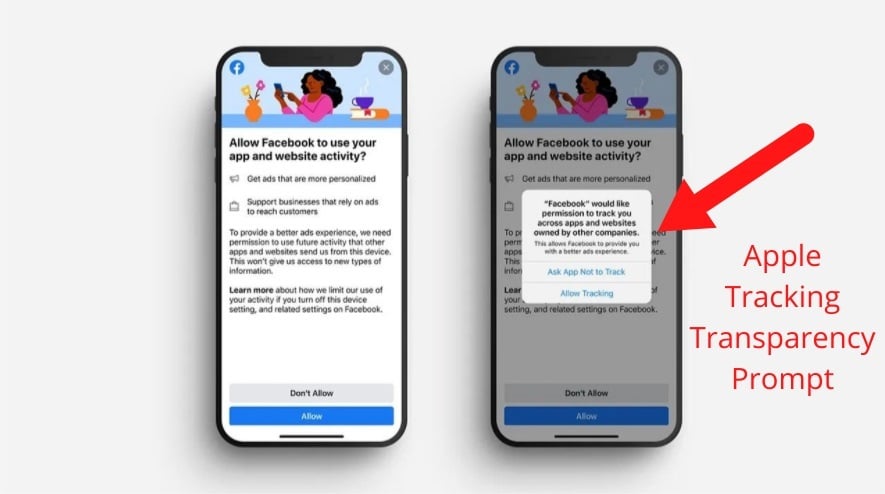 How Does App Tracking Transparency Work Now?
As noted above, the new Apple update requires apps to display an app tracking transparency prompt. Through that prompt, users can choose whether to allow apps to track and share their information with the companies that own those apps and with third parties.
If a user denies permission and does not opt in, the app cannot present them with an option to give consent to tracking again.
However, app developers and third-party companies have already found a way around Apple's prompt. Essentially, through certain consent management platforms (CMP), they can attempt to convince users to accept tracking.
For example, a company could use a pre-prompt to present users with information about how tracking can enhance their internet experience. That pre-prompt would be designed to display before Apple's app tracker transparency prompt pops up.
Are There Any Exceptions or Alternatives?

The short answer is "no." There aren't many exceptions to Apple's app tracking rules. However, developers are still finding ways to circumvent the intent of Apple's new privacy feature.
For instance, any company that has more than one app can track users across all of them. By way of example, Facebook can take all the data it gathers from its various properties, like Instagram, and then use it to target ads on its central platform.
Besides that, Apple is providing developers with a way to gain the information they crave without (according to Apple) violating the privacy of users. In particular, a tool called Private Click Measurement can give you accurate information on how many times users clicked on ads within an app. Another, called SKAdNetwork, can show you how many times users installed its app after viewing ads.
What Data is Subject to Tracking and Transparency?

The whole idea behind tracking transparency is preventing apps from tracking iPhone activity across every other app an Apple device has installed, and across websites, users visit through their browsers.
However, the app tracking transparency feature doesn't do a thing to prevent an app from collecting user data right there within itself. App owners can still sell all of that information to advertisers. To know precisely what information an app is collecting, device owners need to use privacy labels, which are another iOS feature.
With that said, if an app shares a device's data with any third party for any reason, then App Tracking Transparency is mandatory.
The following are examples of data, which an app may track if given permission:
The device's advertising identifier (this is the most important)
Device graph identifiers (system version such as iOS 14.0.1, type of phone such as iPhone 12 Pro etc.)
Session ID
Location data
Fingerprint IDs
Email address
The advertising identifier is the most important data point because ad platforms belonging to tech giants like Facebook and Google can use them to direct ads back to the device's user (i.e., you).
Say, for example, that a user downloads a game app. Once they've opened up the app, Apple displays its app tracking transparency prompt, as seen below: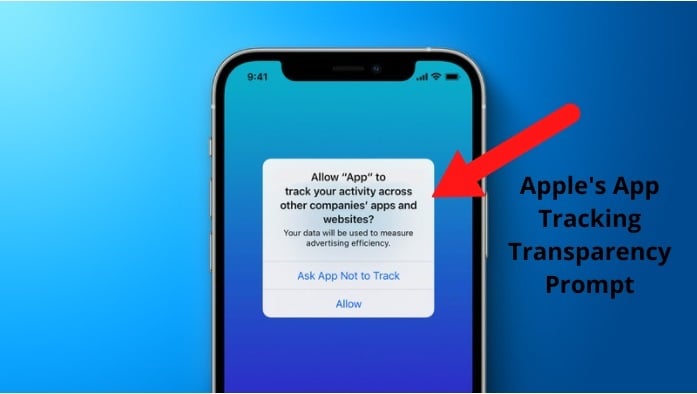 Now suppose that the user allows the app to track their data, and it begins sharing information with advertisers. In short order, that user will start seeing ads to purchase the app's premium version while they're surfing the Net from the same Apple device.
In the same way, ad platforms can use these other identifiers to serve ads. To illustrate this fact, think about location data. If an advertising platform knows where someone is at any given moment, its algorithms could serve that individual an advertisement for a particular restaurant near their current location.
What Actions are Considered to be "Tracking"..?
Apple provides the following examples of tracking, which include but aren't limited to:
Displaying advertisements based on user data that you collect from other companies' apps and websites
Sharing email lists or device location data with a data broker
Sharing email addresses and other user information with an advertising network to retarget those users in other developers' apps
Using an analytics SDK that repurposes the data it collects from your app to enable targeted advertising in other developers' apps
Examples of the kind of SDKs mentioned in the last point above are Google Analytics for Mobile Apps and Mixpanel. Some app developers only use SDKs to track app performance. However, the SDK will still share the data of whatever device it's on with ad platforms.
At the end of the day, when users allow tracking it's like an in-app remarketing tool. The company's App Tracking Transparency feature acts as a consent mechanism, which gives product users a choice as to whether they want remarketing ads shown to them when using specific apps.
Summary
Apple has made changes to its privacy policy with the release of iOS 14.5, iPadOS 14.5, and tvOS 14.5 that require app developers to receive explicit user permission before using data for targeted advertising or ad measurement purposes.
The App Tracking Transparency framework is an application programming interface (API) that went into effect on April 26, 2021. It allows developers to request consent from app users while also providing them transparency into how their data will be used so they can decide if they want it shared outside of their company's apps, websites, or offline properties.
This new policy means that any app developer who collects personal information such as phone numbers to target ads could now need a customer's approval through this framework before tracking them online across different domains (such as by sharing the data with another app developer).
Privacy watchdog organizations and advocacy groups widely praise Apple for its digital security standards, exemplified by its new App Tracking Transparency feature for the iOS 14.5.
However, suppose you're a business owner with an app. In that case, Apple's policies could hurt any ad campaigns you're running (or plan to run) that rely on the use of highly identifiable personal data.

Comprehensive compliance starts with a Privacy Policy.
Comply with the law with our agreements, policies, and consent banners. Everything is included.