A Cookies Policy describes how your website uses cookies to improve users' experiences, engage in targeted advertising, or collect marketing data, among other reasons. Wix is a user-friendly platform that many businesses use to build professional websites.
This article will describe what a Cookies Policy is, why you need one in general as well as specifically for Wix websites, what clauses a Cookies Policy should include, and how to display a Cookies Policy.
Our Cookies Policy Generator can create a custom and professional Cookies Policy for your website.
At Step 1, add in information about your website.

Answer some questions about your business.

Enter an email address where you'd like to receive your Cookies Policy and click "Generate."

Done! You'll be able to instantly access and download your new Cookies Policy.
What is a Cookies Policy?
A Cookies Policy is a legal document that contains information about the types of cookies your website uses, the reasons why you use them, and how consumers can opt-out of being tracked by cookies.
A cookie is an encrypted digital file that is added to users' browsers or devices when they visit your website. Cookies store users' data for tracking, marketing analysis, and customer experience purposes.
Why You Need a Cookies Policy

Having a Cookies Policy helps you to comply with data protection and privacy laws and build trust with your consumers.
Comply with Laws
There are both international and state laws that you need to be aware of that require certain businesses to maintain a Cookies Policy on their websites. Let's take a look at a few privacy laws that may apply to your business.
The GDPR
The General Data Protection Regulation (GDPR) is the European Union's (EU) primary privacy law. The GDPR recognizes cookies as personal data. Any organizations that collect or handle personal data belonging to EU residents are subject to the GDPR.
Any businesses that use and store cookies on EU users' devices or browsers are required to follow the GDPR's rules. A cookie consent notice is an embedded website script that can help you to comply with the GDPR by informing users that you use cookies to track their data and getting their consent before doing so.
A cookie consent notice should be clearly written and conspicuously posted and should include the following information:
A link to your Cookies Policy
Options to opt-in or opt-out of cookies
An explanation of how you use cookies
Information about third-party data sharing
Acer's cookies banner pops up in its website footer as soon as a user visits its website. Acer's cookies banner explains why it uses cookies and how users can manage their cookie preferences. It includes links to its Cookie Policy and Cookies Settings, as well as an "Accept All Cookies" button that users must click before continuing to use its website:

For more information, check out our feature article: Cookies Policy vs Cookie Consent.
The ePrivacy Directive
The Privacy and Electronic Communications Directive, or ePrivacy Directive, is a law that requires organizations to get EU consumers' consent before storing any cookies that aren't essential on users' browsers or devices.
The summary of the ePrivacy Directive explains that applicable organizations must ensure that users have been informed and consent to the use of cookies: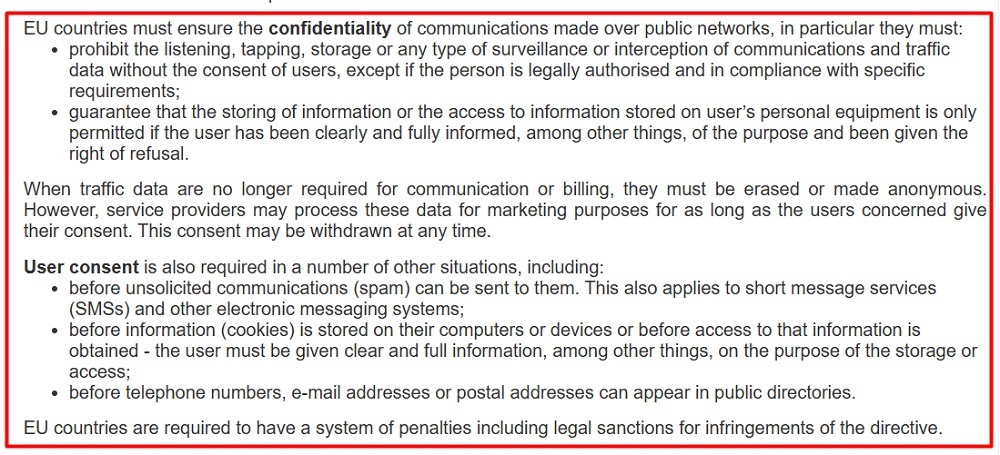 CCPA (CPRA)
The California Consumer Privacy Act (CCPA) and its California Privacy Rights Act (CPRA) amendments give California consumers the following rights:
The right to access, edit, or delete their personal information
The right to know whether and to whom their personal information is sold
The right to opt out of the sale of their personal information to third parties
The right to limit the use or disclosure of their personal and sensitive personal information
The right to exercise their rights free from discrimination
Section 1798.110 of the CPRA requires businesses that meet its criteria to inform users what kind of personal information they collect and for what purposes, as well as who they share that information with:

Even if laws requiring businesses to have a Cookies Policy don't apply to you, it's still a good idea to include one as part of your publicly available legal documents in order to maintain transparency and stay ahead of any developing legislation.
Build Consumer Trust
Having a Cookies Policy helps to show users that you care about their privacy and data protection concerns. It helps to encourage the honesty and transparency that customers need to feel like they can trust a brand with their personal information. Building consumer trust is an important step in generating customer loyalty.
A Harvard Business Review study shows that customers who trust your business are 88% more likely to make a repeat purchase.
Why You Need a Cookies Policy for Wix Websites

Wix requires all of its users to comply with its Terms of Use agreement, which states that businesses must obey all applicable laws. Having a Cookies Policy helps to ensure that you are in compliance with global and state privacy laws and with Wix's Terms of Use agreement.
Section 2.2 of Wix's Terms of Use agreement states that anyone who uses its services must comply with any applicable laws:

As noted in the earlier section, privacy laws often require the disclosure of the use of cookies, and a Cookies Policy is the perfect way to comply.
What a Cookies Policy for Wix Should Contain

A Cookies Policy should contain clauses that define what cookies are, describe the types of cookies your company uses and the reasons for using them, and inform users how to opt-out of cookies.
Your Cookies Policy should also provide a way for users to contact your company.
Definition of Cookies
Your Cookies Policy should clearly describe what cookies are so that users understand what they are consenting to when they opt in to accepting cookies.
NBCUniversal's Cookie Notice explains that cookies are tracking files that are stored on users' devices, and lists the types of cookies it uses:

Types of Cookies Used
Your Cookies Policy should include a clause that lists and describes the types of cookies that you use, including first and third party cookies, persistent cookies, and session cookies.
First party cookies are placed on users' browsers or devices by the owner of the website the user is visiting.
Third party cookies are tracking cookies that are placed on users' browsers or devices by a third party, and are often used for behavior tracking and advertising purposes.
Persistent cookies are cookies that stay on your device to help websites remember you, unless you delete them via your browsers' preference settings.
Session cookies are temporary cookies that are deleted once a user closes their browser.
Coca-Cola's Cookie Policy describes the types of cookies it uses, including cookies that are necessary to the functioning of its website, cookies used for analyzing and improving its users' experiences, and cookies used for advertising purposes: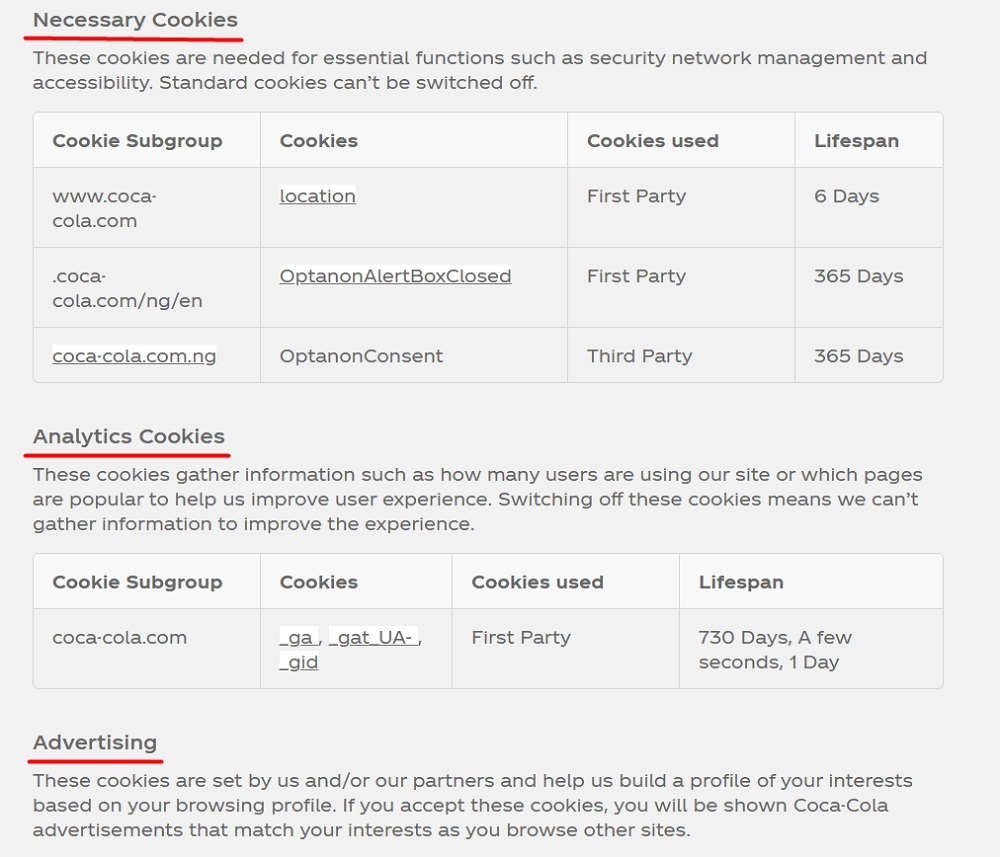 Note that while listing individual cookie types used may be useful to users, it isn't a requirement and it creates a burden on website owners.
See our article Does the GDPR Require the Listing of Individual Cookies by Name? for more information on this.
Reasons for Using Cookies
You should use your Cookies Policy to explain your reasons for using cookies. These reasons might include:
Technical reasons. These are cookies that are absolutely necessary for the functioning of your website.
Analytical purposes. These cookies are used to measure how well your website is performing and to collect marketing data.
Optimizing user experience. These are functional cookies that are used to improve user experience by remembering login information and account customization choices. These kinds of cookies might be used to remember items in an online shopping cart or to save a user's language preferences.
Third party advertising purposes. Third party advertising cookies are used to collect user information to be used for targeted advertising based on online behavior or product preferences.
Crayola's UK Cookie Policy lets users know that it uses cookies for technical reasons, to improve user experience, to analyze user behavior, and for advertising purposes:
How to Opt Out of Cookies
You should make sure that your Cookies Policy informs users how they can opt out of cookies.
The Internal Revenue Service's (IRS) Cookies on IRS.gov page includes links to Google's cookie opt-out pages as well as a link to information about disabling cookies on common browsers and websites:

McKinsey and Company uses its Cookie Policy to explain how users can adjust their browser settings to manage cookies: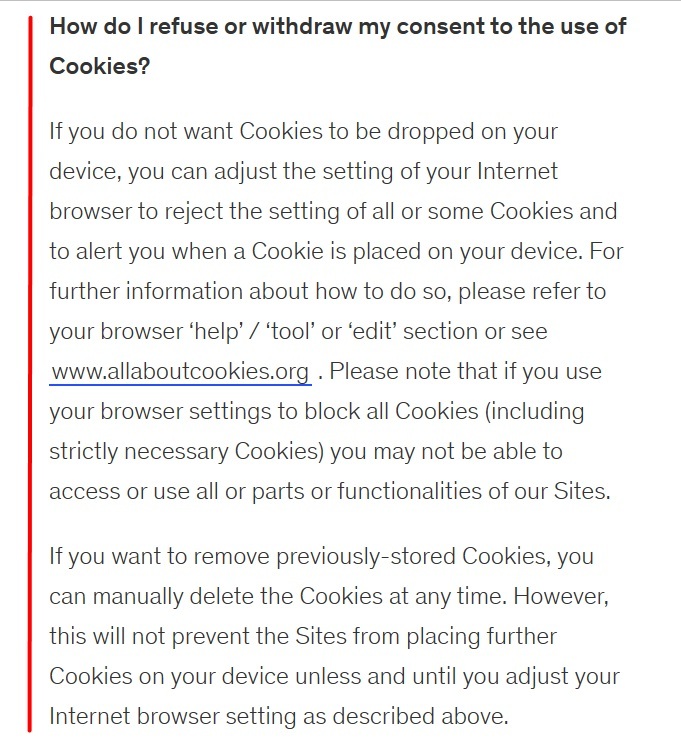 Your Contact Information
It's important to let users know how to contact you in case they have any questions about your Cookies Policy or want to request to access, edit, or delete any personal information you may have collected from them.
The Cookie Notice for the United Arab Emirates Starbucks website includes a drop-down menu with a link to its contact information: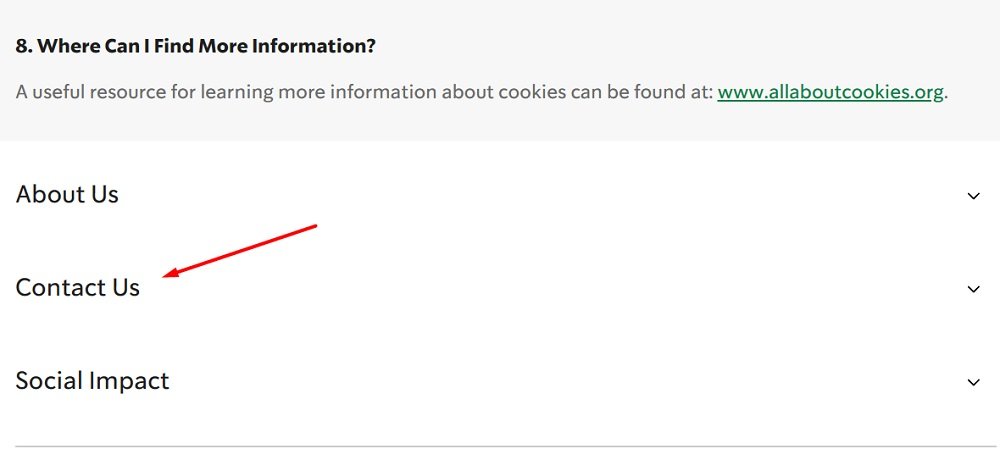 After drafting your Cookies Policy, it's time to display it for your users to access at any time. The next section will cover this.
How to Display a Cookies Policy

Once you have a clearly written Cookies Policy, you should make sure that you display it somewhere that is easily accessible. Many businesses put a link to their Cookies Policy within their website footer, and within a cookie consent notice.
Website Footer
Putting legal links in your website footer is a popular choice, as it is a static location that users can access from any page of your site.
The Cyprus Pizza Hut website includes a link to its Cookie Policy along with links to its Privacy and Terms and Conditions information within its website footer: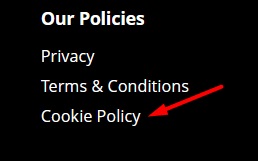 Cookie Consent Notice
A cookie consent notice can come in the form of a cookies banner in either your website's header or footer, or as a pop-up box that users must read and agree to before using your website.
Diageo, a British alcoholic beverage company, uses a pop-up box for its cookie consent notice to inform visitors to its website about why it uses cookies and how users can manage their cookie preferences, and to get users' consent before storing cookies on their devices: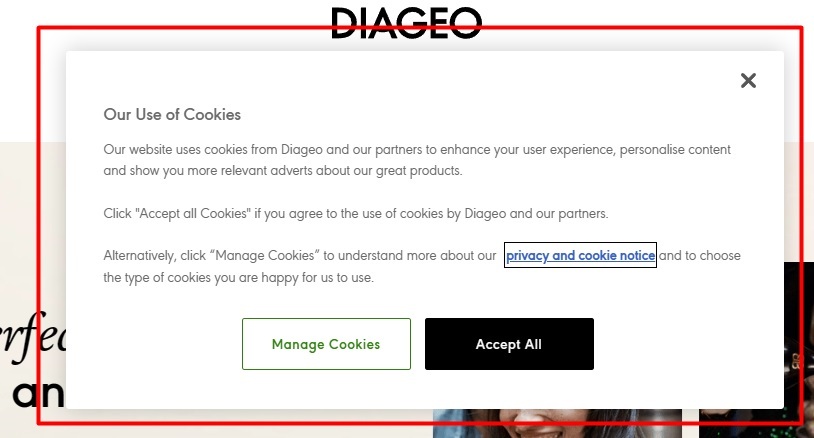 Now we'll show you how to add your Cookies Policy to your Wix website.
How to Add a Cookies Policy Page to your Wix Website
Once you have a well-drafted Cookies Policy that you're ready to display, you'll have to add a new page to your Wix site where the text of your policy will go.
Here's how you add a new page to your Wix site and add your Cookies Policy to it.
Log in to Wix.

In the Wix Dashboard, click on Edit Site:

When the home page opens, click on Menus & Pages on the left side of the Editor:

In the Site Pages Menu, click on + Add Page at the bottom of the panel:

Enter the name for the new page as "Cookies Policy" and click Done:

While on the newly created Cookies Policy page, click on the 3 dots to open the page menu and go to Settings:

Under the Page Info section, toggle the hide from menu button to be active. Close the Editor window:

While you're on the newly created page, click on + Add on the left side of the Editor:

When the Add to Site Editor opens, scroll down and choose Embed Code, then click on Embed HTML on the right side:

Now you need to add text to your Cookies Policy page.

If you do not have a Cookies Policy, you can use our Cookies Policy Generator and create it within minutes.

Under the Copy your Cookies Policy section, click on Copy this to clipboard:

Go back to the Wix Editor and double-click on the HTML box so that the HTML Settings window opens. Then just paste the code and click the Update button:

You're done!
Link to Cookies Policy from Wix website footer
Now that you've added a new page for your Cookies Policy, make sure users can access it by putting a link to it in your Wix site's footer. This is the most common place where businesses add important links and legal information, and people know to look here for such things.
Here's how you add a link to your Wix site's footer that links to your Cookies Policy.
Log in to Wix.

In the Wix Dashboard, click on Edit Site:

Scroll down to the footer of the home page and then go to + in order to Add more elements to your footer:

When the Add to Site editor opens, click Text, then Themed Text and choose, for example, Paragraph:

Drag the text element to the bottom of the page (as close to the footer as it goes) and click Move To Footer:

After you place the text box in the footer, double-click the Text box in order to edit the text. Type in "Cookies Policy," select it and click on the link icon of the text editor:

When the link opens, choose Web Address:

In order to get the Cookies Policy URL link, go to the TermsFeed Cookies Policy Generator to create the Cookies Policy and get the hosted Cookies Policy URL.

In the Link to your Cookies Policy section, click on the Copy button:

Go back to the Wix editor and paste the link into the Web Address field:

Click Done.
Bonus tip
How to Add Legal Policies for Wix Store on Product and Checkout Page
If you run an ecommerce store and need legal agreements, use TermsFeed Generator to create it within minutes and make your business legally compliant today.
Summary
A Cookies Policy is a legal document that describes what a cookie is, what types of cookies your website uses and for what purposes, and how users can opt-out of cookies.
You should have a Cookies Policy on your Wix website in order to comply with privacy and data protection laws, which the Wix Terms agreement requires. Having a Cookies Policy will also help build consumer trust in your brand.
Even if privacy laws requiring a Cookies Policy don't apply to you, it's still a good idea to maintain a Cookie Policy on your website for transparency purposes and to stay ahead of any new legislation.
An effective Cookies Policy should include the following clauses:
What cookies are
What kind of cookies your website uses
Why your website uses cookies
How users can opt out of cookies
How users can contact your company
Some common types of cookies include first and third party cookies, persistent cookies, and session cookies.
Some of the reasons that companies may use cookies include technical purposes to keep their websites functional, to improve user experience, for analytical purposes, and for third-party advertising purposes.
Popular places to display your Cookies Policy are as a link either within your website footer, or in a cookie consent notice.

Comprehensive compliance starts with a Privacy Policy.
Comply with the law with our agreements, policies, and consent banners. Everything is included.