A "Termination" clause is a clause found in a legal agreement that allows for the agreement to be terminated, or ended, under circumstances specified in the clause.
The termination clause is typically placed within a Terms and Conditions agreement of a website or app. It's a popular standard for websites or apps that allow user-generated content, including SaaS apps.
Remember that the legal agreements of your website and/or mobile app function as legally binding contracts between yourself and your users. This includes all agreements for online businesses:
Terms and Conditions
Privacy Policy
EULA
Like any legally binding contract, termination of the contract (a Terms and Conditions agreement is the contract) will be possible under certain circumstances.
Including a termination clause in your Terms and Conditions allows you to spell out to your users what these circumstances are that will be grounds for terminating the agreement, thus ending the relationship between you and your users.
This is especially useful when your website or app has user-generated content and allows users to create accounts within your platform.
You're giving users a lot of control and access to a portion of your platform with user-generated content or if your platform is a SaaS, so you want to be able to take this control and access away if a user abuses your service or violates the terms you include in the legal agreement.

Here's an example of a basic termination clause from OntraPort. It's included in the OntraPort's Terms of Service agreement. Its clause states that a user's account may be terminated, and then lists reasons or actions/activities that will prompt the termination.: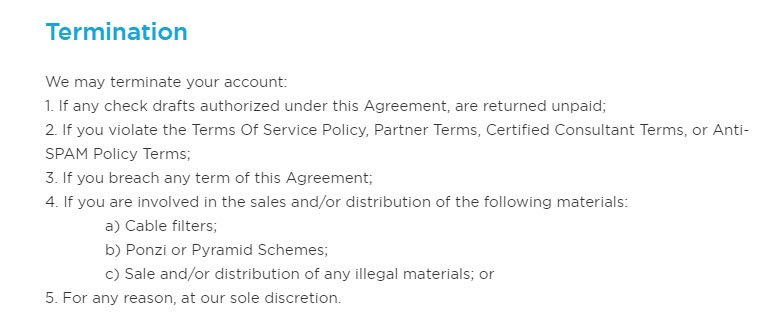 Most termination clauses contain two standard points:
Termination will occur if the terms of the Terms and Conditions agreement is violated, and
Termination can happen for any reason at the discretion of the business.
The clause can also be specific and include things that you want to restrict your users from doing, i.e. not paying for a subscription plan.
Giving specifics like this can help a user understand what she/he is expected to refrain from doing if she/he wishes to keep his account in good standing.
However, it's impossible to list every single instance and action that may be cause for account termination, so reserving the right to terminate "at any time and for any reason at the discretion of the business" is beneficial as a safeguard to protect your website or mobile app against general or unforeseeable abuses and maintain full control over your service.

ToutApp includes the above points in its termination clause within its Terms of Service agreement but also lets users know that they can terminate the agreement themselves at any time by closing their accounts or by stopping use of the service: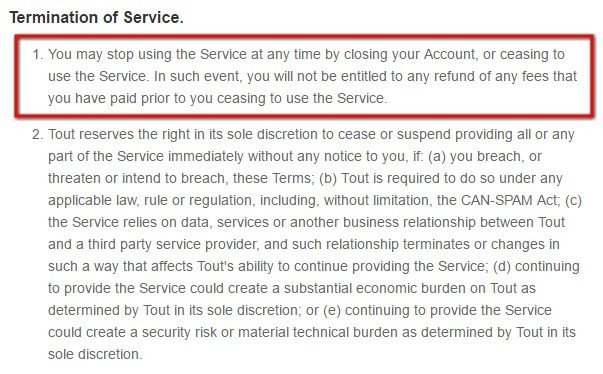 ToutApp then goes a step further and informs users what their rights and responsibilities will be in the event of a termination. Users are given 30 calendar days following the termination or suspension to access and export their data from the app.
If you have a SaaS app or other app that houses user data, you'll want to consider this and include a policy about how this data will be handled in the event that an account is terminated by you.
This will matter to users who are storing important data within your service:


Intercom lets users know in its Terms of Service agreement that in the event of a termination, their "right to use the Services, access the Website, and any Content will immediately cease."
There's no 30 day period here: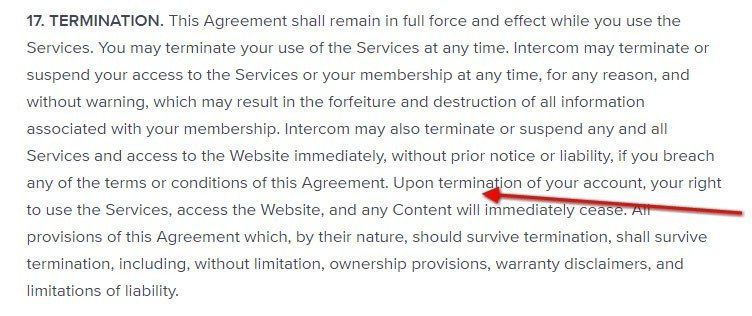 The termination clause in 500px's agreement is very broad and allows 500px to maintain the right to suspend any and all services on an account "immediately, without prior notice or liability, for any reason whatsoever, including without limitation if you breach the Terms."
Users are informed that upon termination, the right to use and access the service will cease immediately, and that upon termination of an account, all of the visual content posted to the account will be automatically removed.

Users are informed that it's their responsibility to remove all of their own visual content prior to termination.

This seems to imply that there will be no way to access photos and content in an account once termination takes place, meaning a user can lose everything.


Flickr is a part of Yahoo!, so when you click on the "Terms" link in the footer of Flickr's website, you're taken to the Yahoo! Terms of Service page.
Here you can find a thorough termination clause that lets users know how they can terminate their Yahoo! accounts. The clause then lists out what would be cause for Yahoo! to terminate a user's account, including the standard "breaches or violations of the TOS or other incorporated agreements or guidelines" and at Yahoo!'s "sole discretion."
Users are informed of what an account termination will do and how they will be affected, including "removal of access to all or part of the offerings within the Yahoo Services, deletion of your password and all related information, files and content associated with or inside your account (or any part thereof) and barring further use of all or part of the Yahoo Services."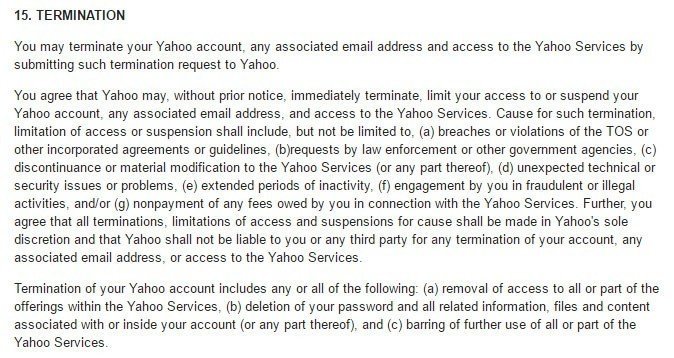 Apple's iCloud lets users know in its Terms and Conditions that if an account is terminated, specific portions of the account may become inaccessible. Apple will delete stored data after a period of time as well, but not immediately.

A termination clause exists mainly to allow you - the business, app, or SaaS owner - to be able to terminate a relationship with an abusive end user.
When writing your termination clause, include the following information for a thorough, informative clause:
How a user can terminate her own account,

What will cause you to terminate an account,

Examples:

"If Terms in this agreement are violated" and
"At our full discretion - for any reason and at any time."

What will happen after termination of an account.

Will a user have access to user-generated content or data within website account or app for a period of time, or will access immediately be denied and content immediately deleted?
These points are a great place to start to maintain your right to terminate a user account at any time and to inform users enough about what they can expect with account termination.