Written by
Widener University School of Law graduate, Managing Legal Editor at TermsFeed.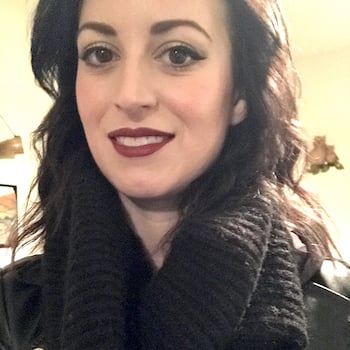 A termination clause is a section of a legal agreement (such as a Terms and Conditions agreement) that describes when an account can or will be terminated, such as when the agreed-upon terms are violated or if the user decides to discontinue the relationship (by stopping a subscription service, for example).
This type of clause can offer the parties involved in a contract a way to cancel the agreement without being penalized.
This article will explain more about this type of clause, its importance, and provide tips for how to draft your own.
Our Terms and Conditions Generator makes it easy to create a Terms and Conditions agreement for your business. Just follow these steps:
At Step 1, select the Website option or the App option or both.

Answer some questions about your website or app.

Answer some questions about your business.

Enter the email address where you'd like the T&C delivered and click "Generate."

You'll be able to instantly access and download the Terms & Conditions agreement.
What is a Terms and Conditions Agreement?
A Terms and Conditions agreement is a contract between your business and your users. It describes your business's rights and responsibilities and lays out the rights and responsibilities that your users agree to abide by in order to use your services.
Terms and Conditions agreements may also be called a Terms of Service (ToS), Terms of Use (ToU), or User Agreement. Regardless of the name, the details defined in the contract convey the same information.
Terms and Conditions should be personalized to your specific business, and can include any of the following clauses:
General Conditions/Introduction
General conditions clauses describe the guidelines your users agree to follow in exchange for use of your services. They tend to be the introduction to the agreement and are quite general in language.
Copyright and Intellectual Property/DMCA
This clause tells users that your content is your own and that it is not to be used elsewhere without express permission granted by your business.
The Digital Millennium Copyright Act (DMCA) helps handle when copyrighted material is used without permission. This clause tells the user your process for dealing with DMCA issues.
Products and Services
This clause depicts the products and services you offer, as well as freeing you from liability for any limitations or discrepancies when it comes to product function or availability.
Limitation of Liability
A Limitation of Liability clause helps protect your business from certain types of loss or unintentional damage by limiting your legal liability for certain things, and in the event that someone attempts to sue you.
User-Generated Content (UGC)
This clause tells users what kind of content they can share on your platform, as well as what the consequences are for sharing unapproved materials. You can also reserve ownership rights over UGC.
Payment and Subscription Information
This clause describes what kind of payment your business accepts, as well as how it is processed. If you offer a subscription service, it shows when and how often payments will come out of your users' accounts.
Governing Law and Dispute Resolution
Governing Law refers to whatever law has jurisdiction over your business. You can also use this space to link to a dispute resolution platform, if applicable.
Contact Information
It's important to include a way for users to contact you. You should include your business name, phone number, address, and email address.
Updates to the Agreement
This is where you can let users know that these clauses can be updated at will, and how you will inform users of those updates.
Why is a Termination Clause Important?

Your Terms and Conditions agreement outlines everything your user needs to know in order to do business with you. If any party involved in the contract violates the agreed upon terms, it's essential to have a way to address that transgression and to provide a framework for ending the relationship.
Humana's Terms and Conditions includes a termination clause that tells users that it can cancel their accounts at its sole discretion, and informs users that they can unsubscribe at whim:

It reads:
Humana Community may terminate your access to any part or all of the Community and any related Community(s) at any time, with or without cause, with or without notice, effective immediately, for any reason whatsoever.
Humana Community may also terminate or suspend your account for inactivity, which is defined as failing to sign-in to the Community for an extended period of time, as determined by Humana Community time to time. The amount of time that Humana currently considers as an "extended" period of time is three months. Upon termination of the Community, your right to use the Community ceases immediately.
If you wish to terminate, you can discontinue the use of the community or members can unsubscribe from the membership.
Humana Community shall have no obligation to maintain any content in your account or to forward any unread or unsent messages to you or any third party.

While not legally required, a termination clause serves to communicate your standards and expectations for behavior to your users and to protect your business.
How to Write a Termination Clause

To write a termination clause, you will first need to determine what kind of user behavior is grounds for termination. What are the deal breakers that would make you want to immediately dissolve a relationship between you and your users?
You will then need to describe what exactly the process of termination entails. What can the user expect to happen both immediately upon termination, as well as in the future?
Finally, you will want to let your users know what responsibility they have for any payments owed or damages incurred.
You should include language in your termination clause that tells users that you retain the right to terminate any accounts that violate any part of the Terms and Conditions agreement.
Apple lets users know that if they do not comply with its Apple Media Services Terms and Conditions, they will automatically lose their rights as outlined in its Terms and Conditions contract:

It reads:
c. Termination. This Standard EULA is effective until terminated by you or Licensor. Your rights under this Standard EULA will terminate automatically if you fail to comply with any of its terms.

You should let users know that your business retains the right to terminate accounts for any reason at all. It is important to include this section as, even if you have a lawyer write your termination clause for you, it is not possible to cover every possible scenario in which you might want or need to terminate a relationship with a user.
Examples of Termination Clauses

Here's an example of a robust termination clause from OntraPort's Terms and Conditions agreement. It uses bullet points to break up different aspects of account termination, including what will happen to a user's content if an account is terminated, how refunds will be handled, and OntraPort's right to cancel any account at any time for any reason: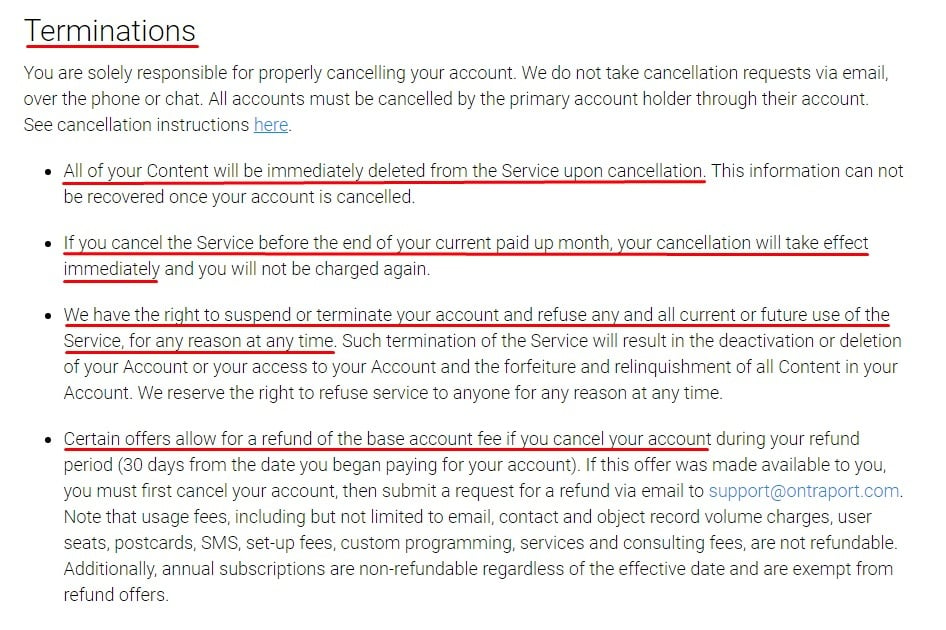 It reads:
Terminations

You are solely responsible for properly cancelling your account. We do not take cancellation requests via email, over the phone or chat. All accounts must be cancelled by the primary account holder through their account. See cancellation instructions here.

All of your Content will be immediately deleted from the Service upon cancellation. This information can not be recovered once your account is cancelled.
If you cancel the Service before the end of your current paid up month, your cancellation will take effect immediately and you will not be charged again.
We have the right to suspend or terminate your account and refuse any and all current or future use of the Service, for any reason at any time. Such termination of the Service will result in the deactivation or deletion of your Account or your access to your Account and the forfeiture and relinquishment of all Content in your Account. We reserve the right to refuse service to anyone for any reason at any time.
Certain offers allow for a refund of the base account fee if you cancel your account during your refund period (30 days from the date you began paying for your account). If this offer was made available to you, you must first cancel your account, then submit a request for a refund via email to [email protected]. Note that usage fees, including but not limited to email, contact and object record volume charges, user seats, postcards, SMS, set-up fees, custom programming, services and consulting fees, are not refundable. Additionally, annual subscriptions are non-refundable regardless of the effective date and are exempt from refund offers.
Most termination clauses contain two standard points:
Termination will occur if the terms of the Terms and Conditions agreement is violated, and
Termination can happen for any reason at the discretion of the business
The clause can also be specific and include things that you want to restrict your users from doing, i.e. not paying for a subscription plan.
Giving specifics like this can help a user understand what she/he is expected to refrain from doing if she/he wishes to keep his account in good standing.
However, it's impossible to list every single instance and action that may be cause for account termination, so reserving the right to terminate "at any time and for any reason at the discretion of the business" is beneficial as a safeguard to protect your website or mobile app against general or unforeseeable abuses and maintain full control over your service.
ToutApp includes the above points in its termination clause within its Terms of Service agreement but also lets users know that they can terminate the agreement themselves at any time by closing their accounts or by stopping use of the service:

It reads:
16. Termination of Service.

You may stop using the Service at any time by closing your Account, or ceasing to use the Service. In such event, you will not be entitled to any refund of any fees that you have paid prior to you ceasing to use the Service.
ToutApp then goes a step further and informs users what their rights and responsibilities will be in the event of a termination. Users are given 30 calendar days following the termination or suspension to access and export their data from the app.
If you have a SaaS app or other app that houses user data, you'll want to consider this and include a policy about how this data will be handled in the event that an account is terminated by you.
This will matter to users who are storing important data within your service:

It reads:
If your use of the Service is terminated or suspended pursuant to Sections 16.1 or 16.2 above, except to the extent prohibited by any applicable law, rule or regulation, you will have access to, and the ability to export, your Content for a period of thirty (30) calendar days following such termination or suspension. Fees will continue to be assessed based on your actual use of the Service during such period. Without limiting the foregoing, the rights set forth in this Section 16.3 are subject to your payment of any outstanding fees due upon and after termination of your use of the Service.
Intercom lets users know in its Terms of Service agreement that in the event of a termination, their right to use the Services, access the Website, and any Content will immediately cease:
There's no 30 day period here: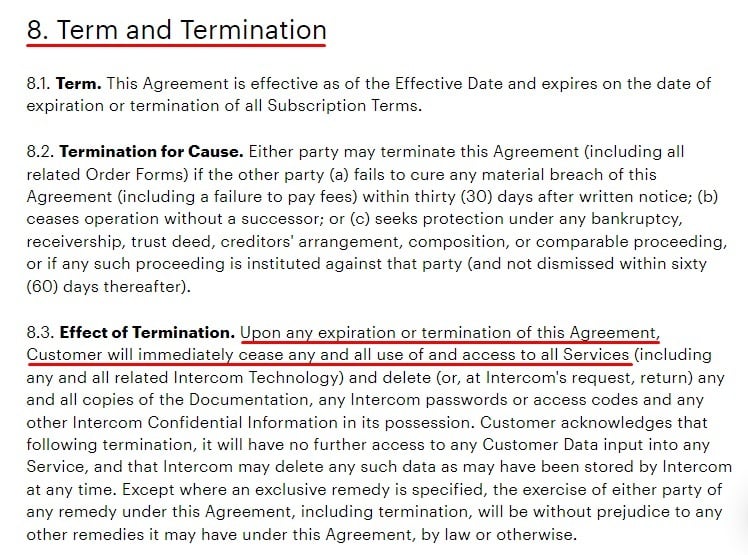 The termination clause in 500px's agreement is very broad and allows 500px to maintain the right to suspend any and all services on an account "immediately, without prior notice or liability, for any reason whatsoever, including without limitation if you breach the Terms."
The clause also addresses topics like how a user can terminate an account (in writing), and what will happen to the user's visual content (it will be removed within 180 days):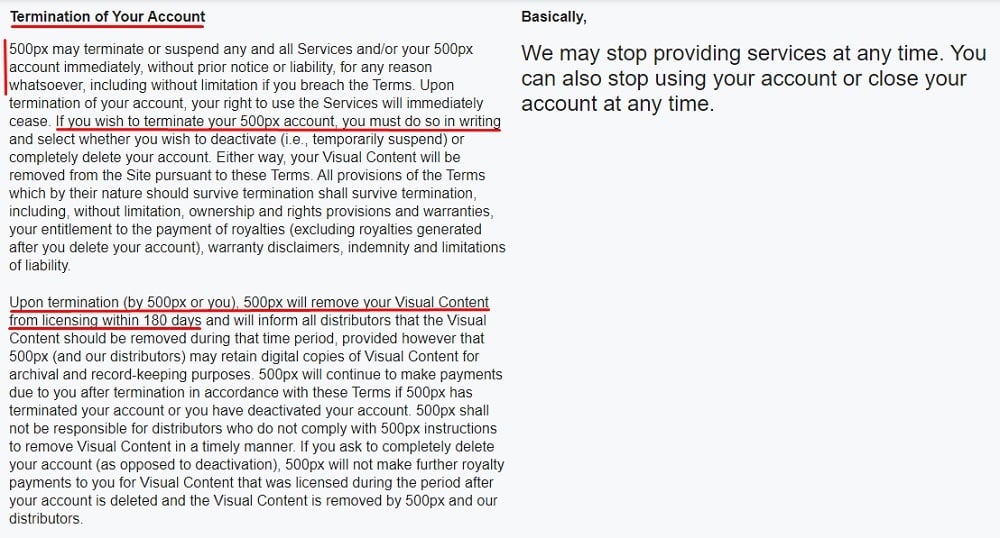 Flickr has a termination clause that lets users know how they can terminate their subscriptions and accounts at any time via account settings or by sending a message through Flickr's contact form.
Users are informed that if they terminate a subscription, it will go into effect at the end of any subscription time period that has already been paid for:

It reads:
6. Termination of Services

You may request the termination of your Subscription at any time by canceling your account in the Subscription section of your Account Settings, or by sending a message through https://flickrhelp.com/hc/en-us/requests/new providing clear written notice of such request. When Flickr receives your termination request, Flickr will terminate your Subscription and notify you of such termination via email. Flickr may request additional information from you prior to terminating your Subscription. Your Subscription is not terminated until you receive confirmation of such termination from Flickr. If you terminate your Subscription, such termination will be effective at the end of any previously paid Subscription Term. By way of example and not in limitation of the foregoing, if you request the termination of your Subscription and you have two months remaining in your Subscription Term, such termination is effective at the end of the two months remaining in your Subscription Term and you will have access to the Flickr Pro Services for the remaining two months of such Subscription.

Flickr may terminate a Subscription, or any user's access to and use of the Flickr Pro Services, at any time for any reason at its sole discretion, which such termination will be effective immediately. If you violate the Terms of Use, Flickr at its sole discretion may (i) require you to remedy any violation thereof and/or (ii) take any other actions that Flickr deems appropriate to enforce its rights and pursue available remedies.
Apple's iCloud Terms agreement divides this clause into two sections, one for when users voluntarily terminate their accounts, and one for when Apple terminates accounts: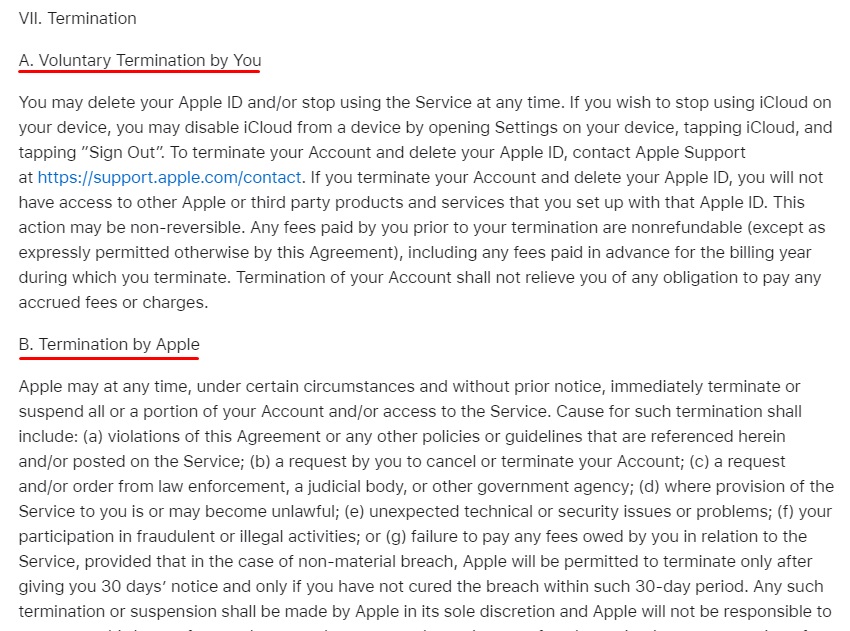 A termination clause exists mainly to allow you - the business, app, or SaaS owner - to be able to terminate a relationship with an abusive end user.
Here's an example of such a clause, from Omaha Steaks:

It reads as follows:
Termination of Use

OmahaSteaks.com may, in its sole discretion, terminate your account or your use of the Site at any time. You are personally liable for any orders that you place or charges that you incur prior to termination.
When writing your termination clause, include the following information for a thorough, informative clause:
How a user can terminate her own account

What will cause you to terminate an account

Examples:

"If Terms in this agreement are violated," and
"At our full discretion - for any reason and at any time"

What will happen after termination of an account:

Will a user have access to user-generated content or data within a website account or app for a period of time, or will access immediately be denied and content immediately deleted?
Will any refunds be granted?
These points are a great place to start to maintain your right to terminate a user account at any time and to inform users enough about what they can expect with account termination.
How a User Can Terminate an Account

Your termination clause can serve to let users know how they can discontinue their account with you. Using straightforward language, tell users the exact steps they need to take to cancel their account, as well as who they can contact if they have any questions about how to cancel it.
Spotify's termination clause tells users who they can contact in order to cancel their accounts, as well as where to find its contact info:

You should let users know what effect terminating an account will have. Users may lose access to stored data, or even to their own UGC. You will also want to let users know if there are any fees associated with canceling their account, or if they can expect any type of refund.
Buzzsprout tells its users that their content will be permanently deleted once an account is canceled:

Buzzsprout's termination clause reads:
Cancellation and Termination

You alone are responsible for the proper cancellation of your account. You may cancel your account at any time by clicking on My Account > Cancel Your Account links in the Service's navigation menu. This provides a simple link to cancel your account at any time. Email or phone requests to cancel your account will not be deemed cancellation.
Your account and all of its Content will be deleted immediately upon your cancellation of the Service. This information can NOT be recovered once it has been deleted.
You can cancel at any time, but you will remain liable for all charges accrued up to that time, including full monthly charges for the month which you discontinued service. You will not be charged again.
Higher Pixels reserves the right to modify, suspend, or terminate your account and refuse any and all current or future use of the Service for any reason at any time with or without notice or refund. Such termination of the Service will result in the deactivation or deletion of your Account or your access to your Account, and the forfeiture and relinquishment of all content in your account. Higher Pixels may refuse service to anyone for any reason at any time.
It's important to be clear with your users about the consequences of terminating their account with you.
The Benefits of Using a Terms and Conditions Generator to Write Your Termination Clause
When you use a Terms and Conditions generator from a legitimate site, you receive a professional termination clause template that covers all of the circumstances that could be cause for termination, and thoroughly details the termination procedures.
It's important to be cautious about which Terms and Conditions generator you choose, and what kind of information you share. You want to make sure that you're not putting your data at risk by using a disreputable site.
With TermsFeed's Terms and Conditions Generator, all you need to do is input your business's information into a form and the generator creates a custom termination clause.
TermsFeed's Terms and Conditions Generator includes options for creating clauses for websites, mobile apps, ecommerce stores, and more.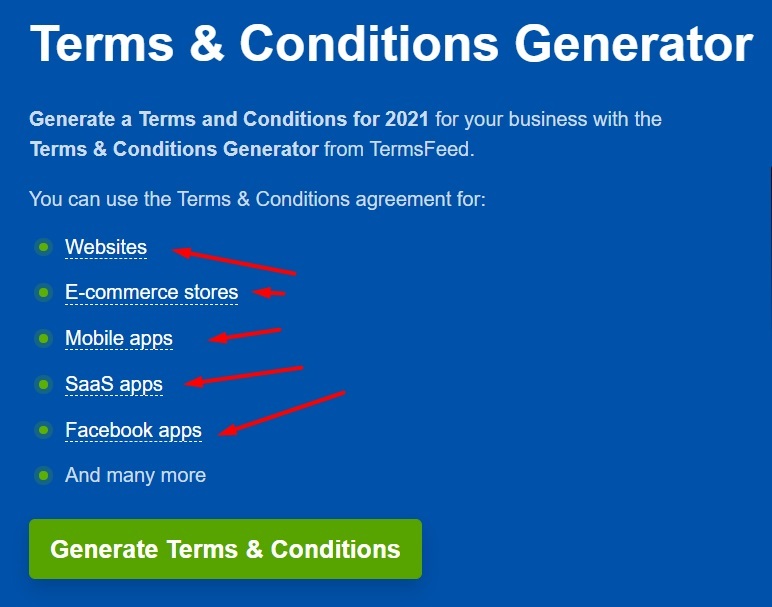 You can also use a termination clause template to do the legal leg work for you.
The Benefits of Using a Termination Clause Template
With a termination clause template, all you have to do is fill in the blanks and you've got your very own termination clause.
TermsFeed offers a free sample Terms and Conditions template that can be edited to include your company's information. It includes a termination clause:

Summary
A termination clause is an imperative part of any Terms and Conditions agreement, as it protects your business or website from user misconduct and explains the termination process and consequences.
A termination clause provides a way to enforce the rules laid out in the Terms and Conditions agreement, and helps users to understand what kind of behavior is expected from them.
You can write your own termination clause by determining what kind of user behavior is unacceptable, and how the termination process works. You will want to include information about how users can cancel their account with your business.
If you are not interested in writing your own termination clause, you can hire a lawyer to write one for you, or use a termination clause generator or template.
You want to let users know that you retain the right to not only end the contract for violation of any of the Terms and Conditions, but at any time and for any reason.