Registering your copyright is optional in the United States. Any works you create in a fixed medium get certain automatic copyright protections. But there are several benefits to registering your copyright with the U.S. Copyright Office.
In this article, we'll be exploring why you should register your copyright, and providing step-by-step guidance on how to do so.
We're also going to look at a recent change in the law that means it's more important than ever to register your copyright at the earliest possible opportunity.
Do I Need to Register My Copyright?
If you've produced a creative work, such as an article, video, or painting, you actually gain copyright on it automatically.
What customers say about TermsFeed:
This really is the most incredible service that most website owners should consider using.

Easy to generate custom policies in minutes & having the peace of mind & protection these policies can offer is priceless. Will definitely recommend it to others. Thank you.

- Bluesky's review for TermsFeed. Read all our testimonials here.
With TermsFeed, you can generate:
Creative works are copyrighted from the moment they are "fixed," i.e. once you place them within some kind of tangible medium, such as a piece of paper, an mp3 file, or a website.
You also have the option of registering your copyright with the U.S. Copyright Office. But if your work earns protection automatically, what's the point in registering?
Although your work is protected by copyright automatically, your copyright must be registered before you can bring a legal claim against someone who you believe has committed plagiarism or copyright infringement.
If your work is registered with the Copyright Office, you can provide the court with an official version of your work from a government source that proves you are the creator of the work. This means you can ask the court for damages from a person who has copied or stolen your work.
If you haven't registered your copyright then the court can reject your case.
Register Your Copyright Without Delay
A landmark case at the Supreme Court in 2019 settled an important question about copyright. It has serious implications for businesses, publishers, and all artists and creators.
Thanks to this case, it's more important than ever to register your copyright at the earliest possible opportunity.
Background: Copyright Act of 1976
As we've seen, a work is automatically protected by copyright once it is "fixed in a tangible medium of expression."
This rule comes from the main copyright law in the U.S., the Copyright Act of 1976 (available here).
The Copyright Act contains a "private right of action." This means that you can sue someone if they violate the Copyright Act and this causes you a loss.
But you cannot make a claim under the Copyright Act unless you have registered your copyright.
The Registration Question
What does it mean to "register" your copyright?
This sounds like a simple question. But it has been a bone of contention for the U.S. courts for several years.
Here's the real question for the courts: When does "registration" take place?
Once you've completed your application?
Or
Once your application has been approved by the Copyright Office?
For many years, the U.S. courts were split on this question.
Certain courts would accept claims of copyright infringement if the plaintiff was waiting for the outcome of their copyright application.
Other courts would only accept claims where the copyright application had been approved.
Fourth Estate v Wall-Street.com
The case of Fourth Estate Public Benefit Corp v Wall-Street.Com LLP settled this "registration question" once and for all.
The plaintiff in this case, Fourth Estate, is a human rights organization that produces articles for publication. The defendant, Wall-Street.com, was one of Fourth Estate's clients.
Wall-Street.com bought articles from Fourth Estate. The two parties had a licensing agreement in place that allowed Wall-Street.com to publish Fourth Estate's articles on its website.
One day, Wall-Street.com canceled this license agreement. However, it refused to remove Fourth Estate's articles from its website. Fourth Estate decided to take Wall-Street.com to court for copyright infringement.
But here's the problem: although Fourth Estate had submitted a copyright application to the Copyright Office, the Copyright Office had not yet approved its application.
The case ended up before the U.S. Supreme Court, which was finally able to settle the question: Can you sue for copyright infringement before your copyright application is approved?
Here's an excerpt from the Supreme Court judgment:

The Supreme Court decided that "registration" means that the Copyright Office has approved an application for copyright. "Registration" does not mean that the creator has simply applied for a copyright.
All U.S. federal courts will now follow this verdict. So, if you try to bring a claim of copyright infringement while you're waiting for a copyright application to be approved, the courts will reject your claim.
The lesson is clear: Register your U.S. copyright as early as you can.
How to Register Your Copyright in the U.S.

There are three main steps when registering your U.S. copyright:
Submit your application
Pay the filing fee
Submit a copy of the work
Submitting Your Application
You can submit your copyright application online or via mail.
Online Application
Around 96% of copyright registrations take place online. There are several advantages of applying online:
It's cheaper
You can track the progress of your application
You get a decision more quickly
To apply online, visit the Copyright Office registration portal and click "Log into the Electronic Copyright Office (eCO) Registration System."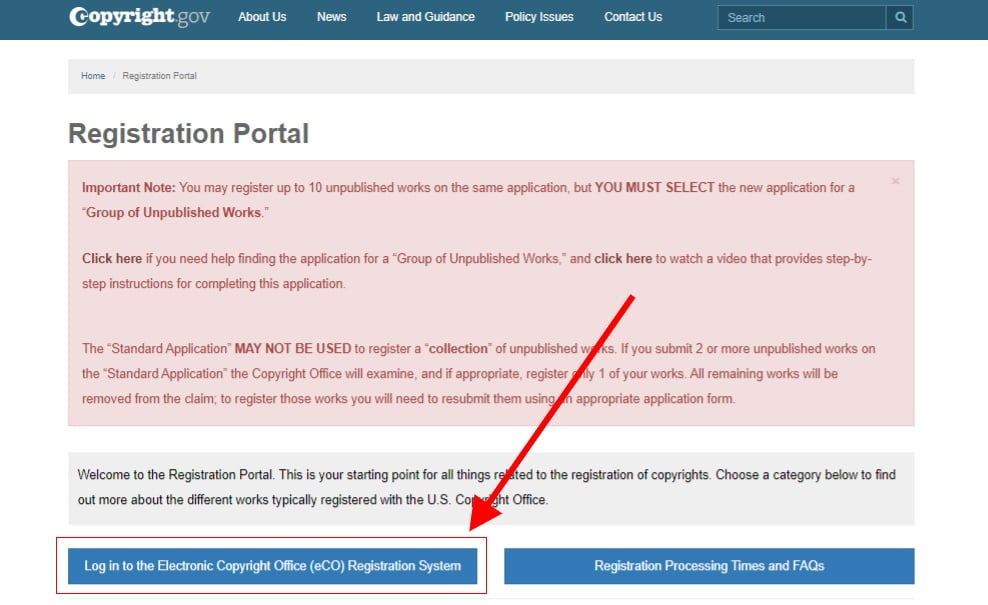 On the next screen, select "If you are a new user, click here to register."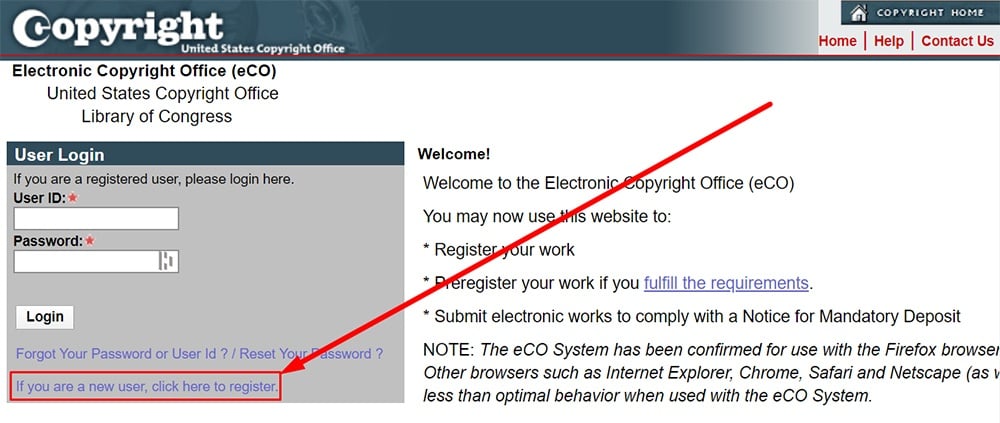 Follow the instructions to submit your application.
Paper Application
If you want to register via mail, visit the "Forms" page of the U.S. Copyright Office website. Here, you can check if you're eligible for a paper application, and download a pdf version of the relevant application form.
Certain types of work must be registered via mail, and cannot be registered online. These include:
Mask works (3D patterns fixed on a semiconductor chip)
Works for which the copyright was restored as part of the 1994 Uruguay Round Agreements Act (GATT)
Renewal of copyright claims must also take place via mail.
Below are some individual links to paper application forms for some other types of work:
Use this continuation sheet if you run out of space when completing your paper application.
If you don't have access to a printer, you can also use the "Form Request" page to request that the Copyright Office mails you the relevant paper application form.
Paying Your Filing Fee

Paying your "filing fee" is the second of the three steps toward registering your copyright.
One filing fee covers one "basic claim." This generally refers to a single work, or multiple works presented as a unified collection.
Online Application
The filing fee for a basic online application is:
$35 for one work, where you are the only author and the work is not made "for hire"
$55 for all other basic claims
The Copyright Office accepts online payment via credit card, debit card, or Automated Clearing House (ACH) debit.
Paper Application
The filing fee for paper applications is $85 for a basic claim for most types of work.
For paper applications, the Copyright Office accepts a check or a money order, made payable to "U.S. Copyright Office."
You can also pay via a Copyright Office deposit account.
Submitting a Copy of Your Work

The final step in registering your copyright is to submit a copy of your work.
The Copyright Office refers to this as "depositing a copy."
Submitting Your Work Online
Even if you're applying for your copyright online, you may have to submit a hard copy of your work via mail.
You can only submit your work online if it is:
Unpublished, or
Published exclusively in electronic form
You must have a copy of your work on your hard drive or an accessible network drive. When you reach the relevant section of the online registration form, you'll need to browse your drive in order to upload the document. You won't be able to retrieve it from a website.
You can submit multiple files with the same application, but they must be formatted in one of the Copyright Office's acceptable file types.
Submitting a Hard Copy of Your Work
If your work is published in hard copy, you'll need to submit two hard copies of the "best edition" of your work to the Library of Congress within three months of publication.
Here's the address:
Library of Congress
Copyright Office
Attn: 407 Deposits
101 Independence Avenue, SE
Washington, DC 20559-6600
There are certain exemptions to the hard copy submission rules. For more information, see the Copyright Office's FAQs on Mandatory Deposit.
You can also submit unpublished work via mail, whether you're applying for your copyright online or via mail.
Frequently Asked Questions About U.S. Copyright
Here are the answers to some of the most common questions about copyright registration.
What Types of Works Can I Copyright?
You can copyright any sort of creative work, so long as it's "fixed." Here are some examples:
Literary works: Articles, fiction, non-fiction, periodicals, poetry
Performing arts: Music, lyrics, scripts, sound recordings, stage plays
Visual arts: Architecture, artwork, fabric, illustration, jewelry
Digital content: Apps, blogs, databases, websites
Motion pictures: Animation, movies, TV shows, video games, videos
Photographs: Family portraits, news photos, selfies, wedding photos
Can I Register Multiple Works Under One Copyright?
In certain circumstances, it may be possible to submit multiple works to the Copyright Office using one application, and register them under one copyright.
Generally, this is suitable for a work such as:
A newspaper containing articles, photos, illustrations, etc.
An anthology of poems or short stories
An album
A DVD containing a movie, deleted scenes, commentary, trailers, etc.
You can register two types of basic copyright claims against multiple works:
Multiple unpublished works, if:

The elements are presented in an orderly way, and
When combined, the elements have one title that identifies them as a whole collection, and
You are claiming copyright over all the elements, and

All the elements either:

Were created by you
Were created by different authors, but you can claim authorship over each element

Multiple published works, if:

You own them all, and

The works were first published:

Together
In the same publication
On the same date
For more information on submitting singular and multiple works, and to work out whether you'll need to submit separate applications, see the Copyright Office circular on Multiple Works.
How Long Does it Take to Register a Copyright?

The copyright registration process can take anything from a month to a couple of years. The duration depends on several factors:
The nature of your work
Whether you're submitting online or by mail
Whether the Copyright Office needs to correspond with you and ask questions about your work (this occurs in approximately 26% of cases)
The table below explains the average processing times according to the Copyright Office, as of March 2020:
Online
By Mail
Without correspondence
Average: 3 months
Range: 1-6 months
Average: 6 months
Range: 1-16 months
With correspondence
Average: 6 months
Range: 1-11 months
Average: 9 months
Range:1-22 months
How Long Will My Copyright Last?
Your copyright lasts from the date your work is "fixed" until 70 years after your death.
Do Foreign Publishers Need to Submit Their Works?
Yes, foreign publishers distributing works that were first published abroad must comply with the mandatory deposit requirements in the same way as U.S. publishers.
Pre-Registering Your Work

Pre-registration is a way to register a copyright of work that is awaiting publication.
By pre-registering your work, you're ensuring that you can file a lawsuit against a person who tries to copy or steal your work before you've published it.
What Types of Work are Eligible for Pre-Registration?
You can pre-register the following types of work:
Motion pictures
Musical compositions
Literary works that you are preparing to publish in book form
Photographs for advertising or marketing
Software (including video games)
Sound recordings
All of these types of work have a history of being subject to pre-publication copyright infringement.
Should I Pre-Register My Work?
In most cases, pre-registration is not necessary.
You should only pre-register your copyright if you believe someone may steal or copy your work before you publish it.
You can only pre-register your work if:
The work is unpublished, and
You are preparing to distribute the work
How Much Does Pre-Registration Cost?
The pre-registration filing fee is $140 (as of March 2020). It's non-refundable, whether you ultimately publish your work or not.
If I Pre-Register My Work, Do I Still Need to Register My Copyright?
Even if you have pre-registered your work, you must still register your copyright once your work is published in order to get the benefits of registration.
Pre-registration does not replace registration. Once your work is published, you cannot bring a court claim against someone on the basis that your work is pre-registered.
If you've pre-registered your work, you must register your copyright within three months of publishing it, or within one month of becoming aware that someone has infringed your copyright (whichever is sooner).
How Do I Pre-Register My Work?
You can only pre-register your work online (not via mail).
You can begin pre-registration by creating an account with the Electronic Copyright Office.
Summary
You should register your copyright with the U.S. Copyright Office so you can bring a court claim against anyone who infringes your copyright.
You should register your copyright without delay. The Copyright Office can take several months to process an application, and you can't protect your copyright in court until your application has been approved.
You can register your copyright online or via mail. You'll need to submit your application, pay a filing fee, and submit a copy of your work.
You may wish to pre-register your work if you think someone might infringe your copyright before you've published it.