Since websites and apps are rarely constrained by borders, there are often questions about the language used for Privacy Policies. English is an internationally-accepted standard in business and law, but that does not mean that every user has command of it.
There is only one law that dictates the language of online agreements and it applies to those who transact business in Canada.
If your business does not fall under those laws, then offering translated agreements is voluntary. However, you may still want to offer your Privacy Policy in different languages if your website or app attracts a diverse clientele.
Our Privacy Policy Generator makes it easy to create a Privacy Policy for your business. Just follow these steps:
At Step 1, select the Website option or App option or both.

Answer some questions about your website or app.

Answer some questions about your business.

Enter the email address where you'd like the Privacy Policy delivered and click "Generate."

You'll be able to instantly access and download your new Privacy Policy.
Importance of Privacy Policies

Privacy Policies fulfill two goals: legal compliance and ensuring user confidence in your data security practices.
Privacy Laws
Most countries around the world have laws regarding data protection and informing users of your data collection practices. These laws are similar in many regards, including how they define personal data.
Personal data includes any information that can distinguish an individual from other users. It includes but isn't limited to:
Email addresses
Full names
City and town or country
Shipping address
Social Security or other identifying numbers
Screen names
Date of birth
There is another category of personal data that often requires special handling. Known as sensitive information, this is data that could lead to harassment or endangerment.
It includes:
Gender identity
Sexual orientation
Racial or ethnic origin
Mental or physical health
Religion
Criminal history
Australian law, specifically the Privacy Act 1988, requires extra security for sensitive data. In its Privacy Principles, it requires a Privacy Policy that explains information practices and requires specific mention of how a company handles sensitive information.
The UK and Canada require Privacy Policies but do not distinguish between personal and sensitive data. In the EU, the Data Protection Directive limits data collection to legitimate purposes that are required in order for a business to perform a service or provide a product.
The US does not have a federal law, but California, Nevada, and Illinois all passed their own laws requiring data protection for their citizens. So, if your website or app is available for use by Americans, you must still comply with data protection laws since it is nearly impossible to limit access to just a few states.
Another requirement of these laws is conspicuous placement. It is not enough to simply host your Privacy Policy. You must also make a link available to your users so they can review the terms.
A Privacy Policy that explains which information you collect, how you collect, who you share it with, and your security practices meets the requirements of these laws.
Besides legal compliance, making this information accessible to your customers enhances their confidence.
User confidence
Even if legal compliance was not an issue, providing a Privacy Policy encourages transparency. If users want to understand your data collection practices, the agreement provides that information for them in one convenient place.
Consumers are becoming more savvy about what happens to their information online. They are less likely to use a product or service if they are not convinced that the app or website is secure. When you provide a Privacy Policy that outlines the information you collect and how you handle that, you both reassure and inform your customers.
Language Requirements for Privacy Policy
Most Privacy Policies are published in English. While this may not seem like the most considerate approach in non-English speaking countries, it is not required for Privacy Policies to be available in a country's native language.
Within privacy laws
Current privacy laws require clear outlines of information practices and conspicuous links to Privacy Policies. Users should be able to find them easily either on a website or through an app download platform. Many websites also provide a checkbox and link at sign-up to assure acceptance of the terms as affirmative consent is becoming preferable to passive acceptance.
The one issue not addressed in these laws is language. Even though privacy laws may not include this issue, there are laws that can affect how you present your agreements online.
Official Languages Act
The Official Languages Act is a Canadian law requiring food labels, websites, and literature to be available in both English and French. That is due to the fact that both are official languages in Canada.
As a result, users have the option to choose their language when they visit a Canadian website. This is done through a drop down menu in a prominent part of the page.
Amazon Canada offers a good example of how to handle language choices. When the user visits the page, there is a small icon next to the signin button that allows the user to choose their language:

Once switched to French, there is still a link to the Privacy Policy at the bottom, which is also in French:

The link takes the user to the French version of the Privacy Policy. If the user decides she would rather review legal terms in English, the option to switch languages is available at the top of the page: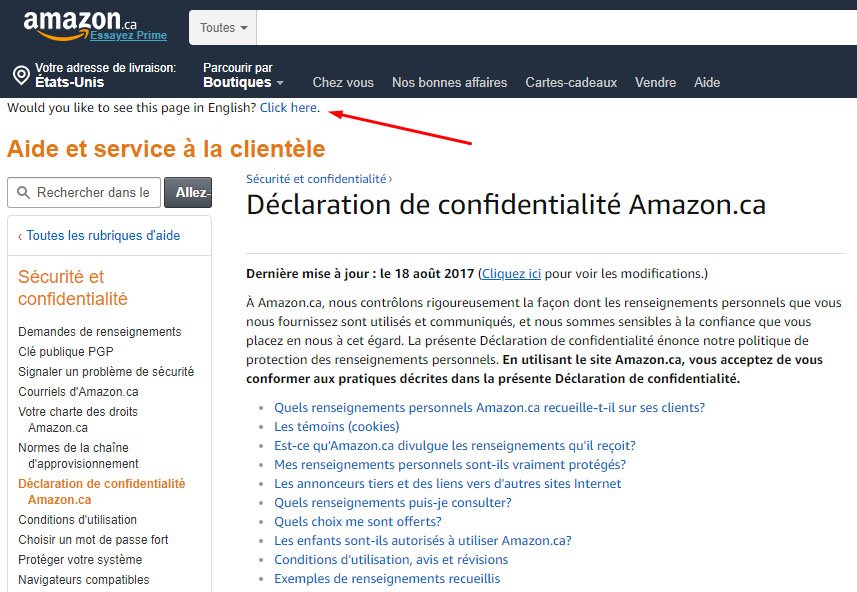 Other websites may have translation options but typically do not apply them to their legal agreements. Basically, website content on products and company history are translated, but not the Privacy Policy.
Lenovo maintains headquarters in Beijing, China and Morrisville, North Carolina, US. It sells computer hardware all over the world. As expected, its website offers an option in the footer to change countries and website language: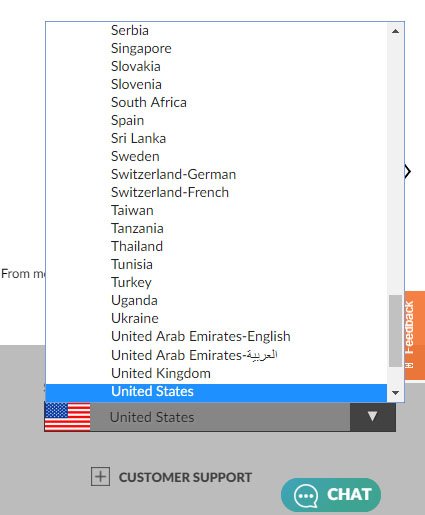 Once you choose a language, the link to the Privacy Policy becomes available in that language.
Here's what happens when you choose to read the website in Dutch:

Despite the fact that the user is on the Dutch language site for Lenovo, the Privacy Policy is still presented in English:

This seems to be an exception rather than the rule at Lenovo. However, it happens because of a simple reason--maintaining agreements in all languages is not required.
Regardless of requirements, translating your agreements into as many languages as possible may be a good business practice.
Here's why:
Consider Your User Base
If your customer base includes different cultures and languages, it is likely a good idea to offer your Privacy Policy in those languages. Many companies provide this service not just due to their international reach, but also because their local base happens to be diverse.
In the U.S., English is the dominant language with 237.8 million speakers. Spanish is also a common spoken language taking second place to English with 40.5 million speakers. This trend is likely to grow as immigrants from Mexico and Central America move into the the American north and southwest creating communities where Spanish is the primary language.
American businesses are aware of this. Spanish speakers purchase cars, seek professional services, and secure medical care. Many businesses focus on hiring bilingual employees so they can better communicate with this clientele.
Ford Motor Co. is among the companies noticing this demographic shift. Dealerships seek Spanish-speaking sales representatives and its website caters to this population.
As a result, when you visit Ford's website, it offers an option in the footer to change website's language:

Clicking this box lets a user choose between reading the website in English or Spanish: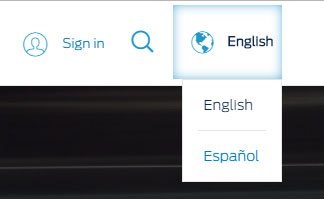 Once switched to Spanish, the Privacy Policy link is available in that language:

This takes you to a Spanish version of the Privacy Policy.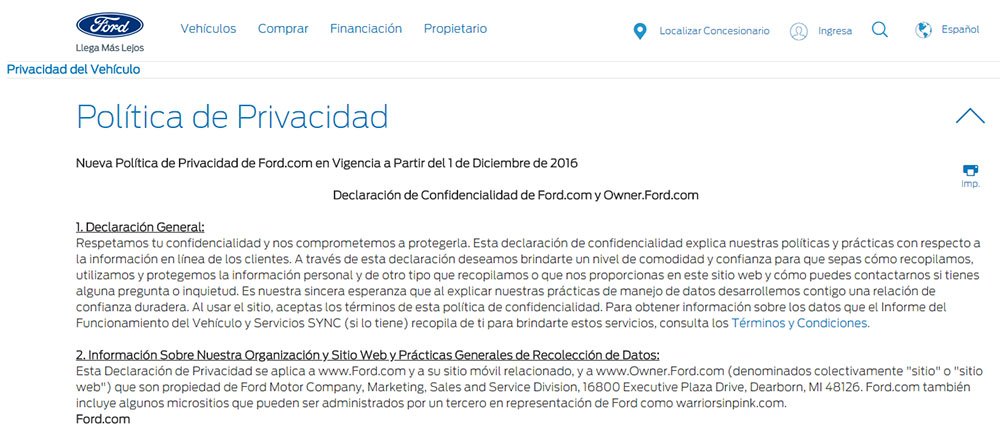 Ford is not alone in this practice.
Wells Fargo is a national banking chain that is headquartered in California--where many Spanish-speaking immigrants live.
It offers an option in the header to switch the website to the Spanish language:
When switched to Spanish, here's the link to the Privacy Policy in the footer:

And here's the Privacy Policy in Spanish: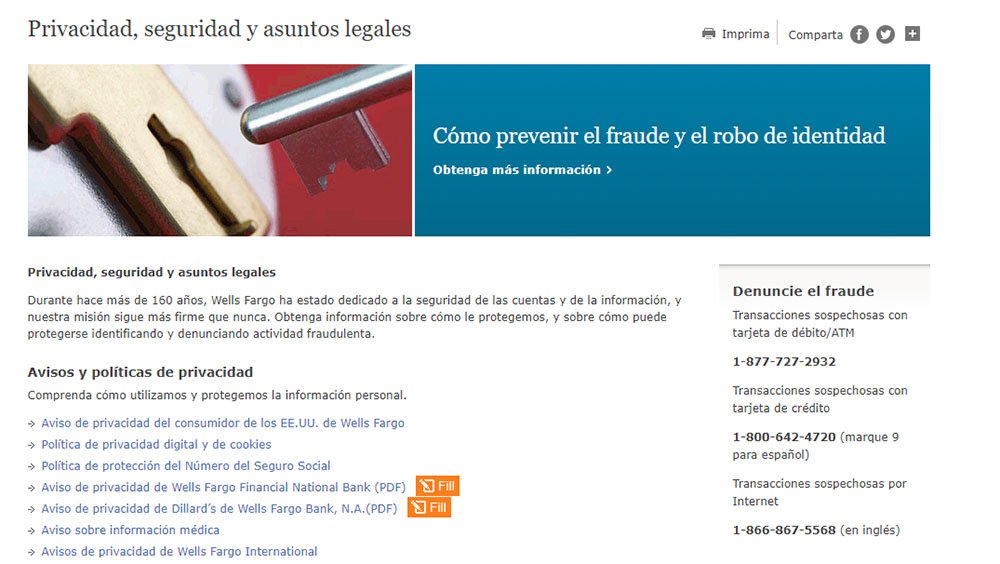 Companies based in European nations also realize the value of offering websites in multiple languages.
Croatia Airlines offers a number of options for website languages in its header:

Once the user chooses a language, there is a link to the Privacy Policy in that language in the footer. This example is the Spanish version:

When the user follows the link, they find the Privacy Policy in their chosen language: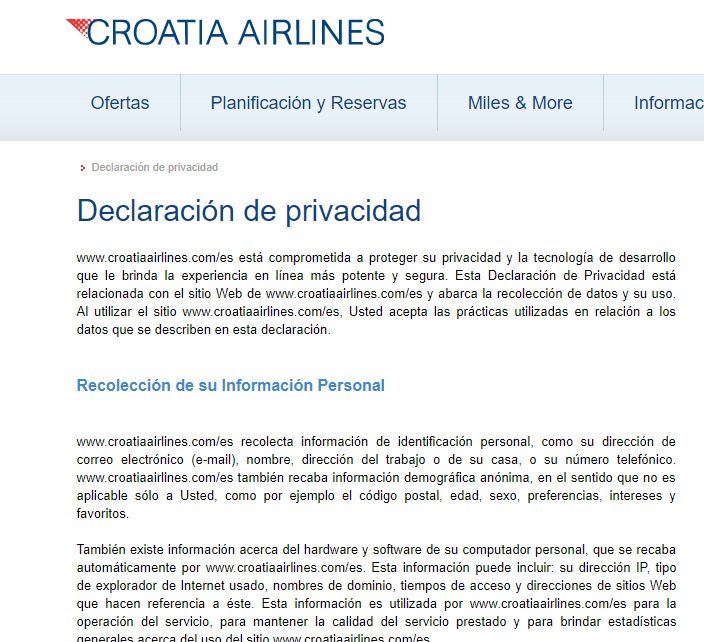 It can take a lot of effort to translate online agreements. Hiring a translator who specializes in legal terms is not easy or cheap.
While it is always good to accommodate your customers, assess thoroughly whether it is absolutely necessary.
Translating Your Privacy Policy
Before you translate, consider the following:
Are you a Canadian business? - If you register a website ending in ".ca", the Canadian domain, it must be available in French and English. The same is true if your products and services are specific to Canada.
American diversity - Many states have passed English-first initiatives, but the U.S. has no federal official language. With states like California, Texas, and New Mexico catering to Spanish speakers in state services, it is likely that companies that transact business will also create bilingual websites, legal agreements, and literature. If your business is prominent in the western U.S. and southwest, offering Spanish translations will work to your advantage.
European connections - English is the primary language of law and business. However, when your primary business transactions take place in lingually-diverse places, such as Europe, it won't hurt to translate agreements into at least a few of the more common languages.
A decision to translate your Privacy Policy may end up being based on empathy more than substantial legal requirements. This is often worth it in terms of your bottom line--you gain trust and attract additional customers.
From a legal compliance angle, translating your agreements also eliminates any argument that your agreement was not enforceable due to a language gap. While there is no legal precedent on this argument, it is still a risk if you enforce an English-only approach to your agreements.
Overall, translation is likely a good idea if you want to avoid possible legal action and keep your customers informed.

Comprehensive compliance starts with a Privacy Policy.
Comply with the law with our agreements, policies, and consent banners. Everything is included.