We covered LinkedIn's Privacy Policy in a previous article on how Google and LinkedIn ran a campaign to notify users about upcoming changes to their legal agreements.
However, that article covered only the campaign that LinkedIn ran, not its Privacy Policy page itself.
Let us see why LinkedIn's Privacy Policy is great and what are the takeaways from this because it's important to notify users about changes to your Privacy Policy.
It's all about "Privacy Matters"
Rather than designing its Privacy Policy page like yet another web page with lots of text, LinkedIn provides more information on "privacy" and why it matters to LinkedIn before it jumps to the actual agreement.
There are two main reasons why you need a Privacy Policy:
✓ Privacy Policies are legally required. A Privacy Policy is required by global privacy laws if you collect or use personal information.
✓ Consumers expect to see them: Place your Privacy Policy link in your website footer, and anywhere else where you request personal information.
Generate an up-to-date 2023 Privacy Policy for your business website and mobile app with our Privacy Policy Generator.
One of our many testimonials:
"I needed an updated Privacy Policy for my website with GDPR coming up. I didn't want to try and write one myself, so TermsFeed was really helpful. I figured it was worth the cost for me, even though I'm a small fry and don't have a big business. Thanks for making it easy."

Stephanie P. generated a Privacy Policy
The headline of the page is clear: "Your Privacy Matters". It has a very clear description underneath:
At LinkedIn, our fundamental philosophy is "members first." That value powers all of the decisions we make, including how we gather and respect your personal information.


LinkedIn also posted an online video titled "LinkedIn Privacy Policy":
The policy has sections
LinkedIn also splits its Privacy Policy into multiple sections that can guide users directly where they want to go:

These sections are:
Introduction
Information Collected
Uses & Sharing of Personal Info
Your Choices & Obligations
Important Information
The page hints to a "Safety Center"
LinkedIn's aim - as stated on their page - is for its members to always feel informed and empowered with respect to privacy on LinkedIn.
As a result, the company is informing users how to use your LinkedIn's account securely to protect your personal information better.
The "Help Center" offers tips on security, such as:
Phishing
Spam messages
Security vulnerabilities
Malware and viruses
Security products
Users of LinkedIn can also review their account settings to control their preferences: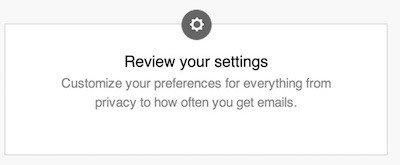 It has multiple agreements for multiple purposes
As you know, the Privacy Policy is the agreement where you should mention how a company is collecting, using and storing the personal data requested from users. A Terms and Conditions, on the other hand, should set the guidelines for using a website, its overall rules and terms and so on.
LinkedIn is a professional network with public profiles of users, public groups curated by its users and so on. Because of this, LinkedIn requires more than just a Privacy Policy and a Terms and Conditions:
The main takeaways from LinkedIn design of its Privacy Policy page are:
Design a better Privacy Policy page.

If the private data of your users is important to your website, design a better legal page to show your Privacy Policy.

Show that you value the privacy of data before jumping into the full text of the legal agreement.

Separate legal agreements.

It's important not to mix all the legal agreements your website needs.

Separate the Cookies Policy from a Privacy Policy and from a Terms and Conditions agreement as well. Keep each agreement separated to make it easier to read.

Comprehensive compliance starts with a Privacy Policy.
Comply with the law with our agreements, policies, and consent banners. Everything is included.