Facebook announced that their Privacy Policy and Terms of Use agreements, along with their Data Policy and Cookie Policy would be updated soon.
Erin Egan, Facebook's Chief Privacy Officer, says:
We're also proposing updates to our terms, data policy, and cookies policy to reflect new features we've been working on. And we're continuing to improve ads based on the apps and sites you use and expanding your control over this kind of advertising. For the next 7 days, you'll be able to submit comments and suggestions about our updates.
This shows that Facebook is following the best practices on how to announce changes to legal agreements.
Note that "a legal agreement" can be any kind of agreement that governs the relationship between a company and its users of the company's website or mobile app. The most common legal agreements used are:
Privacy Policy
Terms and Conditions
Cookie Policy
Community Guidelines
And many more
What customers say about TermsFeed:
This really is the most incredible service that most website owners should consider using.

Easy to generate custom policies in minutes & having the peace of mind & protection these policies can offer is priceless. Will definitely recommend it to others. Thank you.

- Bluesky's review for TermsFeed. Read all our testimonials here.
With TermsFeed, you can generate:
Facebook announced the new changes to their Privacy Policy and Terms agreements through a blog article written by Erin Egan, Facebook's Chief Privacy Officer.
The article itself isn't lengthy, but it summarizes what kind of changes Facebook's Privacy Policy and Data Policy will have:
Discover what's going on around you.
Facebook is updating its legal agreements and policies to insert clauses specific to how it collects and uses location information from a user's device.
Make purchases more convenient.
Because of the new "Buy" button that Facebook is testing that allows a user to buy products/service rights from within Facebook, an update is required to the legal agreements.
Find information about privacy on Facebook at the moment you need it.
This is related to the "Privacy Basics" page that Facebook redesign along with this campaign.
Understand how we use the information we receive.
Facebook apps started using more information from a user's mobile device, such as the battery and signal strength. Both requires an update to Facebook's Privacy Policy to inform users that these signals will be used to help Facebook improve their apps.
Get to know how the family of Facebook companies and apps work together.
Your information and advertising.
Because of its size (1.32 billion registered users as of June 2014), Facebook is proposing these changes to its users and it accepts user comments for 7 days. After this period of 7 days, Facebook will post what the final updates will be part of their new Privacy and Data Policy.
Their new Data Policy is already showing the proposed changes:

This Data Policy is currently not linked from the "Privacy Checkup" link you see when you're logged into your account:

The upcoming changes aren't currently highlighted in the footer section of Facebook website, which remains unchanged:

Their new Data Policy is well structured with chapters such as:
What information Facebook collects from users
How Facebook is using the collected information
How the collected information is shared
How a user can delete or update whatever information Facebook has collected
How Facebook responds to legal requests
How Facebook services operate
How Facebook will inform you about changes to its Privacy Policy
How you can contact Facebook with questions about its legal agreements and policies
Here's how it looks on the legal page where the new Privacy and Data Policy is hosted for user review: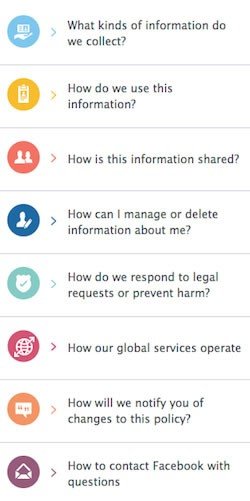 Facebook also designed its "Privacy Basics" page.
"Privacy Basics" is specifically designed for users to understand and go through Facebook's Privacy Policy. It doesn't go through the entire legal agreement but rather focuses on these:
What Others See About You
How Others Interact With You
What You See
It's well designed to be easy to read:


Comprehensive compliance starts with a Privacy Policy.
Comply with the law with our agreements, policies, and consent banners. Everything is included.