As a therapist, your priority is to provide a safe, confidential space for your clients. It's essential that you show potential clients that they can trust you by being upfront and clear about what they can expect from you and where your responsibility for their behavior ends.
Including disclaimers on your website, blog, and social media platforms is a great way to educate users as well as limit your liability.
This article will outline a number of different types of disclaimers that would benefit therapists and help you draft your own.
Our Disclaimer Generator can generate a legal disclaimer for your business, website or mobile app. Just follow these steps:
At Step 1, select where your Disclaimer will be used.

At Step 2, add in information about your website/app and business.

Answer some questions about your business practices.

Enter an email address where you'd like to receive your Disclaimer and click "Generate."

Done! You'll be able to instantly access and download your new Disclaimer.
Why Do Therapists Need Disclaimers?
Disclaimers are statements that tell users that you are not responsible for what happens when they use your website or services. They also help to cover any information excluded from your Terms and Conditions agreement.
Today, many people seeking out a therapist research them online before booking an appointment. In order to help your clients meet their goals, you need to be able to build rapport and trust, which begins when they first view your website.
Therapists need disclaimers to help educate people who visit their website, blog, or social media platforms about their business practices, to warn users about potential risks, and to help limit liability.
While therapy has traditionally taken place in person, usually at the therapist's office, more and more therapists are supplementing their careers with an online practice. As users learn about you and your practice online, they should be given the opportunity to understand that they are responsible for their own actions and results.
Any time a user accesses your website to learn more about your services or decides to become a client you should provide a disclaimer. You can also include disclaimers within your email communication, social media apps, blog, and mobile apps.
What Kinds of Disclaimers Do Therapists Need?

Therapists often use disclaimers to inform users that their content is for educational purposes only and to use the information at their own risk. Therapists may also include affiliate, reviews, and copyright notice disclaimers, among others.
These are some of the disclaimers commonly used by therapists.
Not Medical Advice Disclaimer
As a therapist, you may be licensed to diagnose and treat certain mental health disorders, but that does not mean that you can legally give medical advice to people who are not your patients. A not medical advice disclaimer reminds users that your content is solely for educational purposes.
Imi Lo shares her content on a podcast and a YouTube channel, and uses her not medical advice disclaimer to clarify that her content is not a replacement for mental health or medical advice, diagnosis, or treatment and that accessing her content does not mean that a therapist-patient relationship has been formed: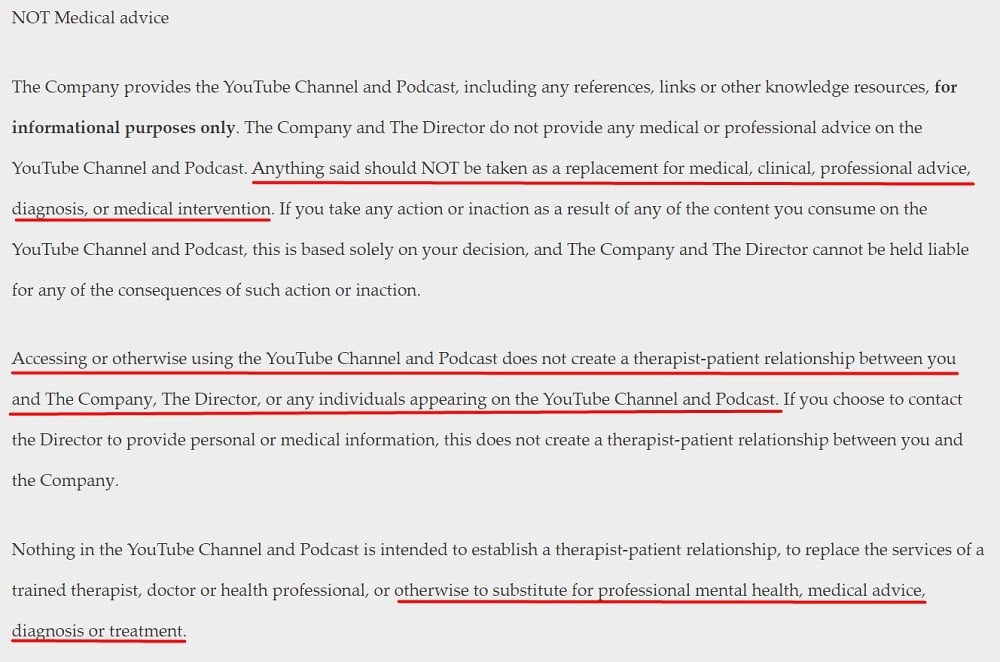 Next we will take a look at use at your own risk disclaimers.
Use at Your Own Risk Disclaimer
A use at your own risk disclaimer serves as a warning to users that they need to take personal responsibility for any damage they may incur through the use of your website.
Mallory Grimste uses her Assumption of Risk disclaimer to cover any unforeseen circumstances that could possibly result in harm to her users:

Another common disclaimer for therapists is a no guarantees disclaimer.
No Guarantees Disclaimer
A no guarantees disclaimer simply says that results are dependent on the individual and that you as the therapist are not responsible for any actions your users might take.
Sydney James' no guarantees disclaimer lets users know that results are not guaranteed and that personal effort is required to successfully achieve goals:

If you are a therapist who uses testimonials on your website, you will want to include a reviews disclaimer.
Reviews Disclaimer
A reviews disclaimer lets users know that any testimonials your clients may share are an example of what was possible for them, and are not a promise that the same results can be achieved by future clients.
Kirk Voss' testimonial disclaimer informs users that he is in compliance with the FTC guidelines for endorsements and testimonials and that the results mentioned in his testimonials do not necessarily reflect the results that everyone who uses his services can achieve. He also lets users know that the testimonials do not function as claims that his products can treat any diseases: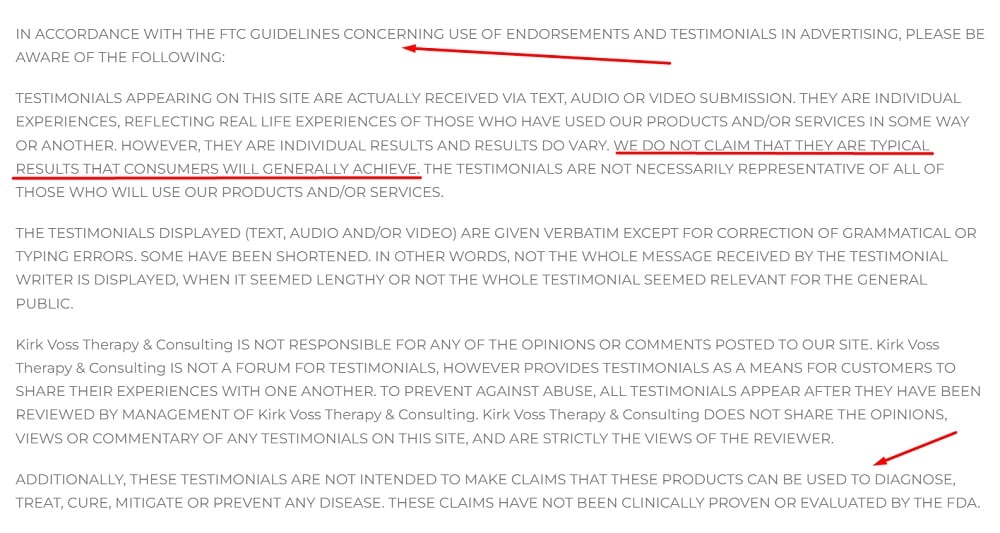 Next we will take a look at how a warranties disclaimer can inform users about the condition they can expect of your products and services.
Warranty Disclaimer
A warranty disclaimer informs users whether your products or services come with any kind of warranty. A warranties disclaimer can be used for your general therapeutic services, such as meetings, consultations, and courses, or for products such as books or audio recordings.
Randy Withers uses an indemnification and warranties disclaimer to let his users know that the information on his website comes in "As Is" condition, with no warranties, and that he is not responsible for any damages that may occur due to inaccurate information: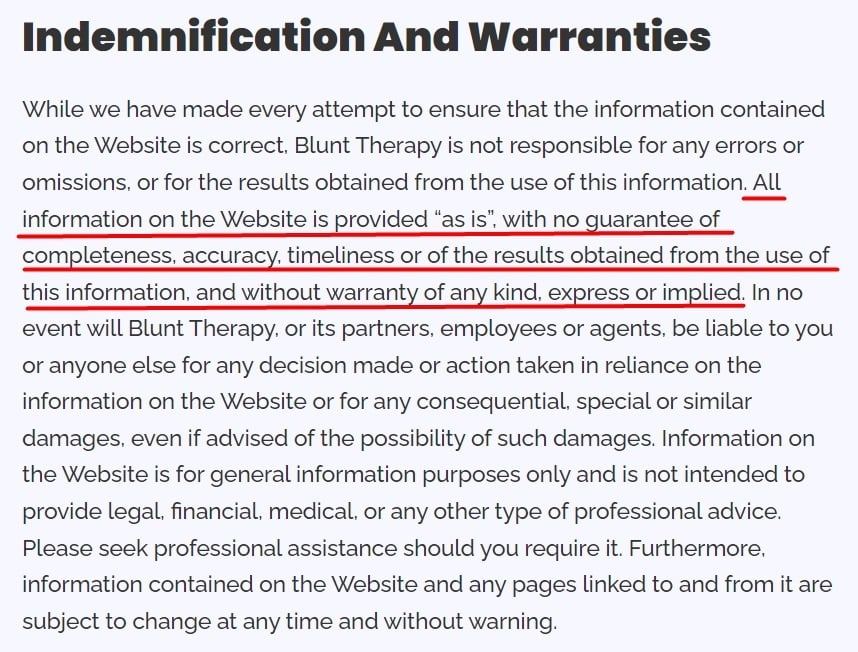 It's a good idea to include an external links disclaimer if you share third party links on your website, which we will go over next.
Views Expressed Disclaimer
A views expressed disclaimer lets users know that just because you share a link to another website doesn't mean you agree with or support all of the content they post.
John W. Ormond II includes a disclaimer that tells his users that any external links are to be used for educational or reference purposes, and that he does not endorse or guarantee any content from other websites:

Many therapists engage in affiliate marketing, which is a situation where a disclaimer is legally required. Let's look at this important disclaimer next.
Affiliate Disclaimer
An affiliate disclaimer lets users know that you receive commissions for sharing affiliate links, and is required by the Federal Trade Commission (FTC) anytime you engage in affiliate marketing.
April Snow's Affiliate disclaimer lets users know that she takes part in Amazon's Associates Program. She also tells users that they should not feel obligated to make any purchases from her site and that she is not responsible for the quality of any purchases made:

Next we will cover copyright notice disclaimers, which can help to protect your personal content.
Copyright Notice Disclaimer
A copyright notice disclaimer informs users that your personal content is copyright protected and that they need to request permission before publishing or distributing your materials.
Mari A. Lee tells users that her website is protected by copyright law and that the content cannot be copied, displayed, or modified unless she or the owners of the content give written permission to do so:

It's a good idea for therapists to include a general liability disclaimer, which we will cover next.
Limitation of Liability Disclaimer
A limitation of liability disclaimer serves as a warning that you are not to be held liable if damages result from the use of your site.
Emma McAdam's limitations and exclusions of liability disclaimer informs users that she and her team are not liable for losses or damages of any kind:

It's up to you to decide which disclaimers make the most sense to use based on which online platforms you use and the types of services and/or products that you offer.
Once you have decided which disclaimers to use, it is important to make sure that you put them where people can easily find them.
Where Disclaimers Should Be Displayed

Disclaimers won't do you any good if they are hidden on an obscure page on your website. A link to your disclaimer should be displayed anywhere you post personal content, and should be placed where users can easily access it.
Therapists often place links to their disclaimers on their website blog, within their emails, and on any apps they may offer.
Website Footer and Menus
A website footer is a great place to put a link to your disclaimers page, as it is a stationary location that is accessible from any page of your website.
Terra Pracht puts a link to her disclaimer on her website footer, next to her Terms and Conditions and Privacy links:

Torey C. Richards puts a link to his disclaimer in the header of his website so users can easily navigate to his disclaimer page:

You can also link to your disclaimer within your emails.
Email Signature
You have an opportunity to communicate your disclaimer information with your recipients whenever you send newsletters to subscribers or appointment reminder emails to clients.
You can easily add a link to your disclaimer at the bottom of each email by including it in your email signature.
Ecommerce Shops
As a therapist, you might sell courses, books, or health products via your online store. It's important to include a disclaimer such as a use at your own risk or no guarantees disclaimer for any products or services you sell.
You can put a link to your disclaimer on your checkout page so that users must agree to the information before making a purchase.
Mobile Apps
You should include a disclaimer within any mental health, mindfulness, journaling, or self-help apps that you have developed.
You should let users know that you are not providing medical advice and warn them that, as with anything, there are risks associated with accessing the information on your account.
Summary
As a therapist, you provide a service that affects your clients' well-being, and you should let people know what your limitations are. Disclaimers can remind users that while you are a professional, you are not their personal therapist, and they should consult with their primary healthcare providers for medical advice.
Disclaimers help you to limit your liability and serve as a warning that there are inherent risks involved whenever people make changes to their mental health. They let your users know that just because your product or service may have worked in the past for others doesn't mean that the same results are guaranteed in the future for all users.
Common disclaimers for therapists include:
Affiliate disclaimers
Copyright notice disclaimers
External links disclaimers
Liability disclaimers
No guarantees disclaimers
Not medical advice disclaimers
Reviews disclaimers
Use at your own risk disclaimers
Warranties disclaimers
Links to your disclaimer can be displayed within your website, on your blog, as a part of your email signature, on the checkout page of your ecommerce shop, in your mobile apps, and as a part of your social media accounts.
While disclaimers are not always legally necessary (and don't always provide legal protection), they are an effective tool for sharing information about your liability and warning users of the potential risks involved with accessing your online information.